While women's football has certainly made promising strides in recent years, a pair of recent embarrassing incidents point out how low the bar was initially set.
The coverage of women's football in recent years has focused, by and large, on positivity and progress. And it's not without reason. After all, the women's club game's preeminent power, Lyon, returned from a brief hiatus to reclaim their place atop the mountain, with an incredible eighth Champions League crown since 2010-11.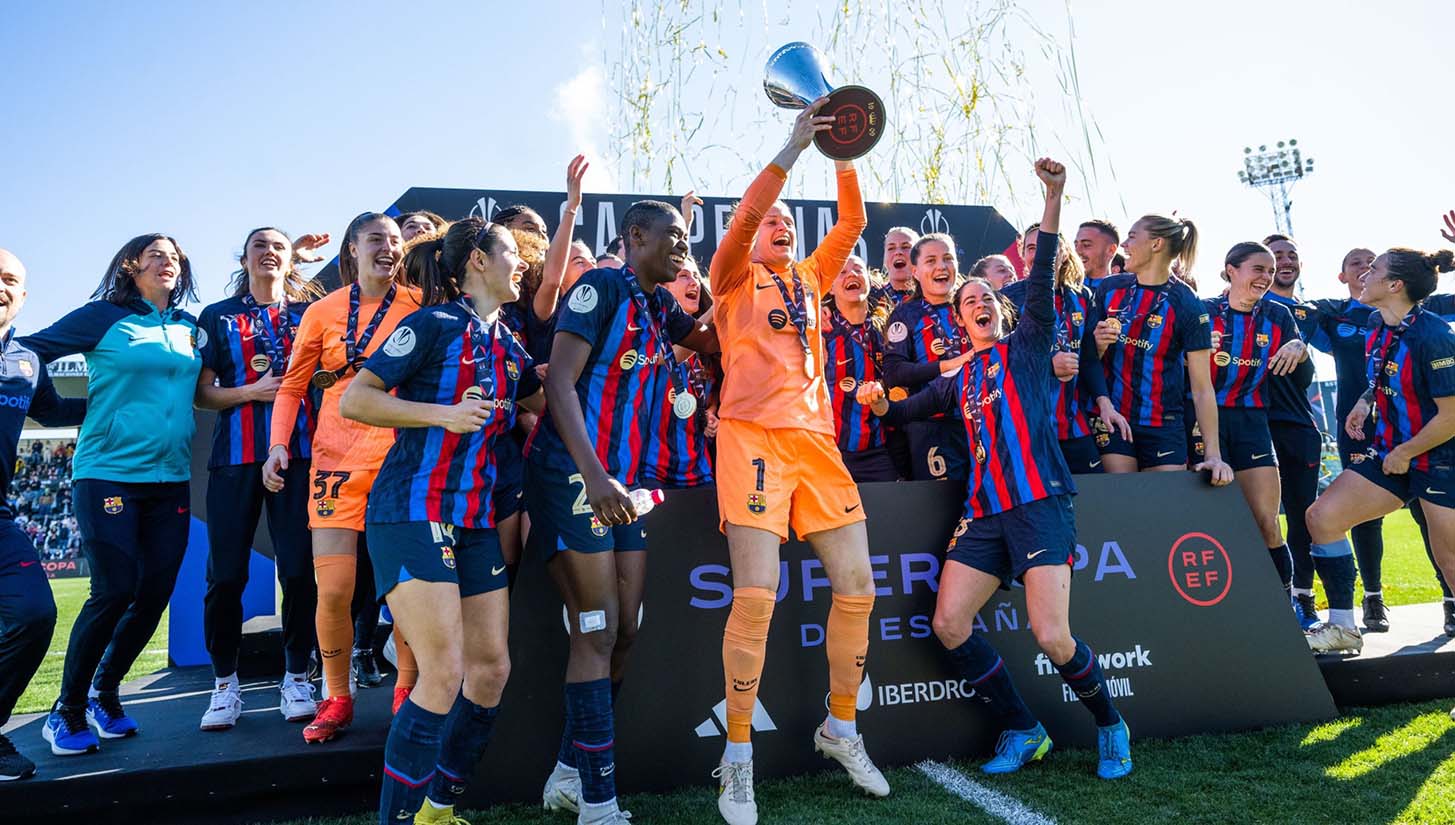 And then, of course, there's Barça. Barcelona Femení has created a dynasty of its own, with a side positively loaded (and methodically reloaded) with world-class talent capable of rivaling, if not yet toppling Lyon. The side has delivered to FC Barcelona, in addition to seven league titles and eight Copas de la Reina in the past 11 years, the distinction of becoming the European club with both a men's and a women's league/cup/Champions League treble. Along the way, Barça Femení has set a new standard for not merely attendance, but passion and engagement, which has, in turn catapulted two-time Ballon d'Or winner Alexia Putellas to global superstardom.
In light of that success, Barça has worked to press its advantages. Over the summer, the club not only broke the women's transfer record in acquiring England star Keira Walsh from Man City, but also added a regular Ballon d'Or contender in Lucy Bronze and the defending Liga F top scorer that they did not already employ, in Brazilian star Geyse, as well as one of Spain's top young talents in Salma Paralluelo, formerly of Villarreal. And, as this season has gone on, the Blaugrana have set about securing their standout core for the foreseeable future, with contract extensions for Caroline Graham Hansen, Ingrid Engen, Fridolina Rolfö, Jana Fernández and Irene Paredes, with others, namely Claudia Pina, expected to re-sign soon.
In England, Arsenal are following suit, setting multiple Women's Super League (WSL) attendance records and looking poised to regularly draw more than 40,000 fans to the Emirates. The Lady Gunners are hardly alone, as both Manchester clubs, Chelsea, Liverpool and north London rivals Tottenham have all genuinely committed to the women's game.
Suffice it to say, never in history has women's football ever been more celebrated, supported, widely accessible, or lucrative.
Not All Smooth Sailing
While much attention has, quite rightly, been focused on these conspicuous milestones of progress, even those of us deeply invested in the health and continued growth of the women's game recognize and acknowledge that it has not simply been an unfettered procession of positivity.
We can start with the injuries, perhaps the most innocent of issues plaguing the sport.
This past July in England, Alexia, the aforementioned, freshly-minted face of women's football, was lost for the better part of a year when she tore her ACL just two days before Spain's opener in the 2022 EUROs. She's not seen competitive action since and, despite an apparent transition from pure rehab to some form of training, she may not see the pitch at all this club campaign.
This could be chalked up to awful luck and "the brutal breaks of the game," were it not merely one of a staggering wave of devastating injuries, most of them ACL tears, to have hit the uppermost tiers of the sport. At the time of writing, women's football is without (*takes deep breath*):
Alexia, her Barça teammate Caroline Graham Hansen (long-term, non-ACL), Arsenal superstars Beth Mead and Vivianne Miedema, PSG's Marie-Antoinette Katoto, Angel City FC's Christen Press, ex-Lyon star and current OL Reign loanee Dzsenifer Marozsán, Tottenham's Ellie Brazil (for a second time in three years), 20-year-old West Ham star Jessica Ziu, and Catarina Macario of Lyon, who are also without 2018 Ballon d'Or winner Ada Hegerberg, who lost nearly two years to a January 2020 ACL tear of her own, and has not played yet this season due to a left leg injury.
And, of course, there are the issues of player (mis)treatment. Most notably the ones that have plagued the NWSL. The league's first-ever collective bargaining agreement aims to combat the long-running abuses inflicted on players by coaches and executives (and may be making some headway), but the implementation of substantive rule changes has not been terribly quick to arrive.
The Stateside professionals are by no means alone, however. In Europe, problems have long swirled around the French, both at the top of the French Football Federation (FFF) , where suspended president Noël Le Graët has been accused of, and remains under investigation for sexual harassment, and in the dugout, where national team coach Corinne Diacre has spent almost all of her time in charge alienating and/or criticizing most of her best players — seriously, check out this "Controversies" section. And then, of course, there is the letter sent by 15 members of the Spanish national team in late September, asking not to be called up for the national team due to poor management and mistreatment.
Given all of this, that "never in history has women's football ever been more celebrated, supported, widely accessible or lucrative" is, in fact, an accurate statement tinges the encouragement of recent years by illustrating just how low the bar was initially set.
Never ones to miss an opportunity, the game's "leaders" have spent the past couple of weeks not only underlining just how far the game has to go in order to achieve anything resembling equality, but also their almost complete disinterest in and contempt for doing any of that work.
Dueling Indignities
On January 22 in Badajoz in the Extremadura region in the southwest of Spain, just east of the border with Portugal, Barça Femení squared off against Real Sociedad in the fourth-ever Supercopa de España Femenina.
The game itself was fairly entertaining, if not terribly remarkable. Barça, as they to do, dominated early and more or less cruised to a 3-0 victory behind a brace from Aitana Bonmatí and a 96th-minute header from Asisat Oshoala.
Ho hum, a third Supercopa in four years, a first trophy for the side in the 2022-23 campaign, and another MVP award in a final for Aitana (to go along with the 2020 Copa de la Reina and the 2021 Champions League), who lost the start of this season herself to injury.
Where the afternoon really got remarkable — and decidedly not in the good way — was in the immediate aftermath of the match.
A week prior, in Saudi Arabia, Barcelona had captured the men's Supercopa de España with a dominant performance against Real Madrid. Needless to say, the scene following the final whistle was appropriately ornate and festive, and suggested that a top-tier side had won a legitimate trophy.
Barcelona lift the Spanish Super Cup 🎉 pic.twitter.com/hZEpRPqU6V

— B/R Football (@brfootball) January 15, 2023
Now, it's perhaps unreasonable to expect the same level of pomp and circumstance in a remote 14,600-seat stadium as you're going to get in a gleaming, near-70,000-seater in a petro-state trying to put its cuddliest foot forward. Okay, so, no pyrotechnics, no giant stage. Got it. Fair enough.
However, after the final whistle in Mérida, there was…
La federación de futbol deja las medallas en una mesa para que las mujeres que han ganado la Supercopa las recojan. A los hombres, en cambio, alfombra roja en Arabia Saudí. Queda tanto por avanzar en este país por la igualdad.

— Fernando H. Valls (@FernandoHValls) January 22, 2023
That's right, on the heels of a victory in a final on domestic soil, the members of Barça Femení had to walk to the side of the pitch, to a sad little picnic table with a case on it, pick up their own medals, and put them around their own necks. Now, lest you think that some set of extenuating circumstances forced the Spanish football federation to severely pare down the post-match festivities, federation president Luis Rubiales WAS THERE. That Rubiales could neither be bothered to walk down the flight (or two) of stairs from the box in which he watched the match nor deputize some middle management lackey who'd be delighted with a moment's shine is an embarrassment.
To not even bother going would have been immensely disrespectful to these players and the broader women's game which they claim to support. To be there and willfully not bother to get off your ass for some manner of makeshift ceremony is unfathomably worse.  The whole thing was just sad and gross.
That same day in London, the FA, the WSL and referee Neil Hair were making an equally disrespectful — and far more dangerous — decision.
An hour-and-a-half after Barça and Real Sociedad kicked off in Spain, Chelsea and Liverpool's women's sides were scheduled to kick off a league encounter at Kingsmeadow. Temperatures overnight in London had been well below freezing, and remained at -1 C (30 F) that morning. In the absence of undersoil heaters, heaters were put on the pitch, underneath a covering, to try to ensure that the players wouldn't be faced with the risks of playing on a frozen ground. Despite the measures, players and managers on both sides harbored serious concerns as game time approached.
However, the ultimate decision of whether a pitch is "playable" lies not with the clubs involved in a match, but with the referee. As exhaustively reported by the Athletic, Hair conducted a cursory inspection of the pitch at 9:30 a.m., walking the surface to determine "playability." Both at that point, as well during warm-ups, which were delayed, due to the conditions, Hair gave the surface his all-clear, and, at 12:30 local time, the match kicked off.
For all of six minutes.
In the freezing temperatures, "the pitch deteriorated," prompting Chelsea manager Emma Hayes to refer to the surface as an "ice rink," while Liverpool manager Matt Beard said the players looked like "Bambi on ice." As the Athletic's Charlotte Harpur (along with Caoimhe O'Neill and Florence Lloyd-Hughes) put it, "it was another anterior cruciate ligament injury waiting to happen."
No player, male or female, regardless of salary, deserves to be put at imminent risk of serious injury through no choice of their own. That being said, to force these women — who are being pushed beyond their limits, in exchange for salaries (at the high end) that top out at maybe something remotely commensurate with those of their most profoundly mediocre male counterparts — to kick off a match in legitimately dangerous conditions, is a mind-numbing dereliction of duty. That the decision was made to use Kingsmeadow rather than Stamford Bridge (which has underground heating coils) so that Chelsea owner Todd Boehly could now save a few bucks, beggars belief.
The WSL, like Liga, F, the NWSL, and other top flight women's leagues around the world, bills itself as a champion for equality, with priorities that include supporting not only the broad concept of "the women's game," but the actual flesh-and-blood women who play it.
January 22 gave us some stark reminders that, for as far as it has come, the game has a long way to go, and that much of the distance that needs to be covered resides inside the heads of the games "stewards."
It's been said before many times, and some version of it invariably will be uttered again soon: hopefully these embarrassments and close calls force the overseers of women's football to take a beat, and learn to actually prioritize the long-term physical and mental health of the game's flag bearers.
Then again…
Saudi Arabia to sponsor Women's World Cup and tighten ties with Fifa 🙄 https://t.co/uUlgn05u2P

— Gabrielle Jackson (@gabriellecj) January 31, 2023