In sports, there exists a certain poetry that can't be explained. We saw that in the simultaneous breakthrough of rising talent Vicky López and resurgence of current star Asisat Oshoala with FC Barcelona Femení.
A couple of weeks ago, Barça Femení rolled a 7-0 home victory over Levante Las Planas, a Liga F side from the Barcelona suburb of Sant Joan Despí, where Barça's home ground, the Estadi Johan Cruyff, is located. On the one hand, it was an unremarkable showing. After all, this was Barça's seventh win in all competitions by a score of at least 6-0, with five victories of 7-0 or more. Sure, the victory marked Barça's 50th in a row in league play, but on the whole it was standard fare.
Ana-Maria Crnogorčević opened the scoring for the Blaugrana in the eighth minute, and Asisat Oshoala added a second in the 25th. Crnogorčević then netted her second in the 41st, staking Barça to a 3-0 halftime lead. Other than the Swiss star being on for a hat trick, it was shaping up to be a ho-hum outing.
Barça got a fourth just after the break, when Crnogorčević found Vicky López at the top of the box. The goal itself, a deflected effort that flew past a wrong-footed Las Planas keeper into the bottom right corner, was, again, nothing special.
VICKY LOPEZ'S FIRST GOAL EVER 😍😍#soyculé pic.twitter.com/tbbQJKv2Py

— abby (@ankaramedina) January 25, 2023
And yet, it stands — and likely will for some time to come — as a landmark moment in club history.
Topping a List of Legends
You see, Victoria López Serrano Felix was born on July 26, 2006. In that moment, at 16 years and 182 days, she became the youngest player ever to score a goal for a senior FC Barcelona side, surpassing not only the women's mark, set by her teammate Patri Guijarro, but also the club-wide mark of 16 years and 304 days, set by Ansu Fati in August 2019.
🌟 At 16 years, 5 months and 27 days, Vicky López has become the youngest goalscorer in the history of Barça in the league. pic.twitter.com/b8pRH8XYsS

— Barça Femení (@BarcaFem) January 25, 2023
The strike came in the Madrid-born attacker's sixth senior appearance (by a matter of weeks, the club record for youngest debut still belongs to Claudia Pina). Prior to the evening of January 25, López, who is registered as a member of Barça Femení B, had started twice and logged a total of 151 minutes for Barça's senior side.
It bears mentioning, however, that this was hardly López's arrival on the footballing map. In just 17 2021-22 matches in the youth ranks with fellow Liga F club Madrid Club de Fútbol Femenino (Madrid CFF), López didn't just lead the youth league in scoring, her 60 goals more than doubled the league's second-most-prolific scorer. On the heels of that spectacular showing, she was called up for a senior debut in September 2021, just six weeks after her 15th birthday. It was the first of her nine appearances with Madrid CFF's first team, during which he recorded her first senior assist.
So precocious is López's talent — she is fast, quick, agile, intelligent, an excellent dribbler, and a reliable finisher with both feet — that, over the summer, Barça came calling. But, before ever donning the Blaugrana in a competitive setting, López set about justifying the acquisition.
World Cup Glory
On October 11, the 2022 edition of the U-17 Women's World Cup kicked off in India. The next day, Vicky López and the Spanish side, drawn in a group with China, Colombia, and Mexico, opened their tournament with a 1-0 win over China, where Lopez played 75 minutes and assisted on the lone goal. She then went on to play in all 90 minutes in both a 1-0 win over Colombia and a 2-1 loss to Mexico, albeit without registering a goal or assist.
The quarterfinal round is where López made her most indelible mark. Having finished second in their group, Spain were matched up with group winners Japan. The game remained goalless for more than an hour, until Momoko Tanikawa staked Japan to a 1-0 lead in the 66th with an outrageous 30-yarder into the top right. That advantage held for more than 20 minutes.
In the 87th, with the Spanish on the brink of elimination, in the midst of a scramble in the box, López pounced onto the ball and thumped in a right-footer from the penalty spot off of the keeper's hands to equalize. If her first goal had an element of luck about it, six minutes later, in the final minute of stoppage time, López received the ball at the edge of box, ghosted past three Japanese defenders and hammered in a low finish to secure the miracle win.
She then played all 90 minutes in both the semifinals and the final, a pair of 1-0 wins over Germany and, for a second time in the tournament, Colombia, that secured Spain's second-ever (and second straight) U-17 Women's World Cup crown, and earned López the tournament's Golden Ball.
Now, if I may, I'd like to return to that January 25 matchup against Las Planas.
Oshoala Reclaiming Her Throne
Eight minutes after López's historic goal put Barça ahead 4-0, Barça did as Barça do, and tacked on another three. The next two of those goals, a slick finish in the 56th and tap-in off of a rebound in the 63rd, came off of the right boot of Asisat Oshoala. Though not as historically relevant as López's strike, those goals have proven significant in their own right.
For one, they completed her hat trick, which is always cool.
Secondly, it began to set right what had started out as an extremely disappointing domestic campaign. Though Oshoala had scored a pair of braces in Champions League group stage action, despite Barça's dominance, she'd managed just seven goals in 13 Liga F matches. What's more, prior to that night, across all competitions, last season's co-Pichichi had only scored in consecutive matches once in the 2022-23 season (she scored in the Supercopa de España final three days prior). More troubling than the early-season numbers was the eye test.
That modest early return was absolutely not due to lack of opportunity, as Oshoala was presented with golden chance after golden chance to light up the scoreboard, only to squander an alarming number of them. Though the vocal support at home games (I've been to every one) never actually waned, the unfinished chances mounted, and excitement in the stands of seeing her in on goal became increasingly tinged with nervousness.
Despite the Nigeria international still being just 28 years of age and having accumulated a greater collection of honors than any African women's player in history — five African Women's Footballer of the Year awards, a pair of Ballon d'Or short lists (No. 9 in 2021, No. 16 in 2022), three African Women's Championships, a FIFA U-20 Women's World Cup Golden Boot and Golden Ball, and the distinction of IFFHS CAF (Confederation of African Football) Best Woman Player of the Decade (2011–2020) — it was tough to watch those early weeks without at least contemplating that, with such a deep and ever-growing roster of apex predators around her, she might be playing herself out of her place with the Blaugrana.
Now, if those concerns were in any way founded, a single hat trick probably wouldn't put them to bed. However, following it up with another hat trick in Tenerife just four days later, and another in just 32 minutes a week later against Real Betis — with a "pedestrian" one-goal effort in Valencia sandwiched in between — would probably do the trick. After the sparse seven scores in her first 13 Liga F matches this season, Oshoala has netted 11 in her last five.
Oshoala's recent tear has not only put her season back on track, but vaulted her back to the top of the sport. This incredible run has brought her season tally to 18 in 18 league games, which is good for the top spot across all of Europe's top five women's leagues.
Present and Future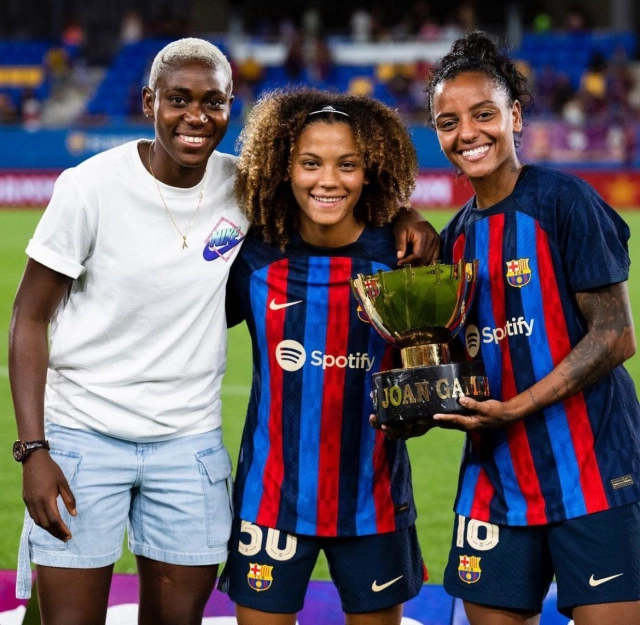 For as significant and impressive as these two stories undoubtedly are, the true beauty of that late January evening in Sant Joan Despí lies in the intersection of the women who've authored them.
As we said, López was born in Madrid and is a Spanish citizen. However, though her father is Spanish, her mother is Nigerian. Despite having represented Spain at the U-17 level, assuming she doesn't represent Spain in Euro qualifiers in September, she still has the option to represent Nigeria as a senior international.
Whether she ultimately elects to become a member of the Flamingos (the delightfully named Nigerian women's national team) or continue on with Spain, López is unambiguously proud of her Nigerian roots, and counts Oshoala as her as her sports idol. In fact, according to her former agent, Joshua King Dada, López, "She told us meeting Asisat would be a dream come true for her. But now they are teammates."
That the two stars' respective paths have brought them to this point is one of the remarkably cool things about sports. That Oshoala was not only present and on the pitch for López's senior breakthrough, but has also become a mentor to the 16-year-old all but ensures that this will rank forever among López's career highlights.
Goleada del @FCBfemeni con 'hat-trick' de Oshoala y estreno goleador de Vicky López. https://t.co/QMnh7hxZVj

— Ángel Pérez (@ap_angelperez) January 25, 2023
Additionally, Oshoala recapturing the imperious form that's made her an all-time great on that same night only adds to the beauty of the occasion.
The two now have the opportunity to compete and star alongside one another (pending López's permanent promotion from Barça B) for the foreseeable future. That? That's poetry.