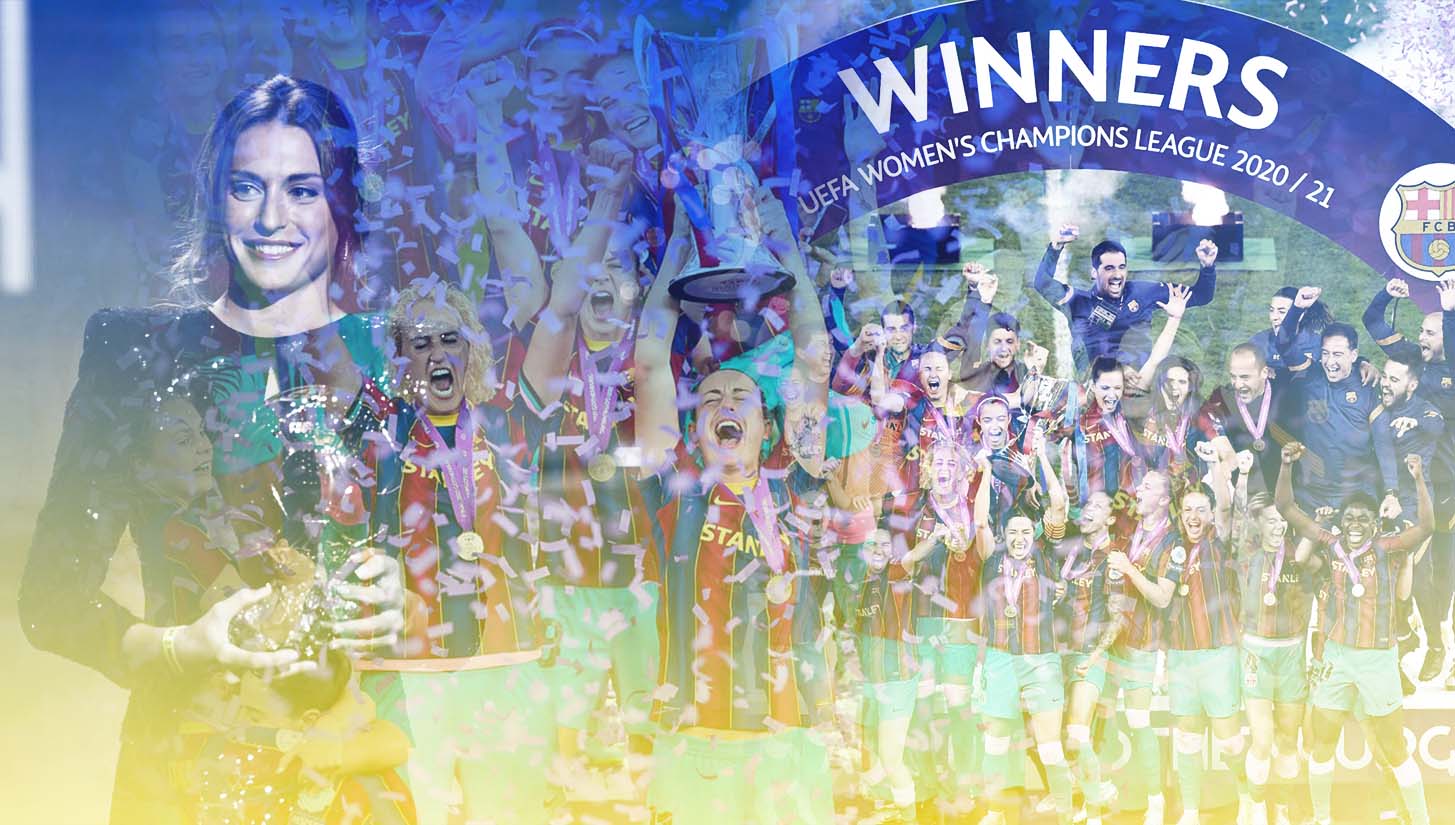 One of the most dominant women's teams in the world, we take a look at the rise of FC Barcelona Femení over the past decade. 
In Paris on the evening of November 29, France Football magazine handed out some of the most prestigious awards in world football. Effectively, however, the proceedings were all about Barça.
The Kopa Trophy, recognizing the best player under the age of 21, was awarded to ascendant midfield superstar Pedri, who joined Barcelona from second division side Las Palmas in the summer of 2020. At just 17 years of age, Pedri played an incredible 73 games for club and country in 2020-21, helping Barça to the Copa del Rey while starring in two tournaments for Spain: the European Championship, where he earned Young Player of the Tournament honors, and the Summer Olympics, where he won a silver medal.
The most notable piece of hardware handed out that evening was the Ballon d'Or, which recognizes the best male and female players currently plying their trades. On the men's side, the award has been Lionel Messi's personal plaything over the past dozen years. 2021 was no different, as Messi captured the award for a record seventh time. Only Cristiano Ronaldo, with five, has won the award more than three times. There's no need to try and sum up all that is Leo — for starters, it's been done countless times before, and at some point, the superlatives begin to dull. As one rather informed observer once said: "Don't write about him. Don't try to describe him. Just watch him." I'll defer to Pep Guardiola.
We can, however, quickly run through Messi's 2020-21 achievements: 38 goals and 18 assists in 48 appearances in his final season for Barcelona, which yielded the aforementioned Copa del Rey. All the while, across 2020 and 2021, he scored 10 times in international play and, most importantly, captured his first major international trophy when he led Argentina to the Copa América in Brazil.
Argentinean by birth and currently employed by Paris Saint-Germain, Messi will forever be synonymous with Barça.
View this post on Instagram
Rounding out the Blaugrana trifecta was the person with perhaps the strongest current claim to world's best player: FC Barcelona Femení midfield maestro Alexia Putellas.
It's difficult to construct an argument that any player, at any meaningful level, is currently operating at a higher level than Putellas. The numbers – 36 goals and 26 assists in 52 matches in 2021 – explain enough, but reducing her greatness to statistics does a disservice to her brilliance. She's quite like Andrés Iniesta, one of her childhood heroes, in that regard.
Her gifts in attack — a thunderous yet cultured left foot, an uncanny gift for identifying a pass, and the ability to at a moment's notice place the ball on the very blade of grass on which it belongs — are beyond reproach. But she is more than merely an offensive force. As spectacularly as she applies the finishing touch to an attack, she is equally adept at dropping deep — practically into defense — to start said attack, releasing the ball from the midfield, or serving as a link between midfield and attack.
She's as meticulous with a short, "simple" pass as she is utterly ruthless with a ball that slices open an opposing defense. She's an exceptional dribbler, masterfully deploying all manner of feints and sleights, while maintaining the almost disquieting calm and efficiency of movement that we've long associated with Messi, Iniesta, and Sergio Busquets. Most incredibly, neither her demeanor nor her dedication to each pass, each shot, each move is impacted by the score line. She exists to exert complete and devastating control over all aspects of a game in an instinctive, almost effortless manner.
In every way imaginable, Alexia Putellas is the embodiment of a Barça genius.
That's no accident, of course. As singular as her physical skills and mental processing power are, the system in which they've been nurtured was custom-built for the task.
Sowing the Seeds
In 1978, at the end of his time as a Barcelona player, the great Johan Cruyff helped to convince incoming club president Josep Lluís Núñez to establish a youth academy at FC Barcelona that would instill in youth players a unified philosophy for matters both on and off of the pitch, like the one he'd learned at Ajax in his native Amsterdam. In 1979, the wheels were set in motion, and a Catalan farmhouse that was built in 1702 was transformed into the world's premier football finishing school.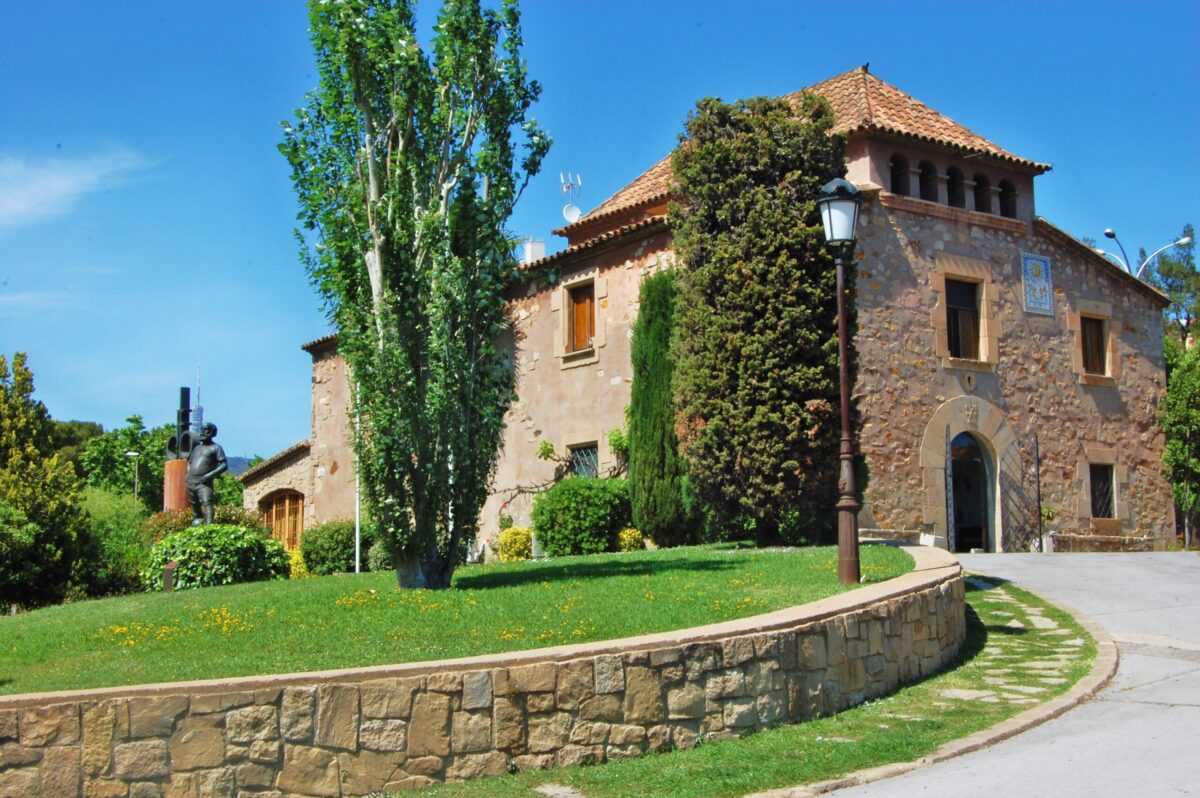 Located across the street from Camp Nou, La Masia de Can Planes was the academy at which Barça's youth players trained, studied, and for those hailing from outside Barcelona, lived. Its aim was not only to produce top players, but top players whose approach to and understanding of the sport, from training to tactics to comportment, were aligned across all age levels. This meant that the under-12s and under-15s trained and set formations as the first team did. The result was that every academy graduate already had years of experience in whatever role he would be asked to play.
The results have been staggering. La Masia's partial resume includes an iconic midfield captain who's gone on to become one of the best coaches in the history of the game (a feat the club is hoping is replicable) and the core of the greatest club side ever, spearheaded by the sport's best-ever player.
Prior to the establishment of La Masia, Barça had won the Spanish league nine times in 80 years, and just twice in the preceding 20. In the 42 years since, they done so 17 times. Prior to La Masia, Barça had never lifted the European Cup (now the Champions League). They've since done so five times — a record three times as part of a league/domestic cup/Champions League treble.
The Rise of Femení
In 1988, FC Barcelona sponsored Club Femení Barcelona as a founding member of the first-ever women's league recognized by the Spanish football federation, the Liga Nacional (now the Primera División). The team didn't exactly hit the ground running, with no league titles and more relegations (two) than trophies (the Copa de la Reina in 1994) in their first 13 years.
In June 2002, with the side still in the second tier, Club Femení Barcelona was incorporated as an official section of FC Barcelona, and renamed Futbol Club Barcelona Femení. Barça Femení remained stuck in the second division for another two years, after a pair of fruitless trips to the promotion playoffs. In 2004, they finally rejoined the top tier.
However, in the seven years that followed, despite some high-profile signings and a Copa de la Reina title in 2011, the side never finished above fourth in the top division and were once again relegated in 2007. There were even discussions of the club being a candidate for dissolution.
View this post on Instagram

It was then that the worm turned. In 2012, Barça Femení, led by star striker Sonia's league-best 38 goals, captured its first ever league title. This kicked off a run of four successive league crowns, the next two of which were accompanied by Copas de la Reina. The decade that's followed has seen the team transform into an unmistakeable force, rising to the top of the sport. Fittingly, Putellas' return to the club ahead of the 2012-13 season coincided with that first domestic double.
Building a Winner
Of course, as Messi can attest, no matter how great the individual, sustained dominance is a collective effort. Throughout the club's history, Barça Femení's male counterparts have benefited from top quality non-local talents: Laszlo Kubala in the 1950s, Cruyff in the 1970s, Diego Maradona in the early 1980s, Hristo Stoichkov, Ronaldo Koeman, and Michael Laudrup with the early '90s Dream Team, and the Brazilian cavalcade of Romario, Ronaldo Fenomeno, Rivaldo, Ronaldinho, Dani Alves, and Neymar.
Similarly, thanks to the professionalization of the team in 2015, Barça Femení has come to feature the likes of five-time Primera División scoring leader and Atlético Madrid youth product Jenni Hermoso, Dutch international and 2017 European Women's Player of the Year Lieke Martens, Basque center back Irene Paredes, and Valencia-born goalkeeping star Sandra Paños — who respectively finished second, fifth, 15th, and 19th in this year's Ballon d'Or voting. Additionally, there is four-time African Women's Footballer of the Year Asisat Oshaola, and another top-20 star in Norwegian midfielder Caroline Graham Hansen.
However, while the men's teams of the past have featured top talents from around the globe, they've also always had a local anchor. For every Stoichkov, Ronaldo, and Ronaldinho, there's been a Guardiola, Carles Puyol, Xavi, Iniesta, Messi, Piqué, or Busquets.
Similarly, since being brought into the FC Barcelona fold in 2002 — whether battling to cement a place in the top tier, flirting with extinction, or loading up the roster with the world's best — Barça Femení's formula for sustained success has prominently featured homegrown talent. For this generation, it all started with a pair of left backs: Melanie Serrano and Leila Ouahabi.
View this post on Instagram
View this post on Instagram
Serrano is a Barça lifer who joined as a youth player in 2003, debuted for the first team in 2007, and at the time of writing, holds the club record for official appearances by a female player with 530. She's seen it all, from helping to gain promotion from the second tier, to half a dozen league titles, seven Copas de la Reina, and the Champions League.
Ouahabi, meanwhile, joined Barcelona in 2007, at age 13. Five years later, she was a first-teamer for the first two Femení league titles. After a three-year spell with Valencia, she returned in 2016, and has since won another two leagues, four Copas de la Reina and, of course, the Champions League.
That commitment has only strengthened over the past decade. Most notable is the case of Mallorca-born Patri Guijarro, who at age 17 In 2015, not only joined Barça as a youth player, but became the first girl to take her A Levels (the equivalent of high school) at La Masia, and she is still studying physiotherapy. Guijarro has since made more than 80 appearances for the first team, with 21 goals, including the first ever in a women's El Clásico in 2020-21. Also, on the day before her 23rd birthday, Guijarro started the Champions League Final out of position (due to a suspension) at right back, and played all 90 minutes of the 4-0 win.
There's also the one-time futsal player from Montcada (just north of Barcelona), Clàudia Pina, who was discovered in 2011 by Espanyol at age 10, but two years later moved across town to Barça. In her second season with the club's infantil-alevín (age 12-13) team, she appeared in 20 games, and scored… 100 goals. When she debuted for the senior team in January 2018 at 16 years and 5 months of age, she became the youngest player to ever play for a senior Barça team in an official match. She was loaned to Sevilla for the 2020-21 campaign, but has since returned, and in four 2021-22 league games, has scored three goals.
View this post on Instagram

In 2012, Aitana Bonmatí joined the youth system just ahead of her 14th birthday. She made her way into the first team in 2016, and has been a fixture since 2018. She was named Catalan Player of the Year in 2019, has won four Copas de la Reina (she was MVP of the 2020 final), two league titles, and the Champions League — her spectacular goal in the 4-0 final win earning her MVP of that contest as well.
In 2013, 11-year-old Bruna Vilamala joined the club. After rising through the ranks, she starred for Barça B in 2019-20. That same season, in February 2020, she became the fourth-youngest first team debutant at age 17. In 20 appearances for the 2020-21 side, she scored 13 times. Her 12 goals in 15 matches in the league made her the team's second-best scorer on a per-game basis. She is out for the foreseeable future following an ACL injury, but the talent is undeniable.
2014 brought the arrivals of defender Jana Fernandez and goalkeeper Gemma Font. Fernandez quickly rose through the ranks, and in 2018 became the second-youngest player (16 years, 9 months) to debut for FC Barcelona Femení since the side was professionalized. She joined the first team full time in 2020, making 20 appearances for the treble winners. Font, meanwhile, also joined at age 14. She too made her way up the ladder, starting for Barça B in 2019-20, while also training with the first team, with whom she debuted in January 2021.
What Guijarro started has carried on. In 2020, some 16 female players studied and trained at La Masia. August 2021 brought another notable first, as nine players from the Femení B team would also be residing at the Oriol Tort Training Center (the old farmhouse is just a landmark now).
Eyes on the Prize
The past decade has seen Barça Femeni develop into one of the most dominant teams in the sport, both domestically and in Europe, decisively downing other marquee clubs — including Manchester City, PSG, and Chelsea — along the way. They've won five of the past nine league titles, six Copas de la Reina, a Supercopa de España and, of course, the Champions League title that made Barcelona the first club ever to win both a men's and a women's treble. What's notable, of course, is the utter dominance with which they've done it.
View this post on Instagram
The peak (thus far) was the glorious 2020-21 season, in which Barça Femení won 33 of 34 league games, scoring an incredible 167 goals while conceding just 15, cruising to the Copa de la Reina, winning seven of nine Champions League games by a combined score of 28-6, and completely dismantling Chelsea in the final. La Masia graduates made up (and still do) more than a third of the squad.
Their last target, fittingly, is the preeminent force in the women's club game and winner of five trebles since 2012: Lyon.
Now, Lyon are hardly ripe for the picking. This season, in 10 league games, they've got 10 wins, with 48 goals scored, and just three conceded. Meanwhile, they're a virtual lock to win their Champions League group, with 12 points in five games and a 15:2 goals for/against ratio.
It's worth noting, however, that the 2021-22 Barça side is somehow toying with an even more obscene standard than the one set last season. They've won all 12 of their league games by a combined 72-3 score — an absurd pace that would translate to 204 goals for to 8 conceded over a full season if they can keep it up. They've also swept all five Champions League matches by a combined score of 19-1.
This is a concerted effort to build a dynasty.