Don't look now, but we're on the precipice of another World Cup. Who will be the stars to break out on the world's biggest stage this year? 
The dust that has finally settled following last year's tumultuous World Cup is starting to rumble again. The water in your glass isn't rippling on its own. Somewhere deep in the distance, the behemoth that is the 2023 World Cup is making its way towards us.
Somehow, impossibly, it's another World Cup year. We're less than six months away from the biggest tournament in the women's game, and it seems inconceivable that we'll again be subject to the emotional torture that tormented us just over a month ago.
But of course, with the gut-wrenching lows there come the highest of highs — perhaps none of which is as exciting as watching a young player arrive on the scene on the world's biggest stage. In 2019, we saw players like Rose Lavelle, Giulia Gwinn, and Erin Cuthbert all make a splash, with the then-24-year-old Lavelle winning the Bronze Ball and scoring the coffin-slamming second goal in the United States women's national team's final match against the Netherlands.
So it's natural to wonder, who will it be this year? It's always fun to make predictions, mostly because you can gloat if you get it right, and make a multitude of excuses if you're wrong. (Seriously, who can see the future?) In that spirit, let's take a look at some of the up-and-coming talents who will become household names following this summer's tournament.
But first, we should establish a set of parameters for who can qualify as a breakout player. The player must be 23 years old or younger, and then they can't have more than 30 caps for their national team. Other than that, it's fair game.
Naomi Girma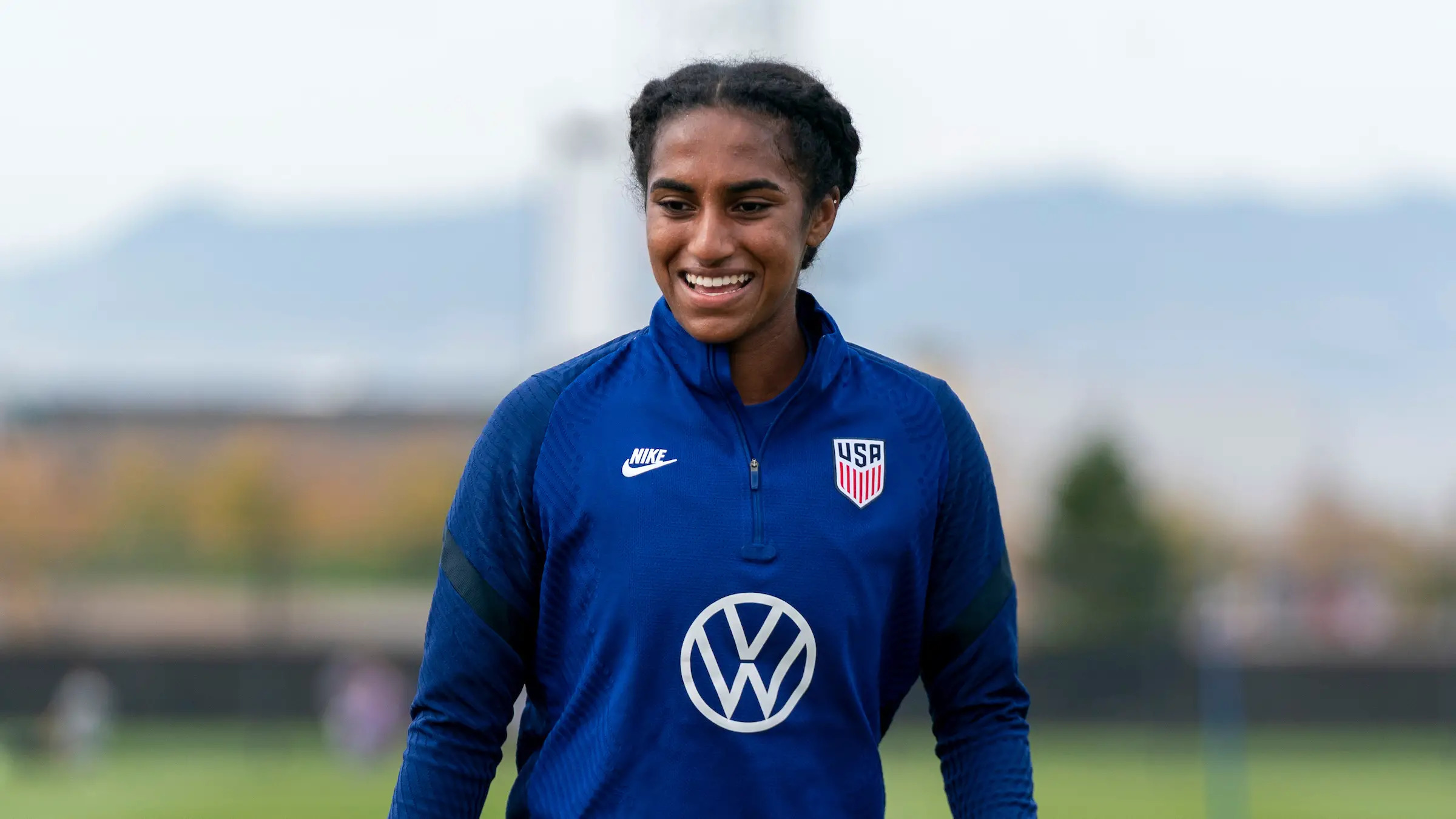 Country (Caps): United States (10)
Age: 22
Like Lavelle in 2019, Naomi Girma already has a fair bit of cache behind her name, so you might think this to be an obvious choice. But the 22-year-old reigning NWSL Rookie and Defender of the Year has yet to play in a major tournament with the senior squad, and thus hasn't yet made her true mark.
There are plenty of other young American players poised to break out in Australia and New Zealand this summer as well — Sophia Smith, Trinity Rodman, and Catarina Macario to name a few — but having watched Girma play for club and country recently, it's clear that she is coming into her own as an extremely well-rounded player.
Her heart rate never seems to jolt in high leverage situations, which is an elite quality for a center back. But it's her passing that truly puts her in another league. She's impressed enough to where calls for her to be the long awaited holding midfielder successor to Julie Ertz have arised. Ertz, who also converted from center back, has left a massive void since her last appearance at the 2020 Olympics, missing time due to a knee injury and pregnancy.
Whether it be Andi Sullivan, Lindsay Horan, or Taylor Kornieck, head coach Vlatko Andonovski has tried a multitude of players in the position, all to mixed results. Girma at the 6 could be the solution he's been looking for.
Jayde Riviere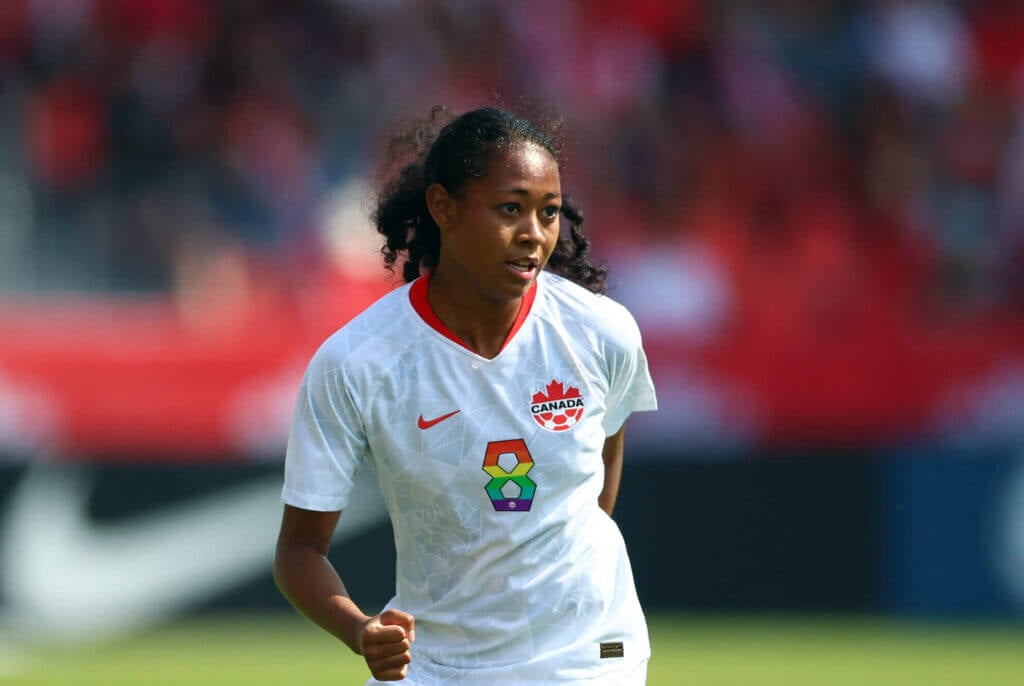 Country (Caps): Canada (36)
Age: 22
Recent Manchester United signee Jayde Riviere slightly exceeds our cap limit (or should we say, cap) with 36 appearances for the Canadian women's national team, but seeing as she's yet to make her official pro debut, it seems fitting to include her on this list.
Riviere actually made three appearances at the 2019 World Cup as an 18-year-old, including one start against New Zealand in the group stage, so her experience at this level will surely pay dividends.
Along with Ashley Lawrence, Kadeisha Buchanan, and Vanessa Gilles, Riviere is part of a frighteningly formidable Canadian back line that anchors a squad which could very well be a dark horse to win it all this year. Despite being the reigning Olympic Gold medalists, Canada finds themselves with a modest +3400 odds to hoist the World Cup trophy come August.
Stay up to date with the latest betting odds for all teams at Ontario Online Casinos.
Claudia Pina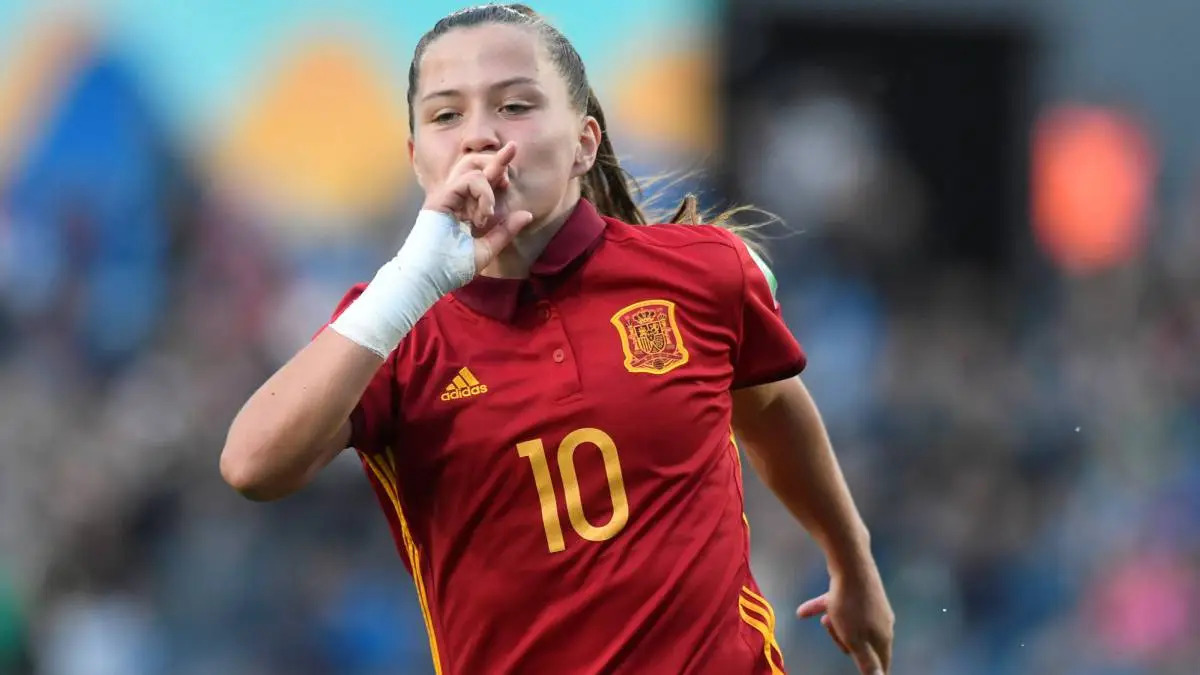 Country (Caps): Spain (6)
Age: 21
With Claudia Pina's brilliant displays for Barcelona, it's hard to believe she only has six caps with the Spanish national team. The 21-year-old budding superstar has become a mainstay in the starting lineup for her club, and it's only a matter of time before the same can be said about her country.
Pina has an incredibly dangerous knack for scoring bangers, especially for someone her age. Her recent Champions League exploits well attest to that.
But beyond her scoring ability, she has a seemingly preternatural feel for nearly all aspects of the game, be it intelligence, vision, and a surprising amount of strength for her slight frame. After a disappointing run at the 2022 EUROs, a very talented Spain side will look to turn things around this summer, with Pina and hopefully a healthy two-time Ballon d'Or winner Alexia Putellas leading the way.
Jule Brand
Country (Caps): Germany (27)
Age: 20
In 2019, it was Giulia Gwinn who burst onto the scene for Germany, playing in every minute of the side's five matches, recording a goal and an assist en route to winning best young player honors.
If Germany, a side which has been very much on the rise, were to produce another player to win the award, our bet is on Jule Brand. The 20-year-old winger can play a multitude of positions in all three segments of the field, and her versatility played a part in her role as a super sub at the 2022 EUROs, where Germany finished runners-up.
She did start the team's last two matches in the tournament, playing all 90 in the semifinal against France and coming off at halftime against England. She continues to play well for her club Wolfsburg, who currently sit atop the Frauen-Bundesliga table, so it might be safe to presume her role within the German national team will continue to augment.
A young, dynamic player on the rise for a talented team — Brand is poised to make her mark in Australia and New Zealand this summer.
Giovana Queiroz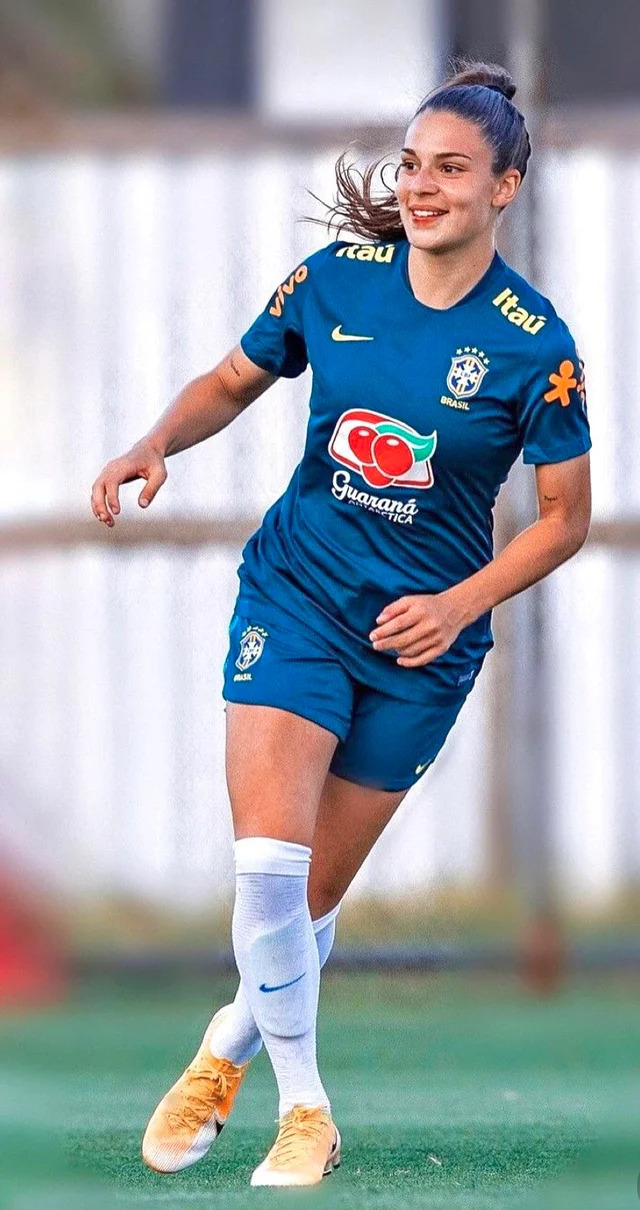 Country (Caps): Brazil (13)
Age: 19
Known simply as "Gio," Giovana Queiroz has been touted as the future of the Brazilian national team by many, including Brazil manager Pia Sundhage. At 19, she has already had a well-traveled club career, playing for Madrid CFF, Barcelona (though she never made an appearance with the first team), and now Arsenal, in addition to loan stints at Levante and Everton.
She's also featured for a handful of youth national teams, including the United States and Spain, before committing to Brazil.
With so much flux so early in one's career, you'd expect there to be some struggles. But now settled with a national team and recently recalled back to Arsenal from her loan with Everton, Gio may have the beginnings of the stability she needs to thrive. Keep an eye out for her and Brazil, who find themselves in a tough group along with France, Jamaica, and the winner of an inter-continental playoff.
Mary Fowler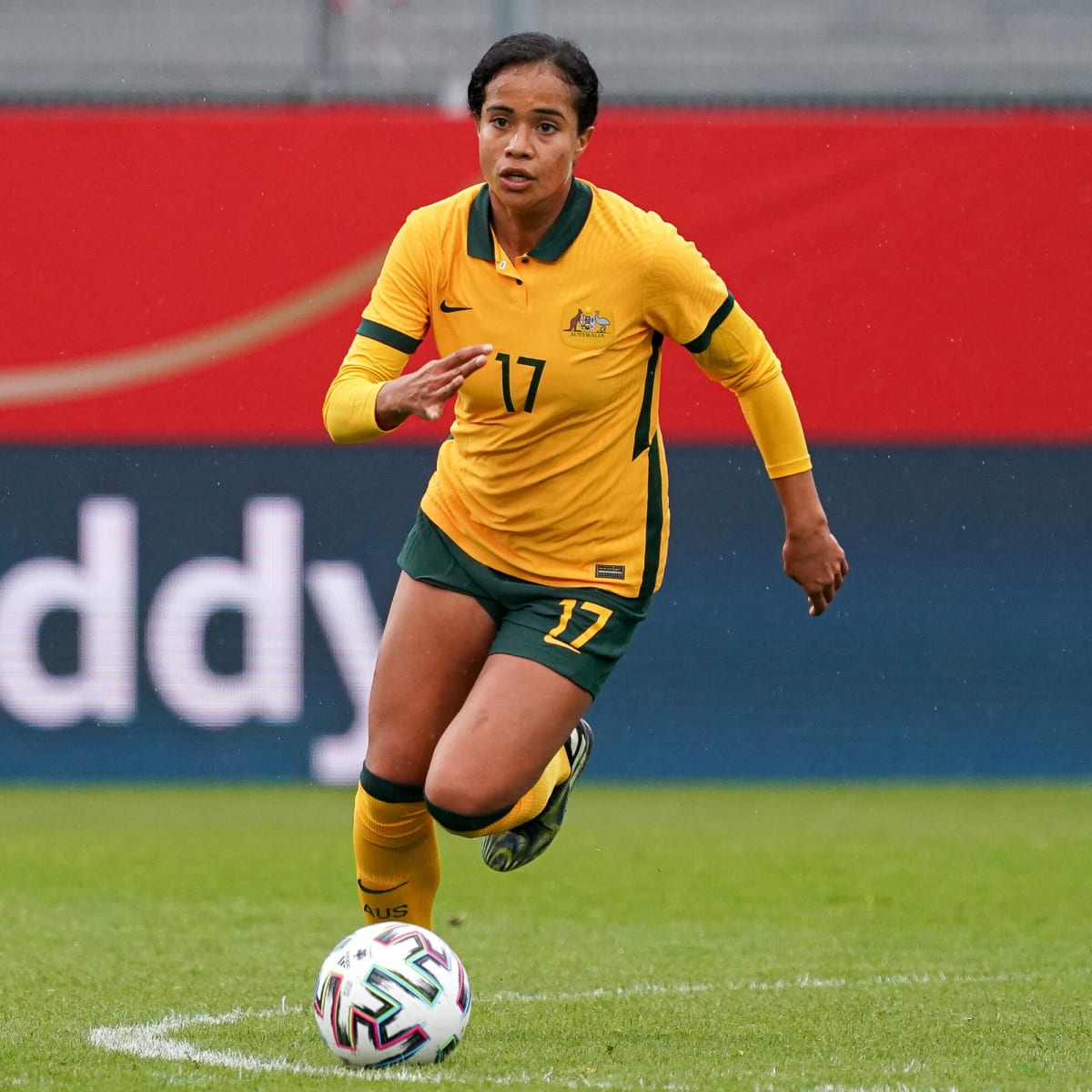 Country (Caps): Australia (29)
Age: 19
Stop me if this sounds familiar: A highly touted 19-year-old who plays for one of the world's biggest clubs making their World Cup debut in their home country.
Sure, it may be a tad bit unfair to compare Mary Fowler to Kylian Mbappe, but you can't deny the similarities between their situations.
Fowler signed with Manchester City ahead of the 2022-23 WSL season, and has seen her role slowly grow within the club. Most recently, she scored in City's 6-0 victory over Bristol City in the FA Women's League Cup on Wednesday, her fourth goal in the competition.
But while she is incrementally gaining more time on the pitch with her talent-packed club, she already has a formidable amount of experience for her country. Having made her debut for the Matildas at 15, Fowler, who turns 20 in February, already has nearly 30 caps for her country, and was included in the 2019 World Cup roster, although she did not see any action. It all seems to be coming together for the young Australian in 2023.
You might think that would put a heavy burden on her shoulders, but Fowler is far from the only talented player carrying Australia. Along with Sam Kerr and Emily von Egmond, Fowler is part of a solid attacking corps that should make a deep run in front of its home fans.