Every long sports dynasty has "sub-eras," where one group of core players hands off the torch to the next. After a half-decade of pure dominance, FC Barcelona Femení is about to enter their next sub-era. We take a look at what that could look like. (Hint: It's scary for all of their opponents.)
In light of FC Barcelona Femení's recent earth-shattering dominance, it's been easy to settle into the sense that, "'twas ever been thus." After all, imperious runs like Barça Femení's over the past three years don't just happen. There is something of a dynastic, old guard vibe to it.
Sure, there was the five-year run between 2010 and 2015 that delivered four league titles, three Copas de la Reina and two domestic doubles between 2012-14. Remember though, that run quickly gave way to a four-year run of second-place league finishes and two Copas de la Reina that was punctuated by a genuine humbling in the 2019 Champions League final against Lyon. Plus, that half-decade was the first time that this side experienced anything resembling meaningful success.
Not only were those two domestic doubles the first two in Femení's history, those league titles were the first that the side had ever won. At the time of their first-ever league title in 2011-12, Barça Femení were 18 years and multiple relegations removed from their only trophy: the 1994 Copa de la Reina. Hell, five years prior to that inaugural league triumph, the side was playing in the second tier. I've noted it here before, so I won't belabor the point any more than is necessary: The perennially dominant force that is Barça Femení is a relatively recent phenomenon.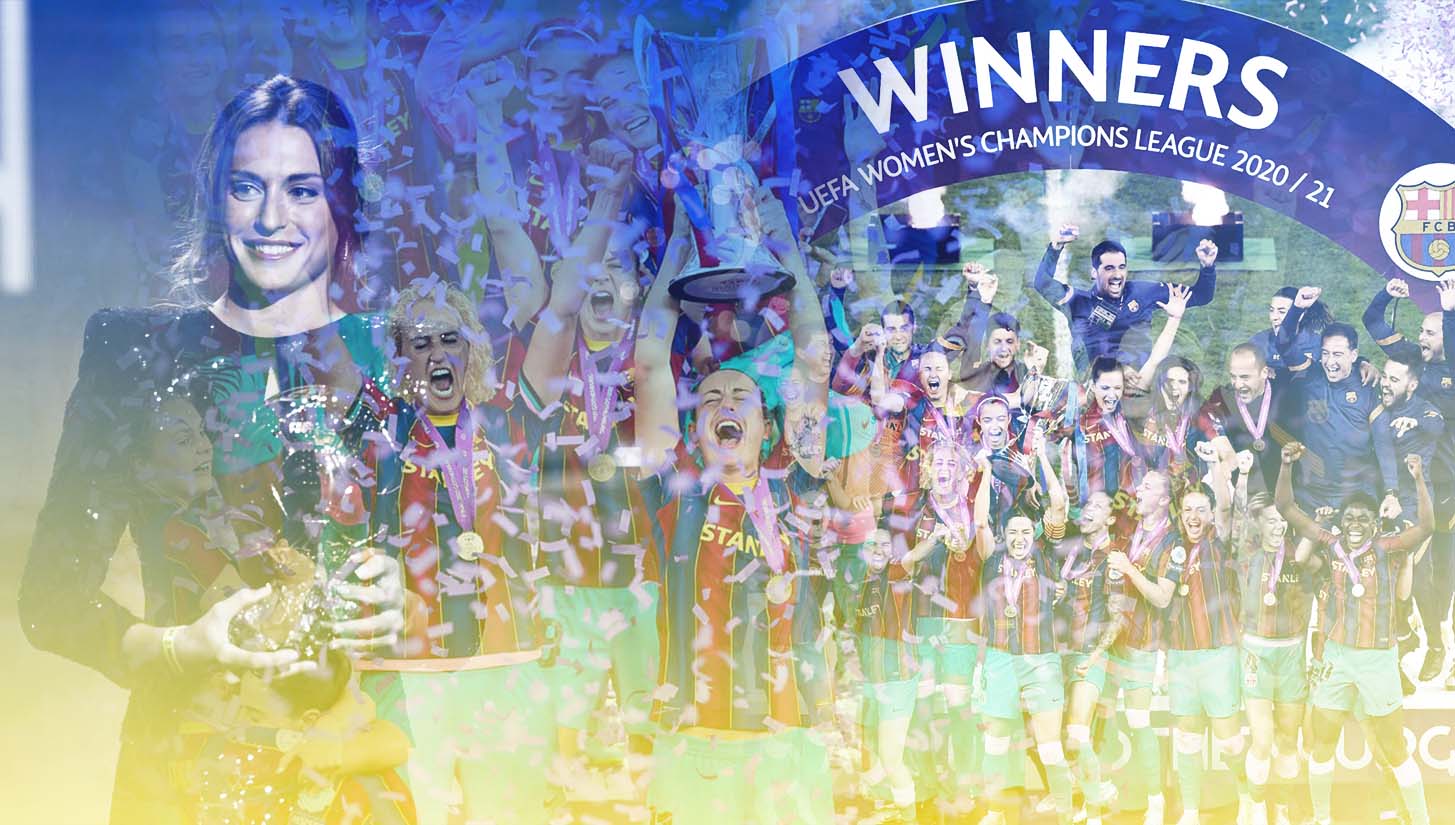 Since that defeat in the 2019 UCL Final, they've won 82 of 85 games (they drew twice in 2019-20 and lost once in 2020-21) en route to three league titles. In addition, they've scored 411 goals while conceding 32, lifted another three Copas de la Reina, secured Barça's first treble in the women's game with a monumental Champions League Final showing against Chelsea, and came within a single game — admittedly another Lyon-administered humbling — of a second.
Barça Femení has assembled a positively hilarious collection of top end talent — they had three of the top five and five of the top 20 in Ballon d'Or voting in 2021 and will come in with a similar (if not more impressive) showing this time around. One that's not only incisive, clinical, and utterly ruthless, with an irrepressible need to live on the front foot, but also thoughtful, intelligent, charismatic, and, simply, fun. Most impressively, these teams, assembled via different means and over a period of years, felt as though they'd not only grown up together, but would grow old ("sports old," at least) together.
Of course, no modern sports dynasty, no matter how constant the core — Steph-Dray-Klay-Kerr, Duncan-Parker-Ginobili-Pop, Xavi-Iniesta-Messi-Busquets-Piqué, and, *sigh,* Benzema-Modric-Kroos — is static. They simply can't be. Whether because of age, injury, finances, or differing ambitions, change comes for them all.
Sure the Warriors just won a fourth NBA title in eight years with the coach-trio core but, around them — Kevin Durant came and went, D'Angelo Russell turned into Andrew Wiggins, Jordan Poole was drafted, and so on. Similarly, by the end of the Spurs' near-two-decade run, David Robinson was only memory, and Kawhi Leonard was the team's signature superstar. Throughout its magical decade, Barça's glorious generation played alongside an incredible variety of stars: Ronaldinho, Samuel Eto'o, Dani Alves, Thierry Henry, Zlatan Ibrahimovic, Neymar, Luis Suárez…you get the picture.
Now, for the first time since their ascent to the top of the game, Barça Femení is embarking on its own cycle of reinvention.
The most resonant  — if at this point largely symbolic — loss is that of Melanie Serrano. The iconic left back joined Barça as a youth player in 2003, with the side mired in the second tier. She debuted for the first team in 2007 (with the side, again, mired in the second tier), and was not only present for, but contributed to every leg of the climb to the top of the sport. The soon-to-be 33-year-old, who gave birth to twins in February, called it quits after the 2022 Champions League final, having won an incredible 27 trophies and made 553 official appearances, a club record for a female player.
Also exiting the club (for a second time) is another homegrown left back. In 2007, four years after Serrano's arrival at the club, 13-year-old Leila Ouahabi, from nearby Mataró, joined FC Barcelona's youth setup. Within five years, she was a first-teamer with two league titles and a Copa de la Reina under her belt. In 2013, seeking more playing time, Ouahabi left the club and signed with Valencia. She returned in 2016, and helped the side to three more league titles, another five Copas de la Reina and, of course, the treble-completing Champions League win.
On the heels of the 2022 Champions League final defeat, Ouahabi announced that she would once again be leaving the club, and a little more than two weeks later, she was putting pen to paper on a contract with Manchester City.
Most notable on the pitch is the departure of the first women's player ever to join the club on a paid transfer, Lieke Martens. Martens arrived at Barça from Swedish club Rosengård in the midst of her FIFA and UEFA Women's Player of Year-worthy 2017. In five seasons with the club, she made 156 appearances in all competitions, scored 73 goals, and also lifted a trophy in every competition in which she took part — most notably league (three times), the Copa de la Reina (four times) and the Champions League — and finished fifth in Ballon d'Or voting in 2021.
Arguably every bit as important is what Martens meant for the club reputationally. At the time of her arrival, Barça still had yet to taste the ultimate success, and were merely a face in the Wolfsburg/Arsenal/Chelsea/Atlético de Madrid "best team not named Lyon" crowd. Though Lyon rather rudely reconfirmed their place atop the women's club food chain, Martens' half-decade in Catalunya helped Barça break out of that pack of merely "excellent" teams.
Also, in teaming with Alexia Putellas and Jenni Hermoso, Martens formed one of the game's most devastating attacking trios, comprised of genuine needle-moving superstars. Beyond that, her place alongside one local (Putellas) and one Spanish (Hermoso) superstar reflected the club's ambition and intent to feature — as the best versions of the men's side historically have — the world's greatest players at the peak of their powers.
Sadly, this particular good time came to a less-than-delightful end.
The 2021-22 season was the last on Martens' existing contract. It was widely reported that the club offered her a new contract at the beginning of this season. Though the process of actually signing the deal dragged on, by all accounts Martens and the club had agreed on terms, and her renewal seemed a formality. Alas… 
The months wore on, and her signature never made its way onto a contract. The side continued to steamroll all comers and rewrite history, Martens lost much of the back half of the season to injury…and still no signature. Along the way, confidence in the verbal agreement dissipated, particularly as — much to Barça's chagrin — Martens not only ceased communicating with the club, but began actively ignoring calls from club representatives. Suddenly, in a replay of last year's nightmare scenario, a spectacular superstar who'd helped the club secure every major trophy for which they'd competed was off to France, to join Paris Saint-German on a free transfer.
And then, of course, there's Jenni.
No matter how you slice it, Jenni Hermoso is a bonafide legend of the game. She spent 10 of her 12 top flight seasons in Spain, won seven league titles (starting in 2010-11 with Rayo Vallecano), four Copas de Reina, the Champions League and five Pichichis as the league's top scorer. She spent seven of the past nine seasons as a member of the Blaugrana, during which she won five of those league titles, all four Copas, the Champions League crown and four of those Pichichis. In one of those other two seasons — her 2018-19 return to Atlético Madrid, with whom she played her youth football and made her senior debut (on the heels of an underwhelming move to PSG the previous season) — she led Atleti to a league title and led the league in goals scored.
Just as this piece was nearing completion, it was announced that Jenni would not be renewing her contract with Barça, but instead moving to CF Pachuca of Mexico's Liga MX Femenil.
Beyond that staggering resume, Jenni has been one of women's football's leading lights over the transformative past decade. And, as importantly, she's been, as much as any individual, the driving force behind the spirit and the personality of Barça's recent sides.
It is worth noting that Hermoso, who just turned 32 in May, is coming off of her "least prolific" season of the last four — though it must be said that 23 goals in 36 games in all competitions is still pretty, pretty good — and just suffered a knee injury that will keep her out of the upcoming Euros. One way or another, this day was coming, though it doesn't make the loss any less brutal.
At this stage, the on-pitch impact of these losses, while very real, is unlikely to hamstring the side. For one, as of June 20, Barça had confirmed a fairly ridiculous group of incoming signings, including an addition to their already hilarious array of goalscoring options:
Geyse Ferreira: The 24-year-old Corinthians youth product joined Madrid CFF in 2017. After a quiet first season, the Brazilian attacker joined Benfica, where she broke out spectacularly, netting a silly 59 goals in all competitions over a season-and-a-half, and led Benfica to the Taça de Portugal and promotion to the women's top flight, the Campeonato Nacional Feminino. She returned to Madrid CFF midway through 2019-20 and, in 62 games over two-and-a-half seasons, scored 36 goals and assisted on another 11. This includes her fantastic 2021-22 season, during which, in 27 league games, she scored 20 goals – 47% of Madrid CFF's season total, and good for joint-league-best, with Barça's Asisat Oshoala.
Nuria Rábano: The just-turned-23-year-old left back starred for Real Sociedad over the past two seasons, the most recent a second-place finish (24 points behind Barça), in which she started 26 games and assisted on seven goals. The young Galician star began her career in 2015, with a season at Atlético Arousana. She was then signed by Deportivo Abanca (the sponsored name of Deportivo La Coruña's women's team). Over four years, she helped Depor to the Primera División, and a fourth-place finish in their COVID-shortened debut campaign in the top tier. Nuria was also a target of Wolfsburg, Real Madrid, and Atlético de Madrid.
And, of course, there's Lucy Bronze:  2009 NCAA champion, three-time FA Women's Super League winner (twice with Liverpool, once with Manchester City), two-time FA WSL Cup and Women's FA Cup winner, three-time Champions League (and two-time treble) winner, winner of the Silver Ball at the 2019 FIFA Women's World Cup, 2014 and 2017 PFA Women's Players' Player of the Year winner, 2018 and 2020 BBC Women's Footballer of the Year, 2019 UEFA Women's Player of the Year (the first English player to win it), and FIFA's Best Women's Player for 2020. It's safe to say that the England right back is nothing short of legendary.
If that doesn't strike you as a sufficiently impressive haul, I'd love to spend even a moment in the wonderland that is your reality — and then point out that:
In addition to replacing an aging talisman and a solid contributor on the back line with a rising star playmaker and a bona fide superstar just two years removed from "best in Europe" status — and a top-10 player in the world with literally the best domestic goal scorer that wasn't already on the team, in 2022-23, Barça will welcome back from protracted injury absences:
Bruna Vilamala: The just-turned-20 striker who joined the club at age 11 in 2013 became the club's fourth-youngest first team debutant in 2020 and scored 13 in 20 appearances (across all competitions) — including an awesome 12 goals in 15 in the league — for the treble-winning 2020-21 side, is expected to be back and at full strength after losing all but seven games last season to a torn ACL.
Jana Fernández: Another 20-year-old academy product — this one a defender. Fernandez is a U-17 World Cup winner and, in November 2018, the second-youngest player (16 years and 9 months) to debut for Barça Femení since the side was professionalized in 2015. Before her own ACL injury robbed her of much of the 2021-22 season, Fernández had made 38 first team appearances since the start of 2020-21. Assuming a full recovery, she will be a regular in 2021-22, and resume her march toward stardom.
It probably bears mentioning that all of this maneuvering only adds to a lineup that already includes Alexia, Oshoala, Sandra Paños, Mapi León, Irene Paredes, Patri Guijarro, Fridolina Rolfö, Ingrid Engen, Ana-Maria Crnogorčević, Caroline Graham Hansen, Aitana Bonmatí and arguably the most innately ruthless attacker on Murderers' Row, Claudia Pina.
If, after all of this, your conclusion is some version of,"Eh, I dunno. It sounds like they're going to be just fine,"… you're absolutely right.
In Paños they have one of the top keepers in the world, who's still just 29. Anchoring the defense is one of the top three (for my money No. 1) center backs on Earth, León, who just turned 27. And the midfield will still be anchored by Alexia (28), Patri (recently turned 24), and Aitana (also just 24). Up front, the aforementioned Oshoala (28 in October), Graham Hanson (recently turned 27) and Pina, who doesn't turn 21 until August, will lead the attack.
For this season, next season, and probably even the one after that, if Barça do nothing beyond keeping this band together and absorbing the loss of Jenni's massive personality, domestic dominance and European success will likely still follow. However, to keep this machine running at the peak of its power, rejuvenating and reloading the team proactively — rather than only out of necessity — is vital. For one, it's the most effective way to keep the core, no matter how talented and accomplished, from growing stale. Also, it's these moves in these moments that will offset the impact of age in defense (Torrejón is 32 and Paredes will be 31 in July) and midfield (Crnogorčević will be 32 in October).
Mismanage these pivots and opportunities to create "sub-eras" within a broader dynasty, and you notice just how quickly a "talented 32" becomes "declining 34," and how quickly a superhuman 28 becomes a "merely good 31″ — and just how quickly that all saps the magic from a team.
On paper, these moves represent all that's necessary to keep this Femení side at the top of the food chain. Of course, these moves don't only happen on paper, nor does each, no matter how seemingly sensical and smart, exist in a vacuum. It will be fascinating, in 2022-23 and beyond, to see just how proactively this team is retooled on the fly. Now, amid astronomical expectations and dramatically more intense competition from Europe's other top clubs, this awesome fire will only keep burning if those in charge continue to find not only the talents to offset departures and decline, but also those with the personalities and on-pitch instincts that fit within the system.