From the best tracksuit to the best use of a retro kit, we take a look at the five best footballer fits from the 2021-22 season. 
As the most recent season of European football came to an end, the conversations around the winners of the Ballon d'Or as well as the PFA Player and Young Player of the Year have been rampant. We decided to take a completely different direction and award five footballers for fit choices that made a huge impression on us.
In the words of Fabrizio Romano, here we go!
The Best International Duty Fit: Michy Batshuayi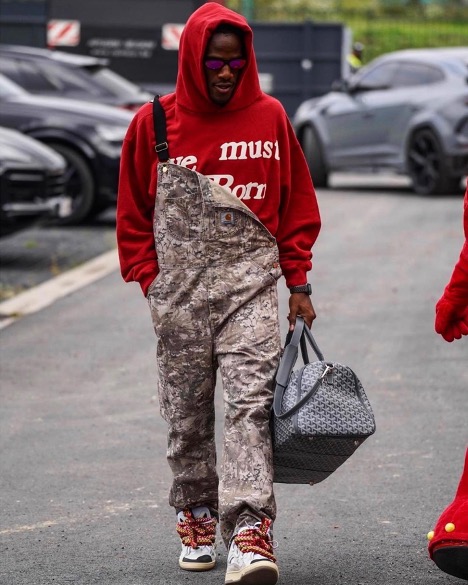 By this point, we all know Michy Batshuayi is a fit god, but even for him, this ensemble sits right at the very top. And what is perhaps even more outrageous is the fact that the Besiktas striker rocked up to international duty for the first time in the 2021-22 season by making such a statement.
Props are due to the Belgian for wearing the red iteration of Cactus Plant Flea Market's 2019 hypebeast favorite, the "Born Again '19'" hoodie, unlike the rest of the world that played it safe by donning the standard moss-colored version.
Another impressive feature behind how Batshuayi carries this outlandish fit is the subtle flex, as the "Ye Must Be Born Again" message isn't fully out there for the paparazzis and the streetwear pages on social media to set their sights on.
But if you know, you know that the 28-year old has brought back one of the most coveted streetwear items in recent memory to Belgium's training camp two years later. Also, the decision to pair the hoodie with Carhartt dungarees is simply top-tier from a man with one of the best eyes in the game for assembling a fit worth paying attention to.
The camo-inspired overalls make Batshuayi nail the hipster look to perfection, and is surprisingly the perfect contrast to the hoodie that doesn't mind being out there. While this is clearly a footballer that has a flair for fashion, the one-strap dungaree makes the on-loan Chelsea forward seem like he couldn't care less, and the external lack of effort goes a long way in making him look like one of the coolest people around.
And of course, we have to talk about his Lanvin Curb Skate sneakers. We realize that these aren't everyone's cup of tea and each to his or her own, but there is no denying that if there's a way to drop such a divisive shoe, it is by following the Batshuayi blueprint.
Capping off a 10/10 fit with the monogram Goyard bag is a superb choice, as this is one of the select few accessories that will never go out of style. Michy Batshauyi knew what he was doing with this one.
The Cleanest Summer Fit: Mason Mount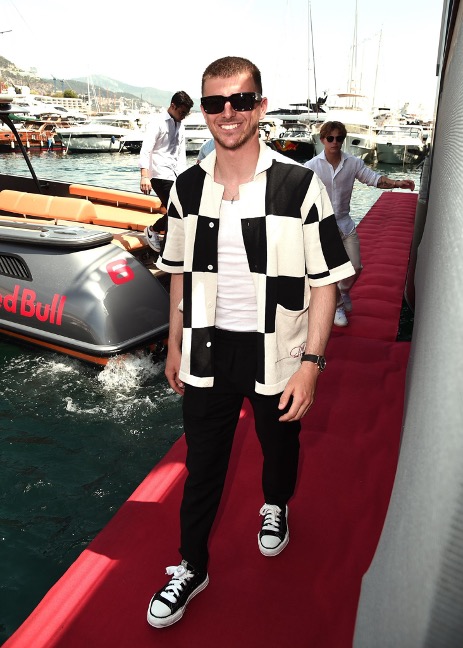 It's strange how Mason Mount's season went under the radar, despite being one of the few players in the 2021-22 Premier League season to get double figures in goals (11) and assists (10). Looking at this fit, it's safe to say that Chelsea's poster boy is underrated, both on and off the pitch.
Amidst the buzz of the Monaco Grand Prix, the England international's impeccably assembled clobber from head to toe rightfully stole the attention from the likes of Sergio Perez, Max Verstappen, and Carlos Sainz Jr. that were gunning to be crowned champions.
Let's talk about how sensational that shirt is. To be specific, the camp-collar intarsia wool-cashmere blend Rhude shirt is the best possible start to a summer-y fit and looks straight out of Charlie Sheen's wardrobe from Two And a Half Men.
And knowing how much of a fashionista the 23-year-old really is, we're sure he picked out the shirt specifically to match with the checkered flag — no surprises here, considering the boy's attention to detail has always been unquestionable as we could gauge from his attempt to recreate Cristiano Ronaldo's free kick vs. Portsmouth in that now iconic viral video.
The footwear matches perfectly with the Englishman's ensemble, as the black and white Maison Mihara Yasuhiro kicks work superbly with one of the most carefree, yet subtly brilliant looks you're likely to see someone pull off all summer.
It isn't a coincidence that a red carpet is in place for Mount, who looks like a certified Hollywood star wearing this fit.
The 'I Give Zero F***s' Award: Serge Gnabry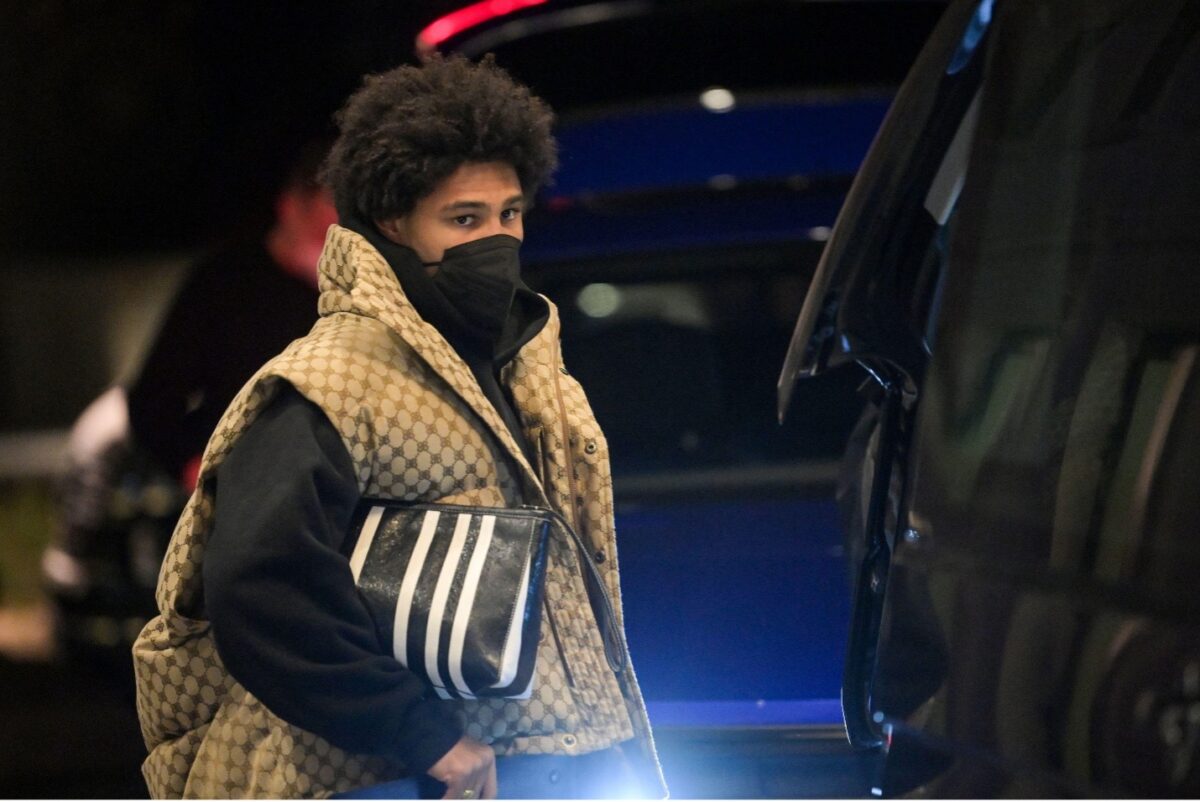 It may have been a surprise not to see Dominic Calvert-Lewin be crowned the winner for this award, as most of his outlandish fits are featured on magazine covers as pundits lose sleep over the Englishman wearing a satchel of some sort.
However, it's a little obvious to go with the Everton goalscorer at this point, who never ceases to surprise by breaking barriers. Serge Gnabry, on the other hand isn't vilified by the media for his fearless fashion choices and even if he was, he would not bat an eyelid as he touched down to national duty by donning this enormous Gucci gilet.
The £2,000 XXXL designer vest understandably divides opinion, but it's a fit choice that would probably get the whole world championing A$AP Rocky for being a fashion icon. If the Harlem-born rapper can get his flowers for pulling such whacky items effortlessly, the Bayern Munich winger is due his credit for conning us into thinking we'd look as steezy with that vest on.
The best thing about Gnabry's fashion choices is the fact that they are always representative of his personal preferences, rather than jumping on the bandwagon of streetwear hype culture.
This is evident through his wash bag, which strays away from the classic Louis Vuitton bag that the typical footballer carries to games. It's a welcome change, and emphasizes that the German forward is anything but the typical footballer.
And aside from how outrageous the Gucci vest is, to see one of Europe's premier footballers being fearless in his fashion choices sends out two extremely powerful messages. One, it encourages his supporters not to be hesitant to wear whatever they wish. Two, it humanizes Gnabry as we football fans get an insight into how he expresses himself through fashion. More power to one of the most charismatic footballers in the game for not caring a tiny bit about the detractors and inspiring others to be as carefree with what they wear.
The Best Tracksuit of The Season: Robert Lewandowski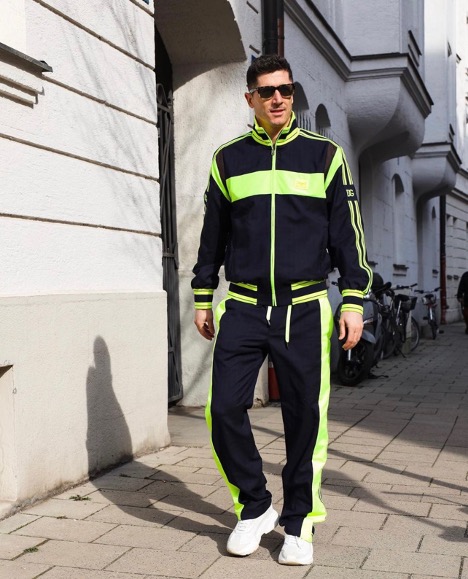 To the reader that considers this an absurd award choice, our favorite ballers live and die by a solid trackie so it was only right to make this its own category. It is their staple day-to-day fit on their way to training, as well as a way of making a statement by putting on a designer tracksuit to flex on the 'gram.
And Robert Lewandowski decided to set the levels with one of the cleanest tracksuits you're likely to see anywhere. This neon Dolce & Gabbana checked wood jacket paired with matching jogging pants is a fit for the ages. Not only does it evidently catch the eye, but it is a breath of fresh air from footballers dressed head to toe in Palm Angels or Fear of God's 'Essentials' tracksuits.
Much like Gnabry's choice of wash bag, the allegedly Barcelona-bound superstar's choice of trackie showcases his desire not to jump on the wave and create his own lane through what he wears. And once again, you have to respect his commitment to being his own person rather than a walking streetwear Instagram account.
The D&G drip doesn't just stop there, as Lewy rocks the all-white Daymaster sneakers of the luxury Italian fashion house, but a majority of onlookers would be unable to tell as the suave striker is anything but unsubtle. For a player that is associated with dapper looks such as designer suits and crisp white shirts, Lewandowski proves his versatility in terms of his personal style in stupendous fashion here.
The Run It Back Award for Best Use of Vintage Kit: Borja Iglesias, Hector Bellerin, and Aitor Ruibal

This accolade had to be shared by the Real Betis trio for taking the initiative of celebrating the end of the historic Spanish club's 17-year trophy drought in style. It comes as no surprise that one of the most fashion-forward footballers around in Hector Bellerin was on board to run it back on the grandest stage, wearing the sumptuous 1995-98 Betis home kit with Wojciech Kowalczyk's name.
Aside from the actual shirt, the choice of player that the La Masia graduate chose to rep is as niche as it gets; taking into account the fact that the Polish striker merely scored 14 goals in 62 appearances for the Seville-based outfit. But perhaps the standout throwback to Betis' football heritage was executed by Aitor Ruibal, who rocked a classic away kit from 1995-98 as well.
This Kappa classic remains coveted amongst kit connoisseurs to this day, as they scour eBay to find this gem that was adorned more than two decades ago. And what is perhaps even more special about this throwback from Ruibal is that as this release was worn by Betis in 1997 when they lost the Copa Del Rey Final, it can be synonymous with the club on a day of a triumph for the ages.
The silky winger also paid homage to Betis hero, Juanjo Cañas with the number 10 on his back — a fan favorite due to his 15-year career at the Estadio Benito Villamarin. You love to see the Betis legends get the respect they deserve from the current lot.
And last but certainly not the least, Borja Iglesias brought out an underrated classic by rocking the 1998-99 home shirt, which is an indication that the striker bleeds Betis and has a penchant for spotting a cracker of a shirt. We could go on and on but not only is it lovely to see footballers wear jerseys, but to see them sport retro kits by going back in time to don the ones they adored growing up is a sight to behold.