Ahead of the 2022 UWCL final, we take a look at the recent dominance from both Lyon and FC Barcelona Femeni, while also examining why this final is particularly meaningful for Barça.
Who doesn't love a good origin story?
There's no substitute for loving something on its own terms, for how it makes you feel in the moment. At the same time, there's an extra layer of investment that comes with really understanding where your protagonists come from and what they've endured.
Sports lore is full of this sort of thing. Michael Jordan didn't make varsity as a sophomore, Tom Brady was a 6th round pick, Messi's napkin that changed the world… you know the deal. (You'd like to think that one day, the movies might get in on the whole origin story thing. And when they do, I pray that someone, anyone, tries to get to the bottom of who hurt Bruce Wayne.)
Which bring us to May 18, 2019, in Budapest, Hungary.
That evening, in front of just under 20,000 fans in the Groupama Arena, FC Barcelona Femeni and Olympique Lyonnais Féminin squared off for the honor of becoming the 18th winner of the UEFA Women's Champions League.
One of the sides was an imperious, untouchable death machine led by the reigning Ballon d'Or winner. The other was Barça Femeni.
Eyeing Greatness…
Led by a familiar lineup of Alexia Putellas, Sandra Paños, Mapi León, Marta Torrejon, Mariona, and 2017 Player of the Year Lieke Martens — all of whom had arrived at Barcelona between 2012 and 2017 — along with academy graduates Vicky Losada, Aitana Bonmatí, and Leila Ouahabi, Barça had won four league titles and four Copas de la Reina over the preceding eight years.
They'd lost just 16 league games in that span, scoring 773 goals and conceding 103. In the Champions League, since inexplicably conceding three goals to Kazakhstani side BIIK Kazygurt in their opener (they lost that away leg 3-1, but won 3-0 at home to advance), they'd scored 17 and conceded zero in seven straight wins. This was a genuinely fantastic team.
At the same time, a trophy-less 2018-19 domestic campaign, in which they'd finished second in the league for a fourth consecutive season, while conceding a seven-year high of 15 goals, was hardly suggestive of burgeoning juggernaut. Plus, the mountaintop was already occupied by Lyon.
It's easy to forget about the French side's dominance over the past 10-plus seasons, in part because the parallel ascents of both Barça Femeni and Paris Saint-Germain Féminin have coincided with previously unseen levels of exposure and popularity for women's club football.
This, combined with an ACL injury that sidelined 2019's inaugural winner of the women's Ballon d'Or, Ada Hegerberg, which led to a trophy-less season for Lyon for the first time since 2006 has, to some extent, obscured the club's obscene dominance of the women's club game. The first European club to devote serious resources to women's professional football for the better part of two decades, Lyon stood alone, orders of magnitude above just about every other side in Europe. It's certainly no secret, but for both diehards and recent arrivals, a quick nut-shelling may be instructive.
…Then Reality Bites
Lyon came into that final having won 13 straight domestic league titles, 10 domestic cups since 2003, five Champions League titles (including the previous three), and three league/cup/Champions League trebles. They'd lost a total of five league games in 13 years. Maybe read that last one again. Or, try this one on for size: only two of those losses had come since their first Champions League triumph in 2010-11. During that stretch (domestically), they'd scored 1,010 goals, while conceding…66. Just once (to this day) since 2009-10 have they conceded double-digit goals in a domestic league campaign.
In their four Champions League runs prior to that final, they'd won 29 times — including both legs of a quarterfinal against Barça the year before — lost just twice, and drawn four times (twice in finals they'd end up winning in penalties), scoring 135 goals compared to a whopping 15 goals against.
In 165 games across all competitions between her arrival at the club in 2014 and kickoff of that 2019 final, Lyon's signature superstar, the aforementioned Hegerberg, had scored 194 goals. That's 1.175 per game. For context, at this rate, every five weeks, Hederberg was netting as many goals as the team had allowed, on average, per season over the past 13 years.
It's absolutely flabbergasting.
On that day, anyone predicting a passing of the torch, or even hoping for a modicum of drama was quickly disappointed. From the opening kickoff, Lyon, rather emphatically, highlighted the chasm between "merely excellent" and "staggering dominance."
Lyon thoroughly outclassed Barcelona, and took a 3-0 lead in less than 20 minutes. Hegerberg later went on to brutally (though, it must be said, also mercifully), complete her hat trick and Lyon went into the half up 4-0.
Sure, Barça had a couple of chances before halftime – including a nailed-on "shoulda been" header by Alexia in the 43rd — a decent few minutes to start the second half, and a beautiful Alexia-to-Oshoala consolation in the 89th, but they'd been playing for pride since the half-hour mark. By the time all was said and done, Lyon had outshot Barça 19-10, put 11 shots on target, while facing just two, and cruised to the 4-1 win.
Sound like anyone you know?
Quick Studies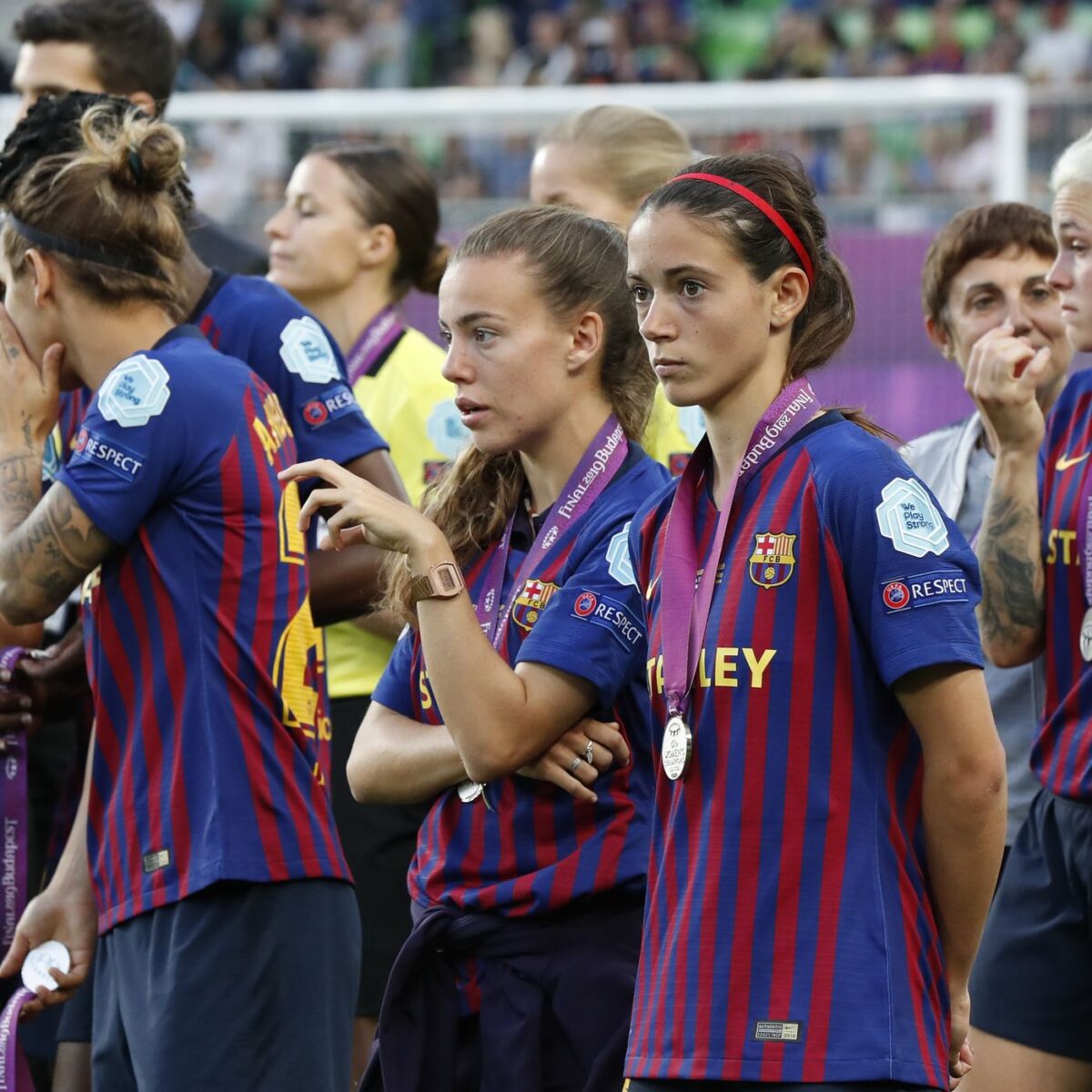 Yup, three years and two days ago, Lyon thoroughly Barça'd Barça. Or, rather, Barça have been Lyon-ing the rest of Europe ever since.
The result was very much in the eye of the beholder. On the one hand, for Barça to finish second to the sport's preeminent power just five years after professionalization was nothing to scoff at. And yet, the way in which those runners-up medals were foisted upon them were much more a reminder of how far they still had to go yet, rather than a cause for celebration.
Or so everyone thought.
The following season confirmed that there was absolutely no shame in getting dismantled by that Lyon side, as the French giants won a fifth treble, scoring 99 goals and conceding just six in 23 (COVID shortened the league season to 16 games) undefeated games.
And then there was Barça. Femeni took another step forward in their own COVID-shortened season, finally winning the league again, also without defeat (19 wins in 21 games, 86 goals for, 6 against), cruising to the Copa de la Reina without conceding a goal, and winning the Supercopa de España final 10-1 over Real Sociedad. They also came within a whisker of a rematch in the Champions League final, but were undone in a one-legged semifinal to Wolfsburg, 1-0, on a goal by Fridolina Rolfö, who the astute will recognize now as a Barça star.
It wasn't the ultimate goal, but it was a statement of intent. To bounce back from a defeat as potentially demoralizing as the one dished out to them by Lyon with not just hilarious domestic dominance, but only a single defeat in 33 games in all competitions — and that by a single goal, at the penultimate step of the Champions League? Barça had wasted no time dreaming up a death machine of its own.
To put it mildly, Femeni have since seized on that momentum. On the heels of that domestic double, the 2021 side put together one of the greatest campaigns in the history of club football. They won 33 of 34 league matches. They scored a ludicrous 167 goals while allowing just 15. They once again breezed to the Copa de la Reina. And, most impressively, they marched through the Champions League with a single loss (a 2-1 defeat to Man City after a 3-0 first leg win).
With Hegerberg lost for the season, Lyon were unable to defend either their league title (lost by one point to PSG) or the Champions League, which they lost, on away goals, also to PSG. So, this time, awaiting Barça in the final in Gothenburg were English champions Chelsea. Though certainly not Lyon, the Blues, led by Sam Kerr, Pernille Harder, Fran Kirby and Millie Bright would offer a stern test in their own right.
Or so we thought.
Barça's first goal comes about 30 seconds after kickoff. Though admittedly pretty lucky — an attempted clearance bounces off of Chelsea's Melanie Leupolz and loops perfectly into the goal — the good fortune feels like a karmic make-up call for Lieke Martens' gorgeous strike that had rattled the crossbar not 10 seconds earlier. And, fortunate or not, it was immediately clear that something was brewing.
An Alexia penalty in the 12th followed by a flurry of strikes gave Barça a 4-0 halftime lead. From there, they popped it into cruise control, calmly steered the devastatingly dominant performance home, and secured Champions League glory.
Sound familiar??
In the span of two years, Barça went from the business end of an unholy beating to the couriers of one…and the toast of the women's game.
When all was said and done in 2021, Barça was home to UEFA's No. 1 goalkeeper (Paños), the by far (based on voting results) top two midfielders (Alexia and Aitana), plus two others in the top 10, and the top three forwards (Hermoso, Martens, Caroline Graham Hansen), plus Oshoala, who tied for No. 9. The only spot where the Blaugrana didn't take the top spot was at defender, where Mapi León came in at No. 2. The top-ranked defender — then-PSG center back Irene Paredes — now lines up next to Mapi at center back with Barça.
De pensar que no podía ser futbolista y jugar en el Camp Nou a hacer historia en el Camp Nou ante más de 90.000 personas. Además de convertirse en la mejor jugadora del mundo, ídola y referente del Barça. Demostración de que los límites los pones tú. ✨👑😍 pic.twitter.com/DlLG0b4Oad

— 𝐸le (@fcbele11) May 18, 2022
"And Alexia wept, seeing as she had no more worlds to conquer."
Almost.
Unfinished Business
Players of this caliber obviously aren't just looking for a single triumph. These are not folks who scale a mountain once and then just pack it in. Winning at this level and at this pace feeds their appetite more than it sates it. These women are not just apex predators, they are addicts. For all of it: goals, wins, trophies, highlights — success, in all of its forms.
I mean, just look at their 2021-22 season: 44 games in all competitions. 43 wins, 208 goals scored, 19 conceded. A perfect 30-for-30 in the league, with 159 scored and 11 conceded. A 7-0 win in the Supercopa de España final. Wins in nine of 10 on the way to this Champions League final, by a combined score of 35-9, 'before/after' moments… Not much complacency there.
Obviously, duplicating last season's success — or, for Claudia Pina (on loan with Sevilla last season) and newcomers Paredes, Rolfö and Ingrid Engen, achieving it — was always the goal. To potentially do so with an even greater degree of dominance would be incredible. Like, actually difficult to believe. Not only is all of that on the table, but for the core of the 2019 side, and Graham Hansen, who was a huge part of the treble last season, but was also a member of two Wolfsburg sides (2016 and 2018) that lost Champions League finals to Lyon, and Rolfö, who lost the 2020 final to Lyon as a Wolfsburg player, there is unfinished business left to complete.
Rolfö tiene un plan ella solita

"Queremos ganar la final. Yo también he perdido una contra el Lyon, todas sabemos lo que es perder una final contra ellas. Es un gran partido y será una gran motivación ganarles al fin." pic.twitter.com/zQ8Ohs6KYe

— Andrea Sanchis (@AndreaSanchis_4) May 18, 2022
Surely the achievement of defending a Champions League title, regardless of opposition, is the primary concern. One does imagine though, that the opportunity to do so by besting Lyon — the only team to truly outclass them in three years — is one that this Barça side will relish.
With Barça at the peak of their powers and Lyon back at full strength, with Hegerberg healthy and flanked by ascendant superstars Catarina Macario and Melvine Malard, it's unlikely we see a result (for either side) on Saturday night anywhere near as emphatic as the one in Budapest. For Barça, tying up the lone remaining loose end from this three-year run of dominance will feel every bit as good.