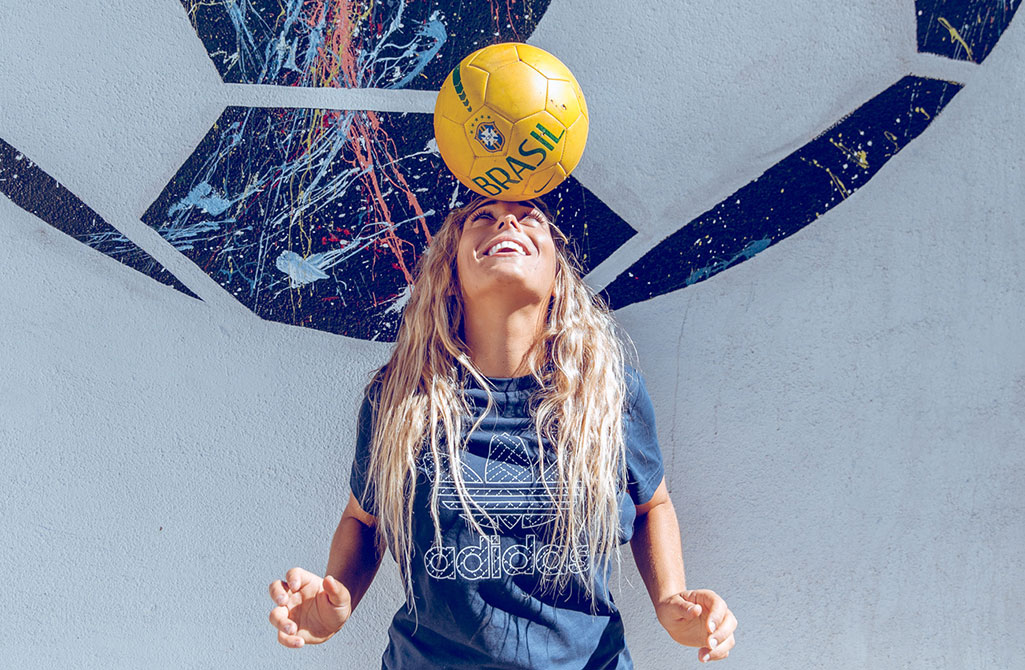 Often seen cruising on her skateboard or riding the waves on her skimboard, Yasmyn Andrade is living the Southern California dream. Originally from a Brazilian beach town called Recreio dos Bandeirantes in Rio de Janeiro, Andrade is a professional skimboarder, singer/songwriter, and model in addition to playing college soccer on scholarship for Marymount California University.
Andrade's active childhood included volleyball, track, swimming, cheerleading, and hip-hop dance, which not surprisingly led her to the current multi-faceted approach she takes with her career and life. While meeting up to play some street football, we spoke with Andrade about how she became a professional skimboarder, her music aspirations, and whether guys underestimate her during pickup games.
Urban Pitch: How did you become a pro skimboarder?
Yasmyn Andrade: I became a Pro Skimboarder after placing in the Victoria Skimboards world championship of Skimboarding in 2010.
OK, what about skateboarding? It seems like you go cruising a lot.
I skateboard every chance I get. If I have to go to the store or run errands nearby, I usually skate instead of driving. Saving gas, having fun AND helping the planet! I started skateboarding long before I started skimboarding and that actually made skimboarding and other board sports a lot easier to learn because I knew how to balance and carve and stuff.
You also do some modeling. Is it mostly related to beach and water sports and was it a natural transition for you?
My mom had me involved in modeling ever since I was a child. I did my first shoot for a clothing line when I was 3 years old. I've always enjoyed photography and being photographed so I would say it was a natural transition, for sure.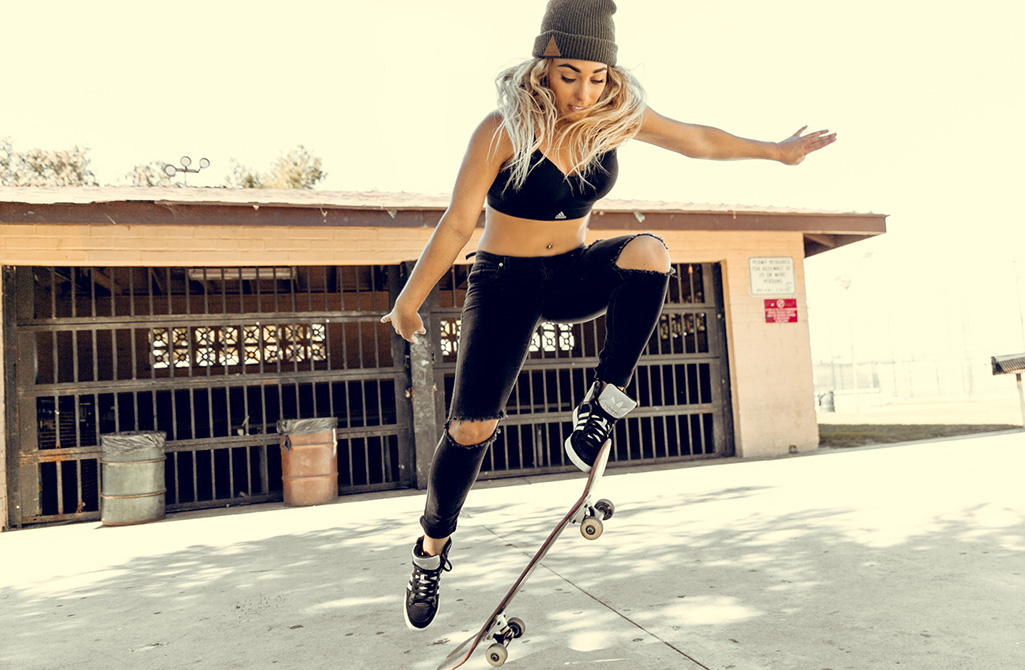 Alright, besides being a pro skimboarder and model, you also play soccer, right? What's your soccer background?
I've played soccer for about 20 years of my life. I played for my middle and high school teams, multiple travel teams, have my coaching license and even worked as a referee. I've also played beach soccer, footvolley, and futsal. I had a few scholarship offers straight out of high school but decided to pursue skimboarding and get some real-world experience under my belt first. I moved to California in 2011 where I decided to go back to school and play soccer again. After my two seasons at Long Beach, I was recruited on a full ride to Marymount California University.
What about small-sided games? It seems like all Brazilians almost have to play street football. 
It's not a requirement for Brazilians to play street football but it's very common. I like the pace of futsal and street football and that it doesn't feel so serious even when it is. I feel there's more room to be creative and test your skills.
Ok, then moving on to a more structured game environment. What's the best and worst part of playing college soccer?
I love the competitive aspect of college soccer and the commitment and dedication level that's required if you want to be on the team. It's really pushed me individually and our team as a whole. But the best part, I would have to say, is the bond I have with my teammates. We help get each other through the ups and downs physically, emotionally, and mentally on and off the field and just seeing them every day is what I will miss the most.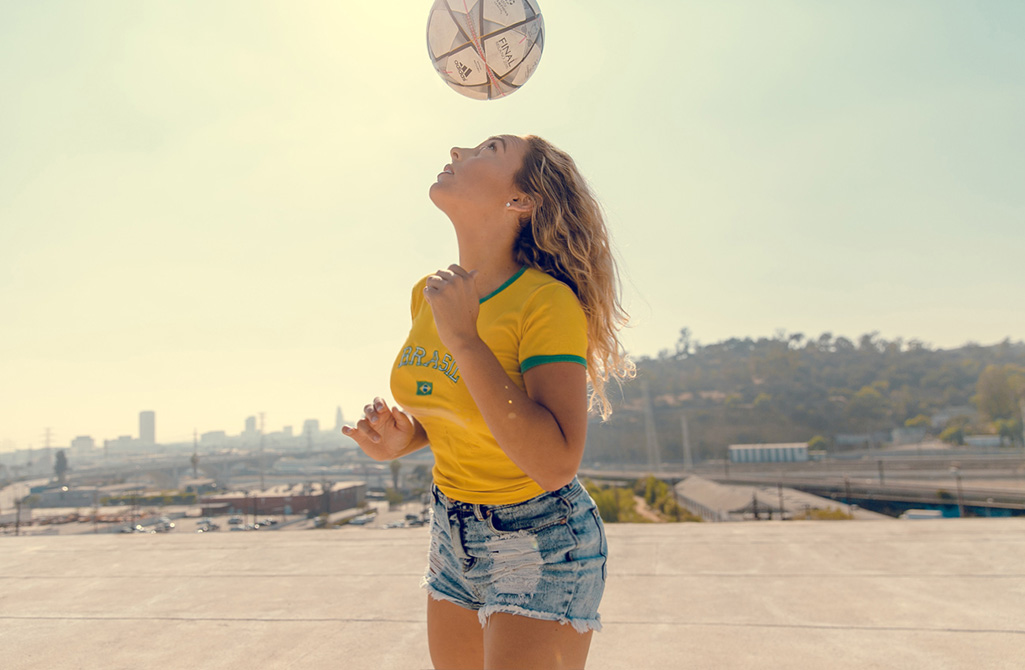 I guess you don't have any negative moments top of mind then. Alright, what about pickup games then? Do guys take it easy on you thinking you can't play?
Usually, guys tend to think that they need to "take it easy" when they play against women but I think most have found that us women often times will give them a run for their money [winks]. I trained with men's teams often growing up and I've never been treated badly or unfairly. Guys are usually stoked when a girl can play at their level or even better then some of the guys on the team. I play the same when going against guys as I do against women.
I'm sure they find out pretty quickly that you can ball! Ok, so tell us about your music career.
I love writing music and I love singing. My goal is to find a way do those things every single day of my life. I feel empowered and fulfilled when I get to sing no matter where or who it's for. Right now, I'm pushing myself to learn the ins and outs of creating music and singing in order to develop into a well rounded musician and deliver the best work possible.
I don't know how you fit all that in with your school schedule. So you're a senior this year with just a few games remaining. What are your plans after you graduate?
Plans? What are those? [Laughs] I don't really make plans because it usually ruins everything especially silly expectations. After I graduate, I know nothing for certain other than that I will have a lot more time to focus on achieving my goals. I have quite a few that I'm pursing while still full time in college and soccer and I feel super grateful about it all.
That's inspiring to hear considering everything you're doing at the moment. Best of luck and we look forward to seeing and hearing more from you soon!
Check out our exclusive podcast with Yasmyn Andrade and follow her on Instagram.
Photography by Imad Bolotok for Urban Pitch.