From another formidable crowd to the anointment of Claudia Pina, we examine FC Barcelona Femeni's recent return to Camp Nou for its latest Champions League match. 
Last Thursday, as the majority of folks in the United States were preparing Thanksgiving feasts and, in one of the nation's odder Turkey Day traditions, counting the minutes until Detroit Lions football, I was walking down Barcelona's arterial Avinguda Diagonal.
Having celebrated Thanksgiving with an excellent, multi-hour lunch, I made my way to Camp Nou, for the 6:45 p.m. kickoff of Barça Femení's latest Champions League outing in the city's sporting cathedral.
There's Only One First Time
For some time to come, for better and for worse, every Femení match at Camp Nou will be measured against two magical nights in the spring of 2022.
The thing is, that even between those two outings — each of which drew over 91,500 and set consecutive women's football attendance records — there are distinctions to be drawn.
March 30, 2022, the second leg of the Champions League quarterfinals against Real Madrid, is forever etched in history. That the attendance record set that night (91,553) didn't last a month is completely irrelevant.
The mutual outpouring of love between the stands and the pitch accompanied a palpable, irreplicable newness. For a time after kickoff, the players were clearly, understandably conscious of the largest and loudest crowd of their lives. The crowd itself was desperate to open up the emotional floodgates and elevate this irresistible juggernaut.
The game itself was not only a Clásico but, for a time, an actual contest, featuring a modicum of drama. An early lead from a Mapi León cross goal became a 2-1 deficit after a spectacular 45-yard chip, only for golazos from Aitana Bonmatí and (especially) Claudia Pina to restore order. Now with the lead again, the stage was set for La Reina de Barcelona, Alexia Putellas, to score a goal that needed to come that night. An already exuberant crowd ratcheted up to a fever pitch.
Then, of course, there was the (conservatively) half-hour post-match celebration that no one in the house was eager to wind down.
For any fan of any team, the whole thing will have been a tidal wave of goosebumps. For Barça fans, it was basically a religious experience.
When we all (plus a few more) reconvened a month later for the semifinal first leg against Wolfsburg, we knew what was up. This was especially true for the players who'd played in the first match. Barça hit the ground running, netting four times in the first half en route to a 5-1 win. It was by no means less awesome. Just as in the previous record-breaker, Europe's biggest stadium was bursting with emotion before, during, and after the match. This time, though, the feeling was "this is just what we do now."
Again, there's only one first time.
Different…Still About As Good As It Gets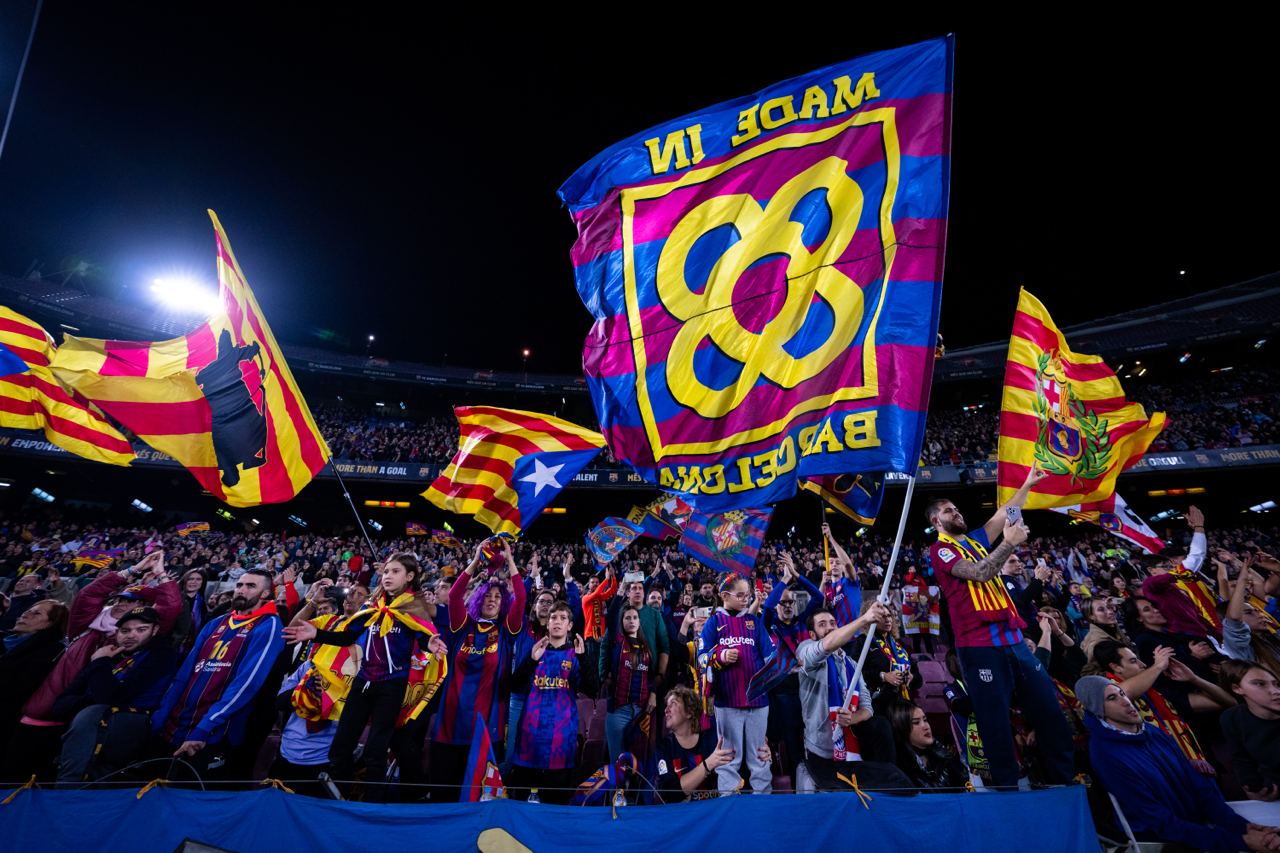 The third time around?
The whole thing was just smaller, to the tune of just under 47,000. In the absence of context, that figure might suggest that the magic is gone, the novelty worn off. Do not make this assumption.
First, every section of seats that was open was positively packed. Additionally, it seems the club is maintaining a measure of perspective on last spring's mind-blowing spectacles. There is not a blind assumption that 90,000-plus will pour in any time the gates are flung open. Also, ongoing "Espai Barça" construction around the stadium has been ramped up in light of the men's team's roughly seven-week World Cup break. And finally…
This, in and of itself, was one of the most significant evenings in the history of women's football. Just eight months ago, this would have been among the 10 largest crowds ever to watch a women's match. Even in the wake of the first two Camp Nou dates and others that have broken local records around Europe in their aftermath, this still ranks in the top 15. If anything, it brings into clearer focus just how seismic those two nights were.
I guess this is just what we do now.
As for the game itself, Bayern Munich did as well as one would reasonably expect against an amped-up Barça. The German side, which sits five points behind Wolfsburg in the Bundesliga and had also won its first two Champion League group games, offered the stiffest competition that Barça have faced thus far in the 2022-23 season, holding their hosts goalless (though not without opportunities) in the first half, while showing some attacking intent.
Barça broke through two minutes after halftime, when Fridolina Rolfö lofted a cross into the box from the left, which Ana-Maria Crnogorčević beautifully rerouted across the face of goal with a header for summer newcomer Geyse, to thump in off the left post. It was her eighth goal in 10 Barça appearances, and her third in three Champions League matches.
What followed wasn't exactly the deluge that tends to follow a Femení breakthrough after a goal "drought." It was immediately clear, however, that even with that narrowest of leads, Barça's control of the game was absolute. Aitana doubled the lead 12 minutes later (directly from Rolfö) with a slick run and poked finish. Seven minutes after that, Pina placed a spectacular cherry on top (more on this in a second).
A long-standing takeaway clubbed me over the head in the latter stages of the eminently enjoyable 3-0 win…
Delight In The Claudia Pina Experience
Thursday, despite the ongoing long-term absences of two superstars in Alexia and Caroline Graham Hansen, in addition to Mariona Caldentey, who's scored eight in eight 2022-23 appearances, the Barça attack consisted of:
Future Ballon d'Or winner (and 2022 fifth-place finisher) Aitana
Five-time African Women's Footballer of the Year (including 2022) and 2021-22 Liga F co-top-scorer Asisat Oshoala
Summer signee and the other 2021-22 Liga F co-top-scorer Geyse
Barely-19-year-old Salma Paralluelo, who can do stuff like this, and is also an Olympic-caliber hurdler
Crnogorčević, a nominal non-attacker who's deputized with six goals in 13 2022-23 matches
Bruna Vilamala, the fourth-youngest-ever Barça debutant, and scorer of 15 goals in 21 league games between her February 2020 debut and October 2021 ACL tear
That's disgusting.
Oh, yeah. There's Claudia Pina, too. My goodness, is there ever Claudia Pina.
I know what you're thinking: There's nothing more compelling than when a writer quotes himself. Good news!
I have previously marveled at the facts that:
At 11 years of age, against 12-13 year-olds,  Pina scored 100 goals in 20 games
No player, male or female, has ever debuted in an official match for a senior Barça team at an age younger than Pina's 16 years and 5 months in January 2018.
I've referred to Pina as "the most bloodthirsty on a team of apex predators" and, on this very site, as "arguably the most innately ruthless attacker on Murderers' Row." I requested that her image accompany a print article about the 50-year history of Barça and women's football.
It's all starting to seem comically insufficient. I mean, how do you accurately sum this up?
G⚽️L DEL DIA
A @claudiaapinaa li agrada marcae contra l'Alavés pic.twitter.com/UAwOJhorzl

— FC Barcelona Femení (@FCBfemeni) November 21, 2022
How can you describe someone taking the pitch at 19, in front of 91,500 in a Champions League elimination game, and nonchalantly floating an inch-perfect shot into the top right corner from the left wing?
If you thought that's impressive, just four days later, with her team's 49-game home winning streak seemingly at risk, Pina came on after halftime down 1-0 and did the following:
Two minutes in, she clawed away possession from a defender in the box to get on the board
One minute later, she deposited a left-footer into the bottom right from the edge of the box
Three minutes after Barça scored a third, she completed the hat trick by thumping a mishit clearance into the roof of the net, with the top of her head, which is listed, philanthropically, at 5 feet and 5 inches off the ground (no chance; I've seen Pina beside a five-foot tall corner flag – it's a tight race), while boxing out a defender like an NBA power forward.
In a way that none of the superstars with whom she shares a locker room can claim to be, Pina is a bonafide phenomenon. Sure, she's got vision, strength, intelligence, and technique in grotesque abundance, but what makes this whole thing special is the raw, unstepped-on instinct with which it's all deployed.
As Dan Hilton and I have discussed on The Barcelona Podcast, to compare Pina to another diminutive star who made a name for himself as a teenager in Blaugrana would be irresponsible. HOWEVER…
Not unlike you-know-who, Pina feels like she is as much possessed by her incredible talent as she is in possession of it.
The result is an absolute joy ride. Get on board.