Ahead of this fall's Next Goal Wins by director Taika Waititi, we take a look at the film's source material — a documentary of the same name from 2014. 
When the trailer for Taika Waititi's next film Next Goal Wins dropped, I was intrigued. We don't get many films that include soccer, and most of the well known ones are comedies or geared for younger audiences (a lot of the time it's both).
For such a popular sport, the major films are not that serious; Kicking & Screaming, Shaolin Soccer, Bend it like Bechkam, and the infamous Goal series to name a few. I'm not saying these films are bad, but they're nowhere near other sports movies like He Got Game or Friday Night Lights, two re-watchable films that get into issues outside of sports, and use their respective sport as a backdrop rather than the main focus.
Next Goal Wins looks like a fun comedy and a good time. Michael Fassbender is a goofy, annoyed coach dealing with an inexperienced team and likes to drink, a lot. It fits the mold of looking to be overly comedic in the Kicking & Screaming vein, just with adults.
At times, however, it feels overblown. It shows the goalkeeper throw the ball into his own net, and when Fassbender's character arrives, the first shot is his luggage only having one wheel.
It's important to note that this is only a trailer, so it would be a bit unfair to characterize the entire movie based on a two-minute snippet. But what makes Next Goal Wins different than the other aforementioned soccer films is it's actually based on a true story. American Samoa was the worst team in the FIFA rankings, and it did lose 31-0 to Australia.
The national team hadn't won a World Cup qualifier game, and if you know the story behind the movie, it may seem like the film trailer is a bit too goofy. Lucky for us, there is actually a documentary with the same name that is the the basis of Waititi's film dramatization.
It's a fairly well known story — Thomas Rongen, then the U20 United States men's national team coach, became the head coach of American Samoa, the lowest ranked team in FIFA. I went to stream the documentary and it isn't available anywhere (legally), nor was it even available to rent or buy digitally. So after waiting for my eBay order of a physical copy to arrive, I was able to finally watch it and it was quite the surprise.
In the Waititi trailer, the film focuses and follows Rongen, who ostensibly is the main character and is played by the Oscar-nominated Fassbender. In the documentary, however we don't meet Rongen until 25 minutes in. The focus really is the team, its unity, and the community of American Samoa.
The documentary opens with the infamous 31-0 loss to Australia. We learn all the players are amateurs or high schoolers. They haven't won a World Cup qualifier ever, and the coaches are volunteers who live in mainland United States. The nation of 64,000 people is then hit with a tsunami, destroying huge amounts of the island, including infrastructure and the fields used by the team.
Realizing it was in no position to improve on their own, American Samoa reached out to the U.S. Soccer Federation for help. This is where Rongen comes in. The film says he is the only person to apply for job, and while that is true, he also was fresh off being fired for failing to qualify for the U20 World Cup, after having qualified for the previous two and even making the quarterfinals in 2007 with some familiar names.
He comes to the island and quickly realizes the situation. It's bleak, the team is truly an amateur side and most of the drills cover basic dribbling and possession. The amount of yelling instructions goes up, and moments of frustration happen more frequently as the first set of competitive games approach. While the team is greatly improved, they lose all five games, giving up 26 goals and scoring zero.
The film is shot quite well, the crew had amazing access and the editors do a good job with the games. The film focuses on a few players, goalkeeper Nicky Salapu who was there for the Austrailia loss a decade earlier, and winless in his entire national team career, and a trans woman Jaiyah Saelua who identifies as fa'afafine, a third gender in Polynesian society.
The unity of the team and culture of American Samoa is brought up when Saelua talks about the difference of playing in Hawaii, and how back home she can play with who she wants, when she wants. Her bond with teammates is so strong she is comfortable changing in front of them. But she is also the hardest tackler and a player Rongen has identified as needing more minutes.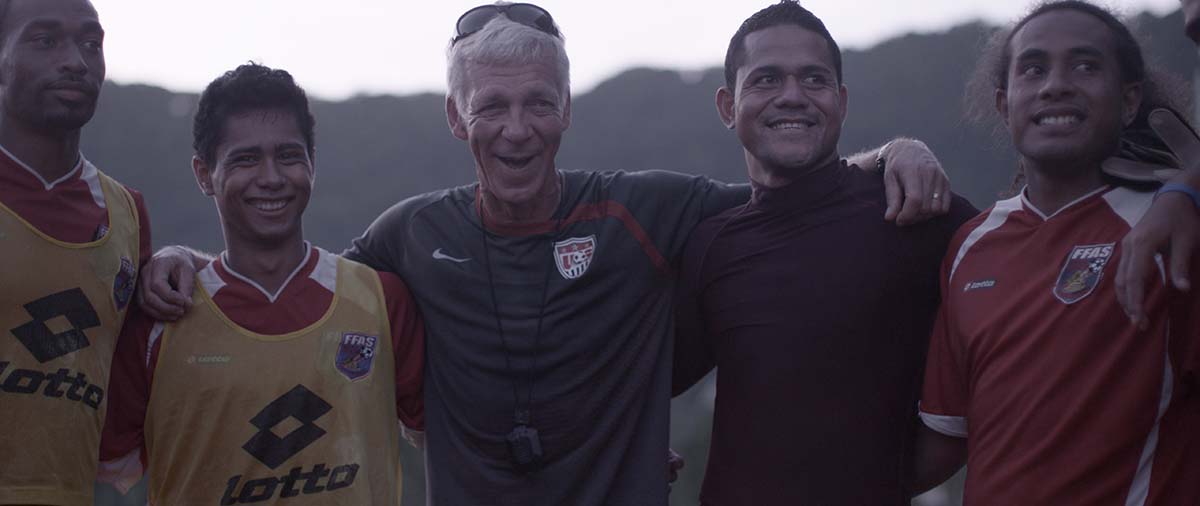 We are only halfway through the film and you start to wonder how it's going to continue. Sure they've improved, but the team is still very bad and while their unity is cool it's not new. It's rooted in their culture and is on display throughout the entire film.
Every good documentary ends up being about or at least covering something different than the main topic. It can still be about "story A," but it will also say something about "topic B." It's not necessarily a Trojan Horse, but a curveball to keep you off balance as a viewer.
Next Goal Wins dives into Rongen's past, and he shares a story about his daughter dying in a car accident at 18 years old. It becomes clear why he took a job across the globe from where his life was. He needed to mourn and learn to live without his daughter and he realizes it's in no better place than American Samoa where family, unity, and supporting each other is the way of life. He ends his story with an inspiring speech about taking the opportunities given to us.
This is where the tone of the upcoming film's trailer seems much different. One thing that bothered me a bit was how much drinking Fassbender does as Rongen in the trailer. In the documentary, he can be seen holding a cup during practice, and if you want to assume the worst, it could be alcohol, but he never comes off as drunk or belligerent in any way. We never see him drinking off the field either. This is the "Hollywood" coming out in the trailer it seems. They need to create drama and make sure everyone gets it along the way. It's funny, he needs to drink because they're so bad, get it?
My other gripe is with the goalie throwing the ball into the net. That didn't happen in the documentary, and the team wasn't losing because of a lack of understanding of the game, but alas this film needs to resonate with children just as much as adults, so we include a silly error that anyone could understand.
The final act of the documentary covers training in the final few weeks before World Cup qualifying. Not only are the players visibly trying harder but everyone is having more fun, most notably Rongen. A rainy training session ends with slide tackle practice, led by Rongen himself.
The film culminates with the World Cup qualifiers, where the team not only scores but wins its first ever game, 2-1 against Tonga. The celebration by the players is akin to Argentina this past winter, just with slightly different surroundings. They don't move on past this round of qualifying but they've won, they know they won't be the worst ranked team in FIFA and that was the, ahem, goal.
Next Goal Wins is a great film. It perfectly captures why we all play — from Salapu, to Saelua, and Rongen. Will the film adaptation capture the same energy? I'm not sure it's possible, but you could do a lot worse than Waititi for the man to be in charge. He is a master, and all of his films have emotional awareness while also being funny. We'll know for sure when Next Goal Wins hits theaters this fall.