The Supercopa de España, or the Spanish Super Cup, may look like another competition for competition's sake, but a closer inspection will reveal it to be one of the most unique in the world of football. 
Far be it for anyone to suggest that the Supercopa de España is some bastion of stability or consistency.
This is, after all, the competition whose origins lie in the Copa de los Campeones de España and the Copa de Oro Argentina, held in 1940, 1941, and 1945, which gave way to the Copa Eva Duarte, which was contested from 1947 until 1953. After that…crickets.
A near-three-decade hiatus made way for the Supercopa de España in 1982, as a two-legged affair between the reigning winners of La Liga and the Copa del Rey.
Twice, in 1984 and 1989,  Athletic Club de Bilbao and Real Madrid were awarded the cup without having to play a match, on account of having won a domestic double in the preceding season. On another two occasions in between, 1986 and 1987, the Supercopa was simply not held, due to a lack of interest. Otherwise, this two-team format — which was tweaked in the '90s to include the previous Copa del Rey runner-up in the event of a domestic double — remained until 2017, when reigning league winner Real Madrid defeated reigning Copa del Rey champion Barcelona by an aggregate score of 5-1.
The following year, a one-legged final was played in Tangier, Morocco, in which 2017-18 domestic double winners Barcelona defeated Sevilla by a 2-1 score. Since the aftermath of the 2018-19 season, the competition has been expanded to four teams: the winners of the league and cup, and the runner-up in each competition — or, if one team fills more than one of these slots, La Liga's third-place finisher — competing in a pair of one-legged semifinals.
So, yeah, while the Supercopa de España is certainly a part of Spanish football's furniture these days, it's not as though generation upon generation of fans has grown up basking in the glow of la Supercopa.
However, it does take a moment to fully digest the fact that the whole thing doesn't even take place on Spanish soil anymore, but rather, in Saudi Arabia.
Welcome to football in the Uncanny Valley.
Arabian Nights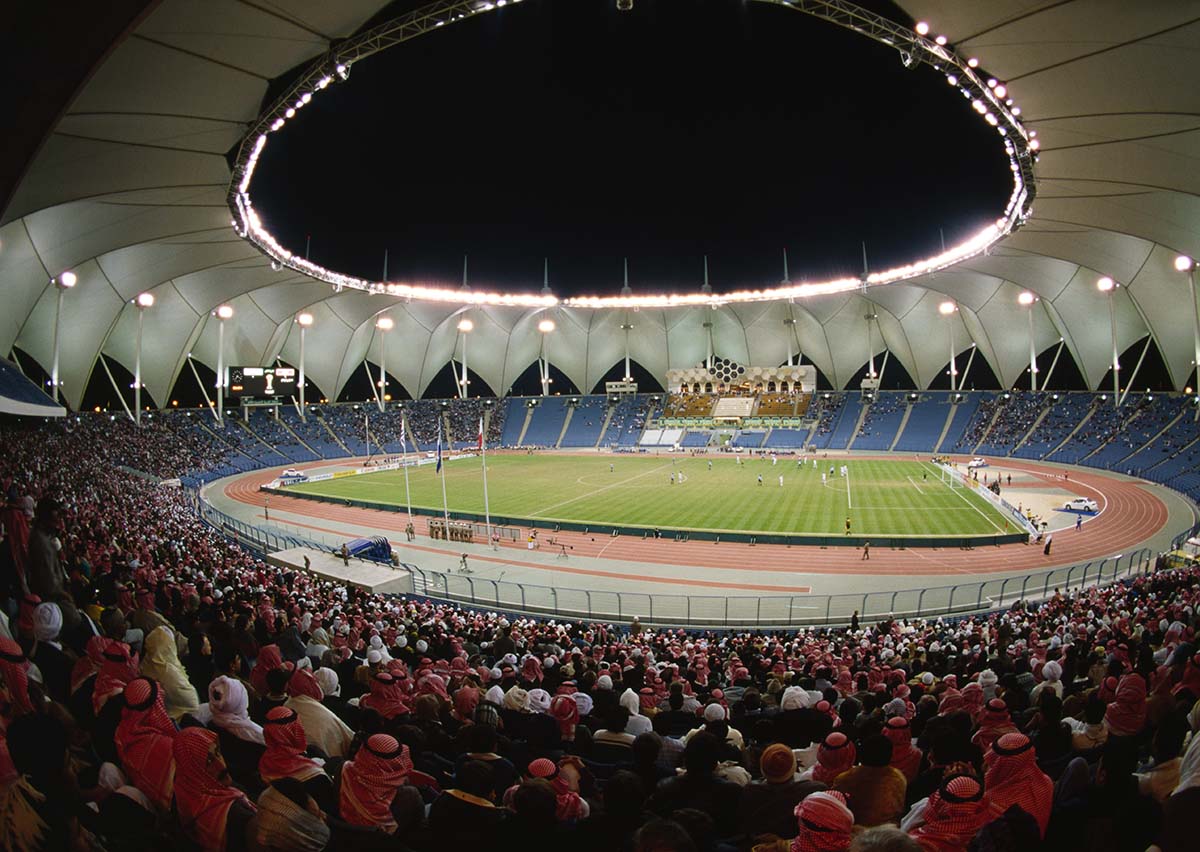 The first iteration of this format took place at the King Abdullah Sports City in Jeddah in 2019, where Real Madrid defeated city rivals Atlético de Madrid in the final. The COVID-19 pandemic forced the tournament to stay in Spain in 2020, and Athletic Club claimed its third-ever win with a 3-2 extra time defeat of Barcelona in Sevilla.
Last year saw the return to Saudi Arabia, and once again Real Madrid triumphed, this time over defending champions Athletic Club 2-0 at the King Fahd International Stadium in Riyadh.
Last week, many of Spanish football's leading lights were back at the King Fahd for the 2023 edition of the Supercopa de España. And it must be said that, for a second consecutive year, La Liga's best delivered the goods.
In the first of the semis, Real Madrid and Valencia played to a 1-1 draw after 120 minutes, after which Los Blancos prevailed 4-3 on penalties. A day later, Barcelona and reigning Copa del Rey champs Real Betis also battled to a 1-1 draw after 90 minutes. This contest offered the added excitement of Ansu Fati and Loren trading strikes in extra time to make the score 2-2 — and set the stage for Barça to also advance on penalties.
A Perfect Recipe for "Xavi-Ball"
Sunday's final featured the Clásico matchup for which the Kingdom paid. Though it didn't deliver the back-and-forth-style classic for which the matchup is named, we witnessed Barça delivering the most significant and Barça-esque performance of the Xavi era, as well as the club's first Messi-less trophy since 1999.
The 3-1 win, which, without much imagination, could have been 5-0, is without further exaggeration and until further notice, the absolute apex of the post-Ernesto Valverde era at Barcelona. Xavi's first Clásico win at the helm of his former club — 4-0 at the Bernabéu in the back half of last season — hit all necessary notes in the moment, but ultimately had no impact on the fate of either team. To once again beat Real Madrid, handily, while facing little in the way of danger and leaving money on the table, this time with a trophy on the line, is about as good as it gets.
That the most significant components of that win inicluded:
Ronald Araújo almost scoring in the first half while shutting down Karim Benzema all match, to remind the world that, when healthy, he's no worse than a top-five center back.
Alejandro Balde controlling the left side and posing a constant threat with his spectacular speed and pinpoint passing.
Sergio Busquets, a couple of days after taking an L in his ongoing battle with Father Time, turning back the clock with a vintage display.
Frenkie de Jong turning in a second consecutive excellent, game-controlling performance.
Pedri, as he does, turning in another standout performance of his own, constantly forcing the Madrid midfield into uncomfortable decisions and scoring Barça's third goal in the second half.
Robert Lewandowski, having already scored against Real Betis, looking especially sharp in the final, tormenting Real Madrid's central defense, beautifully setting up Barça's opener, before returning the favor and tapping in the side's second just before halftime.
If you were putting together a Barça fan tasting menu, you could do far worse than this lineup of courses.
The Not-So-Secret Ingredient
And then, of course, there was Gavi. My goodness, Gavi. How exactly to describe his contribution…
In the simplest of terms, the 18-year-old phenom bounced back from a middling (by his standards) semifinal performance against Real Betis, to score the opening goal, assist on two others, and earn man of the match honors. That simple, dry statement of the facts, in and of itself, is awfully impressive.
Now, I want to be careful not to build a "Hey, has anyone noticed this Gavi kid?" straw man. To hear that he is an excellent player will shock no one. Similarly, that he's greater at his age (he turned 18 on August 4) than all but a select few in the game's history is no great revelation.
We are, after all, talking about a kid who, barely three weeks after his 17th birthday, debuted for Barcelona's senior side after just two outings with Barça B, has since become the youngest player ever to represent and score for Spain at the senior level, as well as the second-youngest player ever to score at a World Cup — behind only Pelé — in addition to scooping up both the Golden Boy and Kopa Trophies as the world's best player under 21. Dude's arrived.
And yet, there's something in his characteristically excellent performance on Sunday night that just felt different. We can't call it a "coming out party" or "statement of intent" — those are already well in his rearview.
Under any circumstances, against quality opposition, the unwavering fiery influence in the midfield, an intelligent run and phenomenal finish to put Barça on the board, and the passes into the box from the left in the 45th and 69th minutes to set up tap-ins for Lewandowski and Pedri would constitute an outstanding performance. All of this essentially flawless play while staring down the legendary midfield of the Madrid side — namely, Toni Kroos and Luka Modrić — that Barça will spend the coming months trying to hold off in La Liga? That's something else.
This, for lack of a better term, felt like something of a "leveling up."