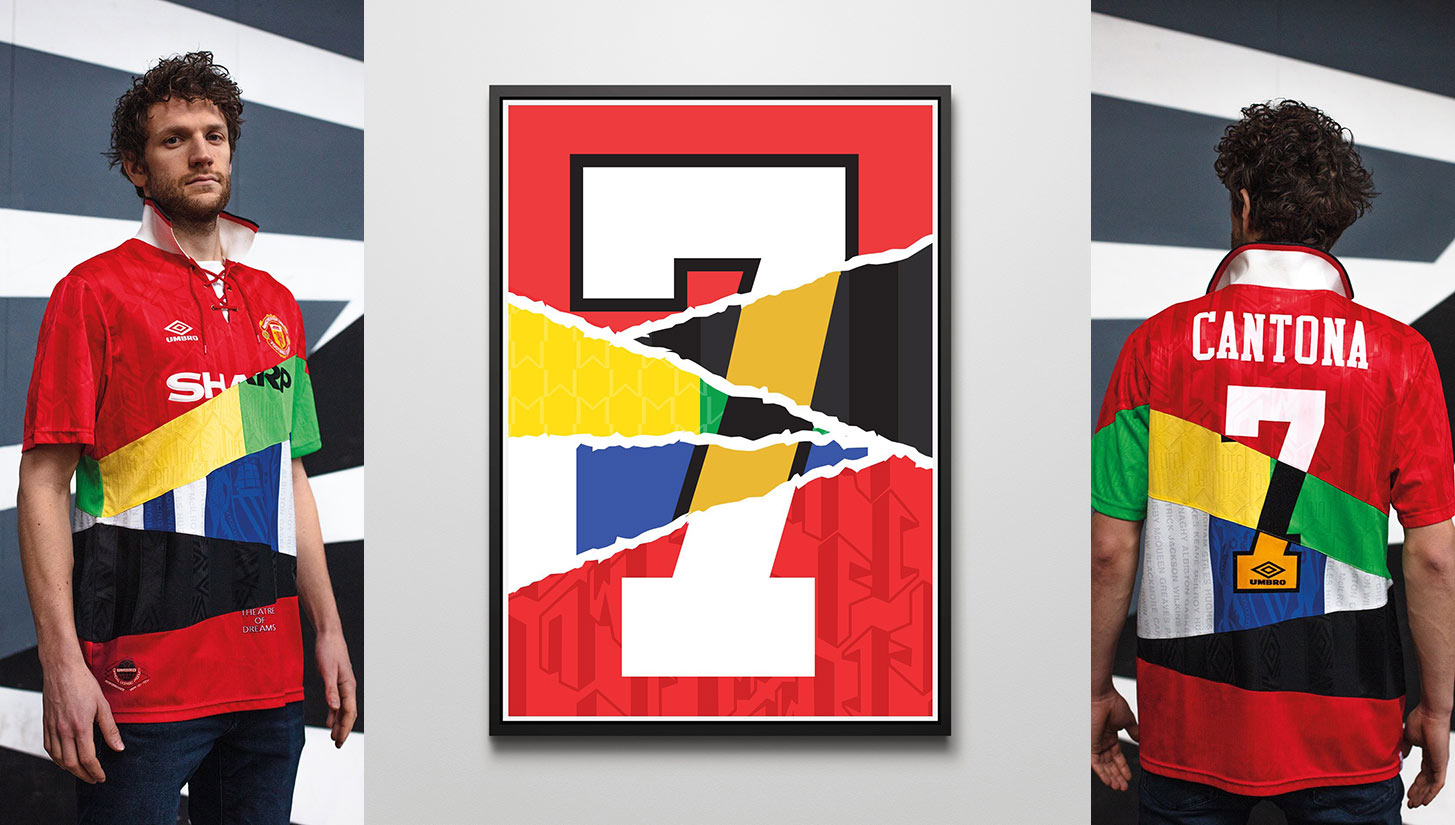 Graphic designer Mark Johnson has teamed up with Dutch creative label Blood In, Blood Out to turn his famed Eric Cantona graphic print into a real life kit. A stunning tribute to the French legend, the jersey is a collage of the kits Cantona wore while a member of Manchester United.
Since garnering fame on social media for his "Numbers" series, graphic designer Mark Johnson is back, this time collaborating with Blood In, Blood Out to bring one of his football-inspired prints to life.
While he's previously had his prints turned into t-shirts, Blood In, Blood Out transformed Johnson's art into a full-fledged jersey, something Johnson said he has always wanted to do.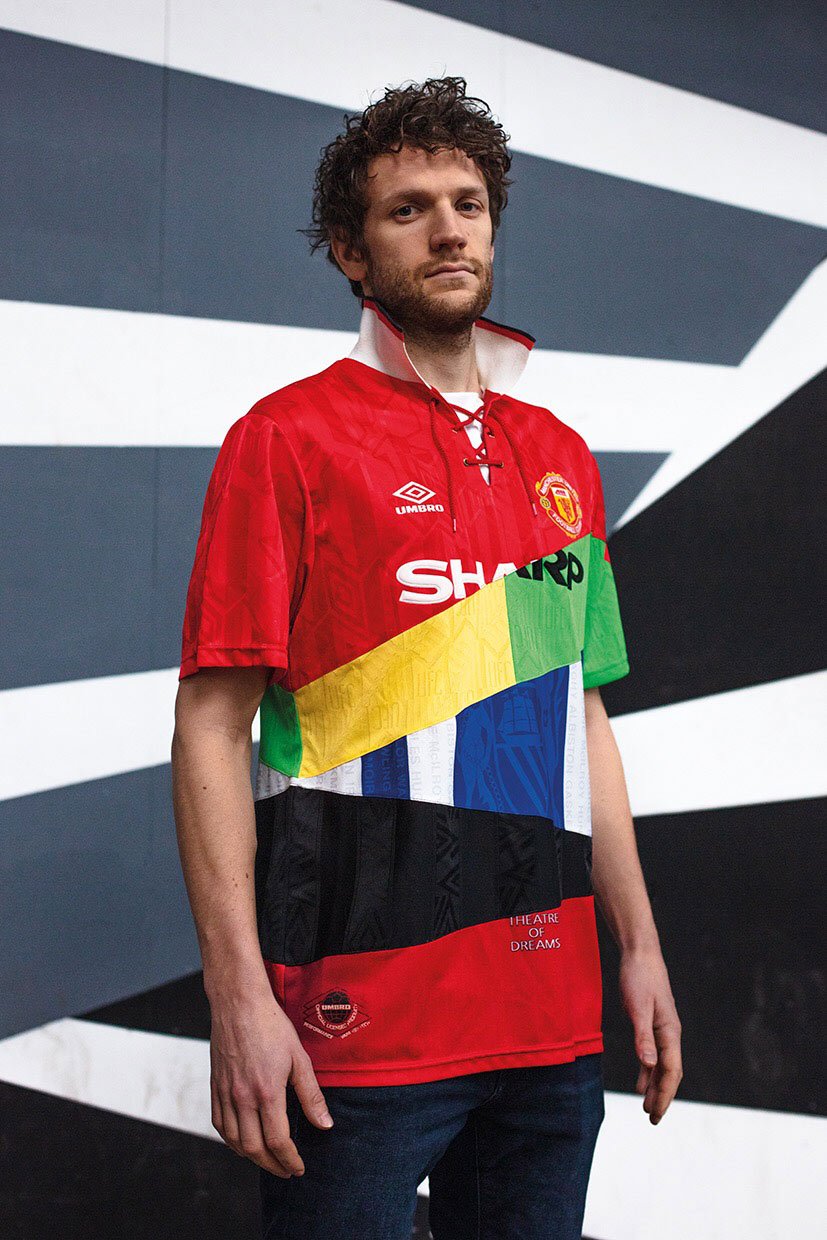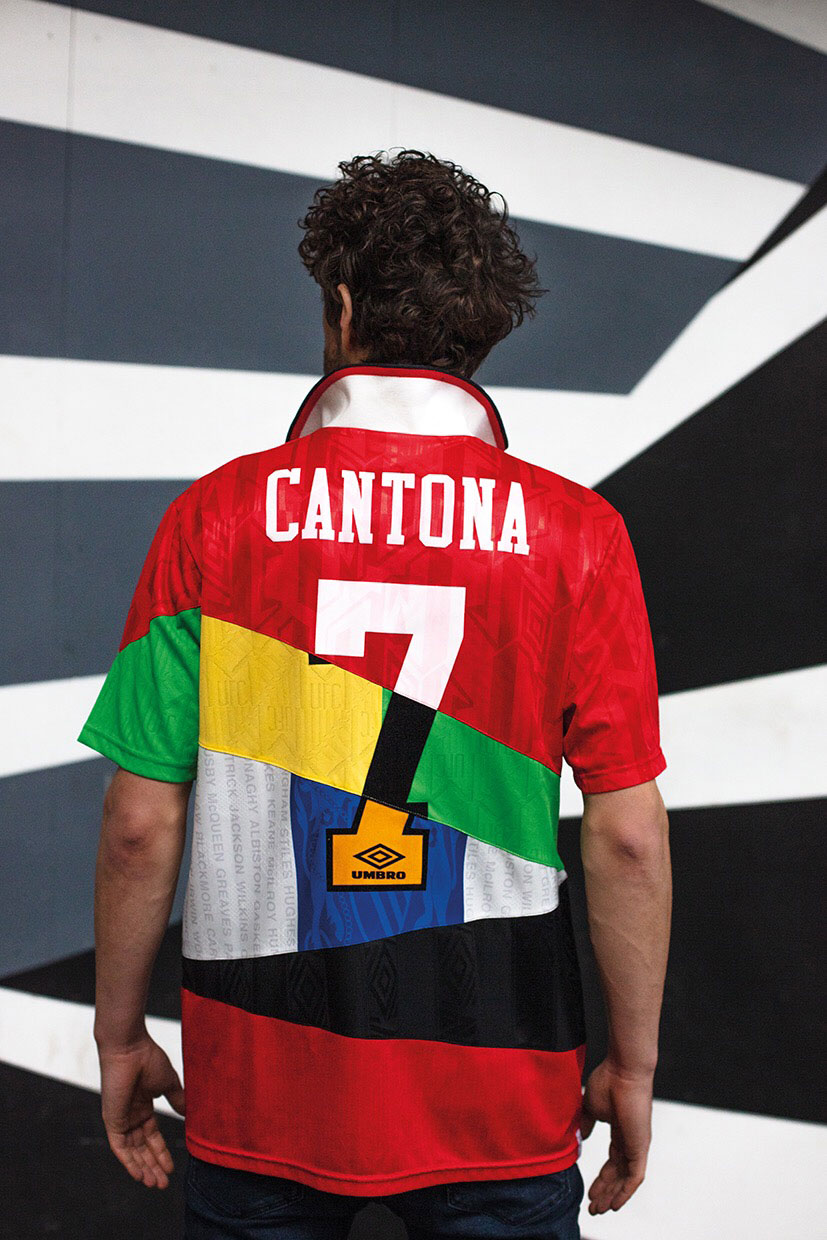 The result of the collaboration is a fragmented jersey made of pieces from French football legend Eric Cantona's career. Bold colors are stitched together in Johnson's signature style, with each layer of the collage representing a kit Cantona wore while playing with Manchester United.
Johnson's designs, often a representation of a player's growth, pair perfectly with Blood In, Blood Out's ethos — the clothing brand has created a slew of phenomenal mashup kits that honor players' careers and heritage as well as city rivalries and international relations.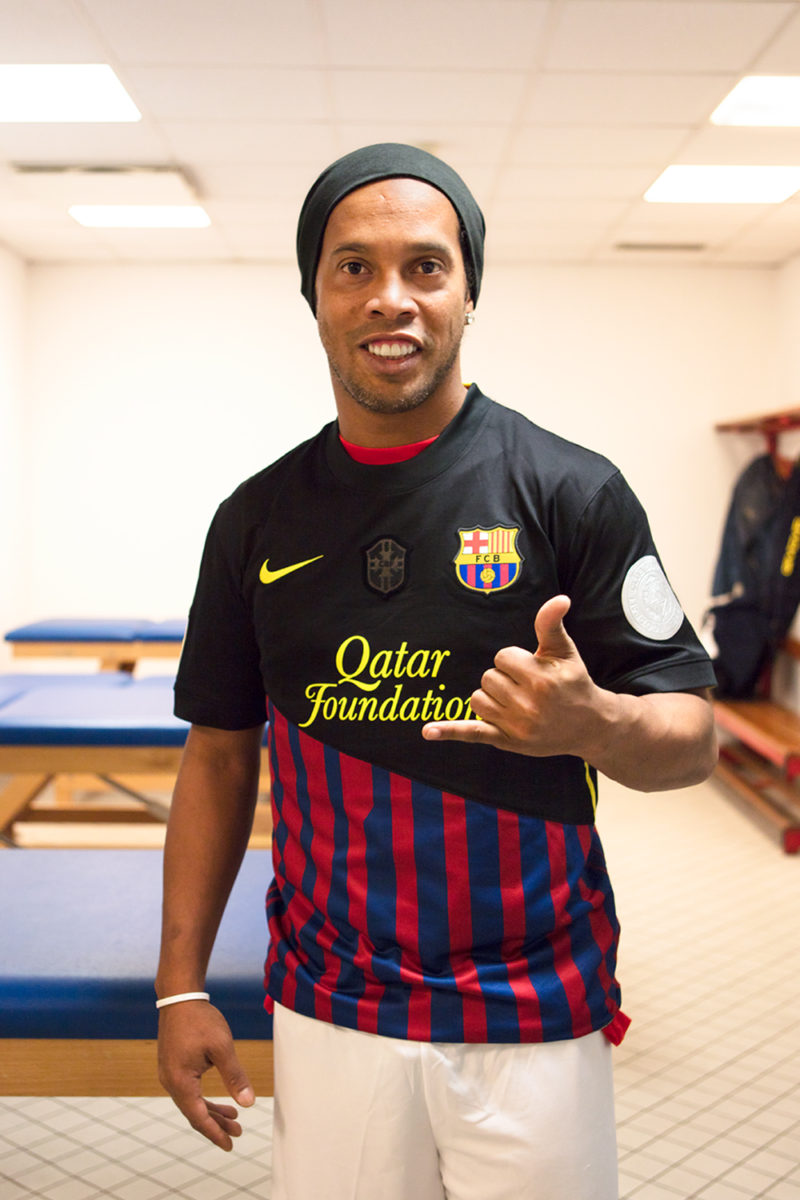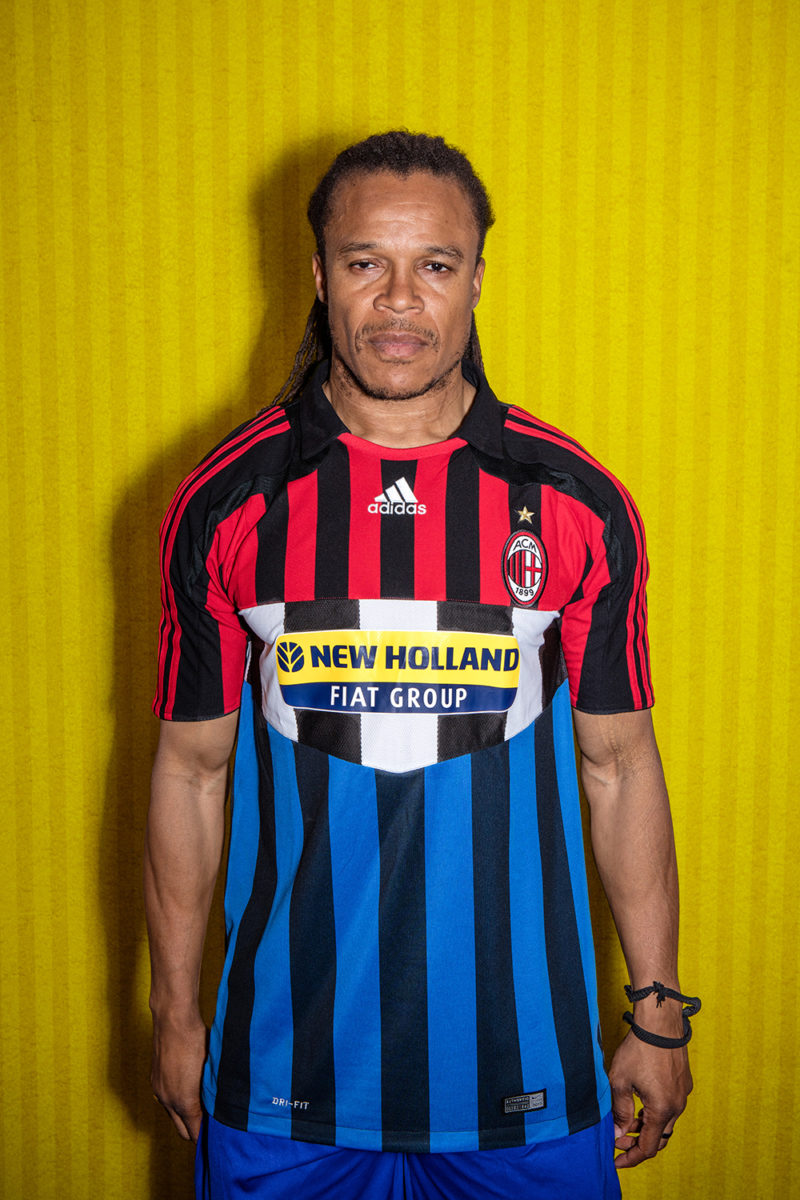 We caught up with Johnson to talk about his new creation and experience working with Blood In, Blood Out.
Urban Pitch: You've worked with other designers on a previous shirt series. What is different about this new line with Blood In, Blood Out?
Mark Johnson: Since I started my ongoing project, "Classic Football Shirt Patterns x Typographic Shirt Numbers," I always wanted to turn one of my prints into an actual jersey. I came across Blood In, Blood Out on social media. They work with brands and players to create what I do in print but with actual football shirts. You may have seen they had recently worked with Wesley Sneijder to create a bespoke shirt as a farewell gift on retiring from the Dutch national team. I loved the shirts they had already done so I reached out to them to see if they fancied teaming up together for a one-off project and they gladly accepted.
How does it feel to see your designs turned into a jersey?
It's awesome! When you mock it up on paper and visualize it in your head, it's great to see how it all comes together in the end. To top if off it has appeared in the Manchester United match day program, official app, and Umbro appreciated it on their Twitter account.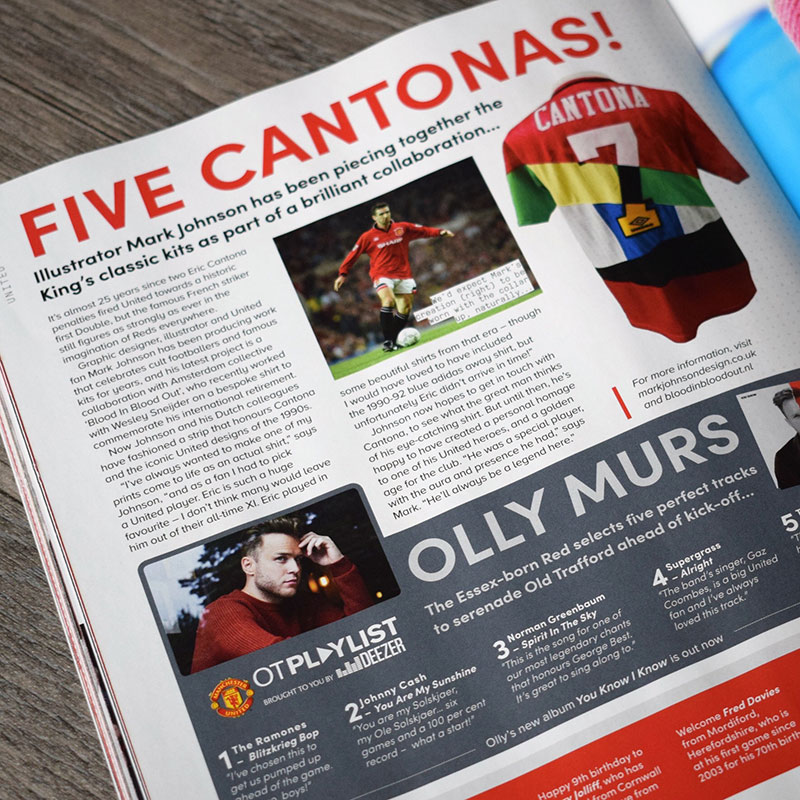 If you could design a jersey for any football team, who would it be and why?
That's a tough one! There are so many big teams out there which have a had some beautiful kits over the years but I'd have to go with Manchester United. As a fan it would be a dream to create a jersey for your team and see it worn by the players you love to watch.
What aspect of design is most important to you and why?
Being creative. I love expressing myself through what I do and combining it with my love for the beautiful game.
What is it about football that most inspires your work?
A bit of everything really,  from the vintage football programs to the vintage kit patterns. Nowadays the big sporting brands seem to stick with very templated shirt designs so all the clubs sponsored by the same brand have the same design but with changes to their team colors.
Check out more of Mark's work on his Instagram, and see all of Blood In, Blood Out's kits on their website.