England native Mark Johnson is yet another creative designer that has taken inspiration from the beautiful game. Using social media as a powerful exposure tool, Johnson's designs have been featured everywhere from BBC's "Match of the Day" magazine to BT Sport. 
Thanks to the power of social media, designers and artists have a reach unlike ever before. Whether it is designing custom kits, forming their own collective of football creatives, or simply sharing their artwork with the world, these creators don't always have to approach the larger brands anymore, and we wouldn't be surprised if the opposite started to become more common.
England-based designer Mark Johnson will tell you from first-hand experience that social media can open a countless amount of doors. Although he's had six years of experience in the design industry, once he started sharing his work online two years ago his work started to take off.
His creative illustrations have caught the eye of many, including the one and only Ronaldinho.
In addition to sketch-like drawings, Johnson has become known for creating collages with multiple illustrations brought together by a series of rips, often signifying players' evolutions through their careers.
Most recently, Johnson has teamed up with the Art of Football to release a line of clothing and prints featuring his "Numbers" series, which pays tribute to some of the most iconic jersey numbers from legendary franchises.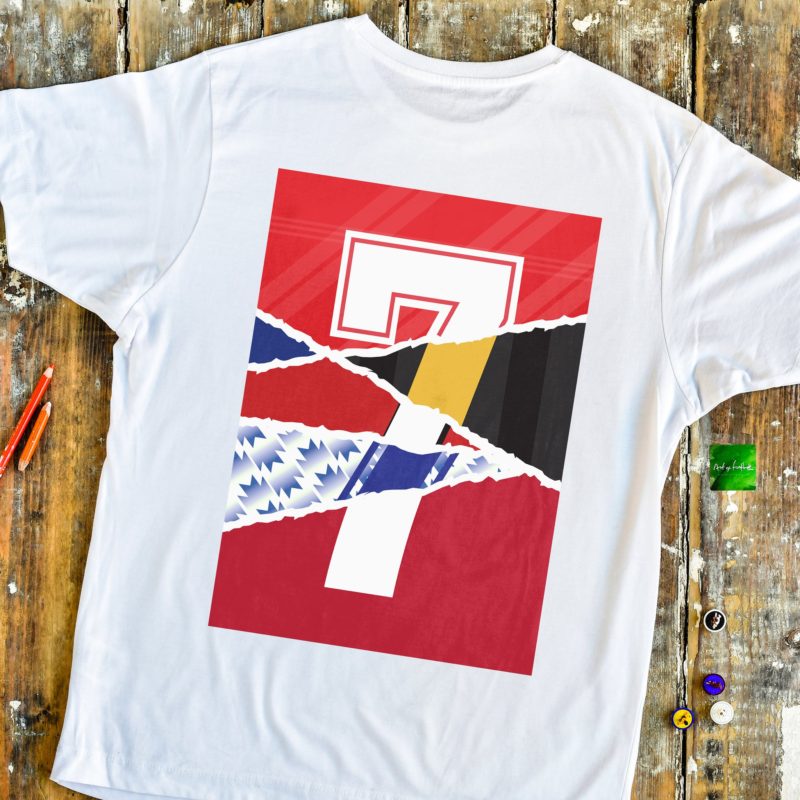 We caught up with Mark to talk about his design career, the impact of social media, and how Ronaldinho gave him his 15 minutes of Instagram fame.
Urban Pitch: How did you get your start in design?
Mark Johnson: From an early age, I have loved drawing different footballers and designing my own football boots in my sketchbook, and I have been sharing my artwork on social media for around two years now.
How did you come up with your signature style?
I have always loved graffiti art and became a big fan of Shepard Fairey, otherwise known as Obey Giant. In some of his pieces he has used this style which really caught my eye and looked really effective, so I wanted to incorporate this in my work but put my own twist on it.
What are some of your favorite projects you've worked on?
From November last year my work has really taken off from sharing my work on social media. Some notable projects I've been on include BBC Match of the Day, New Balance U.S. and most recently working with BT Sport on their Champions League Draw artwork. This was a big opportunity to show off my skills along with 11 other great illustrators and designers.
How did your love for football start? 
I have played football all my life, from playing for Stoke City until I was 15 and then for my local team or 5-a-side. I'm a Manchester United supporter, although my favorite player of all time is Ronaldinho, an unbelievable player with ridiculous skill.
What sparked you to incorporate football into your designs?
I have always loved drawing different footballers and designing my own football boots in my sketchbooks, so once I had my own Instagram account I started sharing my artwork on there, as football is so popular all over the world. I would recommend to any budding artist or designers out there to do it, because you never know who is checking out your work! Ronaldinho reposting my work was crazy!
What was your initial reaction when you got that notification from Ronaldinho?
I couldn't believe it had happened. My phone was going nuts with notifications. A footballing legend with millions of fans spotted my work. It was mind blowning!
How much changed after the repost? Was it mainly a growth in followers or did you get approached with more business opportunities?
It was like being famous for two days. The followers and likes on Instagram just kept coming.
How did the idea behind your "Numbers" series come about?
I wanted to incorporate famous shirt patterns and their typographic numbers and turn those into prints, which now has developed into tees and sweatshirts too. I originally started off with the England 10 and Holland 14, which got a lot of good feedback across social media, so I decided to design more. Then the guys at Art of Football got in touch about collaborating.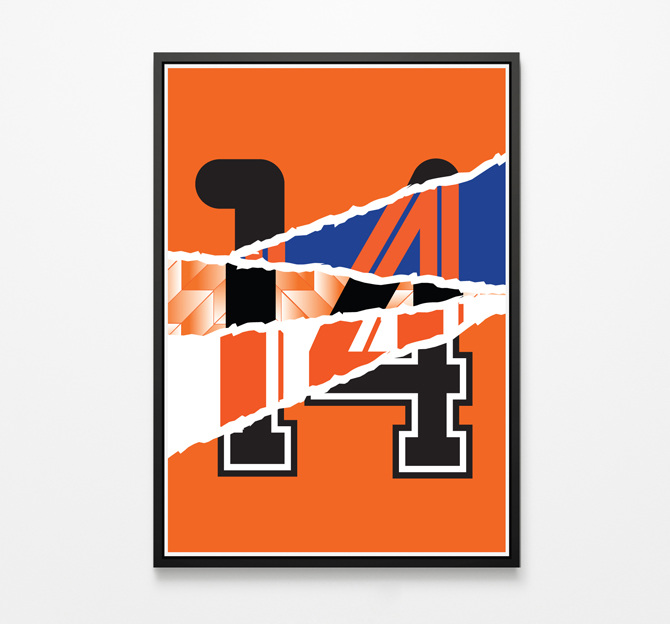 What is some advice you have for up-and-coming designers?
Working hard does pay off, you just need to keep at it and you will get your break. Posting on social media is a great opportunity to get yourself out there.
For more on Mark, you can check out his website and follow him on Instagram. To purchase a print or t-shirt/sweatshirt, check out his page on the Art of Football shop.