After a jam-packed group stage, only eight teams remain at the 2022 EUROs. We preview the quarterfinal slate of matches, choosing the most thrilling, boring, and upset-worthy games, in addition to the best kit matchup. 
With 24 group stage games in the books, the field at EURO 2022 has been trimmed to eight teams.
There were surprises, both good (the astounding efficiency of Austria) and not so much (Norway's nightmare). We saw one fringe favorite wow the world in a way that not even the biggest optimist would have expected (looking at you, England). And then there's Spain. Though still talented enough to beat any team on their day, in the absence of Ballon d'Or winner Alexia Putellas, La Roja are suddenly far from inevitable.
Unsurprisingly, though, in many cases it was business as usual. Germany ran the table, scoring a goal for each of the nine points they racked up in three games, without conceding a single one. France, despite earning a mere seven points, punched their ticket to the quarterfinals after just two group games. Sweden, so deep and talented, has been solid throughout, and looks to be rounding into form. The Netherlands, meanwhile, have flashed their incredible talent, but have some serious questions at the back.
With the EURO 2022 quarterfinals set, it seems a good time to return to the well that in recent months has given us a vibes-based analysis of eight UEFA Champions League quarterfinalists, and a similar preview of the group stage of this EURO 2022 tournament.
Potential Thriller: England vs. Spain (Wednesday, July 20)
Beth Mead, Fran Kirby, Lauren Hemp, Lucy Bronze, and Rachel Daly against Aitana Bonmatí, Mapi León, Mariona, Lucia García, Clàudia Pina, and Irene Paredes…
Before a ball had even been kicked in this tournament, the prospect of an England-Spain showdown would have gotten hearts racing. Sure, the absences of Putellas and Jenni Hermoso detract a bit from the luster of the matchup, but this remains as deep and talented a pairing as this field has to throw at us.
In light of England's rampant group stage performance — three games, three wins, 14 goals scored, zero conceded — and Spain's scuffles, including the need for a 90th-minute strike just to secure a second group stage win (they'd have gone through without it, but still) over a Denmark team that everyone expected them to dominate, the tenor of this match has changed. The Lionesses' brilliance at both ends, combined with Spain's need for, if not a talisman, then at least a legitimate take-charge star have shifted the expectations.
Regardless of that, this, the first of the quarterfinal contests, is a safe bet to deliver some fireworks. England are rightfully the favorites, but the Spanish, behind Aitana, Lucia Garcia and — yes, I'm going to continue pounding this drum —  Clàudia "gonna score if she gets the playing time" Pina have more than enough firepower to get through and turn this thing into an instant classic along the way.
Potential Snooze-Fest: Germany vs. Austria (Thursday, July 21)
It feels a bit unfair to peg this as a "snooze-fest." And yet, there are only so many ways to package unwavering competence and efficiency.
After all, before obliterating Norway and Northern Ireland to the tune of a combined 13-0, England were scraping by Austria by the narrowest of margins. To Austria's credit, after holding the rampant English to that lone goal, they kept a pair of clean sheets against Northern Ireland and Norway — the same Norway that I'd tipped to not just win this group, but to factor into the tournament's latter rounds, that is now on vacation. However, the Austrians managed only three goals, compared to, again, England's 13 against the same duo.
The manner in which Austria is taking care of business in this tournament is impressive, but doesn't get the heart racing. To the Austrians' credit, the potential for heavier score lines was there, as they did put 17 shots on goal over those two games. However, it's unlikely that the same opportunities, in that same volume, are going to present themselves against a Germany side that, at the risk of being reductive, is basically "super Austria."
After calmly dispatching Denmark 4-0 to start the tournament, Germany took advantage of an early gaffe from keeper Sandra Paños and a well-executed set piece to down Spain 2-0, before calmly taking care of Finland 3-0 in the group finale, despite having virtually nothing more to play for.
That this game probably won't be a thriller is not an indictment of either (or both) of these teams in terms of talent or technical acumen, but rather an assertion that, when two good-yet-less-than-swashbuckling teams that are dialed in defensively cross paths in a knockout match, fireworks tend not to follow.
Potential Upset: Sweden vs. Belgium (Friday, July 22)
France are frankly too good and too deep in precisely the right ways to trouble the Netherlands to be a prime upset candidate.
Conversely, for as talented, experienced, and experienced with winning as the Spanish squad is, the absence of Putellas, plus some questions at the back, combined with England's hilarious dominance and their obscenely good vibes, it's tough to tip the Lionesses as the quarterfinal favorite that's most likely to be upset fodder.
And, as far as Germany-Austria is concerned, it seems silly to suggest that an organized, talented, and in-form Germany side will truly struggle with what is effectively a lesser version of itself.
Thus, in trying to identify the team among a quite sturdy quartet of quarterfinal favorites that's most likely to be upset, we're left, by default, with Sweden.
Honestly, I have no idea how Belgium is even here. Four points from three games, three goals scored, three conceded and..I've got nothing. I have zero recollection of what happened on their road here. I'll state confidently that it wasn't great. Belgium did just enough — including giving up 79 dangerous attacks, 20 shots, 12 corners and five shots on goal (to 29, nine, one, and two, respectively, of their own) in scraping past Italy in the group stage finale, 1-0, thanks to a 49th-minute goal from Tinne De Caigny to advance to the quarterfinals by a single point.
Do I think the Belgians are actually going to beat the Swedes, who are fresh off a 5-0 thrashing of Portugal? Absolutely not. That being said, it's hard to construct an explanation for how they've gotten this far, so why wouldn't they continue to confound?
If you don't love any of your options, get a little weird.
Most Spectacular Kit Clash: France vs. Netherlands (Saturday, July 23)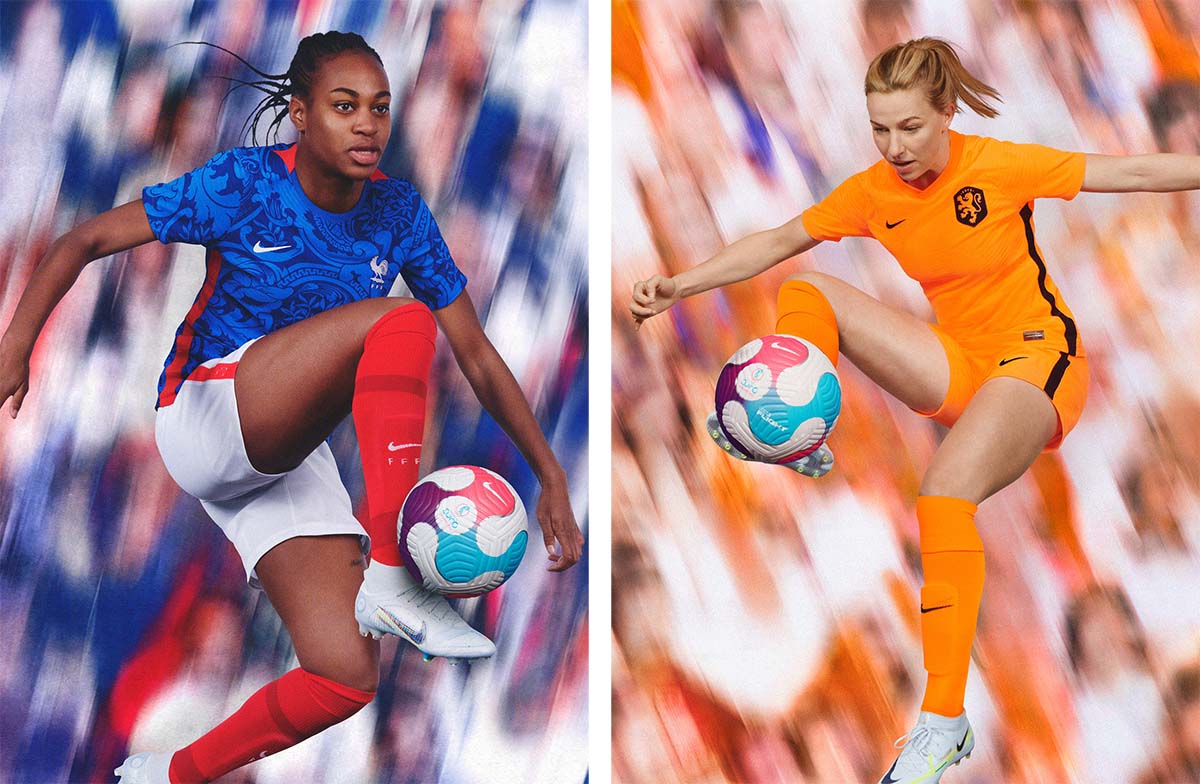 Given the silly collection of talent across these two teams — as a refresher, the French feature, among others, Lyon's awesome defensive trio of Selma Bacha, Griedge Mbock Bathym, and Wendie Renard, PSG midfield star (and hat trick scorer in the group stage opener) Grace Geyoro, and the deadly forward duo of Sandy Baltimore and Kadidiatou Diani. It's important to note that the third PSG forward in France's formidable attack, Marie-Antoinette Katoto, will miss the remainder of the tournament with a knee injury, but France still boasts one of, if not the strongest lineups remaining at the EUROs.
On the other hand, the Dutch, just one spot below France in the most recent FIFA rankings, feature Vivianne Miedema, Jill Roord, Lieke Martens, Damaris Egurrola, and Daniëlle van de Donk. It's entirely possible that this match, even more than England-Spain, is the thriller of the quarterfinal round.
After all, France have shown what they're capable of when all of the cylinders are firing — see the five first half goals in the opener against Italy, or the punching of their ticket for the quarters after just two group games. Meanwhile, the Netherlands, after a battling draw against Sweden and some flirtation with disaster against Portugal, seemingly found their stride in the group stage finale against Switzerland, with a 4-1 win. What that assumption ignores, however, is that the game was tied 1-1 until the 84th minute, and that the first Dutch goal had come from an ill-fated defensive header from Switzerland's Ana-Maria Crnogorčević.
So while there is every chance that this winds up being the game of the round, it's tough to shake the notion that the French are simply better, deeper, have their talent better distributed throughout the formation, and just have a stronger handle on how to control a game than do the Dutch. For as great as their attack is, there are simply too many questions at the back for the Netherlands to hold a team like France at bay. So, while this game will probably yield a good bit of action and its fair share of goals, most of it is likely to favor the French.
Sartorially, however, this match is a nailed-on classic. It's tough to think of a current kit clash, in this tournament or beyond, more breathtaking and spectacular than the matchup between France's arguably-best-in-the-field classic Les Bleus, gorgeously adorned with cultural and architectural accents, squaring off against the single most striking and iconic national team shirt in Europe, and arguably (surely Brazil and Argentina would like a word) the world: the Netherlands' classic Oranj.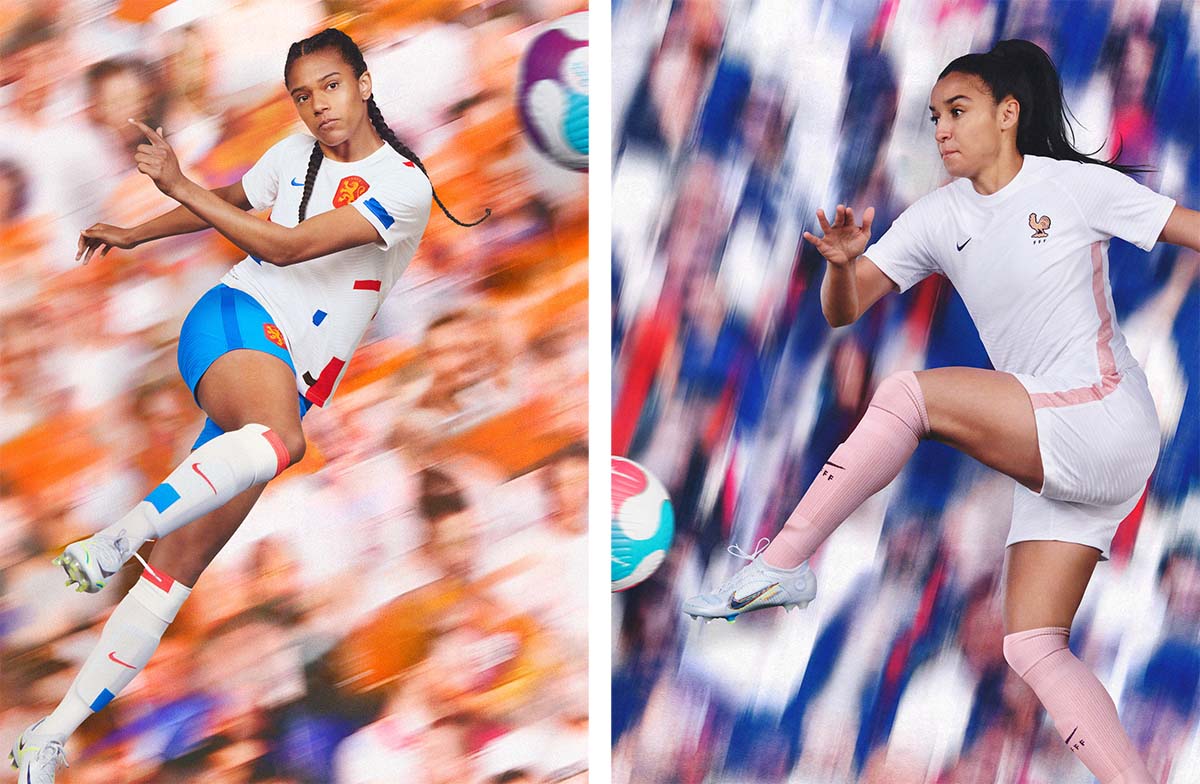 And, while it would be great to see both sides in their home kits, the away shirts are fantastic as well — France's simple and elegant white and rose gold and the Netherlands' artistically-inclined, De Stijl-inspired masterpiece. Whatever combination we get, we won't have any aesthetic shortcomings.