With the highly anticipated tournament set to kick off next week, we preview the 2022 EUROs — from the teams to watch to the best kits.
Not too long ago, I did what could best be described as vibes-based analysis in previewing the eight teams that would be taking part in the quarterfinal stage of the UEFA Champions League and their respective matchups.
Now, heading into the 2022 Women's EUROs kicking off in England, I'm more or less returning to that particular well. Ahead of the group stage (July 6-18), we're delving into the things that will turn four four-team groups into eight quarterfinalists — rosters, matchups and, yeah, some of that other intangible stuff.
Group A: England, Austria, Northern Ireland, Norway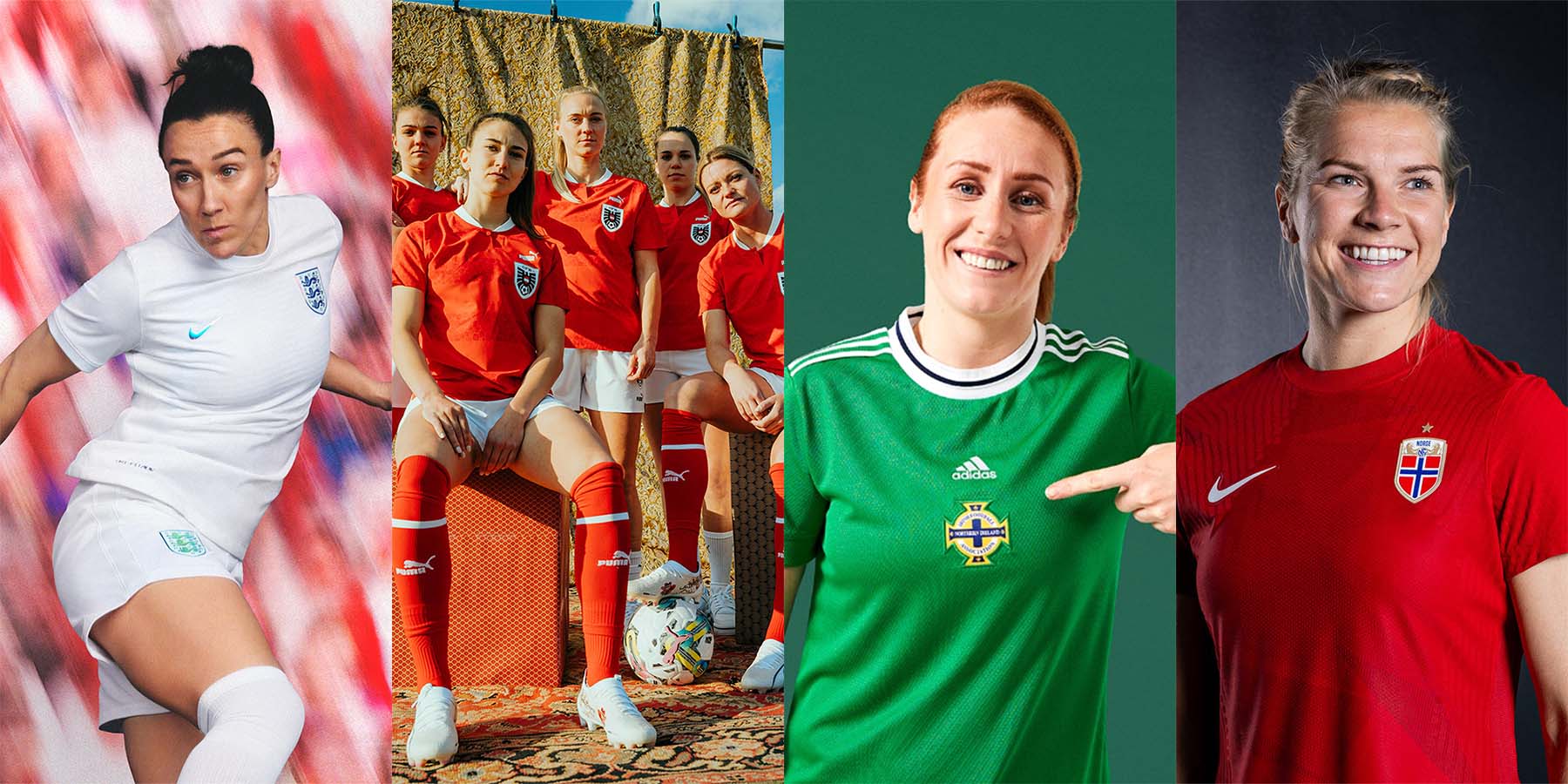 The group in a nutshell: If you're a fan of narrative appeal, spectacular and recognizable top-end talent, and the potential for competitive and thrilling matches, Group A offers just about everything you're looking for.
Group A gives us an imperious and decorated Norwegian attack, tournament hosts England, who have their own collection of top-tier household names looking to defend home soil against the favored Norwegians, an unheralded Austria side that could make life difficult for either or both of the group's top two, and group minnows Northern Ireland, who'll be, excited, shall we say, to go toe-to-toe with their hosts.
Favorite: Norway. There's no need to get cute here. Norway qualified for this tournament with six wins in six games, in which they scored 34 goals, and allowed one. That record, plus a roster headed by the awesome Barça duo of Ingrid Engen and Caroline Graham Hansen and Chelsea's double-winning winger Guro Reiten would probably have done the trick here.
To add 2018's Ballon d'Or winner Ada Hegerberg — fresh off of a sixth Champions League win with Lyon — feels a bit mean.
Dark horse: Austria. It feels kind of silly to single out a team that won six times and lost just once in eight qualifying games, while allowing just three goals, with star talent at basically every level, that returns 14 members of a 2017 semifinalist, as a "dark horse."
But then again, Austria is going up against two of the world's preeminent powers, with the aforementioned stars from Norway in addition to England's formidable lineup that includes Ellie Roebuck, Keira Walsh, Lauren Hemp, Millie Bright, Jess Carter, Fran Kirby, Beth England, Beth Mead, new Barcelona signee Lucy Bronze, Leah Williamson, and NWSL star Rachel Daly.
Most likely to disappoint: There's a case to be made here for each of the group's top three sides. For Norway, it's the possibility that the English and Austrian defenses blunt what should be one of the tournament's most spectacular attacks. (I would not wager on this.)
Austria, meanwhile — to the extent that they harbor any serious expectations at all — boast depth and solidity as a team, but lack an imperious playmaker the likes of Hegerberg, CGH, or Mead, and could be found wanting when in need of a singular moment of brilliance.
In the end, though, the team in this group most likely to come up short of expectations (not that I'm actually expecting them to disappoint) is England.
First off, the Lionesses qualified for the tournament automatically as the host nation. Thus, they've not had to play a meaningful game in quite a while. In the absence of competitive qualifiers, this team will need to very quickly find its competitive groove. Secondly, this England team is chock full of high-profile stars from the most visible leagues and clubs in the sport. They can't trump Norway in terms of top-end talent, but those household names will be expected to overwhelm Northern Ireland and a tough Austria side.
And they've got to deal with all of this while playing in front their home fans.
Coolest Team: Norway. We've already discussed the 2018 Ballon d'Or winner, who took a five-year hiatus from international play in protest of the Norwegian FA's treatment of female players. Combine the return of her incredible talent with those of: (one man's opinion) the most nonchalantly spectacular and devastating player going today… 
Plus a heavy dose of youthful brilliance…
… and you've got a hell of a fun watch!
Best kit: Northern Ireland. You'll notice we that we haven't really discussed Northern Ireland. Respectfully, that's not without reason.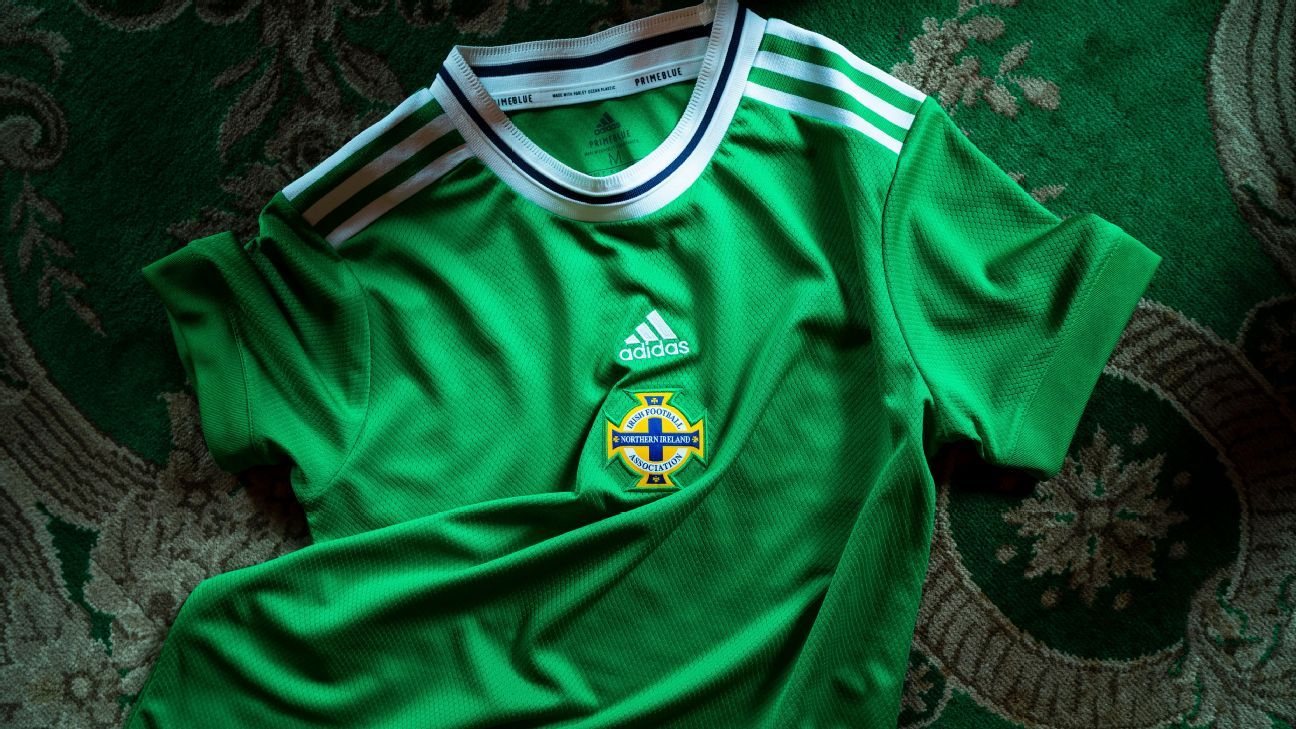 Unlike most of the teams in the field, and all of the other teams in Group A, the Northern Irish didn't really impress in qualifying. They played eight qualifying games, of which they only won half (with two draws and two losses) and had a dead-even goal differential at 17 apiece. To be fair, that's not too bad for the lowest-ranked team ever (at No. 48 in the world) to qualify for the Women's EUROs.
Barring a pretty stunning turn of events, it's liable to be rather tough sledding for Northern Ireland in this tournament. The very least that we can do is offer some recognition and a tip of the cap for their super-sharp, classically-designed kits.
Game of the group stage: England vs. Norway. Naturally, this came down to the three showdowns between the group's top three teams. Each of those games should be well worth watching.
Here, however, we're highlighting the second group stage game, which features the group presumptive top two. If their opening match against Austria goes less than smoothly, England will need every last bit of their depth and talent to pull out a result against Norway's superstar-laden attack and keep their tournament hopes alive.
Group B: Denmark, Spain, Germany, Finland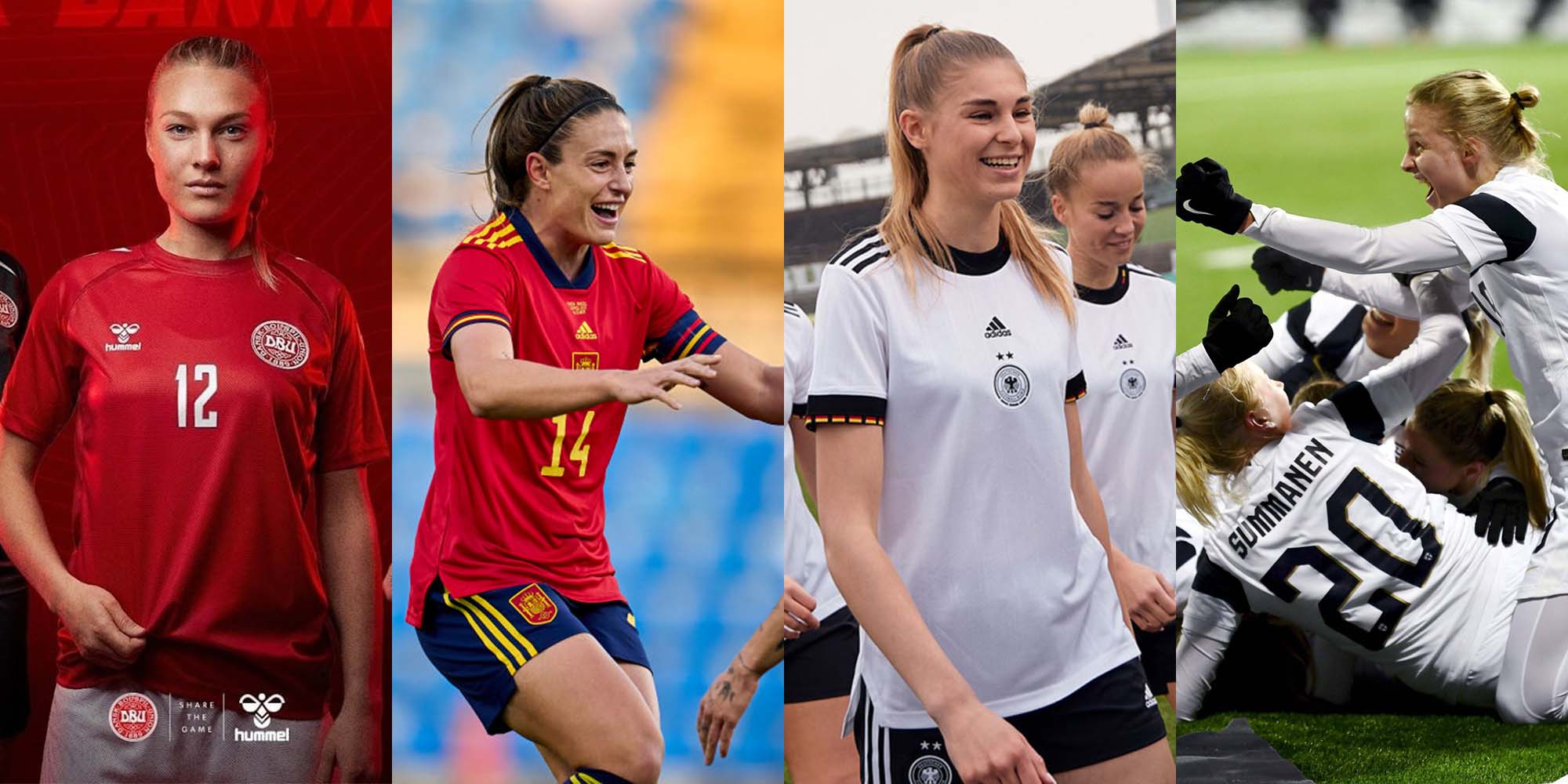 The group in a nutshell: In every tournament, a group is singled out as a "group of death." In recent memory, few, if any, have ever entered a tournament looking deadlier than this one.
Finland won seven of eight qualifying matches (they drew the eighth), during which they scored 24 goals, and conceded just two. That's good enough to earn them the title of "pretty clearly the worst team in Group B."
Because they're joined by:
Denmark, who won nine of ten in qualifying (also with a draw), scoring 48 goals while conceding just one, and feature one of the world's very best players in Chelsea's Pernille Harder…
Germany, who won eight of eight, with 46 goals for and just one against, and boast a roster absolutely stacked with talent, both ascendant and experienced and…
Spain, winners of seven of eight in qualifying (also with a draw), with 48 goals for against just one conceded, and feature, basically, the Barça Femeni death machine: Sandra Paños in goal; Irene Paredes, Mapi León, and Andrea Pereira in defense; Alexia Putellas, Patri Guijarro, and Aitana Bonmatí in midfield; Mariona Caldentey and Claudia Pina in attack. For good measure, there's also Leila Ouahabi, now of Man City, but a La Masia grad just weeks removed from winning her 13th trophy with Barça.
That core is surrounded by a whole lot of Real Madrid and Atlético Madrid continuity, plus the scorer of this goal:
Favorite: You could really take this in any number of directions. For starters, the numbers above don't really help beyond confirming that this is going to be an absolute Battle Royale between top-tier teams who've not only made a habit of scoring at will, but also find the mere concept of teams having the audacity to hit the net against them foreign and off-putting.
As there's not a clear cut tiebreaker here, my inclination is to single out Germany and Spain as the top two… and then just take the homer route from there.
(A note for anyone feeling pedantic: yes, this homerism has been earned through residency and not ancestry, and may well dissipate in any future in which the side's foundation is not decidedly Azulgrana.)
Dark horse: Denmark. If Denmark survive this group and advance to the knockouts (the top spot may be a bridge too far), it shouldn't come as too great a shock. They are, after all, led by one of the world's top players in Harder, Lyon's Signe Bruun (currently on loan at Manchester United), Arsenal's Simone Boye Sørensen and Racing Louisville's Nadia Nadim.
However, the lack of marquee (in terms of recognition, if not talent) superstars outside of Harder will likely result in them getting overlooked against a Germany side that's packed to the gills with Bayern Munich, Eintracht Frankfurt, and Wolfsburg stars, and the collection of icons that is Spain.
Could disappoint: For as great as Denmark and Finland were in qualifying, neither enters play in England with astronomical expectations. Thus, the only real options here are Germany and Spain.
Germany, for their incredible collection of talent, are not led by any one talismanic superstar, but rather give off a vibe similar to the men's triumphant Mannschaft of last decade.
In regards to Spain, it's an absolutely deranged thing to even suggest given the depth and sheer, hilarious volume of talent they've got on hand — even in the absence of the injured Jenni Hermoso — and it almost certainly won't come into play here, BUT…
The core members of this Spain squad — i.e. the Barça contingent, and namely Alexia — have played an astounding amount of football over the past two years. It's not outside the realm of possibility that an on-pitch workload unlike any these players have previously experienced could catch up to a couple of the Spanish stars, either in the form of injury or fatigue. Provided Alexia isn't among the parties affected by this hypothetical scourge — and, frankly, maybe even if she is — there is still enough here to overcome a normal level of adversity.
But, if we're talking about the team for whom nothing less than a string of spectacular performances en route to triumph will truly exceed expectations, Spain is it.
Coolest Team: Spain. I mean…
and…
… and, again…
Best kit: Like so much about this group, this came down to Germany and Spain.
The Germans, unsurprisingly, have opted for a classic white-with-black-trim home short, along with a modern take on the green aquamarine shirt sported by the men's side in the 1990s. if you're partial to these, I absolutely cannot blame you.
Again, though, homerism — plus a personal preference for red over green — and a truly "modern classic" design has me siding with La Roja: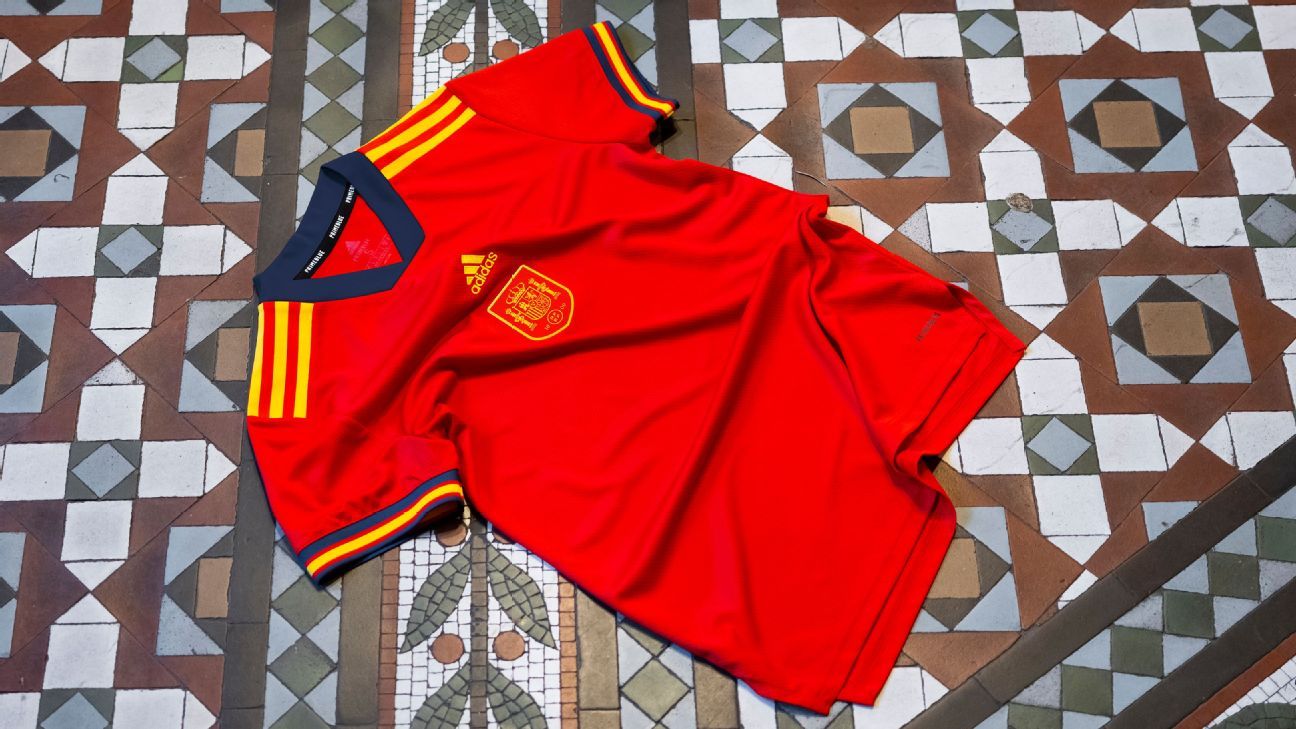 Game of the group stage: You can really just toss a dart here and wind up with a winner. But, for the variety of reasons mentioned above, Spain vs. Germany on match day two on July 12 is must-see TV. In fact, if you were picking a "match of the tournament," this would have to be it.
Group C: Portugal, Switzerland, Sweden, Netherlands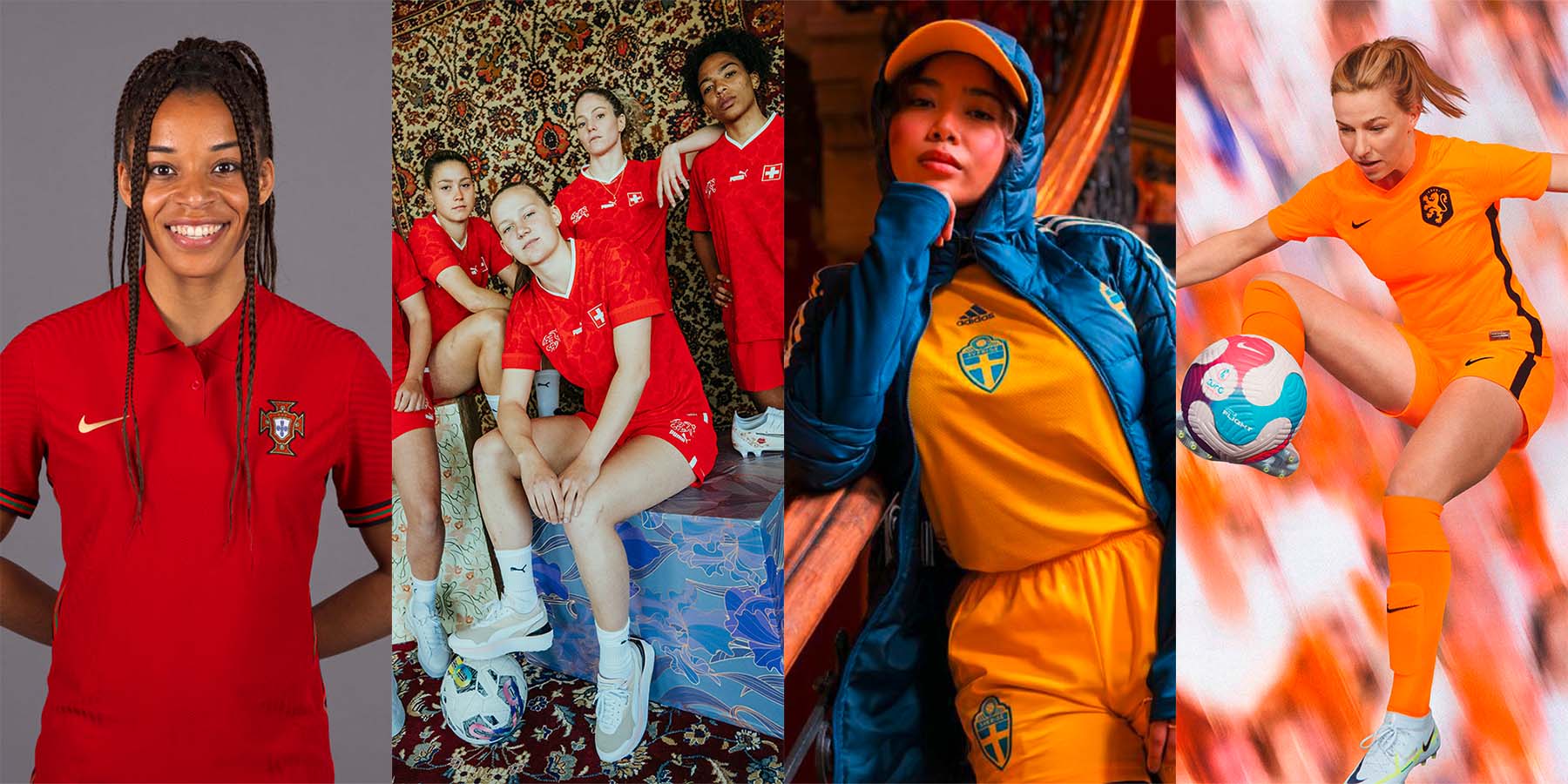 The group in a nutshell: Had Russia not been disqualified in early May, this would have been an astonishingly "northern" group. As things stand now, the Netherlands — 2017 Women's EUROs champions and 2019 World Cup runners-up — are joined by a deep and phenomenally-talented Sweden side, Switzerland, and Portugal.
Victory for either the Swiss or the Portuguese in their group stage opener on July 9 will make the race for second in this group (and a spot in the quarterfinals) very interesting. In the absence of such a result, a Netherlands-Sweden top-two is exceedingly likely.
Favorite: Sweden. On the (relative) heels of third-place finishes in the 2011 and 2019 World Cups and Olympic silver in 2016, Sweden reached the gold medal game in Tokyo last summer — and, once again, came away with silver. Nineteen members of that 22-player squad are back, and make up one of the deepest and most potent rosters in this field. Unsurprisingly, the Swedes were excellent in qualifying, winning seven of eight, and scoring 40 goals while conceding just two.
Sweden features top talents from all of Europe's top leagues, with headliners from Chelsea (defensive mainstay Magdalena Eriksson and attacking star Kosovare Asllani) and Barcelona (do-everything star Fridolina Rolfö), who are also joined by talents from Atlético Madrid, Bayern Munich, PSG, Juventus, Man City, Real Madrid, Wolfsburg, Arsenal, and, in 18-year-old rising star Hanna Bennison, Everton.
Whether Sweden can finally break through on the international stage remains an open question, but the depth, talent, and continuity to do so are very much in place.
Dark horse: Netherlands. The reigning European champions, now led by a new coach in Englishman Mark Parsons, have a massive challenge ahead of them in defending their title. At the same time, this remains an incredibly talented team, with no shortage of experience on the game's biggest stages, and one that qualified for this tournament with 10 wins in 10 matches with 48 goals for and just three against. 
The Dutch are led by the No. 4 and 5 finishers in 2021's Ballon d'Or voting: Arsenal forward and all-time leading Dutch international goal scorer (male or female) Vivianne Miedema, and former UEFA/FIFA Player of the Year and treble-winner with Barça Lieke Martens. Joining them are Lyon's Spain-born midfielder Damaris Egurrola, an 18-year-old midfield star-in-waiting in PSV Eindhoven's Esmee Brugts, and Lyon's Daniëlle van de Donk, who, despite not having played since November due to injury, is a national team legend.
View this post on Instagram
If you don't think that all smacks of a "dark horse"… I hear ya. The problem is that I can't fully get on board with either Portugal or Switzerland's chances.
Could disappoint: Switzerland. The Swiss have a solid and organized team — led by Arsenal's Lia Walti, Barcelona's Ana-Maria Crnogorčević, and PSG's Ramona Bachmann — that could, in theory, emerge as one of the dark horses of this tournament.
That being said, simply surviving the group stage represents a major challenge for the Swiss. If they can secure three points in their opener against Portugal, they'll make things interesting. But, for all of their cohesiveness, the Swiss don't boast nearly the same depth or top-end talent — especially with Aston Villa winger Alisha Lehmann unavailable — as the duo atop this group.
Best kit: Netherlands. If you need me to explain to the appeal and significance of the classic "Oranj" Dutch shit, I really don't know what to tell you.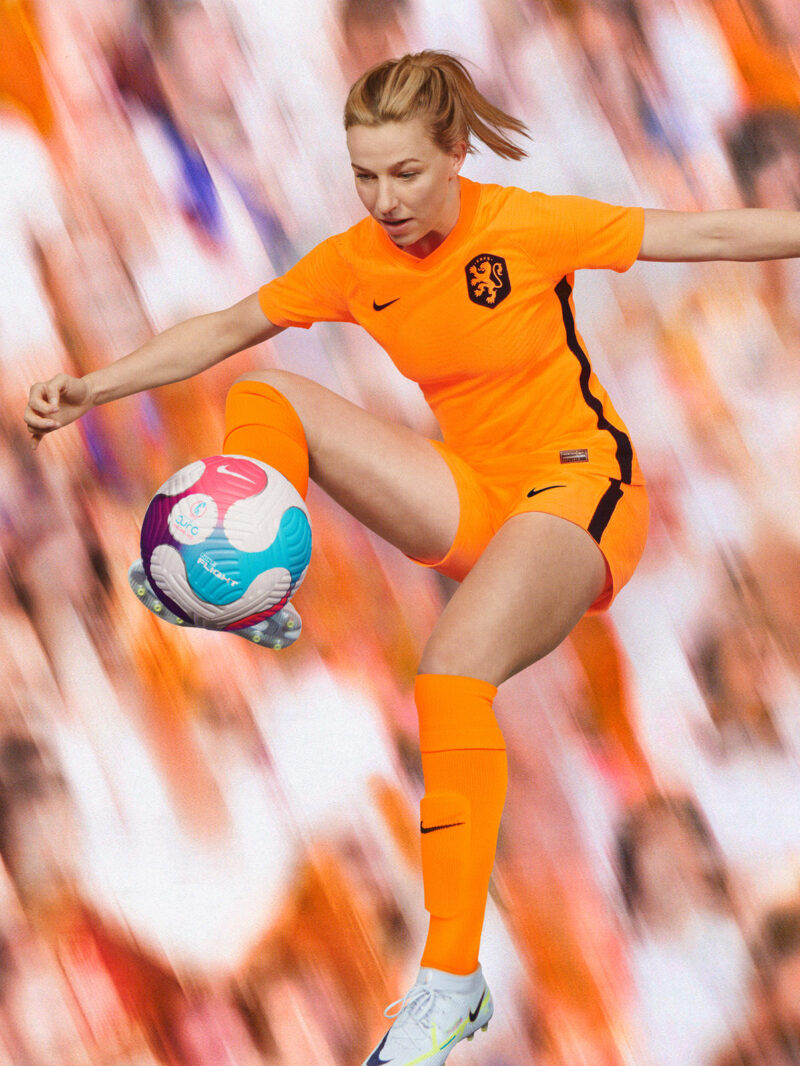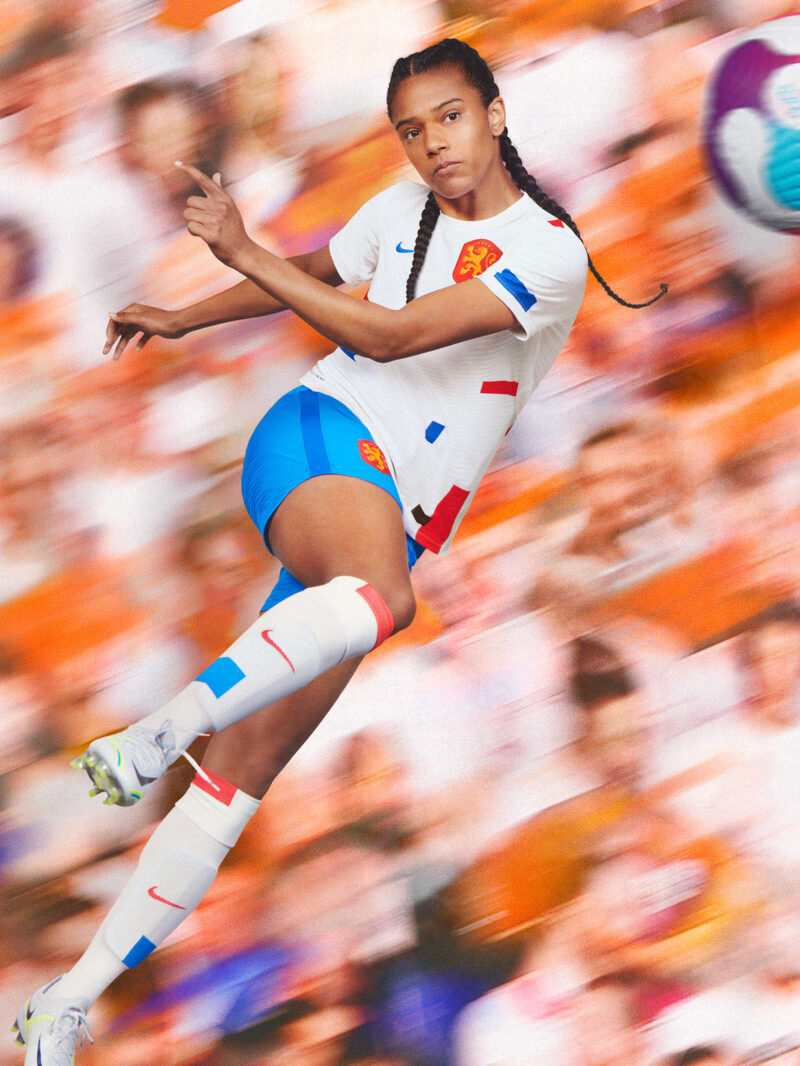 What's really cool about this particular Dutch kit — beyond simply playing one of the most timeless sartorial hits in European football with the home version — is the away shirt's delightful, almost Tetris-like take on the nation's Red White and Blue Flag:
Coolest Team: Portugal. Portugal's place at the EUROs was only confirmed on May 2, following Russia's disqualification. Is there any Denmark '92 in this group? (Tor the uninitiated, Denmark missed out on qualification for EURO 1992, replaced Yugoslavia in the field following the breakup of the country, and then won the tournament.)
Almost certainly not. But then, I can't imagine too many were pounding the table about the Danish three decades ago.
I don't know if this, strictly speaking, qualifies as "cool," but I am fascinated by any team that emerges successful (six wins and a draw) from an eight-game qualifying campaign while scoring just 10 goals. For context, in eight qualifying matches, Sweden scored 40, and the group's next-least-potent attack, Switzerland, managed 20.
I'm just eager to see what all of this looks like on the big stage.
Game of the group stage: Netherlands vs. Sweden. The tournament opener for both sides. The July 9 clash will be a great watch not only because of the all of the talent on display, but because a victory would position one of these sides as the prohibitive favorite to win the group. Conversely, a draw here, combined with a victory for either Switzerland or Portugal in their opener, will have one of these teams scrambling to secure a place in the knockouts.
Group D: Iceland, Belgium, France, Italy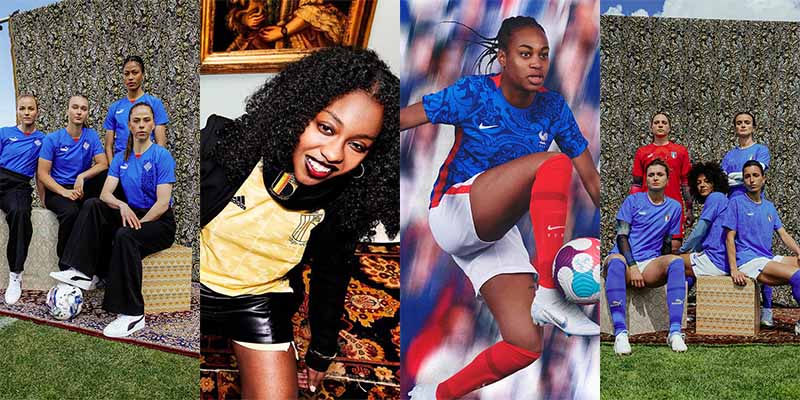 The group in a nutshell: If France are firing on most (let alone all) cylinders, the battle between Belgium, Iceland, and Italy for second place will be a fascinating one. HOWEVER… 
The "Lady Bleus" come into these EUROs without some rather prominent members of their squad and, like any French international side worth its salt, with the potential for interpersonal conflict that could bring about an implosion that could derail their tournament and open the door for two of Europe's less-heralded sides to advance.
Favorite: France. Based solely on talent across the age spectrum — even with some rather notable absences —  the French roster is among the best in this field.
But by all accounts (here is but one), the surprising omissions of the Champions League Final player of the match Amandine Henry, her Lyon teammate Eugénie Le Sommer, Bayern Munich forward Viviane Asseyi, and PSG's Kheira Hamaroui (who, it must be said, isn't here for an entirely different and horrifying reason), suggests the relationship between head coach Corinne Diacre and her team is, at best, uneasy and strained. At worst, things could get ugly.
That being said, it's unlikely that this team goes off the rails in the group stage. For one, even with all of those notable absences, not only does this team not lack for world class talent, it's pretty well-stocked with full units of top-end talent from the nation's top club sides: Lyon's defensive trio of Selma Bacha, Griedge Mbock Bathym, and Wendie Renard, as well as PSG's staggering forward line of Sandy Baltimore, Kadidiatou Diani and Marie-Antoinette Katoto.
However things play out for the French in England, they've got enough talent and experience on hand to successfully navigate the group stage.
Dark horse: Italy. Women's football — as it has in recent years in Spain, Germany and England — is on the ascent in Italy. Internationally, Le Azzurre had their best-ever finish at the 2019 World Cup, when they reached the quarterfinals. During that run, they topped a group that also included Australia and Brazil (each of the three ended up with six points, with Italy having the best goal difference), then knocking off China in the round of 16 (2-0), before falling to the eventual runners-up, the Netherlands, by the same 2-0 score line.
More recently, in the 2021-22 Champions League, Juventus made history by becoming the first Italian women's side to reach the quarterfinals of the competition, and pushed eventual winners Lyon to the brink, leading 2-1 after the first leg, before falling 4-3 on aggregate.
In short, there are some serious vibes swirling around this team. Keeping the good times rolling is the fact that coach Milena Bertolini has included nine members of that outstanding Juventus squad (three each in defense, midfield and attack), along with four players from Roma, and three each from AC Milan and Fiorentina. There is familiarity, experience and momentum in this group, to say nothing of some serious excitement in attack.
Could disappoint: Belgium. Belgium did qualify quite impressively for this tournament, winning seven of eight and topping a group that also included Switzerland, while scoring 37 goals and allowing just five. However, simply penciling in Belgium as second-favorites behind France would be premature.
For starters, it's hard to shake the feeling that not enough of these players are consistently playing for sufficiently high stakes against sufficiently stiff competition. Perhaps — and maybe I'm way off base here, but hear me out — there is a subconscious inclination to ascribe some of the lofty standing of Belgium's men's side — both as an internationally and in terms of representation at top clubs — to this side.
However, with the notable exceptions of Janice Cayman of Lyon, rising star Tine De Caigny of Hoffenheim, and national team mainstay (67 goals in 109 appearances) Tessa Wullaert — who's back playing in Belgium, but spent the previous half-decade winning leagues and cups with Wolfsburg and Man City — no other member of this team plays at a Champions League caliber club.
This isn't to say that Belgium will embarrassingly crash out of this tournament. But there's really no reason to simply assume they'll cruise into the knockouts.
Best kit: This is a brutal defeat for Italy, whose home kit, which features a tiled, hand-drawn floral design, would be the inventive and attractive kit at most tournaments.
Here, however, it's not even the best blue shirt in its own group!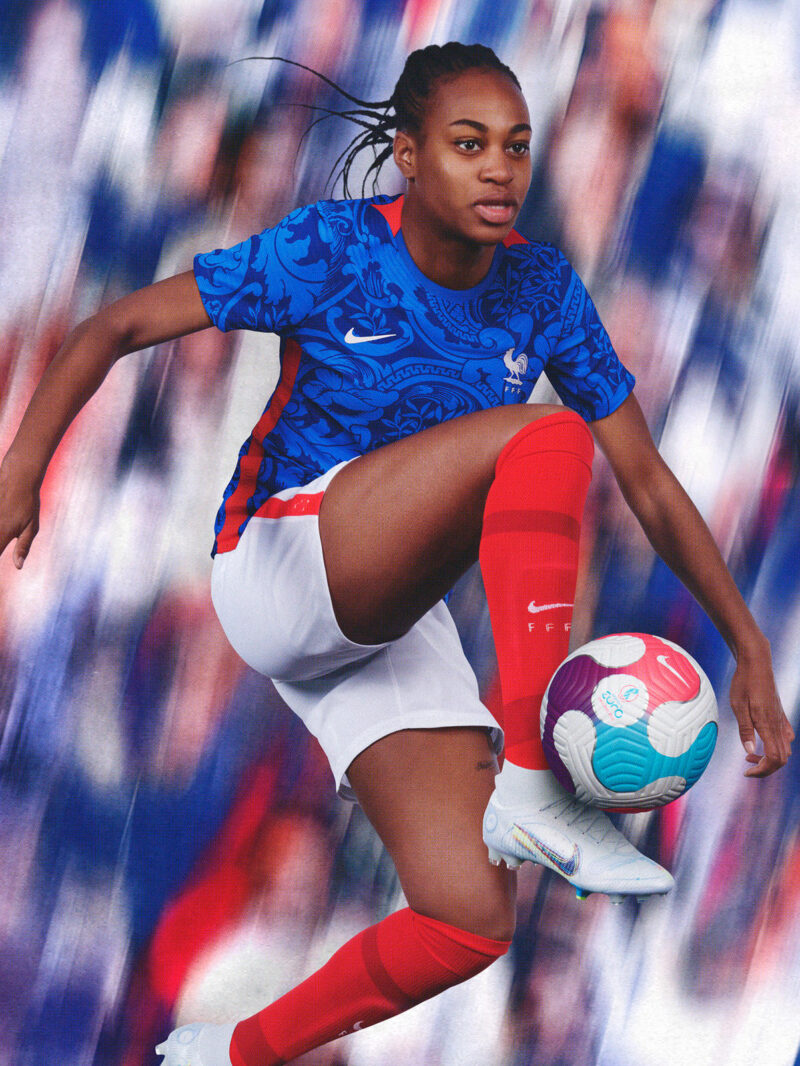 France's home shirt features the clean, crisp royal blue that we expect from Les Bleus, only this design adds an absolutely gorgeous design inspired by neoclassical art and architecture. Combined with the white shorts and red socks that complete the home kit, this may be as good as it gets.
Coolest Team: Italy. As they do for the Bianconeri, dynamic, creative, and clinical veterans Valentina Cernoia, Cristiana Girelli (53 goals in 58 league games with Juventus since 2018), and Barbara Bonansea (49 goals in 89 with Juve since 2017) will lead the way for Italy. On its own, the trio's fluidity and potency on the pitch is worth getting amped up for. But, in case you're not sold, watch this and then tell me you're not rooting for this group:
And, for good measure, they'll be joined in England by their teammate, a rising midfield star roughly a decade their junior, 22-year-old Agnese Bonfantini:
Game of the group stage: If we assume that France takes care of business against each of these sides (and then Iceland), then the group stage finale between Belgium and Italy will decide which other Group D team qualifies for the knockout stage.