Started as a product of Atlanta's growing soccer scene, Way Down South's mix of Southern-influenced and eye-catching designs have given it a place within city's vibrant sports community. 
Even before Atlanta United joined the MLS ranks, the A had a pretty established soccer history — from the Chiefs of the old NASL to the Silverbacks of the new NASL. But since the Five Stripes made their MLS debut in 2017, Atlanta has undeniably become one of the soccer meccas in the United States. Perennially packed stadiums, pickup games and tailgates at public transit stations, and a genuine embrace of the beautiful game has created a vibrant culture specifically unique to the city.
Very much a part of that culture is Way Down South, an art and apparel soccer brand that blends Southern lifestyle with soccer culture.
Speaking to founder Jose Hadathy, we learn how this up-and-coming brand fits into the colorful tapestry of culture and soccer percolating in the South, and how a young artist came to combine his two passions.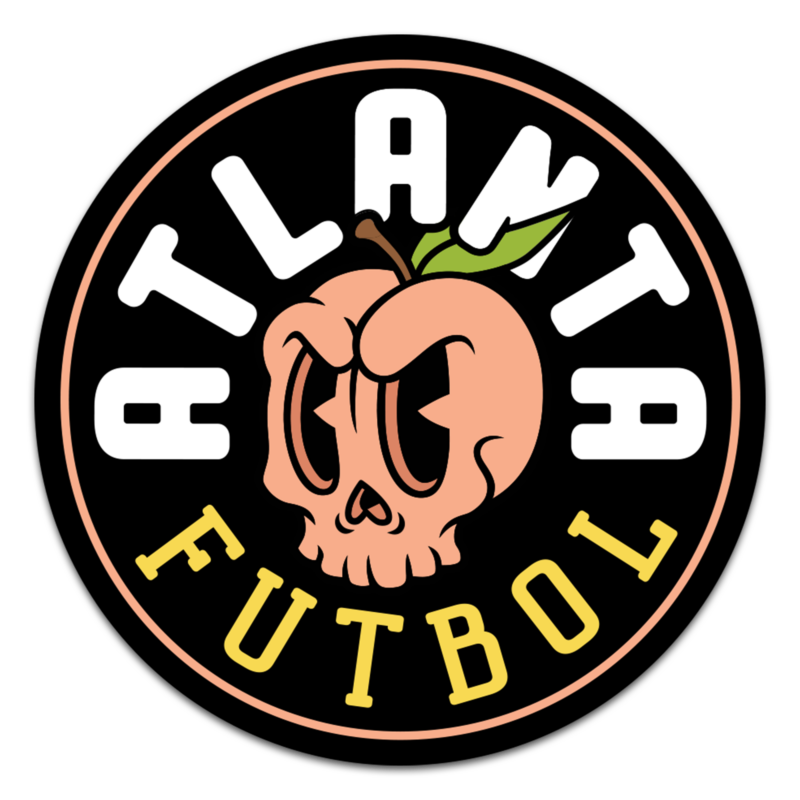 Urban Pitch: Let's start from the beginning. How did the idea for Way Down South come about? What was the spark?
Jose Hadathy: Way Down South started three years ago in 2018. It was sparked when Atlanta United came to MLS. Atlanta United took Atlanta by storm, and me being a lifelong soccer fan, I was excited to have a home team once again, and I was fully immersed into the Atlanta United culture.
My friend Neil and I were pretty obsessed with Atlanta United, but that first year they started in 2017, we were a little annoyed that there wasn't better merch to support the team with. We would go to the team store and a lot of the initial merch was kind of generic and very sporty, but nothing that you would want to wear outside of the stadium or on non-game days. I am an illustrator, and I have a background in painting. He was a graphic designer. So we decided, why don't we try our hand at doing some designs parodying soccer in Atlanta and some of the local businesses or landmarks?
What are some specific things about the South that inspires the art and design for the brand?
Soccer culture here in Atlanta has been growing steadily. And with the arrival of Atlanta United, it kind of exploded. I think it's sparked a lot of creativity with artists, musicians, and other content creators here. I'm inspired by everything that gets created that in turn adds to this culture here in the South. Hip-hop is a big part of this community. Art in general is big from fine art to murals and street art.
Street art is a big thing here and that got me excited because my background is in painting and art. So it was a good avenue for me to be able to explore my art and get it to people. And when people wear your designs and they really connect with them, it becomes a part of their identity. I think the whole community that has formed around soccer in Atlanta and in the South is really inspiring, and I think it's a big reason why I got this started.
View this post on Instagram
Sounds like there's a lot of ebb and flow between these different mediums of art, and there's so many different things to pick from that you can incorporate with soccer. It's like the line between lifestyle and soccer is always blurred.
Yeah, and I think here in Atlanta, the identity with the city is so strong in the soccer culture. At first, when we started the brand, our focus was to parody some popular things about Atlanta and Atlanta United. That was our strategy at first because it would be something people could connect to immediately. They would connect it to the city and they would want to wear it. With music, for example, we did an illustration of the Run the Jewels album cover with the hands. I made them point in an "A" shape. It was little things like that that made people begin to pay attention and connect with the brand.
What about soccer in particular inspires you artistically? Have you always mixed art with soccer, or is it something that just came about once you saw the opportunity for it?
Soccer and art have been my two passions my whole life. But they've never really mixed. I was always a soccer player and then an artist. In high school I had to pick between the two because I was trying to think of what I wanted to do in college.
I had to think about whether I could have a future in college with soccer or with art. So I had to make a decision between the two, and I chose art. But it wasn't until this happened with Atlanta United — I kind of was going through a bit of an artist block. There was a period where I wasn't being very creative. But, then seeing all the artistic things happening around Atlanta United, I realized that this was a good opportunity to combine my two passions into one thing.
And it was also a really good way for me to focus my creativity because it gave me a specific thing to create for. And I think I started to realize how important art has been to soccer in general. Everyone has their favorite kits, moments, or players. If you look at street art, a lot of those moments and players are immortalized. I realized that these two different things mix very well together, and I had to figure out how to do it for myself.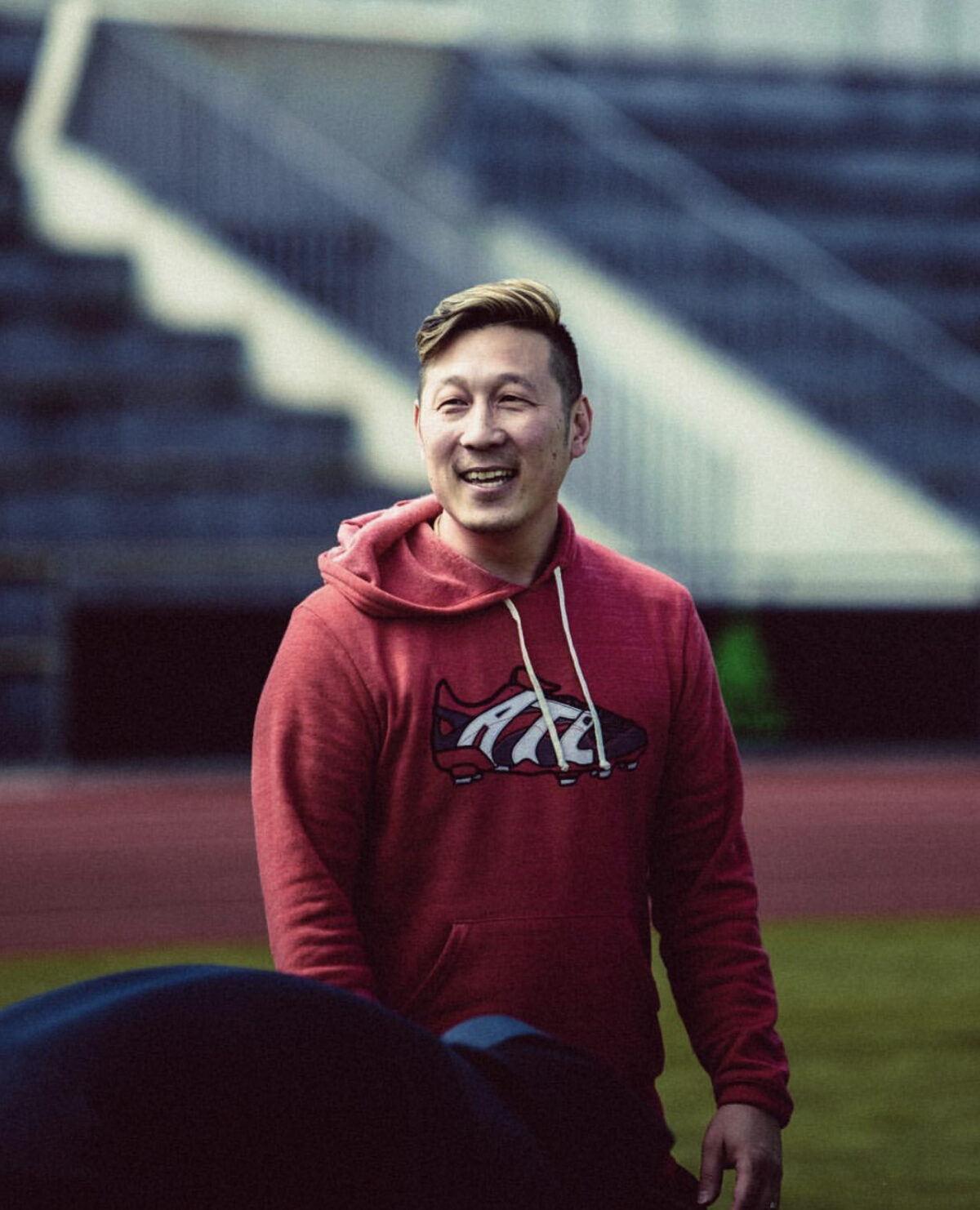 How were things during the pandemic in Atlanta? And how did it affect things for you?
Yeah, so it obviously stopped everything. We went into lockdown, and everyone was expecting a short one. Here in the South, it's a little different because in general, I think they're a little more relaxed about masks and the pandemic. But in the city of Atlanta, they were a lot stricter. So yeah, we went into immediate lockdown. My full-time job allowed us to work remotely, so thankfully I wasn't impacted by losing my job or anything.
In terms of my business it definitely took a hit, but it also gave me an opportunity to take a step back and reevaluate. I was using a local printing shop to print all my apparel. I decided to not work with them anymore, and I started researching what I could do on my own with clothing and whatnot. And so I started to research new technologies in apparel.
I bought myself a heat press machine and just started experimenting with a bunch of different ways to print shirts on my own, and that actually made me a lot more in control of the work I make. Now, I've been able to create soccer jerseys and hats, and I've been able to really take artistic control of my designs. Whereas before, one of the biggest frustrations was the quality of the work that was being produced whether it was by embroidery shops or print shops. I'm a real stickler for details and quality, and it was very frustrating to not be able to control that. Now I'm literally placing the designs exactly where I want them, and I think it's really helped my business go to the next level. I can now offer more unique products and really create the kind of vision that I want for my apparel and brand.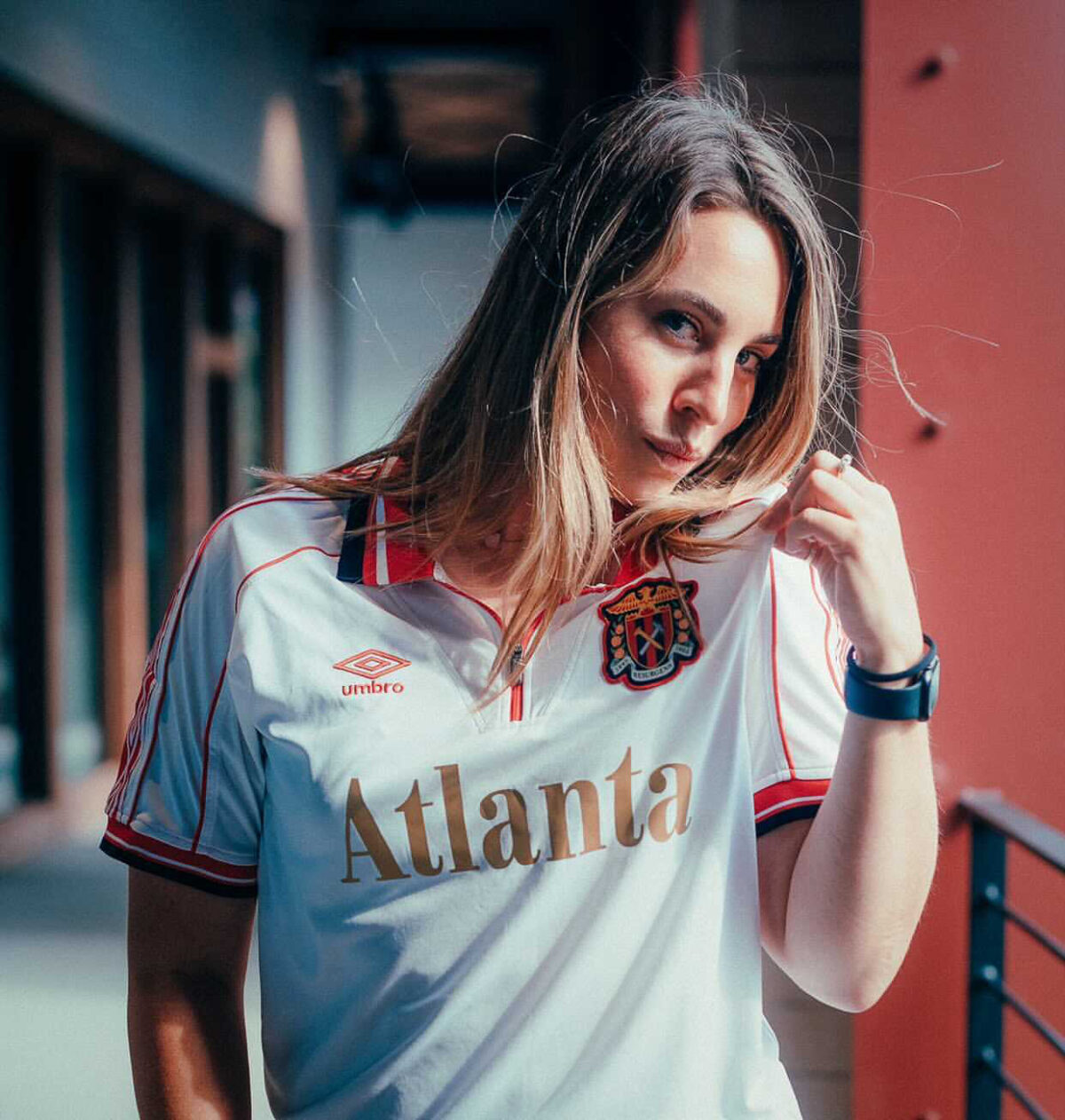 Why is it important for you to specifically represent the South through soccer and art, and why is it important for you to share that with others?
So I think we're just now realizing how big soccer is in the South. We finally have a few teams now for fans to rally behind. And I think it's really inspiring to see what has come out of soccer culture in the South. I'm not so much representing the South so much as I am injecting myself into this wave that is growing — not just in the South but all across the United States.
It's an opportunity for me to be able to share my creativity with people because it's really rewarding when I see people wearing my art as clothing. I also get direct contact with fans and supporters when I sell at the tailgates before the Atlanta United games where the supporters' groups gather. So I get to see people's reactions to my designs. When they buy, they ask questions, and I'm getting to connect with the community. I do think community is the most important part of a brand. I love being a part of the Atlanta soccer community.
I donated a portion of the proceeds from the tailgates to Soccer in the Streets, which is a charity here in Atlanta that helps kids in the city have access to soccer. They are partnering with the Atlanta United Foundation to build soccer fields by the city's train stations so people have more access to play in the city. So that's really cool. Being able to make an impact that helps people here in the South and helps people in my city, I think that it's super cool and exciting that my art can be a part of that. As my brand grows, I get to grow the impact that I have on my community and deepen my roots in the community that I love.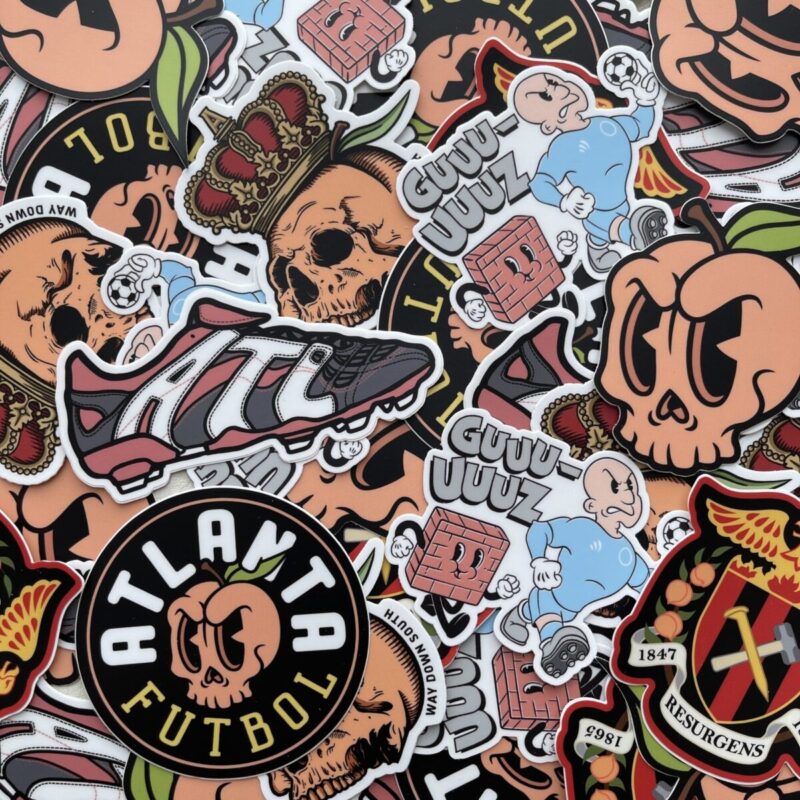 You also make stickers and a couple of prints as well. What is the process for creating something like that versus what goes on a t-shirt?
Yeah, so I label Way Down South an art and apparel brand, and I think it's important to emphasize the art part because that is my background and it's what I'm used to most. So whenever I'm trying to brainstorm new designs and new ideas, I always have a graphic in mind. That's the part that comes first.
Also, for example, I love old-school cartoons from the 1930s and '40s. I love that style. So I've always thought of what I could do with that. I've always wanted to pay homage to that style through a design. I ended up with a design focused on Brad Guzan, our goalkeeper, in that style.Then I get to decide where would this work better — does it work as a print, or should it just go on a mug or a t-shirt? I think it's just trial and error.
I order samples of all of it and see what I like best and think what people are going to connect with. My support system of my peers and my girlfriend are very important in the process as well. I ask for their input on things. Sometimes, I'll release something without putting it on my website, just at the tailgate, to see how people respond to it and then go from there and decide whether this will be a print or a t-shirt. Other times, for example, I made a design that was a parody of the Mad Magazine covers of Alfred Newman. I did one of Miguel Almiron. I made his portrait in that style. And that obviously is better as a print, because it is literally a work of art with a lot of detail. People would probably want to have that on their wall versus on a shirt. So it just depends on the design.
And I'm sure the intricacy of the detail, like you said, dictates whether it looks good on a shirt or as a standalone print.
Exactly, and that's a good point. You can only do so many things with apparel printing versus paper printing. I also should mention that I've been running this brand alone since late 2019. So my partner who I helped found it with is no longer with the business. I had to teach myself graphic design.
With that transition, and then the slow down from the pandemic, this was a good opportunity for me to really learn a lot about graphic design —principles, typography, all that kind of stuff — and merge that with my more fine art background. That allowed me to create designs that don't necessarily always have to be prints or stickers. They can be more text-based shirts and crests for jerseys. So that gave me a lot more tools to be able to create and have a wider variety of designs as well.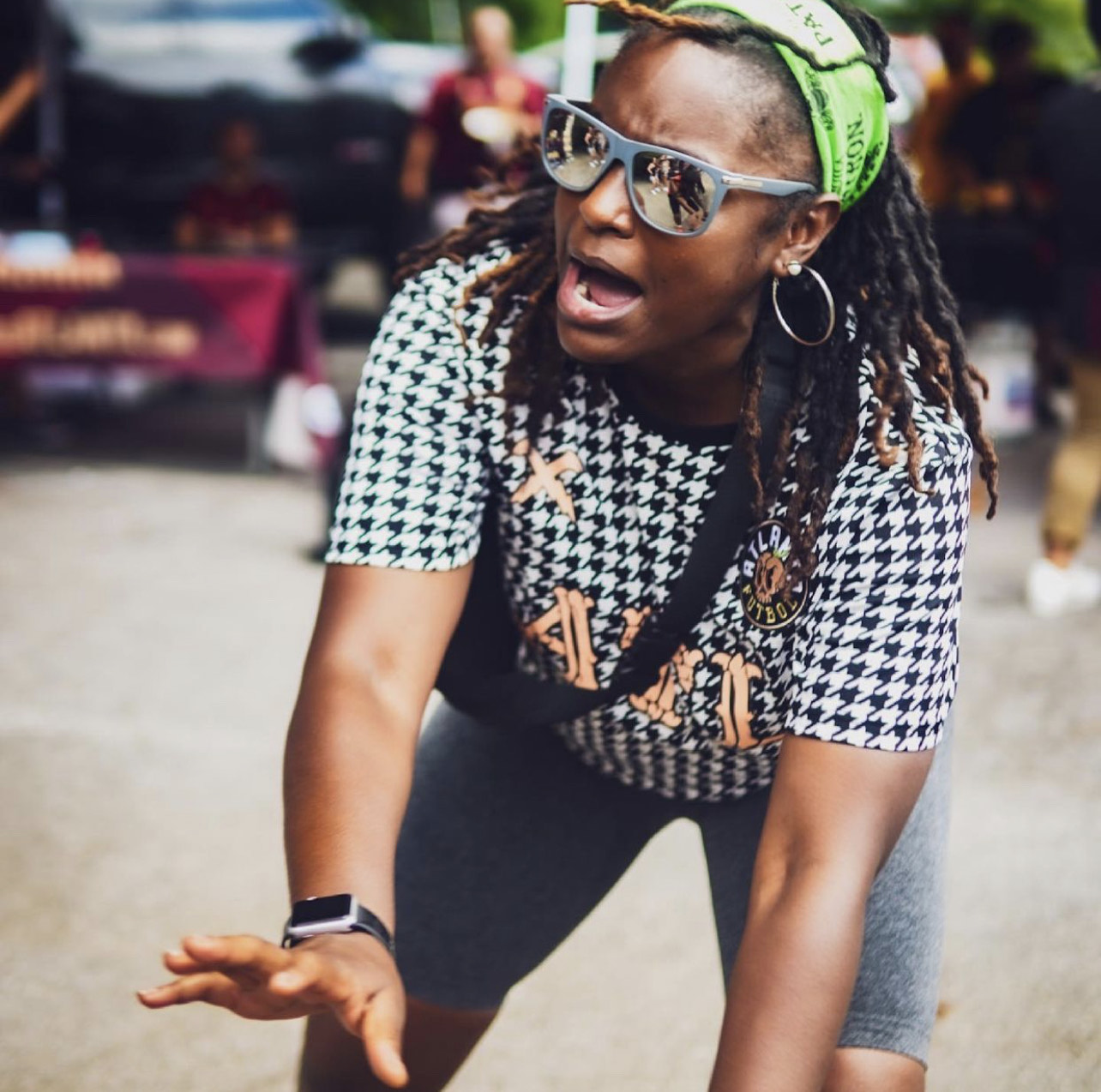 What makes soccer and art so unique in terms of self-expression?
They're unique to me because of the importance that they hold in my life. I've been around them literally since I was born. I was born in Ecuador, where soccer is basically a religion. I have pictures of me at the stadium of the local team, Liga Deportiva Universitaria, or LDU Quito, that I have supported with my family since I was a baby.
And then art as well — my grandpa, Bolivar Mena Franco, was a famous artist in Ecuador. I've grown up with his paintings in my house since I was a baby. These have always been such strong parts of my life that I never even really questioned it. They describe who I am. They are me. I have no choice really but to express myself in these ways.
And you've done freelance outside of working on Way Down South. What do you strive to accomplish through your professional art and design work?
So I have a full-time job that is not related to art in digital advertising. It has nothing to do with art, so art has always been something that I've been able to not feel pressured by. I'm able to express myself and explore freely without the pressure of needing it to make a living. I think that's been huge in allowing me time to experiment, time to take a break, time to discover my style and what art means to me.
But more recently, as I've been learning more about graphic design, I've been practicing art a lot and improving my skills. I've been able to meet people in the design industry here in Atlanta. And just starting this brand, it's really grown a lot. It's more and more becoming something that I can see myself doing full time. I think that's my goal, to grow my identity and my abilities as a designer, but also grow this brand and eventually turn it into something that can be a full-time venture. That's definitely my goal.
Interview edited for clarity and brevity. Photos courtesy of Way Down South.
Follow Way Down South on Instagram to stay up on their latest releases, and keep your eyes peeled for a chance to win one of their jerseys in a giveaway.