You may know him as the creative mind behind FOKOHAELA, but Jason Lee also has an amazing collection of Arsenal memorabilia. From jerseys to knickknacks, we get an inside glimpse at Lee's vault, while also getting a look into how he's found some of his rarest grails.
Whether it's stamps, coins, or sneakers, collecting is an art form that prides quality over quantity. In very rare instances, you'll come across someone with both.
Jason Lee is one of those exceptions. A long time Arsenal supporter, Lee has amassed an impressive trove of memorabilia that includes everything from iconic jerseys to rare off-pitch wear to custom one-of-one creations.
A longtime designer, Lee is the one-man show behind FOKOHAELA, which consistently releases some of the most creative shirts and accessories in the game.
In our latest podcast episode, we sat down with Lee to discuss his Arsenal fandom, personal favorites in his collection, and his take on the resell culture that has crept its way into kit collecting.
Below is a transcription of some highlights of the interview, and you can listen to it in its entirety on Apple Music and SoundCloud.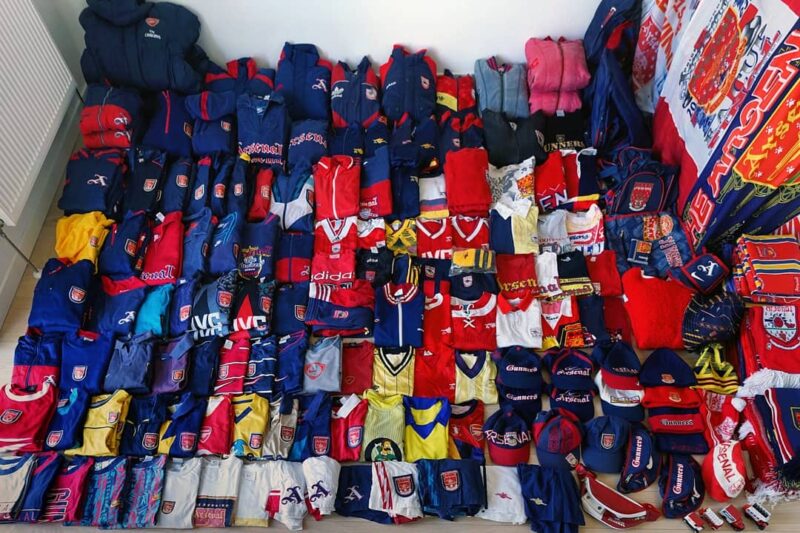 Urban Pitch: How did your Arsenal fandom turn into collecting?
Jason Lee: I started to actively collect in 2015, but prior to that I had really just been wearing bootleg Arsenal kits. I remember one of the last kits I had been wearing prior to collecting was a bootleg Nasri shirt.
I don't know exactly what happened, it must've been some meandering on eBay and then coming across something Arsenal. But since I've been collecting, it's really been specific to everything with the old badge. Nothing with the current badge apart from the Invincibles kit or Arsene Wenger manager coats.
For me I find the training and lifestyle much more exotic than the matchwear. Part of the reason is because I see so much of the matchwear by virtue of them playing in it and just seeing all the fans wearing it. It's a lot more seldom where you see fans wearing the old badge lifestyle.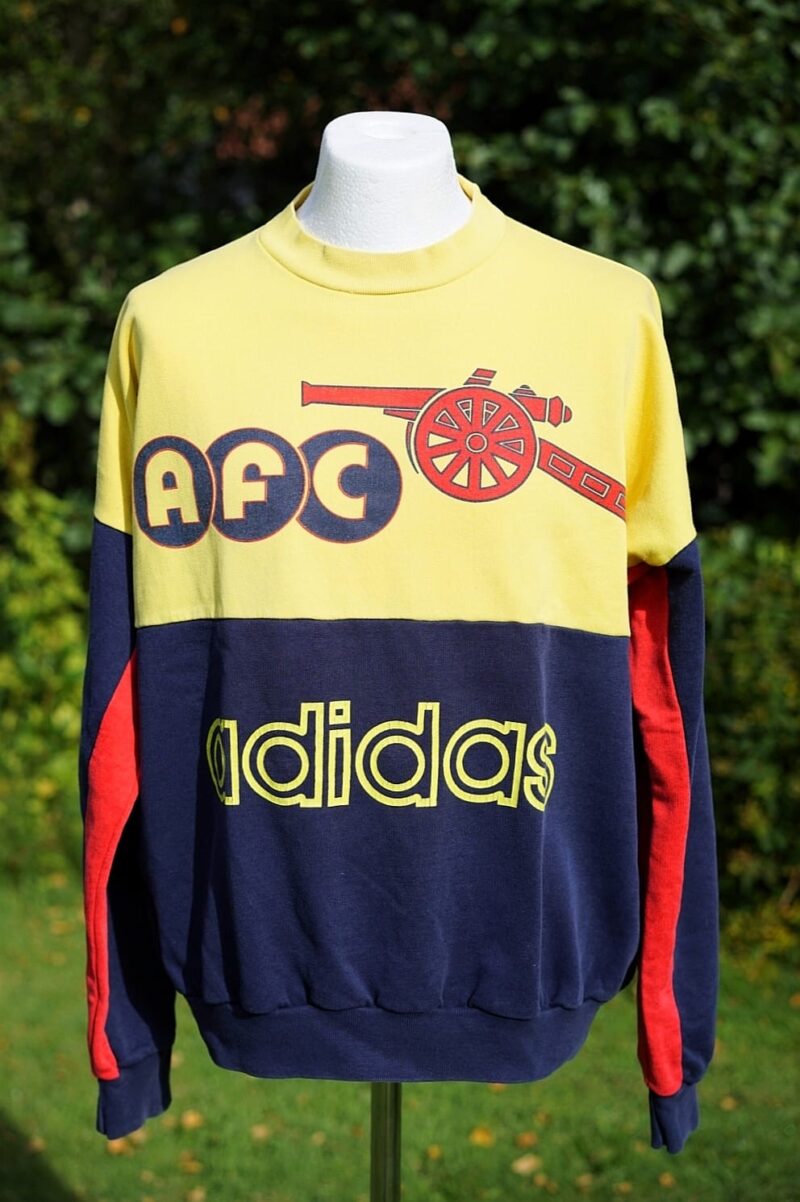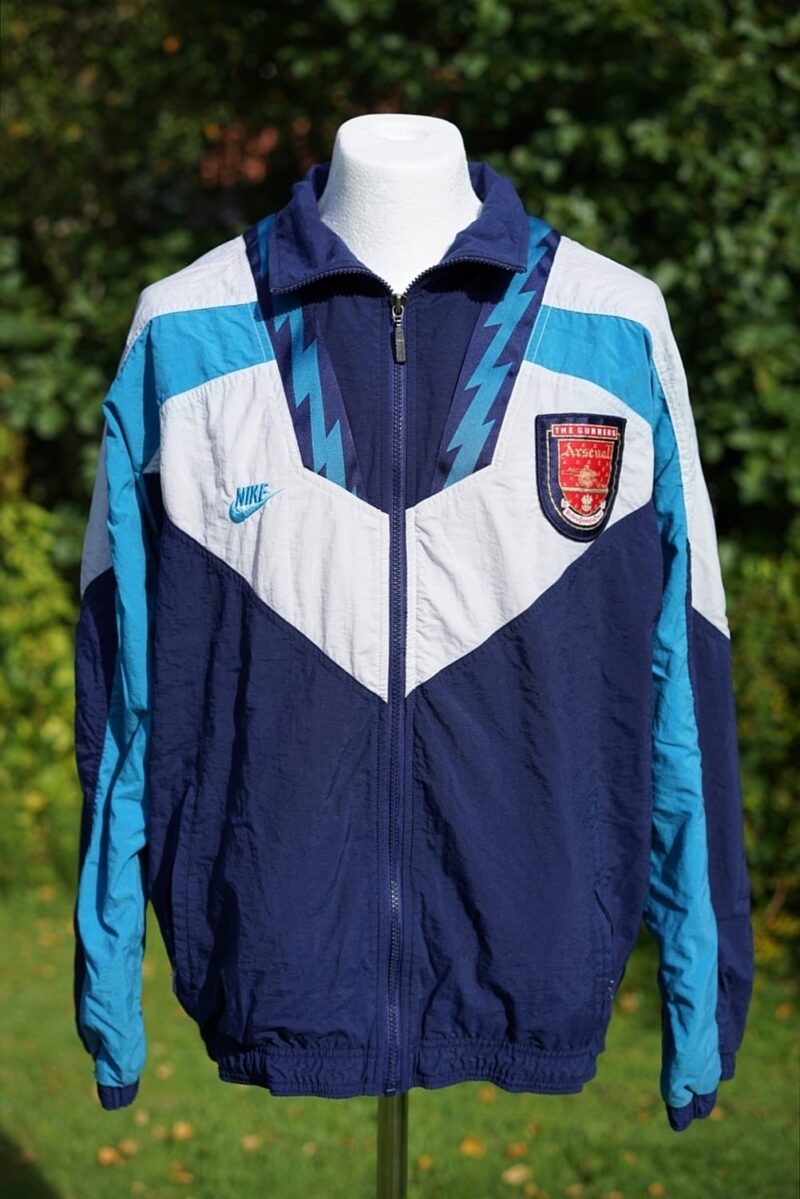 What are some of the crown jewels of your collection?
I would say two of the grails are an adidas Arsenal jumper from — I don't exactly know the year but it has to be late '80s, early '90s, somewhere around then. And then there's a Nike Premier jacket from '95. It's got the lightning pattern around the collar.
There's also a red and blue bomber jacket by Campri, and then a black leather jacket — I can't remember who the maker of that is, but probably those pieces as well.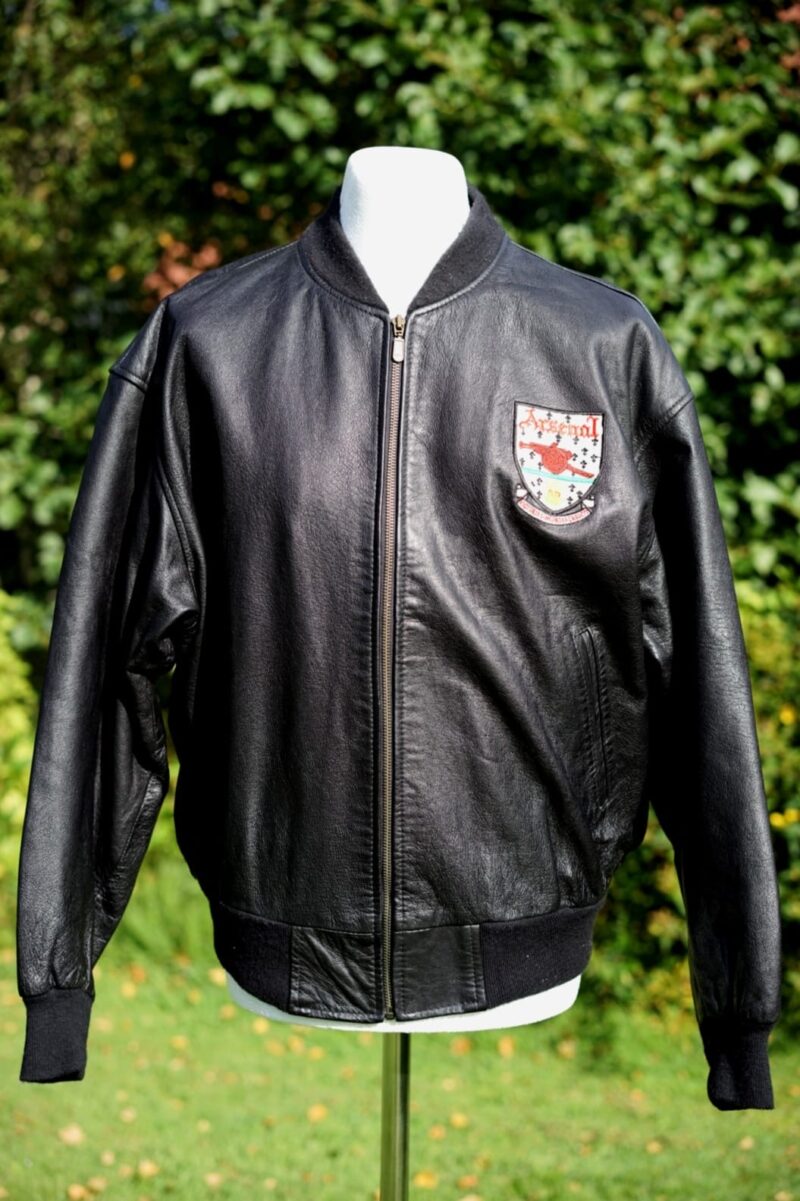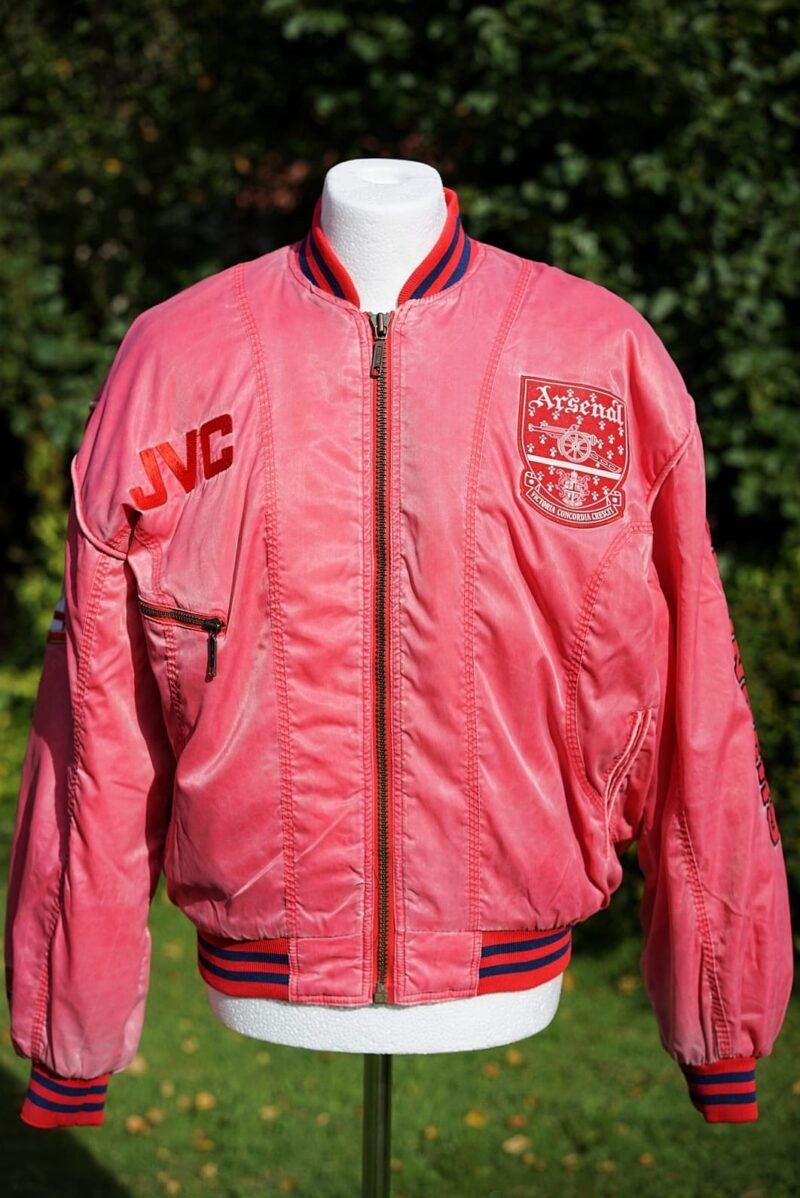 When you're shopping for new additions to the collection, are you actively searching for certain items, or is it more whatever you come across?
In the beginning, I'd say I was much more deliberate because I didn't have that much of a collection. But at this point, I have all the pieces that I'd want apart from two. So if I'm on the lookout it's for those two items. The first is the Arsenal x Nike 125th anniversary destroyer jacket. It's a varsity jacket and they only made 125 of them. I've come across it, but not in a medium.
That's the other thing — when you're collecting and you're looking for specific sizes, you may come across other sizes and then you have to decide whether or not you're going to buy it. For the destroyer jacket, I think I would need the medium. I wouldn't buy another size.
The second piece is a Nike cap with a big gothic A embroidered on it.
Anything I get now is just by casually browsing. It could also be where I already own the piece, and I buy another. As an example, there's a Nike training jacket from 1995, and that silhouette I have nine of. Don't ask me why I have nine, but I do. Meeting other collectors, I've found that we're all kind of crazy.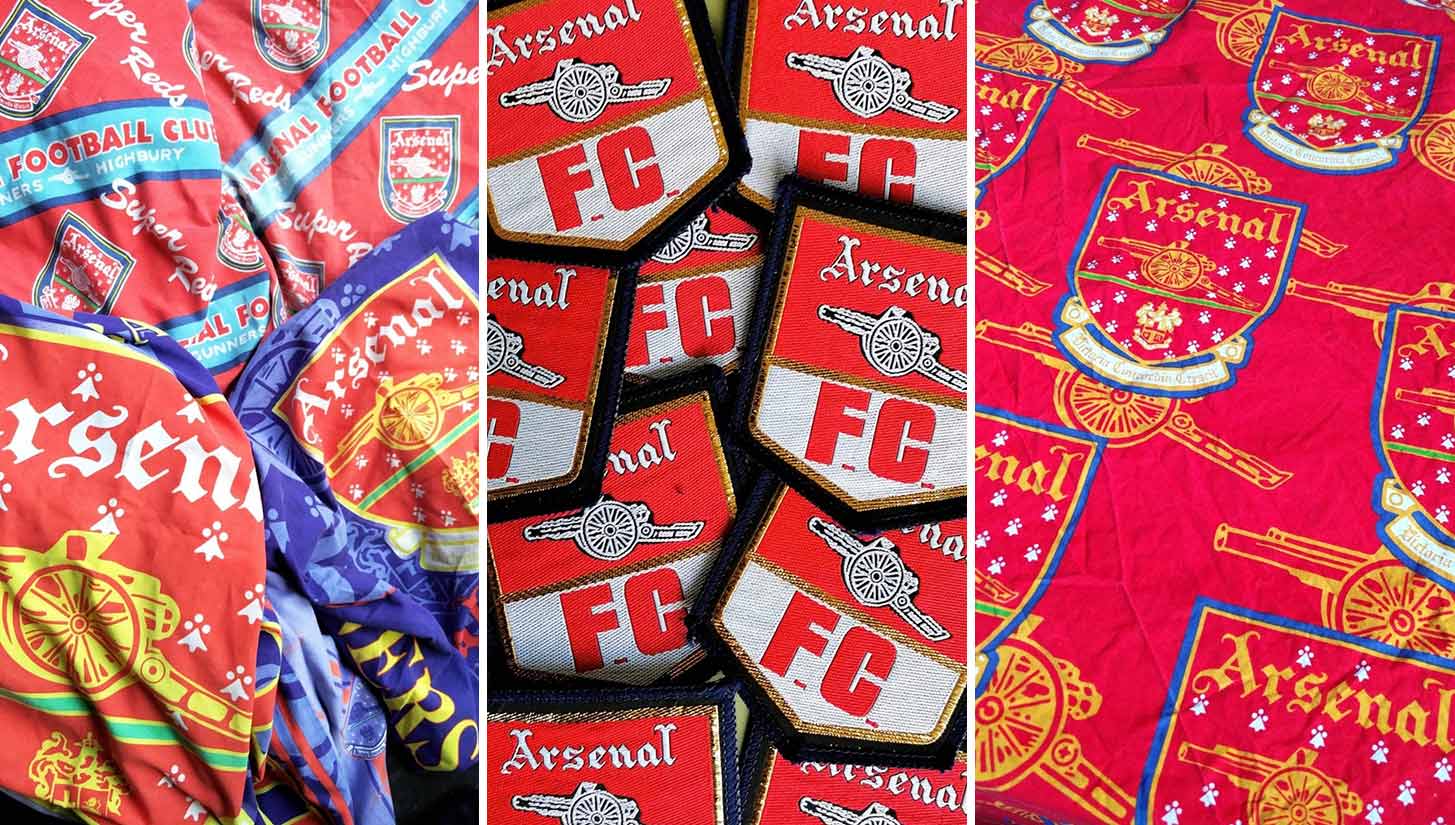 What are some of the most surprising items you've come across while shopping — whether it was an item at an unbelievable price or an unexpected grail?
I had met a guy via Facebook, and he just had a massive collection and I was interested in buying some of the pieces. He sold me a shed load for 70 quid. I felt so bad about it that I gave him 110. It was the leather bomber — the red Campri jacket — it was the star goalkeeper shirt, a few flags, three bags, I couldn't believe it.
A lot of it has to do with luck, but they also say luck favors those who are prepared. If you're actively searching, at some point you are going to find it.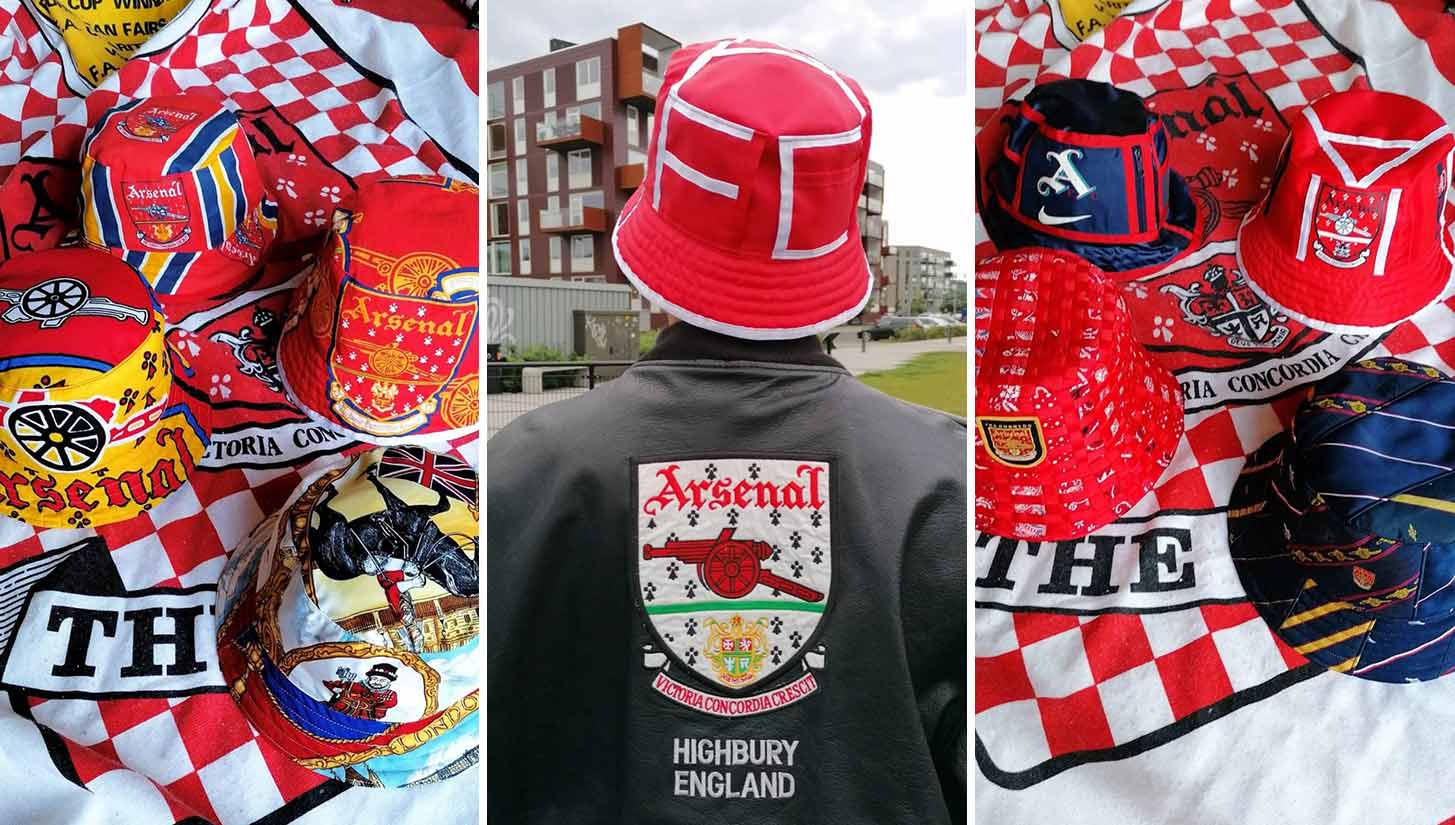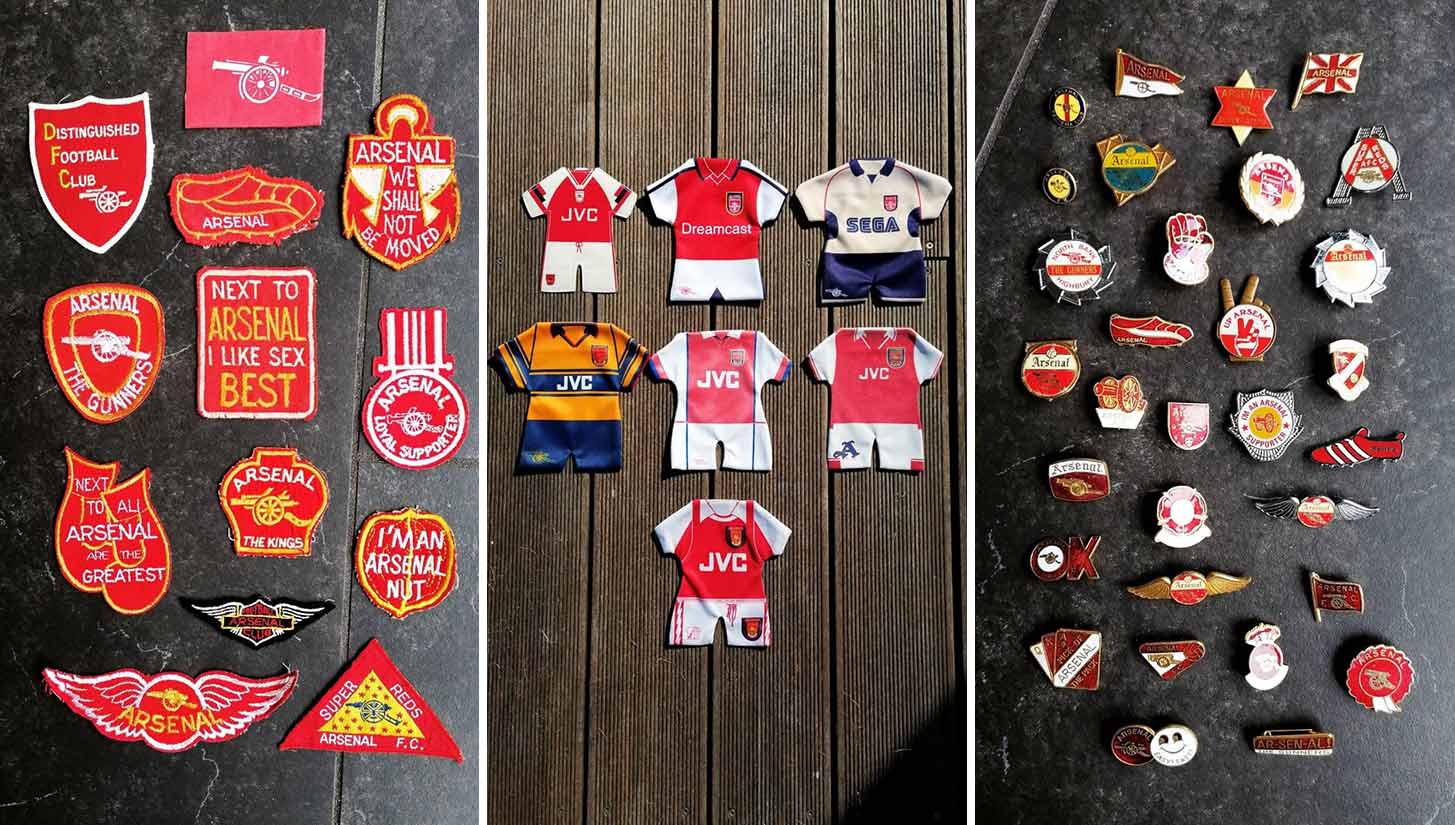 What are your thoughts on the price gouging that routinely goes into reselling memorabilia, and would you ever sell anything out of your collection?
Especially with Arsenal, it's become much more of an issue within the last six months to a year. Before that it was a lot easier to find things at a reasonable price. I think there are two things when it comes to collecting. One is you will find resellers who are consciously looking for either Arsenal products or some other club, and consciously looking to buy that to flip resell.
But on the other side you have the OGs who have supported Arsenal since they were a kid, and now they're retiring or they're already retired so they're just cleaning out their attic and putting things on eBay.
I would say anybody would probably have an issue with resellers who are doing it just to turn a profit, so I definitely prefer dealing with the OGs, where you'll see their listings on eBay where they're sometimes they'll have shirts that are posted sideways. (Laughs.) 
But they're very authentic, and sometimes it turns out that they'll have a treasure trove of other stuff that hasn't been on eBay. With that I've been able to collect a lot of the other stuff apart from the apparel, whether it be rosettes, pins, ties, flags, all the other accoutrements.
Check out the entire interview on Apple Music or SoundCloud, and follow Jason Lee and FOKOHAELA on Instagram for more shots of his collection.