Highlighting the most compelling lower division teams in the United States, our Descending the Pyramid series continues with Detroit City FC. With a rabid fanbase and forward-thinking front office, DCFC is making the jump to the professional ranks in 2020, something all American soccer fans can get excited about.
One of America's iconic cities, Detroit has become synonymous with several moments and images in American history and culture. Theres the good — Motown Records, Coney dogs, and 8 Mile — and the bad — the struggles of the automobile industry, housing crisis, and filing for bankruptcy in 2013.
For a city with such a turbulent history, Detroit's contribution to the cultural zeitgeist is unrivaled, and that includes sports. There's the multiple Stanley Cups of the Red Wings, Thanksgiving Day with the Lions, and of course, the Malice at the Palace (though technically that was in Auburn Hills). However, there's a glaring absence of a pro soccer team, a void that hasn't been filled in years — until now.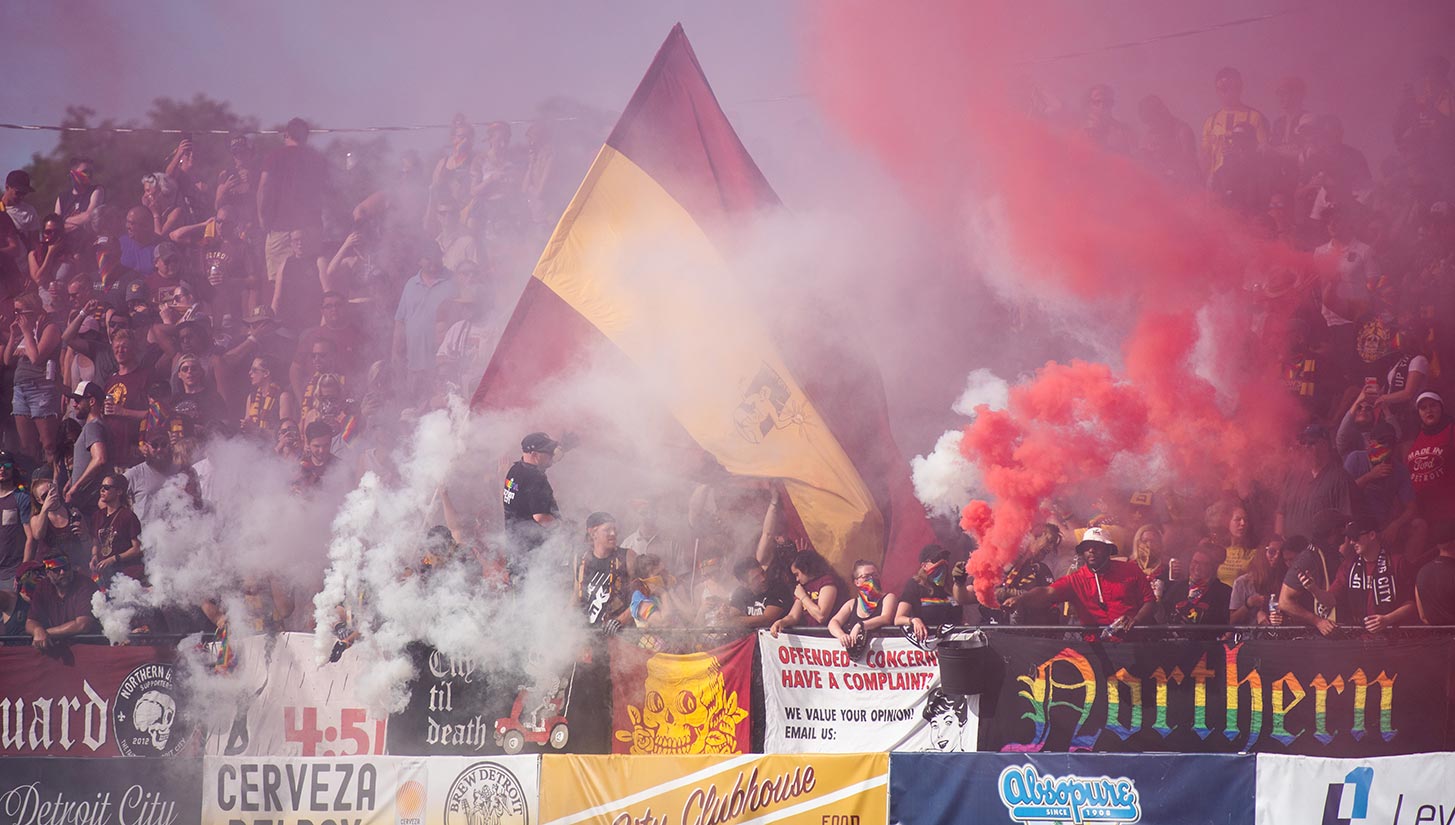 Detroit City FC could very well be the city's most important professional sports team, despite being the new kid on the block. Rising from the ashes of Detroit's struggles in 2012, the club thrived in the semi-pro ranks of the NPSL for most of the decade, but the controversial club is finally making the leap to the professional game. Get ready America, Detroit City FC is taking their talents to the National Independent Soccer Association in the spring of 2020.
The Foundation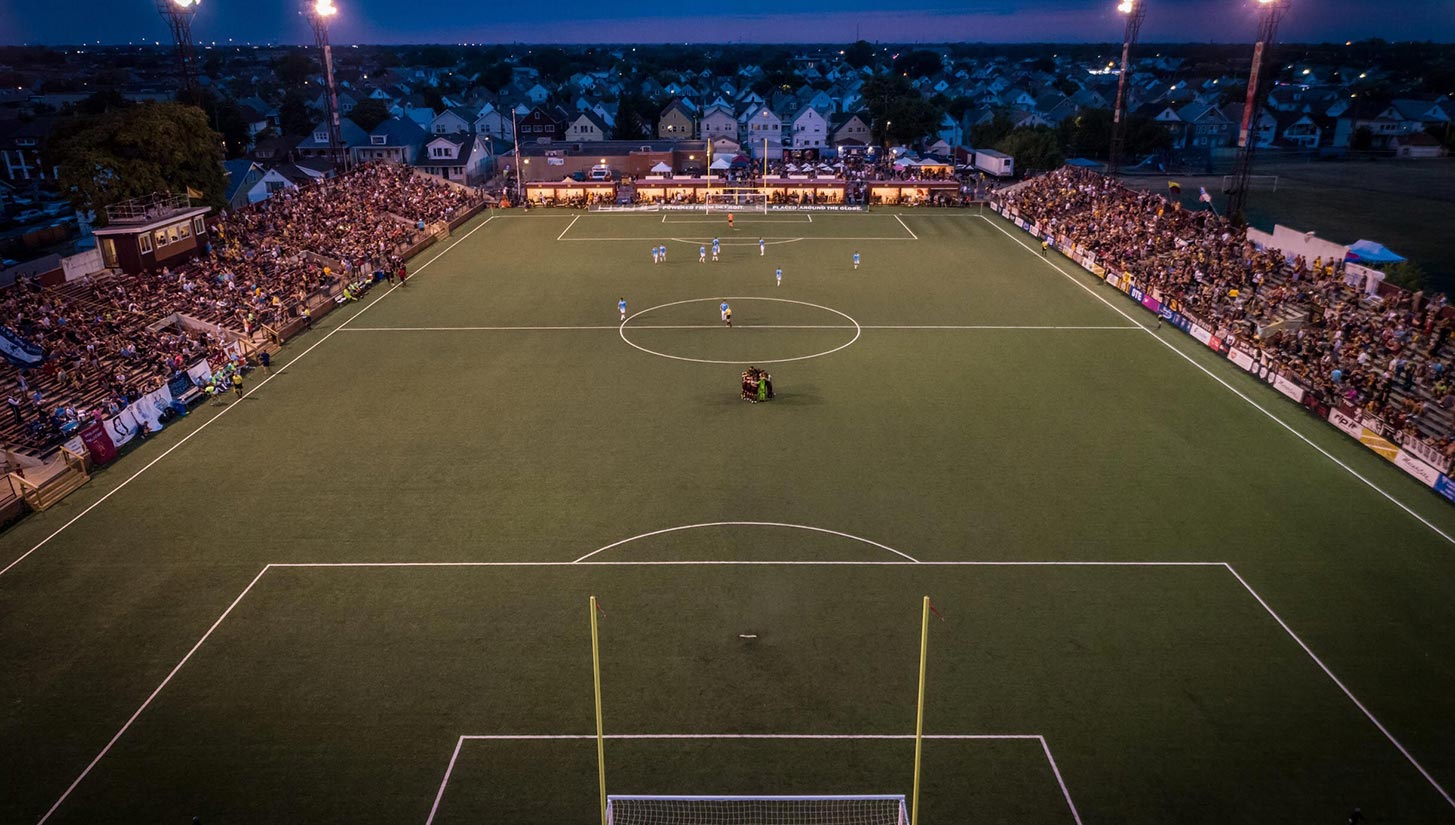 The club's roots go back to the Detroit City Futbol League, a recreational co-ed adult soccer league founded in 2010. Club founder and co-owner Sean Mann had just moved to downtown Detroit, and he wanted to find a way to bring the community together in the midst of its struggles.
"I love Detroit, and there's this amazing spirit here very much on the neighborhood level," Mann said. "But a lot of our time was spent boarding up vacant homes during the housing crisis and dealing with crime."
What better way to get neighbors together for a fun time than through the world's most popular and accessible sport? The first year, Detroit City Futbol League had 11 neighborhoods and 300 people participate. The neighborhood-versus-neighborhood competition quickly grew in popularity (there's now 36 neighborhoods and over 1,000 players) as a positive way for the community to organize and battle it out for 'hood supremacy.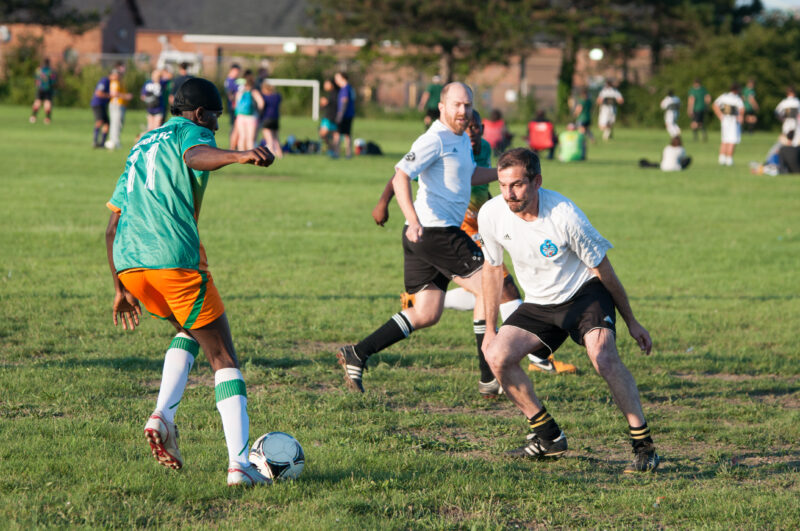 The DCFL evokes serious Calcio Storico or Palio di Siena vibes, the former an early form of soccer played between the different quarters of Florence and the latter being a horse race between the different neighborhoods of Siena.
After starting the league, Mann, who works in politics, took a business trip to Chattanooga, Tennessee, where he had a chance meeting with one of the Chattanooga FC owners. Mann saw what the club did for the city and its surrounding community and returned to Detroit inspired. He roped four friends — David Dwaihy, Todd Kropp, Ben Steffans, and Alex Wright — into founding Detroit City FC in 2012. Mike Lasinski bought out Steffans' share of the club in 2018.
Fast forward to today and Mann is pausing our interview to honk in support of United Auto Workers picketers as he drives from the club's new training facility and restaurant/bar to Keyworth Stadium in Hamtramck, where the team plays its home matches.
Hamtramck, the former home of the Dodge plant, is an enclave of Detroit similar to Rome's Vatican City — it turns out the Dodge brothers didn't like paying Detroit taxes. It's also where Mann would get his hair cut prior to the club's existence. One fateful shape-up session had him notice light towers in the visible distance from the porch of his barber's house. Upon further inspection, he discovered that the towers overlooked Keyworth Stadium — an 8,000-seat arena that was opened by Franklin Delano Roosevelt and once hosted a campaign speech for John F. Kennedy.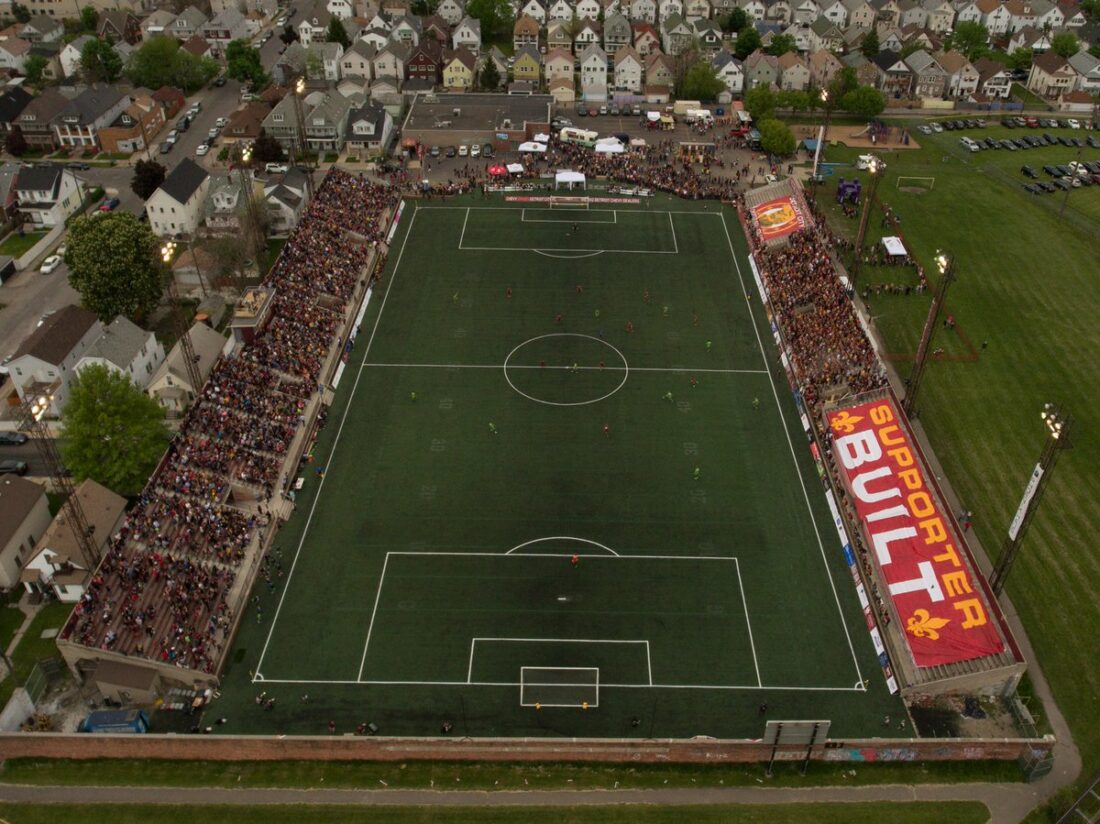 Mann's eyes instantly lit up and he had dreams of his soon-to-be-born team playing in the run down stadium. But it'd be a while before it would become playable, and when it joined the NPSL in 2012, Detroit City FC played its home matches at Cass Technical High School in downtown Detroit, where the pitch wasn't even regulation size.
Initially the club explored joining the Premier Development League, but the Michigan Bucks owned Southeast Michigan's rights. Detroit City FC's experience in the U.S. soccer pyramid so far, combined with MLS and the USL sniffing around the Detroit market, made the club hesitant to go pro. However, with the introduction of NISA, which has discussed plans of introducing a promotion/relegation system, Mann and co. took the leap earlier this year and became Detroit's first pro soccer club in decades.
"Philosophically, we're not going to die on that [pro/rel] hill by any means, but I do believe that's the right approach to the game, being in an open system," Mann said. "We never got into this because of fighting some soccer war. It's more kind of just where we've ended up. I think we're probably a by-product of a system.
"It's difficult enough a sport as it is. We're a niche in a very heavily populated sports landscape in the U.S. I am frustrated by all the infighting and the meaningless league stuff, but I think that's what appeals to us about NISA in a sense. We're just trying to create a league that works for clubs and where clubs have a say in how the league is directed."
The Kits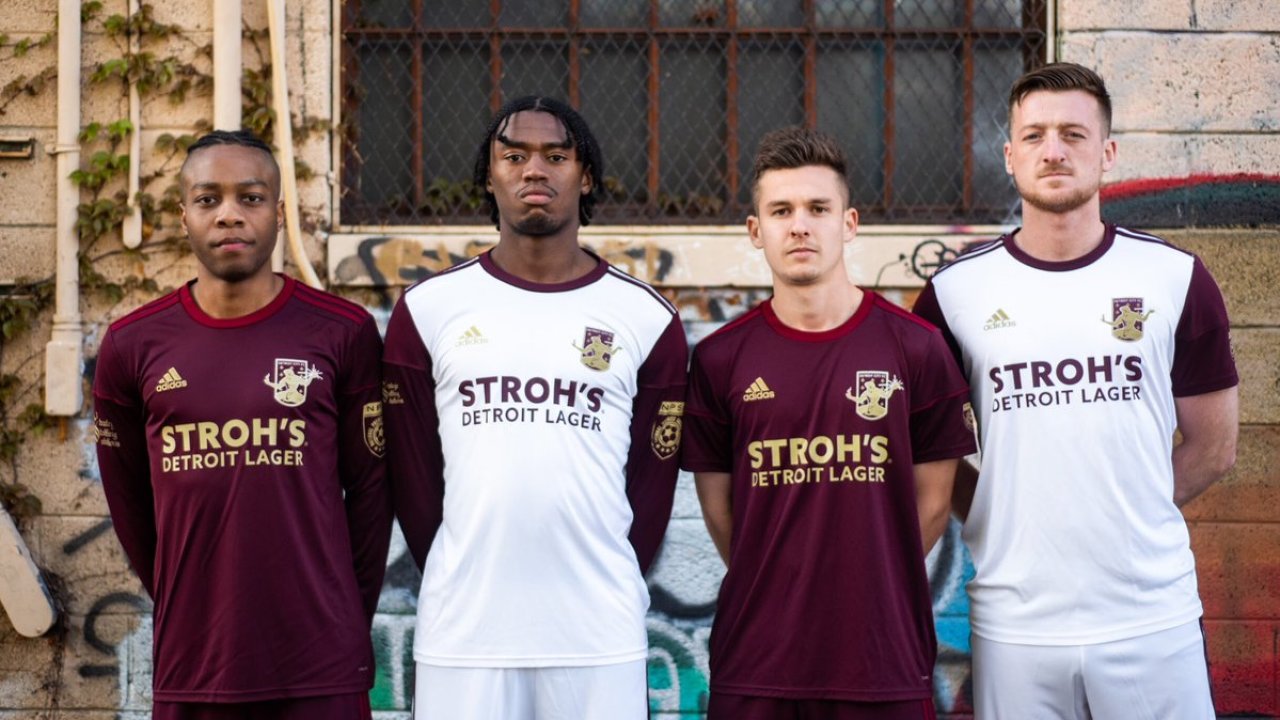 Detroit City FC has some of the more classic kits in American soccer, and it all comes down to the crest.
"For us it was about civic pride from the very beginning," Mann said. "The symbol itself is the Spirit of Detroit statue. It's been in front of city hall going back to the 1950s. And it's in its own right an iconic symbol in the city, especially in sporting context."
Whenever a Detroit sports team wins a championship, a replica jersey is placed on the statue to commemorate it.
The official color scheme is also a nod to the city's history in more than one way. It's rouge, not red — paying tribute to Detroit's French influence while also honoring the city's iconic River Rouge and the Ford Rouge Factory, perhaps the most famous car plant in Detroit. The club's French connection is also present in the fleur-de-lis pattern in the crest and in its nickname Le Rouge.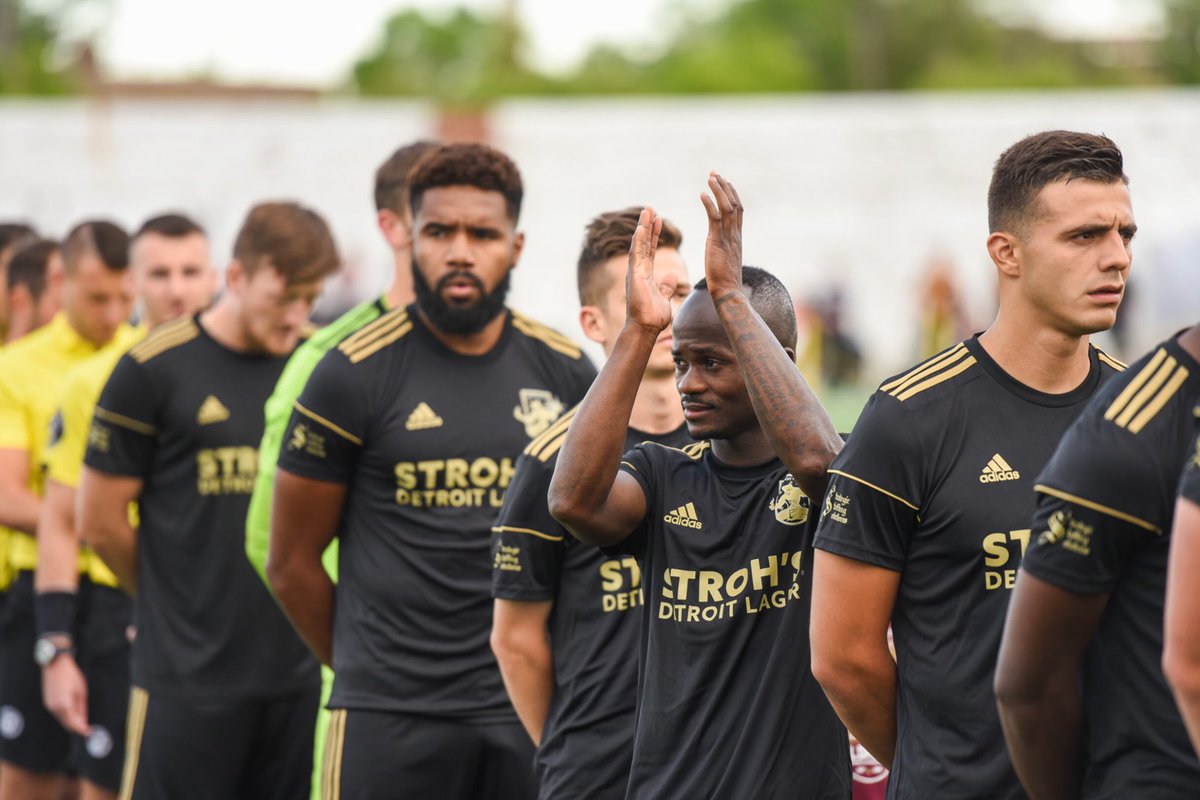 In addition to a traditional home and away set of kits, the club has an alternate, which features an elegant black and gold colorway. Every year the club's alternate kit is their charity kit, which features the logo of the season's charity partner. This year's is We the People of Detroit, a grassroots advocacy group founded by a group of women in color that promotes access to water and water advocacy. In addition to increasing access to lead tests and clean water, the group aims to improve the water infrastructure in the city.
The club's kit sponsor for this year is Stroh Brewery Company, an iconic old dad beer in Detroit akin to Lone Star, Rainier, and National Bohemian. Back in the '90s, Stroh Brewery Company was one of the largest breweries in the country, but a lack of cash flow in an increasingly declining market precipitated its collapse. Pabst revived it as part of their portfolio in 2016.
"It was always a dream of mine to get Stroh's on the front of the jersey, and we finally had a brand manager there who recognized what we were doing," Mann said. "And it's been a great partnership and we've sold a record number of jerseys this year because of it."
The Fans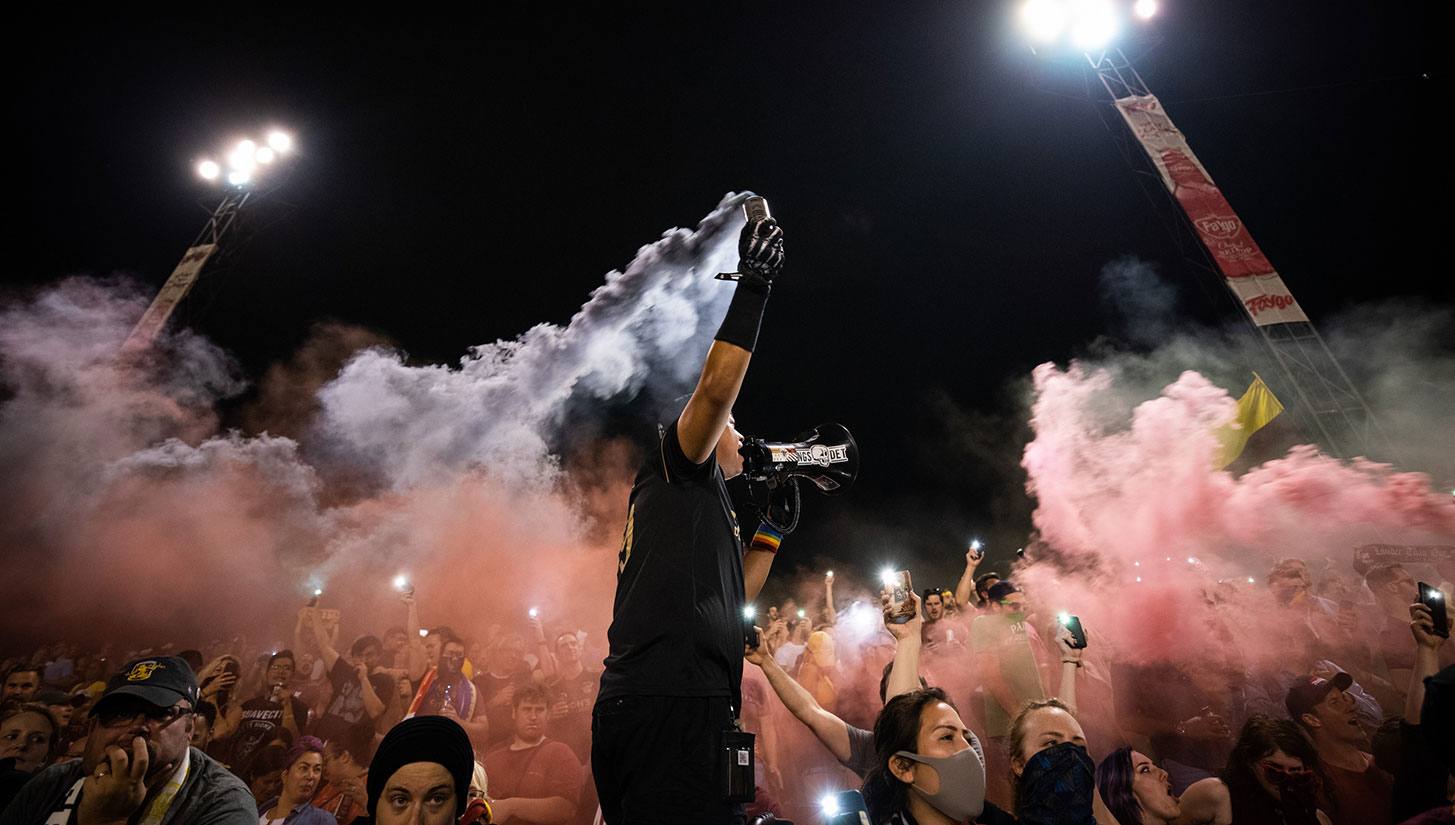 The Le Rouge faithful are some of the loudest and most passionate in North America, constantly pushing the envelope in terms of chants, tifos, and amount of smoke bombs they can set off in a single match.
Called the Northern Guard Supporters, the group was founded in 2012 when brothers Ken and Gene Butcher and Drew Gentry started attending matches with the goal to make as much noise as possible by any means necessary. The NGS logo, a cadaver skull, comes from the supporters leaning into the notion that Detroit is a dead city, one of the insults opposing fans often hurl at them. Detroiters tend to take insults and wear them like a badge of honor.
From the very beginning, NGS has been committed to not maintaining member roles or collecting dues. The supporters' group is inclusive and anyone is welcome, with some of their most devout supporters living out of state and flying in for a few matches. NGS funds most of their smoke and tifo budget as well as drum repairs and other expenses through merch sales on their aptly named website noonelikes.us. All of their efforts combine to create one of the most incredible atmospheres in American soccer regardless of division.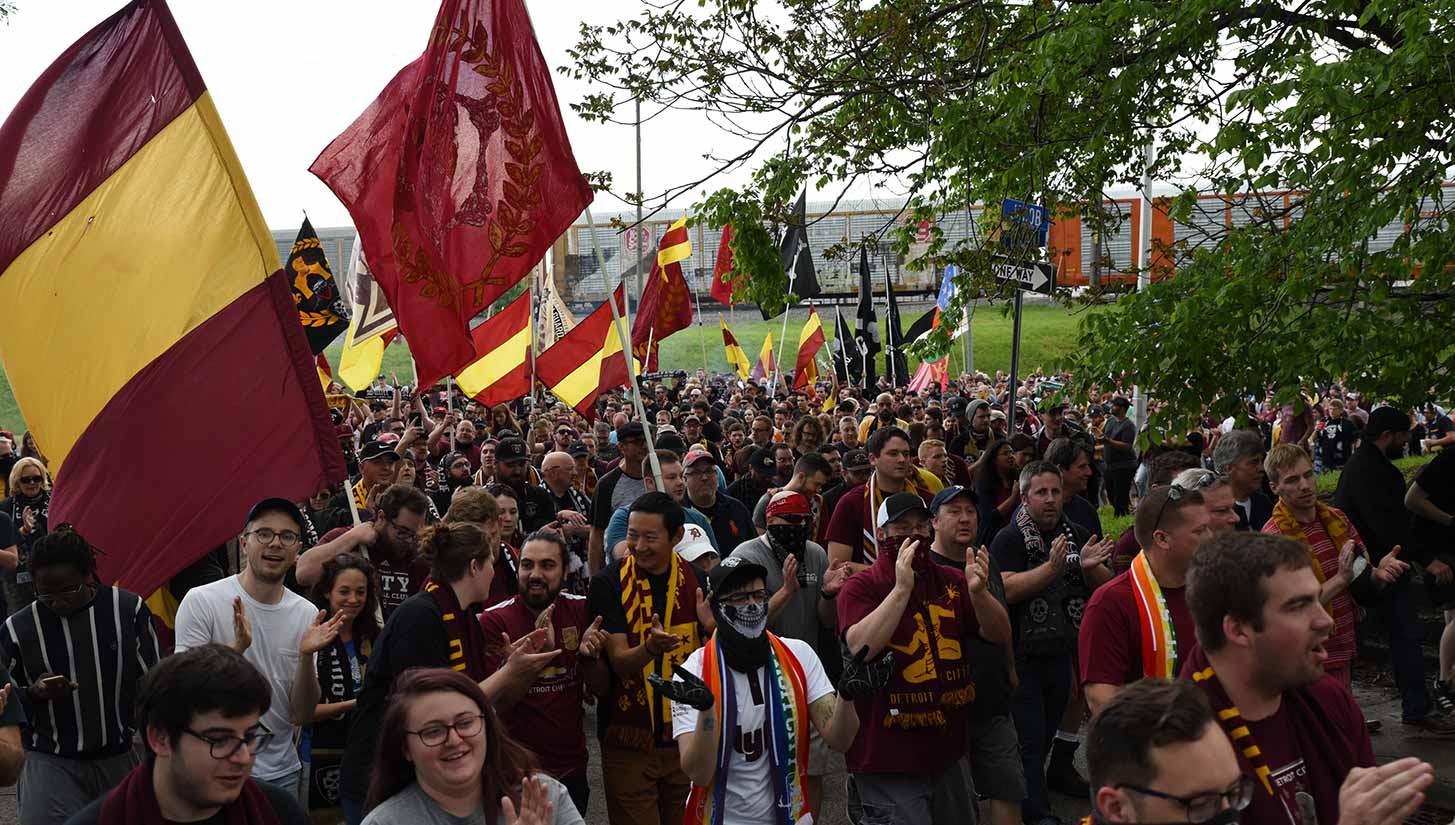 Joe Novak, the original Rouge Rover (a nickname for fans who travel to away matches), has a particularly unique view of the beautiful chaos on match days at Keyworth Stadium.
"The match is great, although as a capo, my back is to the pitch most of the game and I have to watch the replay the next day to catch the action," he said. "I live the match through the faces of the supporters in my section. For me, the best part is seeing the joy on the faces of long-time supporters as they sing their favorite song, or the fear and wonderment as new fans see the smoke monster overtake the crowd for the first time."
While NGS doesn't disclose how many smoke bombs it sets off per match, through empirical evidence we can come up with an unofficial total of a lot.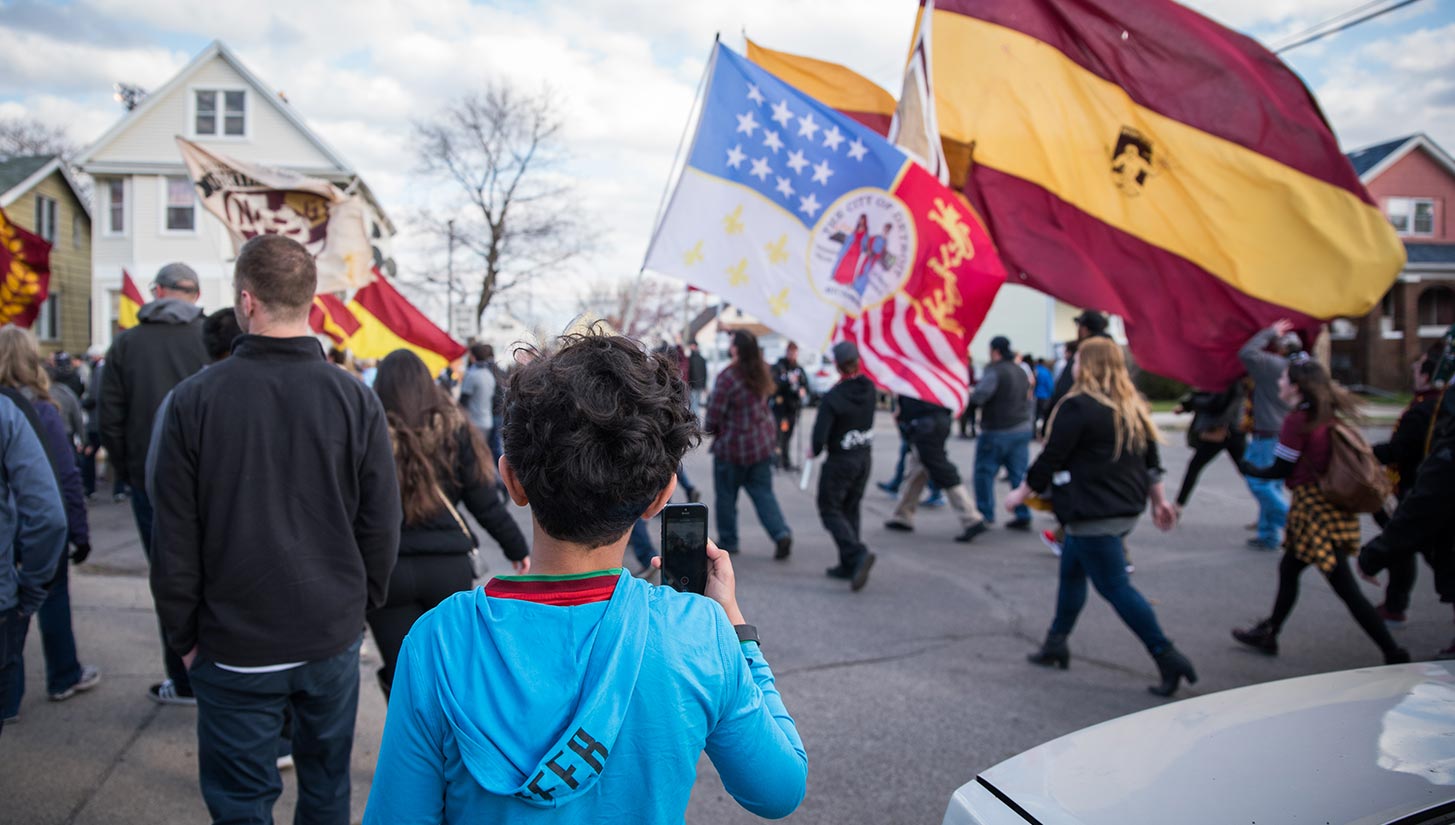 Preceding each home match is a march to the stadium, oftentimes lined with kids watching and cheering excitedly from the porches of their homes. Singing and drumming their way through the streets and into the Keyworth concourses, NGS injects the rest of the crowd with their energy and nonstop chants — all of which are contained in a pamphlet they call Hell's Hymnal.
While some of the chants are on the vulgar side, matches are a family event for Novak. His wife volunteers as a drummer and helps with match day set up including painting tifos and banners, and his parents stand in the section to help with volunteer and community efforts. His daughter Coraline comes to matches to eat pierogi and scowl at referees.
In addition to being a capo, Novak is one of the leaders on the tifo team. Although not on the scale of some bigger European clubs, the NGS tifo game is on point in terms of creativity and authenticity. Some notable projects include life-sized player portraits to kick off the 2019 NPSL season, and a beautiful "Take Over the Galaxy" display created in honor of visiting Bundesliga 2 club St. Pauli, of which DCFC shares several parallels with.
@DetroitCityFC @NGSDetroit ✊🏻🔥 pic.twitter.com/TlUpGgg84R

— Evan Louro ♛ (@evanlouro123) July 1, 2019
NGS clearly brings it every match day, but they also do a lot of work in the community as well.
"We talk a lot about what it means to support a club that is rooted in the community," Novak said. "It's only right that we do everything we can to extend that support outside of the stadium gates."
Novak's family are all supporters of Prideraiser, a program NGS started along with Chattahooligans (Chattanooga FC's supporters' group) for supporters to raise money for LGBTQ+ organizations in their communities. They also donate tickets to Let's Make Roots, an NGS program to help members of the Hamtramck community attend matches who might otherwise not be able to. Additionally, Novak created a bin for local businesses to donate soccer balls into for the local youth who use Keyworth Stadium on an almost daily basis. It's clear that the supporters' group aligns itself with its club's beliefs and initiatives.
Off the Pitch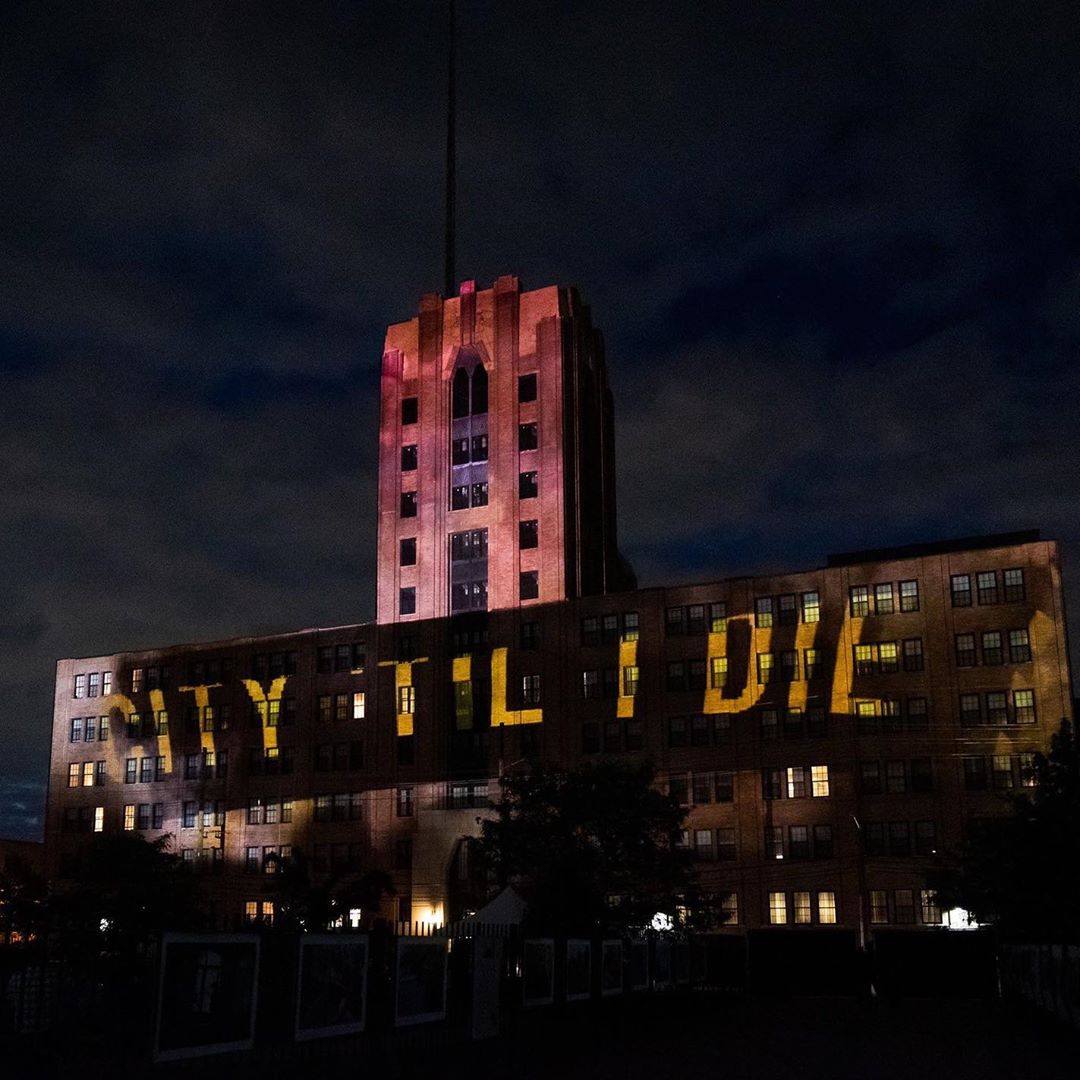 Detroit City FC's official club motto is, "Passion for our city, passion for the game," and as such, community work is their guiding principle in a myriad of ways.
A big part of the club's ethos is to share ownership of the club and the community around it with their supporters. When the club planned to renovate Keyworth Stadium in Hamtramck to prepare for their departure from Cass Technical High School in 2016, the perfect opportunity to put those words into action arose.
During his day job, Mann had worked on a new law that would allow uncredited investors to bankroll community projects in Michigan. Detroit City FC applied the new law to the stadium renovation, raising just under $750,000 from 499 people. To date, it's still the largest community investment campaign in state history.
"It wasn't an equity play, it was just a straight-up revenue share with a set return," Mann said. "If you put in a dollar, we're going to pay you back $1.35, and we're going to dedicate 22 percent of all our revenue to paying you back. And once you get that $1.35 back, then we're all set."
The club projected it would take seven years to repay all of the donors, and they're on pace to make their last payment this coming January, two-and-a-half years ahead of schedule.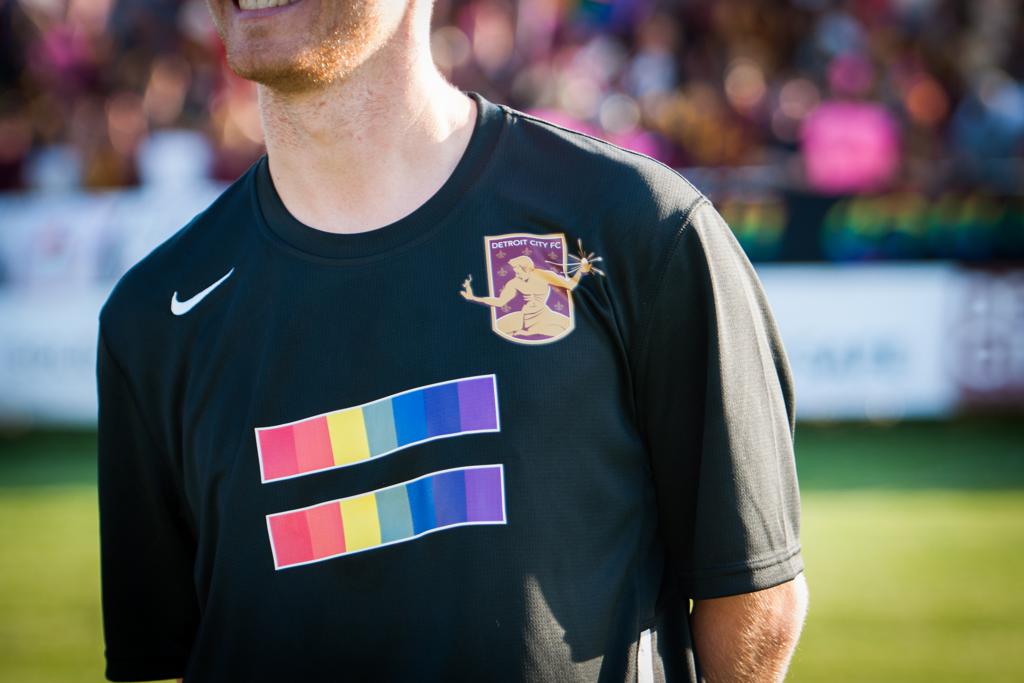 While the club is still a business which has to break even, the ownership group believes in using their platform to highlight people and groups doing great things whenever possible. They also look to make an impact or change themselves. For example, one of Le Rouge's early charity kits supported the LGBTQ+ community.
"We did that as a fundraiser for this amazing homeless shelter for LGBTQ+ youth here in Detroit," Mann said. "We've done co-fundraisers, we had a jersey one year for Freedom House, which is a fantastic under-the-radar home for asylum seekers and legal aid service. [There was also] Alternatives For Girls, which is a home and after-school program for for homeless, typically teenage mothers to get them off the streets and back in school."
Freedom House and Alternatives For Girls are both annual charity partners with the club.
Another way Le Rouge gets involved in the community is through the funding of the first competitive travel soccer team in the city in almost 20 years. In order to bypass the pay-to-play barrier typically associated with such travel programs, Detroit City FC's is at low-to-no cost.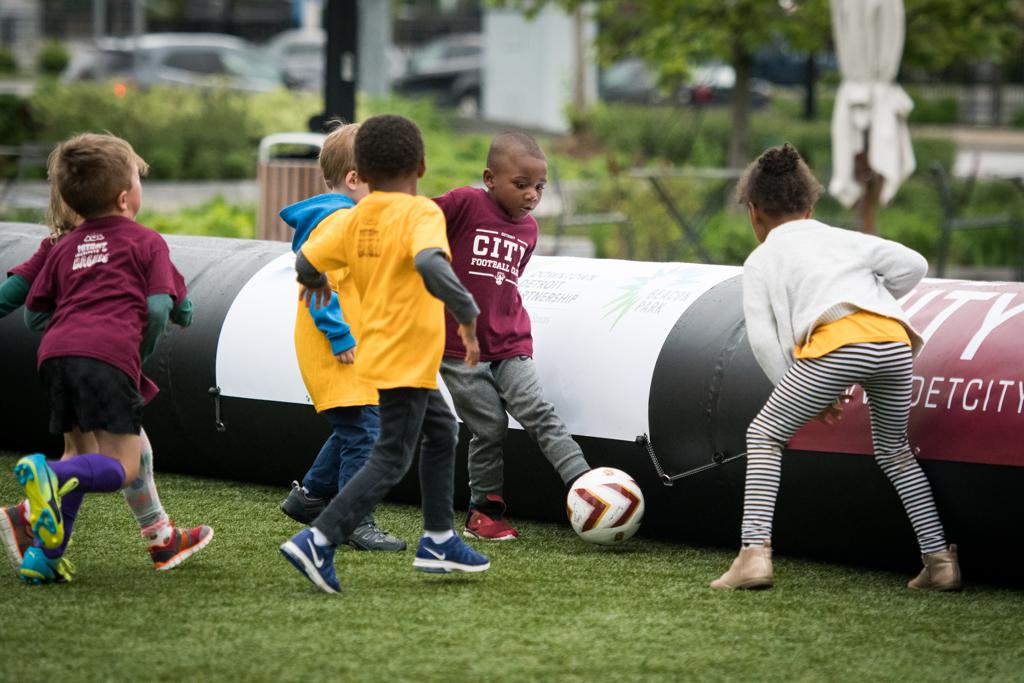 "If we charge families anything, it's $300 for the entire year," Mann said. "The equivalent program in metro Detroit costs $2,500 or $3,000. We subsidize 90 percent of it through the sale of alcohol at our games."
On the Pitch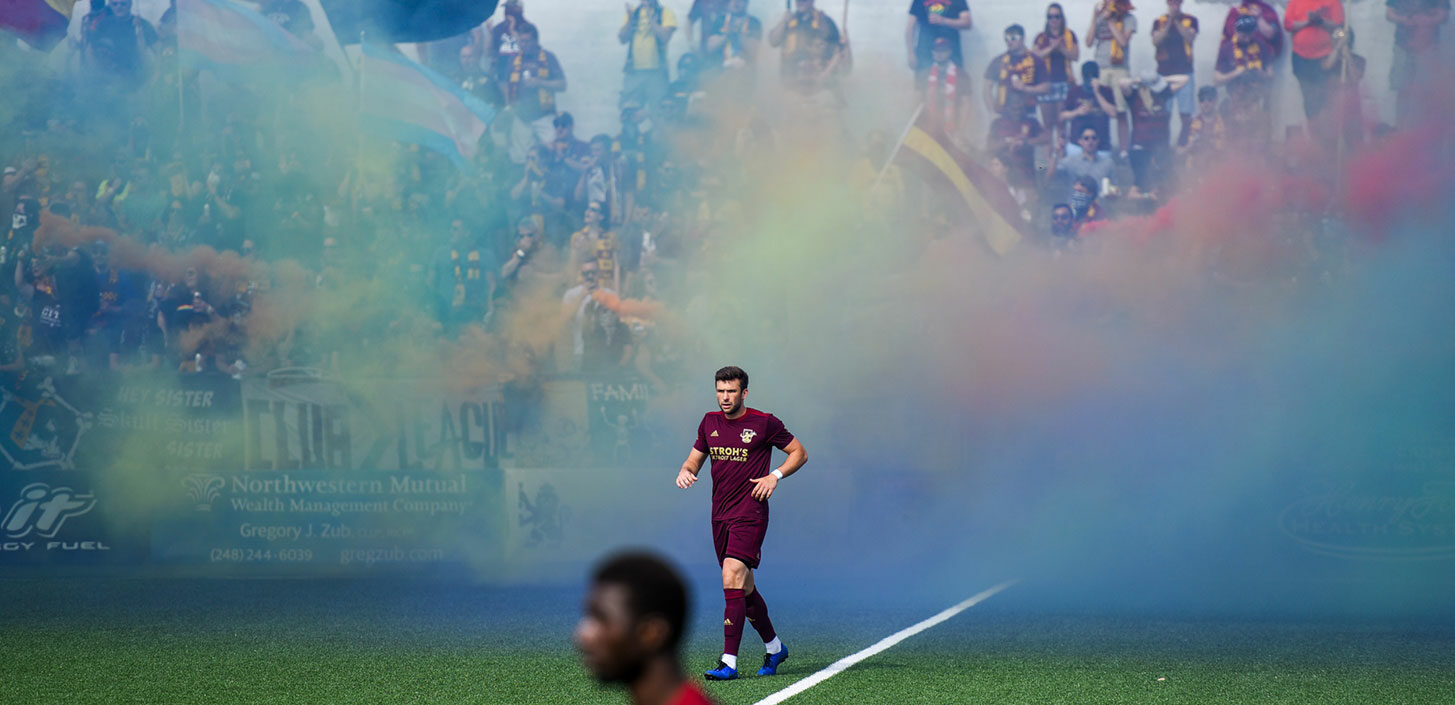 Writing its own chapter into Keyworth Stadium's vast history, Detroit City FC has hosted the likes of St. Pauli, Serie A club Frosinone, and Liga MX club Atlas.
But it's not just about hosting soccer giants, it's about winning as well. And Le Rouge have done that in spades under manager Trevor James, most recently winning the 2019 NPSL Members Cup. James, who's originally from England and played at Ipswich Town FC with Sir Bobby Robson, emphasizes playing the ball forward while maintaining purposeful possession.
Prior to the Detroit City FC job, James oversaw Indy Eleven's transition into USL in 2017 as an assistant coach and technical director, making him the perfect person to take the club to the pro ranks next year.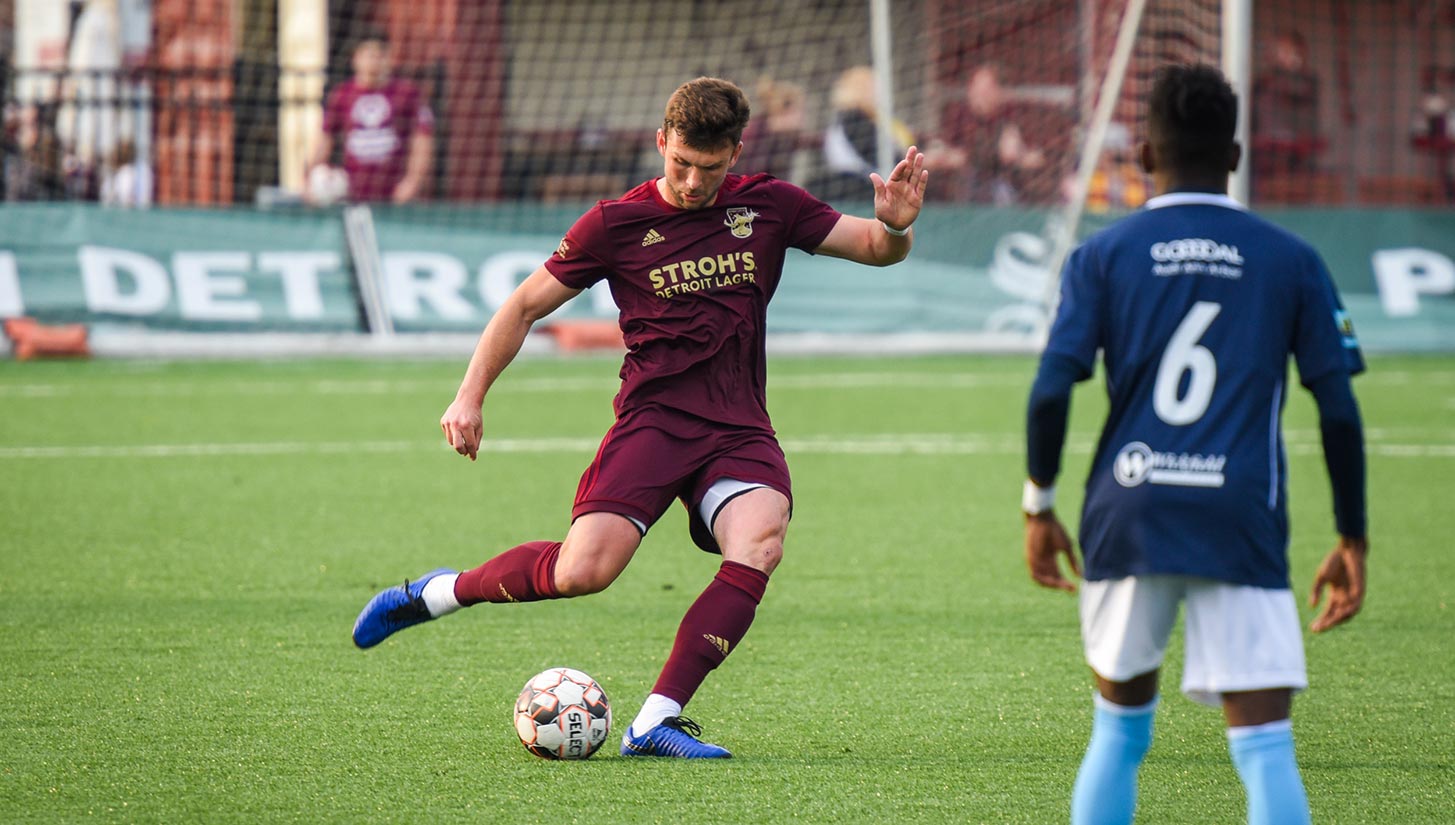 2020 will also see a DCFC women's team joining United Women's Soccer and the inception of a youth academy. In addition to its own in-house club team, DCFC recently partnered with three larger youth clubs in the region in an effort to bolster its youth talent portfolio.
"There's now over 2,000 families that play for DCFC clubs, and half of them are young girls," Mann said. "We thought there should be the same opportunities for them to aspire to play on a higher level in front of our fans and that kind of atmosphere. For us to be a true club we felt like it was overdue."
Detroit City FC's ultimate goal with their academy is for kids to have a rewarding experience playing soccer, with the added bonus that they might one day don the club's colors. In the end though, it's about establishing a connection with the club that they never grow out of, which is what Mann wants for his own children regardless of if they play or not.
"My dream is that my boys are wearing DCFC gear and going to games 20 to 25 years from now with their friends," Mann said. "That the team's still there and still embraced by the community. The way the soccer landscape's changing, I could never guess as to what league we'd be playing in or what that looks like, but [I hope] that we still have a community around this club and it's still Detroit's team."
Mann's guess of where the team will be in two decades is as good as anyone else's, but for now, one thing is clear — the rowdiest team in America is about to get professional.
All photos courtesy of Detroit City FC. Be sure to follow Detroit City FC on Instagram and Twitter, and shop their merch line via their online store.
An earlier version of this story incorrectly identified Mike Lasinski as one of the original founders of Detroit City FC. He bought out Ben Steffans' share of the team in 2018.