Ever wonder what goes into making a kit? We take a look at how Providence City FC and INARIA work together to create some of the best-looking shirts in all of soccer. 
"Trust the process" has become a ubiquitous phrase on the verge of becoming a cliche. But while the certain NBA franchise that popularized the three-word mantra has yet to see its "process" manifest into a championship, there's another team that's cashing in on it — in a much less preachy fashion to boot.
Anyone with a good sense of American soccer culture has heard of Providence City FC. The Rhode Island amateur club has cooked up some of the best kits we've seen over the last few years, with out-of-the-box designs and a surprisingly refreshing dedication to its sponsors, all of which are local small businesses.
I could drone on for hours about how great their kits are (check out some of our previous coverage of the club if you'd be into that), but we're in for something a little different this time. Instead of focusing on the final product, we turn our attention to how it comes to fruition, an often overlooked yet obviously crucial process.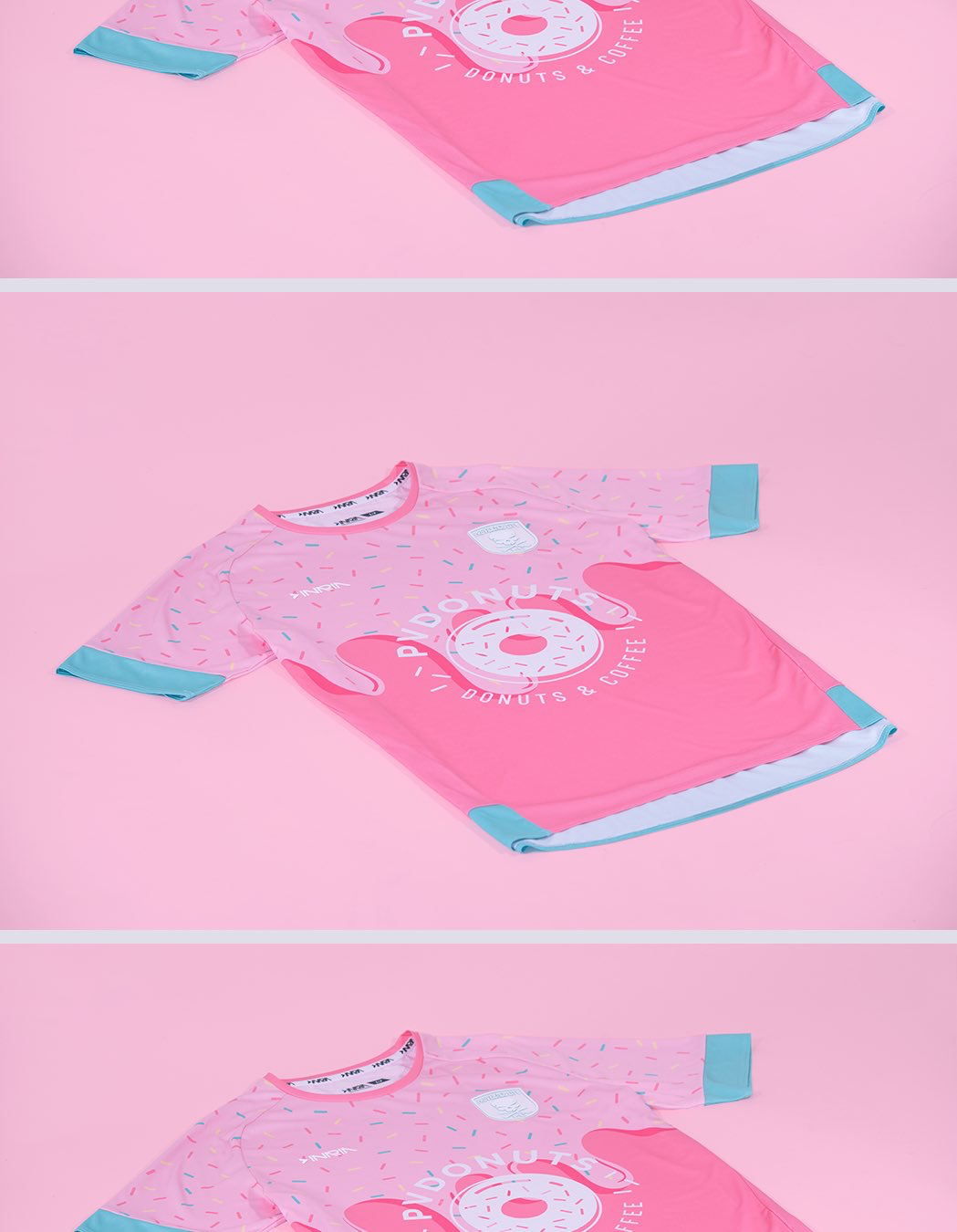 After experimenting with a few kit manufacturers, including a two-year stint with Hummel, Providence City FC signed on with INARIA as its kit supplier ahead of the 2020 season. The results so far have been nothing short of spectacular. We get an inside glimpse at how the two sides came together to create last year's "Treat Yo' Self" kit, an ostentatious offering that you won't find from your typical club.
The Partnership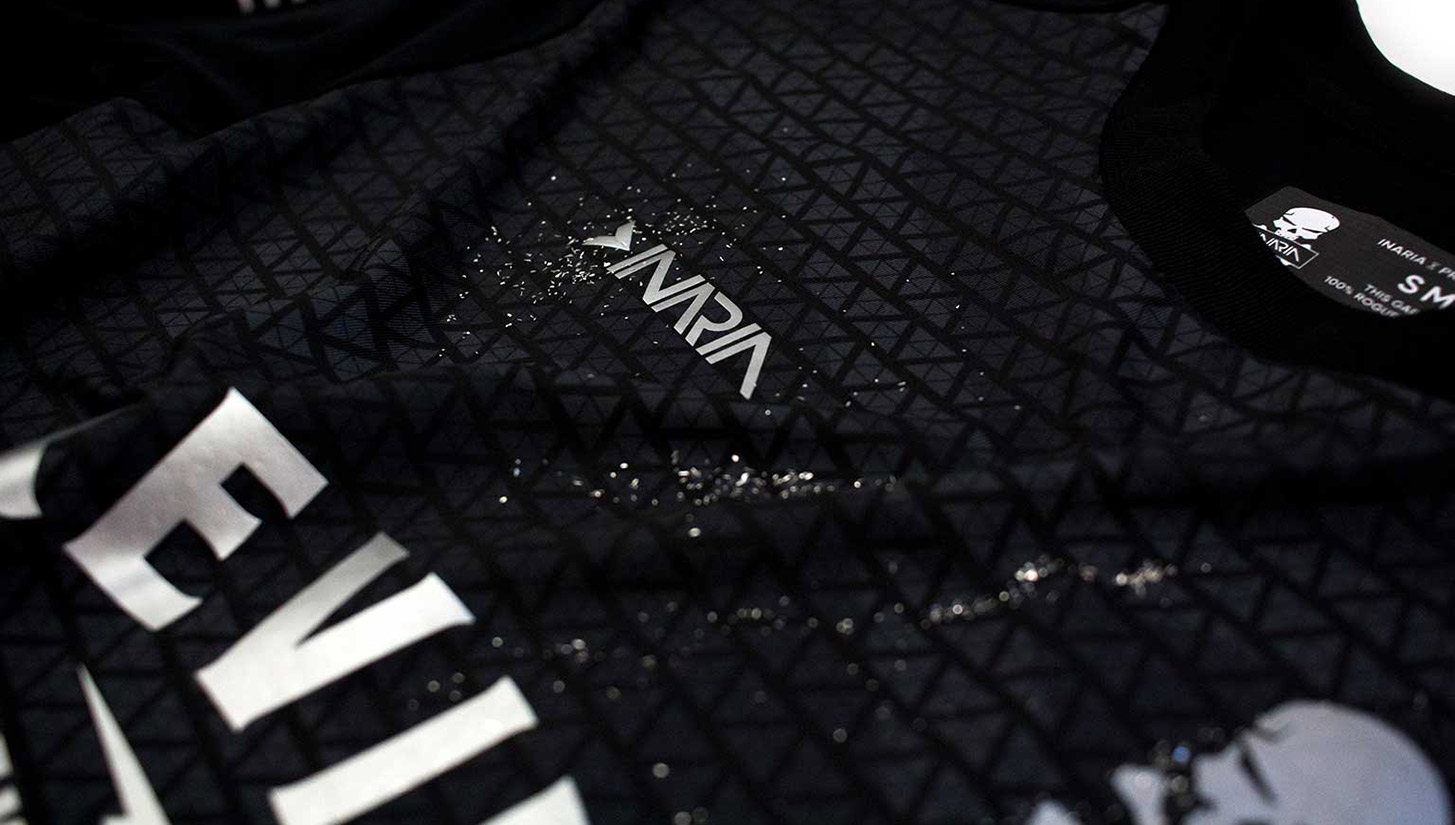 If you're not familiar with INARIA, let's quickly put you up to speed. The Toronto-based boutique kit manufacturer is behind some of our favorite kits even outside of Providence City FC. From its "Kit Closet" series to some of the work it has done with professional sides like Chattanooga FC and the New York Cosmos, INARIA's attention to detail and design-focused approach is what makes it stand out against global industry giants with billion-dollar market caps.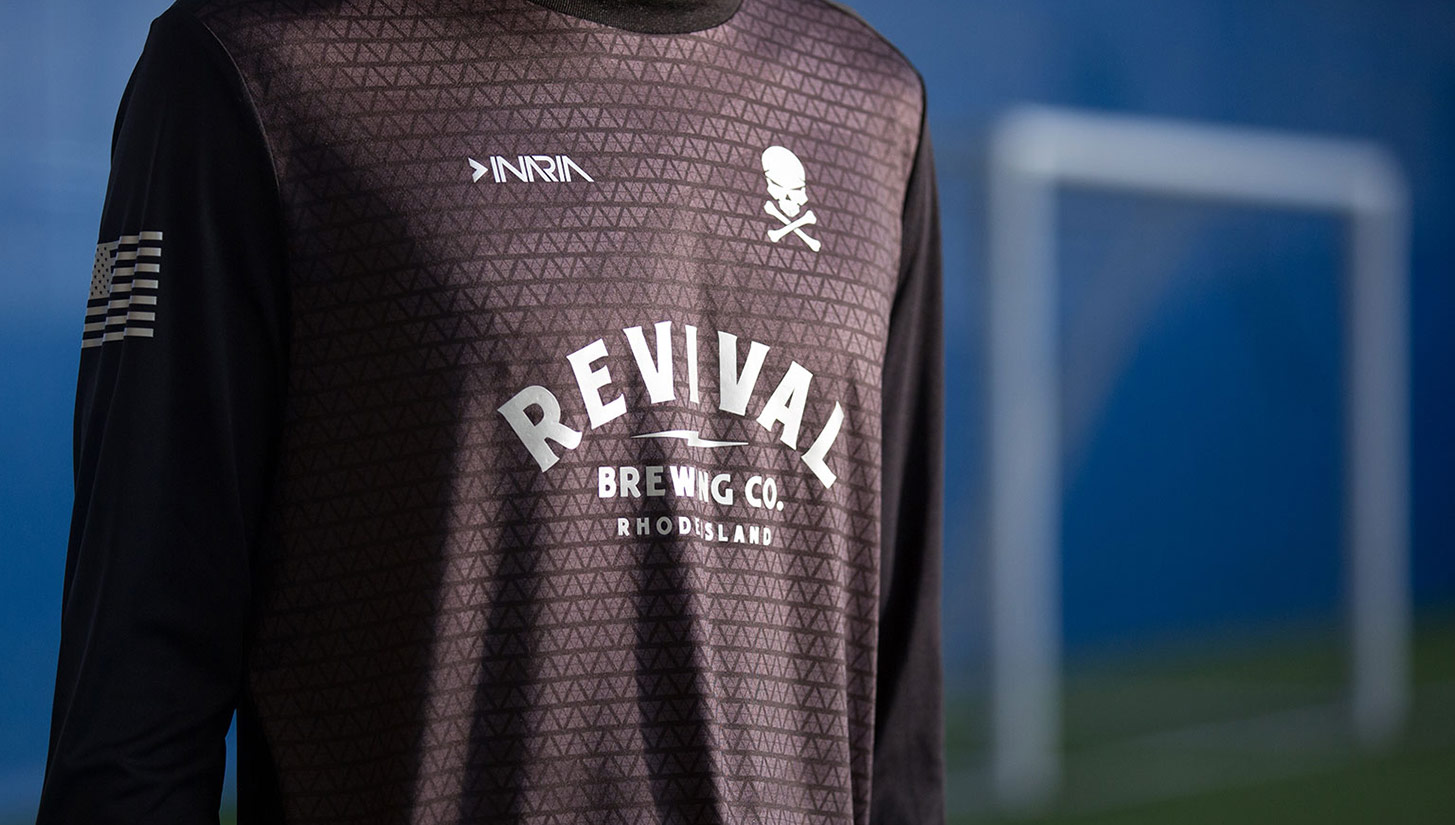 Providence City FC and INARIA actually first linked up back in 2017, releasing a special edition kit in early 2018 inspired by the Times Square New Year's ball. In 2020, the two rejoined in grand fashion, giving us a fivesome of kits that stand up to any other club in the world regardless of size.
Perhaps the one that stood out most, however, was the icy pink "Treat Yo' Self" kit, the second donut-themed shirt the club has produced. A sequel to its 2018 hit, the 2020 edition once again highlights sponsor PVDonuts, but in a completely different way than it did the first time.
"For us, it's important for the club to make sure that we're really pushing the envelope in terms of — is what we're putting out different than the last?" said Emily Montgomery, a managing partner with INARIA.  "And so that's super important to us."
Montgomery is the main point of contact for Providence City FC, and has been a crucial part of the partnership's early success. On the other side of things is PCFC founder Jason Rego, the creative mind behind the club and its many kits. Rego will cook up a few concepts and ideas for Montgomery, and then the two sides collaborate to bring them to life.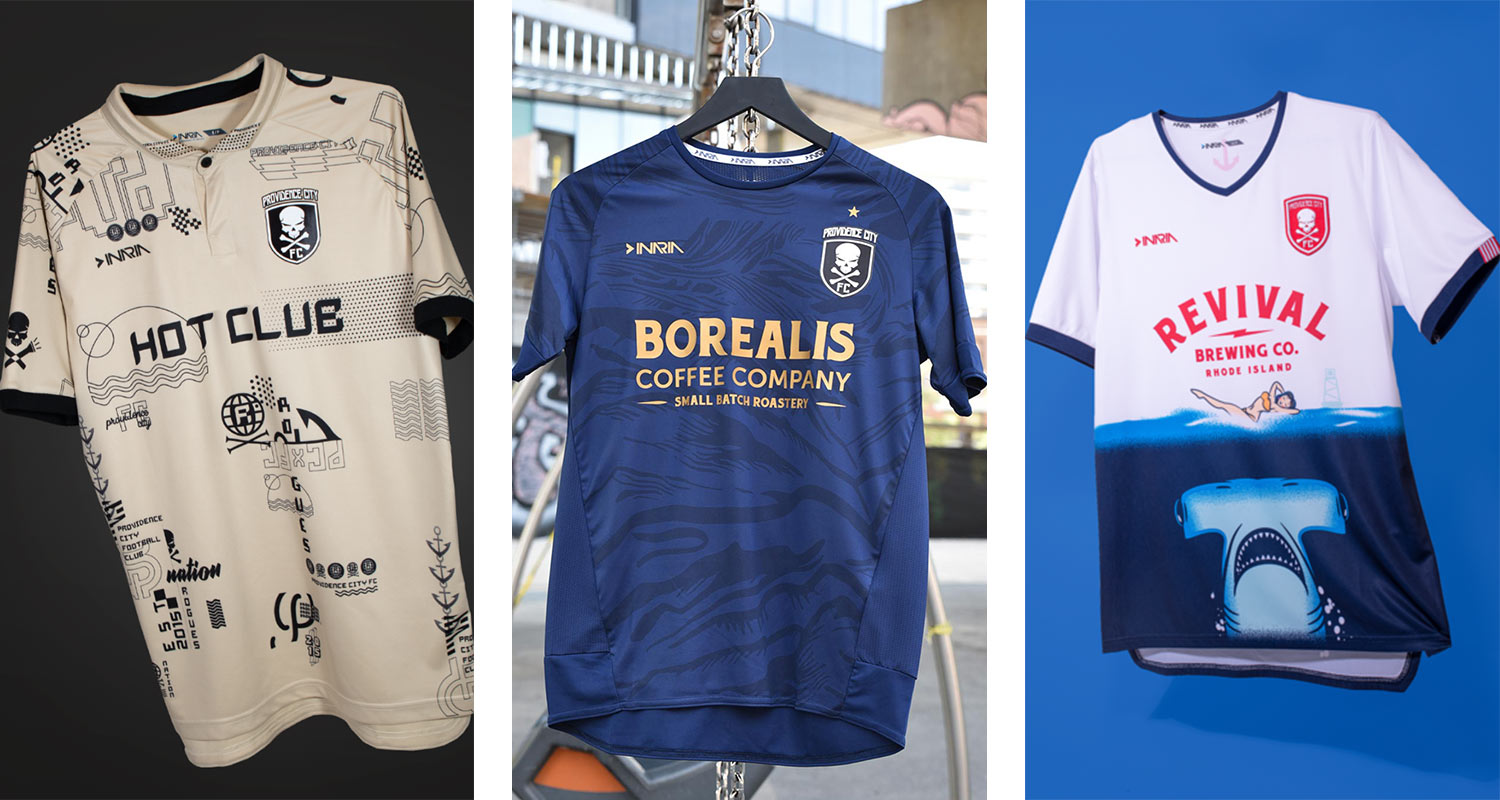 For Providence City FC, one of, if not the most important aspect of its kits is their sponsors. From the Hot Club bar, to Revival Brewing, to Borealis Coffee, to PVDonuts, the club makes sure to do its best to highlight the sponsor of each respective kit. Instead of seeing sponsors as paychecks to help fund the club, Rego sees them as like-minded small businesses looking to help the local Providence community.
"You can call it cliche or whatever, but a small business is an extension of its owner," Rego said. "When an owner sees their logo on a jersey, they're already excited, but once you start to incorporate the actual feel and the mission statement of their company or what they're going for and they see it in real life, they get even more excited.
"That's where we try to do our best to tie everything together. It's not just the design — it's the marketing, the storytelling, the personal flavor, it's all mixed in one. And I think that's where INARIA does a good job of understanding us. Emily is great at communication, and she gets her team together and that's how the big picture gets told. It's teamwork and collaboration."
In fact, the club does such a good job of highlighting its sponsors, that it gets people talking about them over 500 miles away in Toronto.
"Jason adds tremendous value to these sponsors," Montgomery said. "Even up here in Toronto people are talking about PVDonuts or Revival Brewing that ordinarily wouldn't. That's definitely how the team's been able to position themselves differently. No other club caters to their sponsors like that."
The Process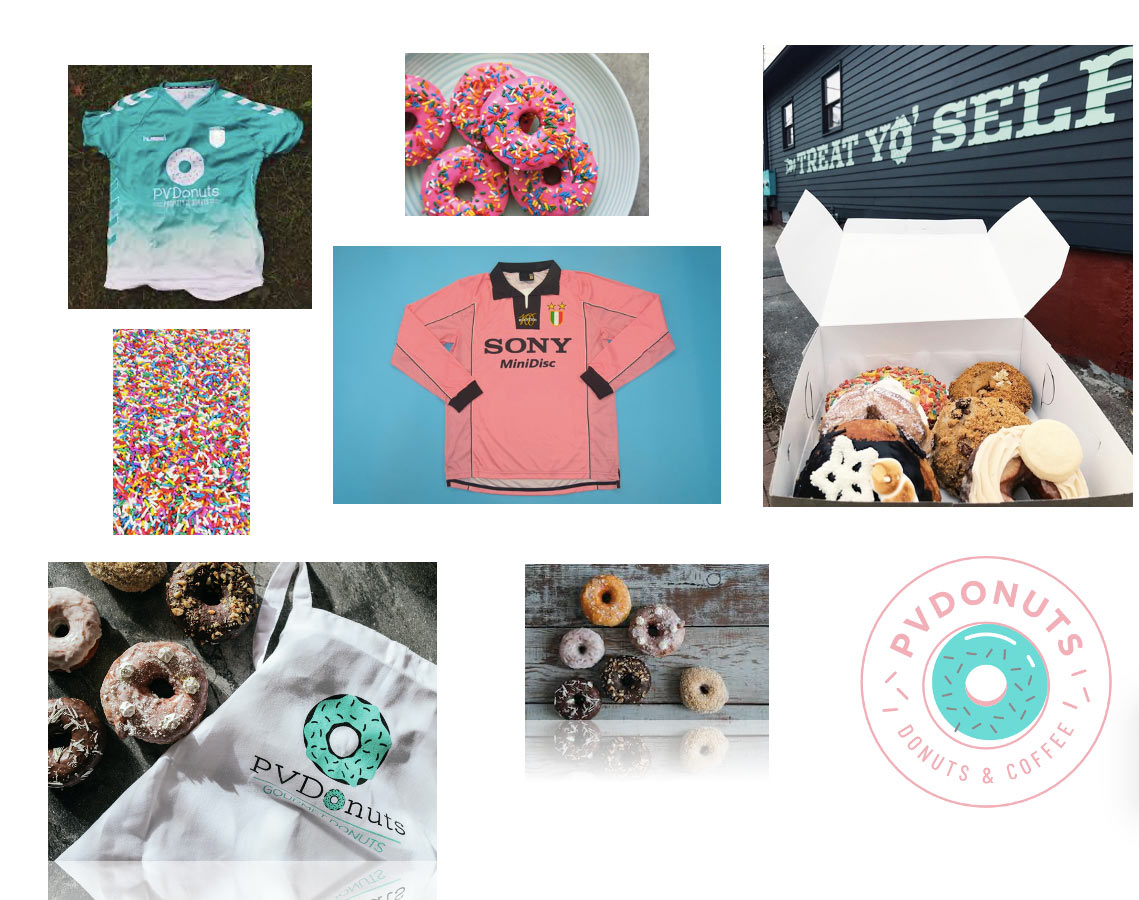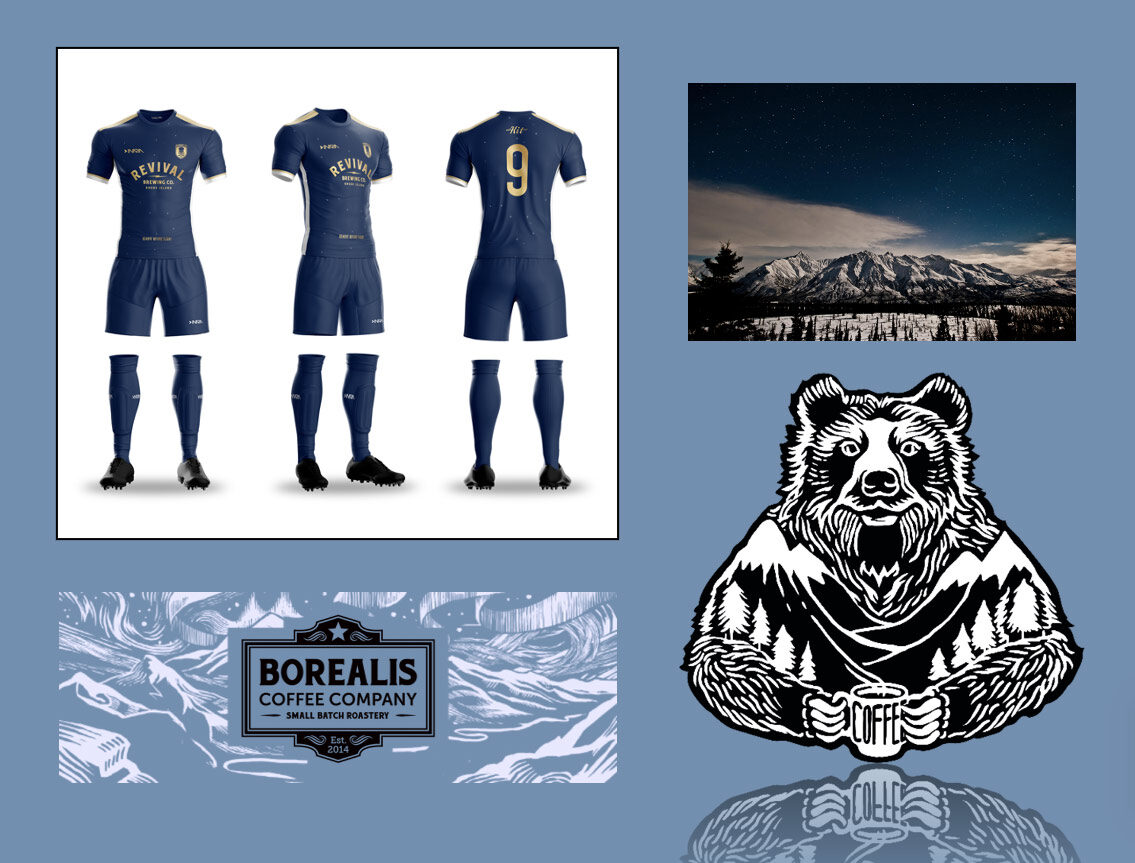 So how do Providence City's kits go from concept to reality? It begins with a storyboard.
Rego keys in on high-level concepts with an initial mood board that addresses certain focal points the club knows it wants to highlight. From there, Montgomery and the INARIA team put together some ideas to create a slew of more specific mockups. For the "Treat Yo' Self" kit, Rego already knew the main conceit would be centered around its color.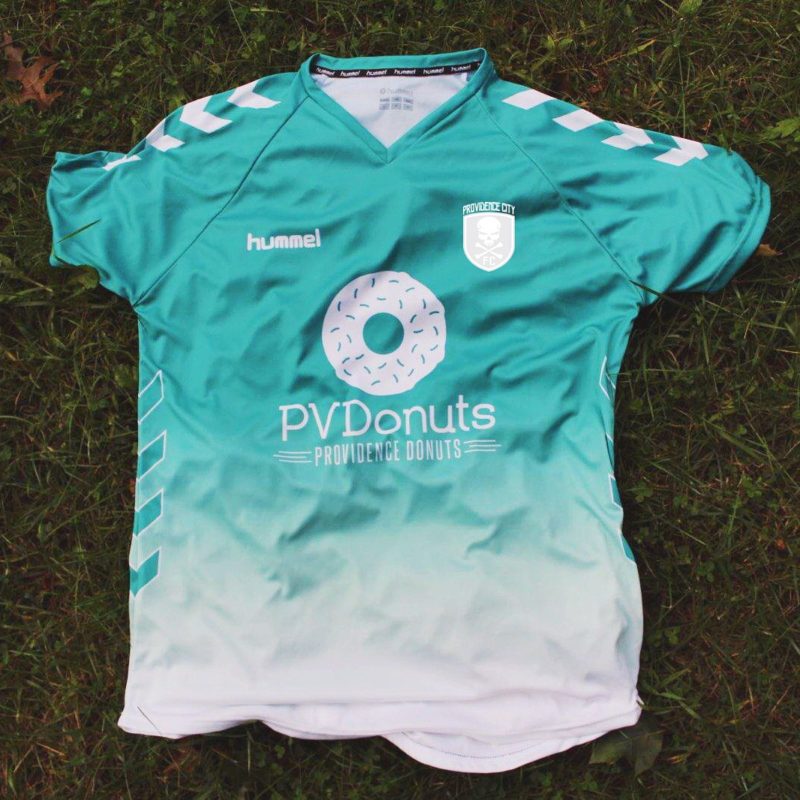 The first PVDonuts-themed PCFC kit was dedicated to the teal Pantone in PVD's logo. This time, the club would highlight the logo's pink accents.
INARIA prides itself on its vast color capabilities, but the array of options available presented a challenge in and of itself. With so many shades of pink to choose from, which ones would be suitable? A run-of-the mill kit manufacturer might just pick a shade at random and call it a day, but the detail-oriented minds at INARIA were concerned with minutiae down to the size of the sprinkles throughout the jersey.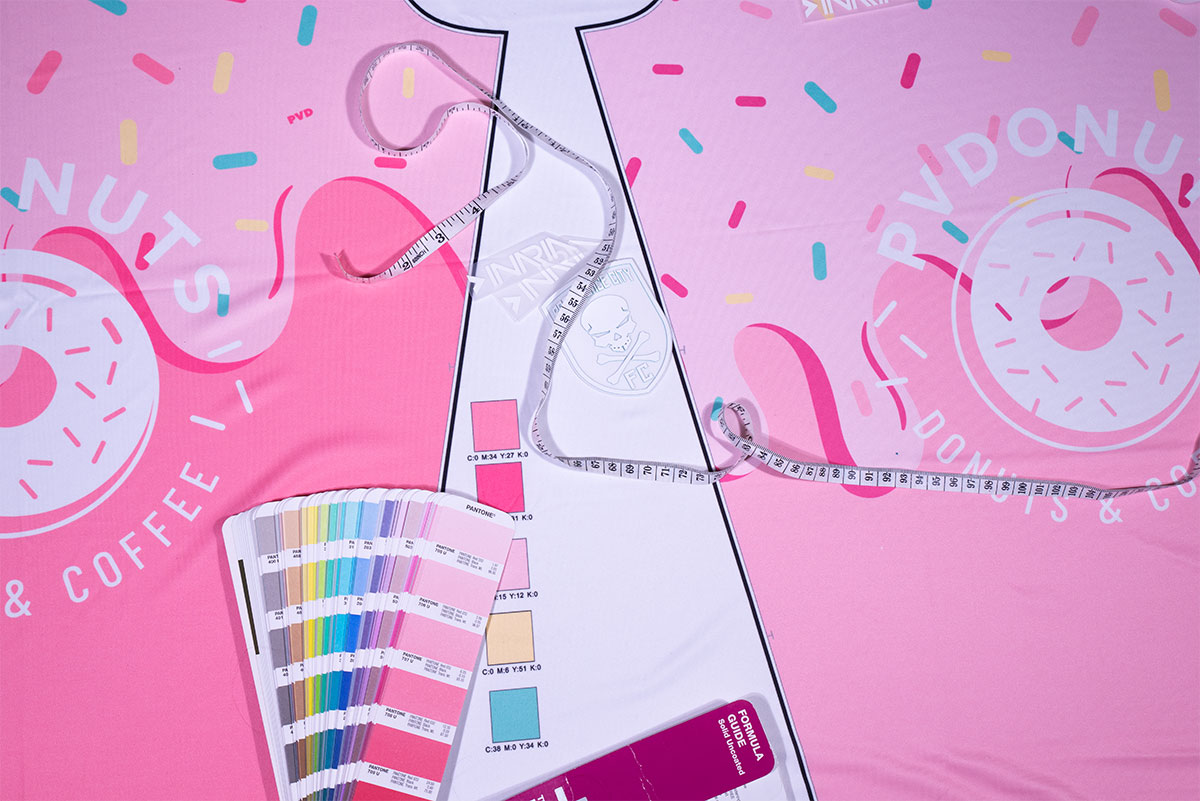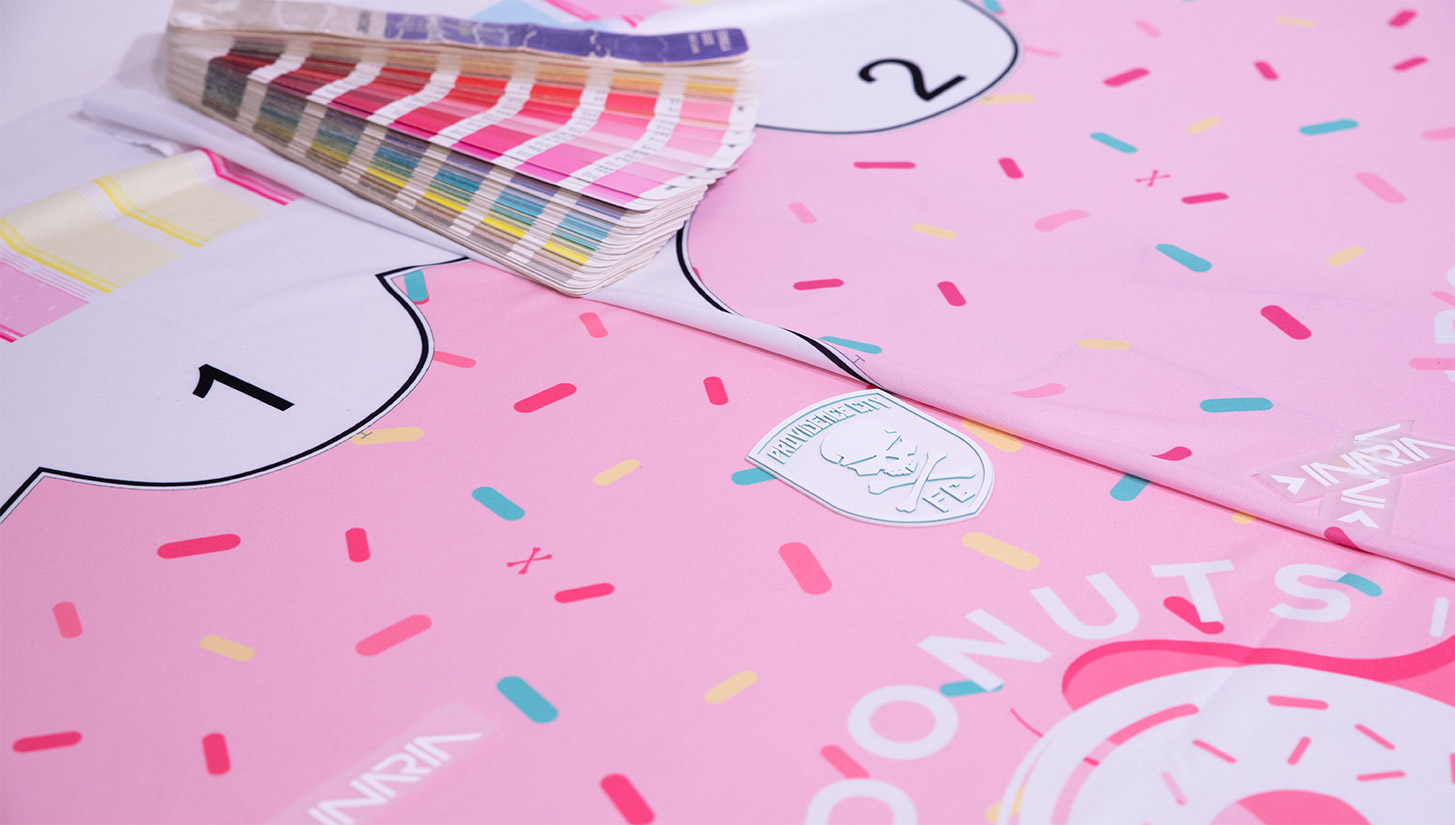 "Because of the colors in it, it's kind of a small nightmare just to get it right," Montgomery said.
Rego sent in some initial mockups, which INARIA then tweaked accordingly to create two concepts of their own — a crucial fork in the road that decides what is and what could've been. Always looking to push the envelope, INARIA was sure to add a few new details on the mockups sent back to Rego.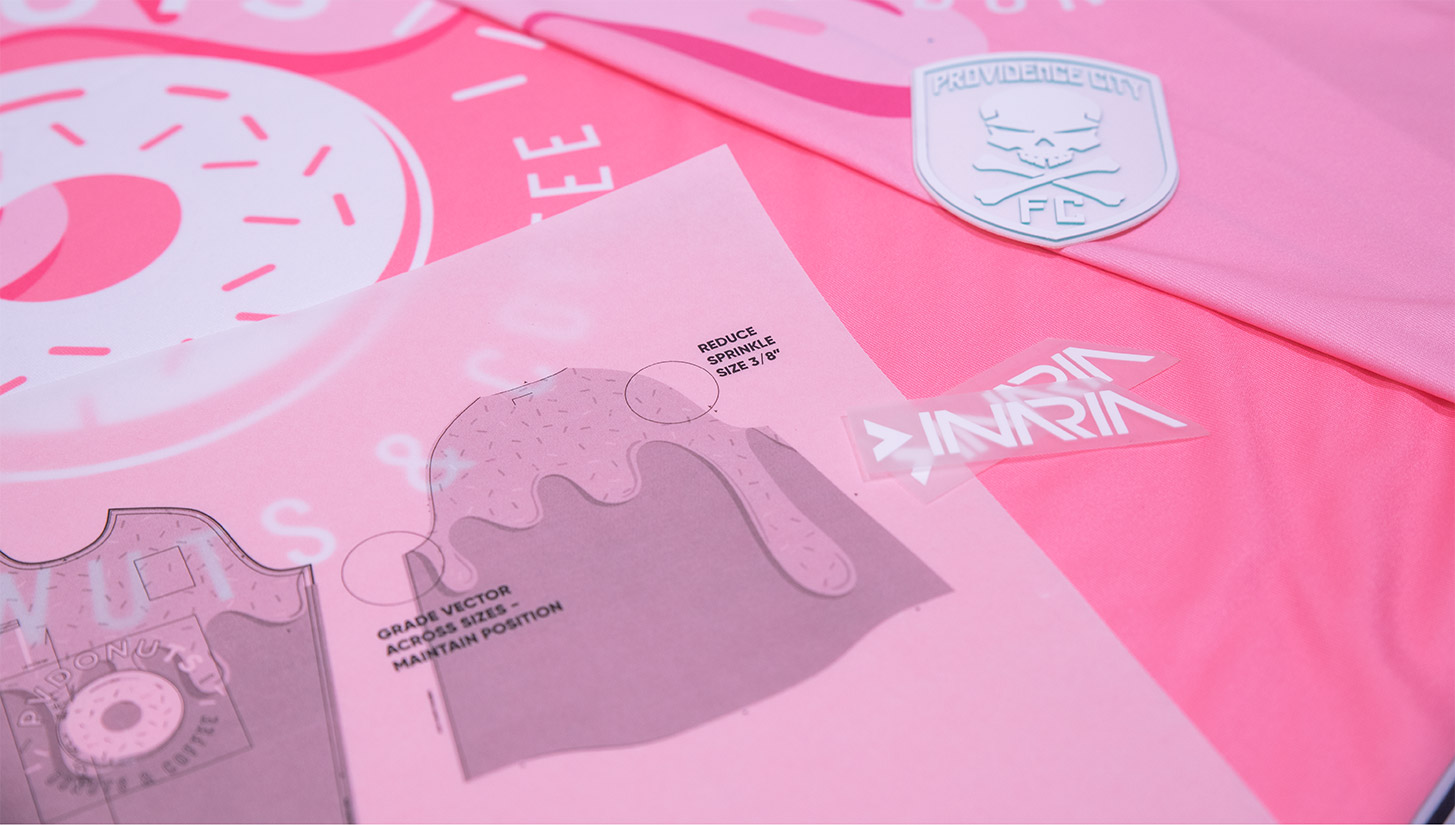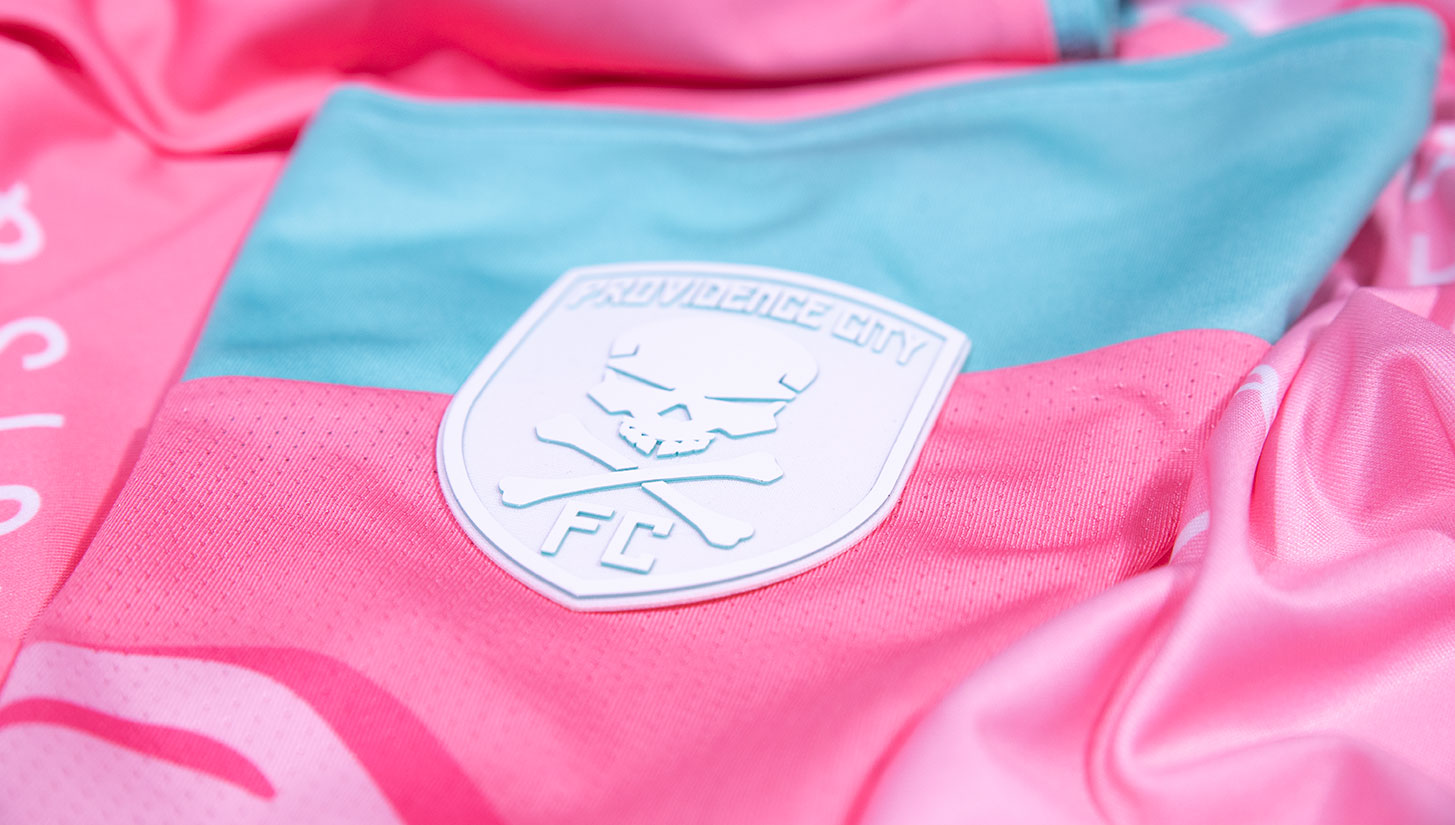 The most noticeable was a slightly redesigned all-white badge, which was created to fit better within the pink color scheme. In addition to a different material, the crest portion was enlarged, enveloping the "Providence City FC" text which previously lay atop the badge. Other subtle details include blue accents on the sleeves and back of the kit that play into the teal of PVDonuts' logo as well.
"It's something as nuanced as [the badge details] that Emily takes pride in and distinguishes the Providence City and INARIA partnership," Rego said.
INARIA makes sure to assign its top designers to bigger projects like Providence City or the Cosmos, but it's not just the designers that are deserving of the credit. INARIA's product development team, which works to bring digital designs to life, doesn't always get the same attention that the designers do.
Sometimes, a design will contain elements that aren't practical to materialize, and the prod dev team will work to make it so. Montgomery was quick to make sure they got their praise, and she said that they are always working closely together on Providence City projects.
"Our product development team doesn't get a lot of the glory, but they're the ones that really make something come to life," Montgomery said.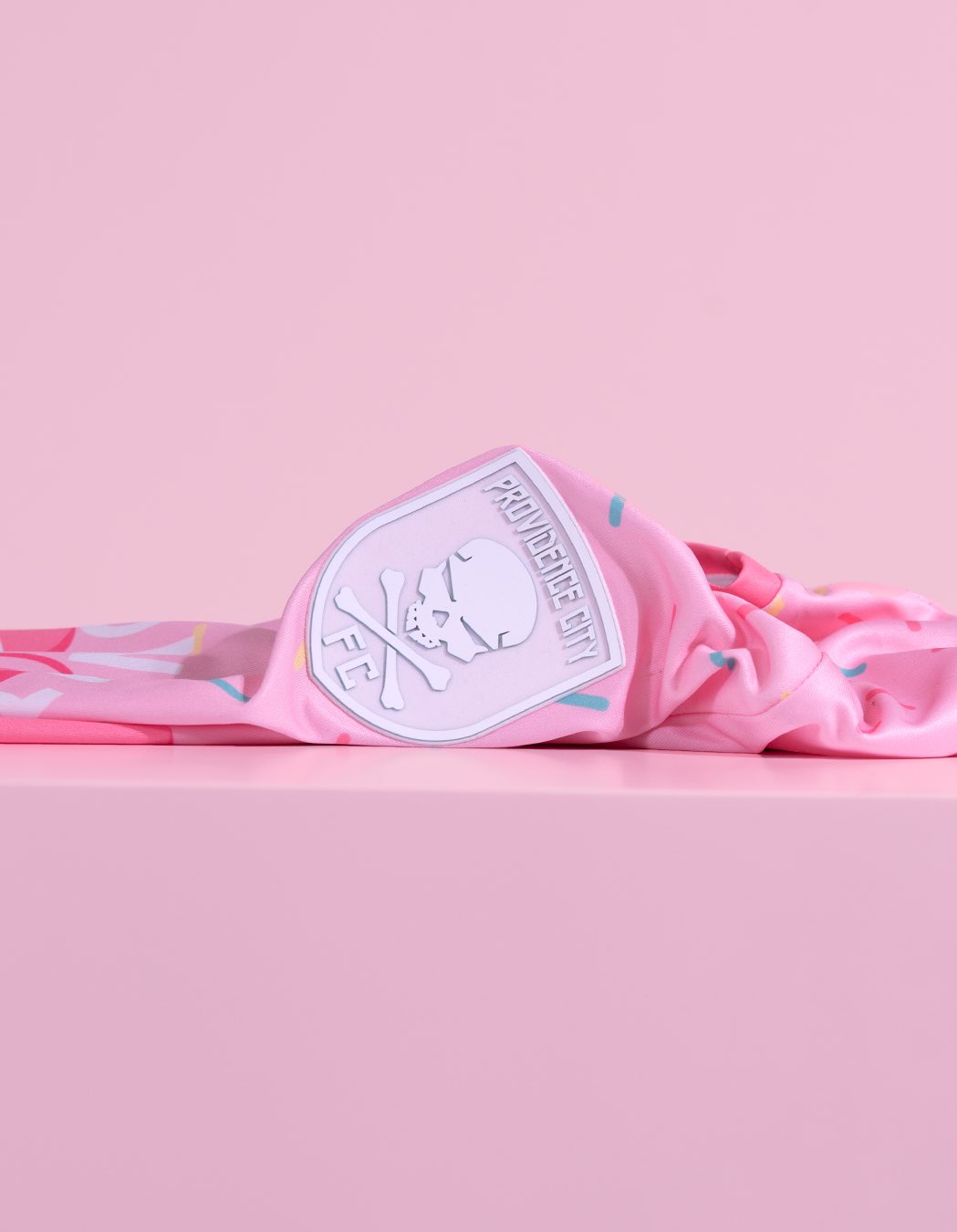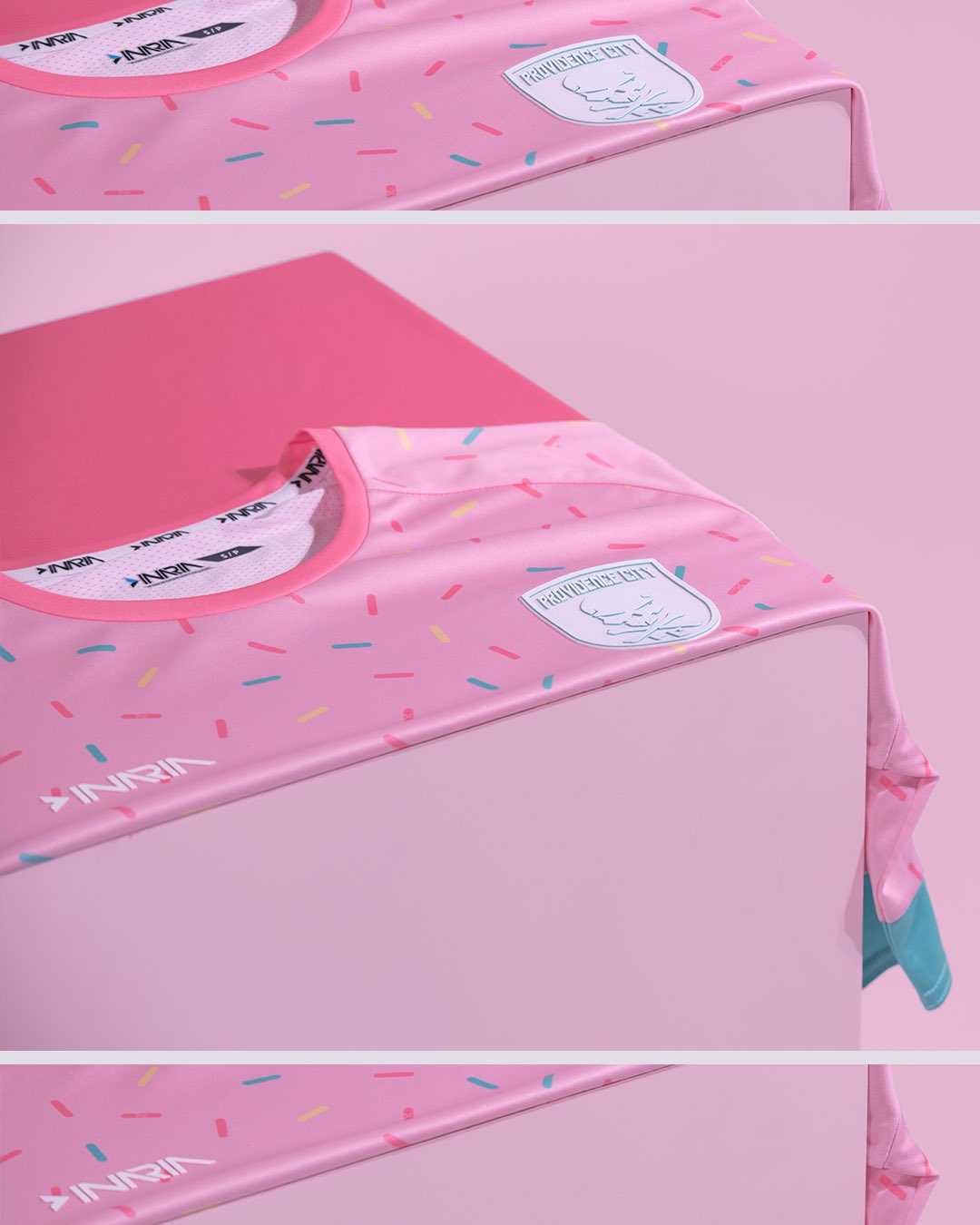 Once the jerseys are approved and put into production, Montgomery and the INARIA marketing team begin to prepare promotional assets for the club, something tremendously helpful to Rego and co., as they previously were tasked to do that on their own.
"[Emily's] not just handing me a bunch of photos and saying, 'Here you go,'" Rego said. "She locks down on features on each kit, and that's where I can start storytelling."
The storytelling element behind the jerseys are important, especially when creating hype around a new release. The club will first tease various details on the upcoming kit (there are typically lots to choose from), then they'll reveal the sponsor, and finally the full jersey. Having photos of the jerseys on hand before they're fully produced and ready to ship makes the pre-order process easier as well, as the club is able to create its custom packages that play into the kit's theme ahead of time.
Those that are members of the club's "Rogue Movement" get exclusive early access to the new jerseys, which creates a community within the club and its fans. From inside jokes to that feeling you get when you're privy to valuable information unbeknownst to the masses, this creates a tighter bond between club supporters, and as anyone who's ever tried to create a soccer team would tell you, building a community is paramount to a club's success.
What's Next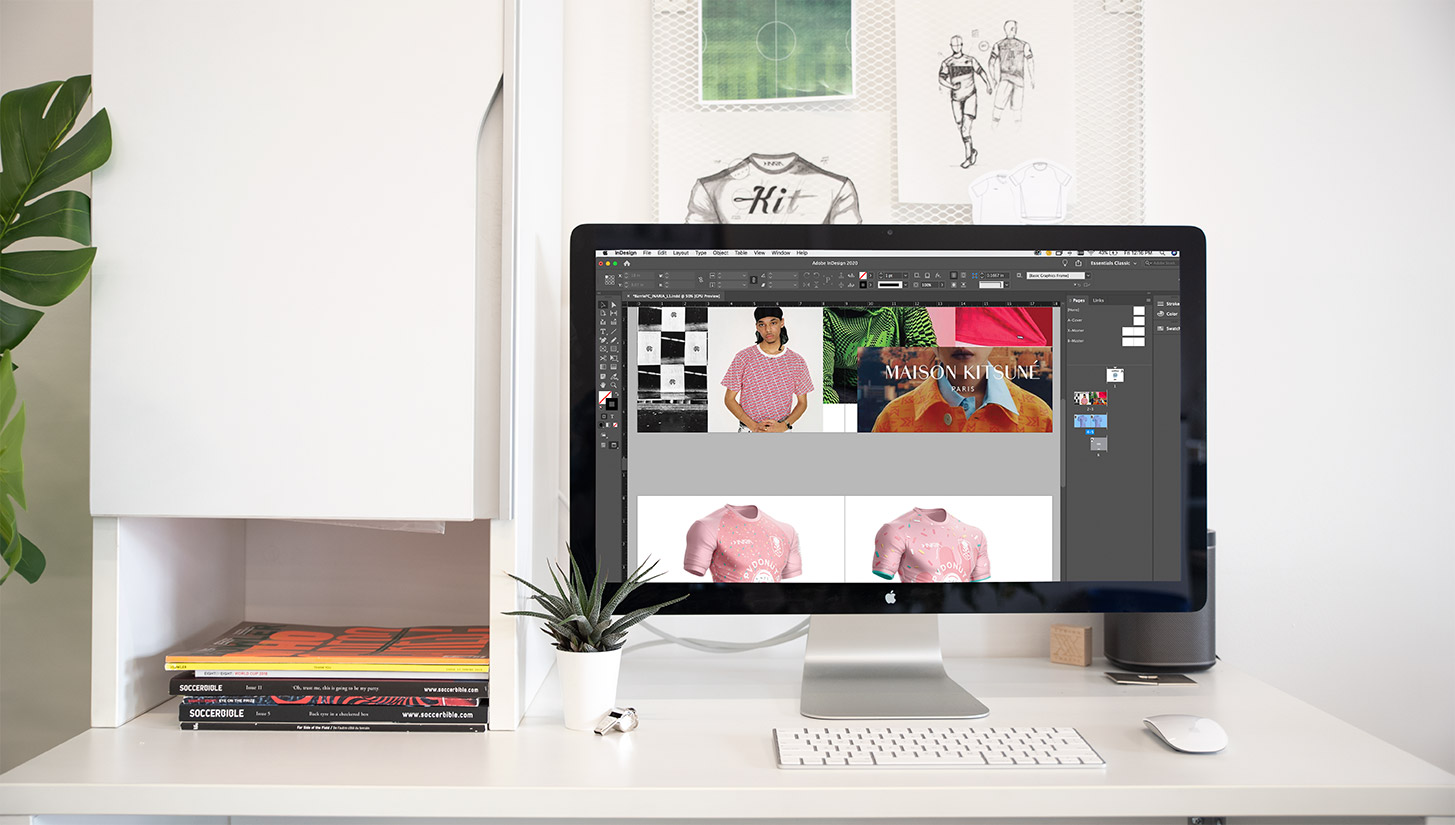 More clubs and kit manufacturers are beginning to shift towards bespoke designs and away from templates, but brands and clubs like INARIA and Providence City FC have been doing this for years now. And if there's one thing trendsetters don't do, it's look back.
Rego has already completed Providence City's 2021 mood board, and the club has plans to highlight its sponsors in another entirely new way — so we can expect more heat to come in the near future. As for its partnership with INARIA, PCFC is currently in the final year of its two-year deal, but if all things go right, the Rogues hope to turn this into a long term partnership. We can only hope that it does.
Shop Providence City FC's kits via the club's web store, and be sure to follow both PCFC and INARIA on Instagram.