From their ownership to their media deal, the New Jersey Teamsters are far from a typical lower division American organization. We get a glimpse at the club, which hopes to join NISA by the spring 2021 season, via its accomplished co-founder Sibrena Stowe-Geraldino and head coach Javier Romero. 
Over a third of the National Independent Soccer Association's 14 teams lie in the Northeast United States within a stone's throw of each other. The region's five clubs in American soccer's third tier have tapped into local hotbeds and talent pools that are worthy to face the toughest of opponents.
The New York Cosmos, New Amsterdam FC, CT United, and a yet-to-be-named club based in Providence, Rhode Island are set to be joined by the New Jersey Teamsters come spring 2021. The Teamsters, based in Bayonne, are one of many NISA clubs that made the jump from semi-pro, and they are ready to create a rivalry unforeseen in American soccer.
While the 2021 spring season is waiting for the green light, the Teamsters have broken ground by signing a partnership with global digital media company Dugout. The content provider services the world's top clubs such as Barcelona, Bayern Munich, Chelsea, Juventus, Real Madrid, and Roma.
In addition to the media announcement, the club's ownership is also quite notable. Sibrena Stowe-Geraldino, who co-founded the club alongside her husband Alex Geraldino, is the first black female principal owner of a professional soccer team in the U.S. She has plans to change the game from just goal posts and end-lines to a brand new, media-infused culture.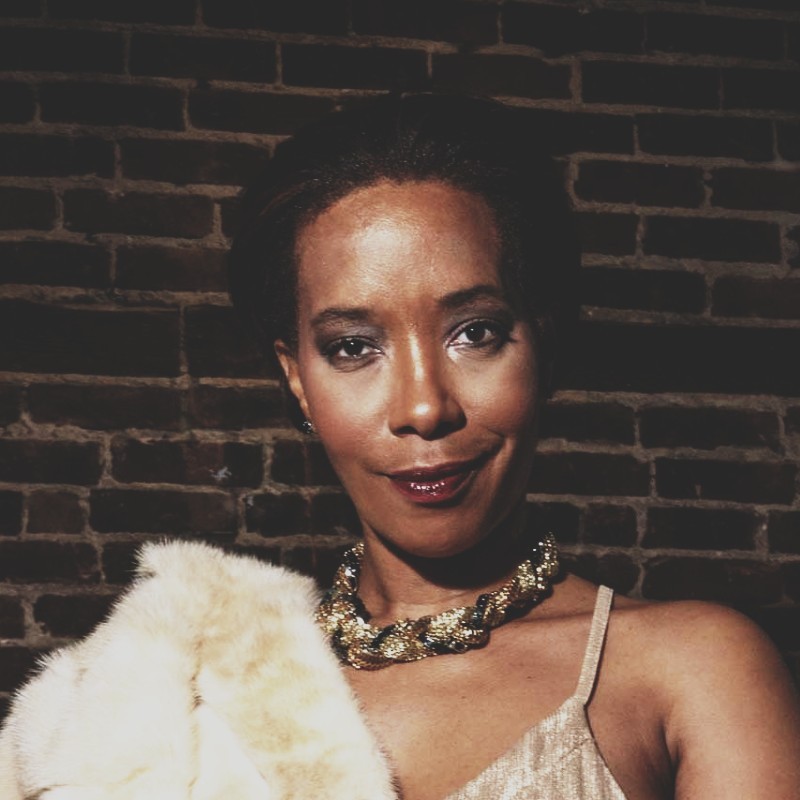 I spoke to Stowe-Geraldino to get a feel for the club's plans in the not-so-distant-future.
Urban Pitch: Sibrena, as I looked at the New Jersey Teamsters' LinkedIn page, I came across your biography and realized there was more here than meets the eye. Could you explain to me a little bit more about your background and how you got into soccer?
Sibrena Stowe-Geraldino: We've been playing as Bayonne Teamsters FC since February 2017 believe it or not. My husband is a former NFL champion in Europe, but he's also a U.S. Soccer intermediary. Neither one of us has ever played soccer, but we fell in love with this sport. Most of our players are from the Jersey City area or went to St. Peter's Prep or University. Our coach used to own a youth team for about 15 years, and he's also the assistant coach at St. Peter's Prep. We were originally in the United Premier Soccer League, which was quantity versus quality in my opinion. We won a couple cups, but outgrew that amateur to semi-pro level.
And knowing my background, I've been in the hip-hop industry for over 20 years. I did the media for Lil Wayne and Cash Money — I'm making all these people famous, so why wouldn't I do it for my husband's team?
New Jersey has a super high level of talent here, so our goal is to tap into our own resources right here for tryouts, and then we will search around the world after we're sure we cannot get a New Jersey player for a pro position.
That's really nice, sometimes when I've traveled people have been like, "People in Jersey play soccer?" And I'm like "Yes, it's huge!"
The reason why soccer is played the way it is on the national level is because of us. Look at Kearny — we're in the soccer hub of the United States as far as I'm concerned. We are a small club here, but we have a global mindset.
Niall Quinn (the second-highest goal scorer for Ireland and former ex-chairman of Sunderland) is part of this, and then we have Enoch Showunmi who sits on our board. His soccer experience is totally different from Quinn. He went on to get a Master's degree, and then played pro soccer.
So we have influencers and people that are on our board and staff that can help every level of player. We are starting our youth academy and will be training Bayonne's high school at no cost. We have another team that will play professionally, and then the reserve team. They'll be able to take over (eventually) at the pro level. So we're super excited.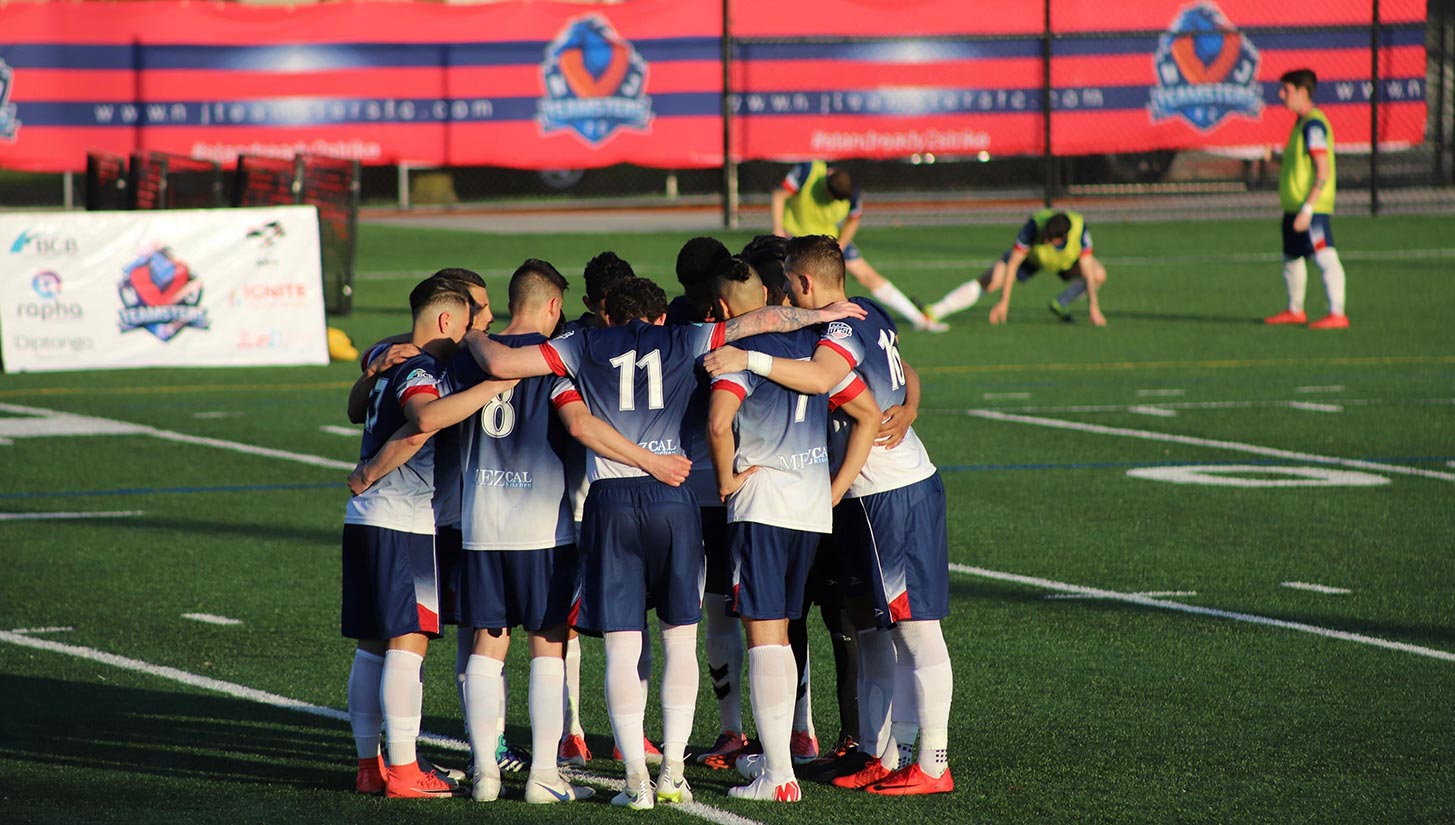 It sounds like you're building such a foundation, honestly.
You know we worked hard at making sure our front office is the bomb dot com. The players will come and go — of course we want the best, but it's the front office that will be there. Our brand is important. But then you have a stellar front office that can plan and pick the right players. We'll be playing against New Amsterdam FC right across in the Bronx, we'll be playing against the New York Cosmos — imagine that derby in Bayonne, it's going to be super, super dope. I'm sure it's going to sell out.
Most of our fans come from all over New Jersey. Bayonne is learning more about us because we are in the community. We are involved in the Don Ahern Foundation which is the namesake of our stadium, and his entire family is behind us. Bayonne is about to be put on the map because we have so many things going on. We're going to be international — not just with Dugout. It's going to be a big deal, and making soccer big in America is going to be my goal.
That is just so cool to hear. Growing up, I remember looking around thinking that this town was oddly missing a big soccer team previously. "How's there no soccer?" I thought, but now it seems like there's going to be a lot of soccer.
This year we will be playing 40 matches, and we're setting up a lot of friendlies as well. The Don Ahern Veterans Stadium can fill 7,000 — we want to set our attendance at 2,500, and from there we will be able to expand. They're open to it, the mayor is amazing and everyone is behind us in terms of the politicians and assemblymen. Not only will it provide job opportunities, but it also is a family fun outlet. There's more to life than just New York Red Bulls, so why not us?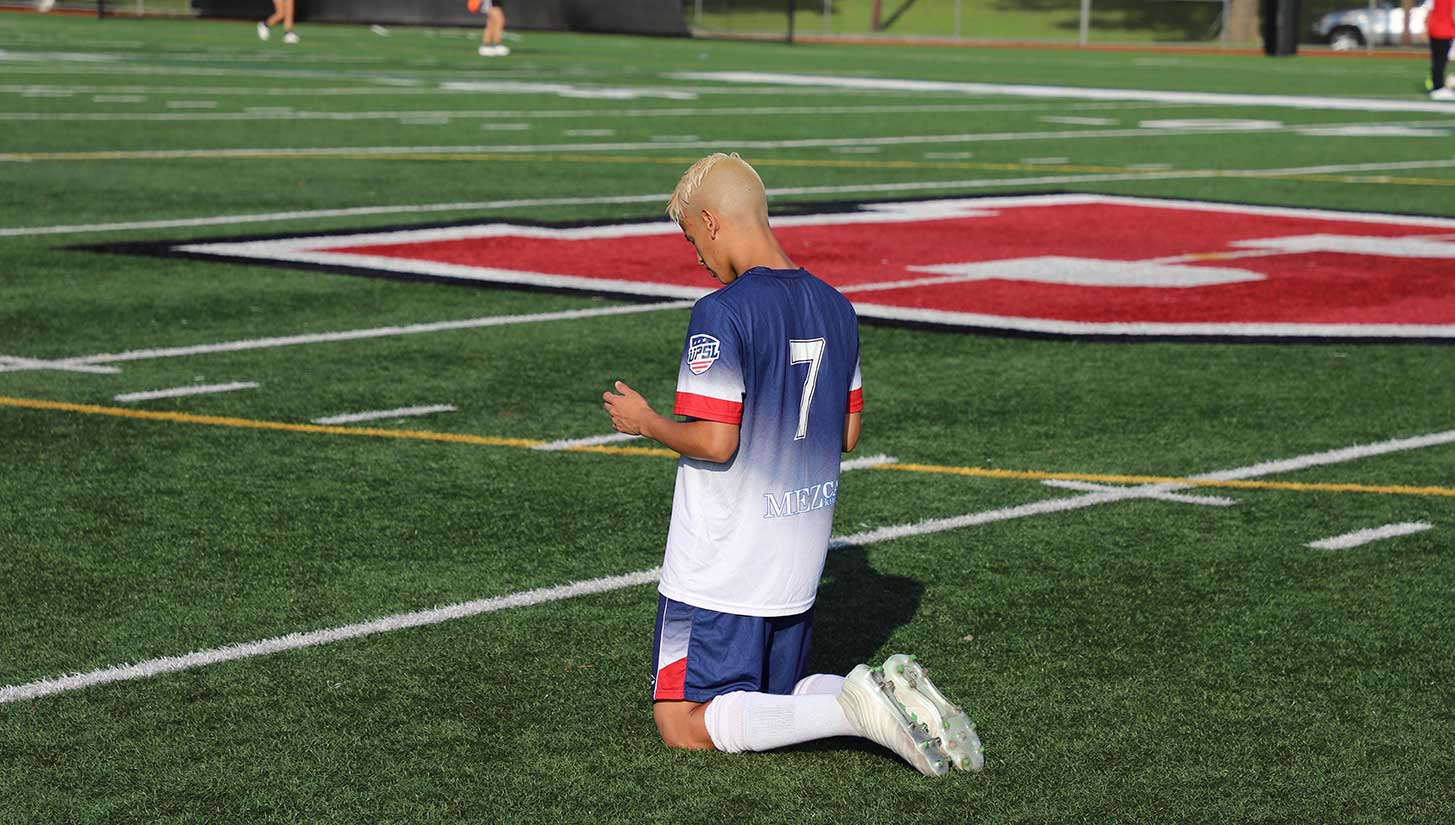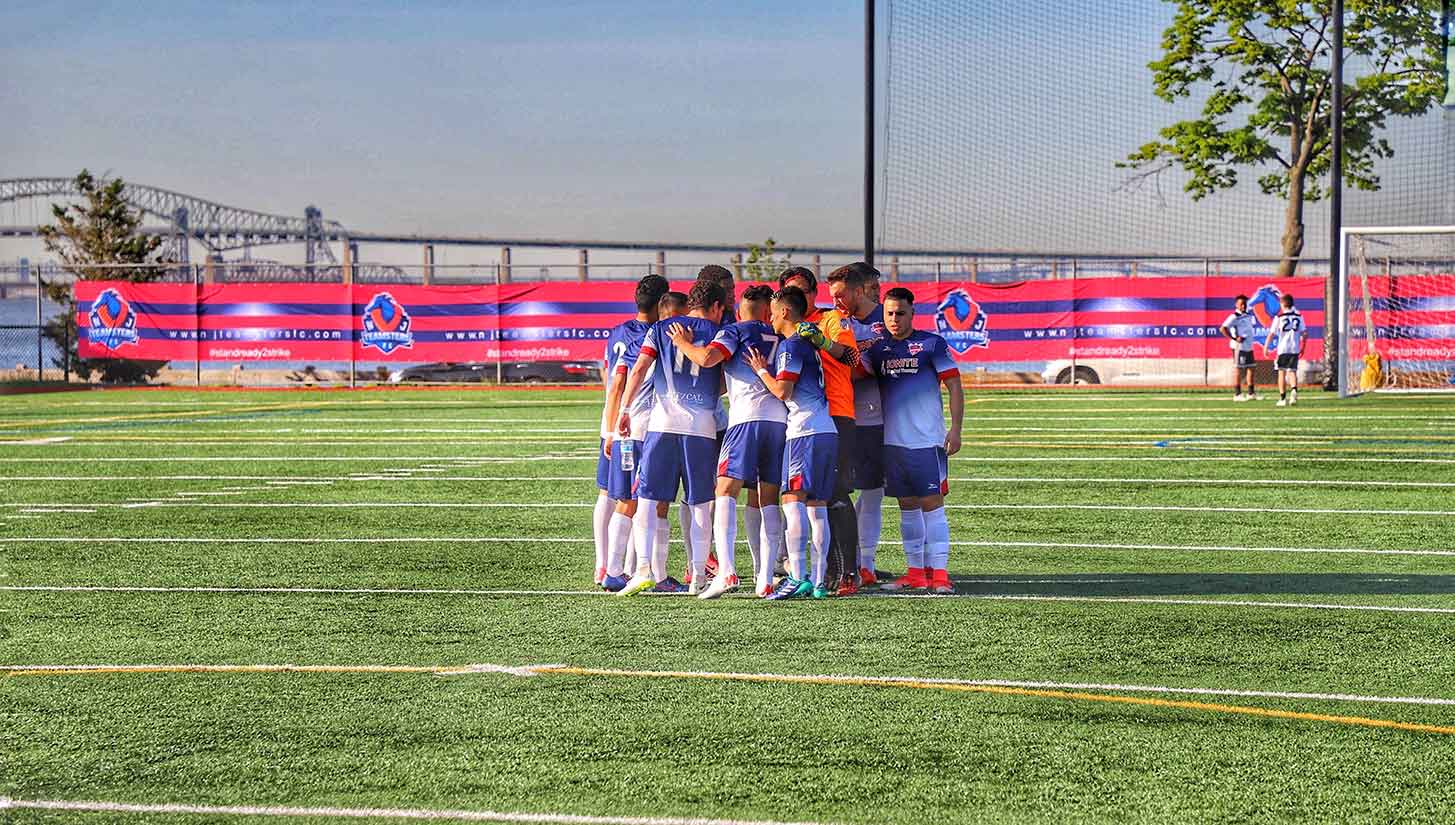 So true — Bayonne is only going to keep growing as a city, so why not take 10 percent of that market share?
We did the numbers — in five miles of Bayonne there are 2 million people that watch soccer. This is the most densely populated area of New Jersey. I'll take ten percent of that  — I'll take one percent! You have to crawl before you walk.
And correct me if I'm wrong, but you are the first black female owner of a soccer team?
I am the first woman of color in America to be principal owner of a professional team. I am considered African-American, and there is a pandemic going on with Black Lives Matter — I've been fortunate enough to have influential family members who have been at the forefront of inclusion and social justice, which includes my third cousin, Dr. Martin Luther King. (The club's website writes Stowe-Geraldino is related by her maternal grandfather Reverend Joseph W. Walker.)
I never really knew that I experienced racism until today. When I look back, there were different words that were said to me growing up, or times I wasn't invited somewhere because their parents were not open. But I don't think I ever realized I experienced discrimination until now. It breaks my heart because I grew up in an affluent neighborhood in the suburbs, with a few African-Americans of mixed European, native, and African blood that we just call "African-American." But I didn't grow up around what I considered an impoverished neighborhood.
I never really realized how society could look at black men as a threat, because black women can get a "pass." I have a diverse family and we all get along. My daughter is engaged to a nice Jewish man, and my husband is a first generation Dominican-American.
I'm glad to be a part of history during Black History Month of 2020 — during that period I became the first black woman to own a club, and I want to continue to afford the opportunity to all women, no matter what color, and just people in general. So I think we are a diverse club, and that's the beauty of us. We have people from all nationalities — we speak Arabic, Russian, French, Spanish. And listen, It takes a village.
I love the diversity and it doesn't matter what color people are — it's how you take care of your community, how you feel about one another, how you support one another. That's really what life is about. And that's what we're going to show through soccer. Soccer brings people together and that's something that I'm going to work more on. More inclusion, hiring people of different sexual orientations, this is what it takes. We are a melting pot, right?
We also had a chance to catch up with Teamsters head coach Javier Romero, a New Jersey native and a mainstay in the state's soccer scene.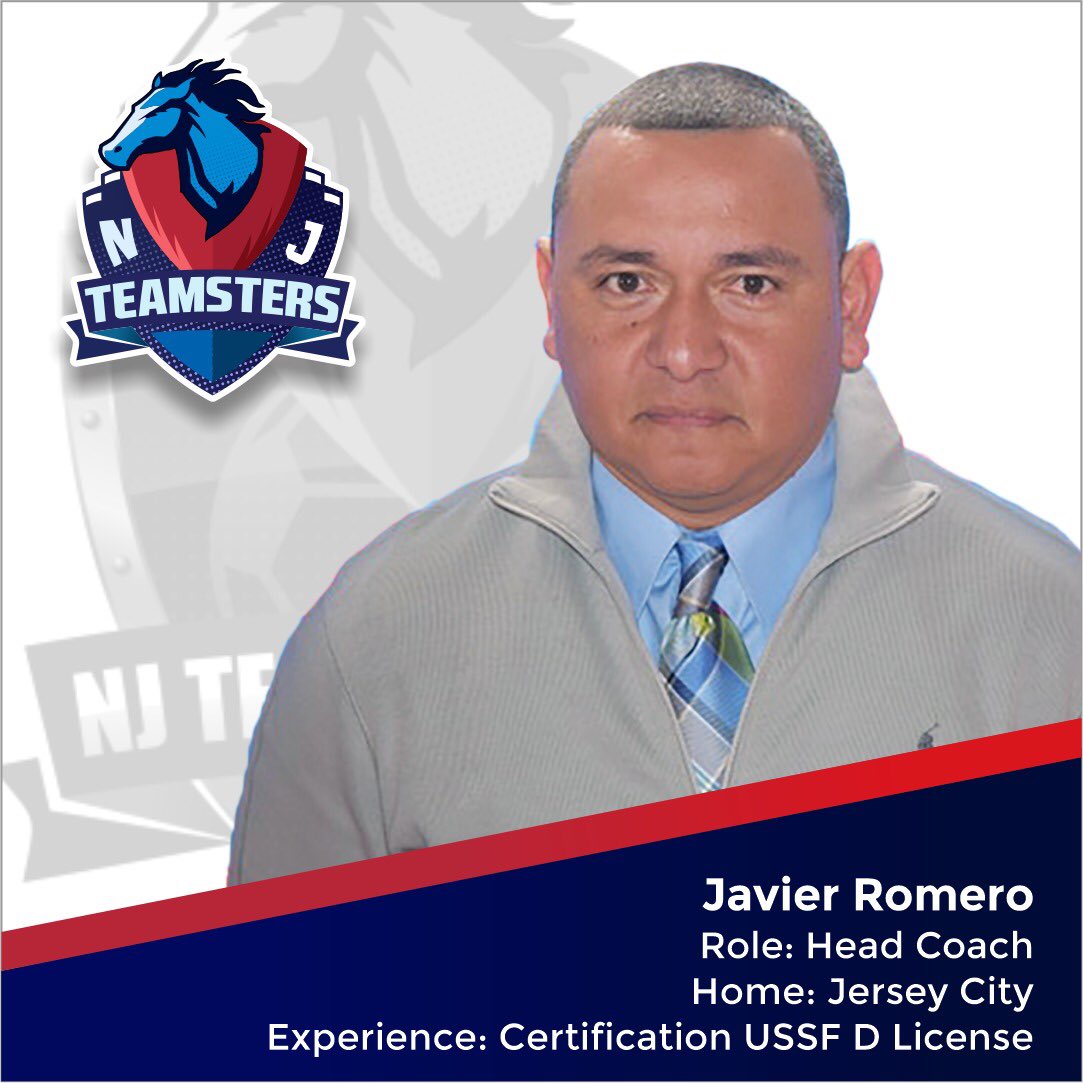 Urban Pitch: What's your outlook for the upcoming season? 
Javier Romero: We had a very good turnout, lots of talent and very competitive. We are looking forward to the next round of trials, we see the fans that came out and the turnout was outstanding. We got a lot of players from the West Coast, some from the Midwest and even from down south such as Florida. There was a large amount of interest from outside the tri-state area so it was pretty amazing.
How do you feel about your players compared to the rest of the league?
It's hard to be able to break down the talent pool of opponents because we haven't even seen them yet. They are about to start their preseason in the next few weeks so it will be hard to evaluate them, but I tell you what, with the talent that came out I'm very excited to get out there and I feel very good about it.
More than anything, we as an organization are so excited to begin this process and we have a long way to go. The owners have done an incredible job to get this together and we are looking to get on the pitch soon — that is the goal.
—
Dugout will surely bring an authentic Jersey vibe to an area that has long been under-appreciated for its storied soccer pedigree. Bayonne has lacked attention compared to the bustling and gentrified Hoboken and Downtown Jersey City. Yet, it is one of the most diverse in the country. With an open minded and forward-thinking ownership, board, and staff, the New Jersey Teamsters are one club that are headed towards a more prominent place in American soccer culture.
Interviews edited for clarity and brevity. 
The New Jersey Teamsters are set to be featured on Discovery Channel's new series I Quit, which premieres August 18 at 10 p.m. ET/PT. Follow the club on Instagram and Twitter to stay up to date with their latest moves.