Highlighting the most compelling lower division teams in the United States, our Descending the Pyramid series continues with Louisville City FC, one of the most dominant teams in the USL Championship. 
The City of Louisville is known for mainly two things: bourbon and baseball bats. Well, that and being home to General Electric Appliances. Louisville City FC is connected to all of them in some way or another. The club briefly played at Louisville Slugger Field, GE Appliances serves as its kit sponsor, and bourbon — well that's just ingrained in the club's culture at this point, so much so that it's impossible to learn about the team without picking up at least some knowledge about the distilled spirit as well.
Named after King Louis XVI of France, Louisville has a crucial economic history and a rich sporting culture. With the University of Louisville and the University of Kentucky in nearby Lexington, it's a big time college sports town. But now, Louisville City FC is leaving its mark on the city's thriving sports scape. The lower league juggernaut already has two USL championships on its mantle in its short six-year history, and it's still looking for more. This is the story of LouCity's meteoric rise to prominence. Let's take a peek under the hood of one of USL's most successful clubs.
The Foundation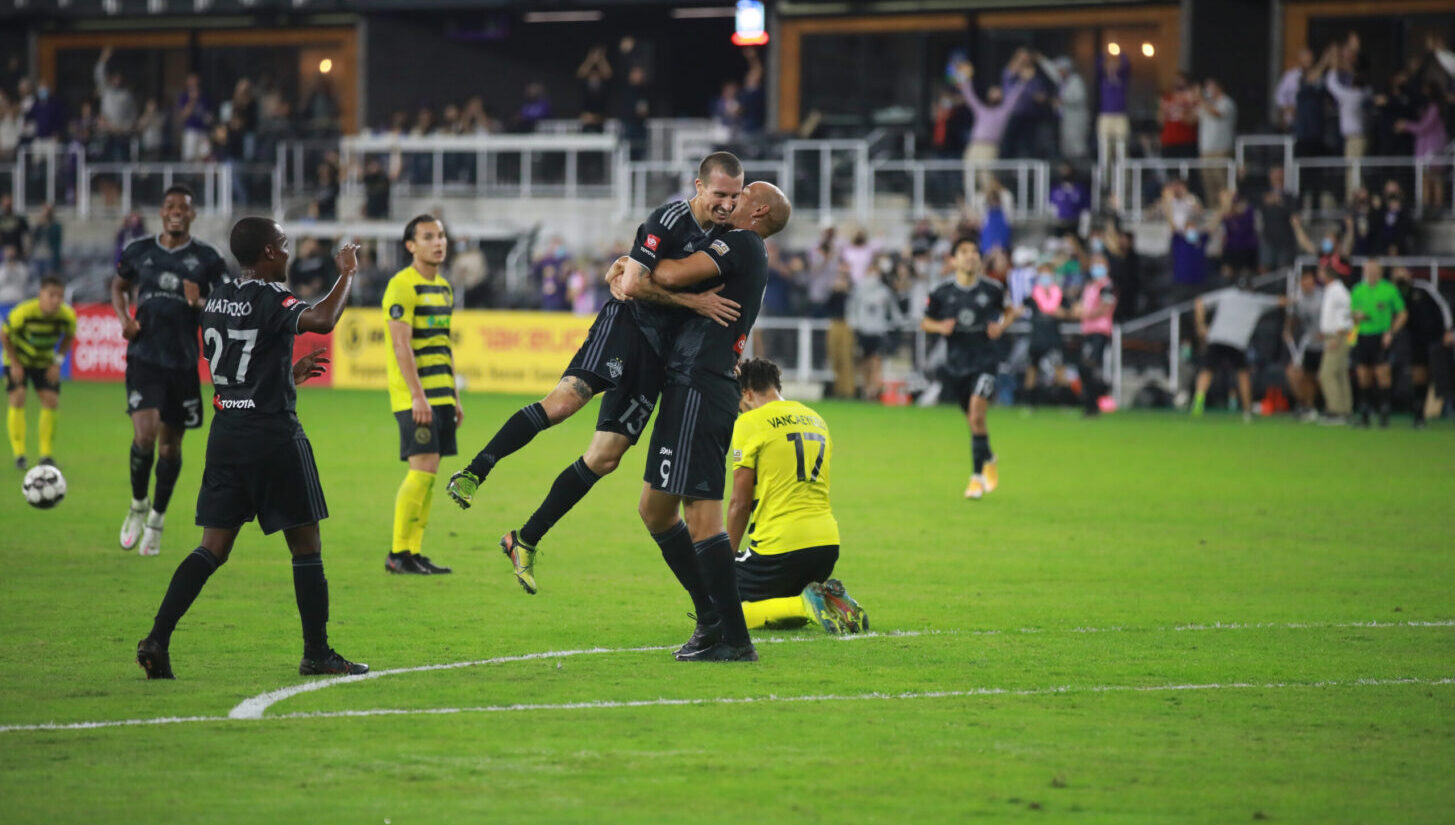 Technically the club's roots extend all the way back to Austin Aztex FC, founded in 2008 in what was then the USL First Division. In 2010 the club relocated to Orlando, Florida and became Orlando City SC, and when the club accepted an offer to join MLS in 2014, the USL franchise rights were transferred to Louisville thanks to late founder Wayne Estopinal.
Estopinal, who tragically died in an airplane crash in 2018, was a part-owner of Orlando City, and he had a vision to bring professional soccer to Louisville.
"The team coming to Louisville was a bit of good luck and a bit of ambition," said Brad Estes, Louisville City FC president. "Wayne pitched some local investors led by John Neace and Mike Mountjoy and ultimately raised the money to bring the team here. He was a very passionate soccer guy, and I think originally most of our owners saw this as a civic thing — let's do something for the city, bring professional soccer here."
Very few people understand the club's importance to Louisville more than Estes, who's a Louisvillian by birth. He takes a great amount of pride in the local community and city, so working for the club is an obvious choice.
"Louisville's always been kind of a second-level city," Estes said. "We've seen some of our neighboring cities in Indy, Cincinnati, St. Louis, and Nashville grow by leaps and bounds since I was a kid. And since I was young, I've always heard people complain about why we've never grown and why we haven't taken that next step. And so, the opportunity to join this ownership group to do something about that was a great opportunity for me."
One of the unique challenges Estes and the club faces is competing in a sports market with college basketball powerhouses Louisville and Kentucky. Essentially a big college town divided, Louisville City needed a way to unite Louisvillians, so it decided to make its pitch to fans through color. Retaining the purple used by Orlando City, the club ironically solved the issue by combining Louisville's cardinal red and Kentucky's royal blue.
"We talk about the fact that this club is the one sports entity in this town that can unify everyone," Estes said. "And the color is proof positive of that."
While it's a disadvantage to be in a very large college town, the club is only one of two professional teams in the area, and is quickly weaving itself into the fabric of the community through its soccer and philanthropic efforts.
In the club's early days, it played matches at Louisville Slugger Field, home to the Triple-A baseball team Louisville Bats. With the club renting out the minor league baseball stadium, Estes admits the focus was on simply surviving. And without revenue coming in from stadium naming rights, concessions, and parking, the club needed to become sustainable quickly.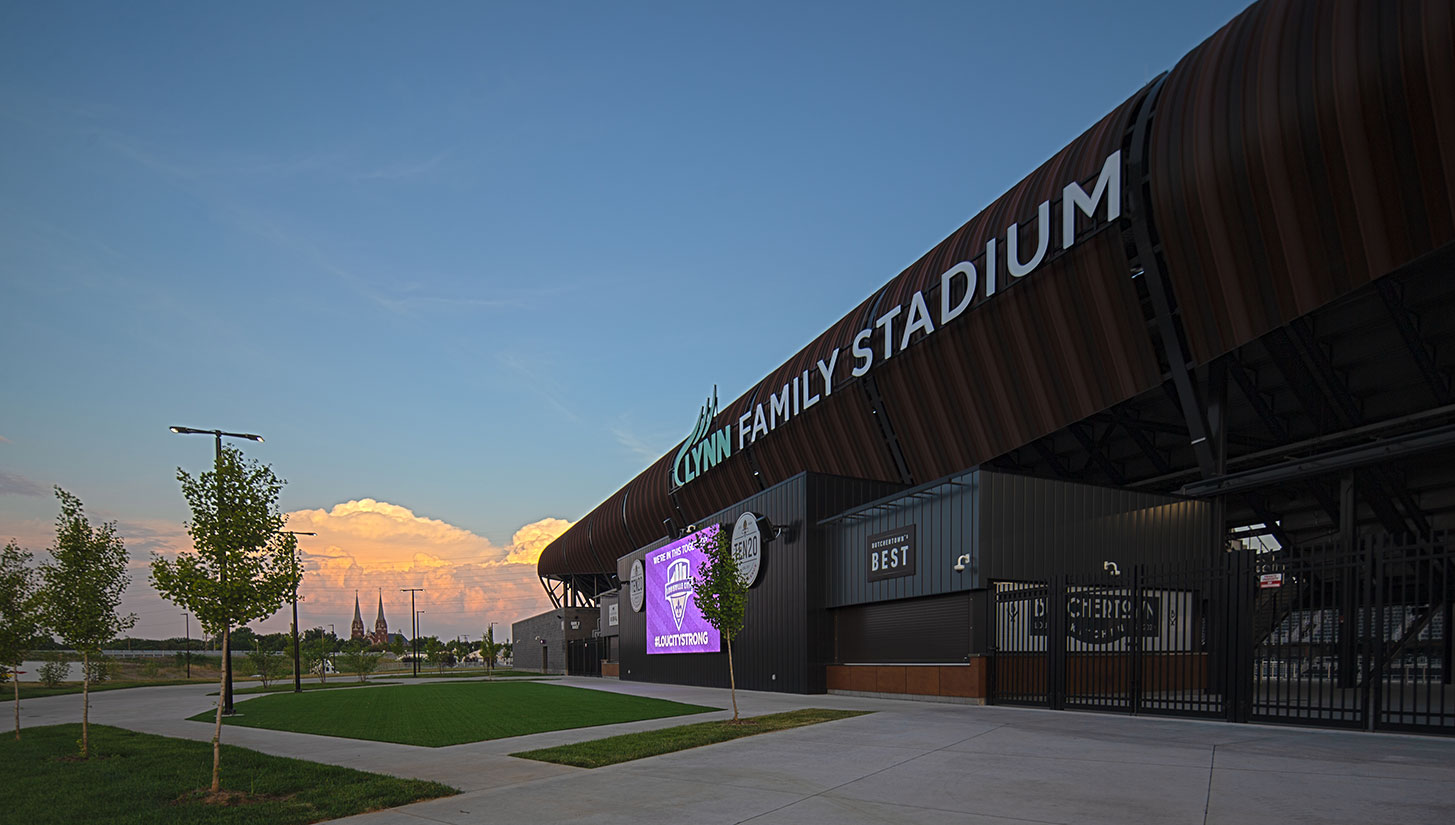 So before the 2020 season kicked off, Louisville City opened Lynn Family Stadium. Located near downtown and the Ohio River, the brand new $75 million soccer-specific stadium took nearly two years to complete. At 11,700 seats and expandable to 15,304 spectators, it's both the club's and the USL's crown jewel.
"It's not a hyperbole to say that if we didn't have our own venue, we wouldn't exist," Estes explained.
Now that Louisville City has a permanent home, the club's goals have shifted from simply surviving to thriving. The focus is now on completing construction of a $15 million training center which will have four turf fields, a 30,000 square-foot building to house the men's pro team, as well as NWSL fledgling Racing Louisville FC and all of the club's office support staff.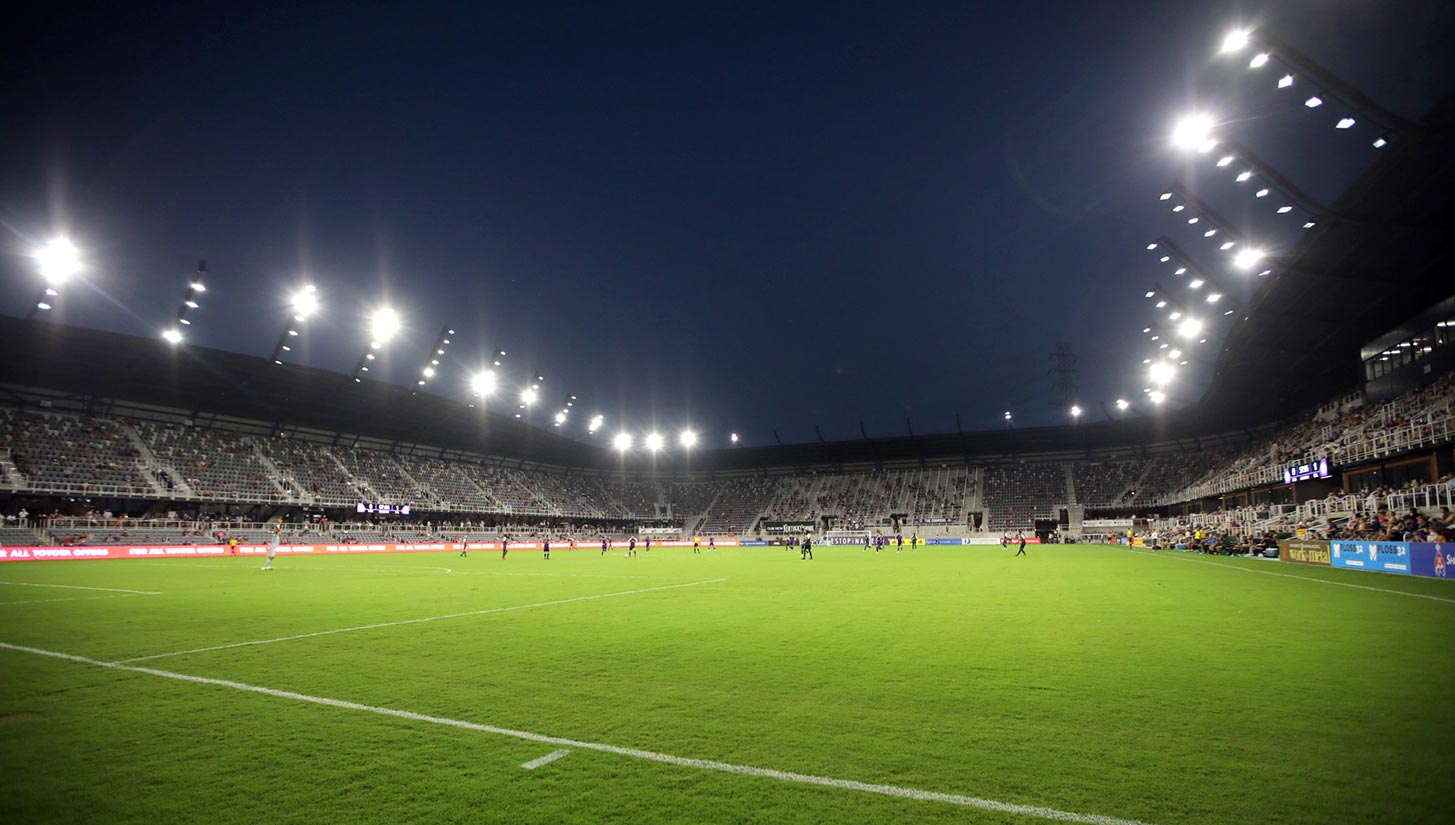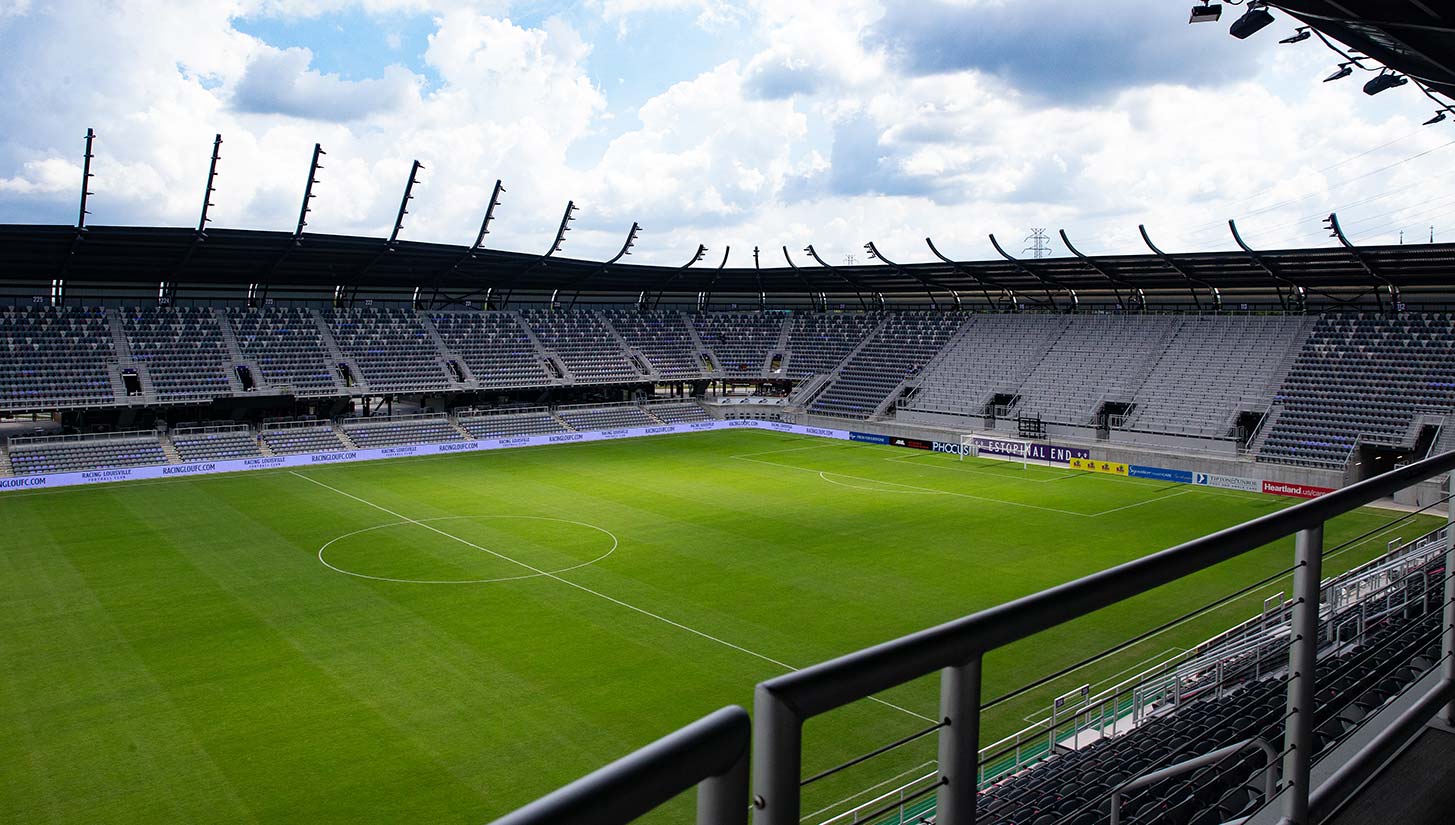 "We talk about the fact that we don't make decisions based on how they impact next month's financial statements, but how they're going to impact our brand and our financial viability 10, 20, 50 years down the road," Estes said. "And I would also say that we find ourselves fortunate because we couldn't have that mentality if we didn't have such a strong fan base. We know our fans are here to support us, we feel very fortunate."
The Kits
Moving into Lynn Family Stadium prior to the 2020 season, the club also decided to roll out a rebrand to go with their shiny new digs. When supporters bashed the new logo's design though, the club recognized its mistake, scrapped it, and vowed to work with fans on a new one.
"I think what we learned is that we were trying to do a lot of things, and we were biting off more than we could chew," Estes said, referring to the club's efforts to build a new stadium, launch an NWSL club, build out an academy, and tackle a rebrand simultaneously. "And as a result, we unintentionally shorted the process. What we learned is that we know who we need to engage when we're making big decisions. We didn't go through the process properly and we didn't engage the right people."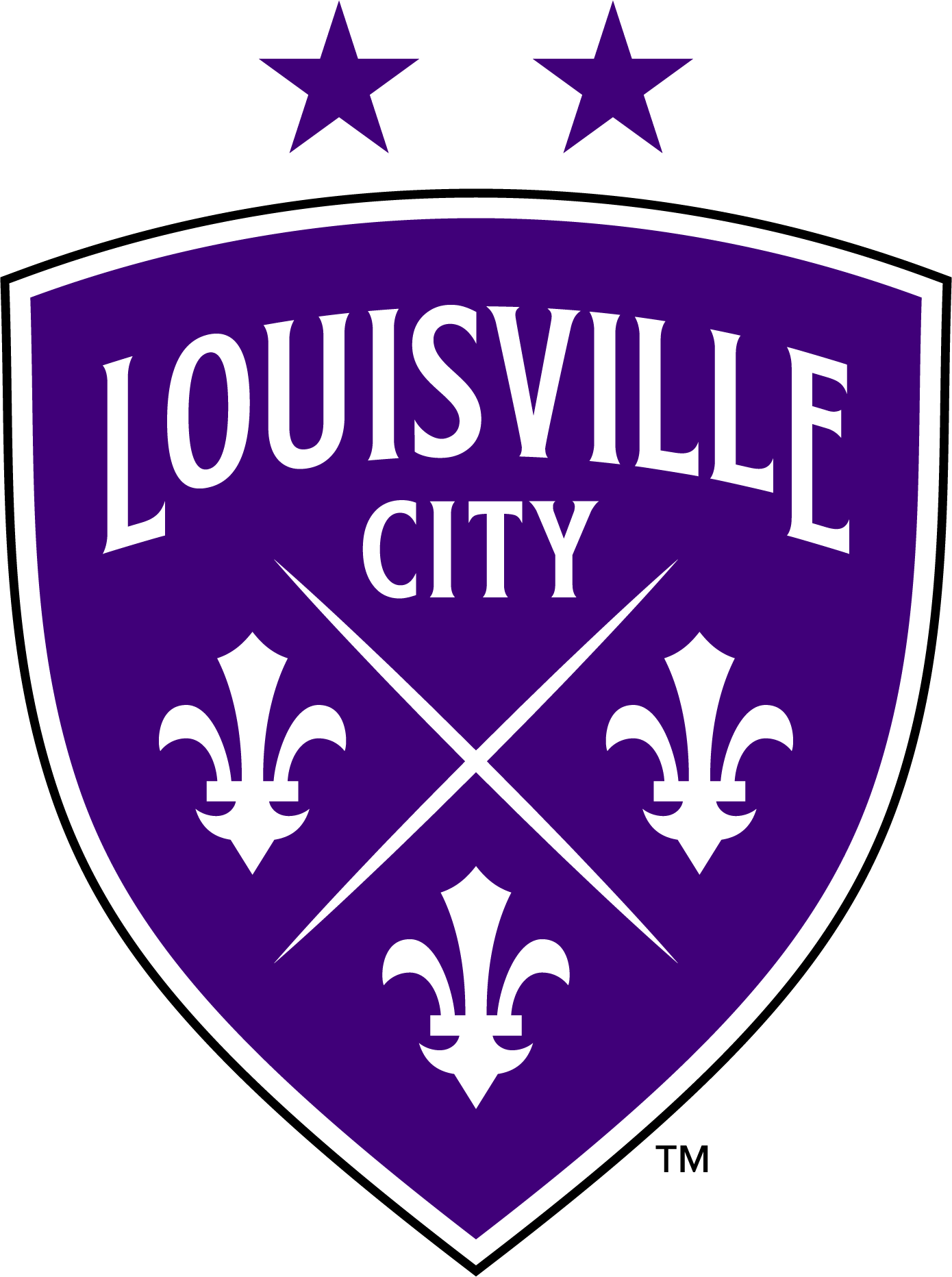 The club's new logo, unveiled in November 2020, is meant to work in harmony with sister club Racing Louisville's logo. The shield, a deep royal purple, pays homage to Louisville's French heritage. The orientation of the three fleur-de-lises, which can be traced all the way back to the French House of Bourbon dynasty, also appeared on the old city flag.
"The X in the middle of the crest represents the fact that we're a crossroads," Estes said. "North-South, East-West, when you ask somebody how to describe [Louisville], it's very hard to pinpoint it because some say we're Midwestern, some say we're Southern. From a political perspective, there's a lot of conservative people. There's also a lot of very liberal people. And so, it's just an amalgamation of a lot of things. It's a melting pot."
Two stars, one for each championship won so far, complete the look. Given the quality of the original crest, which featured the city skyline and a bourbon barrel as well, expectations were sky high, yet the club managed to exceed them the second time around. To help the process, the club brought former Nike designer Matthew Wolff on board, whose portfolio includes LAFC's brand design and the 2018 Nigeria World Cup kits.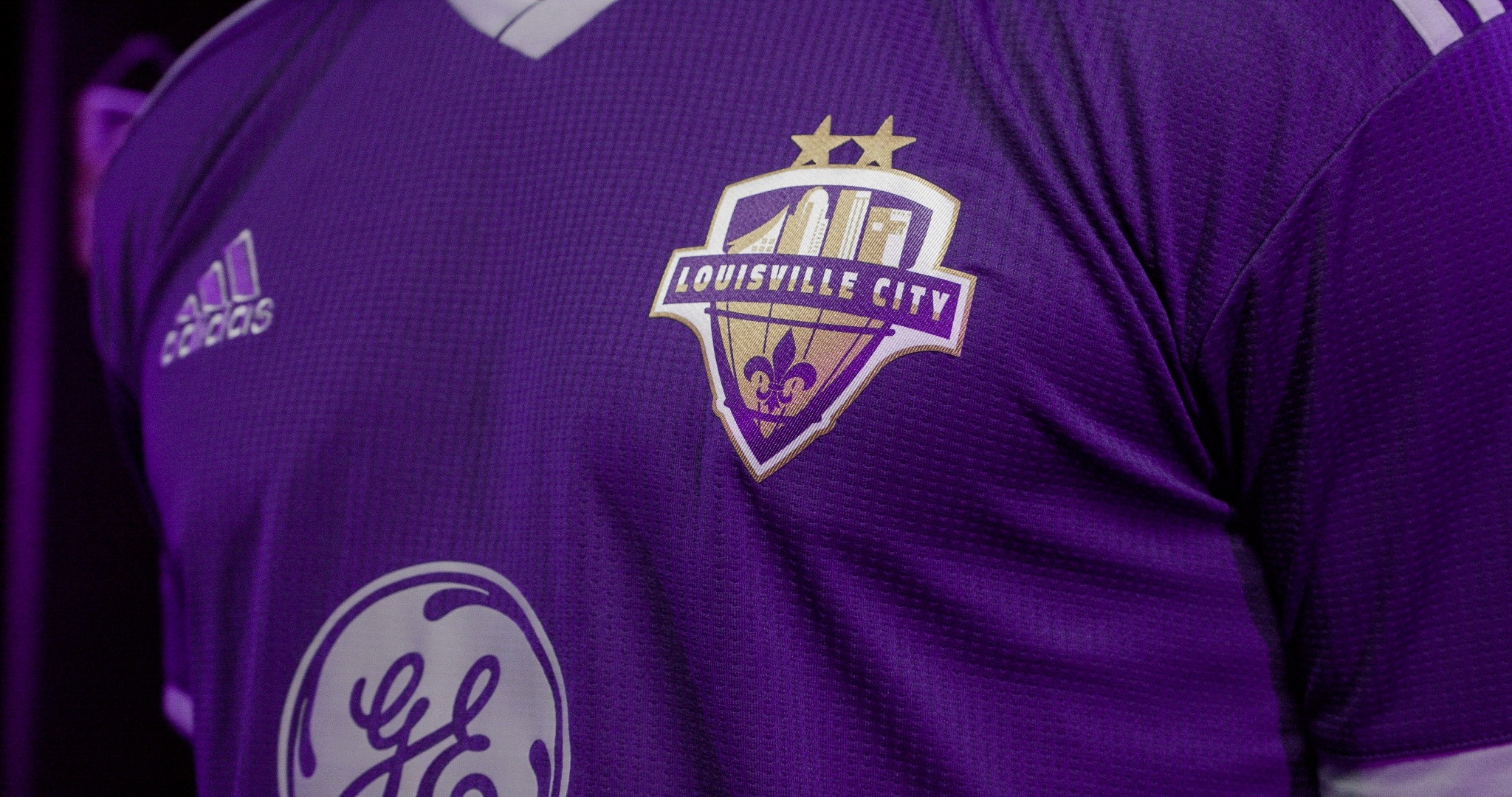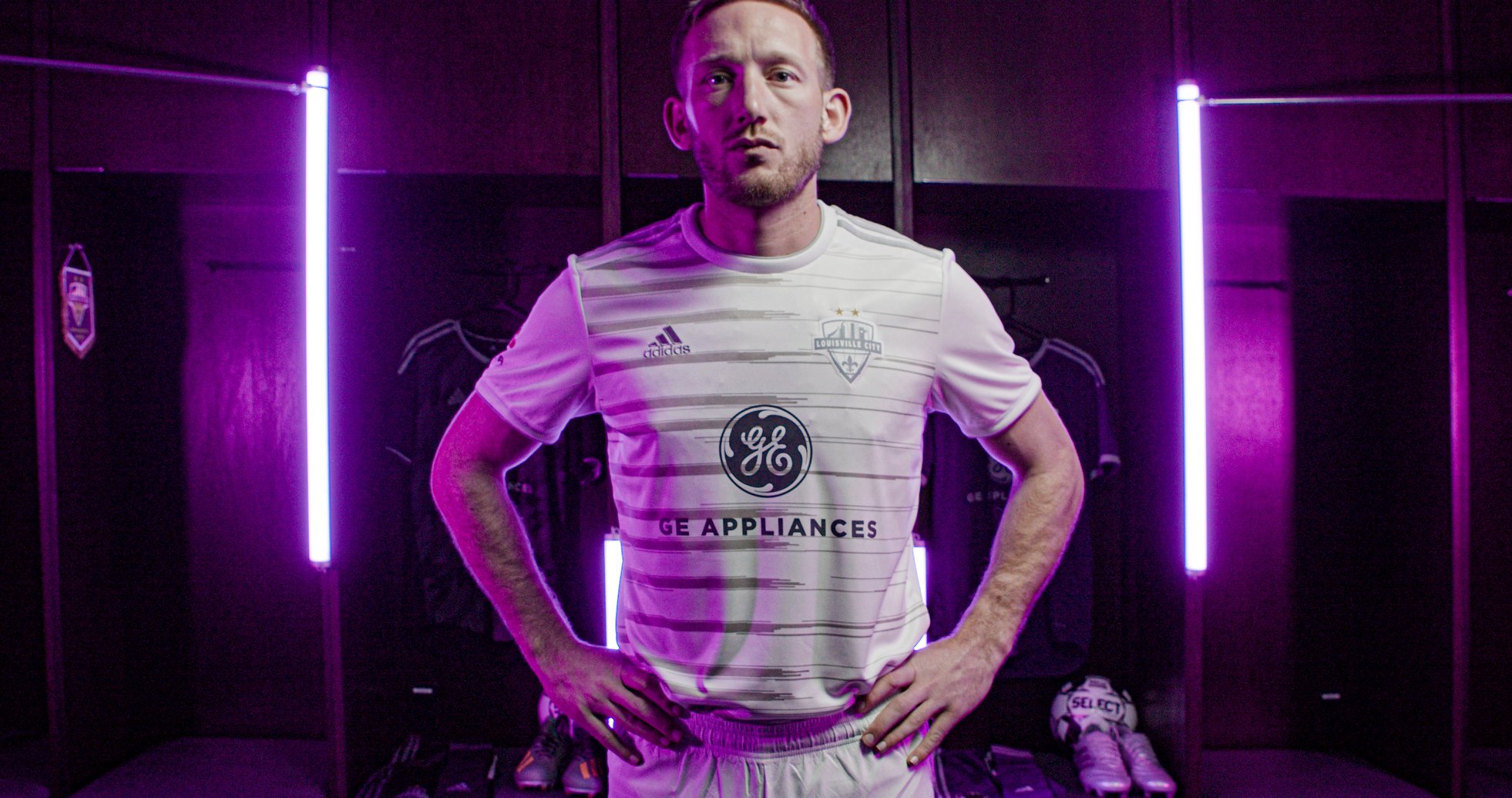 The club has yet to unveil is 2021 kits with the new logo, but last year's offerings are quite notable nonetheless. While LouCity brought on wily pros like Wolff to revamp its crest, for its 2020 jerseys, it looked to an unlikely source — players.
"We do try to give some players the opportunity to weigh in," Estes said. "And so, on the third kit, we typically have the technical staff and the players put that together, so it's a little bit of fun for them."
For the team's home kit, the club used a purple-on-purple design with some light grey accents. The club has never done grey accents before, but wanted to provide a spin on its traditional kit.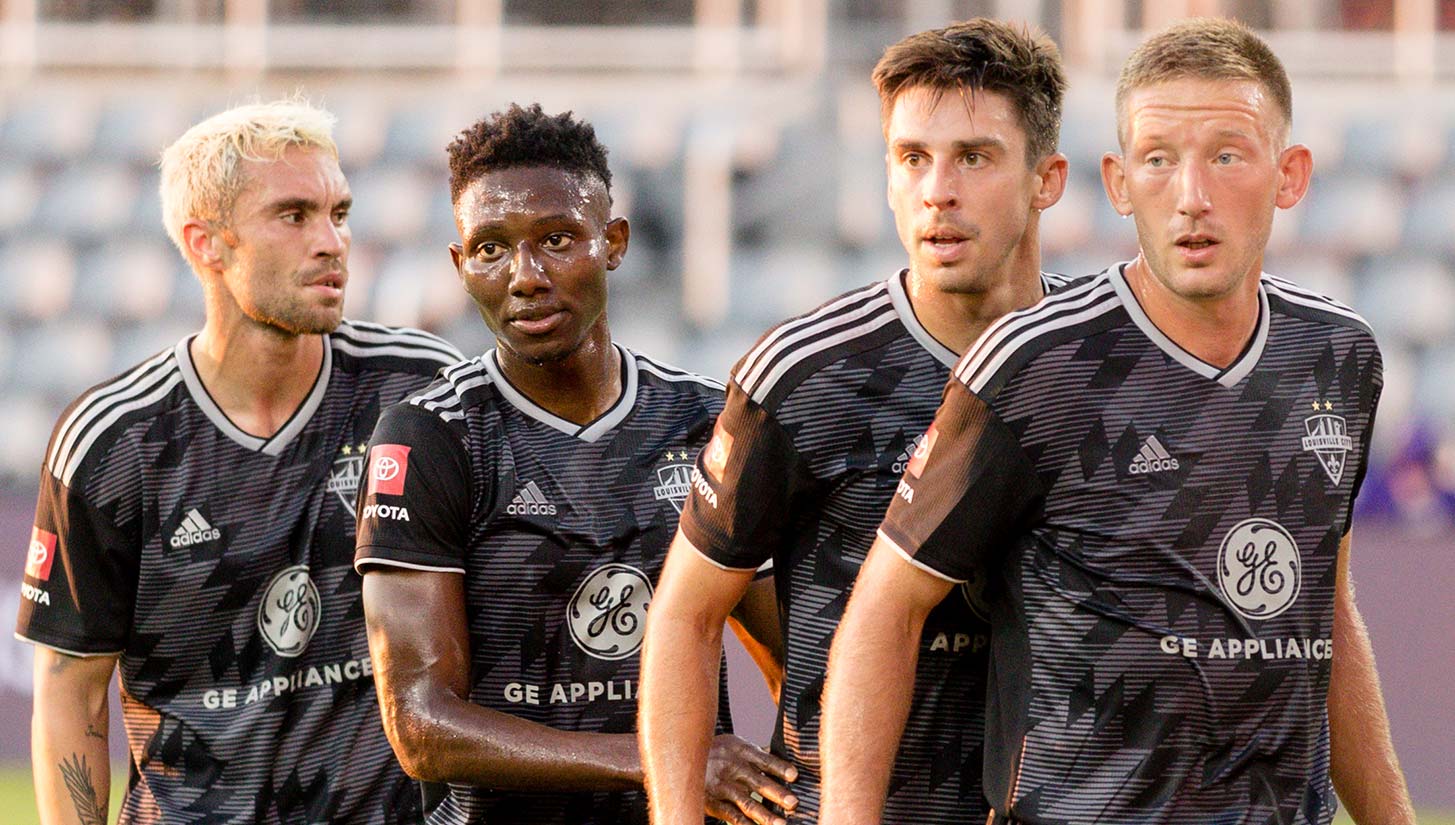 The away kit is white with grey accents as well, and the player-designed third kit is black with onyx grey accents. The idea of giving players and staff the creative freedom to contribute to kit design is novel and noteworthy, and some of the club's kits could be downright filthy in the future.
The Fans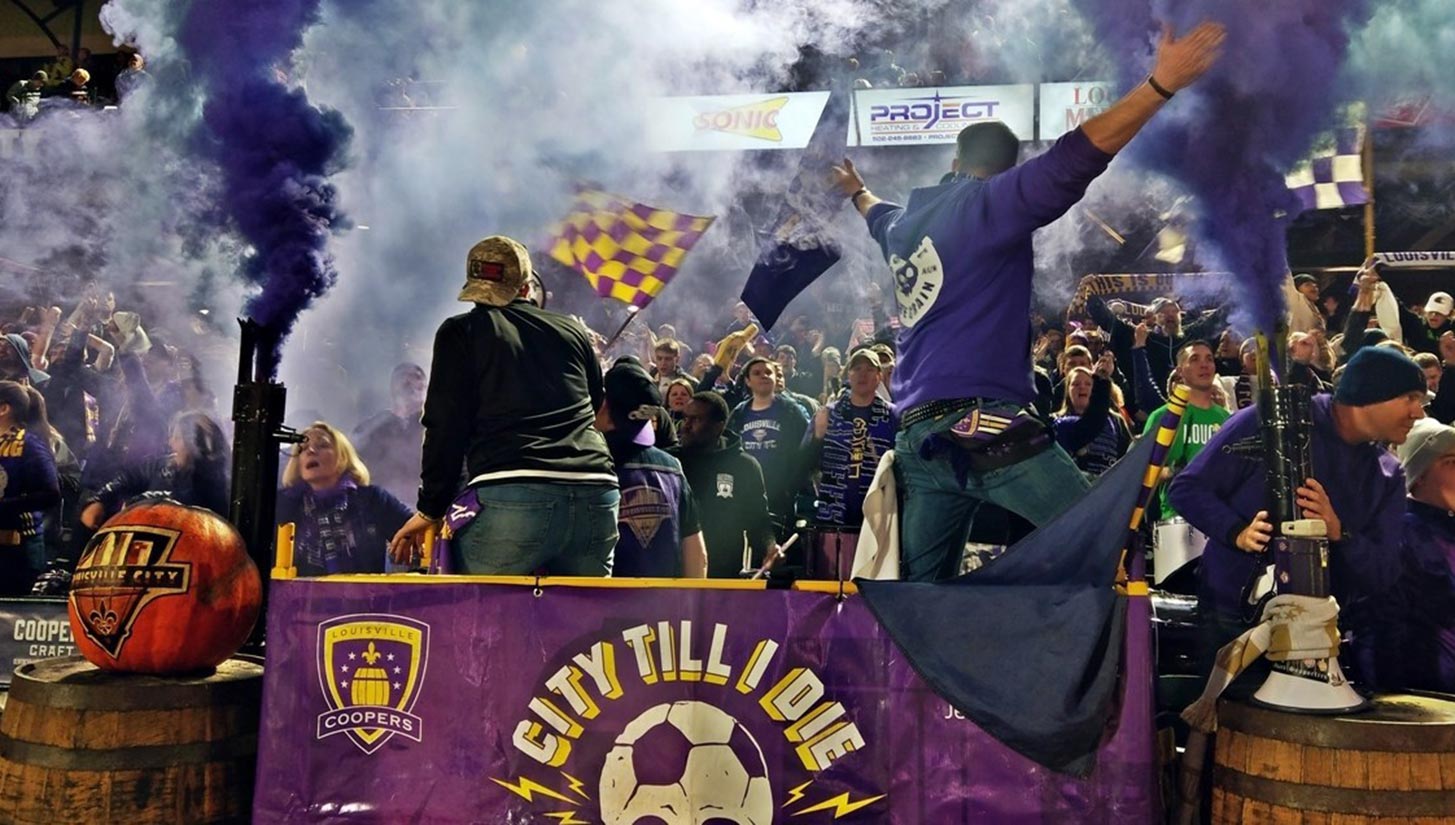 Louisville City's support is anchored by The Coopers, the club's first supporters' group whose origins predate the team's arrival. The group's name comes from the bourbon industry — coopers are the people who make the bourbon barrels. With Louisville's esteemed place in bourbon culture and history, and with drinking and soccer going hand in hand, the name is perfect.
"The thing that makes bourbon what it is, is the barrel that you store the liquor in," said Taylor Sorrels, one of The Coopers' founders who served as the group's first president. "And so, we thought we would be the people that gave the team and the club its flavor for lack of a better term, and so that's where we got the name from."
Sorrels, an attorney who's lived in Louisville for most of his life, helped start the group in 2013 out of a desire to share a sporting experience with his three children in the city.
Originally a Kentucky college basketball fan with an affinity for baseball and golf, Sorrels first really discovered the beautiful game watching the 1998 World Cup with his friends in high school. Captivated by Landon Donovan's rise during the 2002 World Cup, he woke up at 2 a.m. to catch matches, but his fanhood was limited to casually watching the national team. When his second son arrived in 2012, his interest in soccer reignited during a time most new parents dread.
"He never slept," Sorrels said with a laugh. "So, I was the one who was up feeding him all the time in the middle of the night, and the only thing on TV at that time was replays of Champions League games on the old Fox Soccer Channel."
Soaking up the European soccer atmosphere with the other insomniacs of America, Sorrels came to the conclusion that local soccer would be a better fan experience for his family rather than continuing to regularly make the near hour-and-a-half trek to Lexington.
Throwing himself into his research, Sorrels scoured Reddit and Facebook and read as many books as he could for more information on how he could bring soccer to Louisville. Coincidentally six months later, several other local figures began lobbying for a professional soccer team for the city in some capacity. In late 2013, The Coopers had their first informal gathering, with Sorrels meeting three others at a coffee shop and pitching his vision to bring soccer to the community.
"I thought the best way to do that was to start a supporters' group and show there's an audience for this, there are people that will buy tickets," Sorrels said.
He was right. Enthusiasm spread quickly, and suddenly they had about 1,000 members within a few months. The group caught Estopinal's eye, and he met with them and laid down his plans for Louisville City FC.
Sorrels and the group worked hand-in-hand with Estopinal and his investors until they were finally awarded a franchise in the summer of 2014. While it was a wild and amazing time, Sorrels decided to hand the reigns to his right hand man at the end of the year.
"It was like having a second full-time job," Sorrels explained. "I had my own practice at the time all by myself, and between that and young kids and the soccer family, it was exhilarating but exhausting all at the same time."
Today, Sorrels' involvement in the group is a bit more limited than it originally was. He hosts The Coopers' podcast, aptly named Barrel Proof, which has over 250 episodes recorded. He's also the editor and one of the only contributors to the Louisville Coopers website, and helps with social media and any leadership issues which pop up.
Although Sorrels took a backseat with The Coopers, he still attends his fair share of matches with his family.
"It's more than just a club to us, it's a family," Sorrels said. "I've made friends and fostered relationships with people that I probably would have never met or collaborated with thanks to this game, to this sport."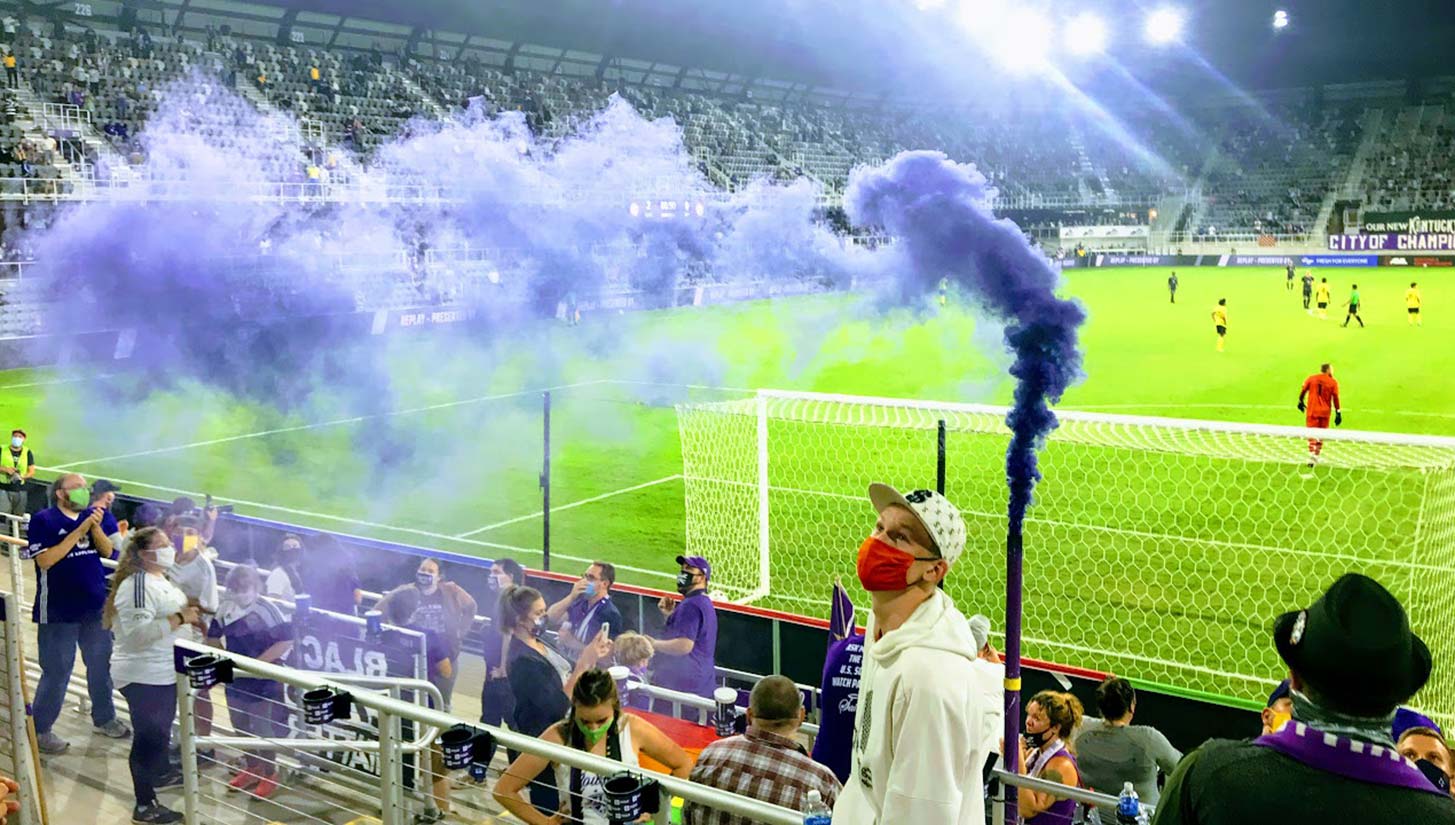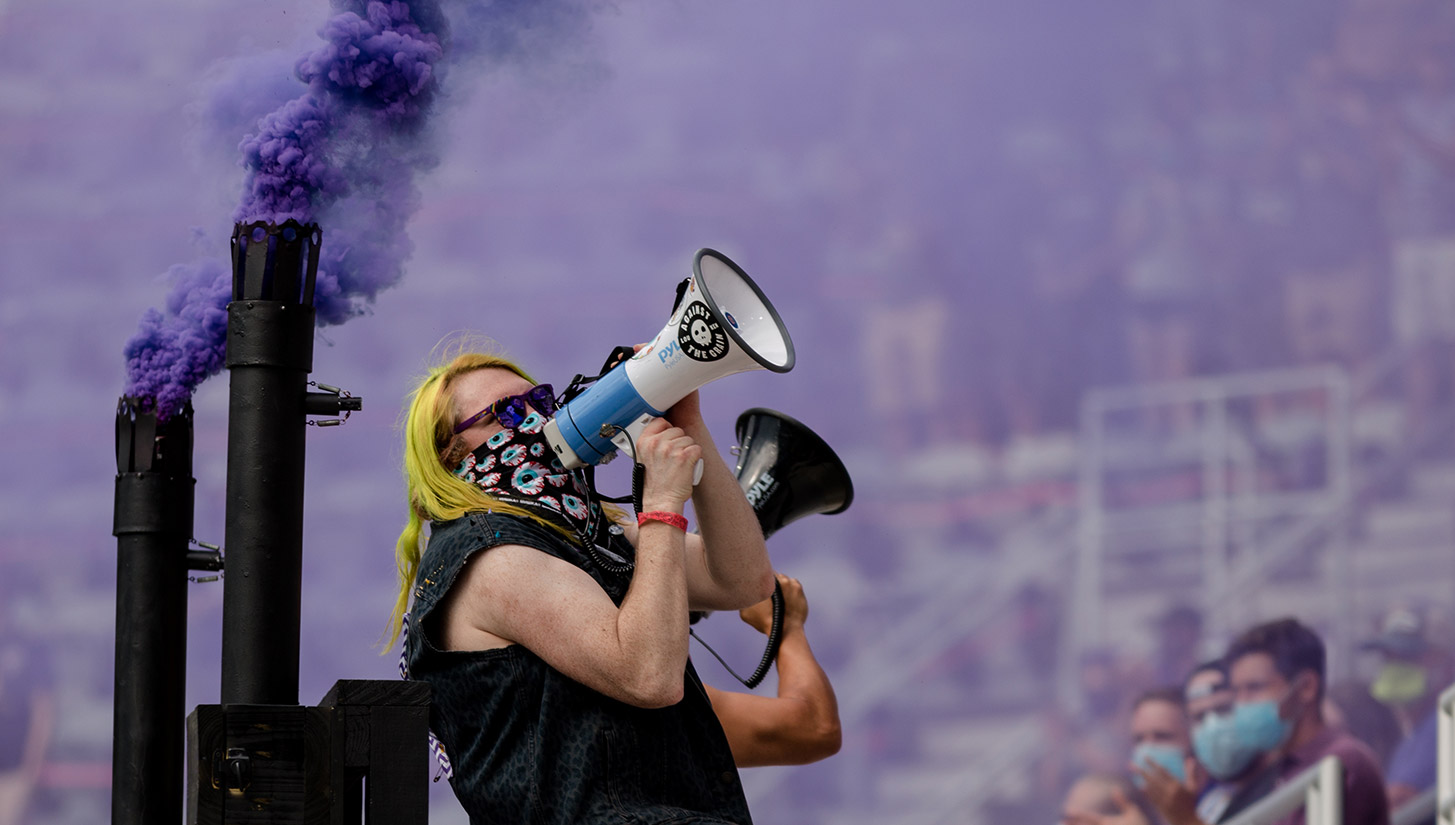 The club and supporters' group work closely together, and besides a few sometimes funny disagreements here and there — like the time where two former Coopers presidents went onto the field after a rain delay cancelled a 2017 match to show off their footy skills (the club wasn't necessarily thrilled with that) — LouCity reciprocates the family vibes coming from their main independent supporters' group. It shows in the atmosphere the Louisville City FC supporters cultivate, one certainly befitting a big-time soccer club.
These days The Coopers call the three safe-standing sections in Estopinal End, named after the late founder, home. In these sections you'll find a drum corps, which plays for the entire duration of the match, capos leading songs and chants, and of course, what supporters' section would be complete without tifos.
The group's main goal is to provide an atmosphere which helps the players and also leaves an impression on anyone who's never experienced a raucous soccer environment. While The Coopers do model themselves a bit after European support, the group is multicultural and also has South and Central American influences. COVID-19 and a move to a new stadium has obviously greatly disrupted The Coopers' match day routine this year, but Sorrels anticipates a return to something similar to their routine at Slugger Field once it's safe.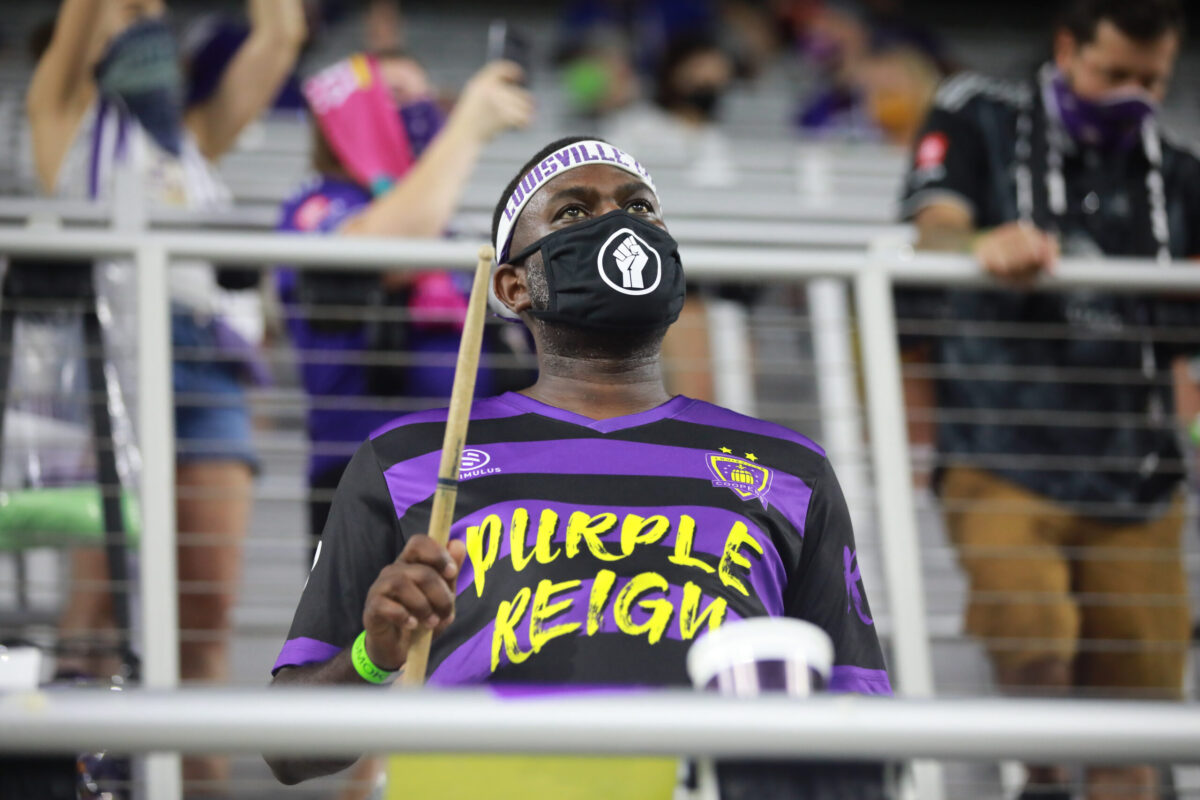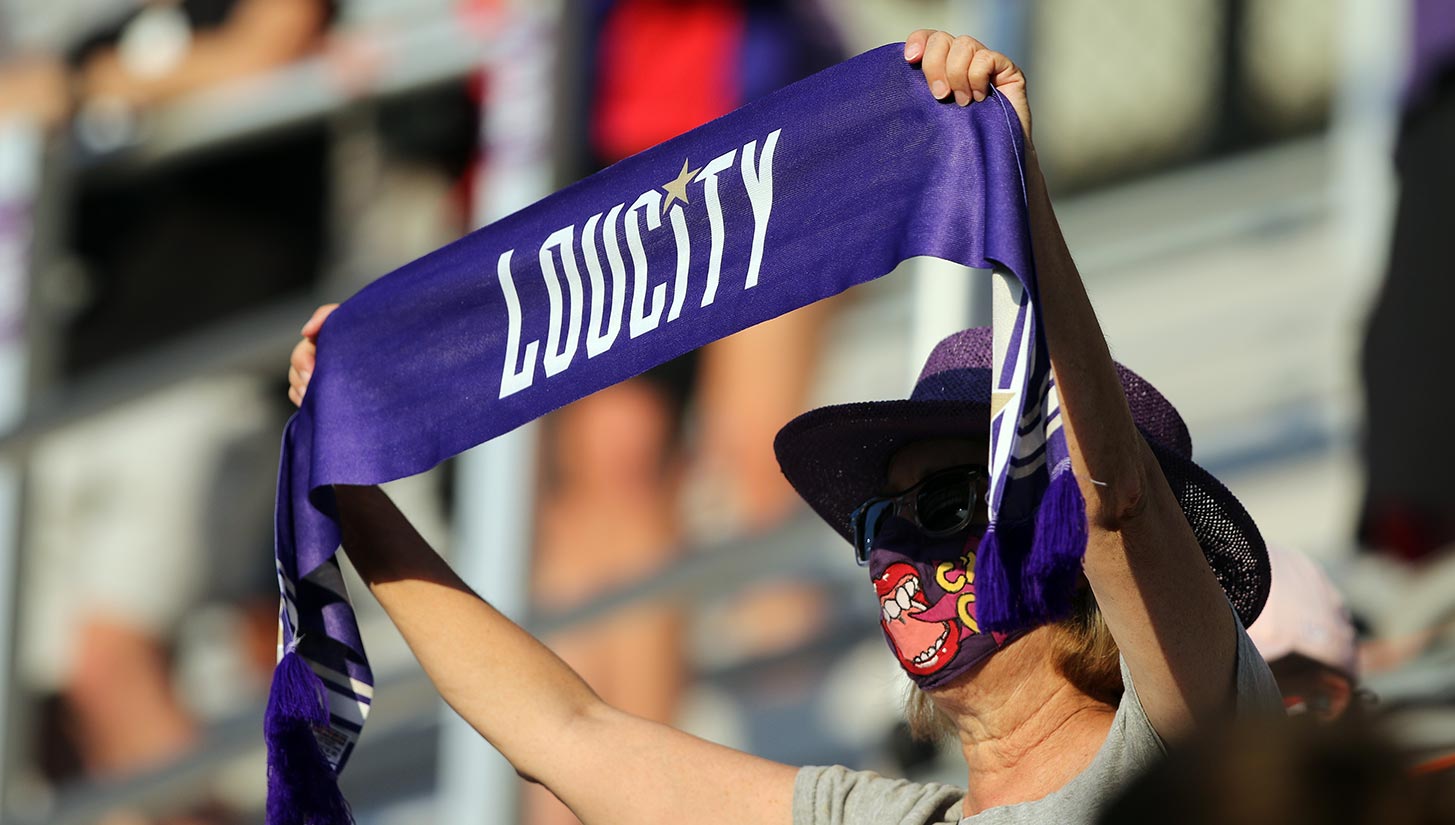 "Folks would get together at noon on a Saturday and hang out in the parking lot right by the stadium," Sorrels said. "We'd have a big tailgate because we're a college sports town and it's just part of the culture."
About a half hour before the match, the drum corps would gather and around 200 or so members would march from the parking lot into the stadium. From there, they'd line up behind the south goal and make themselves heard for 90 minutes straight. The new stadium might change up the post-match plans, however.
"After [matches] we used to go to a bar that was in the stadium, and so I'm not sure how it's going to work with the new stadium just because we haven't been able to have tailgates and marches because of social distancing," Sorrels said.
The Coopers aren't the only supporters' group in town by the way. The LouCity Ladies join The Coopers in Estopinal End, while The Sheep's Pen and Scouse's House set up behind the opposite goal in the Waterfront End.
"Most of the time everybody seems to get along and coordinate pretty well together," Sorrels said. "And [Scouse's House] just wanted to serve as their own thing, but be a complimentary piece to what we do as well. And I think the relations have always been good there."
As a result, the atmosphere created by supporters from both ends of the stadium has been phenomenal, even with attendance limited to 30% of stadium capacity due to the COVID-19 pandemic. Players and front office staff have certainly appreciated the efforts.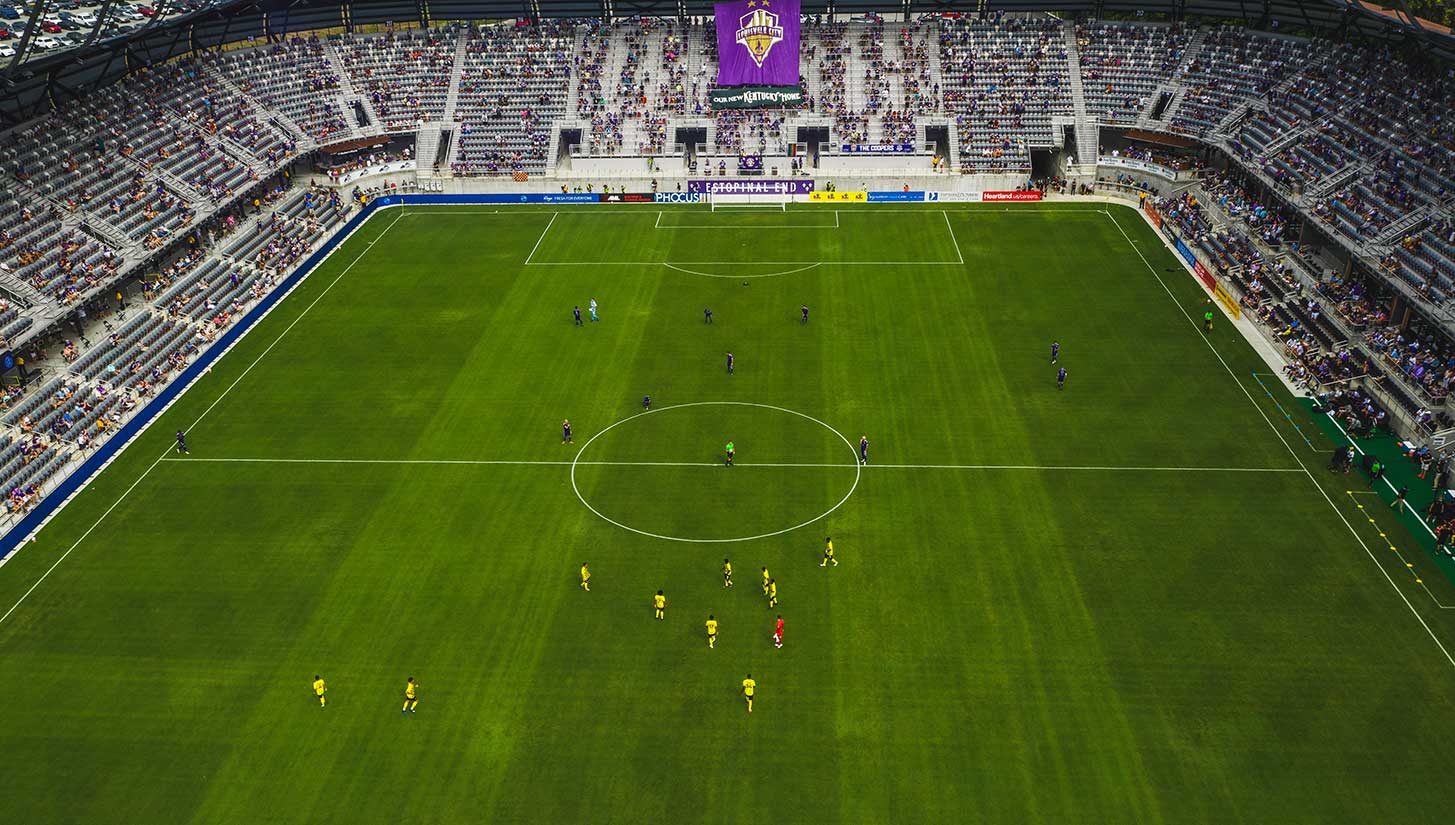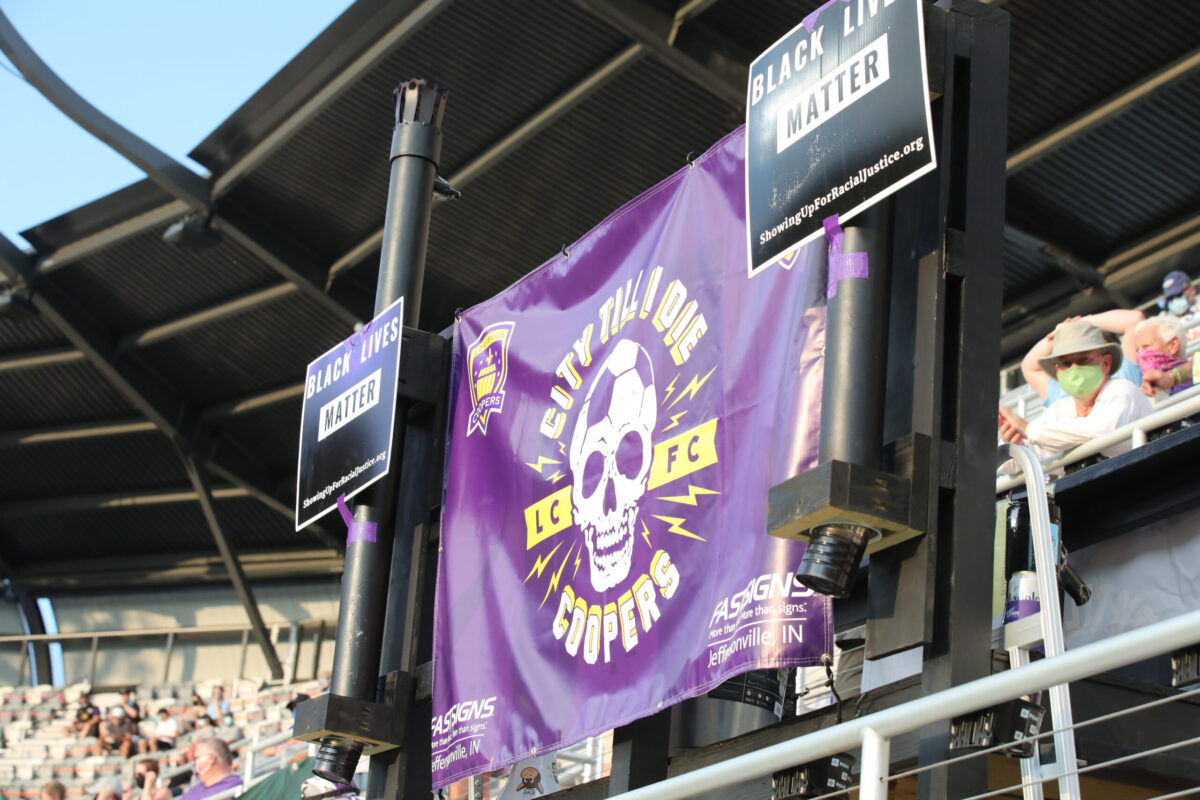 "The volume and the noise — it's like you can't use words to describe it," Estes said. "And I'm a little bit frightened to see what it's going to be like with 15,000 in there, I mean, it sounded like the stadium was going to cave in."
Midfielder Niall McCabe was in awe of the atmosphere too.
"I can't imagine how it's going to be when it's full, and hopefully it is pretty soon, but that'll give us a huge advantage on the field," McCabe said. "They were a massive help to us last year. They were the main drive to create noise in that building. And off the field, I couldn't imagine that it would be that nice."
Other USL teams have officially been put on notice: Lynn Family Stadium will be a terrifying venue to play in at full capacity.
Off the Pitch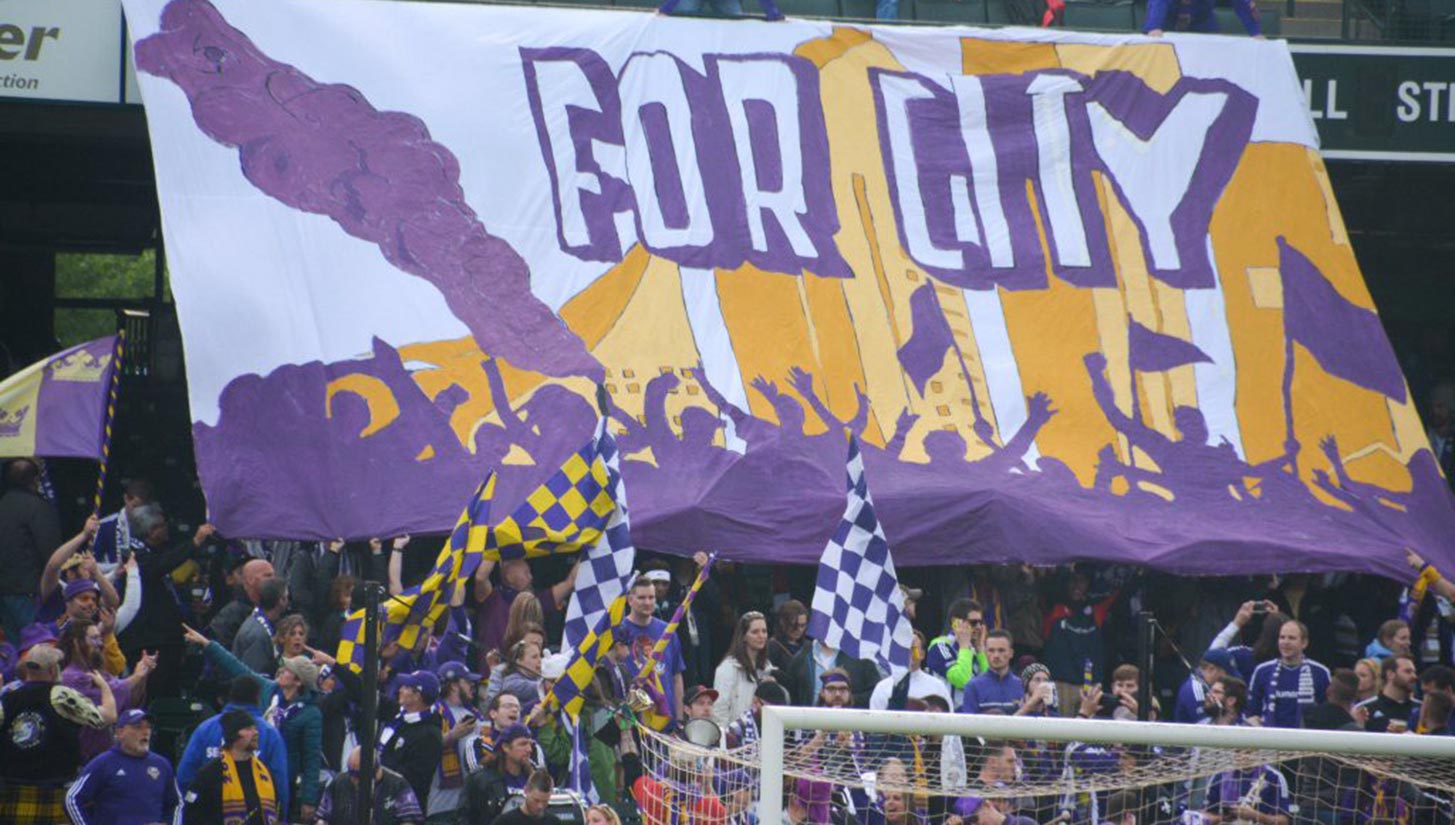 Away from the stands, The Coopers are also committed to helping out the local community. The group's charitable arm is called Angel's Share, which is another bourbon term, this one referencing the amount of distilled spirits lost to evaporation from the barrel into the air as the bourbon ages.
"We would fundraise every month, and at the end of the month we'd have a charity we would donate either money or food or clothing or whatever happened to be to that particular charity's need," Sorrels said.
While the Angel's Share couldn't do much this past year given the pandemic, Sorrels is looking forward to seeing the group back in action assisting underserved communities. The group was able to officially register as a non-profit, giving it tax benefits and more flexibility to donate with the proceeds it raises from membership sales.
The club itself also helps underserved communities in the Louisville area via a number of initiatives. Its director of community engagement works with the local community, the supporter base, and organizes non-profit efforts. The club also does camps and clinics all around the community. Currently one of the most forward-thinking things the club is doing to improve their own organization and the community at large is its diversity and inclusion committee, which is composed of people from all levels of the organization from the front office to players to coaches.
"We have a speaker series that's going on right now," Estes said. "We have an event tomorrow night that talks about social justice in the workplace." Other topics have included race in sports and race in voting.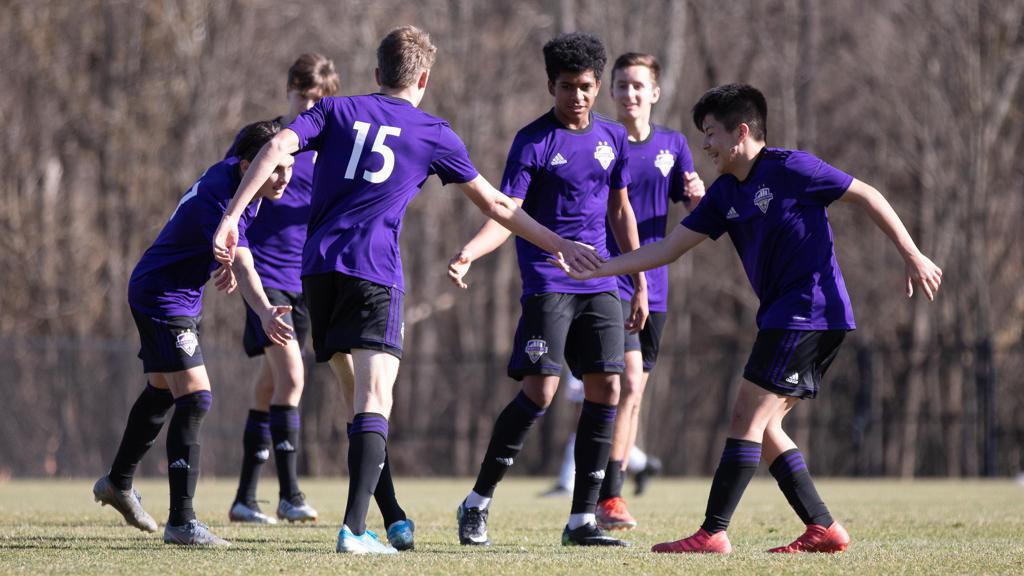 And then there's the club's new academy, which gave out $150,000 worth of scholarships to players who couldn't afford to attend this year alone. Sorrels, whose kids play for the Louisville City academy's teams, spoke highly of the experience and Academy Director Mario Sanchez.
"I have nothing but amazing things to say about him and the way that he wants to use the academy," Sorrels shared. "Which is not only for the way youth soccer programs are normally used, but also as a much more important tool in terms of outreach to underserved communities in Louisville and as a means to get those folks involved at little to no cost to them."
The club's return on its investment in the academy is already flowing in, with local midfielder Elijah Wynder recently becoming the first academy product to sign with the first team.
Another way the club is strengthening its own organizational structure and the local soccer community is the post-career pathway it's creating for its players. Striker Luke Spencer, who retired just this year, is the assistant academy director on the boys' side. And midfielder George Davis, who has more caps than anyone in USL history, will play a final season before transitioning into a soccer operations role to learn the technical side of the business next year. Several other players are already taking their coaching licensing classes right now too.
"[Louisville City] is a pathway from being an 8-year-old soccer player all the way until you retire from business," Estes said. "So, it's all about community, it's all about family. And we think if we do those things right, then we'll be sustainable for a long time."
On the Pitch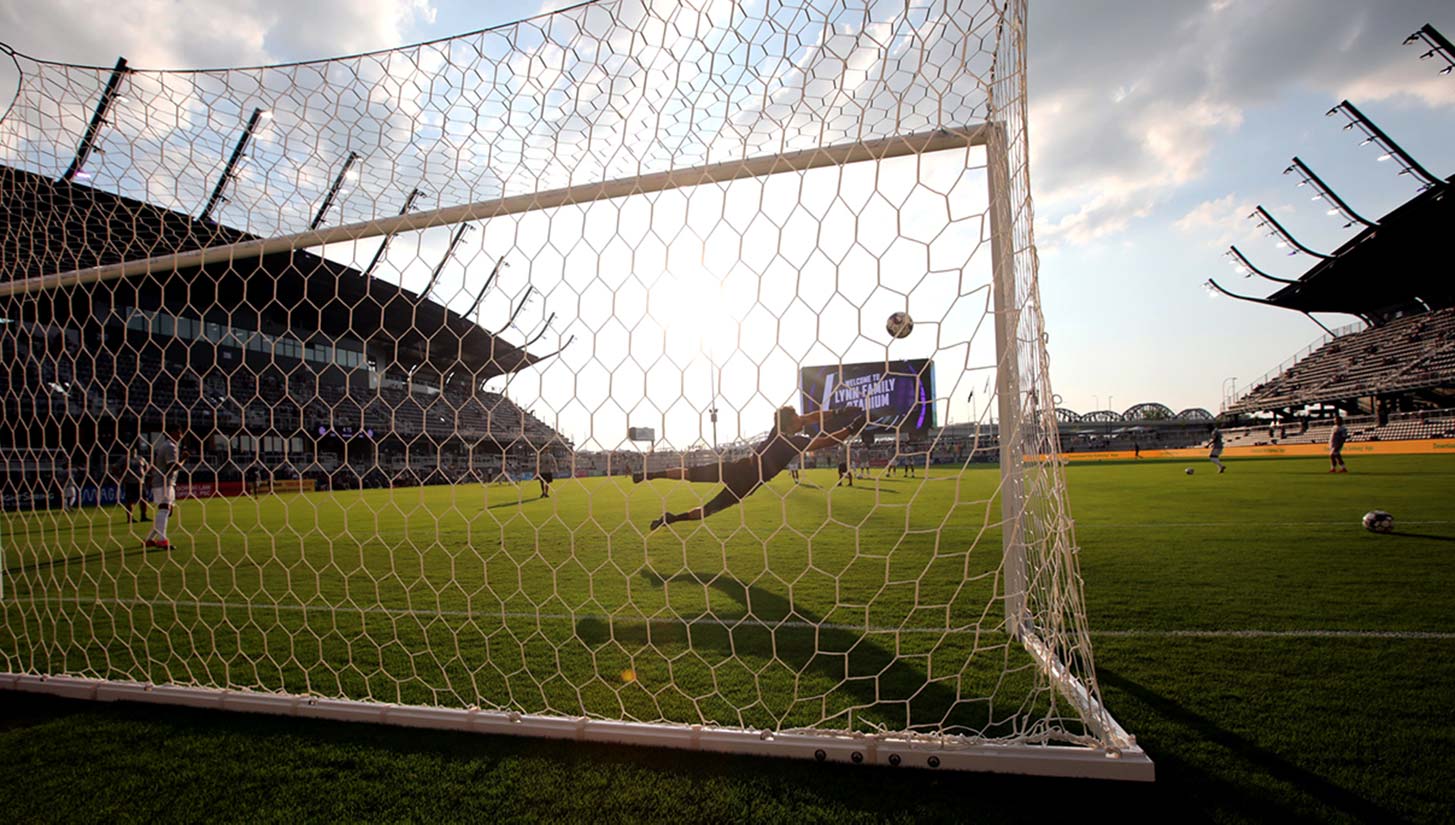 When it's time to hang his boots up, nobody will be better equipped to teach Louisville City's distinct style of soccer to the club's academy than cerebral midfielder Niall McCabe. McCabe, who was born and raised in Dublin, Ireland, has been at the club since its inaugural season in 2015 and is the most capped player in club history.
His journey to the club is an inspiring one. After high school he went to work in a factory in Dublin while he decided what he wanted to do. One day he saw one of his friends move to the U.S. to attend college and play soccer on a scholarship, and became convinced he could get one too. McCabe ended up at Young Harris College in Georgia, a small liberal arts school with an NCAA Division II sports program.
"Coming over and playing football and being able to combine [school and soccer] was an amazing experience and something I would have never gotten if it wasn't for football, so that was probably one of the best decisions I've ever made to be fair," McCabe said.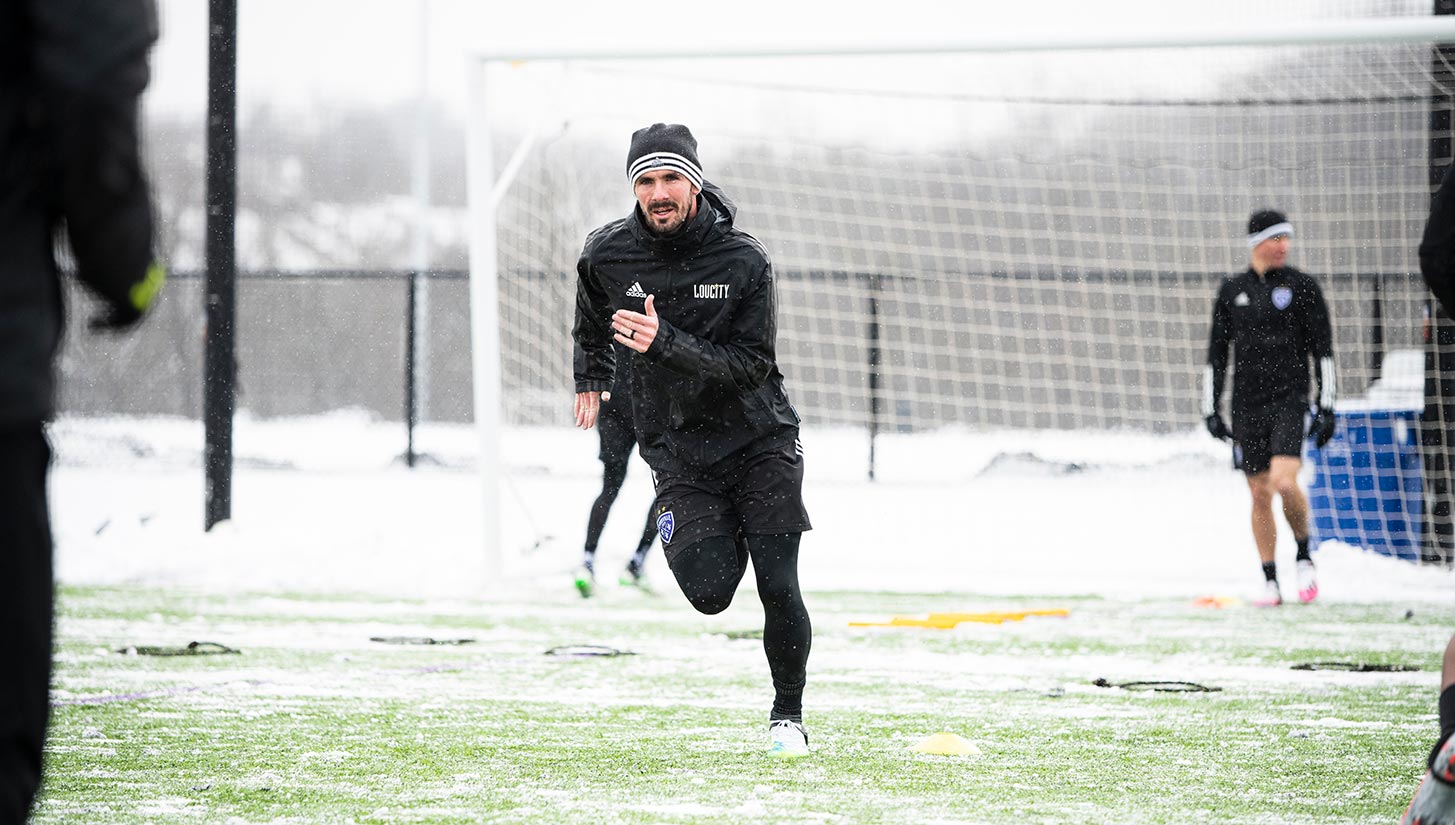 After his college career, McCabe wanted to continue to the next level. After an unsuccessful trial with the Richmond Kickers, he heard about a new USL franchise in Louisville that was building a team from scratch and holding a tryout. Looking to bounce back from his rejection in Richmond, McCabe was elated when he found out he'd been offered a contract.
"I was only too quick to accept, and I was thrilled just to get my foot in the door at the professional level," McCabe said. "It's something I've dreamed about doing since I was a kid."
As for McCabe's play on the pitch, he's very comfortable on the ball in possession, can create chances, and occasionally bangs in a few goals.
"I have an incredible engine, it's the thing coaches liked about me," McCabe said. "They knew every game I'm covering 13-14 kilometers. I just know where to start the play I guess. When we have the ball be comfortable, when we don't have it, work your ass to get the ball back."
At age 30 he's a veteran now, but he still feels like he did as a rookie trying to prove himself. However, McCabe has noticed how his role within the locker room is starting to shift. Players and coaches alike are now turning to him for his opinions and thoughts about certain aspects of the game and team. He admits it's a role he's still adapting to because he's more of a lead-by-example type of player.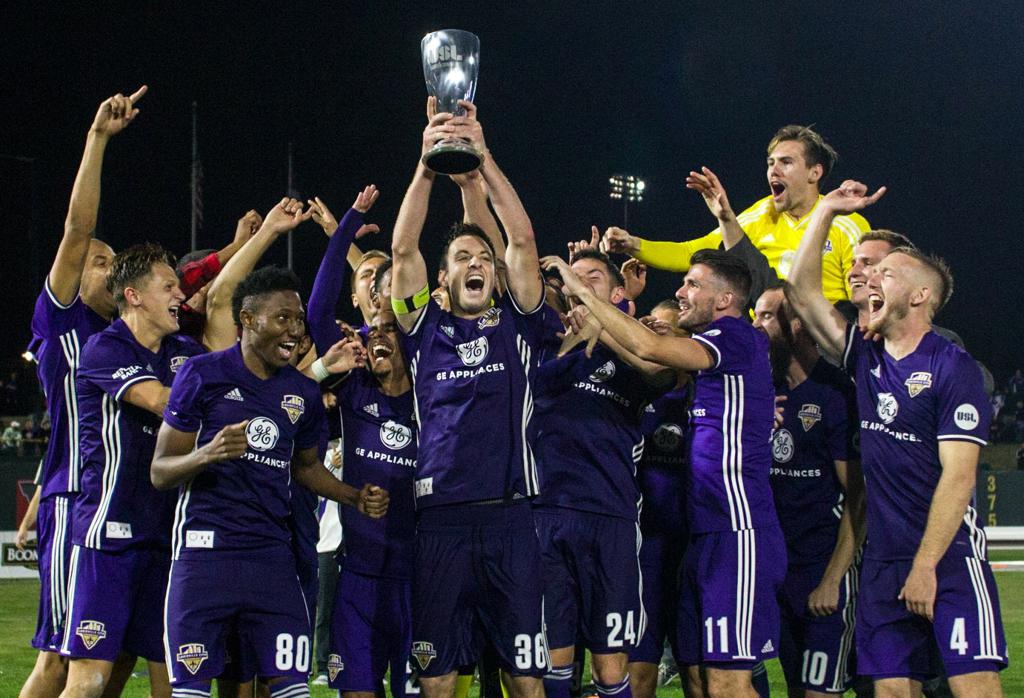 LouCity's sustained success over the past few years has hardly been a secret, and a big part of that has come from the lack of player turnover from year to year — McCabe being the most stark example.
"Players get to learn pretty quickly how it works, and then they just become part of the furniture almost," McCabe said.
After winning back-to-back USL titles in 2017 and 2018, the club fell short of its lofty goals in 2019 and 2020, though those respective campaigns were far from unsuccessful. It lost in the USL Championship Final in 2019 to Real Monarchs SC, and in 2020 it dropped its conference finals match against the Tampa Bay Rowdies. Lessons learned from those tough losses mainly informs the club's mentality these days.
"We were going for four finals in a row and came up short," McCabe said. "Just a collective hate of losing, it drives you on. We came up short in 2019, a game that we should've won, and I learned more about that game than probably the other two or three seasons."
To no one's surprise, Louisville City has gained a lot of haters over the years playing with a little nasty streak and winning a large percentage of its matches. The club has amassed three main regional rivalries with FC Cincinnati, Saint Louis FC, and Indy Eleven. Personally McCabe misses the atmosphere from the home and away matches against Cincinnati, which ended when the club moved to MLS in 2019.
"I think when Cincy was in the league, that was the big one," McCabe said. "Those games were probably the most intense. They were probably the best quality games that I played in."
After FC Cincinnati left, McCabe's favorite rivalry became Indy Eleven due to the close proximity between the clubs both geographically and in the table.
This year looks to be a revenge tour of sorts for both LouCity and McCabe. Last season the club narrowly missed its fourth USL Championship final in a row, and McCabe went down even earlier in the year with a broken foot, ending his season prematurely.
"Me personally, I'm looking forward to getting back playing," McCabe said. "Our team expectation is for us to go all the way. Anything less is a failure. It's just the way we are. If we don't win, it's not a success."
Photos courtesy of Louisville City FC. Be sure to follow Louisville City FC on Instagram and Twitter, and shop the team merch line via its online store.