With some of the world's most iconic shirts over its storied history, we take a look back at the 10 best Arsenal kits of all time. 
With the holiday season approaching, Arsenal and adidas decided to turn back the clocks by bringing back the vintage 1993-94 kit, one of the finest designs from the EQT range.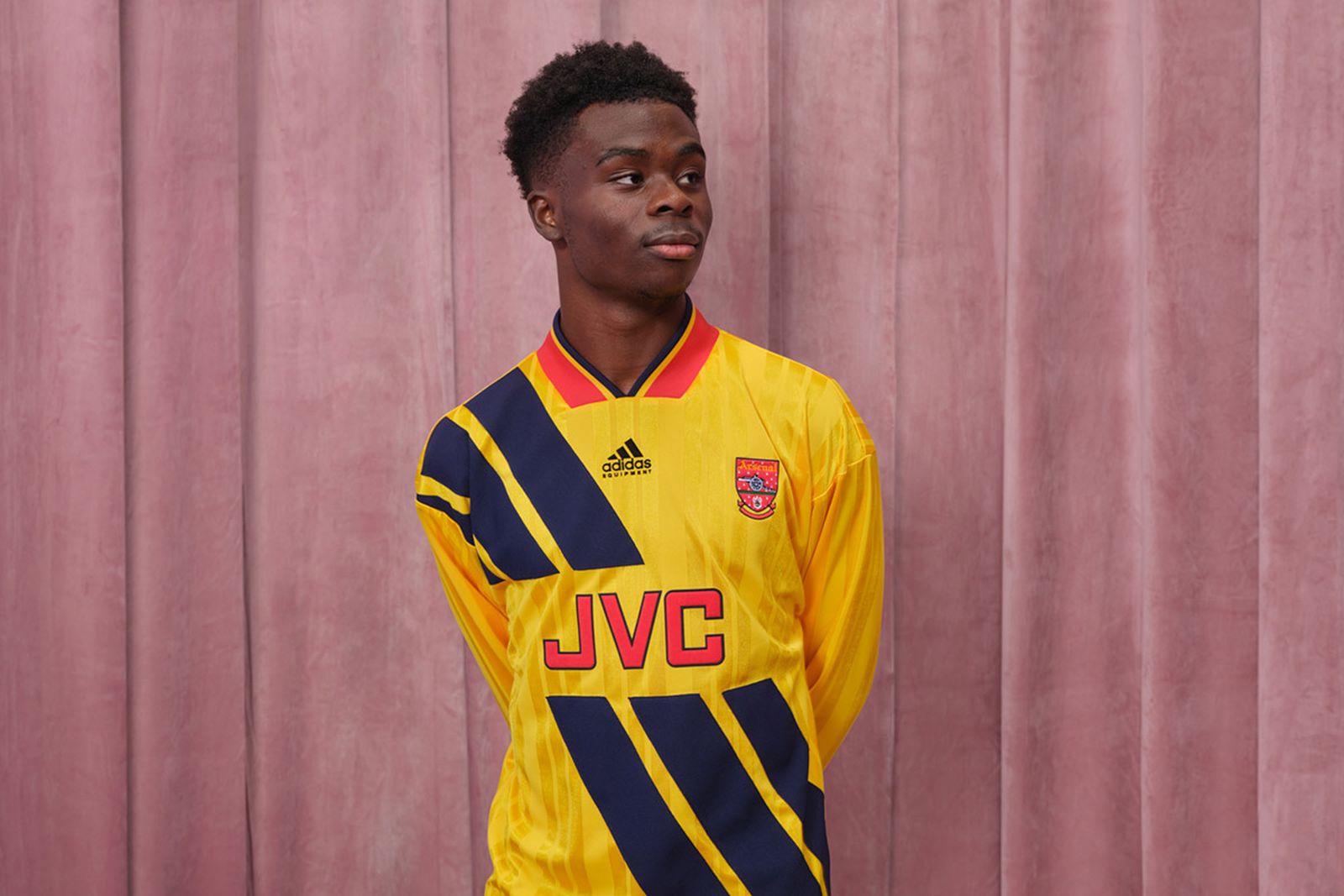 As we were smitten over this enviable collection that featured the kit, sweater, zipped jacket, and tee, we thought we would rank Arsenal's 10 greatest ever retro kits. Taking both history and just sheer aesthetics into consideration, we dove head first into what's surely been the topic of many a heated argument.
10. 2007-08 Third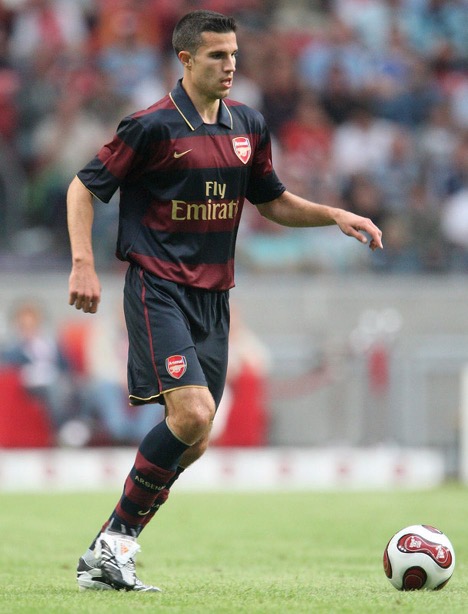 Arsenal's 2007-08 third strip is perhaps the most forgotten kit in their illustrious shirt history. Considering this jersey was barely worn in competitive fixtures and harkens back to a time that featured a baby-faced Robin van Persie looking about 10 years old, it's understandable.
But the kit itself is gorgeous. The claret and navy blue color scheme truly is a winner. You're probably looking at the shirt but you won't see a flyer pair of socks in your life, without question.
And the gold Swoosh is neater than Cesc Fabregas' first touch. Perhaps the finest detail on this kit is the gold element that underlines the collar to add that special sauce to a scrumptious number. The hype should be real about a kit that is way too slept on.
9. 2004-05 Home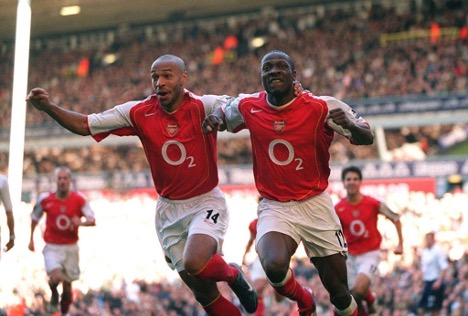 Arsenal's 2004-05 home kit may just seem like any other at first sight. But not every design needs to scream Met Gala all the time. Simplicity never goes out of style, and less can sometimes be more.
The recipe behind designing a cracking home kit is to realize that you can't always go Jackson Pollock, considering it is key to retain the club's primary colors. But that doesn't also mean that the design team packs it in and comes up with something like this year's Spurs home kit.
And Nike certainly struck that balance with this strip. The yellow piping seems like a minor detail but subtlety speaks volumes in trying to make a home shirt stand out. The Arsenal logo being placed right at the center of the shirt pays homage to an emblematic feature that defines retro kit design. And the O2 sponsor is just so Thierry Henry.
To the point where you associated O2, the telecommunications company, with Titi opening his body to caress the ball into the bottom bins. If a kit has the power to do that, it belongs in any top 10.
8. 2005-06 Away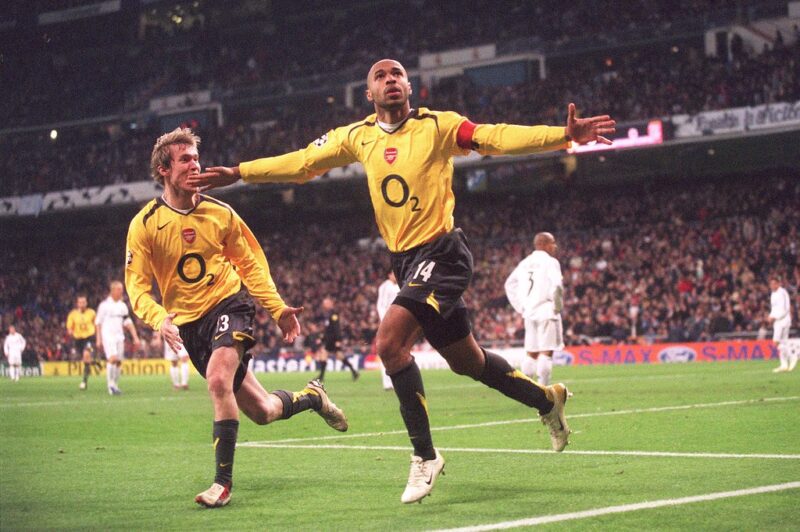 Straight from the Total 90 era, Arsenal's 2005-06 away kit transports any Gooner to better times.
While it fits the trademark template for any Arsenal away strip, we're not sure if it's the black borders and the O2 badge, Henry's long sleeves, or his iconic goal at the Bernabeu that made us fall in love with this kit.
Maybe it's a bit of everything that makes this kit so special because the nostalgia really hits different with this one.
7. 2000-2002 Home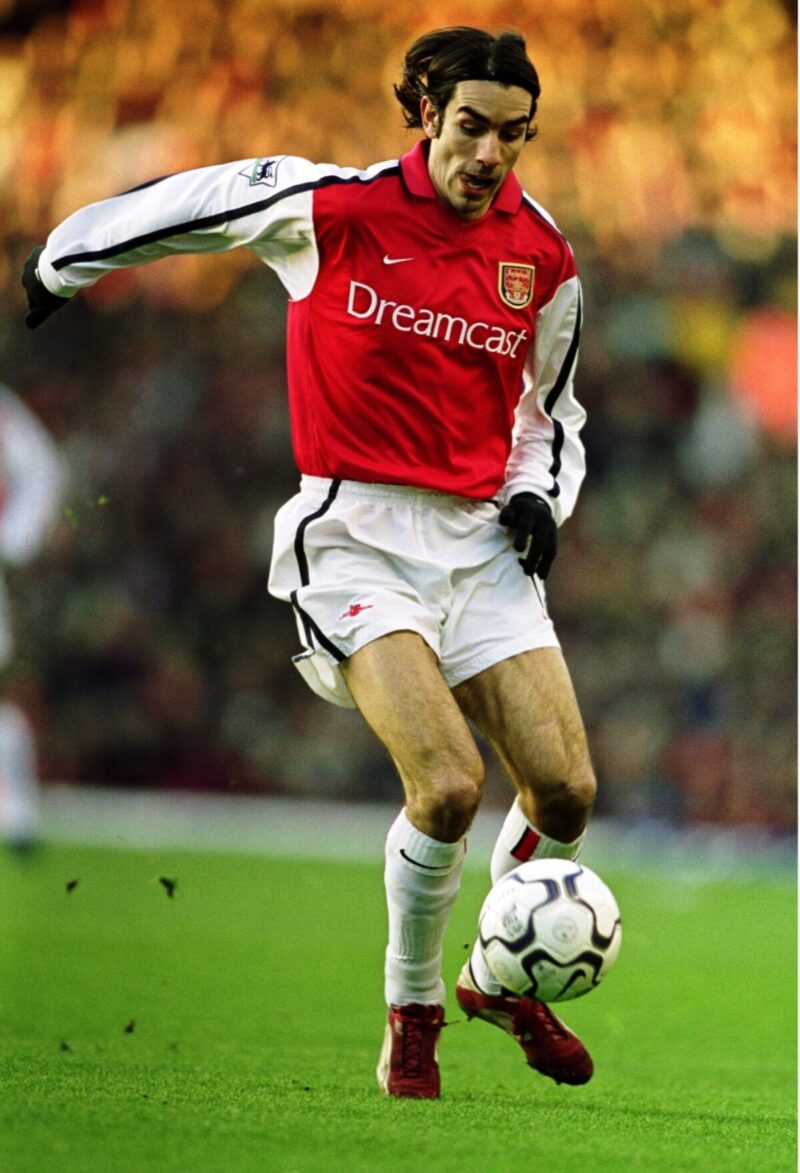 One of the Nike era's most adored Arsenal kits, the 2000-2002 home kit is simply sublime. The navy blue stripes, seen on the sleeves as well as the shorts, adds an element of elegance to this kit to the extent that you'd consider wearing it to someone's wedding. This very Arsenal crest was introduced from 1996 to 2001, during an era where badges were sewn into shirts rather than casually plastered using plastic.
And of course, we can't let the cannon on the shorts go unnoticed, which caps off a belter of a kit. Especially when a king like Robert Pires decides to bring out the full sleeves and black gloves combo, just to further emphasize the point that he both looks and plays better than the rest of us.
So good, it's unfair, much like this kit.
6. 1995-96 Away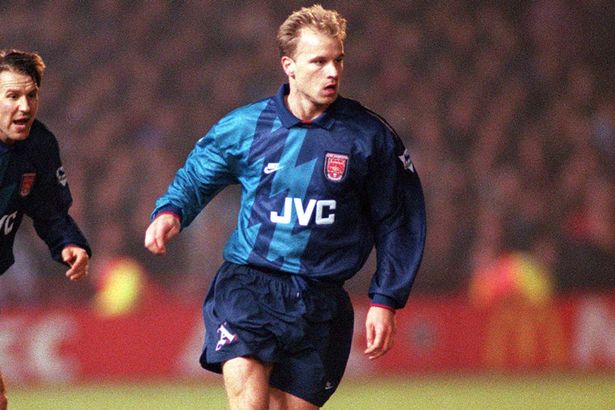 It's strange how a number this out there is one of Arsenal's most underrated retro kits of all time. But that may be the case because this Gunners away strip was considered an acquired taste from the day it dropped.
Firstly, the then-Highbury faithful were raging about the fact that this particular away kit didn't fit in with the tradition of always being yellow up until that point. Alright sure, it's slightly silly to be triggered by the color of a kit, but considering PSG fans staged a protest against the lack of a center stripe on this season's Air Jordan home kit, tribalism over the trivial details is what being a football fan is all about.
Moving forward, this strip is based on its predecessor, as Nike chose to rewrite history with a fearless design. Only in this case, the shirt isn't plastered by tiny lightning bolts all over, instead choosing to make a statement with just two.
Add to that, this kit features the OG mid-90s Arsenal crest as well as a JVC sponsor — two essentials behind a classic Gunners kit.
The unique Arsenal badge on the shorts gives this kit a touch of class that you're likely to see on a club suit. And as iterated before, the innovation behind this kit alone makes it one for the ages anyway. A cult classic that deserves its flowers.
5. 1997-98 Away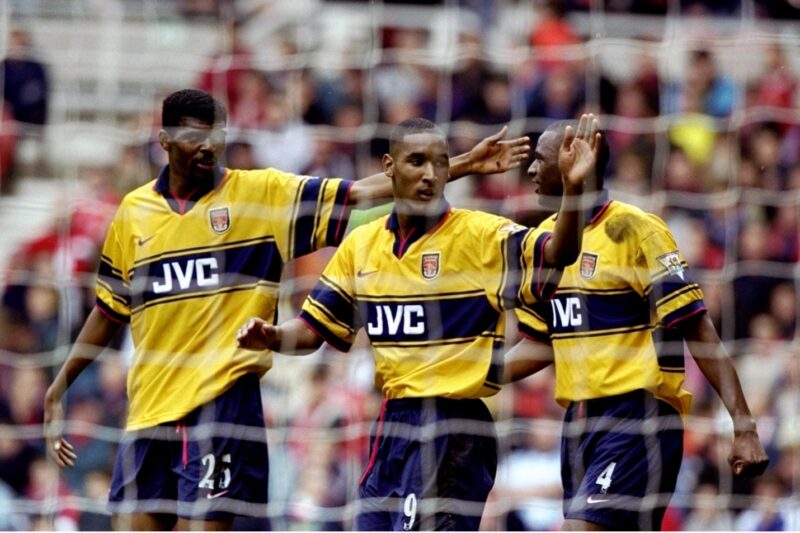 As far as traditional Arsenal away kits go, the 1997-98 iteration may be the club's finest creation. A strip that aligns with the heritage of yellow away kits while being a sight for sore eyes.
Nwankwo Kanu, Nicolas Anelka, and Patrick Vieira, amongst an elite bunch of footballers rocked one of the finest kits in the land while sweeping teams for fun in Arsenal's double-winning season.
No kit during the JVC era has ever made the legendary sponsor pop like this classic, with the navy blue element really making it stand out. The baggy fit is a nod to the era of design it existed in, when kits weren't supposed to be muscle fit and footballers had breathing as an option.
From the outline of the collar, the Swoosh, and the shorts' drawstrings, a dark red theme aligns which is an elegant touch for a kit that really is an excellent advertisement for why retro kits will always be unmatched. But this joint would've been a tidy drop in any decade.
4. 1992-1994 Home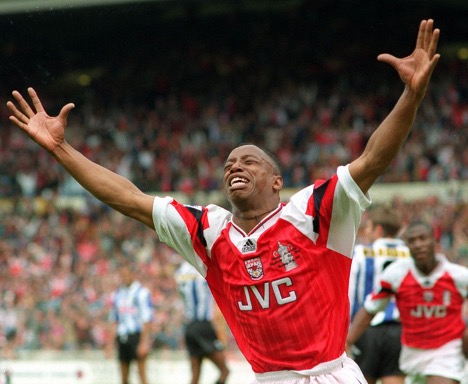 This Arsenal kit is so much more than just a shirt and pair of shorts. The roots of what makes this club an institution of English football is sewn right into this very fabric.
The Gunners first adorned this classic in the 1992-93 season, the birth of Premier League football. The JVC era was more than a decade in, a span that also signaled Arsenal's gradual rise in the English game, particularly during the George Graham reign.
But it's right above the JVC sponsor where this kit really makes a statement. The old-school Arsenal crest at the center of the shirt will always remain a favorite and is a touch that more designers need to bring back when conceptualizing the makeup of modern kits.
And Arsenal's emblematic slogan, "Victoria Concordia Crescit," Latin for "Victory Grows Through Harmony," placed right under the crest ties in perfectly with the "Mountain" adidas logo on that stunning neckline.
The Prem wasn't kind to Arsenal as a 10th-place finish stared at a club that had come off the back of finishing fourth in the final season of First Division football. But in case you were unaware, the adidas "Mountain" logo stands for "overcoming challenges and pursuing your goals no matter what."
Ian Wright nearly bursting into tears in the FA Cup final is a reflection of this very sentiment, considering that Arsenal bounced back to win a cup double that season.
3. 1991-92 Away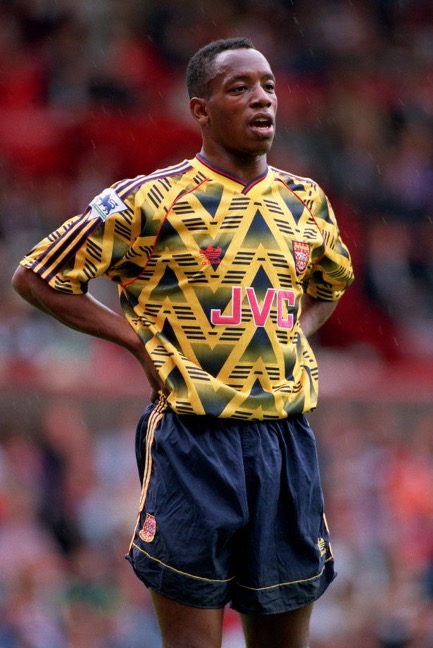 "You're thinking it's going to be something normal and all of a sudden, adidas came out with this. We thought when it first came out people are going to laugh at us in this. I look back now and I look at the pictures of when we were playing in this kit; it's brilliant and the pictures are fantastic."
While visiting the Classic Football Shirts warehouse to film a YouTube video for his channel, Arsenal legend Ian Wright summed up everyone's thoughts at the time when catching their first glimpse of the Bruised Banana kit.
Back in '91, it almost seemed impossible for people to make up their mind about whether this was an unreal kit or an obnoxious attempt at trying to be different. Three decades down the line, everyone's unanimous in putting respect on adidas' name for this one.
Little known fact — this phenomenal number fit in with adidas' 'Italia' kit template, with the likes of Spartak Moscow and River Plate rocking the whacky sliced triangles that zig zag all over as well. It's this pattern that makes the Bruised Banana one of the most recognized kits of all time.
The adidas trefoil logo is perhaps the brand's most easy on the eyes, and in red, it matches with the JVC sponsor, the OG crest, the piping across the shirt, and the outline of that cracking neckline.
The 2019-20 season saw a remake of this classic kit and despite a terrific attempt, the Bruised Banana is "futbol heritage," quoting Jose Mourinho. Calling this iconic doesn't cut it.
2. 2001-02 Away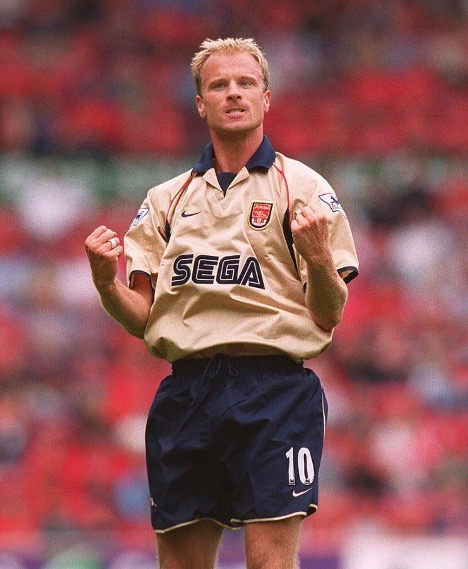 Having SEGA on your kit is a flex for the history books. The JVC era had come to an end, but Arsenal's alliance with SEGA is a move that stands the test of time, right alongside Napoli and Mars or Fulham and Pizza Hut just being iconic for the sake of it.
Nike understood the assignment with the design for this strip, going for the gold away kit which was as luxe as the football the Gunners played that season, cruising their way to a domestic double.
The navy blue that accompanies the gold color is what Dennis Bergkamp was to Thierry Henry. A subtler, more understated version of the same brilliance. The navy blue in the shorts can represent how the Dutchman ran the show while the Frenchman, much like the element of gold, is that final touch that finishes off a sublime creation.
And speaking of the importance of subtlety, it's the minor, yet crucial touches to this strip that give it a special edge to this day.
From the element of navy blue on the sleeves as well the Swoosh to the red piping on the shirt that can be assumed to be an ode to the club's primary colors — the devil's in the details and Nike went satanic for this one.
If the Ice Man looking ice cold in this number isn't pushing you to order this off eBay, you need to have a word with yourself.
1. 2005-06 Home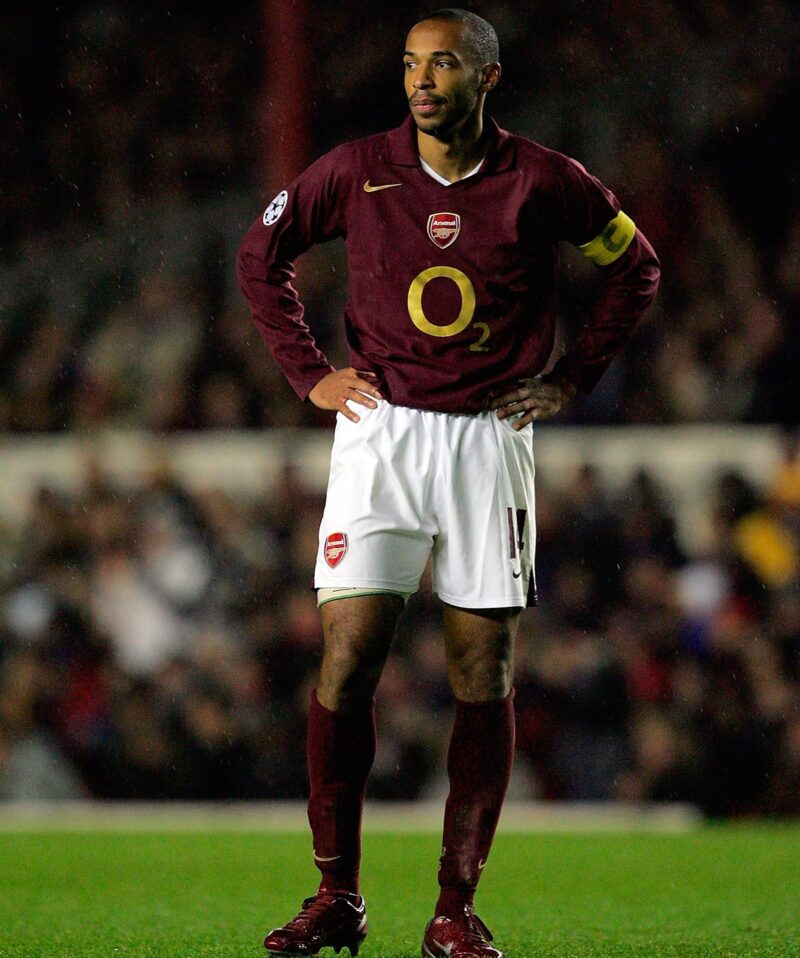 The 'Redcurrant Kit' was always meant to be ranked numero uno on this list for a host of reasons. We'd go as far to say that this was probably the easiest pick so far.
It's perhaps the only Arsenal kit in the modern era that doesn't feature the club's primary colors. The origins of the story go back to 1895, a time when the club didn't have actual team colors yet, let alone a kit. And to make matters worse, they lacked the funds to be able to design a brand new strip.
This prompted a number of Arsenal's new signings, who had been signed from Nottingham Forest, to ask their former employers for a favor and send over their dark red shirts for the Gunners to wear. As Highbury became their newfound home in 1913, this very fabric is what was worn from then on.
In 2005, the club was playing its final season at a stadium that had been its home for over 90 years. Arsenal decided to ditch their primary red and white colors in favor of the deeper burgundy hue to commemorate Highbury all season. Fun fact: Henry and Pires' infamous botched penalty happened in the "Highbury Kit" as well.
Now that we've touched on the historical side of this number, can we appreciate how glorious it is?
An effortlessly stylish kit that's lush enough to rock on a date and simple enough to put a sliding challenge in. Once again, crests in the center of a shirt never fail. A pair of white shorts with the Swoosh and the number in burgundy may seem basic, but the intention isn't to try to impress.
Instead, it was a celebration of the things Highbury stood for: class, history, and legacy.
And it's done so to a tee, considering this very fabric is being hailed a decade-and-a-half later.
What is your favorite Arsenal kit of all time? Let us know in the comments below.