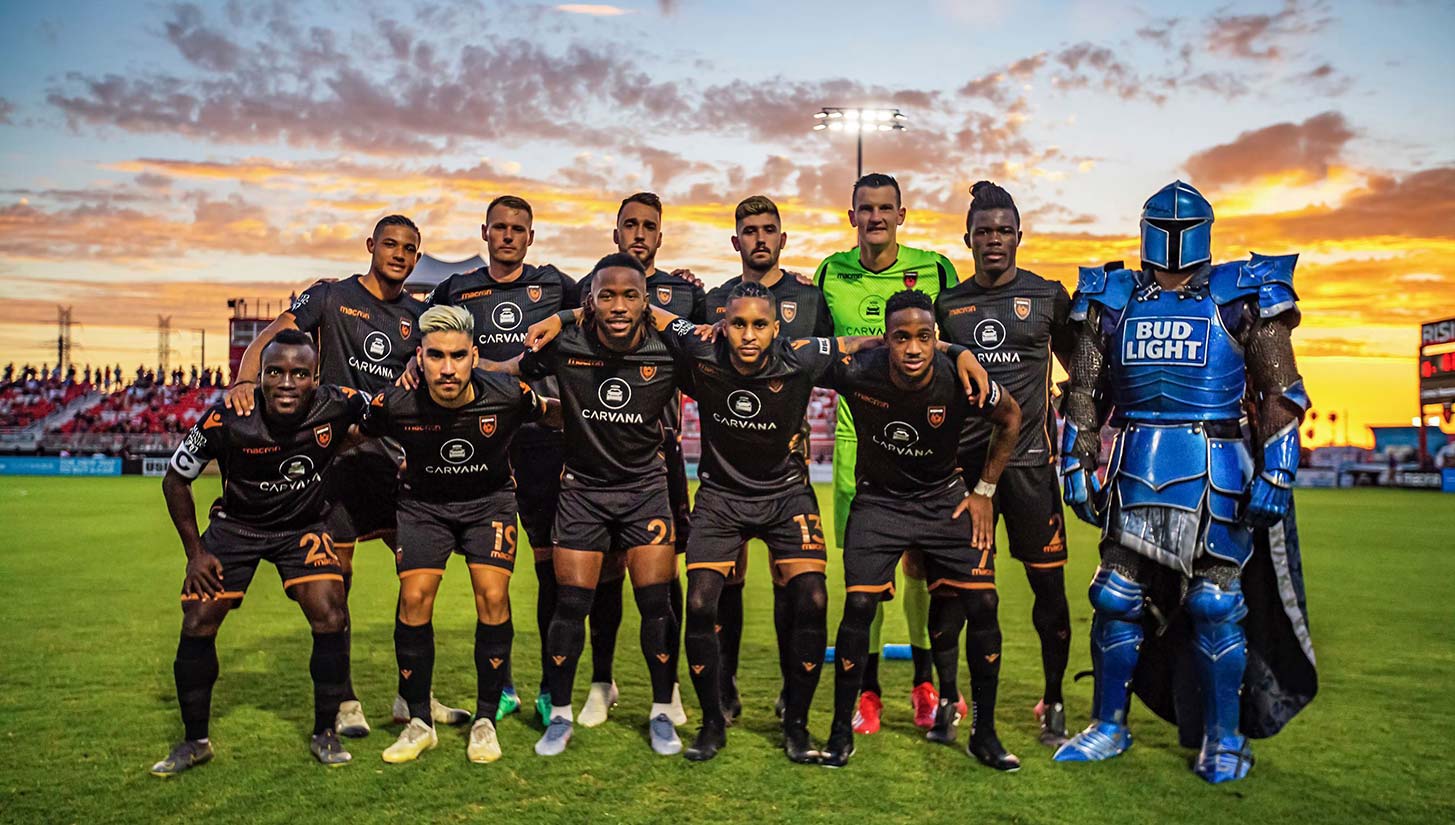 Highlighting the most compelling lower division teams in the United States, our Descending the Pyramid series continues with Phoenix Rising, one of the most dominant teams in the USL Championship. 
Not many teams in American soccer have the advantages Phoenix Rising FC has. When the club needs help understanding player operations or contract discussions, they can tap into former professional baseball player Brandon McCarthy. If the club wants to improve their knowledge of live events, they can call up world-renowned DJ Diplo or Fall Out Boy's Pete Wentz. Should the club want to study new training techniques and tactics and see how a top club operates, they can ask Didier Drogba to arrange an offseason trip to Chelsea.
The club's current ownership, filled with entertainers, athletes, attorneys, restaurateurs, and financiers, brings these benefits to the table in spades. But it hasn't always been like that.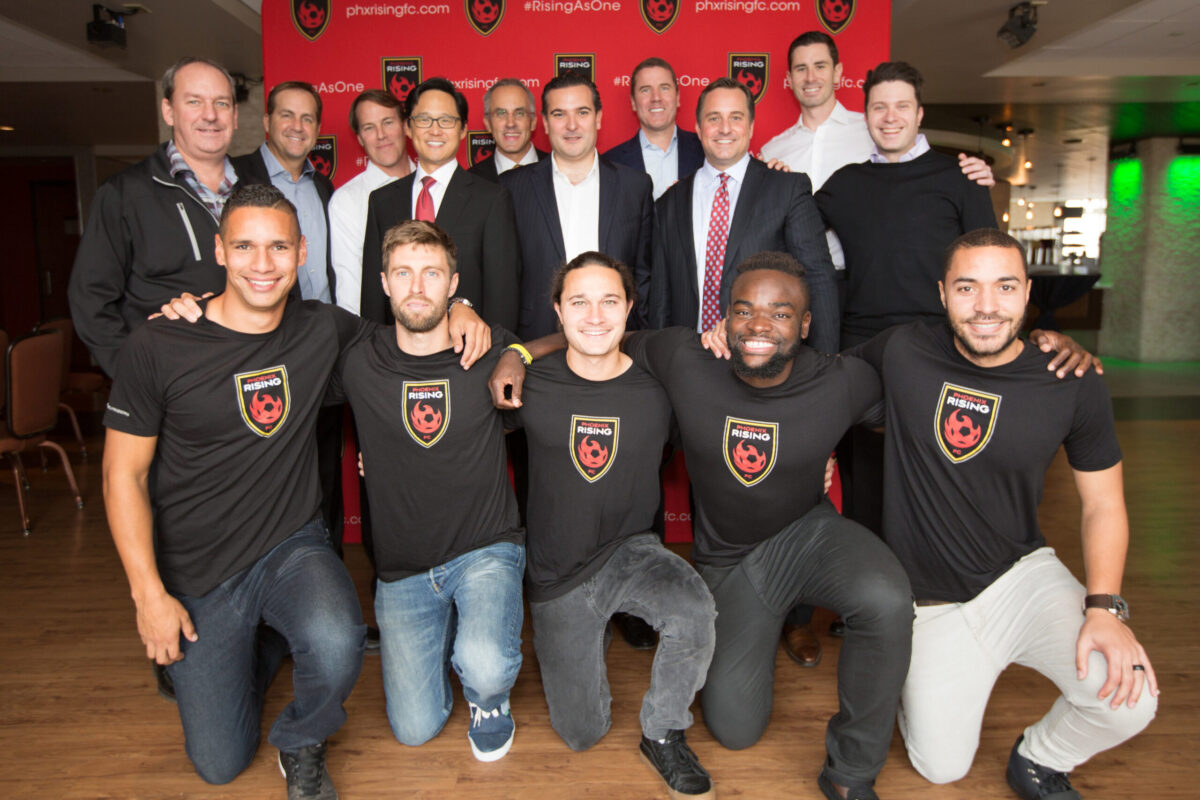 Back in 2014, a different ownership group founded the club under the name Arizona United in the USL Pro league (now the USL Championship). In three seasons as Arizona United, the team played lackluster soccer, failing to make a single playoff appearance. With the club's home matches bouncing back and forth between Peoria and Scottsdale, attendance and fan support were minimal.
Between 2016 and 2017 though, the new ownership group took control of the club, ushering in a new era of professional soccer in Arizona. This is the story of Phoenix Rising FC and how they went from a foundering franchise to a USL giant in the span of just a few short years.
The Foundation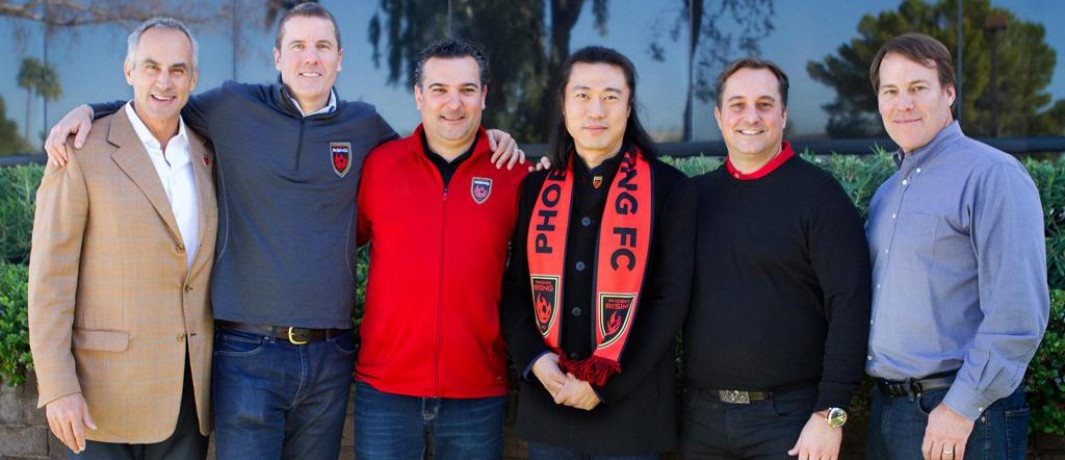 From the very beginning, the new ownership group wanted to do things the right way.
"One common theme with all of them is the passion for the sport and a tie to Arizona," Phoenix Rising General Manager Bobby Dulle said. "We laid down a mission to unite Arizona through the game of soccer and represent Arizona's diversity as we come together to rise as one."
While the new ownership carried over the previous one's understanding of the market's potential and their passion for the sport, Drogba, one of the most recognizable footballers of all time, gave the club instant credibility. He finished his career in Phoenix as the sport's first ever player-owner, which among several other factors, immediately helped the brand. It also ratcheted up expectations as the team vied to be the next MLS expansion franchise, something the club still has interest in.
"We want to take soccer to the highest level here in Arizona," Dulle said. "We'd like to be the gold standard no matter what league we're in. We have a lot of ambition as a club, and we're going to see how far we can take this thing."
With celebrity ownership and MLS aspirations, the new management's first few moves were major. In the lead up to the 2017 season, the club completely re-branded in addition to building a 6,200-seat modular stadium on a near 16-acre soccer-specific training facility. The stadium, built for easy expansion, proved a huge plus for an organization whose previously nomadic nature limited its fan base. For the re-brand, the club tapped into the design talents of marketing guru and co-owner Tim Riester. They wanted to create a brand and culture which would last generations.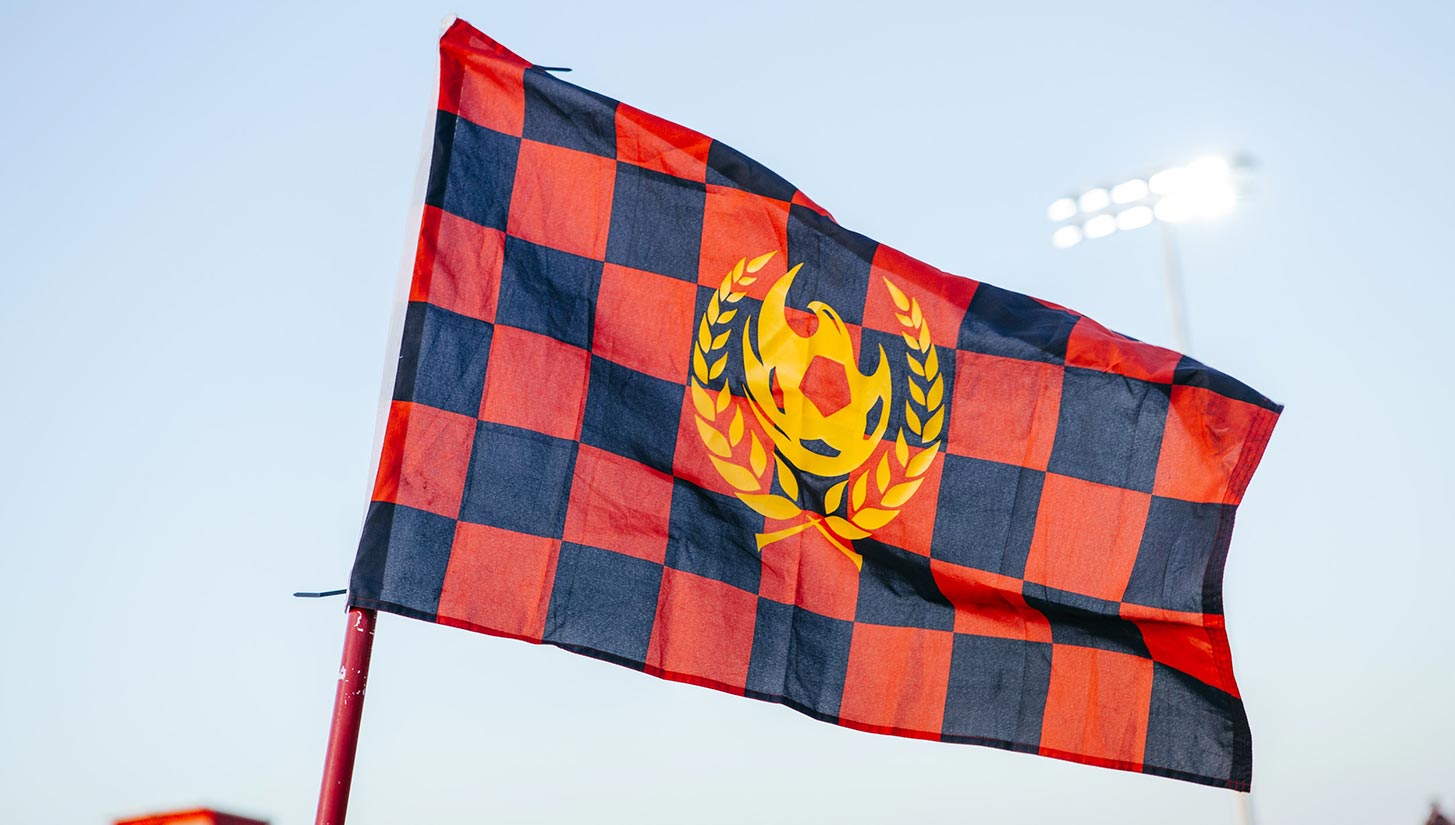 In a crowded marketplace already occupied by the NFL, NBA, NHL, MLB, WNBA, and a PAC-12 school, they needed the new branding to represent the sport while also appealing to soccer purists. The result is one of the best names and crests in all of American soccer.
"We felt that the name Rising was apropos because that's what we're doing," Dulle explained. "We're coming together, rising as one, and rising up. And there's a lot of different plays on that of course being out here in the heat in the desert and in coming together, but ultimately, it's about a community."
We'd normally roll our eyes at a soccer ball in a crest, but this one is a rare exception as it doubles as a phoenix, with the mythical bird's wing tips also alluding to fire flames to make it a fireball.
"It's a clean, crisp logo with bold colors in red and in black," Dulle said.
The Kits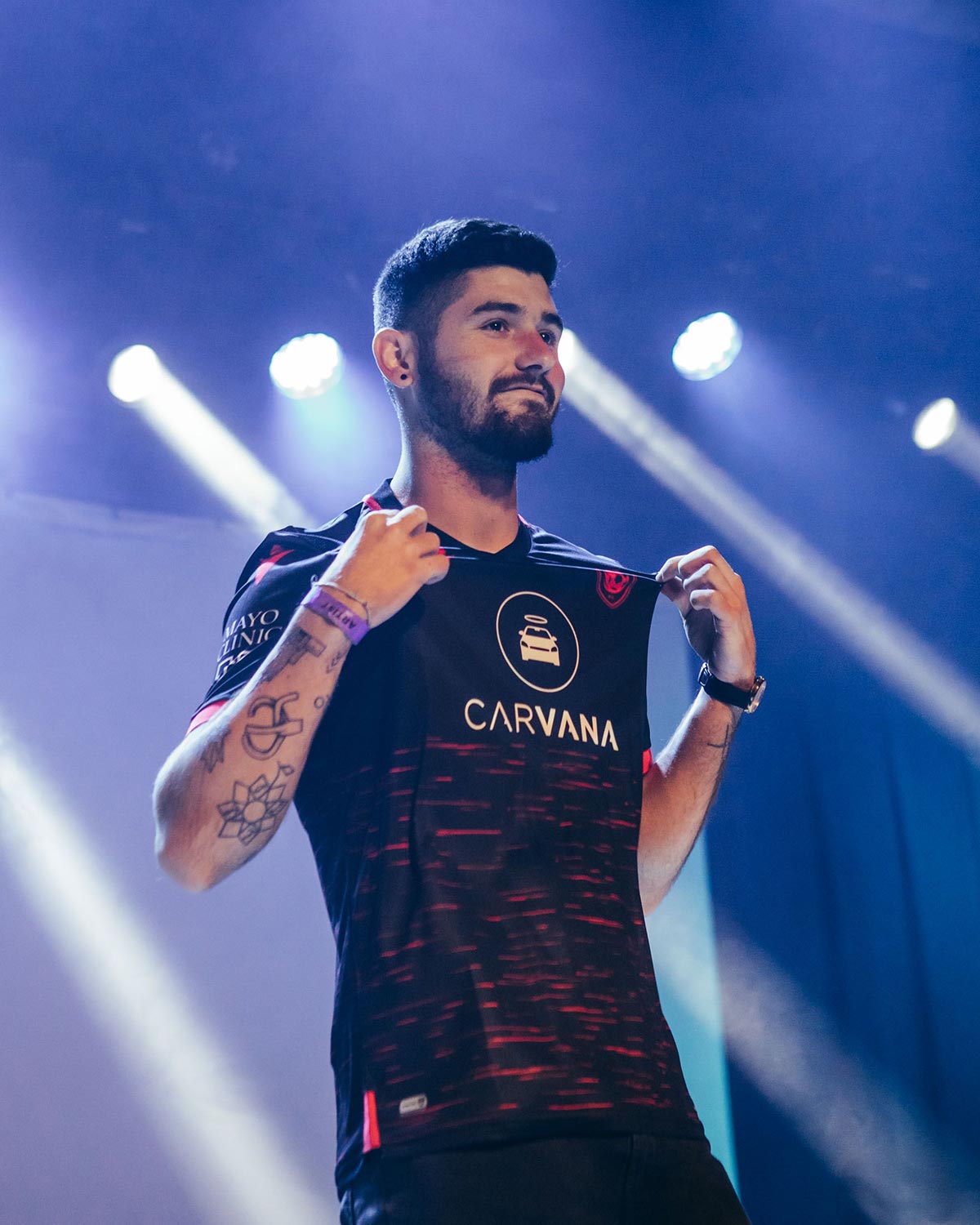 With the club doing a complete re-brand, the new management also seriously revamped their merch line.
"I'm biased of course, but I think our hat game is one of the tops in the country with what we're able to do," Dulle proclaimed.
A quick glance at the club shop's headwear section reveals an astounding 80 different items to choose from, including an unbelievably wavy bucket hat.
It's not just their hat game though. Teaming up with kit manufacturer Macron gave Phoenix Rising the creative flexibility to drop three of the most fire kits around prior to the pandemic. The club gave the Macron design team some of the core elements they wanted to see, and then reviewed what Macron came up with in-house, once again relying on Riester's eye for any suggestions and potential revisions.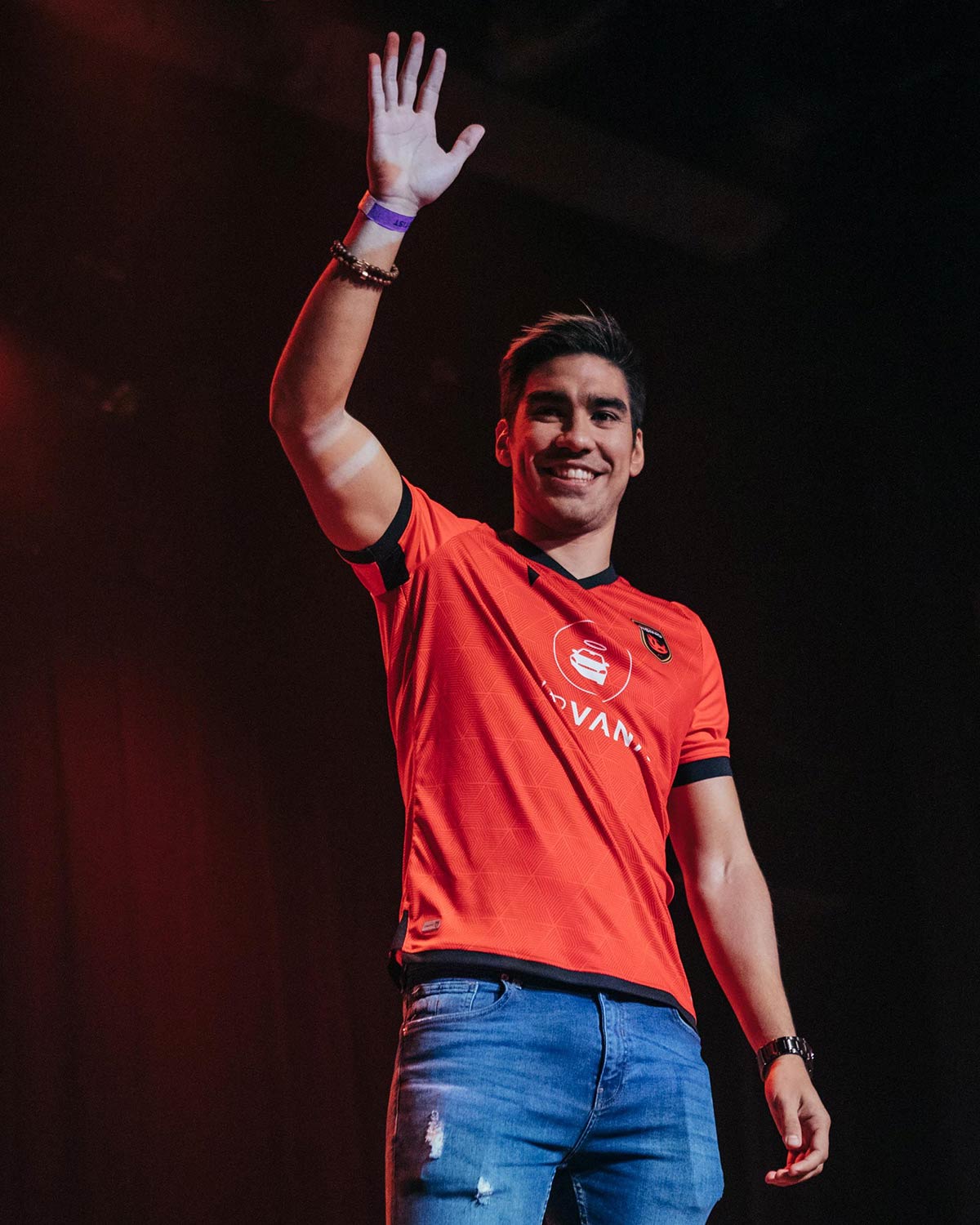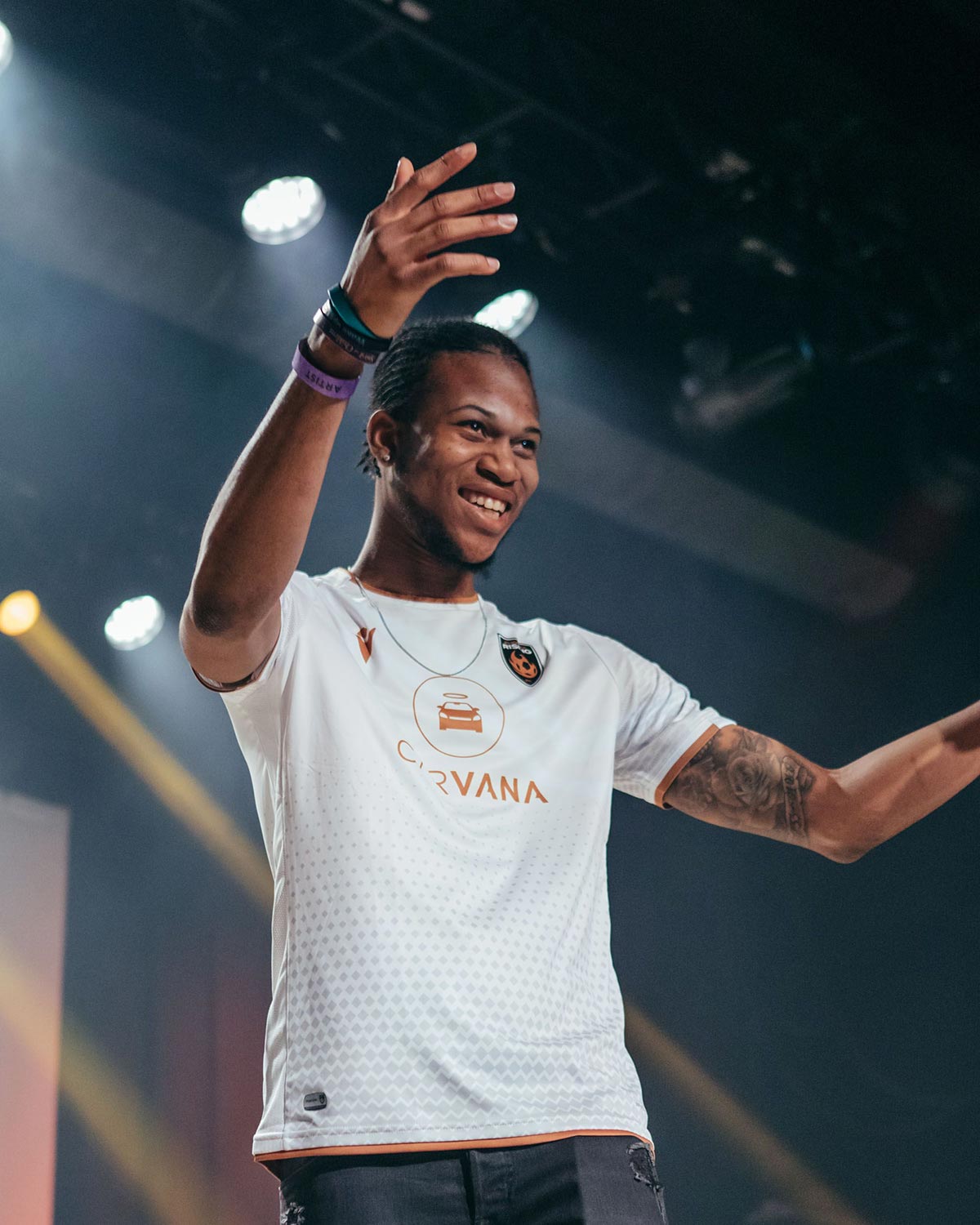 The primary focus for the club's kit drop this year was an updated white away kit.
"Last season we did a black kit and we introduced the copper color, which is representative of the state of Arizona," Dulle said. "Our mission is unifying the state of Arizona, so we wanted to see if we could incorporate all of the cities within Arizona on our white kit and call them our copper state kits."
The kit's back neckline features a full color copy of the Arizona state flag, completing the look and ensuring the players carry the state on their backs wherever they travel. The club also extended the copper state pride theme to scarves, producing their first white scarf, which includes the text of the cities of Arizona in it.
For their black kits, the club looked to a pre-game moment their supporters orchestrated last season for inspiration.
"They asked us to go dark with lights, and they rolled out flashing red lights as it was dark and our players walked out," Dulle explained. "We implemented that red highlight, that red burst across our black kits, and those became the kits that are representative of our supporters and our fans."
And then of course there's the club's red kits, which are a classic take on one of the team's core colors.
"There's a big appetite for just red jerseys," Dulle said. "We see that in our merchandise sales and our success over the past couple years that people are interested in a red kit."
The Fans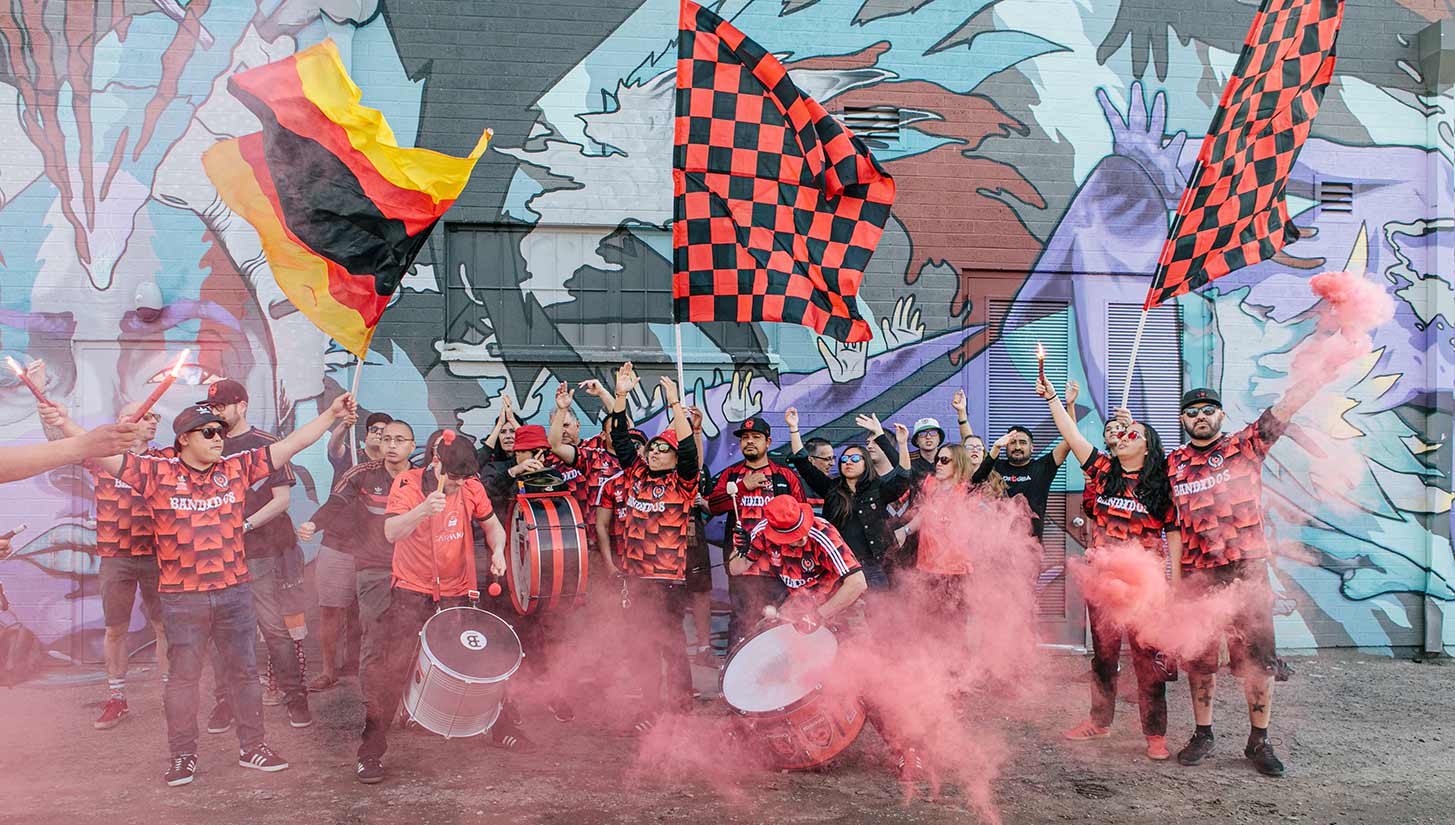 Phoenix Rising has two supporters' groups, Red Fury and Los Bandidos, which call the south end of Casino Arizona Field home. Red Fury's roots go back to MLS Phoenix Rising, a group with no relation to the current club that was advocating for an MLS team in their city.
The group immersed itself with the supporters of Phoenix FC, a USL Professional Division club that folded in 2014 after just one season played. Once Arizona United came in to replace Phoenix FC the day after they went defunct, the supporters' group gravitated to the new club.
"When Phoenix FC Wolves started out, we just merged in with the group that was being formed to be the supporters' group — at that point it was La Furia Roja," explained Kristine Lantz, who's part of Red Fury's leadership committee and is a charter member of the group.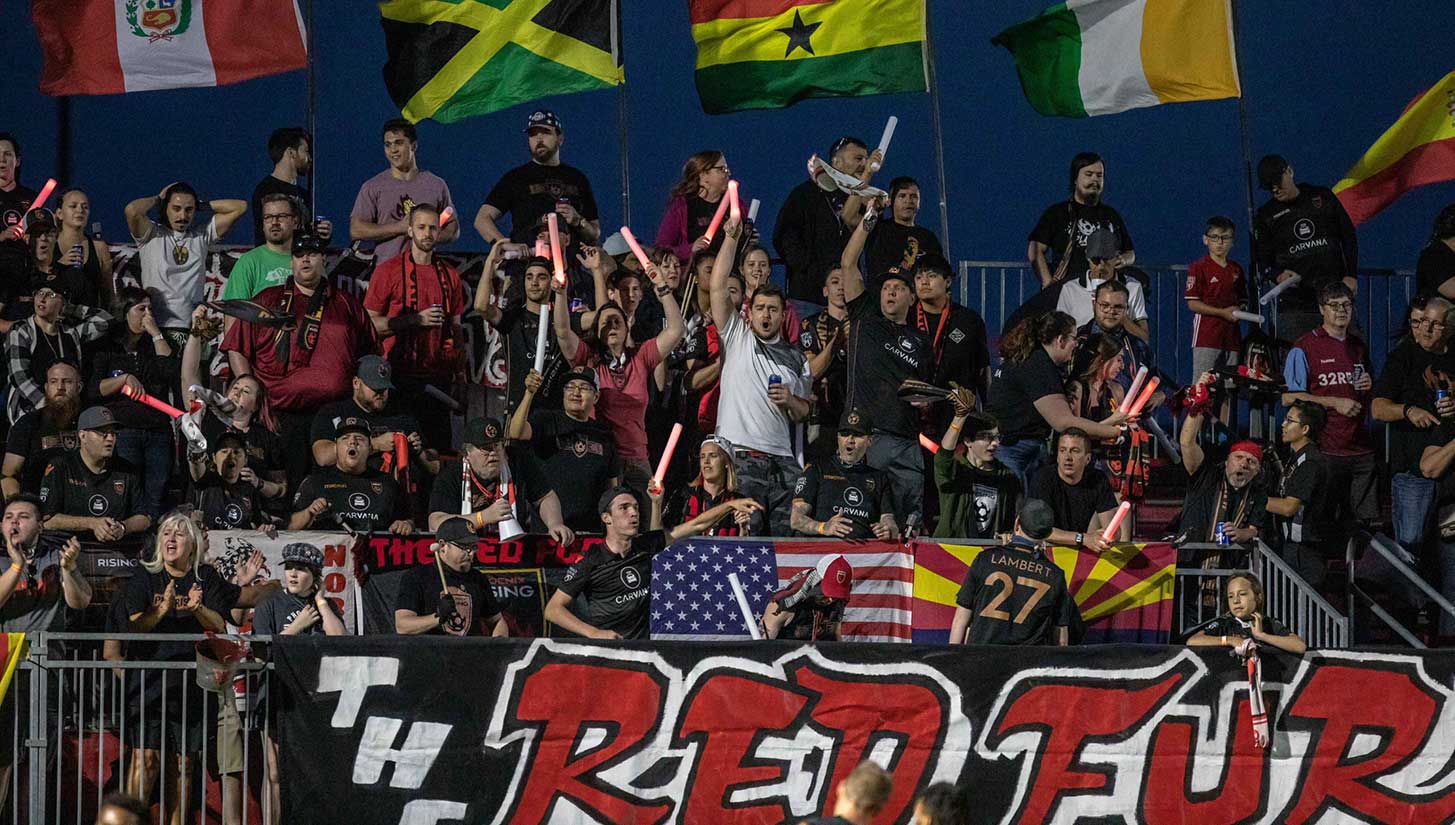 Around the same time Arizona United re-branded to Phoenix Rising, La Furia Roja changed their name to the English translation, Red Fury. They also updated their logo, with member and resident tattoo artist Todd Ring coming up with a unique design.
Lantz describes Red Fury as more of an American style of supporters' group, but that doesn't mean they aren't loud and constantly chanting.
"We want to be as raucous and make it as impossible for the other team as possible," Lantz said. "So, we'll line some people up at the railing and just let them go to town on the opposing goalie for 45 minutes."
Red Fury often adjusts their chants to match what's happening on the pitch, so things aren't too structured. It's free range, and anyone can join in. They even have kids in the group, some of whom participate on the drum line.
"We want to get that family feel," Lantz explained. "We welcome everybody as long as they welcome everybody."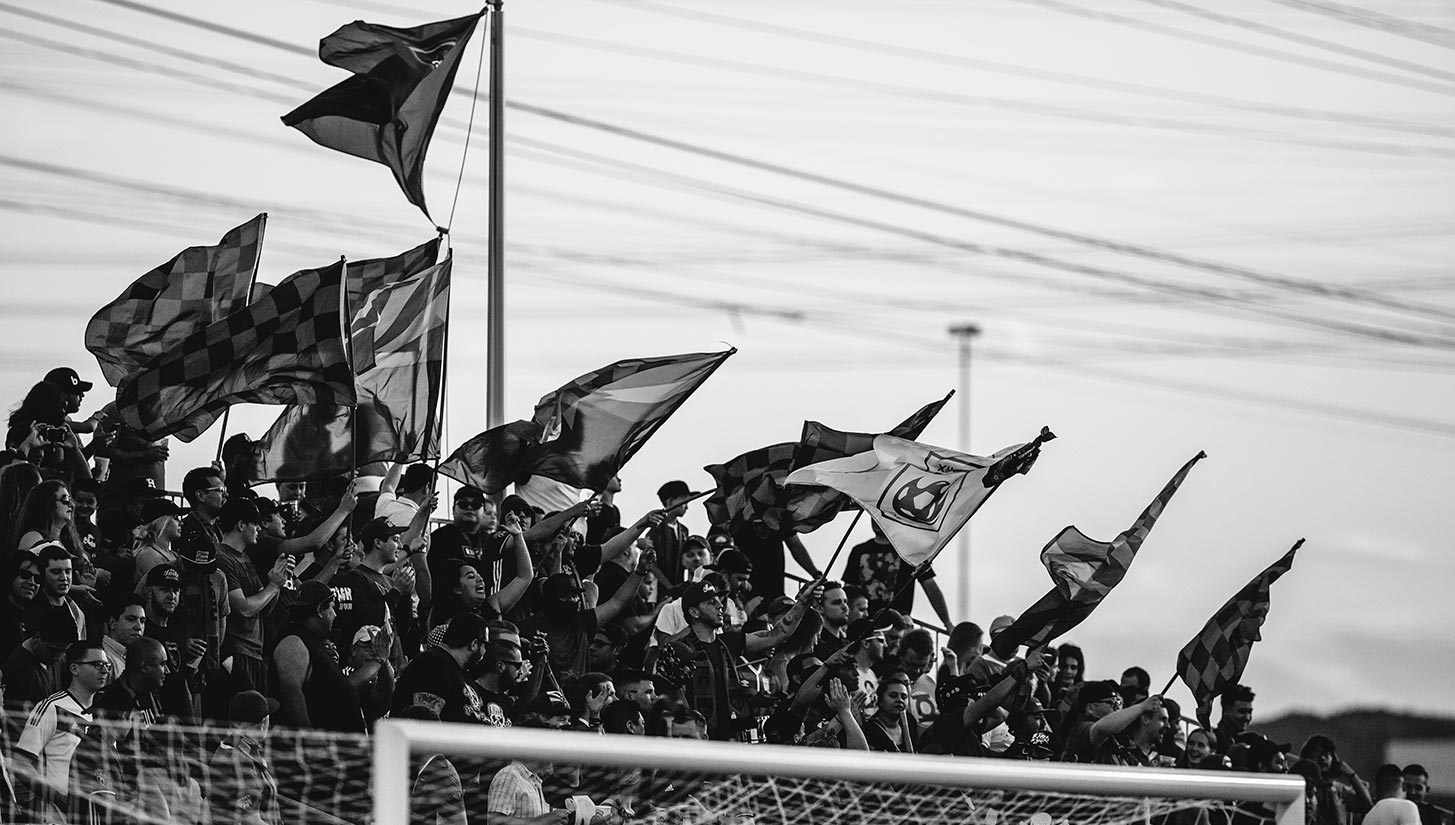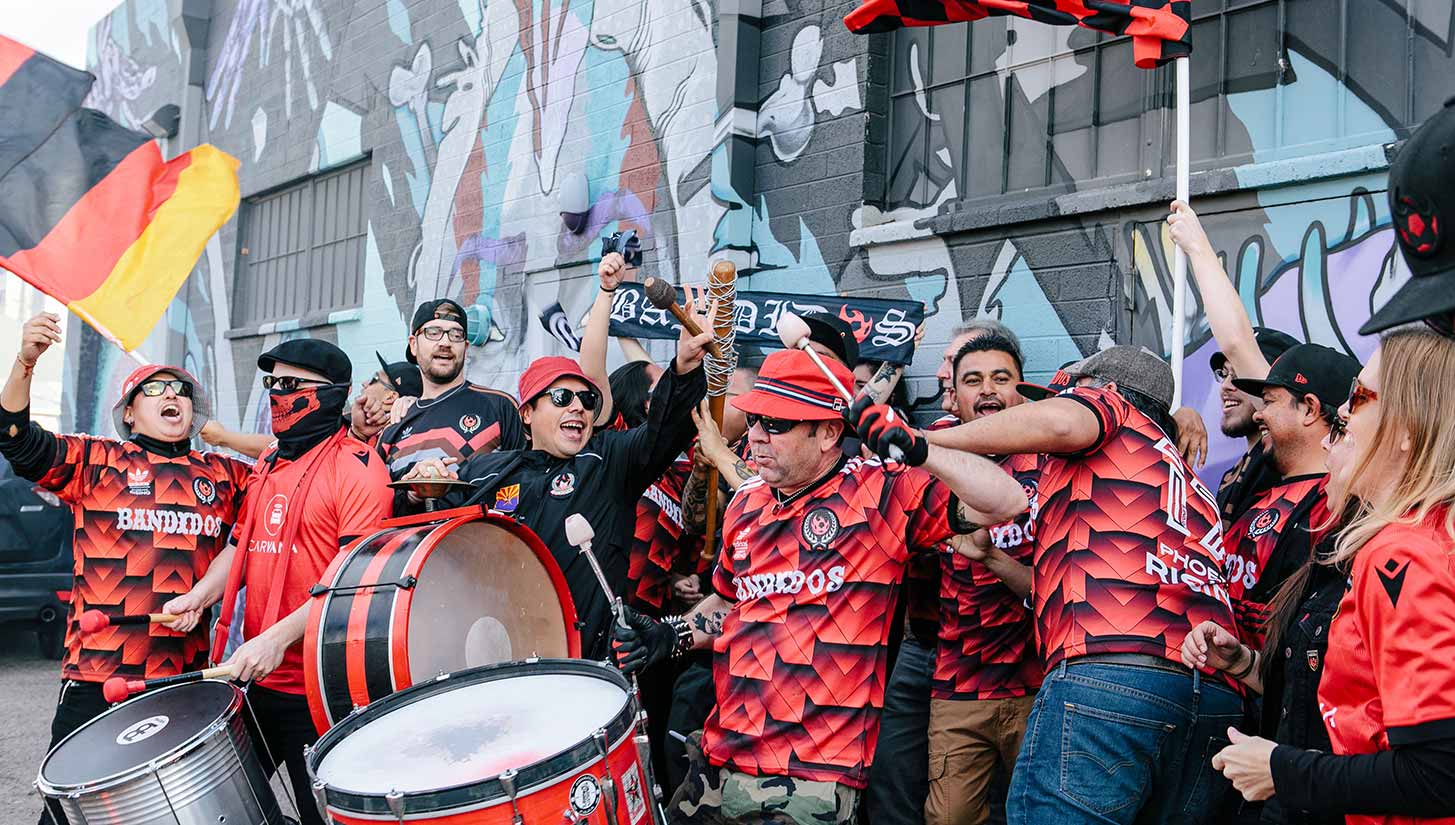 Los Bandidos' origins stem from Forza Lobos and La Hermandad, a pair of Hispanic supporters' groups who originally supported Phoenix FC and Arizona United, respectively. Both groups were having trouble gaining traction, that is until they joined forces.
"I found out about Marco and his new group [La Hermandad] in 2016," said Zack (who preferred to omit his last name from publishing), the founder of Forza Lobos and one of the two founders of Los Bandidos. "I found out about them on a page about Montreal's supporters' group."
From that point on, Zack and Marco (who also refrained from disclosing his last name) worked together to create what is now Los Bandidos. With the club starting to play in their new permanent facility, the group began to grow.
While the group's members now come from many different races and backgrounds, the name symbolizes the local community and their Hispanic heritage.
"We decided to be called Bandidos because we knew we were going to be the outlaws, that people wouldn't want us," Zack explained. "And we decided to go back to the Wild West roots, because nobody wanted Bandidos back in the day."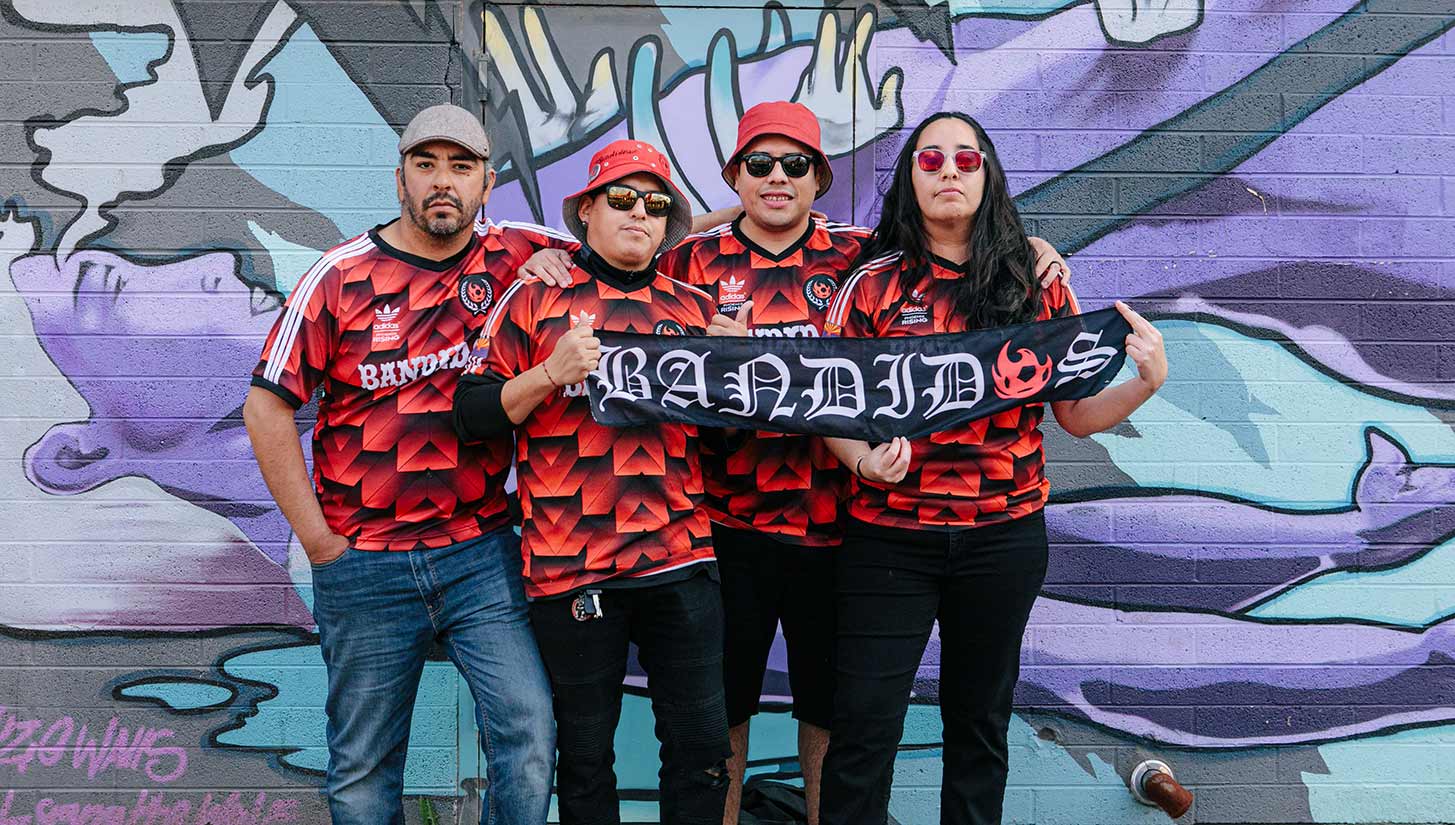 The Los Bandidos logo also serves as a nod to Native Americans, recognizing the roots of where many Arizonans came from and the land they live on. The group tries to take the best from supporter culture everywhere, but definitely has a distinct Latin American and South American vibe. Their goal is to rabidly support their team for 90-plus minutes, so much so that Zack and other members often have to watch the matches the next day with sore throats from yelling.
In the past, Red Fury and Los Bandidos worked separately, almost competing with each other. But this past season, they've decided to start working together to create a more intimidating atmosphere for visiting teams.
"[Los Bandidos] are pretty much taking the lead on chants," Lantz said. "But yeah, we're still learning their chants, they're learning ours. All the drummers have really kind of merged into the Bandidos drum core, so there's no real conflict of drummers."
It's been a challenge to bring the two groups together, and the pandemic halted that process, but once things resume to normal they'll have one collective voice coming from the south end.
"We decided that if we're in the same spot, and we love and support the same team, why should we be separate?" Zach said.
Off the Pitch
The club's influence in Arizona stretches way beyond the pitch, and will only grow in the years to come. One of their main community initiatives is the youth clubs they've established.
"A lot of our charity work is in and around generating dollars and support for our youth clubs, which continue to help grow the sport of soccer and make sure there's no economic barriers for kids to participate," Dulle said.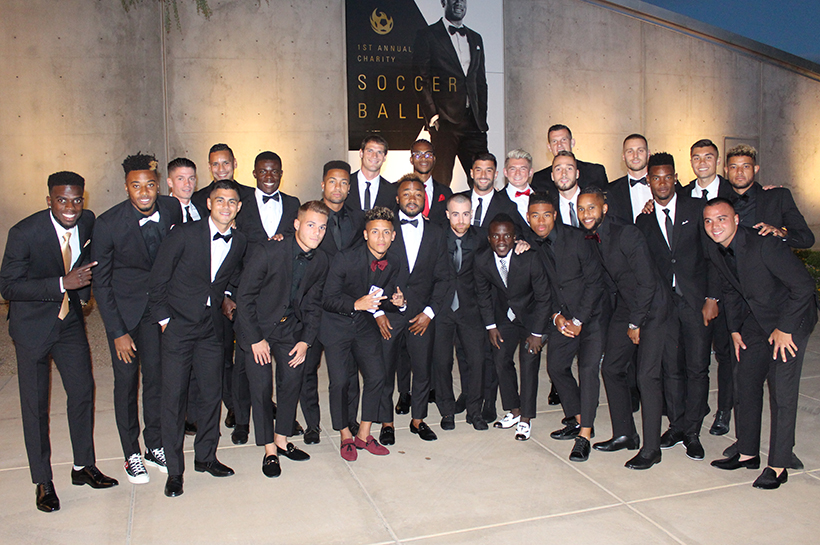 Phoenix Rising's annual team award banquet is a charity ball, with all proceeds going to the youth clubs so they can buy shoes for players, pay coaches fees, or sponsor recreational leagues or players. The club also works with various partners on theme nights to use their platform to bring attention to causes such as first responders, cancer awareness, and pride nights.
But it's much more than just wearing a warm up top to bring attention to a cause. Over the last few years the club has grown tremendously in terms of finding their voice on social justice and equality issues, following the lead of some of their most ardent supporters. Christian Vasquez, who takes the lead on community outreach for Los Bandidos, is amazed by the influence they've been able to have on the local soccer culture following an issue with the removal of an anti-Nazi banner in 2017.
"Fast forward to this year, we went to a march," Vasquez said. "I reached out to the team and said, 'Hey, can you invite some players if they're allowed to? I don't know what the restrictions are.' And our starting keeper [Zac Lubin] came and joined us on a march for Black Lives Matter."
Both supporters' groups believe in promoting good will and using their support and voice as a force for good beyond the pitch. In addition to clothing drives and teddy bear drives for the Phoenix Children's Hospital, Los Bandidos usually does about three fundraisers a year.
"We do something for pride month every year," Vasquez said. "We've done stuff for migrants and refugees, raising money for them and organizations that help them out as well."
We just wanted to get this out there and get things rolling. We already have a few things for the auction, so please watch this space! If you have any questions, please reach out to @MonMcP65 or @phxlantz.

For clothes and equipment donations, we can arrange contactless pickups. pic.twitter.com/pQm2bjkDCq

— Red Fury (@RedFuryPHX) August 3, 2020
Likewise, Red Fury does fundraisers for Phoenix Children's Hospital along with a few other organizations, as well as clothing drives for migrants and refugees. Due to the shutdown, their most recent project aimed to help out several small business owners, specifically FilmBar, a small independent movie theater in downtown Phoenix.
"We've been buddies with the owner since pretty much day one, and he's allowed us to use his establishment for meetings and to do tifo painting," Lantz said.
Seeing FilmBar struggling during the shutdown, Red Fury purchased several lifetime gift cards and held a silent auction, sending the proceeds back to the theater. In yet another example of the club moving in lockstep with their supporters, the Phoenix Rising coaching staff and players caught wind of the auction, donating several autographed items. The event was so successful Red Fury was able to send money to FilmBar, two Red Fury members who own small businesses, as well as make a sizable donation to St. Mary's Food Bank.
"It was so great because we did not approach the team for anything," Lantz said. "It was wonderful to feel like we're valued more than just a game day ticket sale, and the players really appreciate what we do and that they want to help out as well."
On the Pitch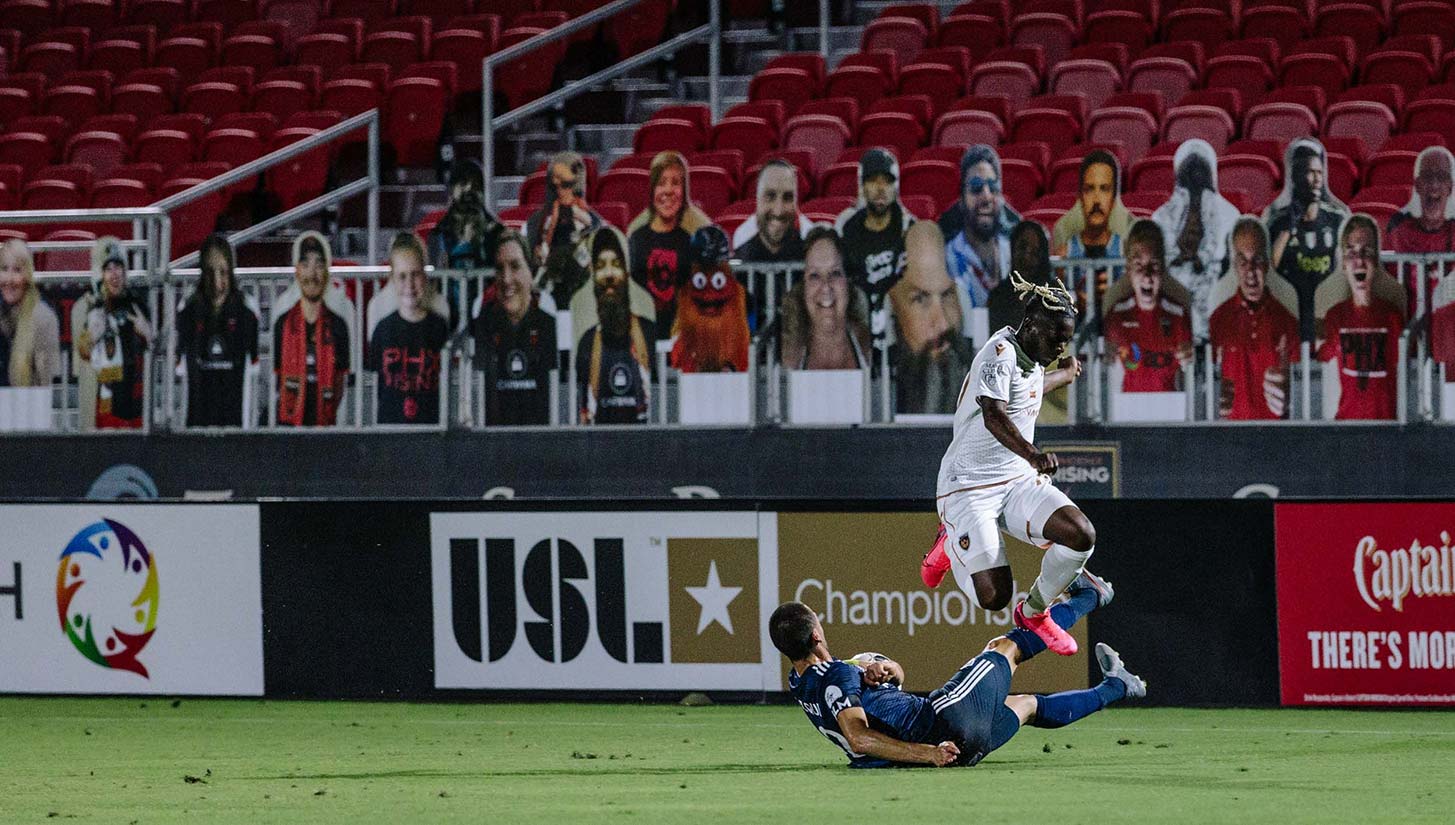 Few USL teams have had the amount of sustained success of Phoenix Rising FC over the last two years. Since former assistant Rick Schantz took the reins as interim head coach for a second time halfway through the 2018 season, neither he nor the club have looked back. Schantz finished out the season on a strong note, making a run to the championship before falling just short in the title match.
The Arizona native then followed that up by winning USL Championship Coach of the Year in 2019, with the team winning a record 20 consecutive matches at one point. In explaining the key to his success, Schantz points to a pivotal moment right before the streak began, which also helped create the Phoenix Rising style we see today.
"I remember going into the locker room after we had lost to Austin on the road, and I sat down with all the players and everyone was quiet," Schantz said. "And I just said, 'I've had enough, and I'm not going to try and change the team every week because of the opponent. I'm not going to worry about what other teams are doing, we're just going to be who I am, and that is an aggressive, attacking person. And I want to impose my will on people and get after them, and I want the team to have the characteristics I had as a player, and that is no one will push us around.'"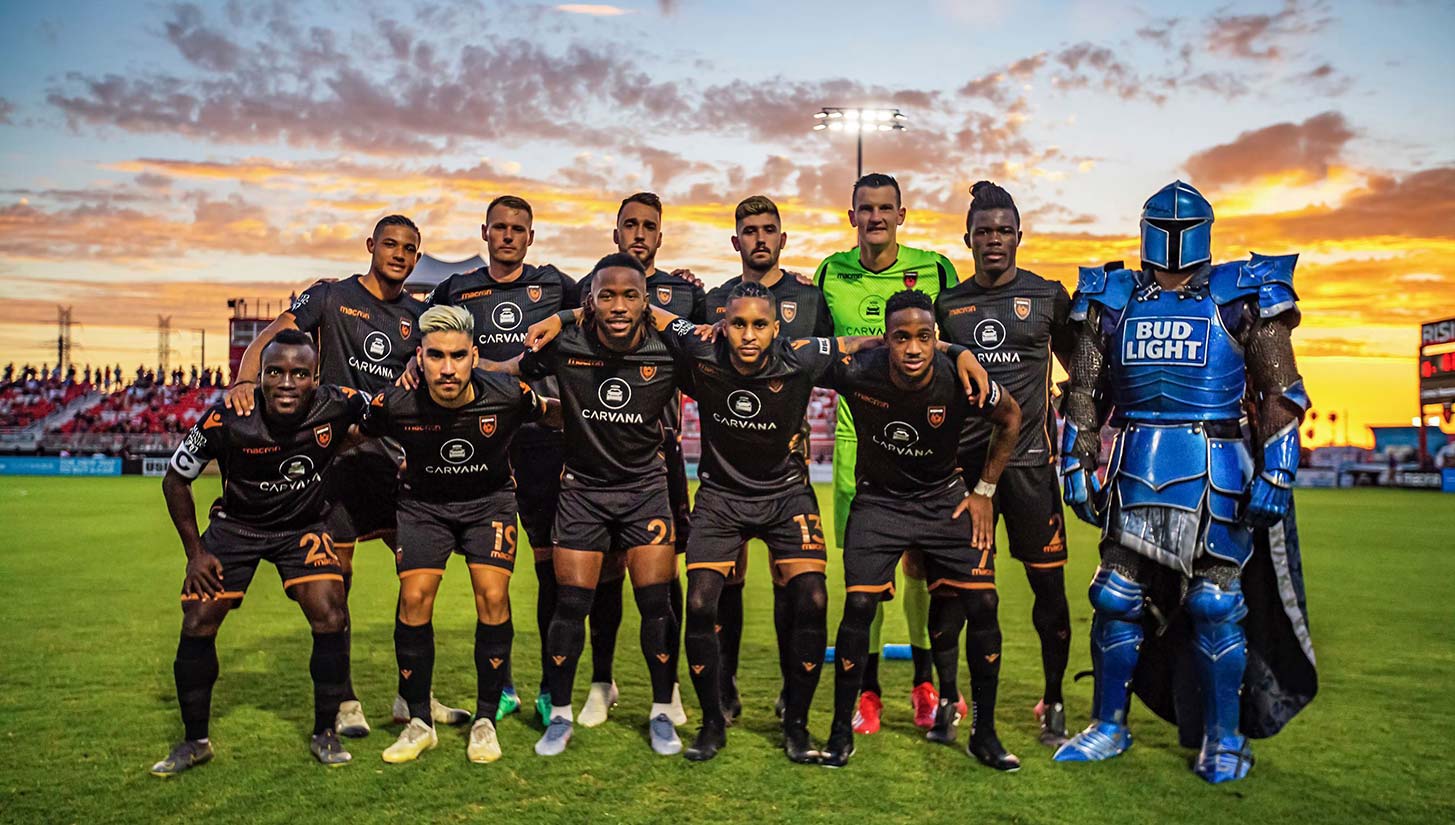 Schantz's tactical changes worked, and after the club broke the record of 10 consecutive wins, the players were oozing confidence and the term "bulletproof" began floating around the locker room.
In order to fine tune his team's style of play, Schantz and his staff traveled to Los Angeles and spent time with LAFC head coach Bob Bradley. They also spoke with Liverpool's coaches and watched hours of Manchester City and Barcelona matches. The end result is a mixture of Liverpool, Man City, and Barcelona, but with more of a detailed focus towards LAFC.
"And what I mean by that is a high counter pressing system, but also extremely aggressive in the way that we play going forward," Schantz clarified.
Schantz also notes one main difference, which is they don't ask their No. 6 Kevin Lambert to control the game as much as LAFC starlet Eduardo Atuesta does.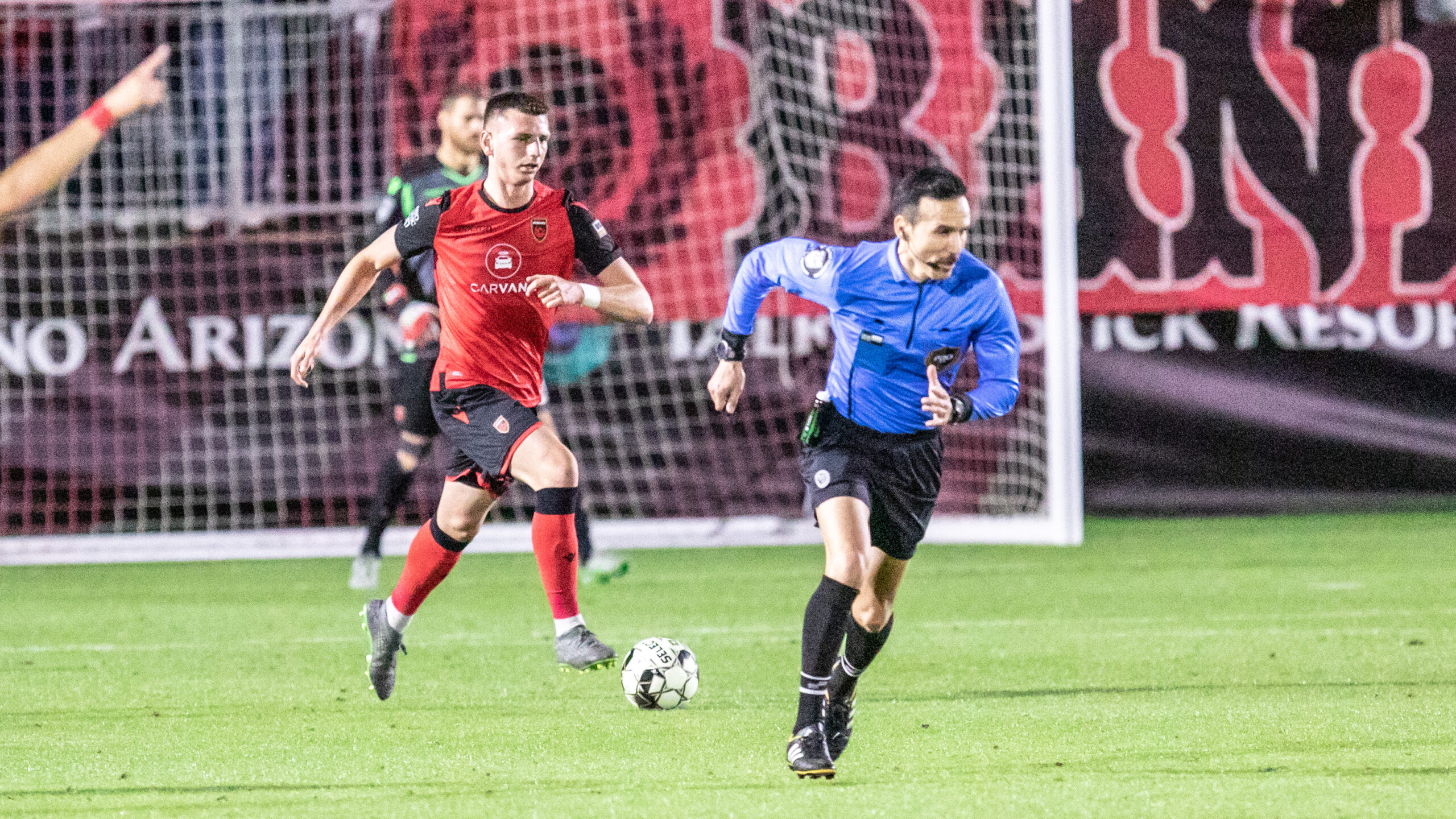 Given the close relationship between the two clubs, it's no surprise Phoenix Rising made LAFC player Tristan Blackmon feel at home during his two loan stints there.
"Phoenix welcomed me with open arms," Blackmon said. "They handle business, they have a great mentality as a team and as a coaching staff."
Blackmon's first loan in his rookie season gave him regular minutes, while his second loan the next year helped him rehab coming off an injury. He credits his time there as helping with his development as a player, and he's become a mainstay in the LAFC backfield since.
"The coaches gave me a lot of freedom to express myself down there with them," Blackmon explained. "So, I definitely came back to LA feeling really confident. I just really refined a lot of things and focused on doing the little things right, and also just building up the tenacity and the ferociousness I needed to have."
With a solid track record of player development and a distinct style of play, look for Phoenix Rising to once again be near the top of the standings this year. Their future looks bright too, with their academy recently transitioning from the DA into the MLS academy footprint. The push for their ever-elusive first championship continues.
Photos courtesy of Phoenix Rising unless otherwise noted. Be sure to follow Phoenix Rising on Instagram and Twitter, and shop their merch line via their online store.