Through her brilliantly colored and detailed portraits, French artist Laury Layani has been able to meet some of her sports idols — Novak Djokovic, Olivier Giroud, and Lewis Hamilton are just a few. We get to know Layani, from her art origins to her deeply rooted love for a variety of sports. 
Seven-time world Formula 1 champion Lewis Hamilton was not the first famous athlete Laury Layani painted, nor met. But when she snapped a pic with the racing icon and her portrait of him in March, the likes and views came streaming in.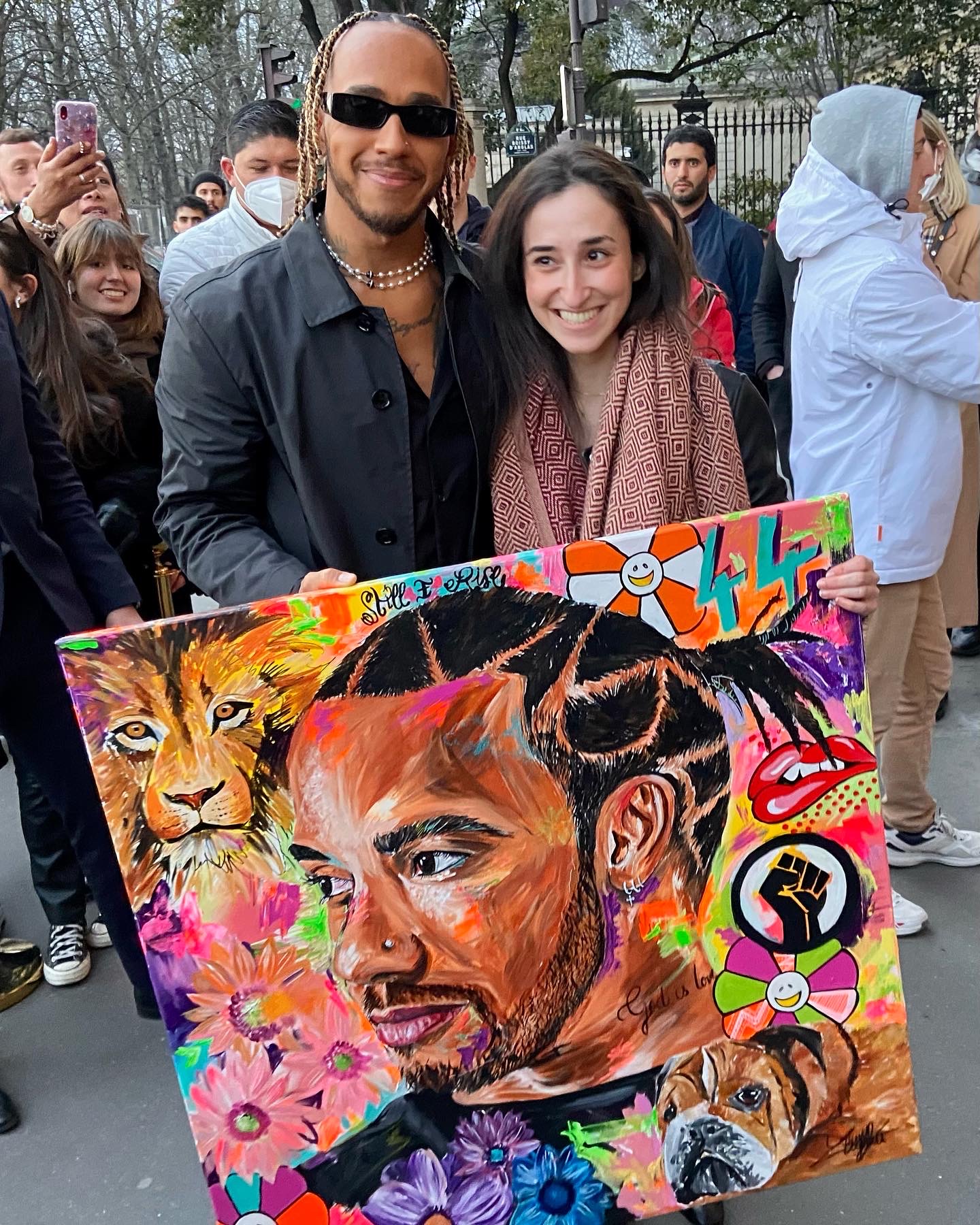 The portrait features Layani's signature style — bright colors and vivid iconography tailored to the work's subject. But while she is passionate about a handful of sports, football will always have a special place in her heart.
"I've been a football fan forever," Layani said, explaining that her whole family enjoys the beautiful game.
She played football with the boys growing up, often playing goalkeeper using a pair of "ugly gloves" her father gave her. She'd pretend to be Fabien Barthez, someone who early on modeled her dual passions of football and motorsport.
One of Layani's most vivid memories from childhood is locking herself in her room to hide from her parents and cry after Zinedine Zidane's career-ending red card when France lost the 2006 World Cup to Italy. When Les Blues actually won the World Cup in 2018, she was in Argentina and had to keep quiet when France beat Lionel Messi and his squad in the round of 16 because she was the only French person in the bar.
"When we scored, my friend told me, 'Don't tell them,'" she said. "It was hilarious."
But she was able to celebrate a little more when France played Croatia in the final and took home the title.
"For the finale, I was in the middle of nowhere in Argentina with a close friend of mine, visiting a glacier," Layani said. "We had an excursion but got back to the hotel just in time to watch the game. I was shaking!
"Again, I was the only French person in the hotel, so the euphoria was a little different from usual, when I watch games with friends. But when I saw the images of the boys crying, or my friends (who had never watched a game) celebrating for days, then I understood. My girlfriends finally started appreciating football and I couldn't be happier about it."
Layani, who hails from Paris, is not a Paris Saint-Germain fan, but she has built a relationship with the club because Thilo Kehrer gave her the first opportunity to exhibit a painting at his charity event and Sergio Ramos is among the many players she's gifted a portrait to.
"Meeting Sergio Ramos was pretty impressive," Layani said. "It was the meeting that took me the longest to organize. I first got in touch with PSG, and they were kind enough to show him my painting to see if he liked it — and he actually made me do a couple of changes so that he'd like it at 100%. It meant that he cared about it a lot. [When I met him,] he asked me 'Why do you speak Spanish?' I said, 'Because I love reggaeton.'"
It's Layani's authenticity and natural warmth that has helped her get the opportunities to connect with so many people, including tennis star Novak Djokovic and racecar driver Romain Grosjean, whose dramatic accident in 2020 brought her attention back to Formula 1.
"Let's be honest, I love people in general!" she said enthusiastically.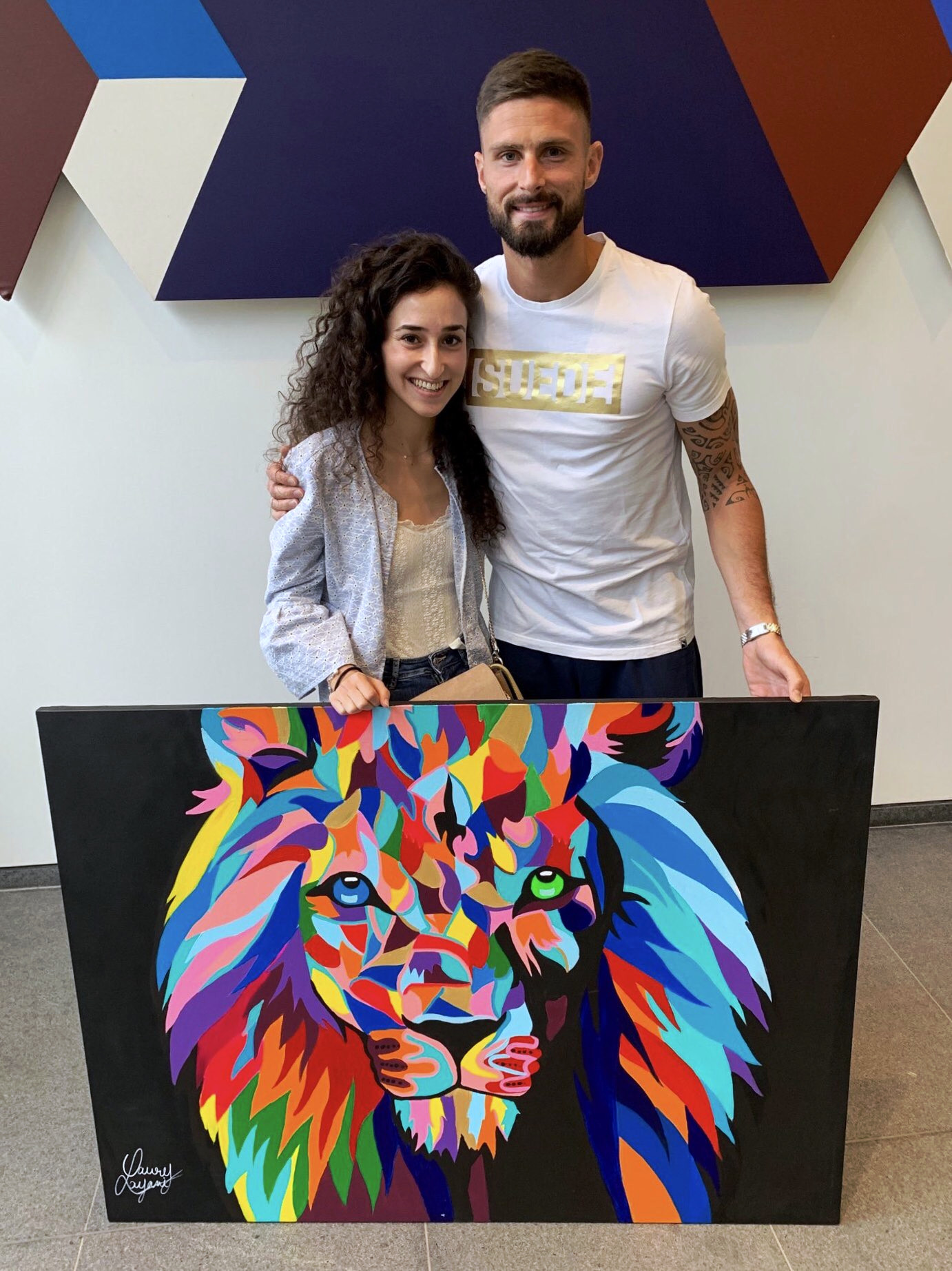 Another footballer she's connected with is Olivier Giroud. She's built a rapport with the French striker to where she now views him as a friend. She first met him back in his early League 1 days on a family vacation, where she surprised her grandmother with her choice of location.
"My grandmother told me, 'Let's go on a trip together. Where would you like to go? London, New York?'" Layani said. "I said, 'Nope, I want to see the players training at Montpellier.' She couldn't believe it. So she took me there, I brought a couple of gifts to Olivier and his children, a few drawings, and that was the beginning of it."
She estimates that she's drawn Giroud a dozen times and has noticed how she's improved in her craft.
"Lucky for him."
Layani has eight kits that she's gotten through her connections with various players and teams. Her favorite is an autographed long sleeve Arsenal kit given to her from Giroud that has a special story behind it. He invited her and her friends to a match at Emirates Stadium and she wore the jersey, completely unaware of how big the day was going to be.
"Giroud got a little injury a couple of days before the game, and was not on the field," Layani said. "The surprise was — and he didn't tell me — that he'd watch the game from the stadium in his private box. That's to say, along with my friends and me.
"I sat next to him, and I couldn't believe I was actually watching a game next to my favorite football player. I can compare it to watching a blockbuster movie next to your favorite actor or going to a concert with your favorite artist. Pretty unforgettable. I probably spent more time looking at him trying to process what was happening than looking at the game, though."
Layani has translated her eye for greatness into her art, which she started when she was four years old. She took a drawing class where she honed her skills and then kept practicing on her own. Four years ago she bought her first canvas, which she said changed everything. She struggled to find her personal style for a while, but now seems to have a firm grasp on how the vivid colors reflect her own joyfulness. She enjoys painting animals because of how their eyes talk, but might have found her niche in the sports world.
"Whenever I paint an athlete — my goal is to offer the piece to that person," Layani said. "I have realized that I could really make it special by adding personal symbols, logos, or colors that are close to their hearts. I don't know yet who my next target is, but I definitely won't stop."
Follow Laury Layani on Instagram for more of her work.