The Japan Freestyle Football Championship (JFFC) takes place over two days and acts as a qualifier for the Asian Freestyle Football Championship, an F3-sanctioned event. Now in its third year, the competition features some of the best and highest-ranked freestylers in the world alongside newcomers, who battle it out for the national title.
Japan continues to set the bar when it comes to all-around freestyle skill and creativity. Over the years, the emphasis on originality and style has clearly set them apart from the rest of the world, and with their technical prowess advancing by the day, it's no wonder that this year's JFFC was, in a word, totally insane.
Organized by pro freestyler Yosuke Yokota, the event included 105 contenders, including a few former national and world champions. "The new generation has huge potential because they have absolutely amazing skills, ideas, and passion," said Yokota. After qualifiers on May 13 in Tokyo, 32 freestylers advanced to the May 14 finals in Kawasaki City, Kanagawa Prefecture.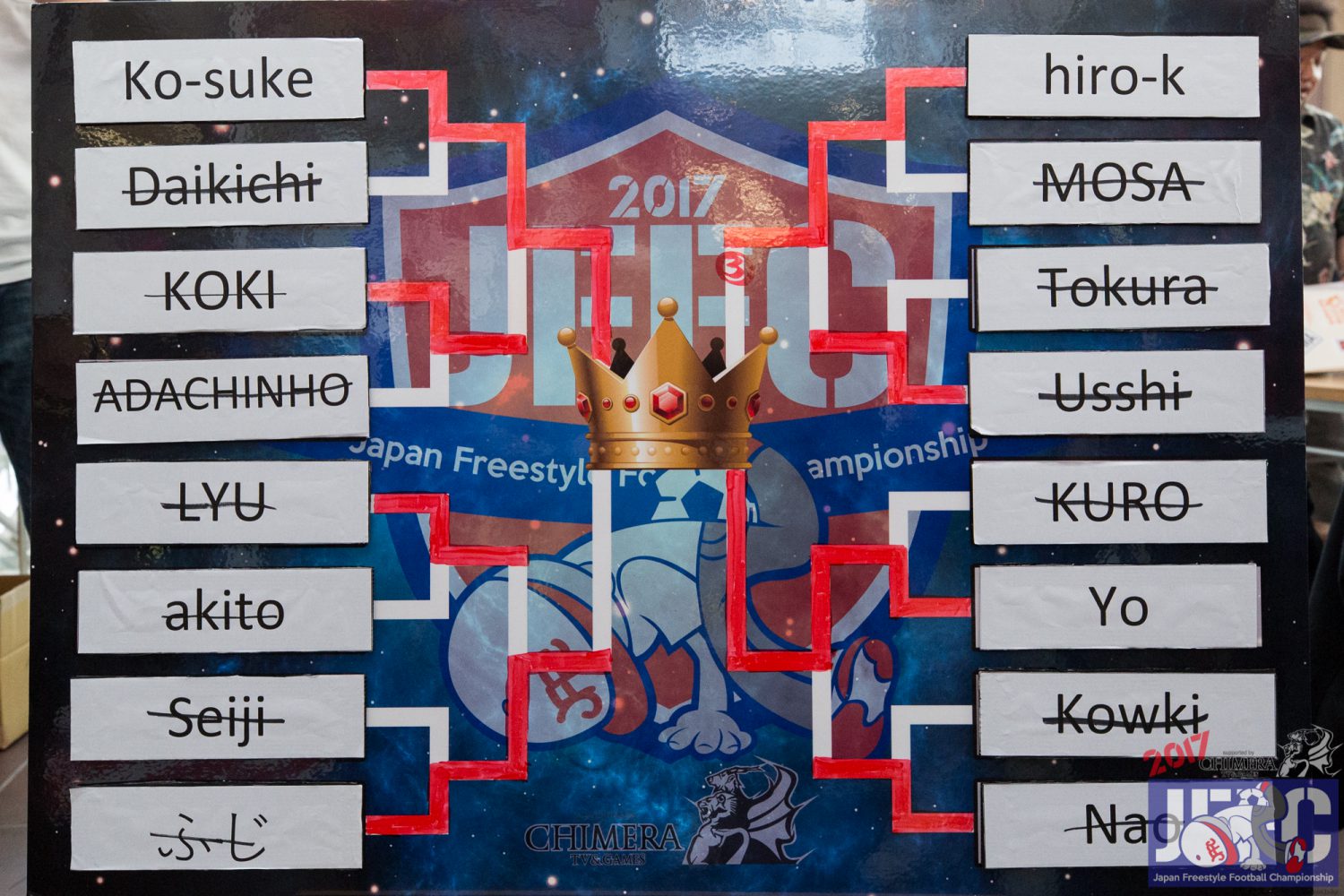 In the quarterfinals, 19-year-old Tokyo-based freestyler Yo Katsuyama defeated Nao, while the unworldly magician that is Ko-suke Takahashi (24) advanced past Koki to the semis. Yo and Ko-suke then met in the finals in what may go down in the history books as the most lit battle of the year.
JFFC 2017 Finals
"I have been focusing on making an original style," said Yo, who previously placed third in the U22 JFFC and was runner-up in the 2016 AFFC. "It is a really important thing in order to win JFFC, because Japanese freestylers tend to have original styles and it's rated."
Both Yo and Ko-suke bring a high degree of technical ability, but most impressively a sense of originality to their routines. Ko-suke in particular is in the vanguard of athletes bridging artistry with the more technical demands of freestyle, and his focus on musicality and style have earned him top accolades—he won the 2016 JFFC and finished second in last year's Red Bull Street Style world championship.
Both freestylers incorporate b-boy inspired moves, and of course their own personal rhythm and tricks—in fact, you would be hard pressed to find carbon copies anywhere in this competition.
"That battle is one of the amazing times of my life," Yo added.
JFFC 2017 Finals (Reverse Angle)
As the crowd went absolutely berserk, the two competitors pulled out all the stops with inspired, entertaining, and at times sublime combos of uppers, lowers, sits, flips, slaps, and catches—the kind of battle you can only find in a competition like this.
"Japanese freestylers have a lot of energy and character performing, which makes their performance really enjoyable to watch," said Martin Schopf, one of the event judges. "As a judge I evaluate the difficulty of the moves, the style and execution as well as the performance, which includes aspects such as musicality or how well a freestyler uses the stage for example. For me a key element is also originality, which means having a unique concept."
In the end, the 19-year-old phenom came out on top in a well-fought victory. "The Super Magellan is what made me won I think," said Yo. "I made it my first try. After that I was on a roll."
Other notable stand-outs included 2014 JFFC Champion Hiro-K who took third place, and Fuji. Judges for the event included Charly Iacono (Argentina), Schopf (Austria), and Roland Karaszi aka Rocco (Hungary).
Kotaro "Tokura" Tokuda (winner of the 2012 Red Bull Street Style World Final) took home the Red Bull Best Trick Competition prize with his Tokura Clutch move—an unreal front flip catch that led to the audience losing their collective minds (see video above).
The event was presented by JF3 and Ball Beat, with sponsors Chimera TV & Games, and prizes—including original balls and backpacks—provided by Tachikara. Katsuyama will also get a free airline ticket to the AFFC. Choice tunes were played by DJ Iku with commentary from MC Soffy.
"There are many street talents (i.e. break dancers, double dutchers, BMX riders, etc.) in Japan. We inspired each other over 20 years. I think that's why Japanese street culture is very strong and very unique," added Yokota.
And if the event itself wasn't proof enough that Japan is the creative epicenter of freestyle, check out these little guys getting excited for their turn in the limelight.
For more information about the JFFC, click here.
The interviews in this article have been edited for clarity and length.