The Red Bull Street Style world final on Tuesday in London's historic Roundhouse concert venue produced a number of thrilling battles, some never-before-seen moves, and a few surprising results. The men's competition consisted of the top 16 in a direct elimination format, while the women's side had the remaining top 4 in a semifinal round. In a departure from previous years, there were five judges who scored using the following criteria: creativity, variety, control, technique, style, energy, and rhythm.
The battles between UAE's Fahed Albreiki versus Ireland's Daniel Dennehy, and Anatoly "McPRO" Yanchev from Russia versus Argentina's Ricardinho Chahini in the round of 16 were among the most hotly contested match-ups. McPRO moved on after a surprise 3-2 upset, which was in part aided by two costly drops by the 18-year-old Ricardinho. Based on his feisty hand gestures, Italy's Gunther Celli didn't seem too impressed with the quarterfinal round against 2015 Asian Champion Kosuke Takahashi of Japan. Mexico's Esteban "El Pantera" Hernández's win over 2014 European Champion Daniel Mikolajek of Poland also came as a surprise for many in the crowd as well.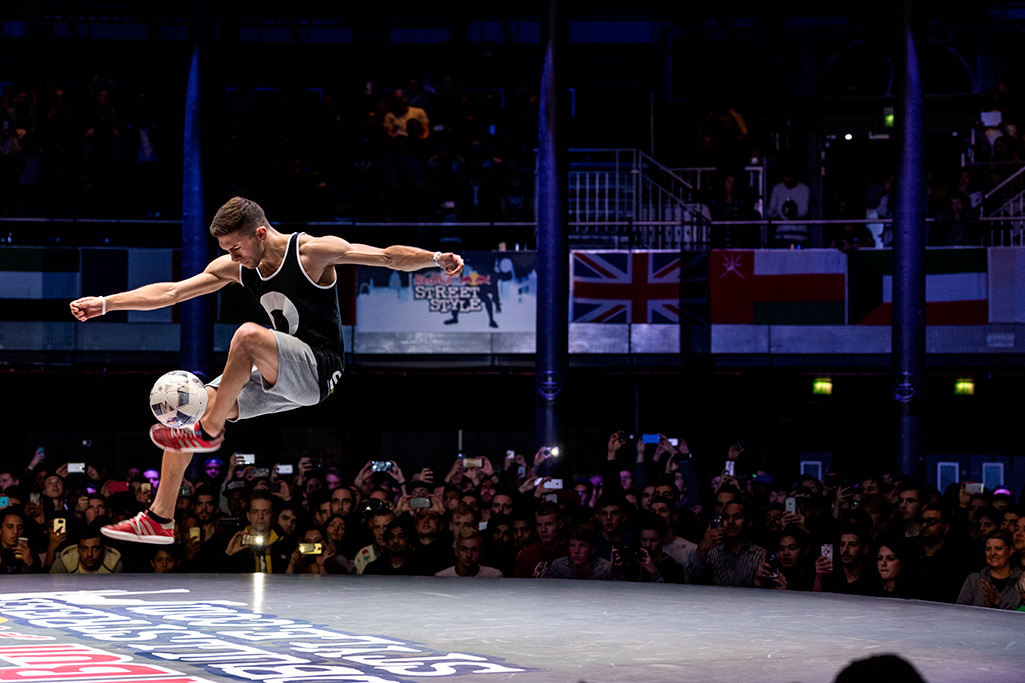 The semifinal rounds produced a stark contrast in styles between the competitors. Kosuke's long pants and Monta ball were used to maximum effect to showcase his smooth transitions and small, deft touches. His much taller opponent, McPRO, emphasized big athletic moves centered around powerful lowers. A few drops during his sit-down routine in the last round hinted at the result which was a clean sweep by Kosuke.
In this sport when you start, you don't get the trick at the first try. I realized that maybe failing four times is the same, because the spirit of this sport is [to] keep trying. —Charly Iacono
Similarly, Esteban's colorful outfit of old school shorts, Mexican national team jersey, two different colored Adidas shoes, and big smile contrasted with Argentina's Carlos "Charly" Alberto Iacono's calm and measured approach. Although unclear if it was due to nerves or fatigue, both freestylers had a few early mistakes. Charly's alternating juggle from calf to shin while on his back elicited shouts of approval from the crowd and may have been the tipping point in the close 3-2 vote. Esteban would again lose a close 3-2 battle later for third place to McPRO.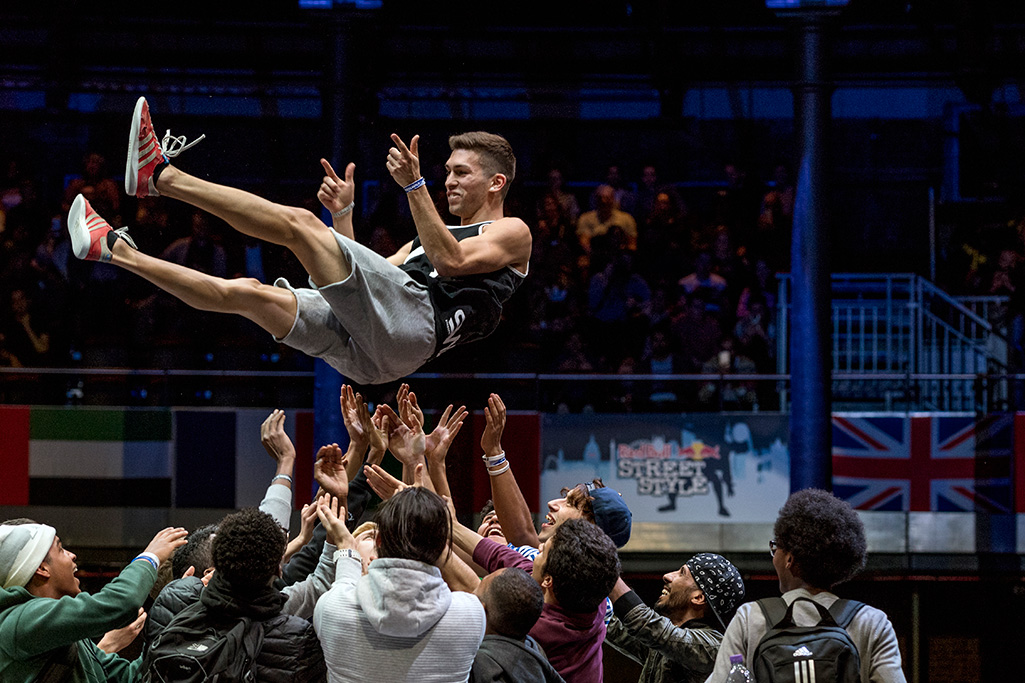 The men's final battle between Kosuke and Charly produced some epic moments. Kosuke's tricks and style were marked by a distinctly Japanese flavor and b-boy influences along with ultra smooth and rapid transitions. However, they were not enough to overcome his opponent whose moves included an Alt Mitchy, Alt Lemmons, and multiple combos from a fully extended handstand position. Charly's victory as the world freestyle champion came almost as a relief as he had lost in four previous finals including two Red Bull and two Super Ball competitions. He indicated as much saying he had often contemplated quitting but afterwards stated, "In this sport when you start, you don't get the trick at the first try. I realized that maybe failing four times is the same, because the spirit of this sport is [to] keep trying."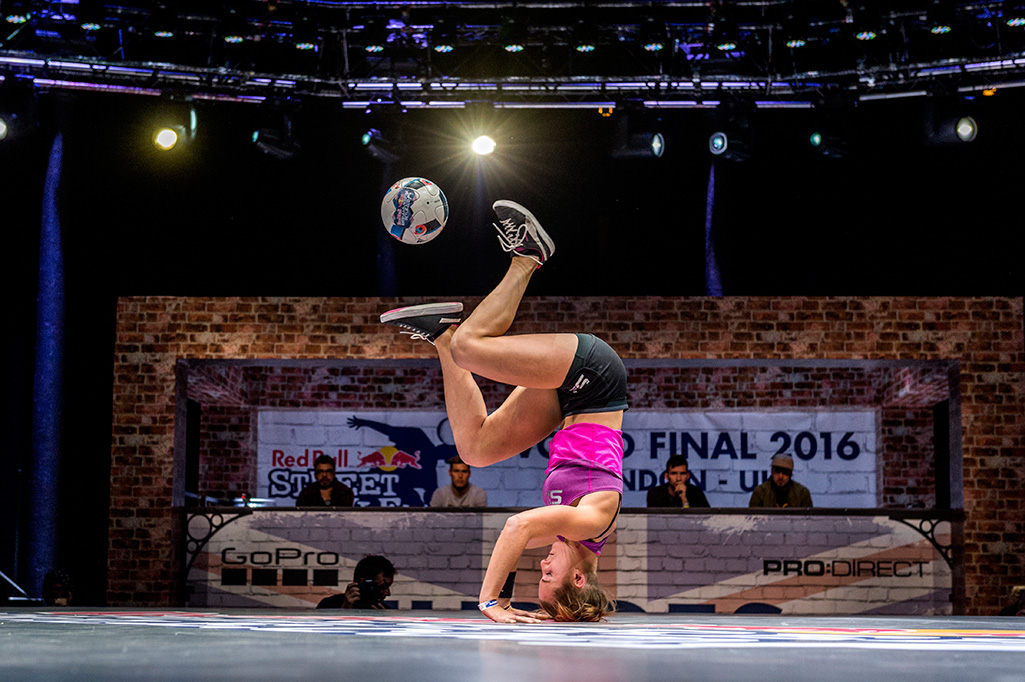 On the women's side, reigning Red Bull champion Mélody Donchet of France defeated two-time Red Bull Champion Kitti Szász of Hungary in the semi-final round in a very tight battle. Poland's Aguska Mnich from Poland defeated fellow countrywoman Kalina Matysiak to face Mélody in the final. One of the most impressive displays of flexibility and strength in the competition occurred when Donchet moved her entire body up and down while keeping her entire torso perpendicular to the ground and performing a chest stall. With loud support from her S3 crew in attendance, Donchet took the trophy to repeat as the women's champion. Karina Matysiak did well in the third place battle to join those two on the podium.
Photography by Olaf Pignataro/Red Bull Content Pool.