To celebrate the launch of their lifestyle fashion brand, GOAL, the world's No. 1 digital football website, is launching a competition to test your skills and find out just how creative you can get. Amongst plenty of other prizes, the overall winner of the GOAL CHALLENGE will get an all-expenses-paid trip to the city of their favorite football club!
Got some skills? The good folks over at GOAL are challenging you to hit the most mind-blowing top-right corner trick shot imaginable — an homage to their ubiquitous logo.
In addition to a massive ego boost and indefinite bragging rights, there are plenty of top prizes up for grabs too.
So don't limit yourself to a football pitch and a run-of-the-mill strike — your entry can be a trick shot from anywhere with any kind of ball or object. The more absurd, the better. It's time for you to get creative.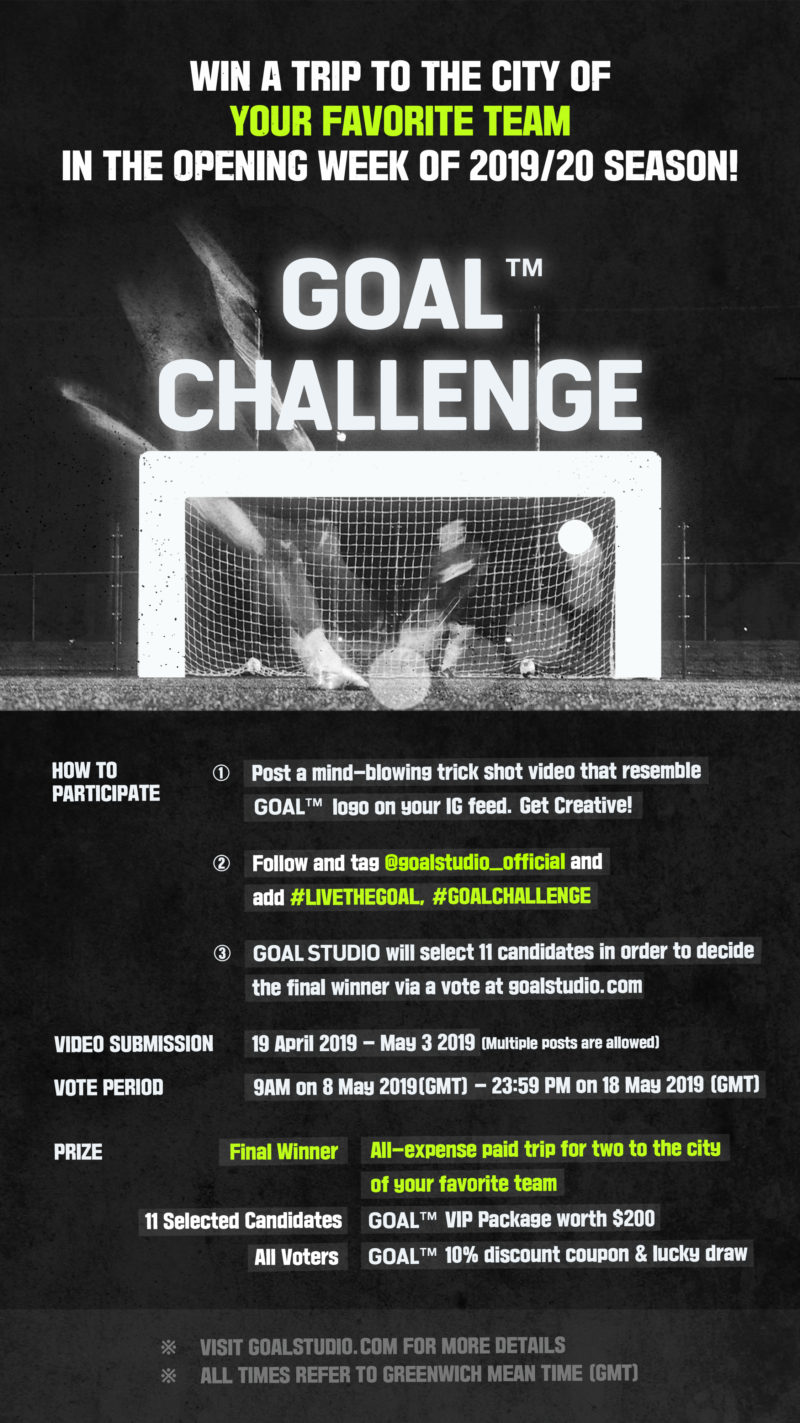 Make sure you film your efforts (they're accepting multiple entries) and submit them via Instagram, tagging the GOAL Studio account and using #LIVETHEGOAL and #GOALCHALLENGE. All entries are due by May 3.
There are amazing rewards waiting for those who show out-of-the-box trick shots as well as a reward for everyone who participates in the vote. The overall winner will be receiving an all-expenses-paid trip to the city of their favorite football club.
The 11 GOAL Ambassadors — a stacked team of top freestylers from all over the world — will lead the competition on their Instagrams, so make sure you take a peek at their trick shots and make crazier ones than theirs! The GOAL roster includes Celine Dept, Conor Reynolds, DanielGotHits, Hiro-K, Yoshida Ibuki, Kazane, Luca Chiarvesio, Tony Park, Ricardinho, Sitz, and Yoanna Dallier.
You can bet that these incredible talents are going to set the bar pretty high, so you best bring your A-game if you're looking to take the top prize. Do you have what it takes?
Be sure to check out the GOAL CHALLENGE Terms and Conditions before entering.