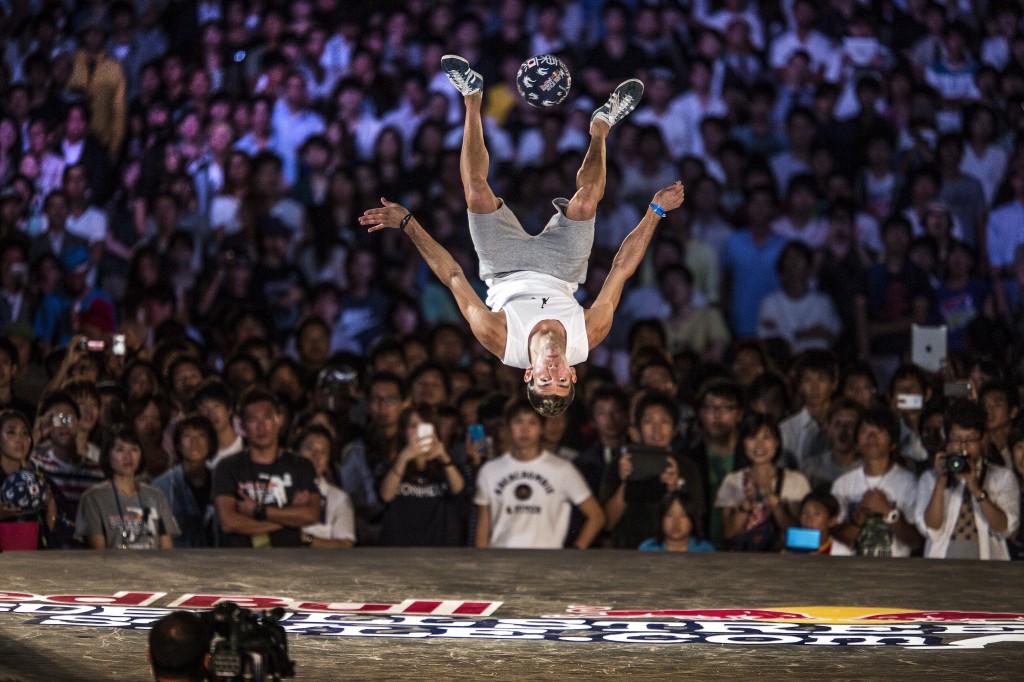 Para leer el artículo en español, haga click aquí.
Carlos Alberto Iacono, aka Charly, is a persistent man. A tried-and-true competitor, Charly is well-known and well-liked on the freestyle circuit, someone who has earned respect for his athleticism, composure, and acrobatic combos. But it wasn't until this past year that the 26-year-old Argentine had his day in the sun by clinching the hotly contested Red Bull Street Style title.
After not one, not two, not even three, but FOUR bittersweet second-place finishes in world championships, Charly at last bested a field of today's top freestylers (i.e. Kosuke Takahashi, Anatoly "McPRO" Yanchev, and Esteban "El Pantera" Hernández) to win his first world title.
We sat down with the inspiring athlete to find out how he persisted, and what exactly it takes to be a world champ.
… when I started freestyle I was very motivated and wanted to train in this sport endlessly until I was the best in the world.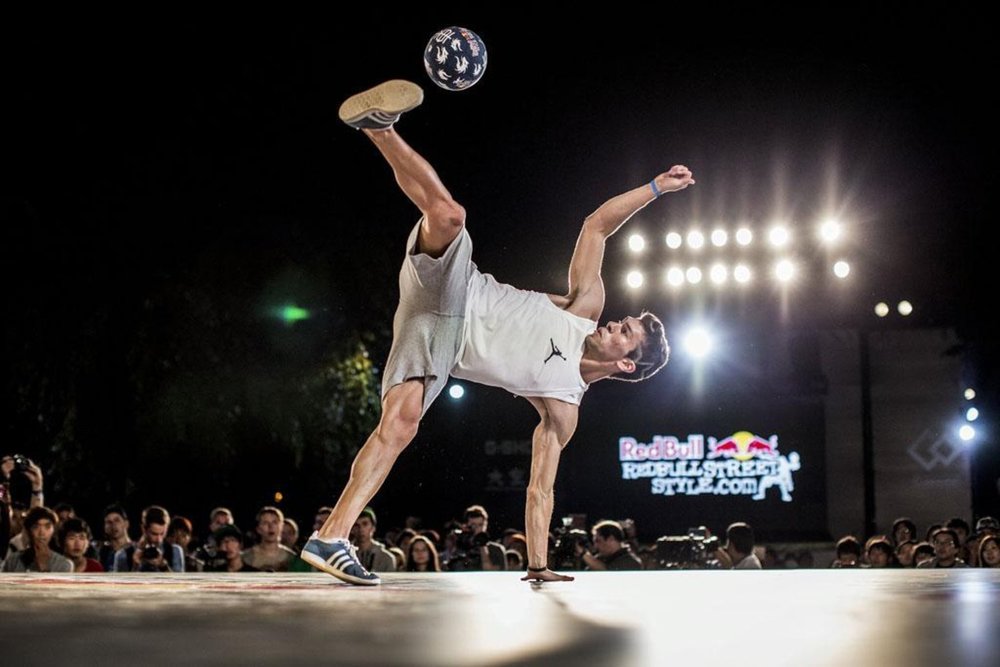 Urban Pitch: Like many freestylers today, you played football before getting injured and picking up freestyle. Tell us about your early playing days.
Carlos Alberto Iacono: I loved playing football since I was a child but unfortunately I had to quit at age 16 due to injury, and when I started freestyle I was very motivated and wanted to train in this sport endlessly until I was the best in the world.
You mentioned Ronaldinho was an early influence in your freestyle career, and the emergence of Joga Bonito. Is there a specific memory or moment you recall when you thought to yourself, "This is what I want to do with my life."
I was always infatuated to see Ronaldinho playing in Barcelona, and when I saw him in the Joga Bonito commercials, that was when I was really motivated to start learning the movements of my idol. The video that most motivated me was Joga Bonito—Joy, in which they showed images of R10 as a child.
How is freestyle viewed in Argentina today?
Freestyle is popular in Argentina because it is growing a lot on social networks, but there's still much more room to grow. And surely in the future it will be very strong in our country, since every Argentine is a fanatic of soccer, and this sport is associated closely by using a ball.
You were runner-up I believe four times in major freestyle competitions. How did it feel to finally win the Red Bull Street Style this past year? What helped you not get discouraged and keep pushing forward?
Yes, I reached four world finals and I could not win them. What kept me motivated to continue training and look for the title was the passion I feel for this sport, as it is a great disappointment to lose and I was about to leave every time I failed. But after a few days, the motivation returned and I was inspired to try one more time.
Who inspires you in the freestyle scene right now?
I've never really had anyone inspire me on the scene since I started competing globally. What inspires me most is to see how we are all getting better every day, and movements that seemed impossible are easily performed today.
We've heard of pretty insane freestyle training schedules. Can you break down your training regimen?
My training regimen was always based on using the ball and repeating the movement as many times as needed until you get to a level of consistency to perform. I usually train 3 hours per day, approximately 5 days a week.
… in the end those who achieve their goals are those who accept the bad moments and still push forward.
How would you describe your personal style?
My style would be described as fast, flexible, agile, technical and acrobatic.
What advice do you have to those just beginning to freestyle and want to be serious about it?
The best advice you can give to someone who is starting out in freestyle is not to worry about discouragements that will come along the way. It is a very common thing that happens to all athletes, but in the end those who achieve their goals are those who accept the bad moments and still push forward.
What's the ultimate goal for you at the end of the day?
My goal every day is to keep growing more in freestyle both technically and mentally.
Carlos Iacono's Urban Picks
Favorite Freestylers:
I have many favorite freestylers because each one has something that sets them apart from the rest, like Tom Folan, Rocco, Akim, Luki, Bengau, Ko-suke, Michryc, Andrew Henderson, M3mo, Soufiane, Tobias Becs, Moss, Gautier, Melody, Aguska, Liv cooke, Cata Vega, Ricardinho, Boyka, among others.
Favorite Post-Workout Snacks:
My favorite dessert is Flan, Ice Cream, Alfajores Argentinos.
Favorite Professional Football Player:
My favorite player is actually Messi.
Hobbies Other than Freestyling:
Outside freestyle I also like drawing, playing soccer, going out on walks with my girlfriend.
Favorite Celebrities:
My favorite celebrity is Ronaldinho, for his great humility.
Favorite Movies/TV Shows:
Transformers
Favorite Freestyle Moves:
Charly Sole Juggles, Charly Calf Juggles.
Find out more about Charly Iacono here and follow him on Instagram here. 
Translation by Hernan Lavin.