It's been two decades since Ronaldinho officially signed with FC Barcelona, forever changing the fortunes of a then-struggling club. We revisit his immeasurable impact on the club both in the moment, and still today.
On July 21, 2003, on the heels of a fourth straight trophy-less season, including an unfathomable sixth-place finish in La Liga, FC Barcelona finalized a €27 million deal to secure the services of a 23-year-old Brazilian who'd shown flashes of brilliance over two seasons with Pairs Saint-Germain: Ronaldo de Assis Moreira, also known as Ronaldinho Gaúcho, or simply Ronaldinho.
Tomorrow marks the passage of exactly two decades since that move, which now looms as one of the most momentous in the history of club football. A bit hyperbolic, no? Well, buckle up.
History Repeating
It's tempting to compare Barça's recent travails to the events of 20 years ago. And, to be sure, there are similarities.
The seeds for the lean times were planted and took root on the watch of the club's longest-ever tenured president (1978-2000), Josep Lluís Núñez. Fittingly, Núñez, the man who attempted to permanently sever Barça's ties, was welcomed back to the club by once-jailed money launderer Sandro Rosell and his feckless, wrongly-unincarcerated ally, the man who's done more to burn the club to the ground than Florentino Pérez could even imagine, Josep Maria Bartomeu.
Also, despite presiding over the unprecedented successes of Cruyff's Dream Team, Núñez's tenure will forever be remembered for the shocking departures of Ronaldo Nazário and Luis Figo. Hopefully, Barto's legacy is similarly stained by the memories of Neymar and Messi.
All of that being said, even by the standards of broke-ass, post-Messi Barça, it's tough to exaggerate just how "down bad" this club was in the summer of '03.
Ruin Comes Slowly, And Then All At Once
The rot under Núñez's watch began to set in a few years before the foundation actually crumbled. In the summer of 1996, Núñez elected to move on from club icon and the architect of the Barça that we all take for granted, Johan Cruyff. Sacrilegious as it may be to say, taking into account the two men's long-standing feud, Cruyff's own, shall we say "abrasive" personality, and the fact that the move followed a pair of trophy-less campaigns, a case could be made — I absolutely would not make it, but one could — that Núñez was not unjustified.
In Cruyff's place came former Ipswich Town, PSV Eindhoven, Sporting CP, Porto, and England national team manager Bobby Robson. Thanks to Robson's relationships in the Netherlands, joining him in Barcelona on a then-world-record fee (€16-17 million in today's money) was a lithe, 20-year-old, pre-injury Ronaldo Nazário, previously of PSV. Despite some wobbles and no shortage of drama, Ronaldo was astounding, not just scoring a then-record 47 goals in 49 appearances in all competitions but doing so with an otherworldly flair and genius.
He, Robson, a young Luis Figo, and the remnants of the Dream Team that won four straight league titles and the club's first-ever European Cup in 1992, guided the club to an objectively outstanding season that yielded the Supercopa de España, the Cup Winners' Cup, and the Copa del Rey – which Barça clinched against Real Betis at the Santiago Bernabéu, after which the "Cant del Barça" played in the home of their eternal rival. Had they not scuffled at various points against lackluster opposition, they might have overturned Madrid's two-point final margin in the league table and achieved immortality. Alas…
That Robson was gone after that season, though unfair given he was named FIFA's Coach of the Year, was not unexpected. It was a horrendously-kept secret that Robson would only ever see out half of his two-year contract, as Núñez had Ajax boss Louis van Gaal slated to take over in the summer of 1997. The bombshell that threw everything for a loop came when Núñez bungled negotiations with Ronaldo, resulting in the 21-year-old physical, technical, and instinctual platonic ideal of a striker moving to Inter Milan for another record fee (about €20 million today).
Just a few months later, Núñez was facing a vote of no-confidence instigated by "L'Elefant Blau," a rival group headed by Joan Laporta of all people. Though Núñez survived that vote, his time in charge was clearly nearing its end. Despite a domestic double in his first season in charge, and another league title the following season, Van Gaal did little to provide a lifeline.
Between falling out with Rivaldo and insisting on playing the new superstar striker out of position on the left wing, to immediately and persistently feuding with the local press, to claiming that "cultural differences" were keeping the side from grasping his philosophy, despite spending big money on "his players" in 1998-99, it was not exactly smooth sailing under the Dutch manager. In May 2000, after a trophy-less third season in charge, Van Gaal resigned, telling the press "Yo me voy. Felicidades." ("I am leaving. Congratulations.") Many probably just nodded in agreement.
Consider: the situation was still nowhere near its nadir.
Plumbing the Depths
Almost exactly two months after Van Gaal's departure, on July 24, 2000, in one of the most shocking and seismic transfer deals, superstar winger Luis Figo was transferred to Real Madrid. The following day, Núñez resigned from the presidency.
The €62 million that the move netted the club might have softened the blow if a) Barça did not desperately want to keep the electric 27-year-old who'd go on to win the 2000 Ballon d'Or; b) the club wasn't still smarting from having another best-in-the-world player at or still approaching the peak of his powers pried away against its will; and c) he wasn't joining them.
No, the cash did not soften the blow.
Nonetheless, in the wake of Figo and under new president, Joan Gaspart, Barça sent €54 million to Arsenal for Marc Overmars and Emmanuel Petit, €14 million for Real Betis striker Alonso, and €22 million for Valencia midfielder Gerard. The following summer, it was another €72 million on a pair of attackers, River Plate's Javier Saviola and Cruzeiro's Geovanni, in addition to Monaco defender Philippe Christanval. For good measure, in the summer of 2002, they splashed another €10 million on the darling of artists and aesthetes the world over, Boca Juniors' Juan Román Riquelme.
Rock Bottom
OK, but, what literally did all of that buy?
In short, two more trophy-less post-Van Gaal seasons under Lorenzo Serra Ferrer and club fixture Carles Rexach, in which the side finished fourth in the league each time and, in 2001-02, got bounced in the first round of the Copa del Rey by third-tier side (then and now) UE Figueres. The 2002-03 season brought, for some reason, the return of van Gaal.
The Dutchman now had Riquelme with whom to feud after puzzlingly bringing in the inconsistent but ingenious Argentine playmaker as a replacement for his previous South American nemesis Rivaldo, whom he'd released for free with a year left on his contract. This time around, van Gaal didn't even make it to February, leaving on January 28, 2003 by "mutual consent," with the Blaugrana 12th in La Liga, 20 points from the top and just three points above the relegation zone, and once again out of the Copa del Rey in the first round, this time at the hands of third-tier (now fourth) Novelda CF.
Gaspart was out as president two weeks later with, Enric Reyna and a Managing Commission taking over until an election (which Joan Laporta won) could be held in the summer.
On the pitch, under a combination of interim managers Antonio de la Cruz and Radomir Antić, the side "improved" to sixth in the league and, less snarkily, pushed Juventus to extra time in the quarters of the Champions League, before falling to a 114th-minute Marcelo Zalayeta goal.
All of this to say: in the summer of 2003, the situation at Camp Nou was grim.
Enter the Malandro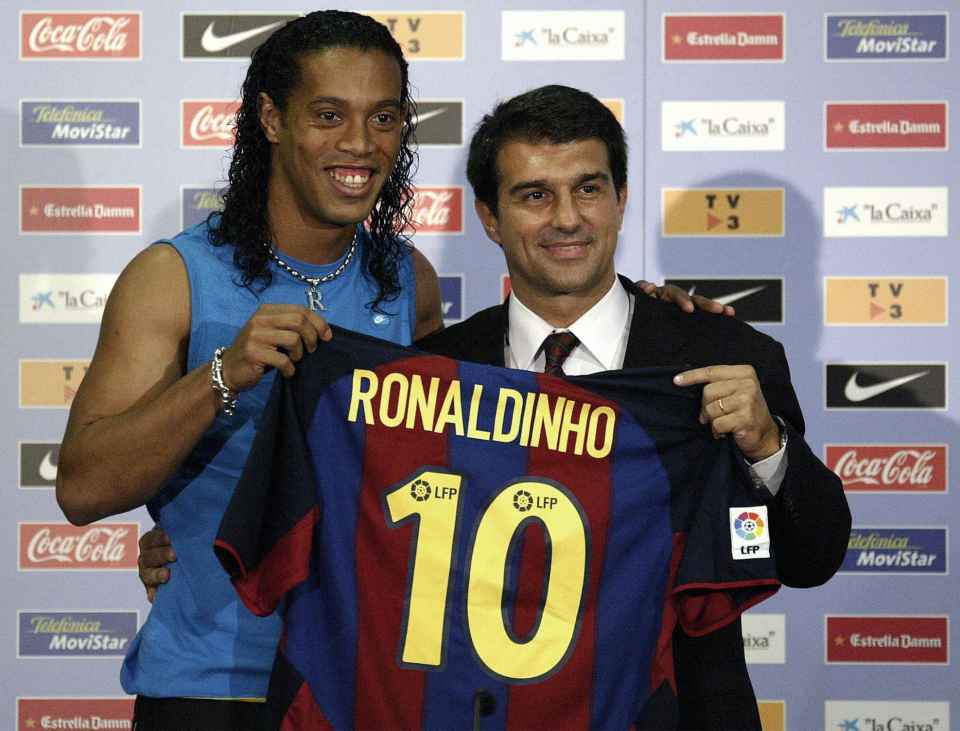 It's into this madness that Ronaldinho stepped.
Though he'd played a significant role in Brazil's World Cup triumph in Japan and South Korea in the summer of 2002 (we all remember this) and his hilarious talent was evident, at the time Ronaldinho wasn't seen as a nailed-on cornerstone of a winning team. In fact, both his play and PSG's performance in the league (from fourth to 11th) slipped in 2002-03 after an awesome previous season. Then there was his rocky relationship with manager Luis Fernández, who'd previously called out Ronaldinho for being too focused on the nightlife in Paris and never returning from his Brazilian holidays when he said he would.
Regardless, arriving on such a massive fee after a battle between Barça and Manchester United, as the lone signee of the "David Beckham, Thierry Henry or Ronaldinho" triumvirate promised by Laporta in his election bid, with the club in the doldrums, incredible pressure was sure to follow.
It's a bit glib to shrug and say that "he just didn't care" but, seriously, it really didn't seem like he did.
Sure, a second-place finish in the league, two points clear of Real Madrid was certainly cause for optimism. So, too, was the fact that Ronaldinho netted team-bests of 15 goals in the league and 22 in all competitions. It also didn't hurt that on September 3, 2003, his first competitive goal with the club, in his first home league game at Camp Nou, looked like this:
Though Ronaldinho's first season in Spain was Barcelona's fifth straight without silverware, it was clear that the club had found not just an immense talent or even a superstar, but a genius, icon, and talisman.
The following season, Barça with Ronaldinho front and center, but now flanked by an ascendant Xavi-Iniesta midfield and new signees Samuel Eto'o and Deco, and with a little Argentine teenager now in the first team, returned to the top of the league in a big way, holding the top spot in the table for the final 33 weeks of the season.
And, despite crashing in the Champions League's round of 16 to Chelsea by a combined score of 5-4, Ronaldinho provided another taste of what he was capable of, scoring his second in the away leg at Stamford Bridge, by beating Petr Čech from just outside the box with a shimmy and a flat-footed finish:
He, of course, he brought the Bernabéu to its feet:
And did for the bicycle kick what Vince Carter did for the 360 windmill:
By the time all was said and done, over five seasons, he'd scored 94 goals in 207 appearances and led Barça to a pair each of league titles and Supercopas de España, as well as a second-ever Champions League crown in 2006.
Searching for the Words
All of that matters, of course it does – and, on its own, it's damn impressive at that. However, any attempt to reduce the experience of watching Ronaldinho, or his meaning to the game itself and Barça specifically to numbers is an exercise in ignorance.
Some might say "Xavi was already there, Iniesta was coming, and they knew Messi was something." Sure. But how long was all of that going to take to fully come together? And how ready were those dudes, especially then, to be front and center in the limelight every single day?
That generation, plus the numerous excellent players that the club signed, was allowed to develop and operate in optimal condition, with a glorious, joyous magician facilitating their success, without so much as a whiff of pettiness or jealousy.
Consider what happened about two months after that gorgeous goal at Stamford Bridge. In a home game against Albacete, Ronaldinho served up an awesome, knowing scoop that would become the first senior goal for one Lionel Messi:
That Ronaldinho, the reigning (and soon-to-be two-time) FIFA World Player of the Year and that year's Ballon d'Or winner to-be celebrates with pure joy and by giving Messi a piggyback ride, speaks volumes. In case you need more, consider what the man himself said when accepting his Ballon d'Or later that year:
"This award says I'm the best player in the world, but I'm not even the best player at Barcelona… Someday I will explain that I was at the birth of one of the footballing greats: Leo Messi."
I fear that I might keep adding stuff to this in the hope of finding the right combination of words to sum up what Ronaldinho meant, not just in general, but to this club at that time. I'll finish by saying this:
Not only did Ronaldinho achieve all there was to achieve as a member of Barcelona, he did so with purity, innocence, and boundless elation. For every fan, everywhere he was a gift, a treasure. For FC Barcelona, he was the savior that demanded not that you suffer for your pleasure.
In Ronaldinho, Barça had a talisman and era-defining superstar who not only reached the very apex of the sport in the Blaugrana, but returned both silverware and a significant measure of self-esteem to Camp Nou. He facilitated the transition into the Messi era with humility and generosity. And he did it all with a smile, as the single most magical player the sport has ever seen.