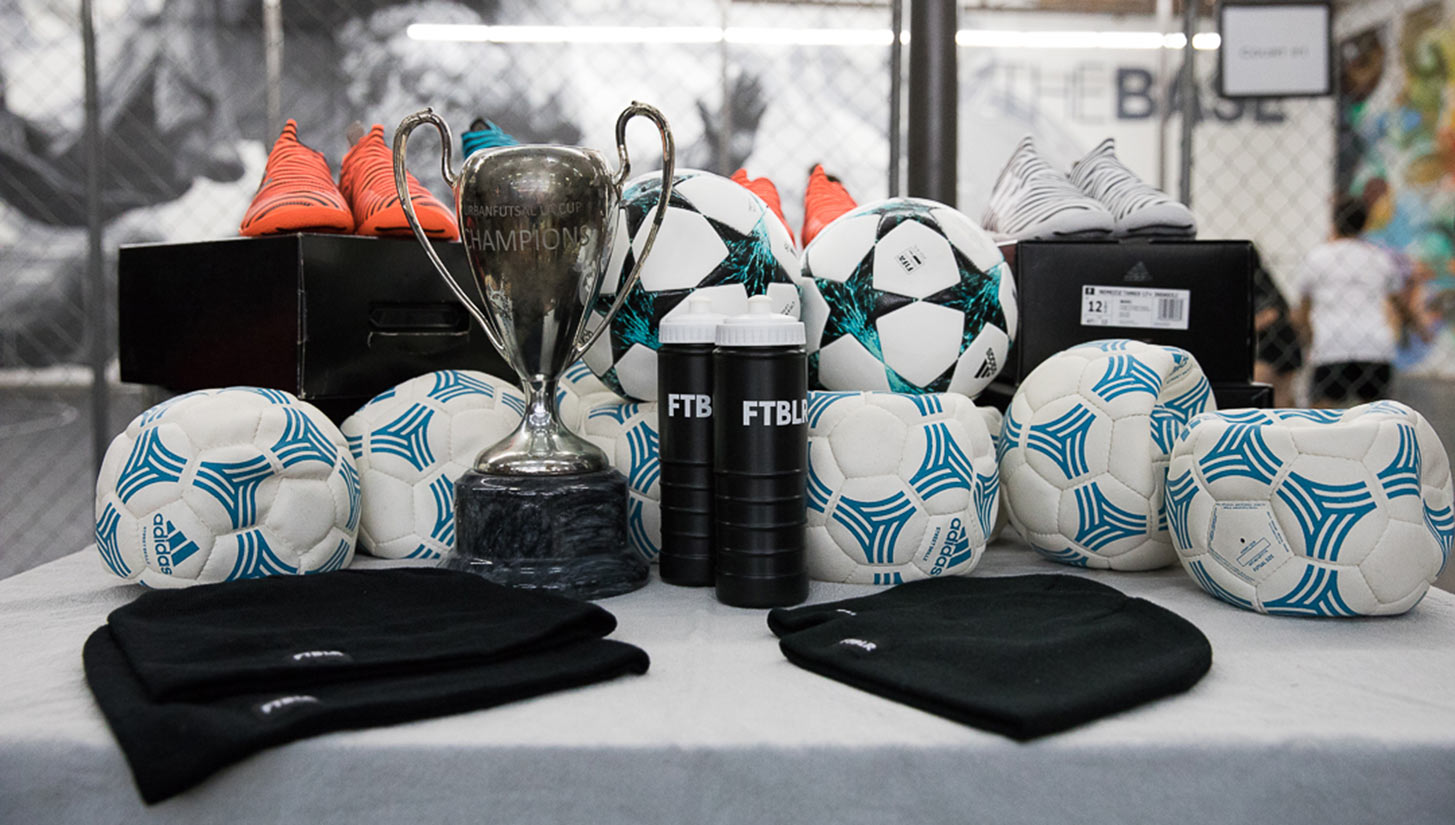 Hosted at Adidas The Base LA, the Copa Urbana co-ed 5v5 tournament and holiday party featured LA's vibrant football scene, complete with amateur and pro ballers competing for not only prizes, but for bragging rights as well. 
The second annual Copa Urbana at Adidas The Base LA was, for lack of other words, lit. LA's premier ballers getting after it in a unique high-level co-ed tournament made for an entertaining atmosphere on its own, but a live DJ, raffle prizes, and pop-up shop from event sponsor and co-host FTBLR elevated the scene even more (not to mention the rumchata).
Urban FC, led by none other than our very own Greg Kaganovsky, took the tournament crown, with goal keeper Jojo McCaskill winning MVP honors.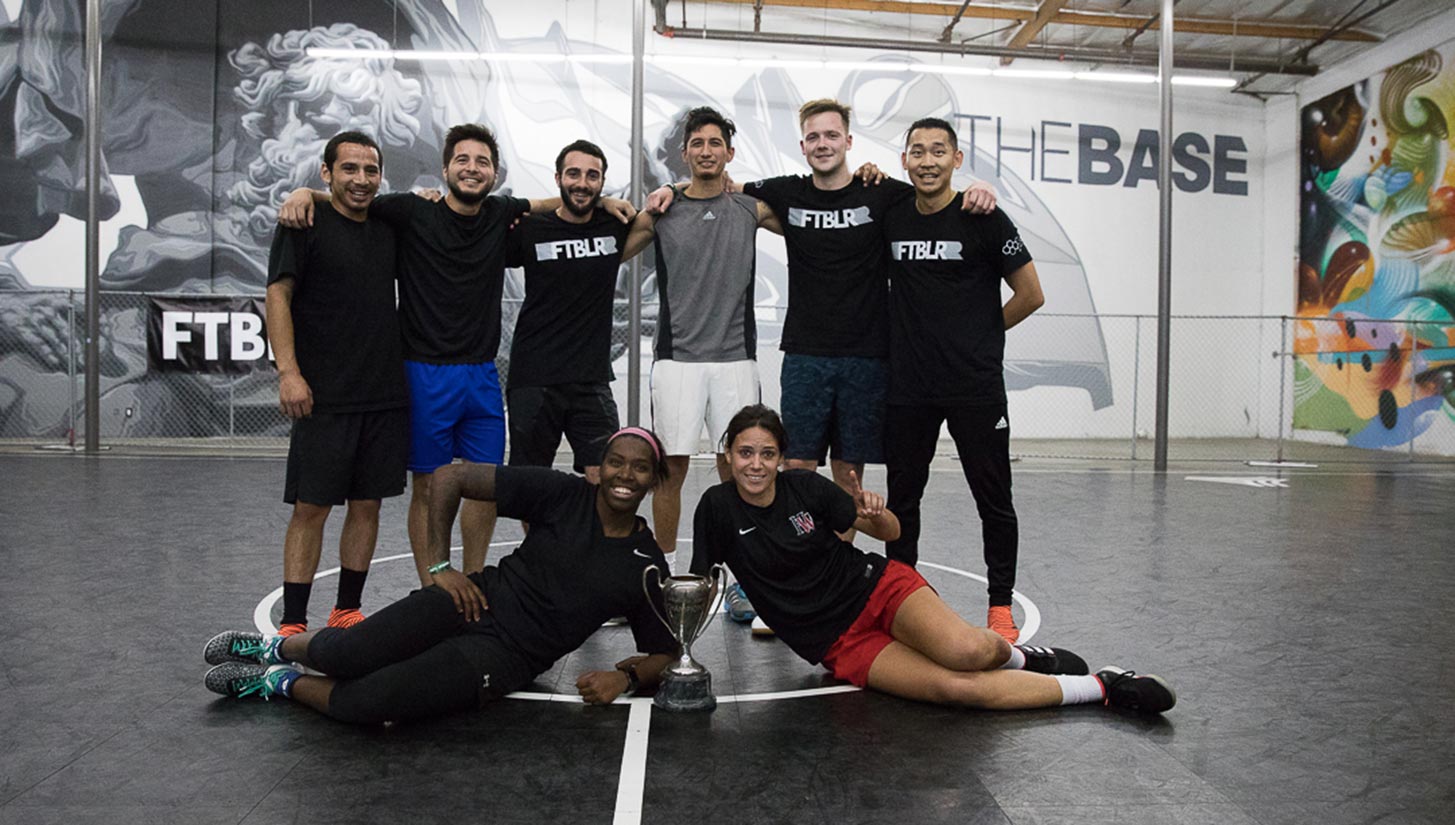 Plenty of current and former professional ballers were out either working on their game or taking in the intense competitive vibes emanating from both of The Base LA's pitches, including Travis and Tristan Bowen, Janelly Farias and Jasmine Henderson. In addition to these pro ballers, we caught up with Soccer Problems' Briana Aguila, KAOS Soccer's Taylor Moreno, and the head of FTBLR himself, Tony Magaña to talk about their thoughts on the FTBLR clothing line, favorite kicks to rock on and off the pitch, and the competition at Adidas The Base LA.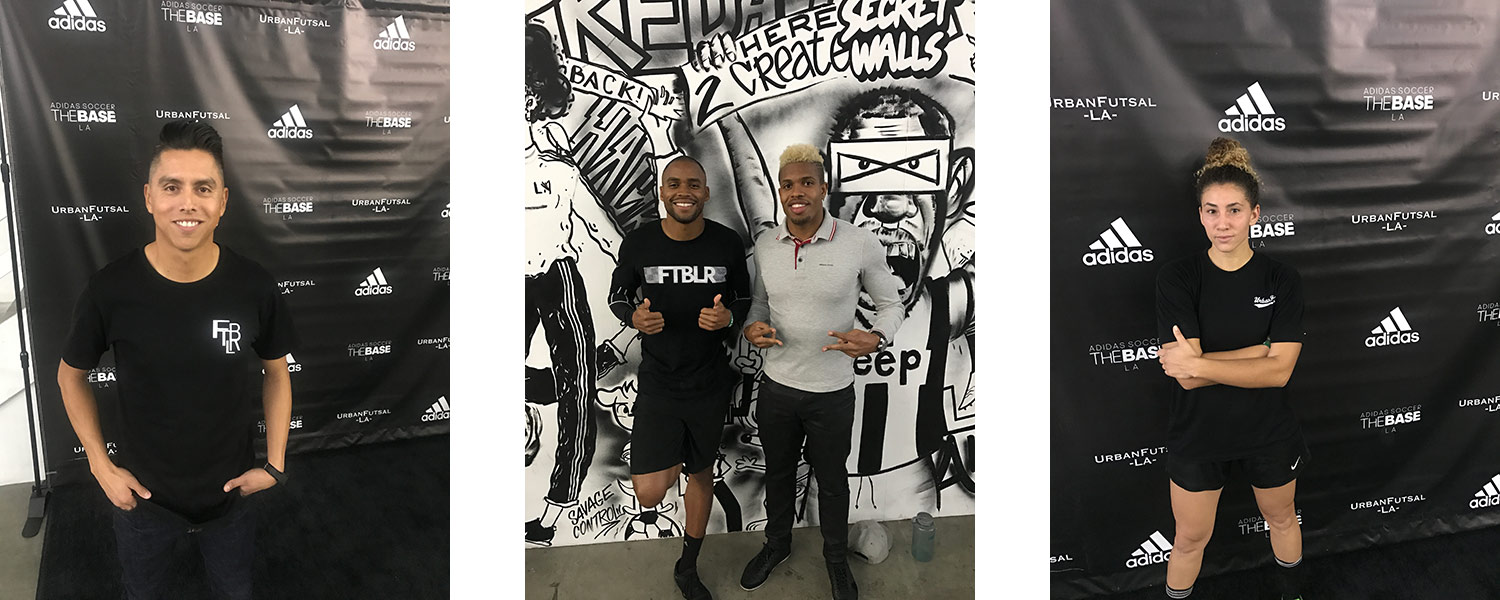 It's not every day you see a high-level co-ed tournament like this. What's the atmosphere like tonight, and when you're going up against the opposite sex, does your game plan change at all?
Tristan Bowen: It's cool! People are taking it really seriously and the games are really fast, which is good offseason work. I mean, I'm not going to to into a girl at full force, but the same also applies to a guy. It's all about using your sense and finding a way to manipulate your body so that you don't just run into them, but absorb their speed and things like that. But if she's on the field, she's going to get the work too!
Travis Bowen: I've been more of a spectator tonight, but what I like about these events is that it's not only pro players. You get every walk of life in football, so you get to talk to people who just do it recreationally in addition to people that take it more seriously, and I like how it brings everyone together. You don't get that opportunity too often. When you're going up against a girl, you obviously have to use your discretion, but I just try and play my game, and if that comes about then you deal with it when it happens. Everyone just wants you to compete. If you compete, you don't have anything to worry about.
Jasmine Henderson: The competition has been really good, because we're all here to have a good time, but at the same time, we're all really competitive! I love the fact that it's a legit co-ed tournament. It's not a men's tournament with a co-ed division on the side. It gives an opportunity for the community at large to come together. I think it's great because it highlights and is attractive to ballers like me who want to play in a higher-level competition. In this type of environment, you don't have to earn any respect, it's already there. They know that it's a high-caliber tournament.
Tony Magaña: I love the vibe out here tonight. Everyone's having a great time, the competition is really good, and there's a lot of ballers out there. For co-ed games, you've got to keep it respectful, especially when challenging the ladies. It's all about respect out there, you've got to keep it fair. But some of these girls can ball, man. Some of them are way better than the guys out here.
Briana Aguila: The competition is great as always, but a little bit better tonight. Regardless of who the competition is, you're always going to give it 100 percent, but you have to take into consideration that you're playing against guys. You have to be smarter about how you use your body. It's really fun playing against the guys. They bring a level of intensity that you're not really used to against just females. It also makes you feel better knowing that you can hang.
Taylor Moreno: The girls are so incredibly talented here tonight. If I was playing out there, I'm not holding anything back, it's game on! It's all in the fun of competition.
Janelly Farias: I love playing against guys. Guys usually underestimate girls, so it's a cool opportunity. Every chance I get to play guys I take it, especially in small-sided soccer.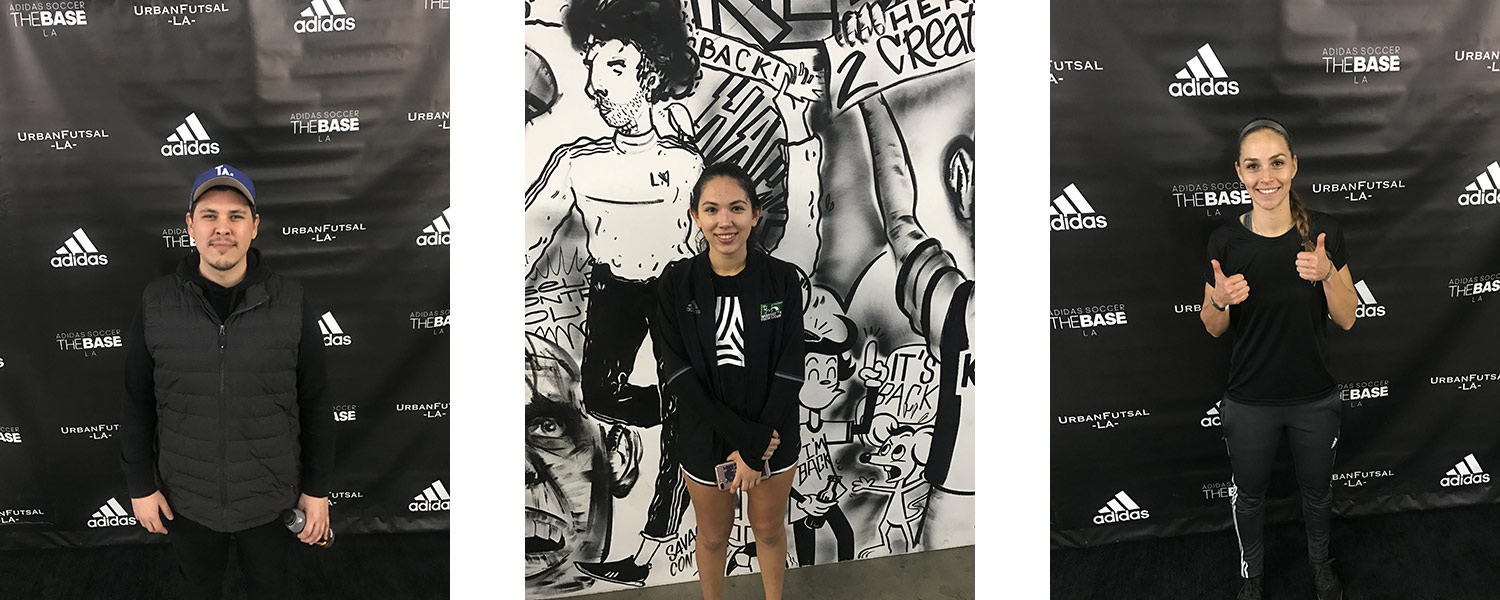 What do you enjoy most about the small-sided game? 
Tristan: Travis and I grew up playing futsal, so I found that mastering the ball here translates to the big field. I just come out here and work on things that you can't necessarily just go out during a pro game and try for the first time. It's just about being creative and doing whatever comes to my mind.
Travis: As a center forward, I really use futsal to work on my shielding. A lot of times I'll have some bigger defenders behind me, and futsal helped me work on that shielding growing up. But I also try and be creative and find some angles and pockets of space where I can score.
Jasmine: I love that every player is on offense and defense. It's like a super creative hodgepodge. You don't really have a position. You can make runs anywhere, and there's a lot of freedom. The biggest difference is the speed of play. Everything is so quick, whether it's passes or skill with the ball. It really highlights the beautiful game.
Tony: I love the small-sided game because you just get more touches. You're on the ball more, and I love the ball at my feet. You've got less time to think, so you've got to be quick.
Briana: My favorite thing is how quick it is. No matter how much you condition, the only way you'll be in shape for this is to keep playing it. Other than that, it's a lot of fitness, and you really need to be good with the ball at your feet. It's definitely showed me a different type of soccer, so I really appreciate what this facility offers.
Taylor: It's so fast and technical. It seems like there's a lot more action going on, whereas in traditional soccer, you can be watching for hours and not see much happening.
Janelly: What I like the most about the small-sided game is that I get to have the ball at my feet a lot. I like having the ball in tight spaces under pressure. In 11v11, I don't get that opportunity a lot.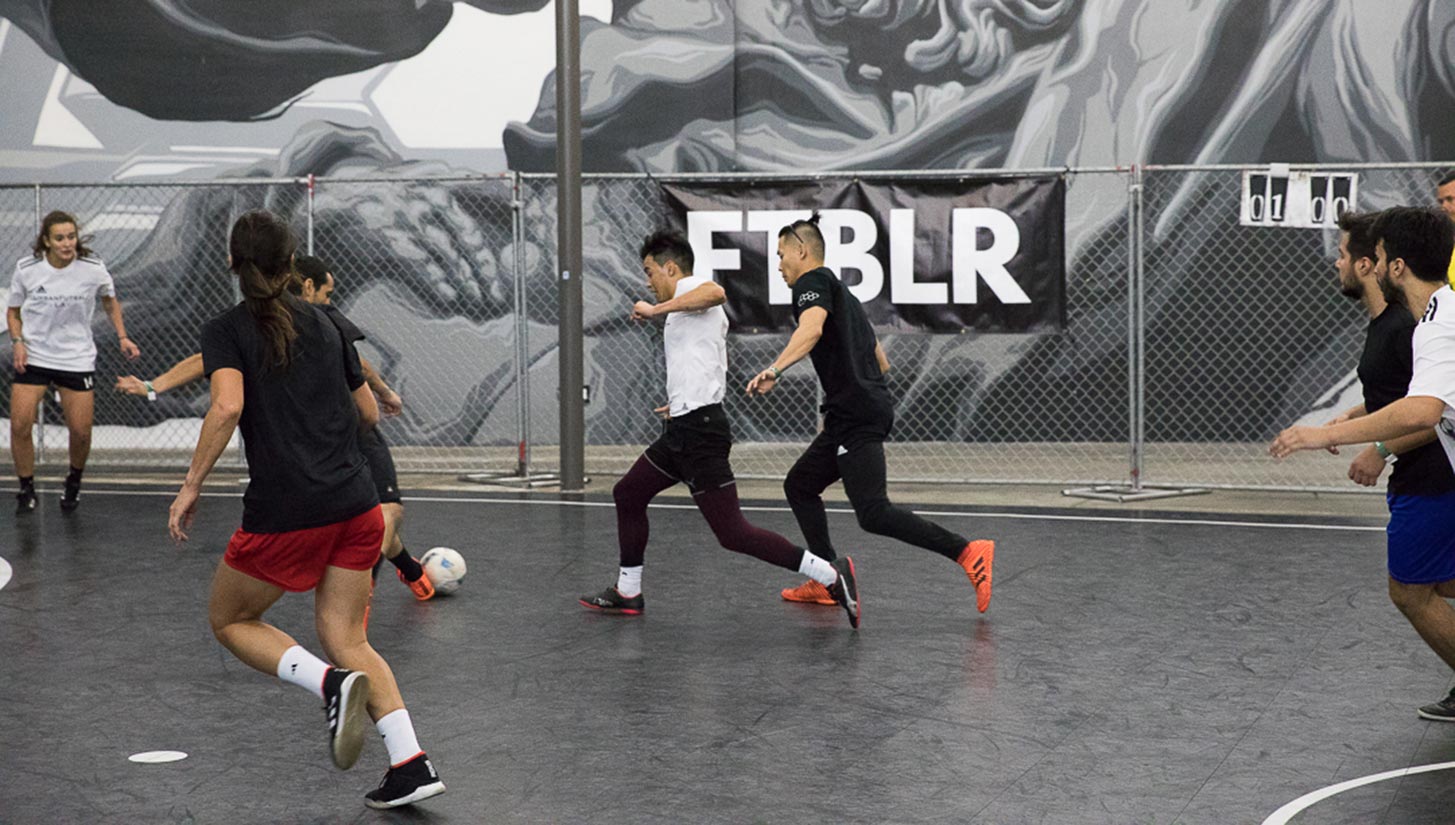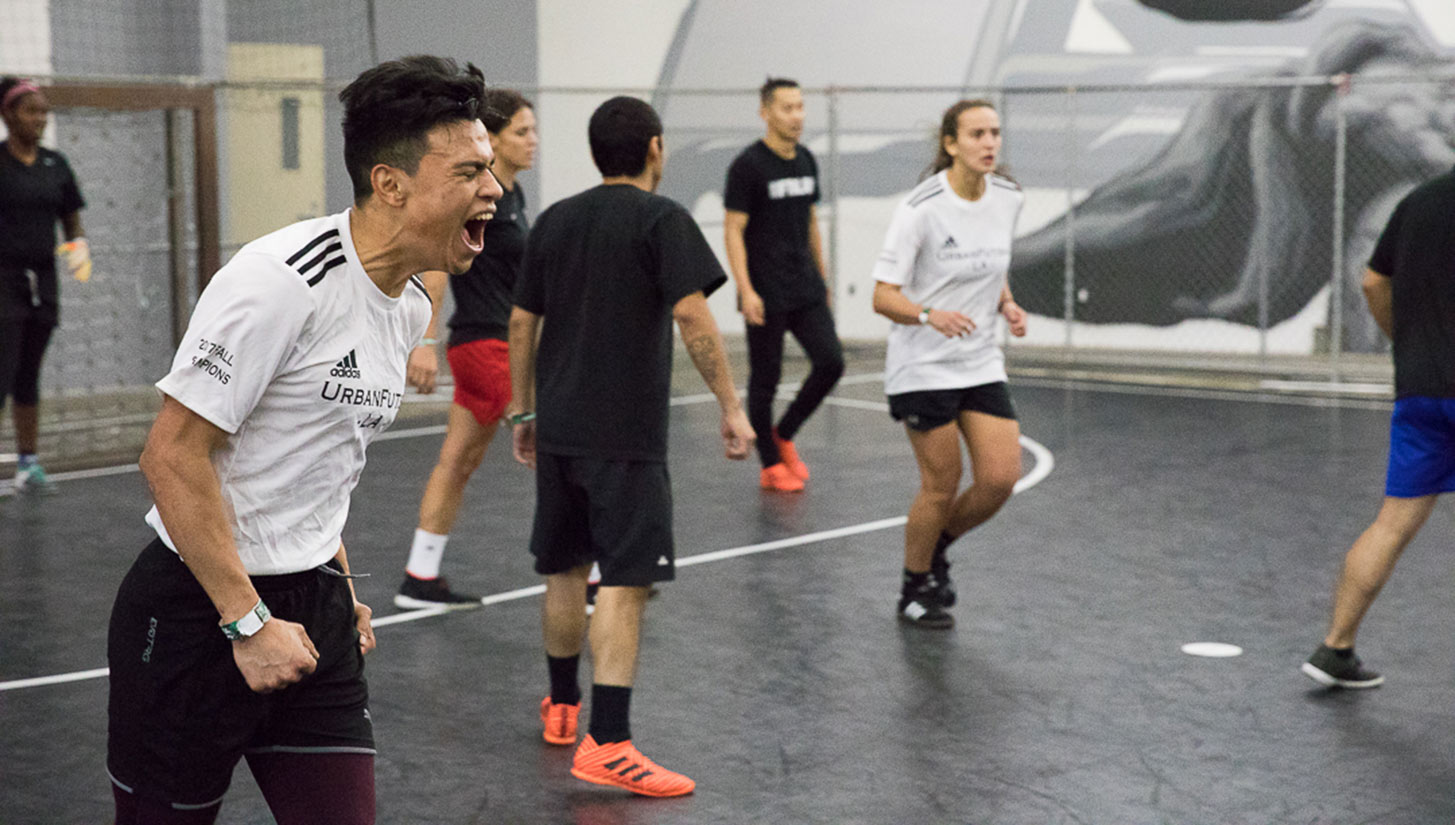 Tell us about your shoe game tonight. What kicks do you have on, and what do you look for when copping a new pair?
Tristan: It's funny, I used to live in Brazil for a bit, and over there, you're considered rich if you have nice running shoes. And that's kind of the fashion in the U.S. now, so personally I like some comfortable running shoes I can dress down with some ripped jeans.
Travis: I'm rocking some Lacoste kicks right now, and I've got wide feet so obviously while style and look are important, I need that comfort. I need something comfortable for my arch. We put so many miles on our legs, so even off the pitch you need something super comfortable, brand doesn't really matter.
Tristan: He's lying, he was eyeing some Balenciagas the other day! (Laughs)
Jasmine: Different brands do different cuts, and Adidas just happens to cut to my foot really well. On the pitch, I've gone with Nikes, but my favorite is the old school Adidas Copa. It's leather, it forms to your foot, and you can't go wrong. Some brands try and do too much with these weird inserts and things like that, but Adidas is straight up straight down, you know what you're getting.
Tony: Actually, these were a gift from you guys, so shoutout to Urban Pitch and UrbanFutsal LA for these Adidas Ultraboosts. But I'll wear whatever's dope, whether it's Nike or Reebok — anything goes.
Briana: For casual shoes, comfort is the most important thing. The Adidas Ultraboosts are sick, NMDs are awesome, but other than that there isn't much I look for in terms of style. I'm more picky towards my soccer footwear.
Taylor: I've got on some Adidas right now, and the first thing I look for is comfort, then a little bit of style. I tend to like it form-fitting around the ankle, but I'm really open to anything. My last four pairs happen to be Adidas, that's just how it's been.
Janelly: I'm definitely looking for comfort. Adidas always makes the most comfortable shoes. The new NMDs that came out are my favorite.
What about for the small-sided game? What kind of boots do you like to wear?
Tristan: On the big pitch, I grew up a Nike guy, but was sponsored by Adidas for about eight years which made me fall in love with the brand. The Ace boots are mad comfortable. When I was first sponsored, I'd find myself wearing 20 different boots throughout the year, but when you get older, you just find those boots that fit. But for futsal, it's whatever, I just pick some sick colors. It's the first time for me wearing these Pumas and they've got great grip.
Travis: For the small-sided game, I like anything with good ankle support, because you're in weirder positions, so I look for anything with that ankle support and good grip. On the big pitch, I need something comfortable and that molds to my feet. Comfort and style are the two biggest things.
Jasmine: (Showing off her bright green Adidas X Tango boots) Obviously I'm looking for the fit. I want to make sure it conforms to my foot and has a good grip on the bottom. And then, obviously these are bright green so style of course. You've got to be going out on the field feeling like you want to ball, but also looking like you're ready to ball.
Tony: For short-sided games, I'll rock some Nike Tiempos. You can't go wrong with that.
Briana: I obviously like comfort, but also something that is secure as well. That's what I love about my Nemeziz. The upper is amazing. It fits and forms to your foot, and you feel the security but it's also flexible. It's an easy boot to wear for futsal.
Taylor: I'm definitely going with some Adidas Sambas. They have that old-school flavor to them, I've got a pair and I love them.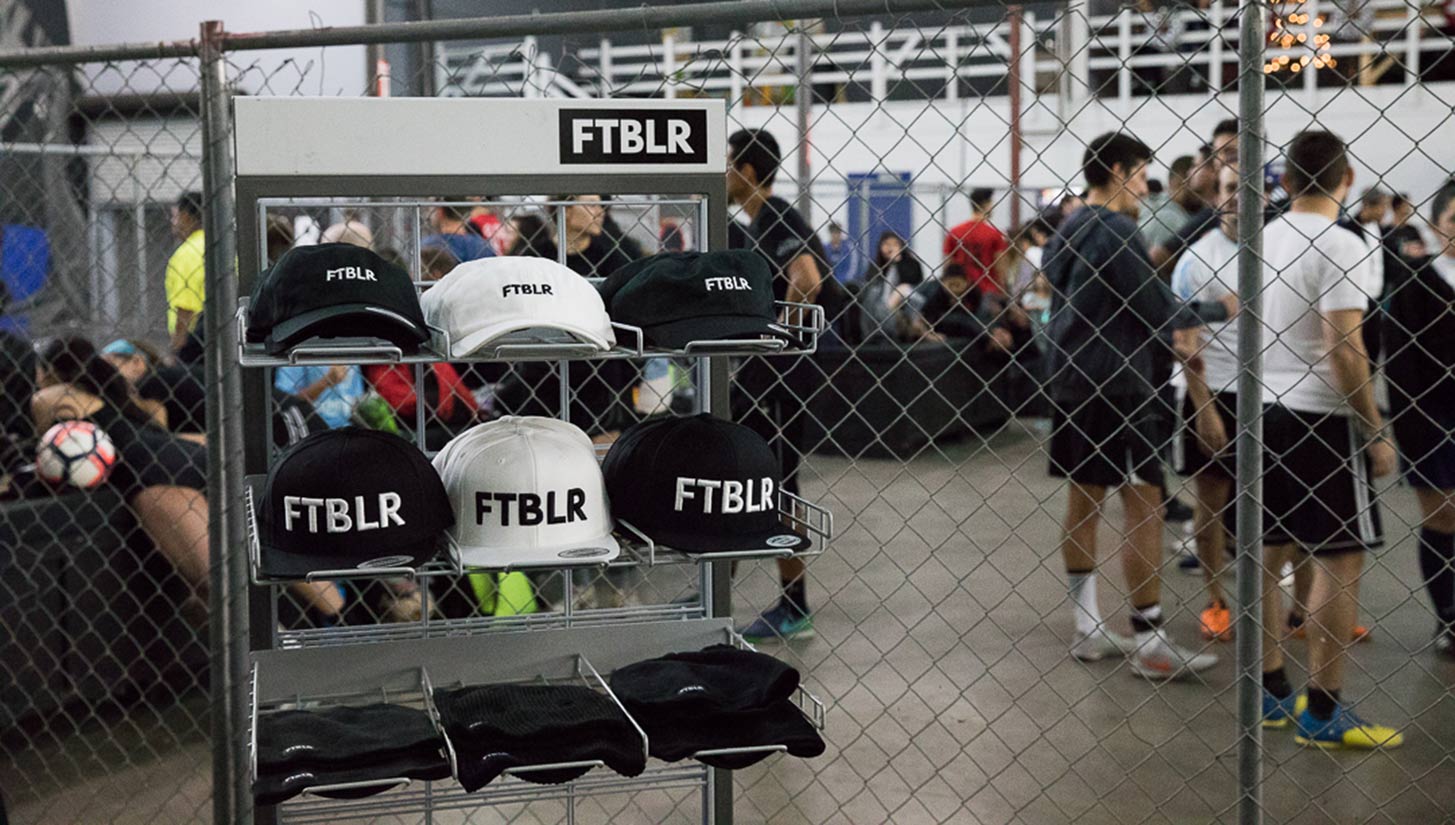 What do you think about the FTBLR collection? What's your favorite piece and how would you rock it?
Travis: It's definitely legit! You know what they're talking about exactly when you see it. You know it's not American football, but soccer. I like that it's very direct, you can tell what the brand is about just from the style — it's full on soccer.
Jasmine: I have a FTBLR shirt, and I wore it with a blazer and made it sporty-professional. That's what I like about FTBLR. It's clean, professional, it's simple, and it's also very clever. It's a clean look that you can dress up and dress down, and rock it however you want to. I've been eyeing their hats, so I'm going to have to check those out some more. But my favorite is the FTBLR tank. It looks good on my skin (laughs) and it's a racer-back, so it's got that Cali-vibe.
Tony: (Laughs) Dude I love the FTBLR gear. It's so dope. I like the long tee, that's what I've got on now. With some jeans and some fresh kicks, you got yourself a nice fit.
Briana: I actually only own one piece of FTBLR clothing that I won here at a previous Baller Night, but I'm a huge fan. It fits really well, especially for a unisex. I really like how you can wear it with anything from a nice jacket and some kicks to shorts and some sandals. It's really diverse.
Taylor: It's awesome. I was able to watch your guys' podcast with Tony and I think he's doing exactly what we aspire to do. I think it's great that it's family-owned, and that he's doing it for the better of the sport. That's exactly what we achieve to be. Give me that hexagon logo tee with some jeans and Adidas kicks, and I'm definitely rocking that.
Janelly: I love the hoodie! My girlfriend is wearing it now, it's so cool. All of their gear is so dope. You can wear it anywhere and any time.