To unveil their all-new safe standing supporters' section, LA Galaxy hosted the Victoria Block party and open training at Dignity Health Sports Park over the weekend. Featuring music performances, special guests, and our first glimpse of Chicharito on the field, we were on the scene to capture Galaxy fans' excitement in our latest edition of Heard on the Street. 
Kicking off the 2020 MLS season with much fanfare, LA Galaxy invited fans to Dignity Health Sports Park for a block party honoring the newly renovated safe standing supporters' section in the stadium.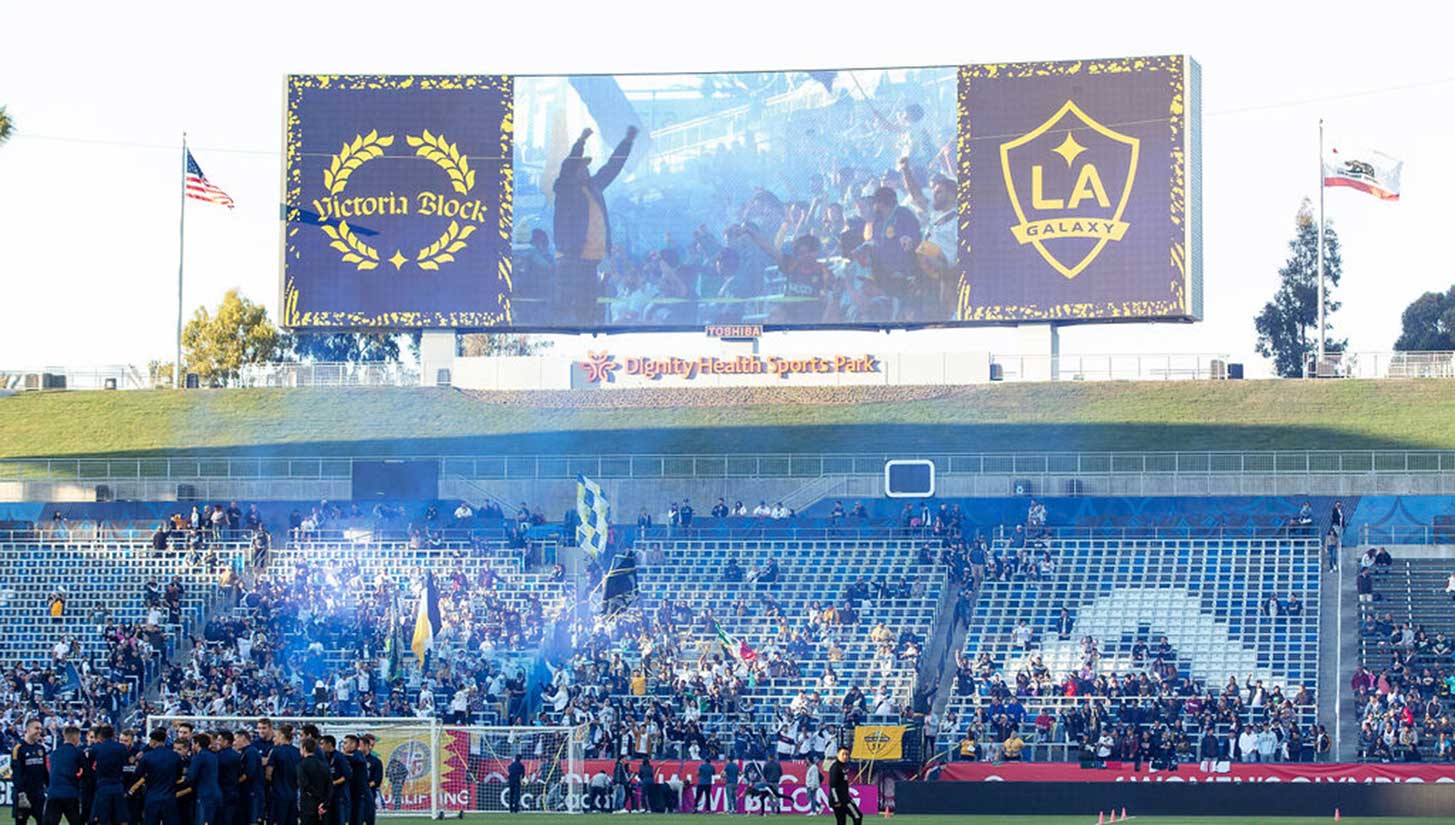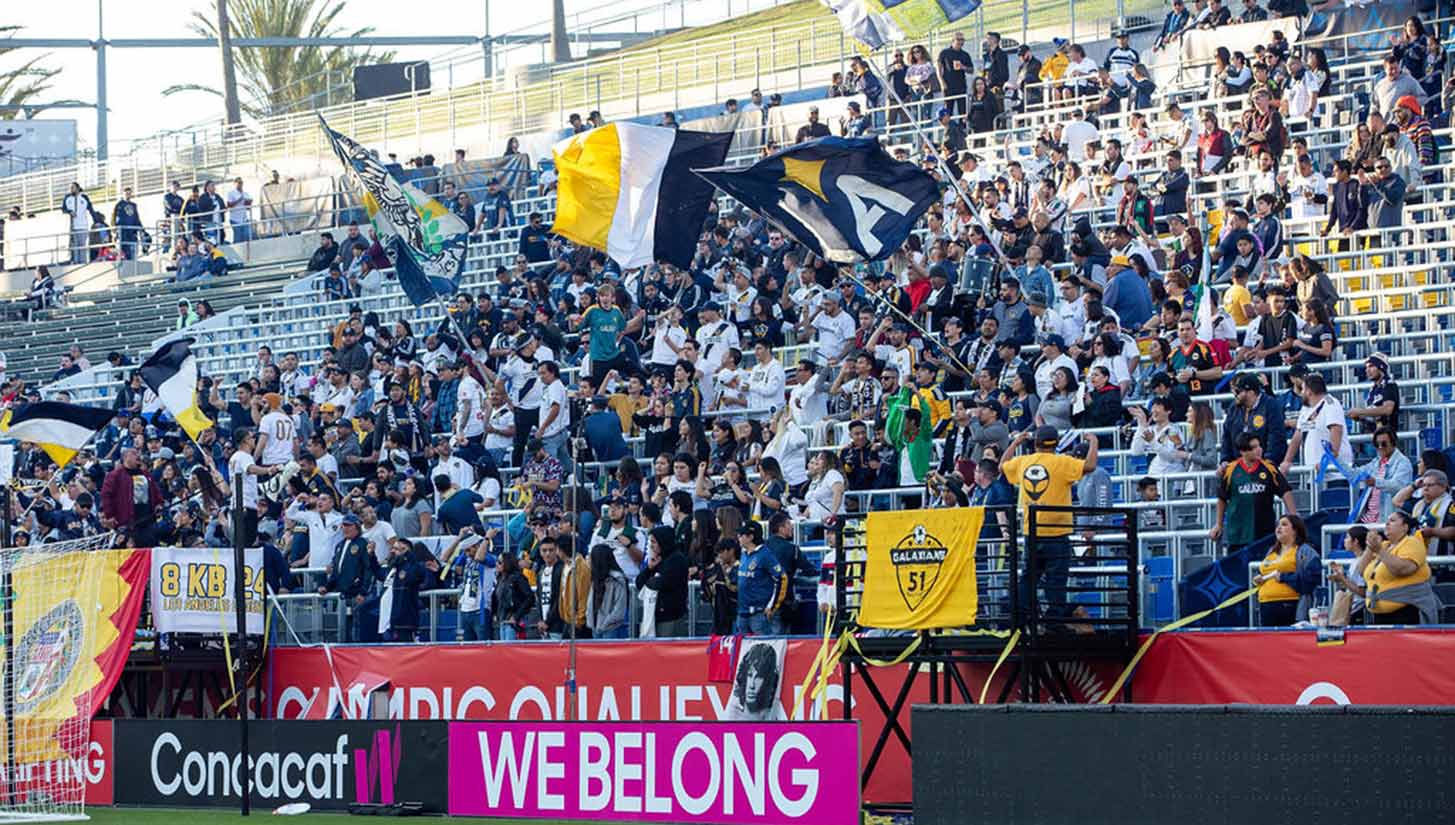 Dubbed "Victoria Block," the section has been a long time coming for faithful Galaxy fans, whose passion and support has kept the team going strong since 1996.
Supporters of all ages came from across Los Angeles county to break in their new section and watch the team practice. The block party also featured music performances from Cousin Feo, Lord Juco, Flashius Clayton, and 1800Call$ol — the first time these frequent collaborators shared the stage all together.
We caught up with Feo and several other Galaxy fans to ask them a few questions about the new supporters' section and how they feel about some of the changes and new additions that precede their upcoming season.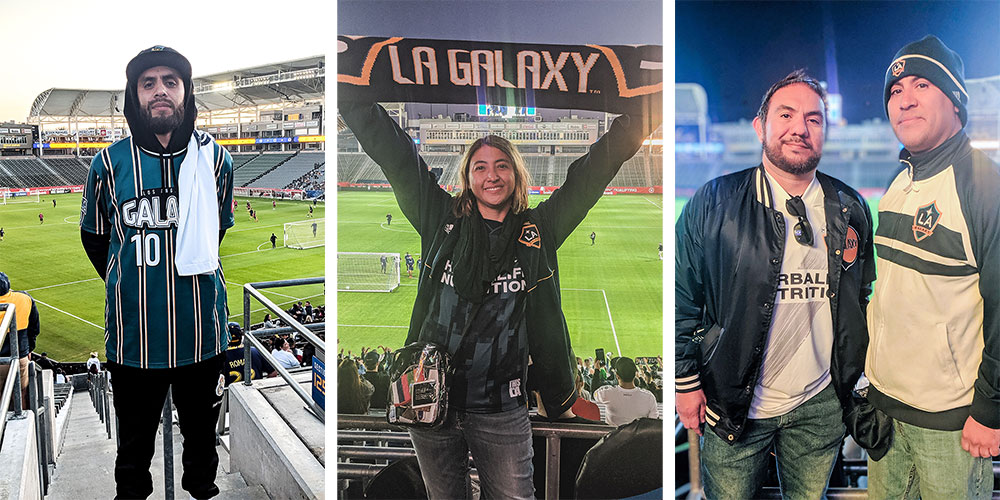 Urban Pitch: How excited are you to kick off a new season with a new supporters' section, and how do you think it'll affect the stadium atmosphere?
Cousin Feo: Huge. I grew up a Galaxy fan from the very first day. I remember my first game at the Rose Bowl in '96. The jersey I have on right now actually is a Mauricio Cienfuegos. My stepfather is Salvadorian so that's why we went.
To see the club grow to what it is now, and to be a part of that support is really an honor, especially growing up in the city. Galaxy being the OG home team is huge. [The new seating] is momentum for our team. The fans need momentum too. It's an opportunity to build together and get acquainted with the new fans. People who haven't been here — show them the culture, the energy, and then for me, as the artist, being able to contribute my artistic energy to it as well. Hopefully it's a catalyst for the season.
Michelle Huitink: This is really amazing because it's what everybody's been talking about, which is uniting the supporters. I still think it's cool that Riot Squad is on the other side because the whole point is trying to get the whole stadium cheering at the beginning of the season like this. It gives the team life. We're LA Galaxy. The expectation is that we are going to be contenders and not just make the playoffs, but be in the finals and win.
David Orona: The one thing that we feel like we've always been good at is game day experience. With the new upgrades, the safe standing seats, it just makes that supporter culture even better. It's really going to be the thing that pushes people into joining in more. I think it'll really grow over this year.
Alexis Huerta: I'm very excited. I've been waiting for this. We have new players. Hopefully we get everything done this season. This year should be perfect now. I know everybody's gonna be close to each other, so we're gonna have more fun. We're gonna have more eyes on our team.
Martin Avelar: It's actually really cool. I'm happy that we have more space and more supporters' groups are getting recognized. Every stadium has its own vibe and ours is definitely unique. We've been here for a while, so adding a new space to support is great. I believe that it's going to definitely be a lot louder over on the Victoria Block side. I still like the fact that we can still do our cross stadium chant. It's very fun. It gets the whole crowd going, gets the team going.
Kevin Urrutia: Ever since they announced it, we've been looking forward to this moment. We've been wanting it for years, and now that we have it, we have to put in that work. The atmosphere is going to be great.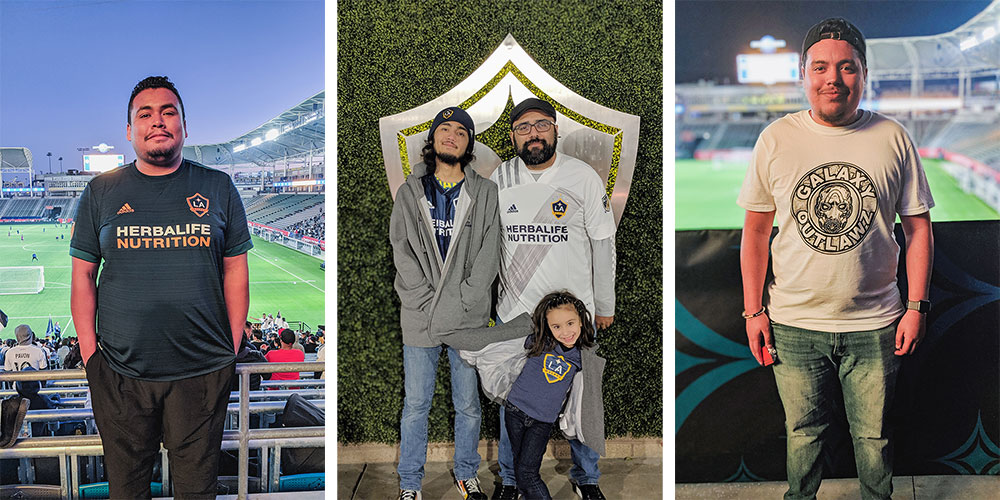 How do you think it'll fare compared to LAFC's section?
Cousin Feo: I think a lot of new MLS teams have seen success really early. And I think that's because the league itself was in a great place in the sport and in a better place than it's ever been here in the States. These fan bases are waiting for a team, essentially. But we're still the original.
We've been here for 25 years. They're just getting started. It's like a big brother who just had a little brother that was born. And mom likes him a lot and is giving him a lot of attention. But you can just check the history of the team, you know? But it's good. I'm glad the city has a derby. I grew up watching all the other derbies that every other city in other countries have. We have our own now, so that's great. I think it's good for the sport. I hope we continue winning. But I'm glad there's someone across the city that we can clash with.
Michelle: I know there was joking that LAFC's supporter section and 3252 supporters' group pressured us into getting our own standing section, but this is something that the team has always been talking about. Zlatan asked for it when he first came here to play. So while it's fun to have a rivalry, everybody can do their own thing. And the whole point of this new section is uniting all the fans here. It's not just about standing in one section, it's making this entire place the support of the LA Galaxy.
David: I think Galaxy fans, especially ACB, Riot Squad and now Galaxy Outlaws, they've always met the challenge of bringing it as supporters. LAFC's stadium is built to be loud. Ours is a little more open air, but the game day atmosphere, the sort of culture that's going to come out of this new section, it's going to grow and things will get even better.
Alexis: We're gonna bring it. I know that they have fun and do their thing, but, hey, we're in LA and we're going to put our hearts into cheering for the team.
Martin: I don't really compare it or us to other teams' stadiums and fans. Again, we all have our own thing going on.
Kevin: No doubt we'll match them. We're ready for this year.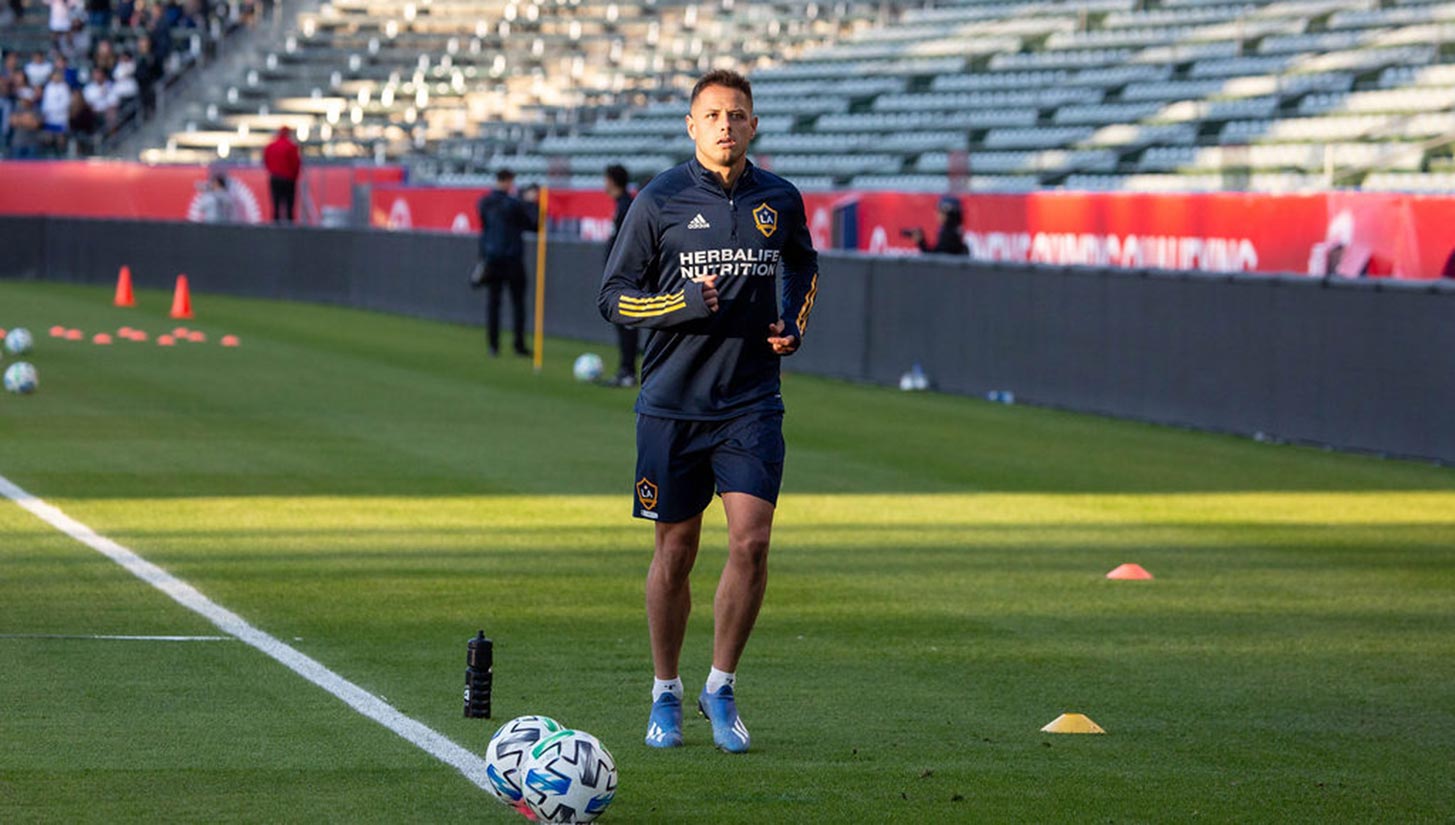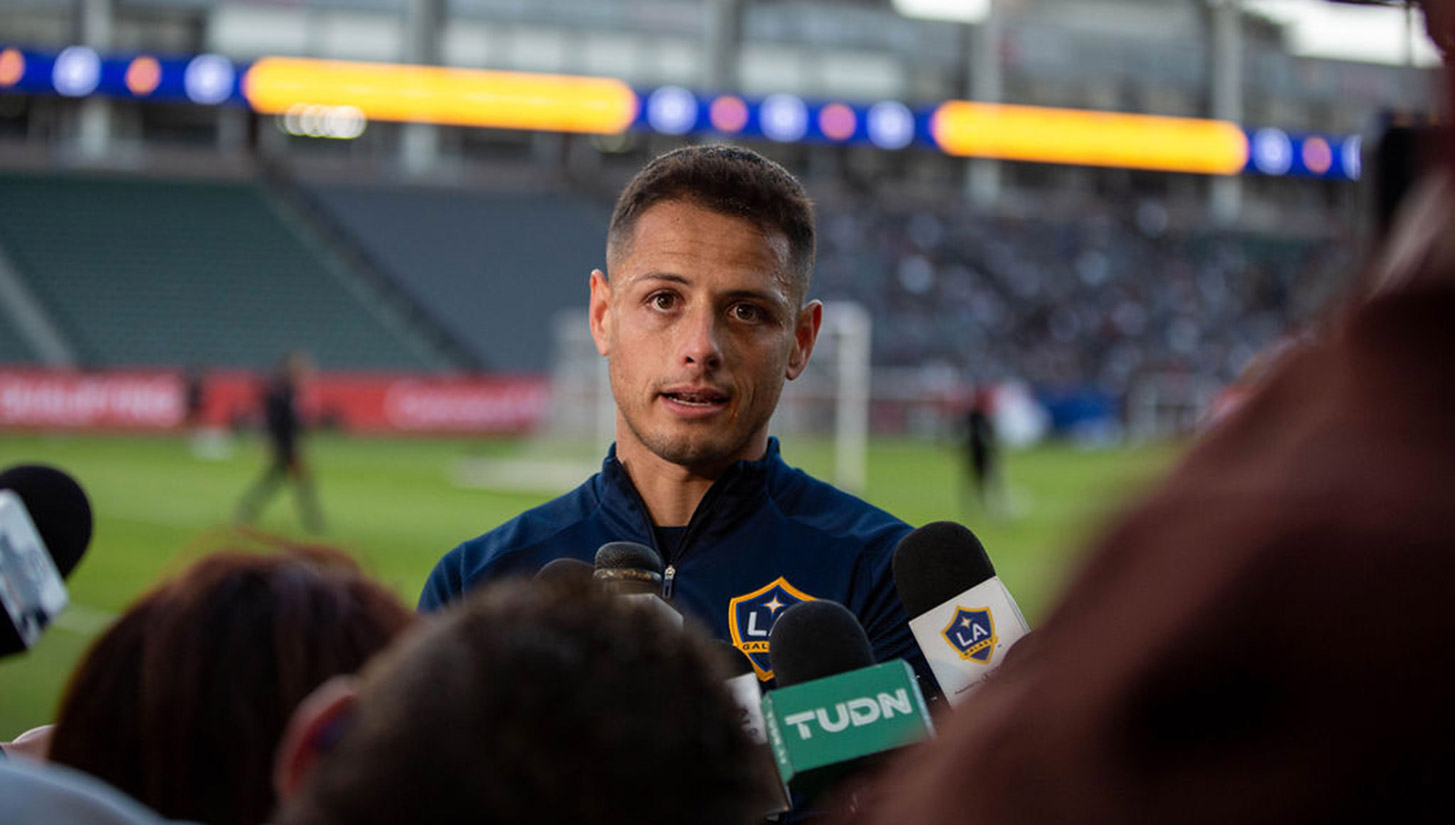 Were you sad to see Zlatan Ibrahimovic leave, and how do you think Chicharito will step up to take his place?
Cousin Feo: I love Zlatan. I love Zlatan. He played for Man U. I'm a Man U guy so I love watching him play. He's incredible on and off the field. But bringing in Chicharito as a new guy makes a lot of sense, and I think he'll do well. I mean, he played for Man United, too. I think Galaxy always has a way of finding talent and making them work and compete. Hopefully, we compete for a title, bring a championship to the city, and just remind the guys across the city who does it better.
Michelle: Yeah, because he didn't bring us the trophy like he promised all of us. It's always sad to see a favorite go, especially somebody of his caliber. Everybody is talking about how he's 38 years old and does he still have it. Of course he does. This is somebody that's the caliber of CR7 and Messi. So being able to witness that was great.
As for Chicharito, it's funny — spending time cheering for the USMNT, he's someone I've rooted against for my soccer watching career. But what I've found is we root for the team and not the player's name on the back. So if you can bring the trophy, bring it. He's talking really big. He's going to be here with us for three years and he's talking about bringing us a trophy. Bring me a trophy every year. I don't care who you are or where you come from, just as long as you play for the passion of this team and put your money where your mouth is.
David: No, I never really felt like he was the right fit for the Galaxy. But of course, he is still Zlatan so I see why you'd sign him. You have to get him. He's a huge name. I feel like with the signing of Javier Hernandez, he fits the system that Galaxy wants to play. He's more mobile, obviously. And so given time, he's gonna score goals. I think it's gonna be a good thing for the Galaxy ultimately.
Alexis: Oh, yeah, he was a very good player. He made the team a little more different. He came to show that he's still in his prime, and I believe he could play anywhere he wants right now. But it's sad to see him leave. From what I've seen though, Chicharito has it. We have players that will help him. Every player has talent, and if you get them on the right team, they can really do great things.
Martin: I'm not going to lie. He contributed, but, you know, he did what he had to do. And he'll always be remembered as a G to us. I think Chicharito is going to be a really good fit. Just signing him was amazing, just out of nowhere. I cannot wait to see him in action.
Kevin: I was sad to see him go because he had a lot of big moments for us and we built up a lot of memories during the years that he was here. At the end of the day, I'm a Galaxy supporter. I'm going to support the players we have here and I'm really excited to have Chicharito and one more year of Cristian Pavon. I think Chicharito is going to have a big year. I'm expecting at least 20 goals. And I think that on the field, he does certain things that Zlatan doesn't do. He can defend more. He's going to run a little bit more. And I'm really excited to see what he does, not just on the field, but we've already seen what he has done for our market. He came, and as you can see, the support has followed.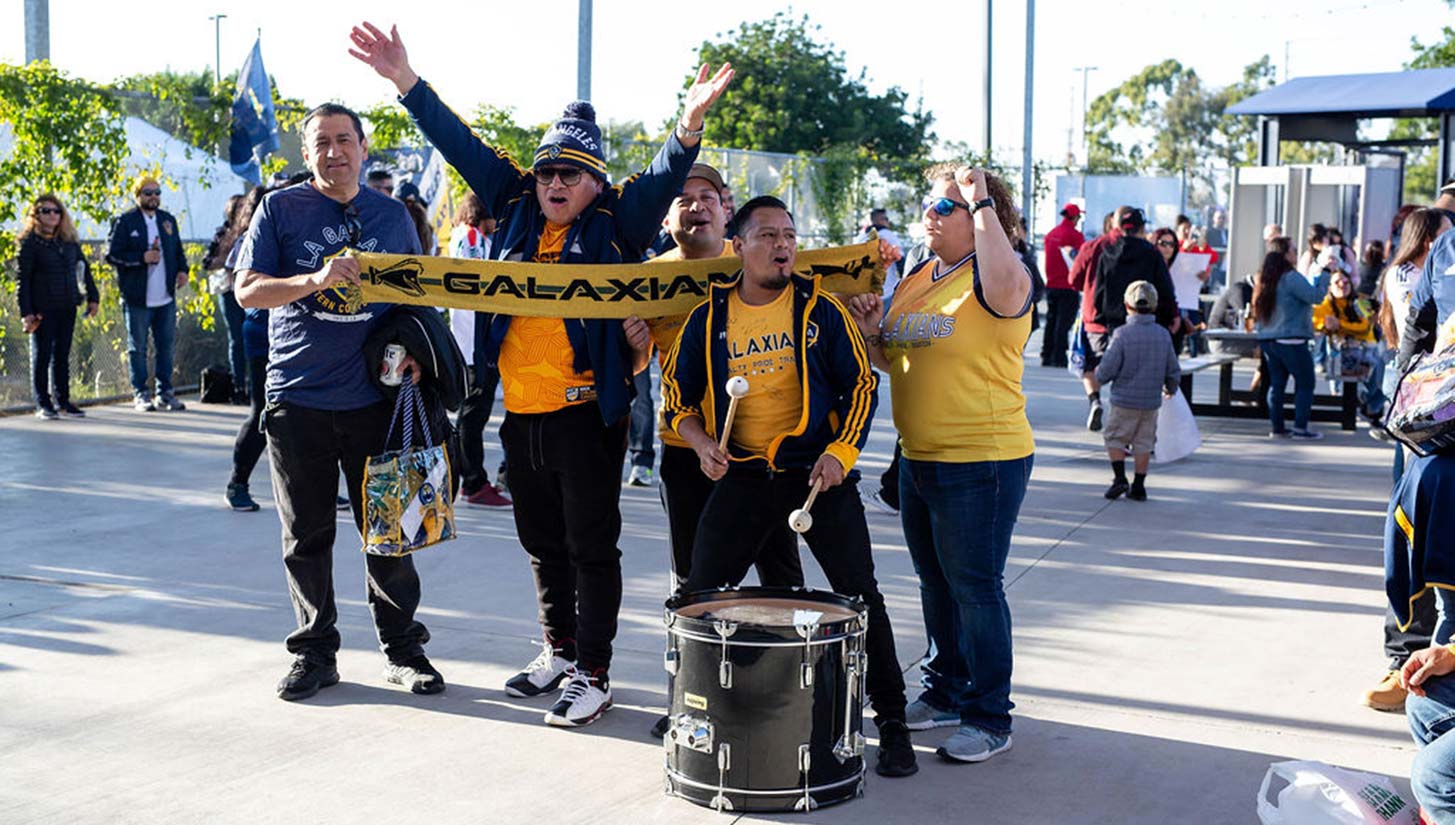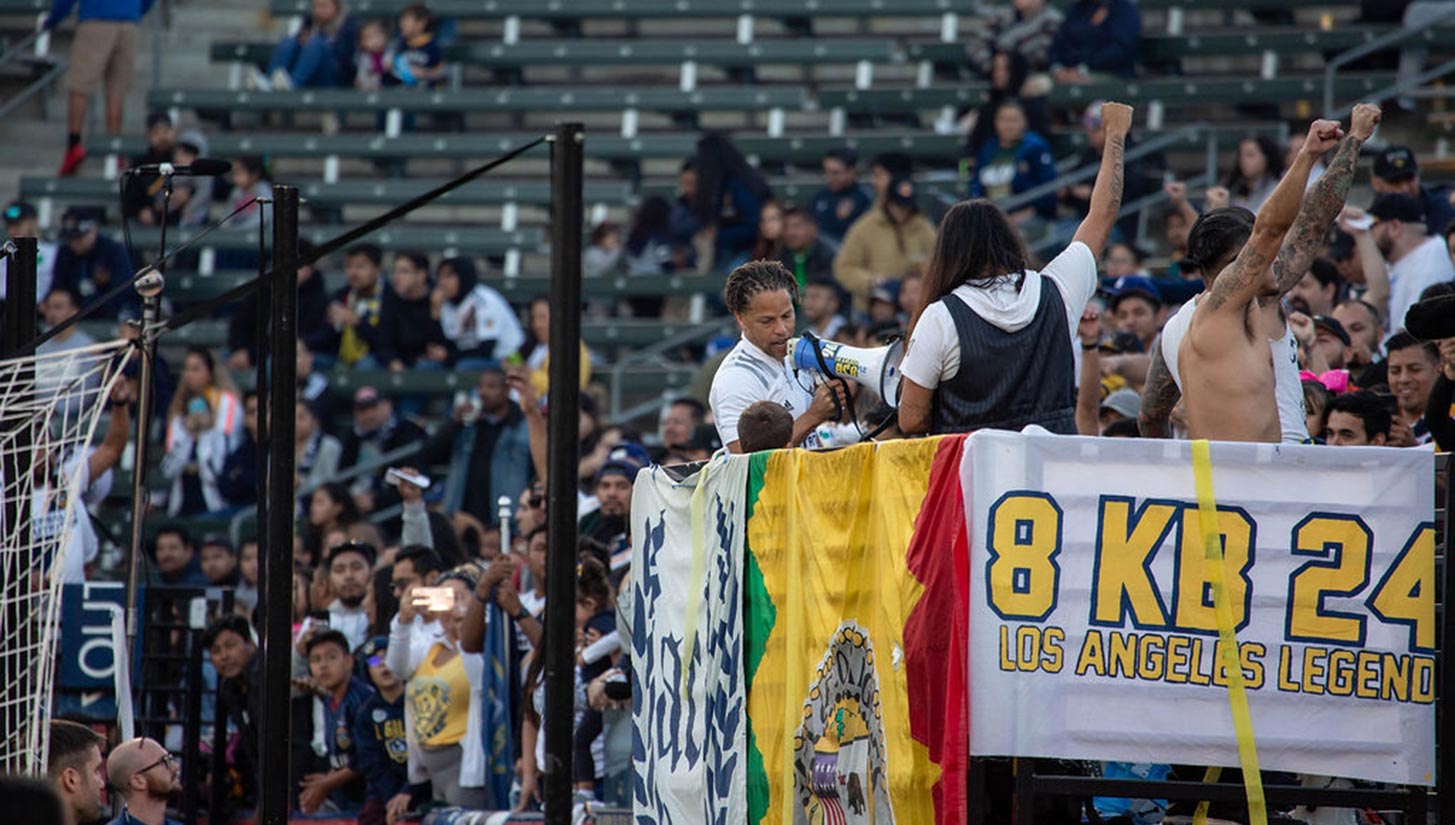 What about the Galaxy makes them LA's team?
Cousin Feo: Diversity. They have players from all these different countries now. Even in the early days, Mauricio Cienfuegos and Jorge Campos definitely appealed to the Latin-based community here. As they continue to grow and find players from all these different places and bring them in together, I think that's a good representation of LA as far as diversity goes. And bringing all those different cultures together, we're having a good time. We're supporting each other and we are in love with the same thing — playing and watching the game.
Michelle: Besides the fact that we've been here since '96? They say that 3252 represents "the people's team," but Galaxy fans are longtime soccer fans. If you are a soccer fan and you're from LA, then you should be an LA Galaxy fan. We've been here forever. But it's also because I mean, look at here, V-Block.
Everybody here today is from all kinds of walks of life. I just turned 35, and we're a generation where everybody is bringing their kids and raising them here. So these are longtime families here. Their parents brought them to games back when they played in the Rose Bowl. So does it matter if you're playing in Carson or playing at the Rose Bowl in Pasadena? We're still LA's team.
David: We're winners. LA always wants a champion. And that's the one thing that the Galaxy has brought more than a lot of other sports teams over the last few years. Of course, we had the Lakers in the heyday. But now, the Galaxy has consistently brought excellence. So now that we're sort of going into a new phase of the team, I think they're going to continue to bring that excellence. They're going to continue to set the standard like they have for years.
Alexis: We were the first team here 25 years ago, you know? This is a team that started everything. So there's nothing without us.
Martin: The diversity of the team, the makeup of the team, the fans that come here. Yes, the joke is it's the Carson Galaxy. But you know what? This is LA. This has always been LA. For me, it's Lennox Galaxy. On Twitter, everywhere you will see different cities, but we're all Galaxy. In the end, we're all from Los Angeles. We're proud to rep our city all the way back from day one 'til now.
Kevin: What we've done since '96 has been big. We haven't had to fold or have a large rebrand because the support has been there. I was reading an article about the Galaxy, and Don Garber, our commissioner, said that if it wasn't for the Galaxy and our owners, this league wouldn't be here anymore. We've had a lot of firsts. We were the first to bring a designated player. We've done all the little things, and now with Victoria Block we're going to continue setting and breaking trends for the league.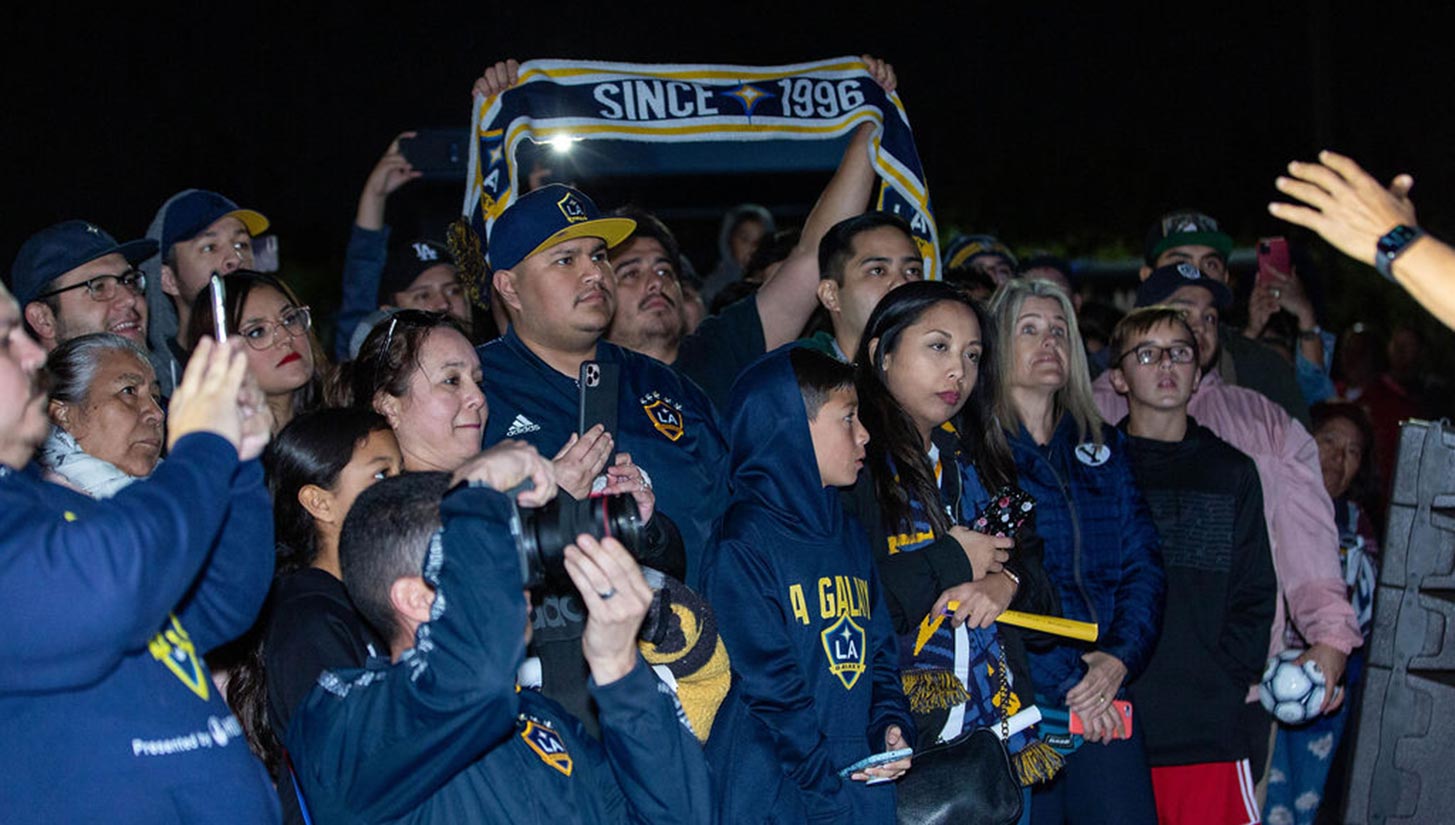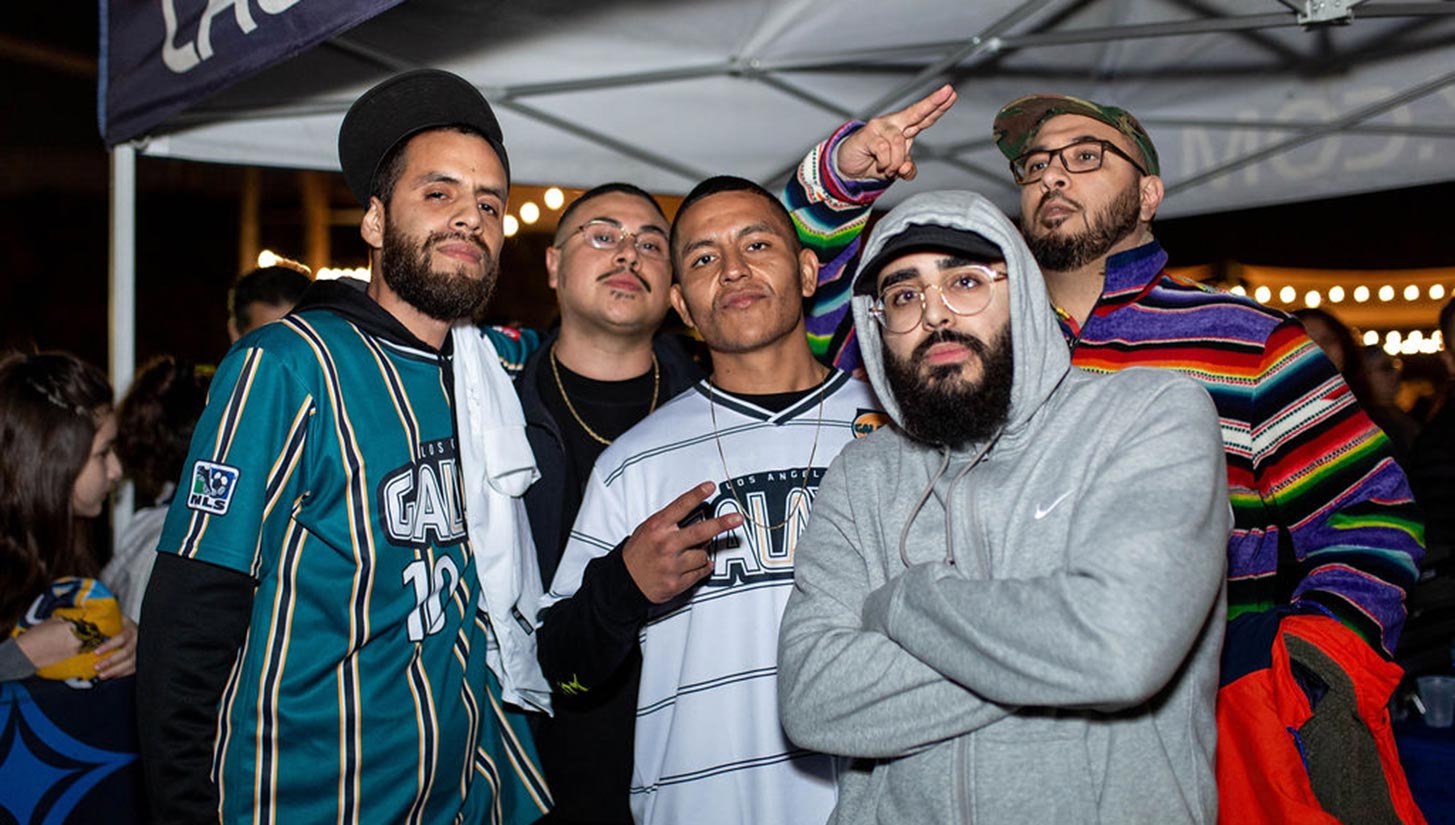 Photography by Johnny Zuleta for Urban Pitch.