Ever wonder what it's like to be in one of MLS' rowdiest supporters' groups? We are taking fully immersive experiences with the league's most passionate fanbases, continuing with the LA Riot Squad, one-third of the LA Galaxy's fierce supporters. As loyal as they are welcoming, the Riot Squad is all about having a good time.
The longest-running soccer tailgate in Los Angeles can be found just south of Compton in the expansive Dignity Health Sports Park. The stadium's occupants, the LA Galaxy, need no introduction to Angelenos who are fans of the beautiful game.
Since 1996, the Galaxy have established themselves as the premier franchise in MLS, winning a league-high five championships in the 23-year span. Originally the Home Depot Center then the StubHub Center, Dignity Health Sports Park has housed soccer icons both domestic and foreign — from Cobi Jones and Landon Donovan to David Beckham and Zlatan Ibrahimovic. Out front of the stadium is a shiny new statue of Beckham ripping a kick with his iconic right boot that was unveiled earlier this year.
Like the club that calls it home, the stadium and its atmosphere ooze tradition and professionalism — long, clean hallways and straight and narrow landscaping. However, as proper and pristine as the stadium may be, the fans that occupy its seats are quite the opposite — rowdy, fun-loving, and pretty damn loud.
Made up of three factions, which include the LA Riot Squad, Angel City Brigade, and Galaxians, the Galaxy have some of the most loyal and inclusive fans in the league, many of which embody that laid-back LA lifestyle.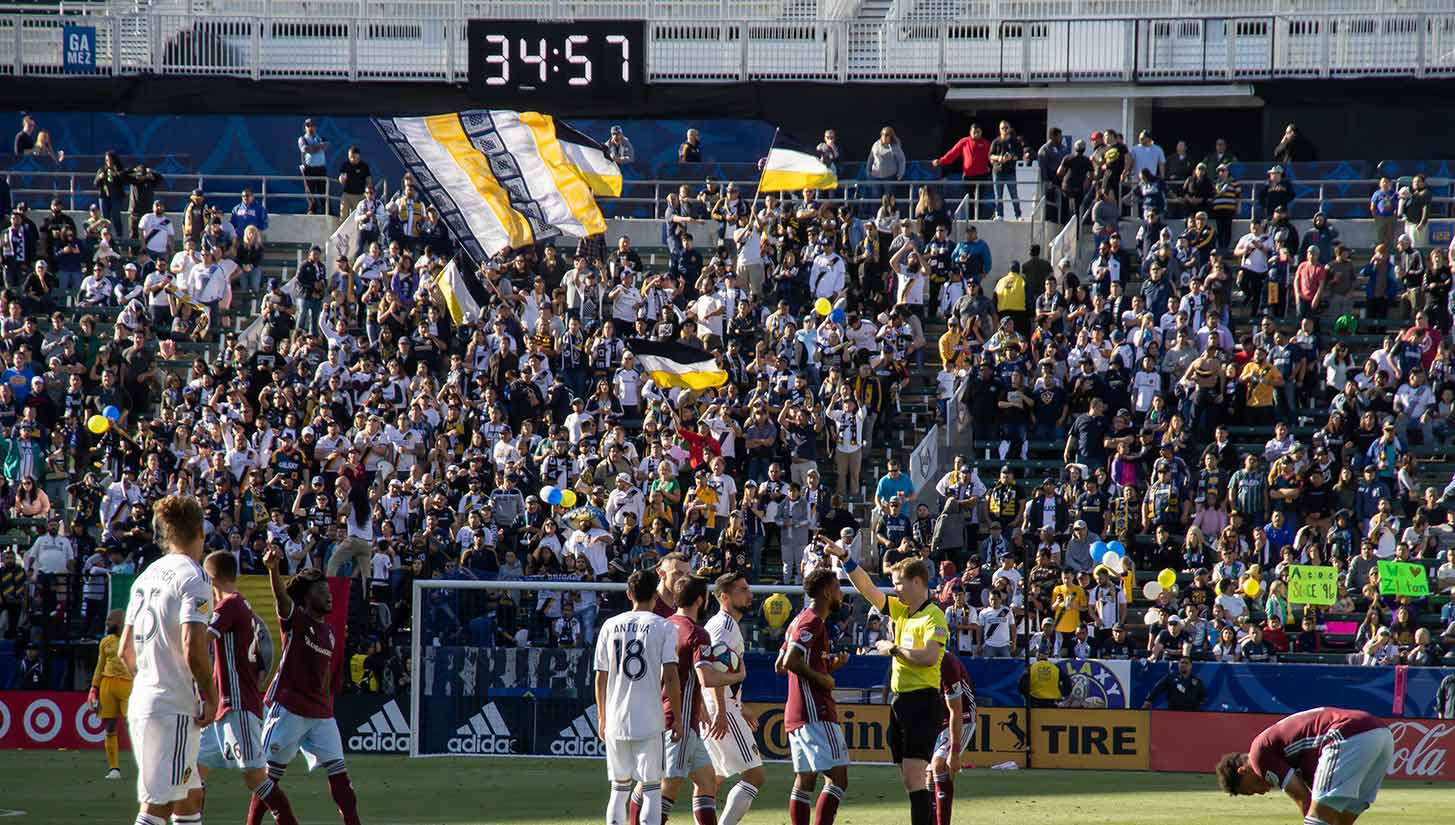 Before their recent match against Colorado, I pulled up to the tailgate early, looking to meet up with one of the leaders of the Riot Squad. Described as a "drinking group with a soccer problem," I came prepared with a six pack and looked to make some new friends.
Being my first time at this tailgate, I was unsure of where to go, but figured my Spidey senses could help me find a party. Upon arrival, the sheer size of the parking lot took me by surprise. I had no idea where to go. I got there at 2 p.m., three hours before game time, and the place was pretty empty.
I walked around the stadium looking for the lot number I had been told, and I found a fenced-off area with security guards standing out front. I walked up feeling and looking unsure of myself but tried to see if I could enter. The bigger guard of the two looked at me and confirmed that this was in fact where the Riot Squad tailgate was but I wasn't allowed to bring my beer in…until I did 10 push-ups.
It took me a second but I realized that he was just messing with me. I told him I was only able to do nine, he chuckled, and let me in sans chest workout.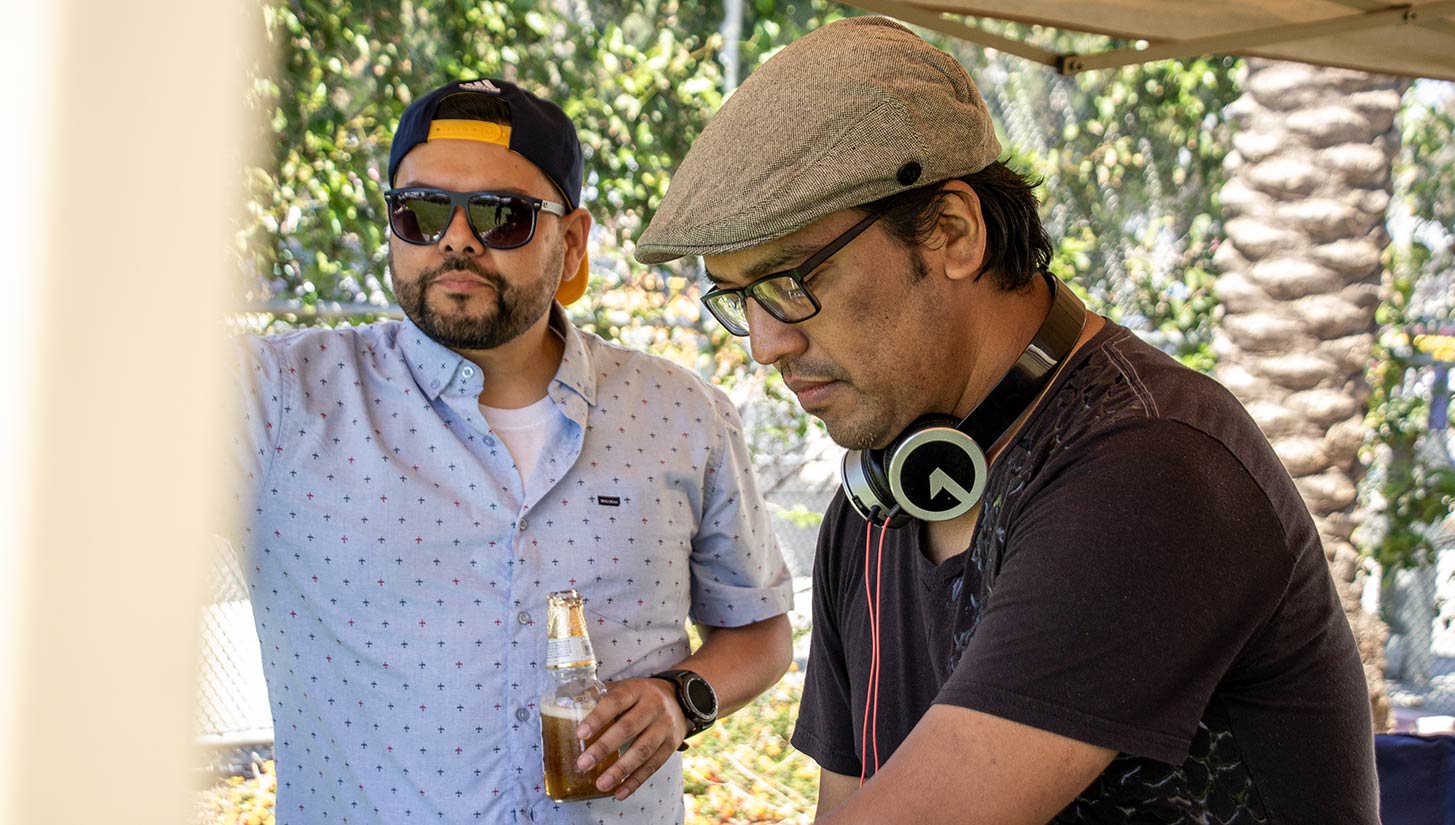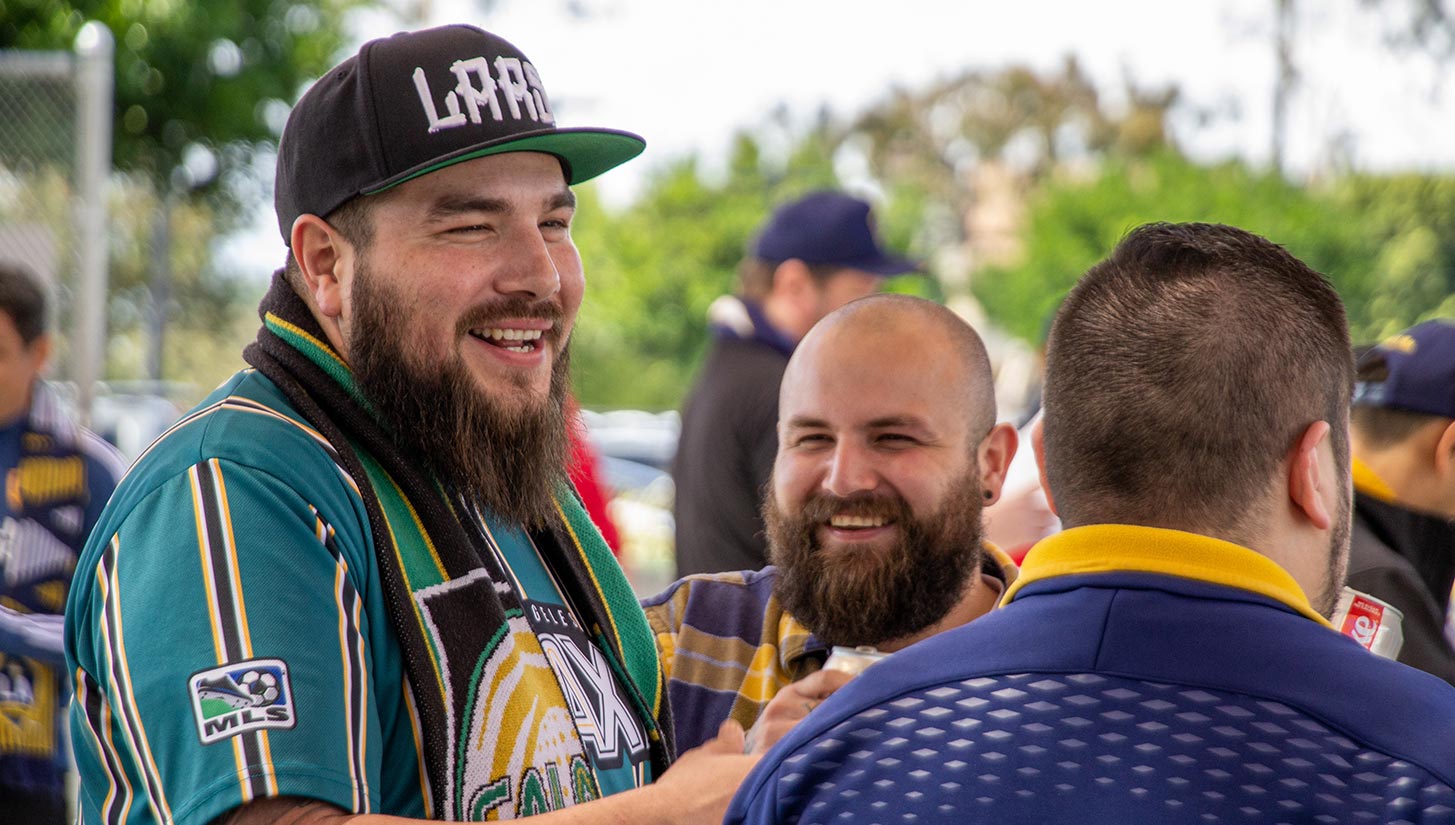 My first step into the tailgate was met with the blaring sounds of hip-hop classics being spun by a live DJ. It was still early so it wasn't too packed, and I made my way in to mingle with some fans, who I would soon find to be some of the dopest people I've ever met, period.
The early arrivers described themselves as an unofficial tailgate but were somewhat Riot Squad-adjacent. Basically it was just a bunch of friends who enjoyed tailgating in their time off. The first couple of guys I met run a taco truck called Chef Juicey Juize and do catering for events. They make their own home-made sauce and specialize in all-Mexican ingredients. They had a grill going but all of the food was snatched up in about five minutes so I didn't get a chance to try it — judging by the speed at which it went though, I can safely assume it was delicious.
The group was amorphous but seemed organized and tight-knit at the same time. We drank beers, bantered about sports, hit a Rick and Morty bong, and barbecued. Everyone was nice and personable and having a great time. The inner politics of LA Galaxy workings weren't really on the forefront of anyone's mind. Zlatan was suspended for choking out a goalie but, hey, life goes on. The weather was too nice, music too good, and the stadium too dope for anyone to pay mind to the negatives.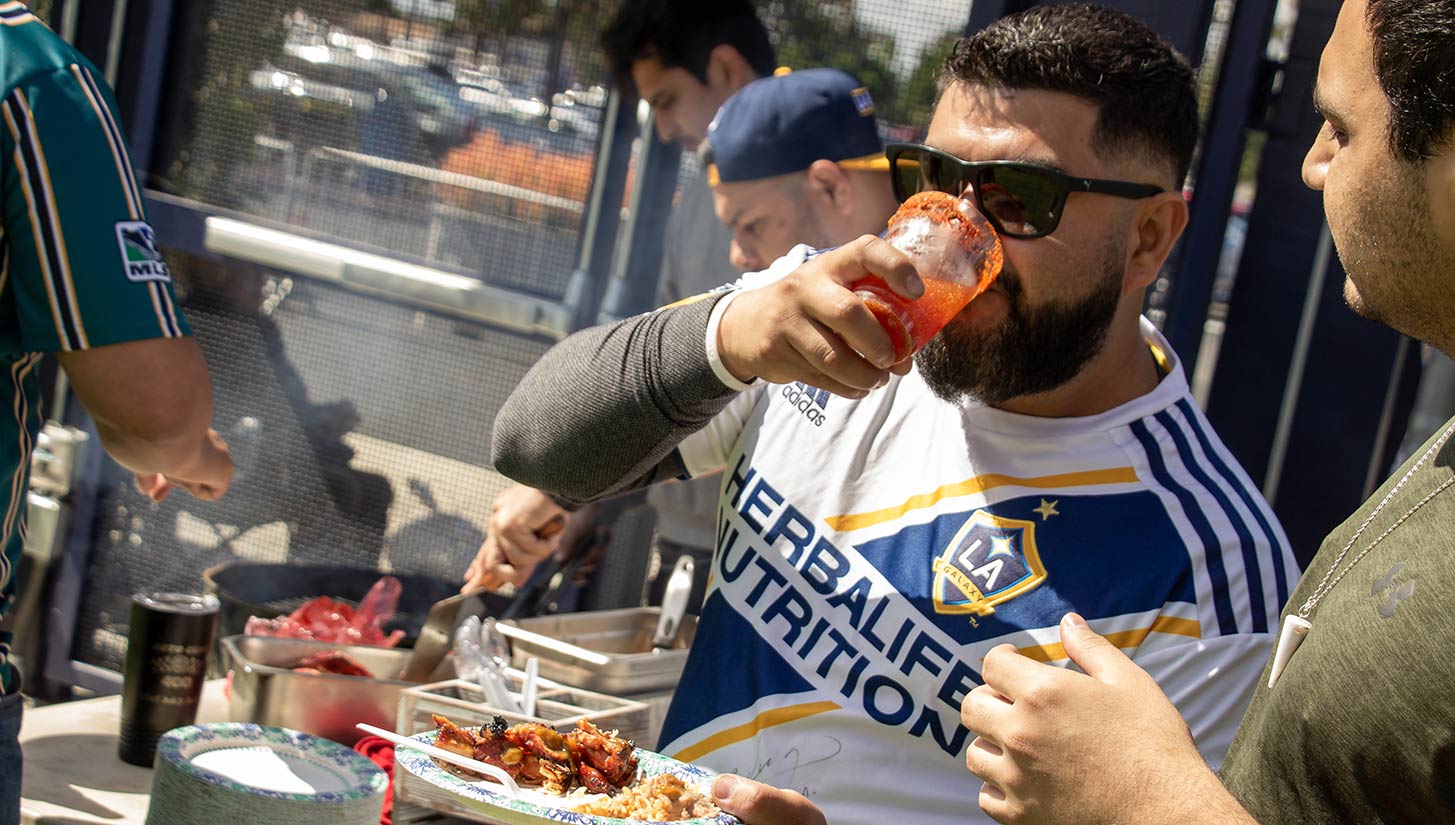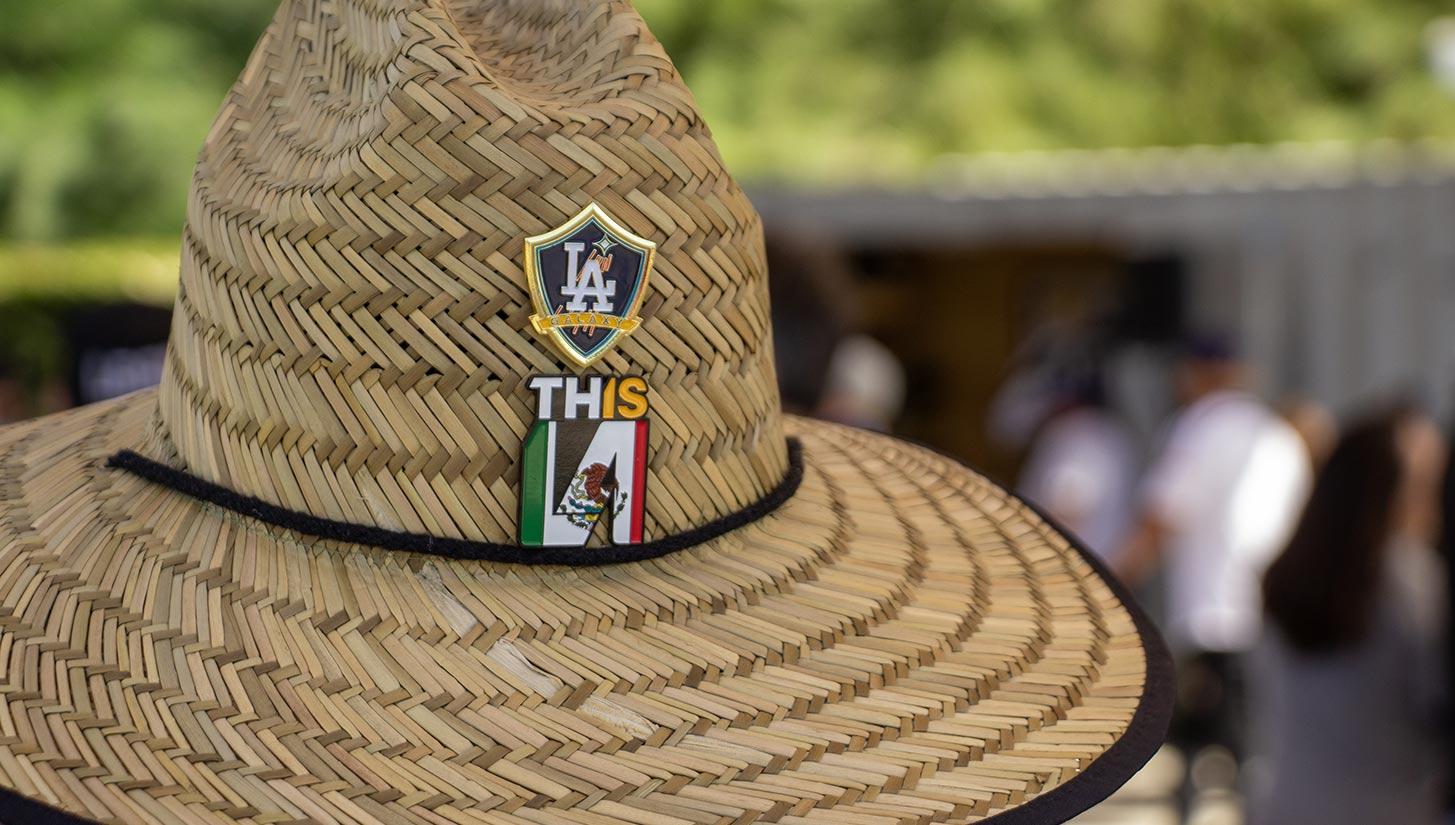 I caught up with Andrew Alesana, a veteran LARS capo, when he arrived a couple hours later for the official Riot Squad tailgate. The word official is used loosely here. Alesana explained to me that the Riot Squad's goal is to promote having a good time while making the stadium atmosphere more festive and fun. They're a welcoming group that has become more serious and official as time has moved on, but they don't let that take away from their laid-back nature.
People come and go, as oftentimes life gets in the way of giving you ample time to hang out in a parking lot with friends before taking in some MLS action. But the perspective Alesana brings to the table is that it's totally OK for that to happen.
Riot Squad is happy when people come, they never pressure anyone to stay, and when people come back after years it's just as exciting to see them again. Take me for example. Here I am, a total outsider at my first tailgate with no real connection to the supporters' group save a few texts with their capo, and they brought me in with open arms. Don't let their bellicose name fool you — the Riot Squad has some of the friendliest people you'll ever meet.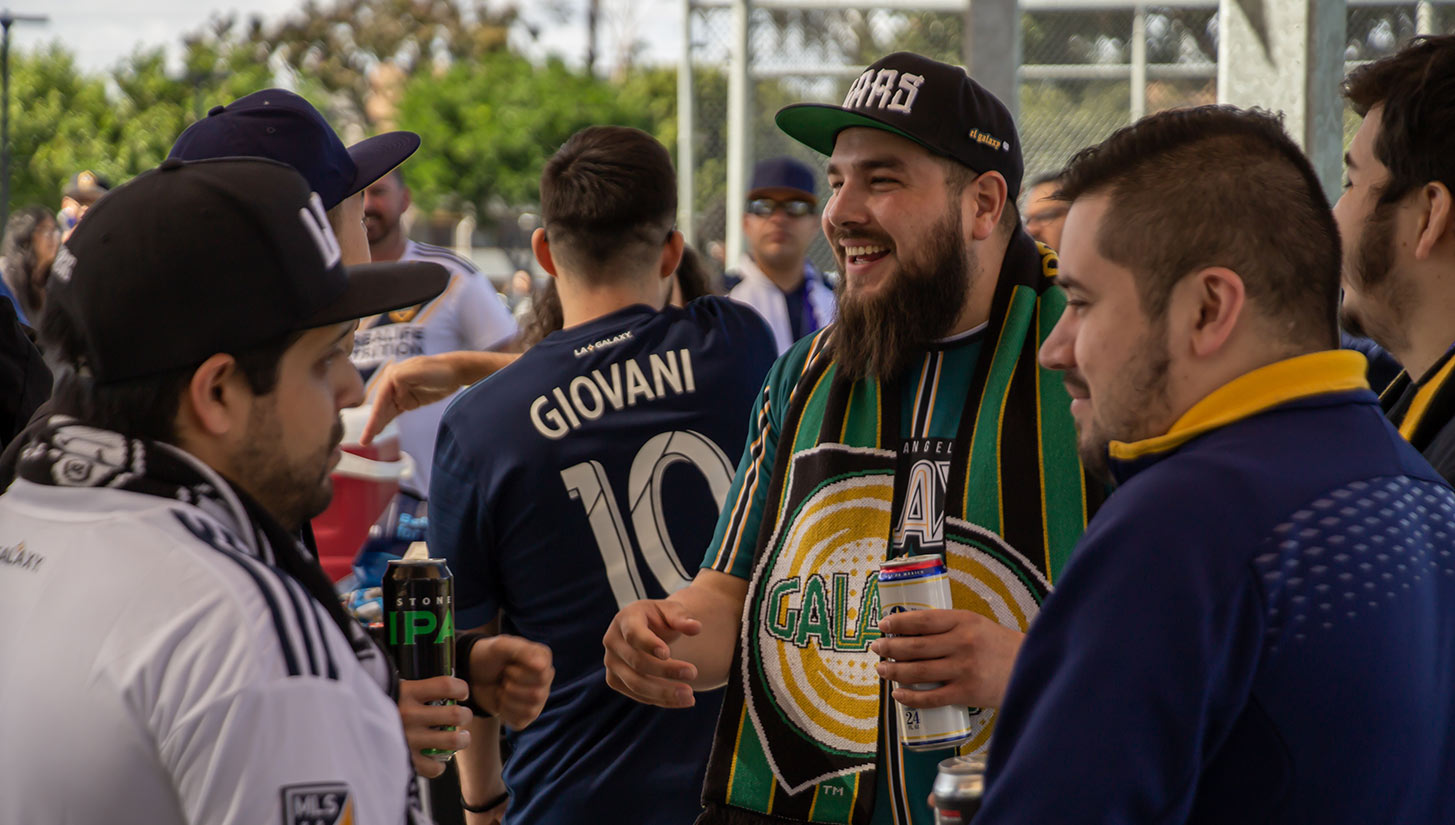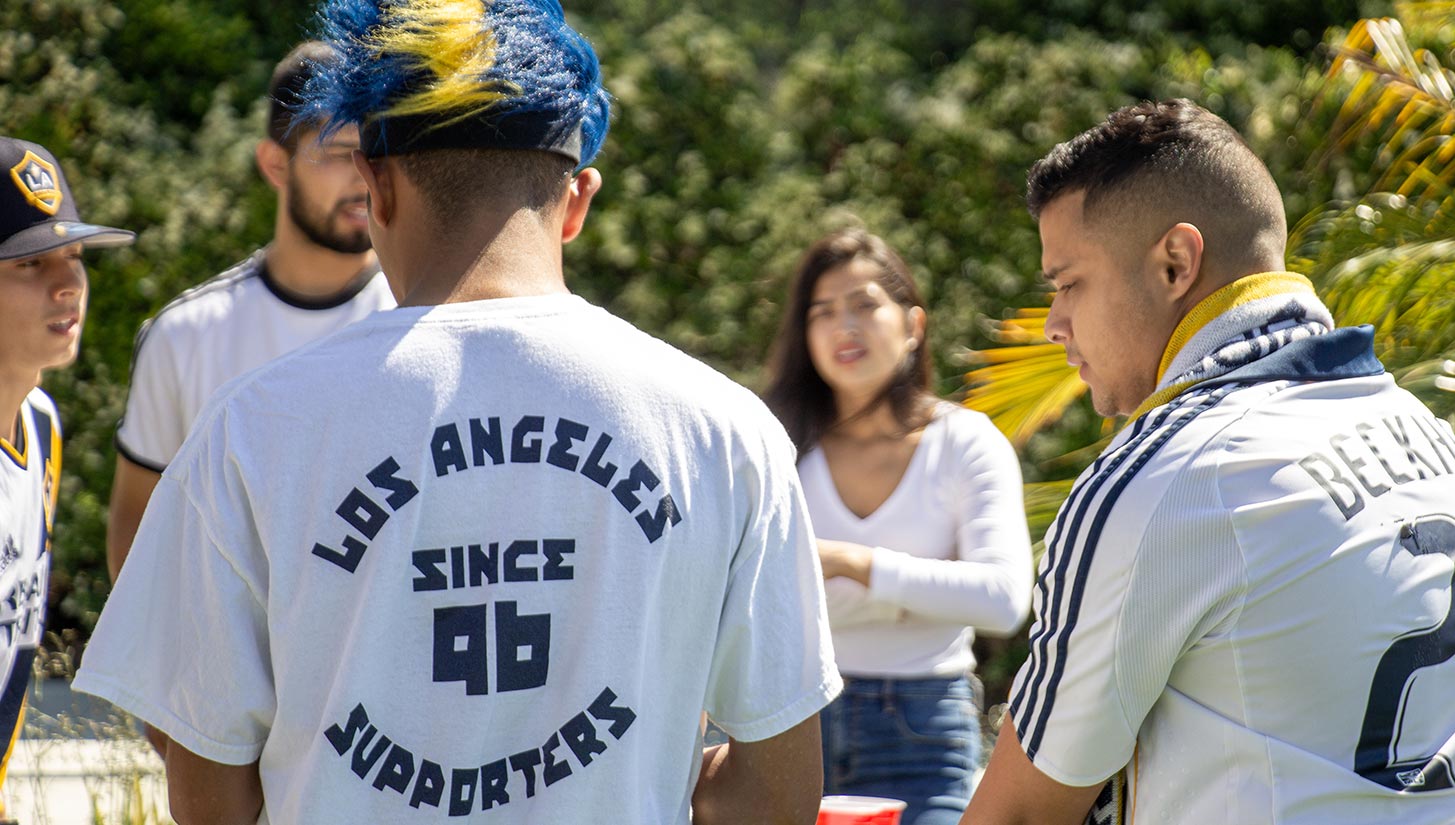 While not atop the MLS' Western Conference standings, the Galaxy are very much in the playoff hunt. However, that's not really impressive to fans who became accustomed to championship after championship as recently as five years ago.
Alesana recalls the 2009 MLS Cup final between the Galaxy and Real Salt Lake that was played in Seattle. A bunch of Riot Squad members had made the trip up north, and once Galaxy owner Phillip Anschutz caught wind he provided a one-hour open bar window at a pub near the stadium. Word quickly spread amongst the Riot Squad faithful and after that hour the tab was somewhere in the conservative estimate of $20,000. That's to say — just as the Galaxy are used to winning, the Riot Squad know how to drink.
After some pizza, announcements, and a quick bathroom break, we began to make our way into the stadium. (Quick aside: I should mention that the port-a-potty game at the Riot Squad tailgate is extra special. They're gigantic and clean, so much so that if the same thing was replicated downtown you'd likely have a person living in each. I can't stress enough about how awesome it is at a tailgate to have spacious port-a-potties with no lines. It's little things like this that separate your average tailgates from the elite ones.)
Upon entering Dignity Health, I was briefly separated from the group, as I only had press access, not general admission. I made my way to the press box, which was of course much less lively, but thankfully the homies hooked it up with an extra ticket for me to sit in the Riot Squad section.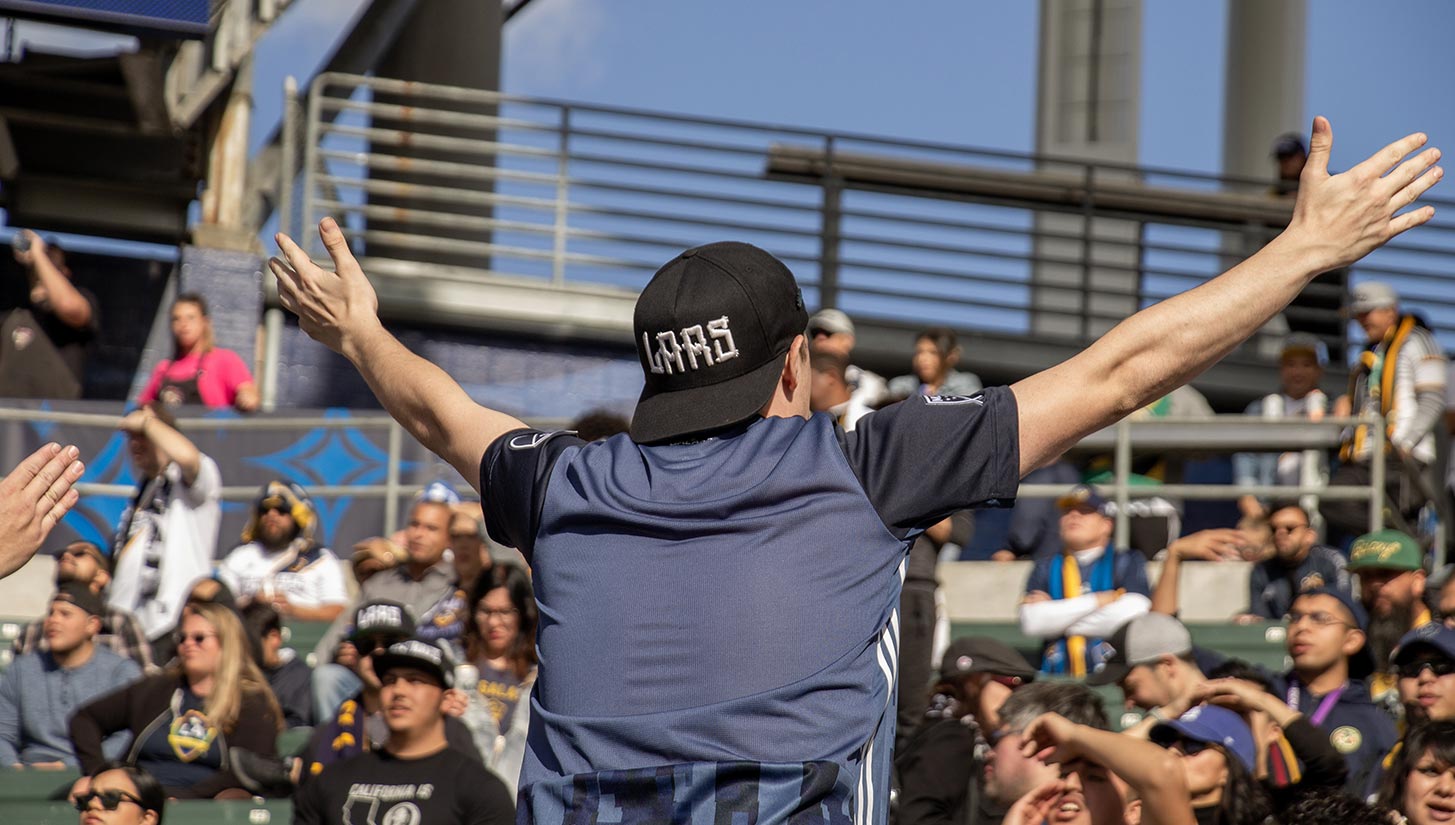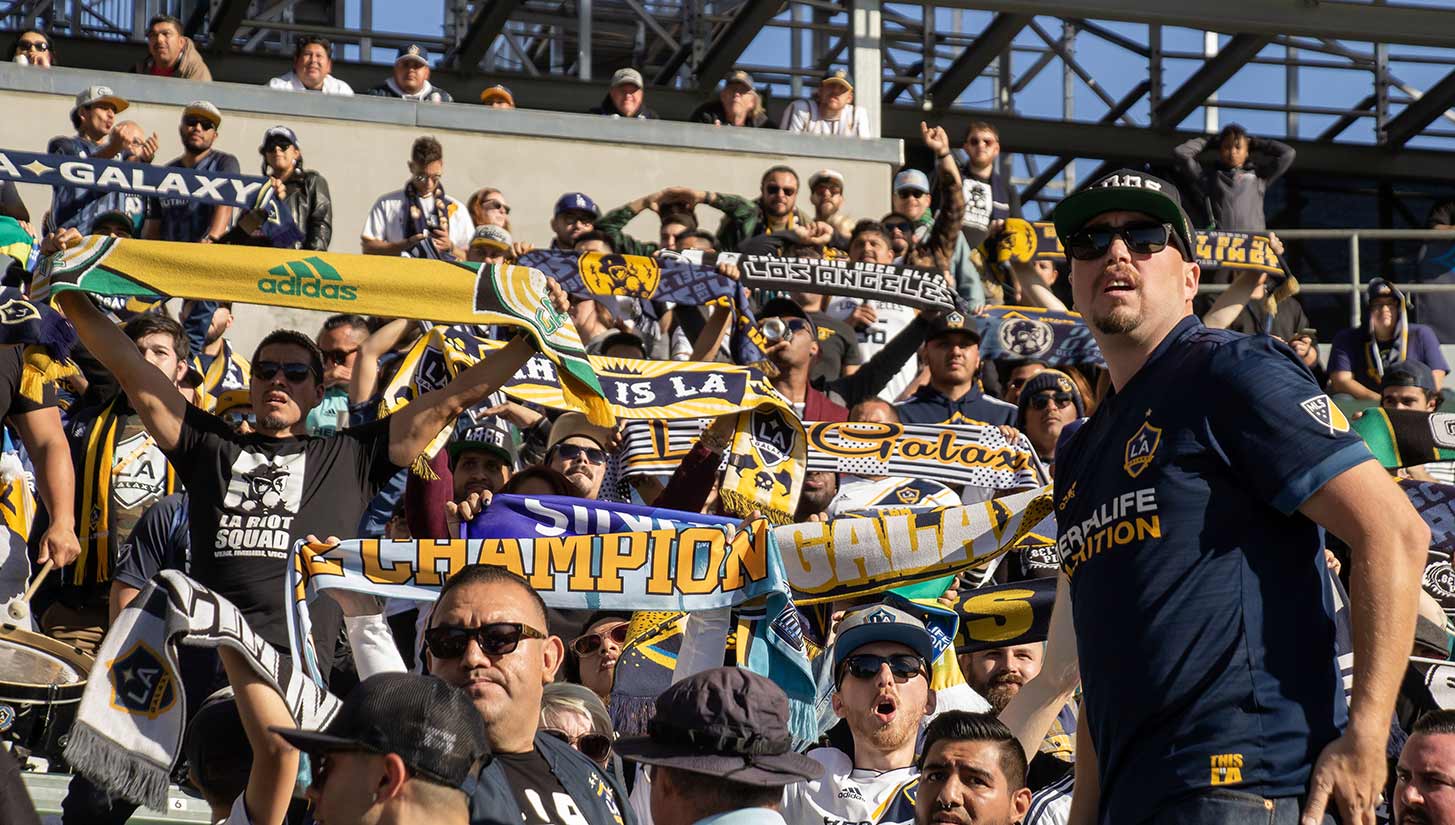 Alesana was leading us in songs and cheers, some of them familiar and generic soccer songs and others more unique and specific to the Galaxy. As Alesana described, he's invented some chants before, and likes to incorporate oldies favorites into the melody because of how recognizable they are.
The game was a little lackluster with Ibrahimovic missing from the lineup, but the Riot Squad still brought the energy. The stadium wasn't jam packed for the match so everyone had plenty of space — but make no mistake it was still loud. The drums were thumping and the people were singing. As for the game itself, an unfortunate turn of events put the Galaxy down a goal late in the second half and they never overcame.
Towards the end of the match, the LARS faithful got a little annoyed with the team's performance and let them have it. Chants of, "It's true, we suck, but we don't give a f—," had their moments. Then, "You suck! You lost to the worst team in MLS!"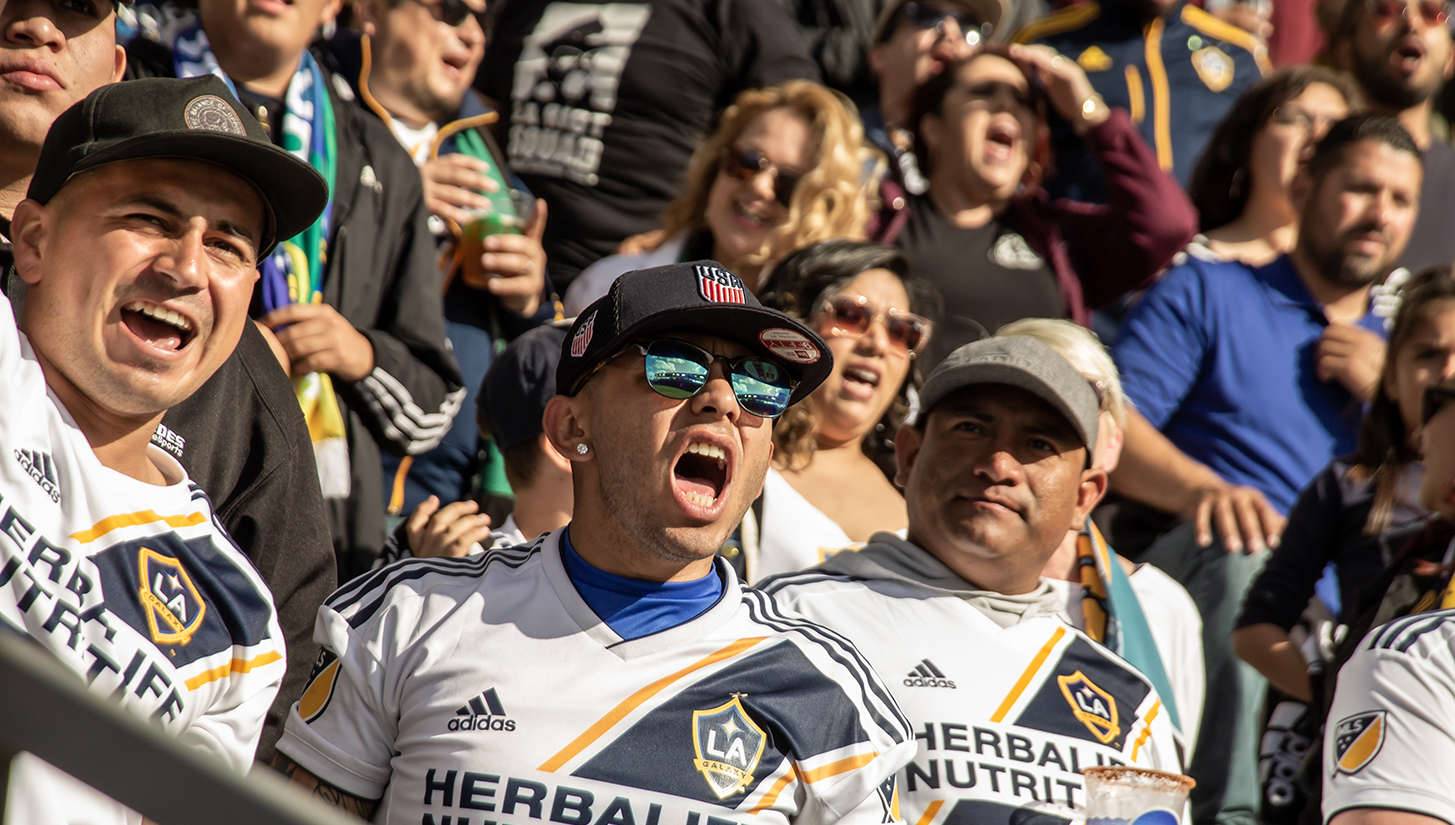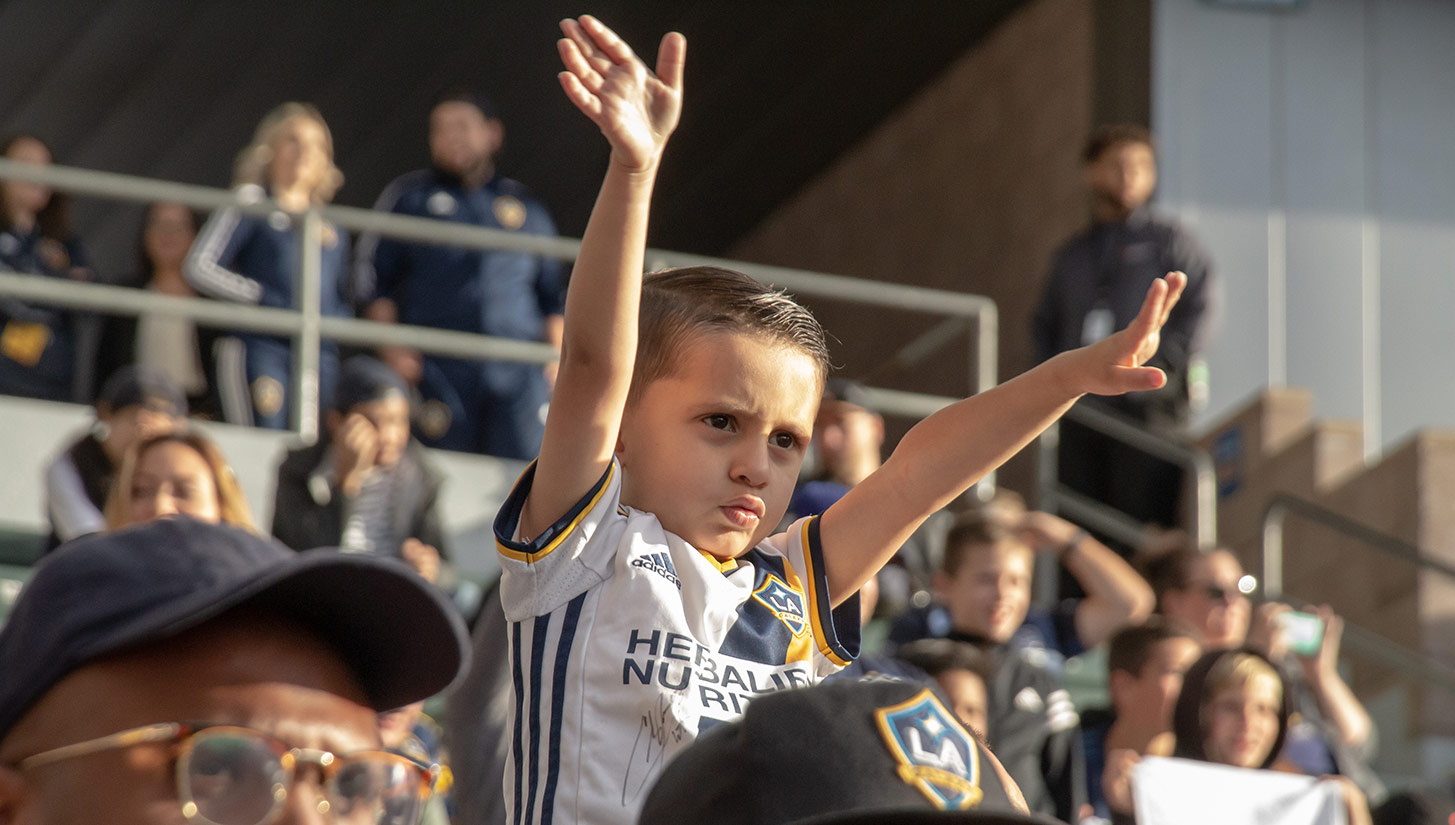 However nothing was said with real malice, more just audibly voicing their frustration over a team that really didn't bring it on that day. But there will be other games. There will be other moments. The Galaxy will be back. And if you're ever in the area and find yourself with some time, I can't recommend it enough.
Go find the Riot Squad at a Galaxy game and bring some beers and make some friends. Who knows? Maybe you'll become family.
Photography by Austin Boaman for Urban Pitch.