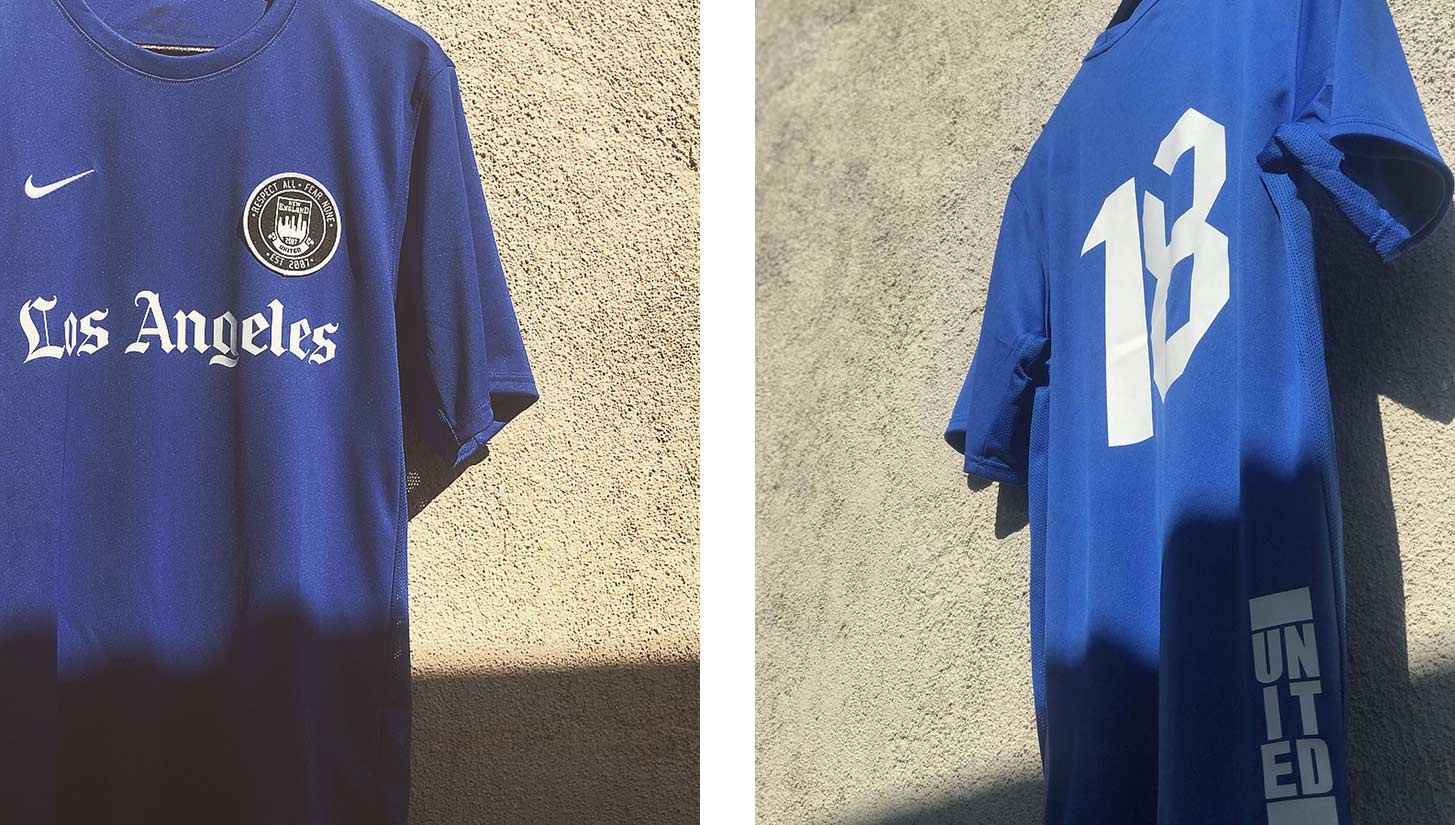 There has been a well-documented global increase of creative football collectives focused more on culture rather than competitive play, and Los Angeles is not immune. Although their name suggests otherwise, New England United FC rep LA to the fullest — one look at their kits will back this up. We got a chance to talk with club co-founder Brandon Flores on their origin, awesome kits, and some of the other amateur teams that have inspired them. 
Originally founded in 2007 on the New England Street block in Los Angeles, New England United FC has turned some heads through their unique kit designs that capture the essence of what it means to be from LA.
A year after the team's inception, it disbanded before coming back to life in 2016. Team co-founders Brandon Flores, Enrique Francia, and Rene Orellana wanted something that at the time wasn't available in the LA area — a football team that emphasized creativity over competition, one that valued the culture the beautiful game has to offer.
They rebooted the team and began play in LA's Municipal League on Sundays, with a women's team playing on Wednesdays as well, but what really generated a buzz behind them was the limited Koreatown kit release in January 2018, which sold out in two days.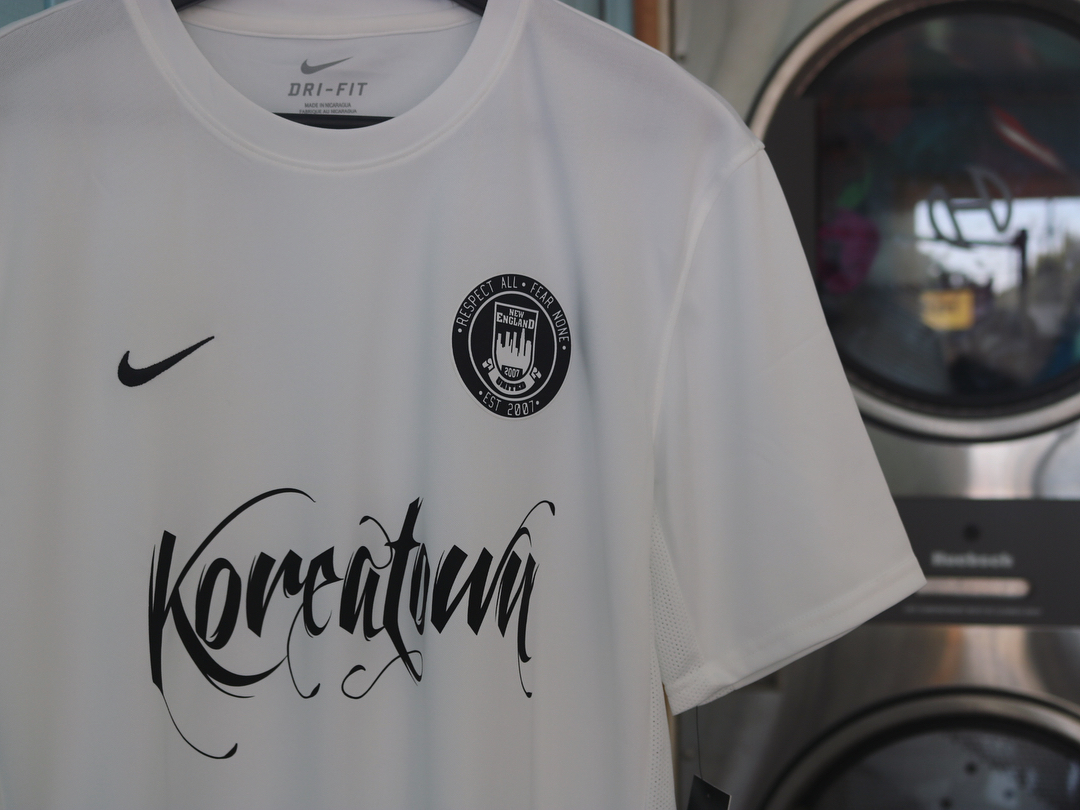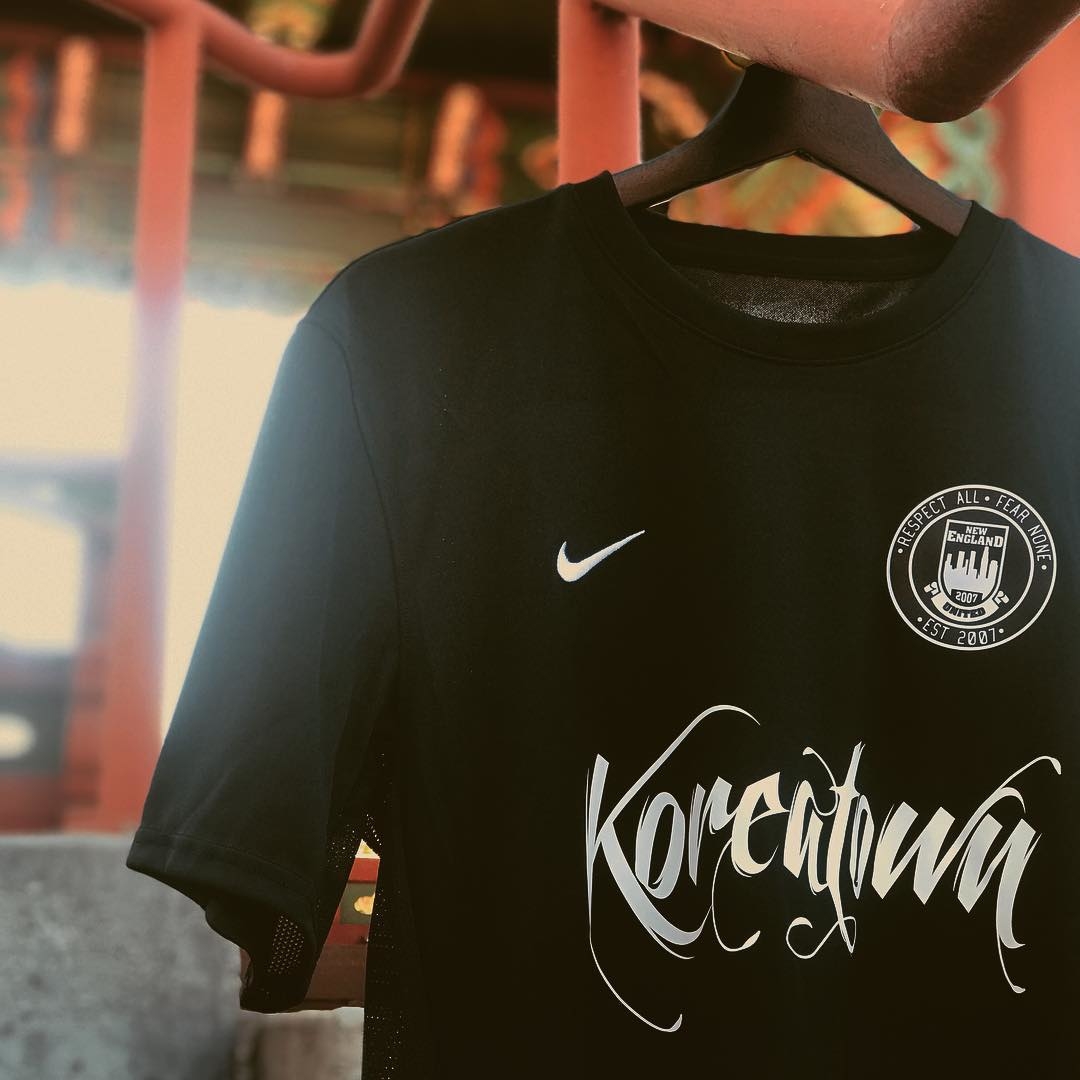 Since then, the club unveiled their 2018 kits, which take inspiration from none other than the LA Times. We were able to catch up with Flores to talk about the new kits, the inspiration that went behind them, and the future of ever-increasing amount of creative football collections around the globe.

Urban Pitch: Obviously the first thing that comes to mind when you hear New England United is the East Coast. Do you guys ever get any confusion from your name, and did that play a part in your kits being so LA-centric?
Brandon Flores: A lot of people think we're named that because of the Patriots, or that we're from the East Coast, but New England was the name of the street we lived on when we started. That's the reason why we want to make it more pronounced and shown that we are from LA through and through. All three of us that created the team and most of us that are on it are born and raised in LA.
Let's talk about your kits. What was the creative process behind their designs? 
We came up with the designs on our own. For the Koreatown kits, two of us are from the Koreatown area and the other lives there now, and we wanted to do a limited release that paid tribute to that. We came up with it on our own, and made it happen. Rene is a graphic designer, so that helped a lot. All our kits are made from scratch.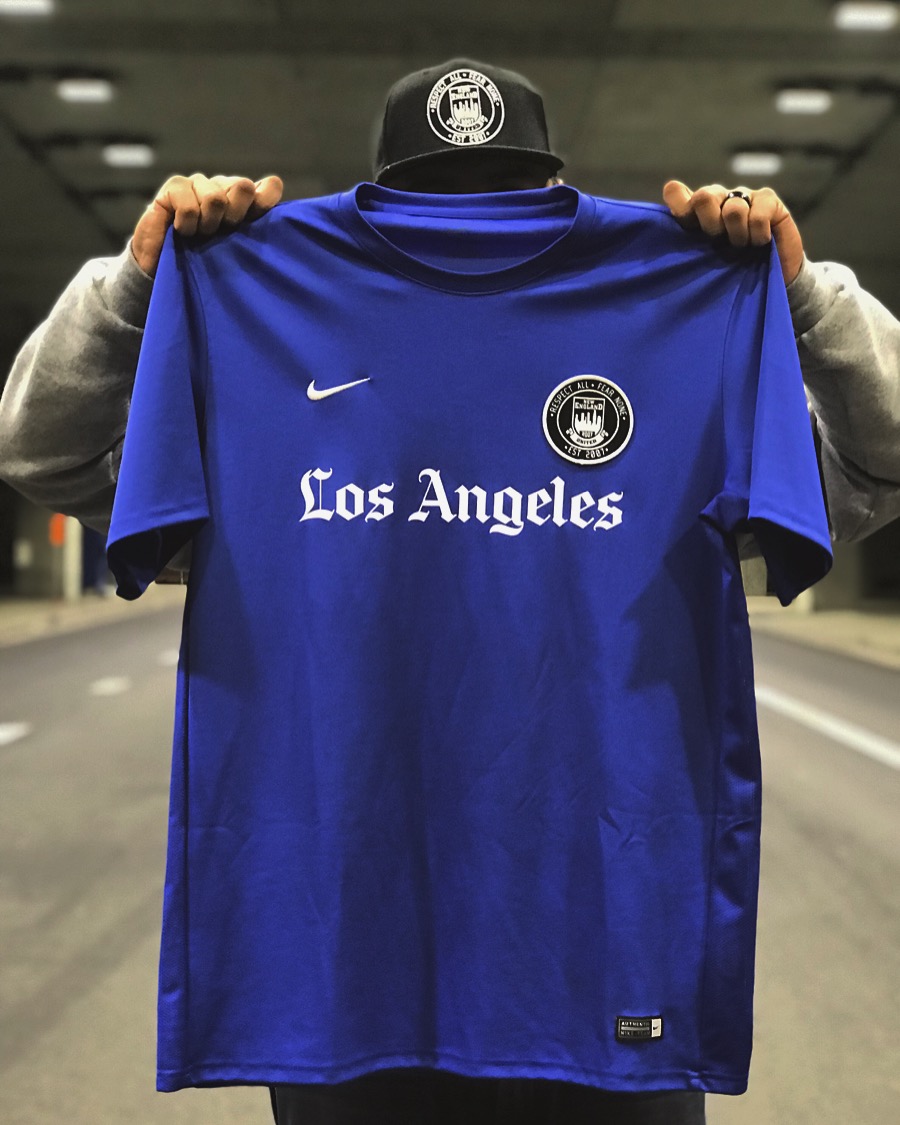 What message did you want your kits to convey? Where did you look to for inspiration? 
We pass the LA Times building on the freeway every day. It doesn't get any more LA than the LA Times. That's exactly where we got the inspiration for our 2018 kits. For the Koreatown kit, we loved the idea of a handwritten font, and we wanted it to be really stylish. We get inspiration from a lot of places though, whether it's art or music. That's just how LA is, you can get inspired by going to any corner.
What's your take on the LA football scene?
It's getting big. When I was a kid it wasn't this big or this cool. The culture is growing drastically, and it's really cool to see. From kids to adults, everyone's playing soccer. When I was a kid in school, sometimes you'd get made fun of for playing soccer. You needed to be playing football or basketball. LA stands for a mixture of everything. Culture, art, everything is combined. We want to do that with our kits and our soccer. We want to bring different things to the table, just like LA does.
We've seen an increase in creative football collectives like you around the world. What are some of your favorites?
Guerrilla FC was the first team that I saw on Instagram, and I thought to myself, "Man, this is really cool what they're doing." That kind of sparked the idea in my mind, because I didn't really see anyone doing that and representing LA. They were a big inspiration to us. What they do is pretty awesome. We also like what Sociedad is doing with the "Year of the Dog" jersey that they released. The Toffee League is over-the-top awesome in general too. It's cool to see that a lot of teams are beginning to get more creative with their kits too.
What's your ideal goal for NEUFC?
The biggest thing for us was to get our name out there. We want to get some recognition amongst other amateur teams. Being known as that team that has the really cool kits would be amazing.
I know your 2018 kits were recently unveiled, but do you have any new releases coming soon?
We have some ideas, but nothing has that stamp of approval yet. We definitely will be releasing more stuff in the future though.
Stay up to date with NEUFC by giving them a follow on Instagram.