As freestyle football continues to grow, we have seen an increase in women picking up the sport. However, there are still gaping differences between men's and women's freestyle, from prize money to popularity. With the skill level of women's freestyle higher than it has ever been, the future of the sport is in the hands of its current stars. 
In a time of constant progression in sports and society, the discussion of the differences between male and female athletes has become commonplace. Despite the strides that female athletes have made over time, sports, among other facets of society, have unquestionably seen more focus and funding on the male side.
While men continue to see the lion's share of athletic spotlight, the divide seen in freestyle football is drastically different than in other sports.
From my experience, the freestyle community as a whole is an incredibly welcoming and encouraging one for the most part. The vast majority of freestylers could not give a care about your gender, age, or religion. It's all about self expression — anyone can do freestyle football. It is important to acknowledge how far our sport has come, for both men and women.
However, there still continues to be a noticeable difference between the perception of male and female freestylers. With more and more females beginning to participate, what does the future hold for the women's side of freestyle?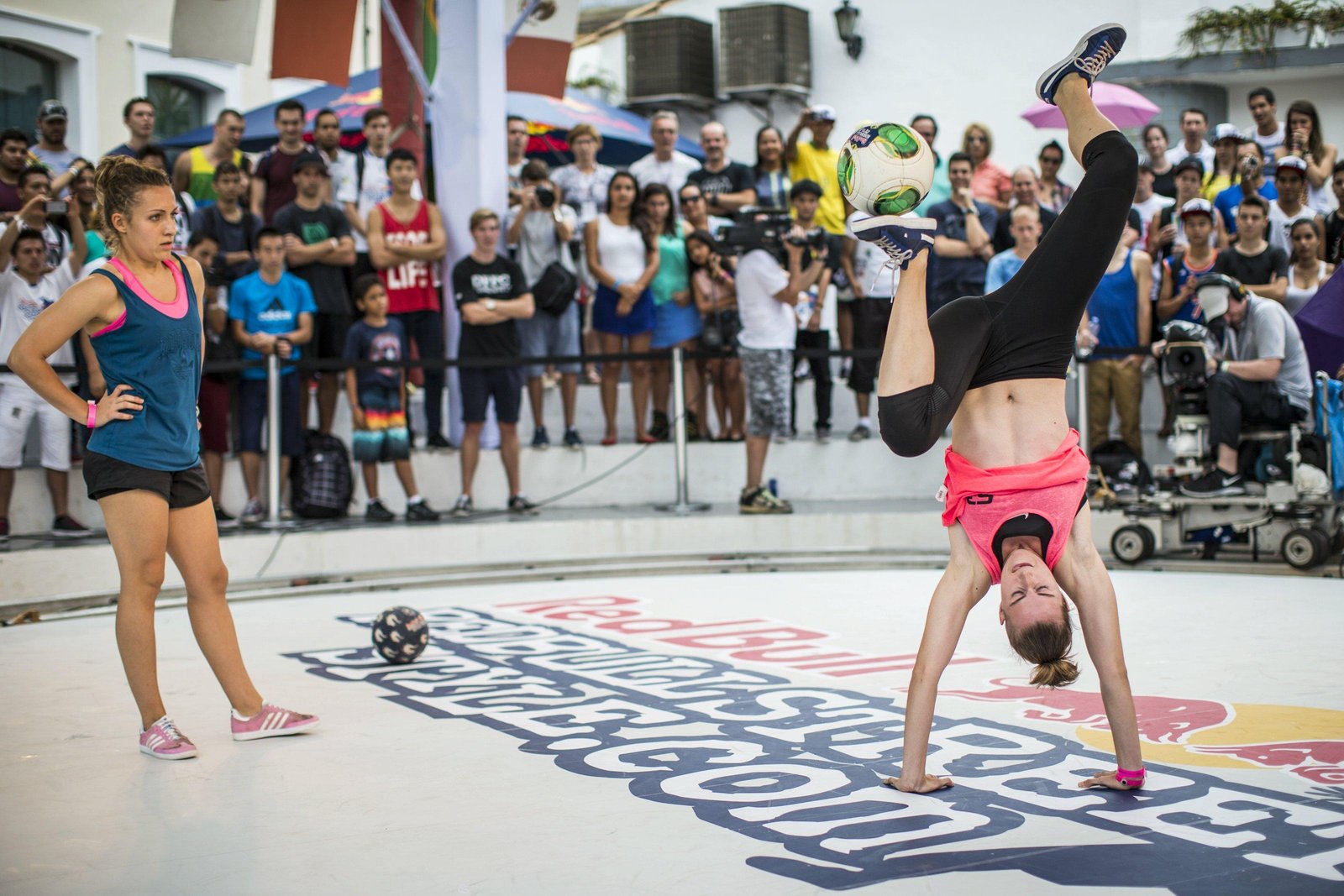 Just like with traditional football or athletics in general, some people may not be able to resist playing the "men are just stronger, quicker, more athletic — it's just physiology," card. I have never paid too much attention to this, because women's freestyle has developed in its own way, at times on a tangent to what we are used to seeing from the men's freestyle. Sure, there are some tricks that men may have an advantage at, but some women have created a completely unique style and identity of their own from the tricks they do.
For example, Caitlyn Schrepfer has taken an increasingly gymnastic-style approach to her tricks, using her incredible flexibility to her advantage, and Jasmijn Janssen is honing her incredible sole stall variations as well. It's clear as daylight that the level of freestyle from the girls is at an all time high and continuing to be raised, whether you wish to compare it across gender or not.
On the battlefront, we are definitely seeing more closely-contested battles in the female events. Not to mention we have now seen the first woman perform a 3-rev as well in the form of Indi Cowie's PATW.
But the competition aspects do raise some talking points. Just like the general theme mentioned earlier, women's battles tend to get a lot less coverage and attention. Taking the Melbourne event from the F3 World Tour last year, the female competitors had no spectators from the public, competing in an almost empty venue where their event wasn't advertised. This was a stark contrast from the men's competition.
"All the videos I see and events that take place often spotlight the male scene, so other girls won't even get to see that there are female freestylers involved as well," said Schrepfer, who is currently ranked No. 3 in the world. "I think if we take the time to show the female scene a bit more and give the opportunity to connect with other girls, then we will definitely see more growth in terms of number of women freestylers."
One interesting notion that could possibly bring more notoriety to women's freestyle is mixed battles, which would see guys and girls facing up against each other. I have no doubt in my mind that top freestylers like Melody Donchet would kick a lot of the guys' butts. In fact, Schrepfer competed and held her own against the men in last weekend's U.S. Freestyle Championships.
While a mixed tournament with top freestylers would no doubt be entertaining and interesting to watch, the difference in style between men's and women's freestyle truly warrants separate divisions, and women deserve the glory of winning their own titles.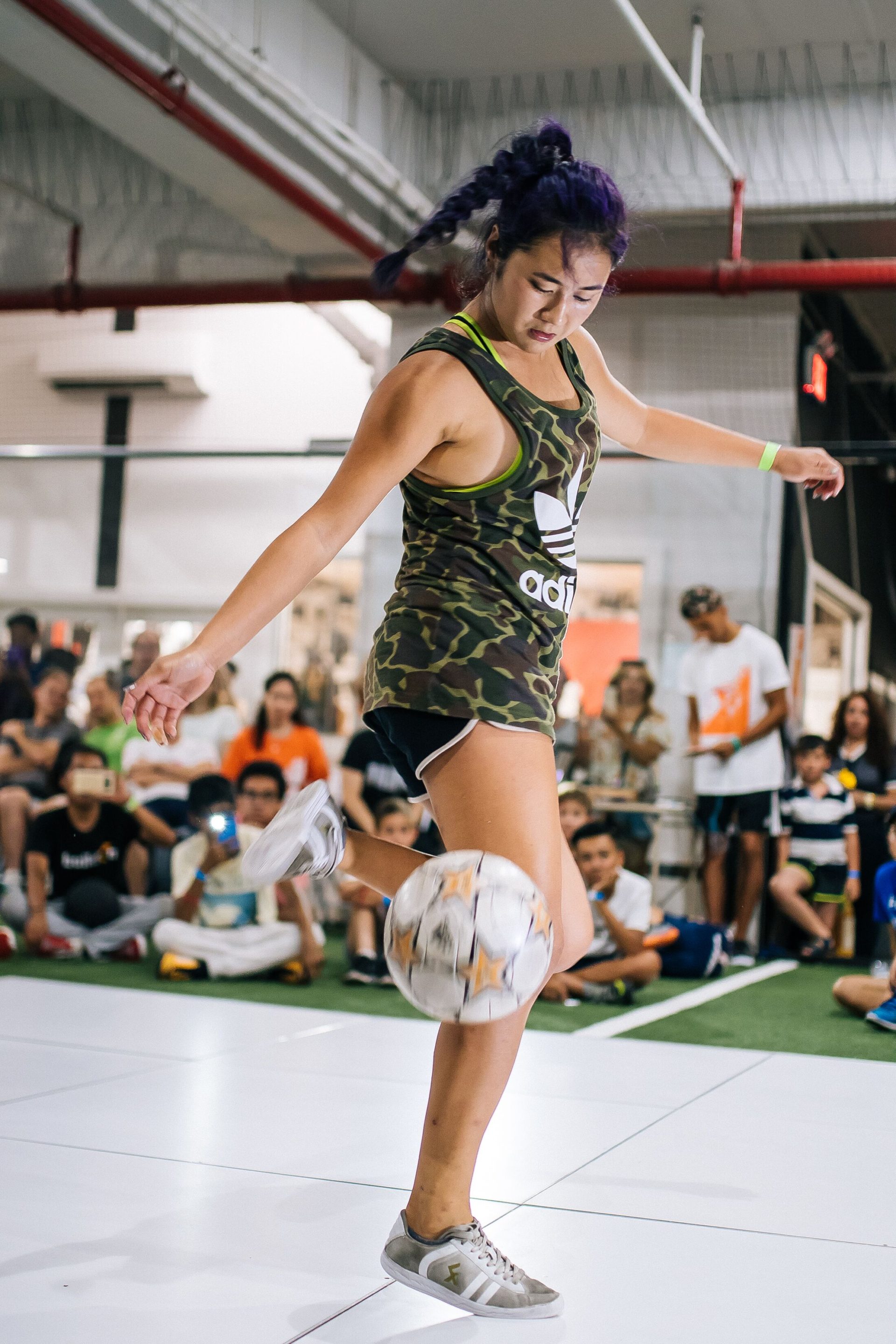 That brings us to the commercial side of freestyle. Female freestylers have proven to be marketable, whether it is Lisa Zimouche signing an endorsement deal with Puma or Liv Cooke creating the first-ever freestyle football agency for women. Fittingly named Girl Power, this seems to indicate a demand for freestyle among women.
However, if we're going to talk about total growth, then the overall number of female freestylers needs to be examined in addition to their skill level. With a quick look through Instagram, we see a fair few football-keen women picking up a ball and showing off their freestyle skills. At the highest level, we seem to be seeing the same faces in competitions. Because there continues to be more girls picking up freestyle, we can presume that we will see not only a more diverse and eclectic mix of women freestylers in the future, but a more highly skilled crop of talent as well.
There's no denying that the ratio of guys to girls in this sport is still overwhelmingly male, but that doesn't take away from anything the girls' scene has to offer. In particular, the current women at the highest level of freestyle are laying the foundations for future female freestylers.
"I'm happy that there are more girls starting to do freestyle, as seen on social media," said Janssen, who has won the last three Dutch National Championships. "I would love for more girls to compete in Super Ball and their respective National Championships too. More girls would make freestyle meets really motivating, and this in turn leads you to want to push your level more and more."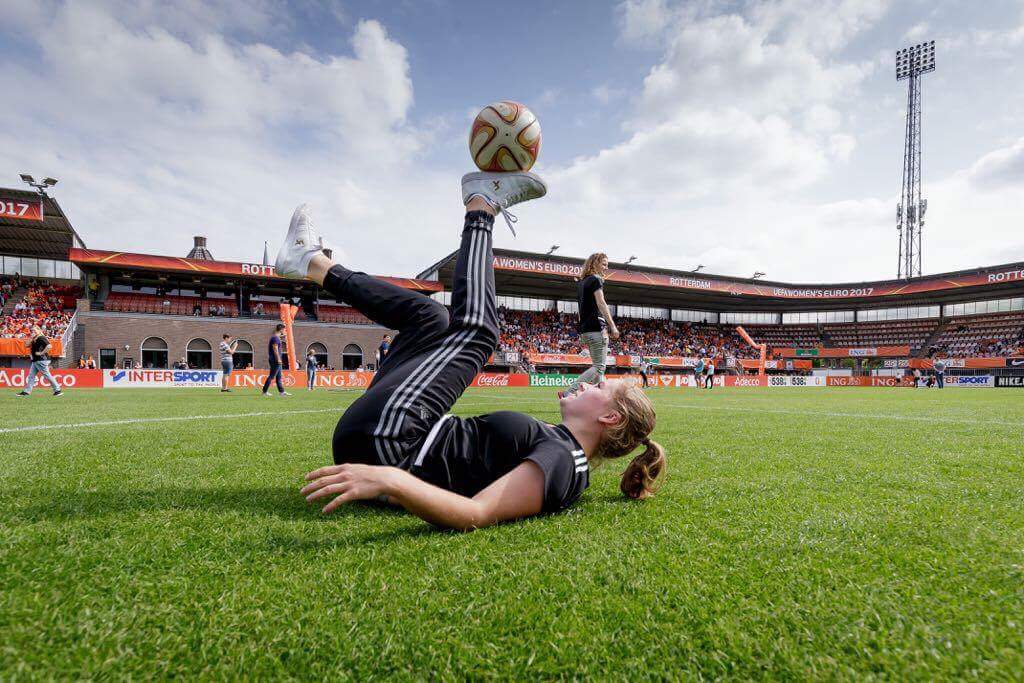 The female scene is steadily on the rise, even if they are perhaps not getting the kind of spotlight in competitions that the males get. There is no doubt our sport will continue to explode and that women will very much be a contributing factor to it, providing they continue to push their limits even more and inspire more girls along the way.