Football freestyler Andrew Henderson is someone who needs no introduction, but I feel obliged to write one anyway. The Exeter-born 25-year-old has become arguably one of the most iconic figures in the sport with his unrivaled competitiveness and incredible array of unique signature tricks, all of his own creation. He's also won every competition he has ever stepped foot in. This includes the World Open Championships (aka Super Ball) and Red Bull Street Style world finals, not to mention his retaining of the UK and Ireland title an astonishing seven years in a row. He's a tremendously successful freestyle athlete who has also managed to live off the sport he loves, in part by growing his booming social media (which I won't go number heavy on right now).
Truthfully, there was not a moment where I thought I lost this battle.
I have known Andrew for several years but I recently had the chance to sit down and have a raw, insightful, and amusing conversation with him—one freestyler to another—in my very own city of Bristol. You can watch the interview in the video below, where we discuss everything from controversial judging to nutrition to sports psychology, and read the exclusive Urban Pitch interview here.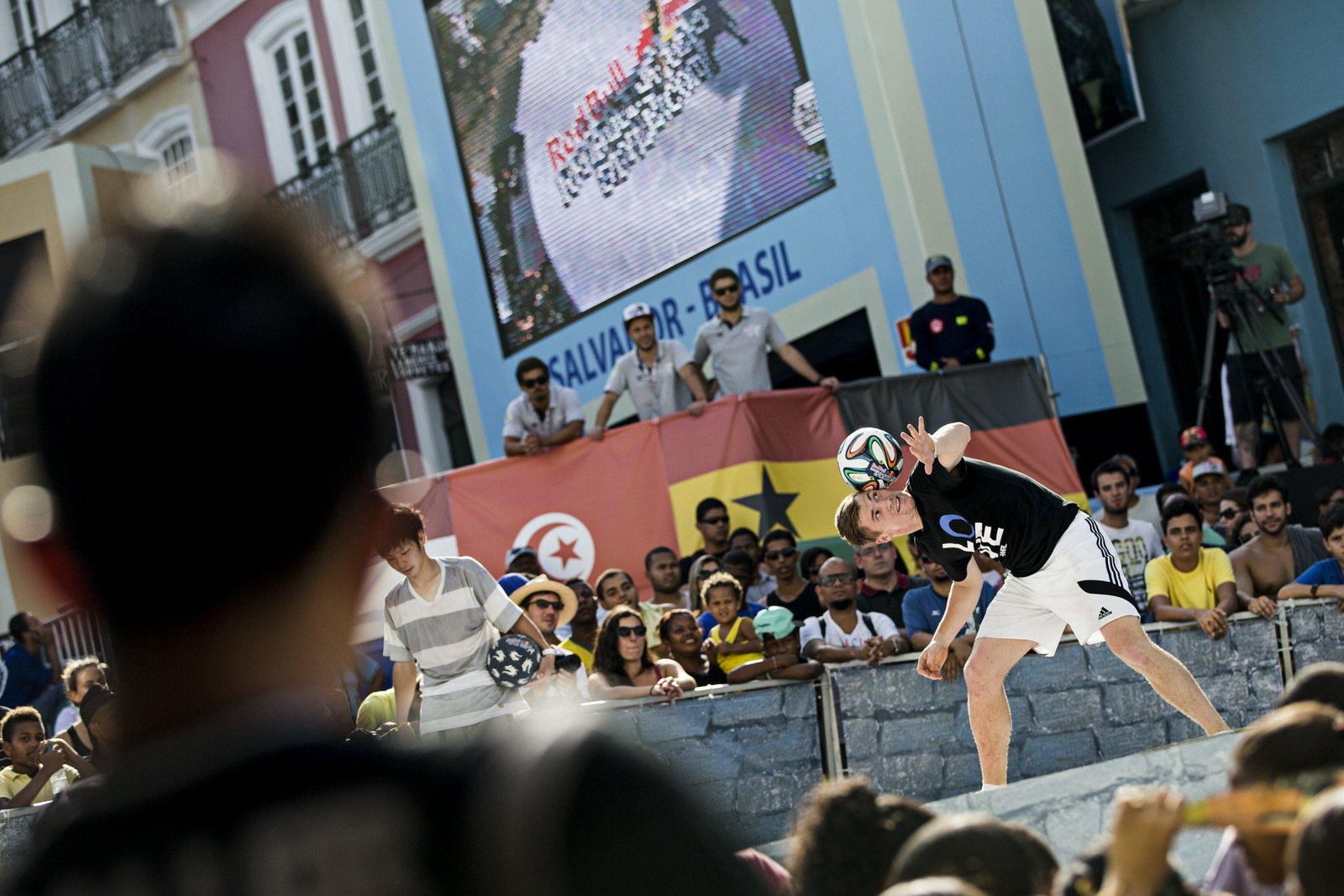 Urban Pitch: What was your very first encounter or memory with freestyle? And at what age did you begin to get serious about it?
Andrew Henderson: My first encounter with freestyle football was watching Soufiane Touzani do one video, it was basically just a video of him doing some skills but at the time I thought it was crazy, I also thought it was fake, like the ball must be on a piece of string or something. So then I went outside to try and do some skills with the ball. That was in summer time 2005 I think, I tried balancing the ball on my head in school for example. Or balancing it on my foot and hopping from chair to chair, all sorts of random stuff. Trying to be like Touzani I guess. I couldn't start taking it seriously as much as I would like until I overcame a horrific leg break in 2008 then I started preparing for the competitions that were on the horizon.
When it comes to the elite levels, is there such a thing as work-life balance, or does freestyle come before everything else? What effect has this had on your life?
Well, with the work-life balance thing, it is my work but it's also a massive part of my life. Like I'm constantly thinking about it and trying to improve. And then with the business side of things, I manage myself and that can take up my time. But to have a social life away from the freestyle I think can have a substantial benefit on your freestyle. So I think yeah, you do need that balance, especially at that elite level where things might be a bit more tense and there's more pressure. So having that time away makes you appreciate it but also ready to come back to it stronger.
Quite often in freestyle, people don't want it enough to go out and train and give everything to it … You'll see guys who will improve more than you in 5, 10 years purely because they really gave it everything for a year or two.
In technique, creativity, improvisation, and style—toughest competitor you've encountered? Who would you consider your biggest rival?
I would say my biggest rival is actually myself. I don't think I've ever really felt threatened by anyone else and their skills. I felt like I always had the edge over everyone, even when I started. That comes down to my work rate, you know I'm working so hard. It's things like injuries and myself that are more likely to determine my success than my competitors. People will probably say Charly or Michryc as my rival, but my record against them is really good, I have demolished them over the years, surpassing them in many ways so I don't consider them my rivals.
Region to region you see different styles developing, from the Russians to the Japanese to the Norwegians. Who are you most excited by right now and why?
I'm really excited by the Japanese freestyle right now because all of a sudden it seems the guys over there are really interested in the technical side of freestyle, which is really cool. Considering they are already so good at blocking tricks, flow, hitting the beat, creative tricks … I think it will be awesome to see them like mixing hardcore lowers with their musicality, that's exciting. Also with the UK, we need to improve. But we got a lot of great kids here and the sky is the limit for them so will be keen to see their development definitely.
You declined to defend your Red Bull Street Style title, can you tell us why?
Yes, I did decline to defend my Red Bull Street Style title, and you're right, it is my title. And I still regard it as mine in my opinion. The guy who has it now is the guy I beat to get the title so in my mind I'm still the champion of that event. It's just one of those things, there were many things going on behind the scene that stopped me from competing in that competition, but I don't want to get into it. Sometimes, you have to be the man and stand up for the sport. I am that man and I have to stand up for what I believe in to help wave the flag and take our sport in the right direction. That's all I have to say about that.
This has been an interesting past year for you. You are considered one of the greats in the sport yet your focus lately seems to be less on titles and more on experimentation. Going forward, what's the end goal for you when it comes to freestyle?
Listen, I love to compete. I have competed in several different sports and in freestyle I have won everything that there is to win. I'm still motivated and would love to throw down with the best guys and prove I am still the best in the world. Yes I have been obsessed with freestyle at times but I have other interests in other things right now. Like, I have the opportunity to inspire kids to do freestyle or have the confidence to do whatever they want in life so I do want to put others before my own goals too. Also, family will always come first for me so even though freestyle is huge there is a lot of things that are a big priority in life too.
Traveling a lot must make it difficult to date—do you have a significant other, and is being a freestyler a prerequisite?
Haha, I am single. No it's definitely not a prerequisite.
In a word, what is freestyle to you?
To me, freestyle is "Simple."
Watch part one of my interview with Andrew here: