Exploring some of the most compelling lower division teams in the United States, our Descending the Pyramid series begins with upstart NPSL club Oakland Roots. As involved in its community off the pitch as it is with its team on it, the Roots are building a movement the only way it knows how to — from the ground up. We get an intimate look at the club's foundation, and get to know why it has become impossible to ignore.
It has yet to officially debut on the pitch, but NPSL upstart club Oakland Roots is a candidate for most exciting lower division club in America. In addition to an incredibly dope crest and merch line, the Roots have connected with its community in an authentic fashion that is uncommon for a professional team. Set to play in its first official match this August, the club's journey began eight years ago in the wake of a tragedy.
It was the summer of 2011, and Edreece Arghandiwal was at a crossroads. He graduated from University of California, Davis with a degree in biological sciences and economics, but his real passion was entrepreneurship. During his time at Davis, Arghandiwal did a slate of internships in New York City with big names like Sean John and BET, before looking to apply to medical schools his senior year.
As he was going through the application process, his grandmother passed away, which is when he decided it was time to make a change and pursue his real passion.
"She was a pillar in our family, and really did a lot to motivate us to be the best we can be," Arghandiwal said. "Before she passed, she always would give me these side remarks on pursuing my passions and dreams, which has always been entrepreneurship and innovating and creating in any capacity."
Arghandiwal, who was born in Oakland and Bay Area raised, ditched the med school apps in favor of business school, and was eventually accepted into Babson College in Massachusetts, which has one of the top-ranked entrepreneurship programs in the world. Following his time at Babson, Arghandiwal returned to the Bay to build his mobile app Jurni and work on another one of his passions — soccer.
"I had a love affair with soccer this whole time mind you," Arghandiwal said. "I grew up playing soccer, and at Davis I was recruited to play. I had several horrible injuries, and ended up not playing the majority of my time there, but I was still heavy on soccer."
It was through his passion for soccer that he met Roots co-founder Benno Nagel, playing in a local Bay Area tournament. The two instantly bonded over their affinity for Oakland and the game, and they saw an opportunity to combine the two to create a positive change in their beloved city.
The Foundation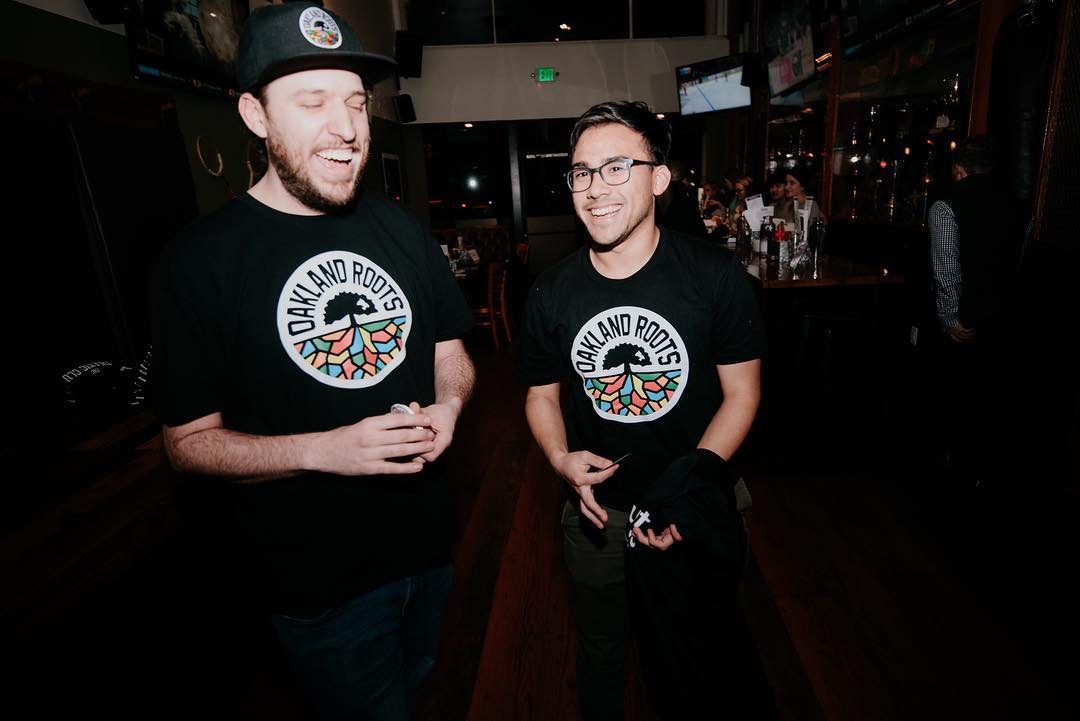 Arghandiwal's connection with Nagel led to the creation of Oakland Pro Soccer in 2016, which was basically a supporters' group trying to bring professional soccer to Oakland in some capacity. In the beginning, the city and big developers quickly got into the mix, which made Arghandiwal and co. worried about the group's ability to be successful going the millionaire route. If they truly wanted to represent the city they loved, they knew they had to build from the ground up.
"We took a couple steps back, and that's when this concept of Roots started," Arghandiwal said. "We built a community advisory board and worked with these folks for two to three years. We did a panel discussion event at Clifbar to try to listen and learn from the community and build on concepts they really wanted, versus us forcing a concept down their throats."
Connecting with the community and serving as an authentic voice is perhaps more important in Oakland than anywhere else in the world. While gentrification continues to ravage the city and the Bay Area as a whole, a community-driven sports club is a breath of fresh air.
Tommy Hodul, the club's press officer and director of fan engagement, explains why the bottom-up approach is so paramount to the Roots.
"I think that when you know the city of Oakland, there's no other way of going about building something except if you do it from the ground up," he said. "If you come into this city and try to do it from the top down, it's never going to work. The way everything functions within this city is based on a community aspect.
"Oakland is a community. The reason people call it 'The Town' even though it's a 400,000-person city is because no one is more than one degree of separation from anyone else. It's either I know you, or there's someone I know who knows you. There's no way I need to go two, three people deep, and I don't think there's any other city of our size, maybe anywhere in the world, where that can be said."
Hodul, another product of Oakland, was an elementary school classmate of Nagel, and joined Oakland Roots in 2016. Prior to that, Hodul was pursuing a doctorate degree in music education, but a broken wrist left him unable to play his instrument, and as a result he started working with soccer media outlet Midfield Press. He's also a co-founder of the Oakland chapter of U.S. national team supporters' group American Outlaws and the Oakland Toffees, a supporters' group for fans of English Premier League club Everton. In addition to wielding his experience in soccer journalism, Hodul is tasked with being the primary club contact for potential supporters' groups — an area that the Roots are actively looking to tackle next.
The Fans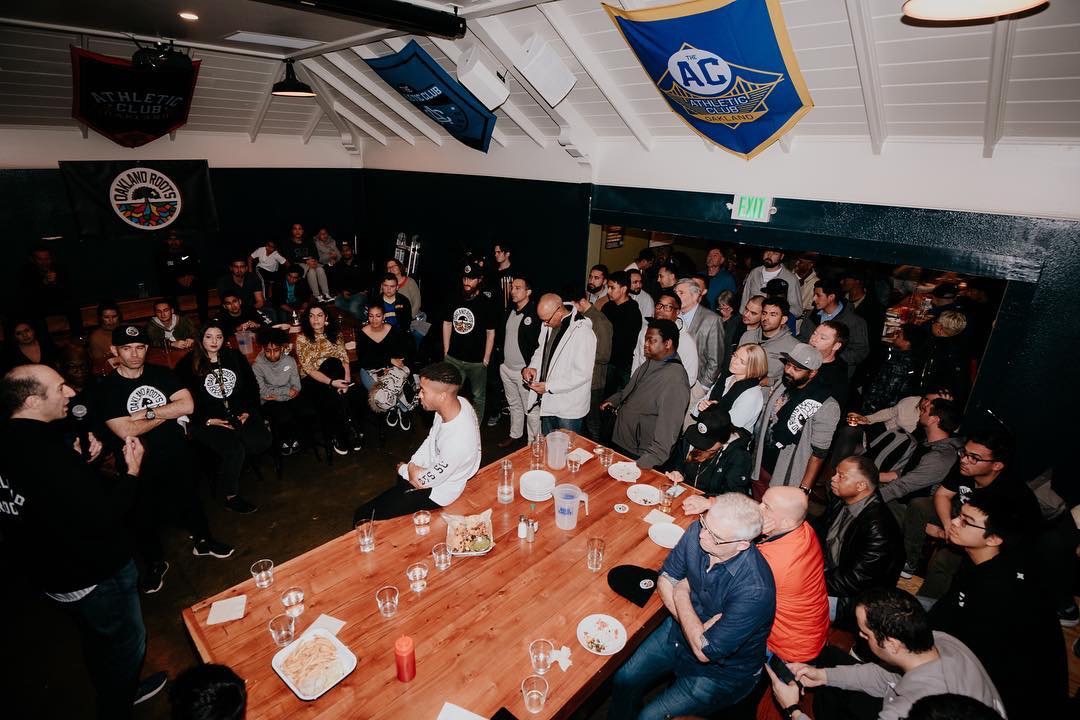 Still in its early days, the Roots front office is looking to the most unlikely of sports for its fans — baseball. For years, the Oakland Athletics' fanbase has established itself as baseball's rowdiest, with its own supporters' group — the Oakland 68s — that take plenty of inspiration from soccer ultras around the world.
Tifos, chants, and drums aplenty, Hodul has identified the 68s as a potential pool of Roots supporters. After all, The Town is like one big family.
"A lot of is just getting the word out and making connections with a lot of people who are potentially interested in that," Hodul said. "The Oakland A's have the best supporters' group anywhere in baseball. The right and left field bleacher groups we've connected with and I know a lot of the guys there. They're out there playing drums, building tifos, and working in organizations like Green Stampede to give back. They do free homework clubs and tutoring sessions to the people of Oakland through their supporters' group."
Oakland Roots have yet to form an official supporters' group, but because the club's approach is so grassroots, it's not a difficult sell to get other Oaklanders on board. We'll be expecting not only a large but a passionate group to form in the near future.
While Hodul's been handling the press releases and planting the seeds of a future supporters' group, Arghandiwal's been at work developing the Oakland Roots brand. In order to catch the eye of the not-yet-aware public, Arghandiwal enlisted his friend Matthew Wolff, who you could say is like the Shepard Fairey of the soccer world.
Some of Wolff's more recent projects include helping LAFC develop their brand, as well as designing the Nigeria World Cup kit for Nike, which is one of the most fire kits in soccer fashion history.
The Kits
Although the Roots have yet to unveil their official on-field kits, we can assume they're going to look incredibly dope. While many clubs mail it in when it comes to their uniforms, Oakland Roots isn't one of them. The first thing on Arghandiwal and Wolff's checklist was the club's crest.
"We wanted a crest that reflected color and diversity because that's what Oakland is," Arghandiwal said. "That was criteria number one. Number two was was figuring out how could we build a typography in the word Oakland Roots that just doesn't look like Helvetica or some general font that's out there. Matt created a custom font, and it's this quirky, oddly deformed character, but that's kind of what Oakland is man. We're quirky, and we're a little bit different out here. So that's the motivation behind the typography inside of the crest. And then third, the Oak Tree is a symbolic item in our city and in our culture. It's the city symbol. There's an Oak Tree in front of City Hall — sitting there huge, protected, light shining on it. It's an icon in our community."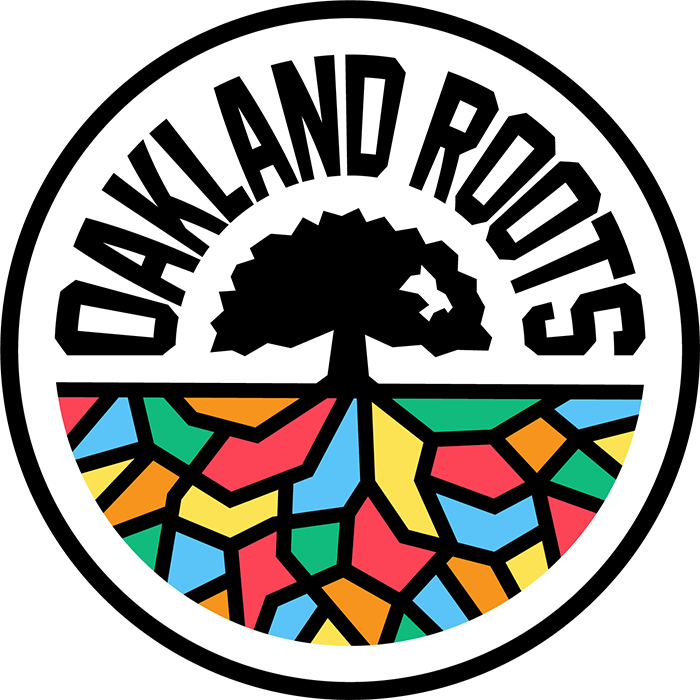 There's also a cool Easter egg in the logo, with a little white shape in the tree mimicking light seeping through the branches, meant to pay homage to the Oakland city boundaries. Once the logo was finalized, the Roots then collaborated with popular local brand Oaklandish to drop one of the strongest merch lines in soccer today. The reception to the line has been phenomenal, with NBA star and Oakland native Damian Lillard repping one of their shirts before a game, and Oakland rapper G-Eazy showing off one of their jackets in a recent performance on Jimmy Kimmel Live.
Off the Pitch
There's more to Oakland Roots than dope shirts, or even soccer for that matter. The club wants to be a vehicle for positive change in the city, and so far they've done an impressive job in doing so. Partnering with brands like Senda Athletics, which makes Fair Trade-certified soccer equipment, they align themselves with similar thinking brands, taking their community-first approach to a corporate level.

Another way the club uses its unique position to instill positive change is through their Community Spotlight series on their social media accounts. Each Friday, the Roots highlight one person from the local community who goes above and beyond to improve it. It's all about people helping people.
The club is also very close with Soccer Without Borders, a free program serving refugees, asylees, and unaccompanied minors in Oakland and across the United States.
"Our sponsors aren't just our sponsors," Arghandiwal said. "We want the connections to matter. We want to partner with things we believe in."
Just how much do the Roots believe in Soccer Without Borders? One of their early signings, Eritrean born and Oakland raised Yohannes Harish, is a product of the program.
On the Pitch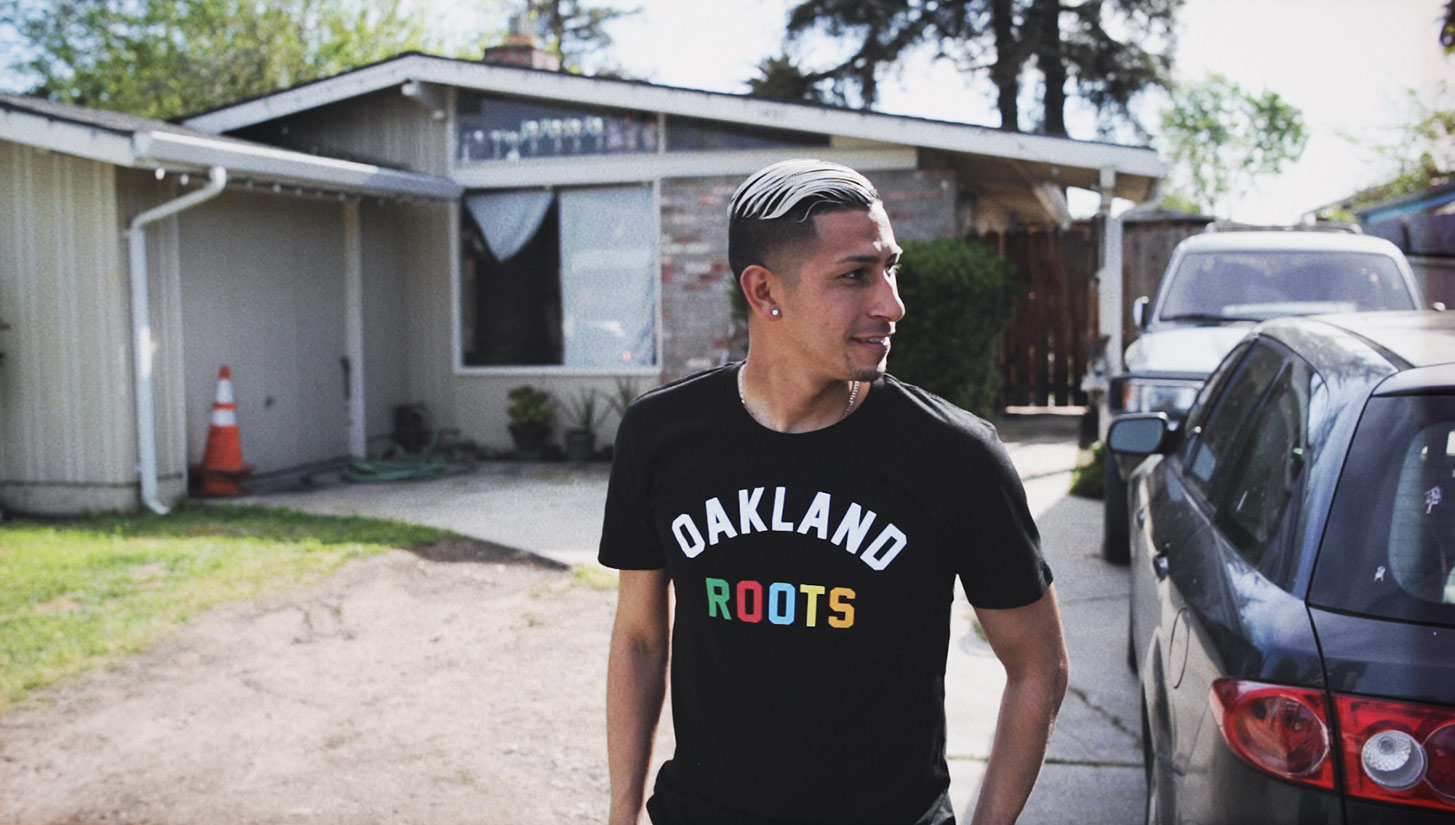 In fact, many of the Roots' signings so far have been from Oakland or the Bay Area, and that's no coincidence. Technical advisor Eric Yamamoto, who has a bevy of experience as a youth coach with the U.S. national team program in addition to currently serving as an assistant coach for the Santa Clara University soccer team, has a lot to do with the locally-sourced talent on the Roots.
Supremely connected and knowledgable about the types of players the Roots would like to build around, "Yamo," as he's known around the Roots office, has helped the club sign Harish, Devante Dubose, and Julio Cervantes, all of whom are Oakland natives.
Recently the Roots announced the signing of their No. 10, Bay Area native and former U.S. youth national team midfielder Benji Joya as well. So far, all of the club's signings are local and focus on giving those players a second chance to forge a pathway to the pros.
Late last week, the club also brought on Bay Area soccer legend Paul Bravo as their first manager. Bravo, who has played soccer at every level in the Bay Area, was a member of the 1994 Greek-American A.C. squad which won the Lamar Hunt U.S. Open Cup. The now defunct San Francisco-based squad was the last amateur team to win the oldest national soccer tournament in the U.S. Bravo was also a teammate of Yamamoto at Santa Clara University.
The Roots first team may not debut until the NPSL Founder's Cup in August, but that hasn't stopped them from partnering with the Oakland Leopards to build a reserve side. The Leopards usually play in the San Francisco Soccer Football League, which was founded in 1902 and is the oldest soccer league operating in continuous existence in the U.S.
Last fall they represented the Roots in the qualifying rounds of the U.S. Open Cup, with several local players forming the foundation of the roster.
The club is still rounding out their first team at the moment, with several open tryout dates in June recently announced. The first tryout will be held at Bladium Sports and Fitness Club in Alameda, which will serve as the first team practice venue in the future. In addition to a practice facility, the Roots' partnership with Bladium will include an open soccer tournament and fan festival prior to the start of the season.
As their August debut draws nearer, the Roots still have plenty of exciting announcements left in store, including their official kit and kit sponsor, in addition to their match venue. In the meantime, you can put down a $5.10 (the Oakland area code) deposit for a 10 percent discount on an Oakland Roots Founders Cup membership, which includes tickets to all four home matches and many other perks.
Whether you're a Town native or simply a lover of the beautiful game, there is plenty to be excited about for the impending Oakland Roots takeover of U.S. soccer. We just hope you're ready for it.