Through his clothing line Venci, Minnesota United FC defender DJ Taylor has entered the field of athletes that transcend sport. 
The line between fashion and soccer only continues to blur — whether it's through brands releasing collections inspired by the beautiful game, or players treating the pregame tunnel entrance as their own fashion show runway. It's gotten to the point that some players, like Minnesota United FC defender DJ Taylor, have taken things a step further by creating their own brands themselves.
Signed by the Loons shortly before the start of the 2021 season, Taylor left his home state of North Carolina and the USL for his first stint in MLS. Being away from home wasn't anything new to the 24-year-old right back however, having played in Spain with Torre Levante and Buñol as a teenager.
Coming back to the States near his hometown Raleigh with North Carolina FC in 2017, Taylor continued to hone his skills and found himself as a regular starter for the USL League One side. It was during this time as well where he planted the seeds of his clothing brand.
When the coronavirus pandemic sidelined most of the sports world in March 2020, Taylor found something bigger than the game to pour himself into. He channeled the inspiration he received from his two years playing in Spain and his love for fashion into a label of his own, Venci.
Venci launched last summer with a capsule collection of hoodies, long sleeve shirts, and socks in neutral tones. The brand is sporty yet versatile and the name translates from the Castellano word for "to overcome" or "to conquer," as Taylor hopes to inspire others to chase their dreams. He is a big fan of Drake and aspires to create something as powerful as the superstar's OVO brand, which stands for luxury and cool.
It's been less than a year, but Venci is on track to showcase the importance of ownership and personal expression for players. As more athletes begin to transcend the sport world and become entrepreneurs, Taylor is at the forefront of what is possible. Venci even had its first fashion show in December at an event organized by fellow footballer Raheem Taylor-Parkes and artist Mink. Taylor's creations were shown alongside other soccer-inspired brands all in the name of mental health awareness.
"It's cool to see my own clothes on other models and other people," Taylor said on the day of the show. "The sky's the limit. Whatever you want to do, you're not just limited to one thing."
We had our own conversation with Taylor about his inspirations, his goals, and his love for the 6ix God himself.
Urban Pitch: I read that you had the idea for a clothing brand for a while, but you officially started after COVID slowed everything down. How was that kind of a positive thing in what was generally a dark time?
DJ Taylor: It was just like, well, we have three months of not doing anything. So how do I take advantage of my time to do something outside of soccer? That's how I started DJKT, which is my own personal brand. That's kind of where it started, where I got involved with how the clothing business actually works and did a bunch of research. So that was my first on-boarding process to how it works and that was fun. But eventually, I wanted to make actual custom clothes that people can wear when they go out to eat and when they go out socially, whatever it is, and that's where Venci started.
I know there is such a movement right now to have ownership and for players and musicians and people in general to have their own brand and own businesses. How has that been part of Venci?
The past year since COVID has definitely been a lot about mental health and the transition for athletes after they're done playing whatever sport it is. Venci helps me show that other players can do it. Obviously, my teammates see that I'm doing other stuff, not just playing soccer. So I think it's good for them to see that, as well as other people that are just watching from a distance. I think it's also helped me keep the balance of life not getting too caught up in soccer, even though it is what we do for our livelihoods.
https://www.instagram.com/p/CSZp0h4LiQu/
What are some of your design inspirations? I know you use a more muted palette, which is really popular and classic. Even the message of overcoming and turning your dreams into reality, what are your inspirations behind the various elements of the brand?
Venci the name came from the fact that I'm fluent in Spanish because I played in Spain for two years. I wanted to add a little Spanish/foreign twist to the brand. Hopefully, we can mix Spanish culture with American culture with our clothes. So that's kind of where Venci came from, where it's like, "I overcame" or "I conquered." I always knew I wanted to do something that was motivational or inspirational, so it worked out with the "turn your dreams to reality" and that's the whole goal for me and for I think a whole bunch of other people as well.
The designs, honestly, I was just working with one of my friends who for a hobby likes to do custom artwork. And I just gave him those ideas and he designed Venci with the moon, which is also another cool thing, the crescent. To be honest, I don't even remember what it was, but I looked up a definition of the crescent and one of them stuck with me. And it was something about your spirituality or reality doesn't change as you go through life or something like that. And that's where the crescent came from within the "C" of Venci. So as a little subtle meaning in there that not a lot of people know or asked me about, but that's where that came from.
The color palette, neutral tones I think always look good. Like I said, I had another friend as well that had already been in a business where he had a brand with his other friends, and I asked him for his advice and he was more artistic. But then once I learned how to design through print-on-demand companies, then I could just play around and have fun with it. So for now, it's just whatever's hot and whatever I think represents the brand and the mix between Spanish culture, American culture, and streetwear.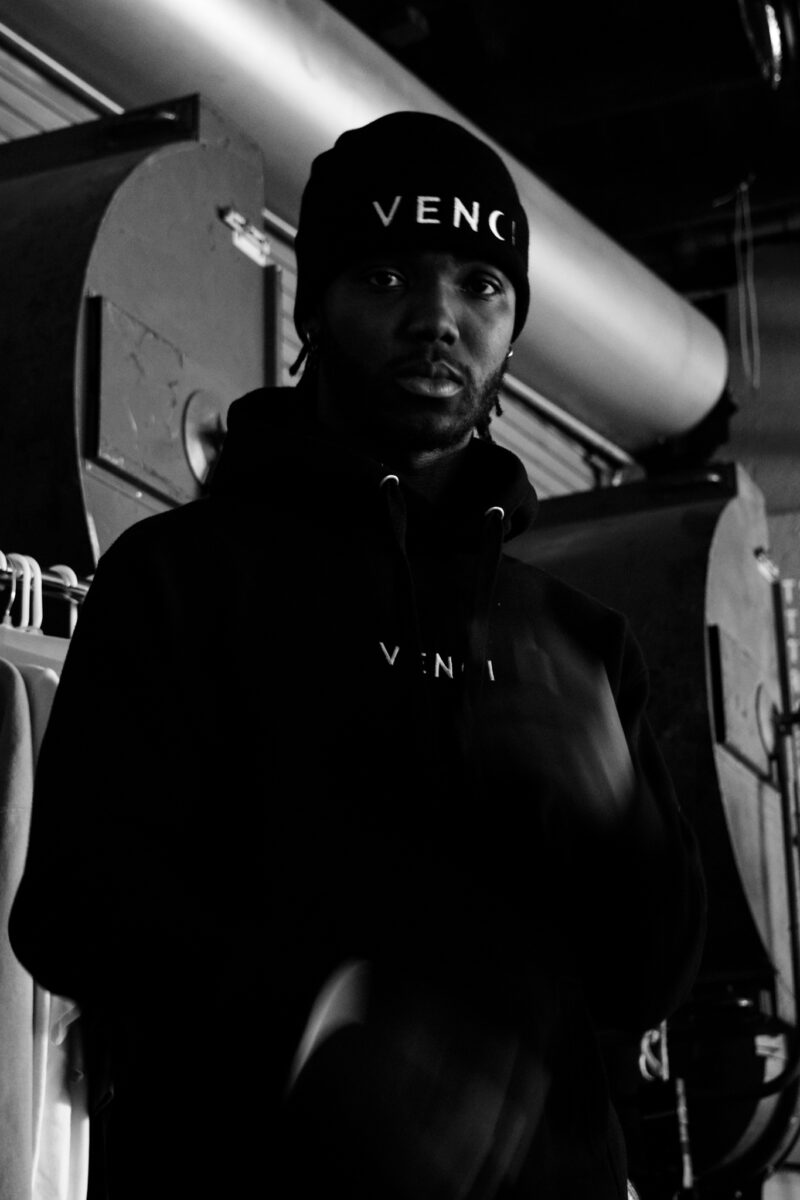 I did notice that the logo was a moon. So that's cool that you addressed that on your own. And I read too that your faith is very important to you. I know there's ways to incorporate your faith in your creativity. How has that shaped you as a creative?
I think everybody should have faith. Obviously, people can believe in their own religion, but I think faith helps you get through life and that's what you need when you're at your lowest points. If the brand's goal is to obviously make money, but also to inspire and motivate people, if we can do that through faith as well, why not have it in there? Whether that's subtly or whatever. I definitely am a spiritual person. I think the brand represents what I'm all about, and hopefully that can help other people get through their lives and whatever they're trying to do.
Yeah, that's super cool. I love seeing that. And have you had any feedback so far of people that have messaged you saying, "Hey, this is really inspiring to me." Have you already gotten some feedback like that?
Yeah, we're still trying to navigate. Obviously, they say the first year of business is the hardest. But I mean, the feedback I've gotten from our first collection has been like, "The clothes are great."
People love the designs and they say it's super comfortable. So from that standpoint, it has been really good. I think mostly people would just say they're proud of me for having a brand. They're inspired that I'm doing that outside of soccer, maybe like a couple of my teammates tell me that. So that's kind of where I get the most props from it personally. But yeah, from a brand standpoint, people say they love the clothes, they love the idea and stuff like that. It's just now how do we get it out to the world and still make money as well.
Jacori Hayes was someone that helped when you announced the brand, he posted about it. What is it like to have that support from your teammates and just know that you're not alone in this?
Yeah, it's been great. Obviously, my team here in Minnesota is great, the guys are all good. Having that core group of guys that I hang out with and getting their feedback and ideas on stuff has been amazing and a blessing to be honest. I've had them take pictures, too, for modeling and stuff like that. And that's always a fun time just hanging out with them, whether we're doing business or not. I've been blessed by them, obviously, to have their feedback and for them to support me, especially after leaving all my support system back in Raleigh, so it's been good.
Was that hard for you? Because you were playing in your hometown and then had to move? How was that transition for you?
I think it's definitely been tough. I definitely feel like I was spoiled the last three years. Because I went to Spain, so I was away from my family, I knew what it was like. But then being there for three years around my family and friends and my little brother, I think it's definitely been tougher than I thought it would be to just move. But also everybody usually has to move away from home, wherever they're playing, especially in the soccer industry, so I can't really complain about it too much. But yeah, it's definitely different because I never thought I would be out in the Midwest. It's my first time in Midwest as well.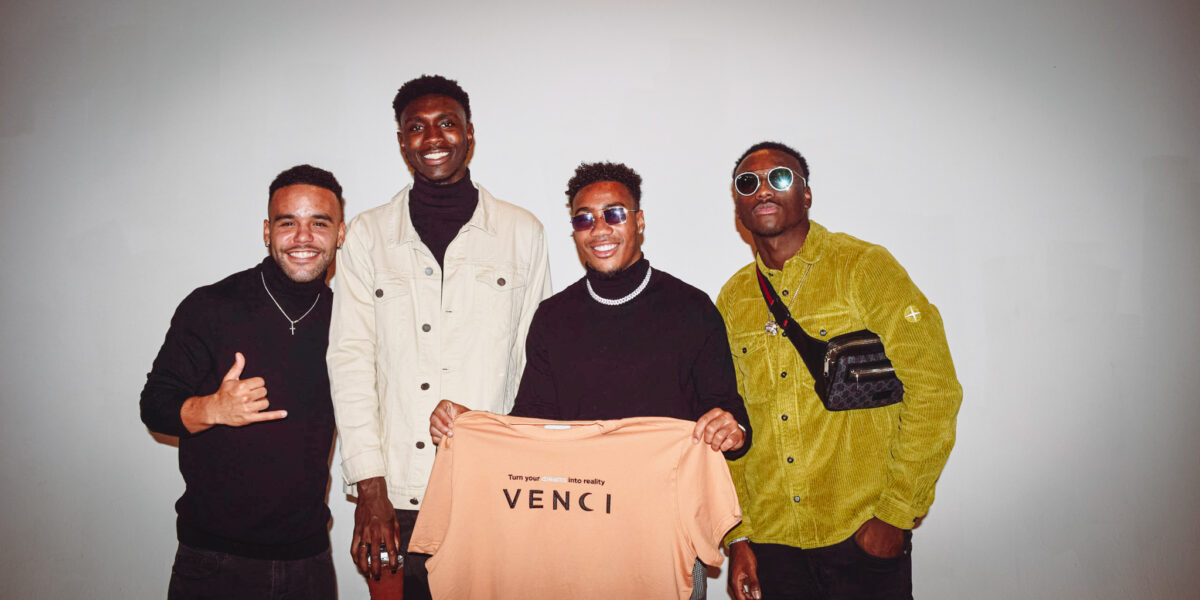 I know you've spoken a little bit about Spain, but can you go a little more into how your time there influenced you and may have broadened your personal worldview?
It was probably the greatest experience of my life so far. Definitely trying to get back over there. Honestly, if I could play in MLS a year or two and get back to playing in Europe, that's my ultimate goal from a soccer standpoint.
But yeah, personally, it was the greatest experience of my life. The people I met there, I almost had like a second family there that took care of me. Playing football at that level and seeing the whole culture in that sense, it was incredible too. I was just grasping information left and right every day. Definitely shaped how I play.
It also obviously helped me grow a lot more too. Being 17 and going overseas by yourself changes you. I used to come home for the holidays and Christmas, and people would be like, "You matured a lot." And I'm like, "What are you talking about? I'm the same DJ."
Living on your own and having to adjust and then learn the language, because Valencia is not a touristy town like Madrid or Barcelona where people speak English. In Valencia, no one really speaks English, so I'm proud of the fact that I was able to get fluent in two years and obviously it helps now. If I talk to anybody in Spanish or any of my teammates that don't speak English, it's super beneficial.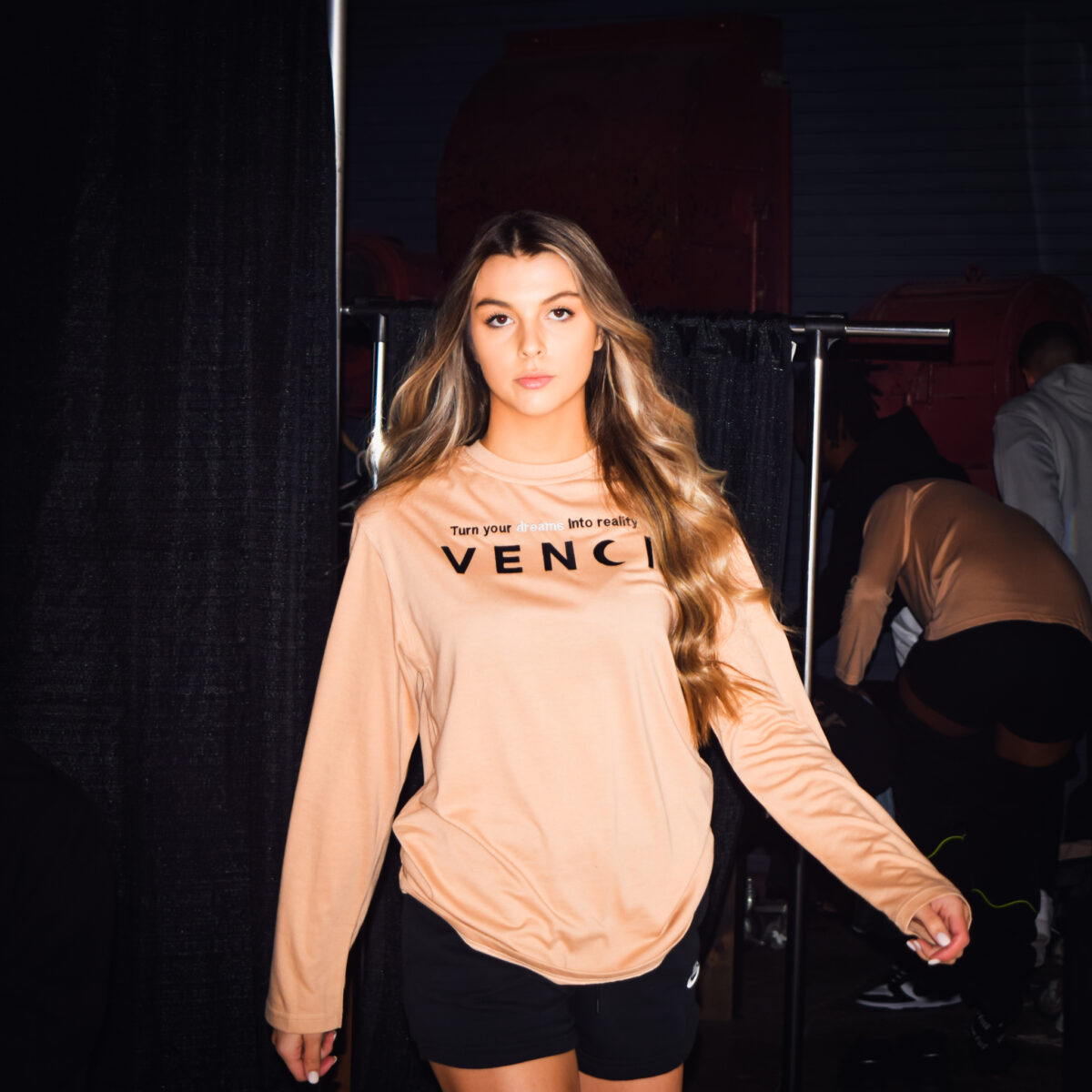 I know big news in the fashion world was that Virgil Abloh passed away. That was so sudden. Was he an influence to you, or how did that news affect you?
Yeah, I think I was just as shocked hearing about it and everything. From the fashion industry, it was just a huge influence, kind of like the king of fashion. So obviously all of us that pay attention to that stuff, it's heartbreaking and was just shocking. But hopefully, we can create ways to still keep his memory alive, whether that's fashion, clothes, and design. But yeah, we lost a good one. So it's tough.
Are there any other brands, influencers, or designers that you personally look up to?
The European brand SikSilk is probably one. That's one a lot of players wear overseas, it's kind of one I still shop for personally. I don't know if you've ever heard of it, but they have a lot of fresh clothes that I like. If I can replicate or take some stuff away from their clothes, it's really cool. They do collabs with soccer players as well. I know they did collabs with Dani Alves and Messi.
That's the main one that I really look up to and try to study what they're doing. Other than that, I try to look up other main brands. Obviously like the big giants, Nike, adidas, you know, just studying what they do. They're more sports, but they still make top stuff.
Me personally, I'm obsessed with Drake. So I always look at OVO and I have OVO clothes too. Seeing that as well, seeing how they make their clothes and the quality of it is a good thing for me to learn from a fashion standpoint. At the end of the day, I'm still learning about even more artists and how they design clothes.
Drake, he's a fashion icon in and of himself. What have you learned watching him become a cultural giant over the years?
Yeah, yeah, yeah, Drake for sure. Man…crazy. Crazy what he's wearing. His stuff's expensive. That's what I noticed first. Like I said, I'm obsessed with him. So anything he wears, I'd probably rock with it. But yeah, his outfits are definitely fresh. And it's cool that he has his own brand too. So it's kind of, you know, if I can have my own brand, why not?
It's good I have Venci as well. I hope one day Venci can get as big as OVO. That would be dope too if we could reach that high quality of material and have everything sell out within seconds like OVO does, that's the goal. But also still want to keep as more of a motivational brand as well. So, still make sure we're still helping and giving back to the community.
Shop the entire Venci line through its official website, and be sure to follow Venci and DJ Taylor on Instagram. 
Quotes edited for clarity and brevity. Images courtesy of DJ Taylor and Venci.