Breaking barriers in just about every field he entered, we remember Virgil Abloh's impact on the world of soccer.
The world lost a cultural icon when Virgil Abloh passed away at the age of 41 last week. The designer, DJ, father, and friend was most linked to the world of streetwear, a field he forever changed, but Abloh also had a deep connection to the beautiful game. In addition to avidly playing throughout his childhood, he's used the sport as a source of inspiration, be it directly through his "Football, Mon Amour" collection for Nike, or indirectly through his unique use of labeling that parallels with sponsor logos on soccer jerseys.
Abloh was born in Ghana and carried a cultural connection to soccer throughout his life. As he climbed the fashion world, from his Pyrex brand turning into the game-changing OFF-WHITE label, to becoming the first African-American head of menswear for Louis Vuitton, he broke barriers that inspired people of all backgrounds.
Groundbreaker, innovator, paradigm shifter — all are common descriptors of Abloh, and with good reason. He affected just about every field he stepped into, so it's no surprise that he had such an impact on the world of soccer. Fashion and the beautiful game have long gone hand in hand, from terrace casuals in the '80s to the brash and bold designs of kits throughout the '90s, but Abloh brought the connection to the forefront of the cultural zeitgeist in only a way that he could.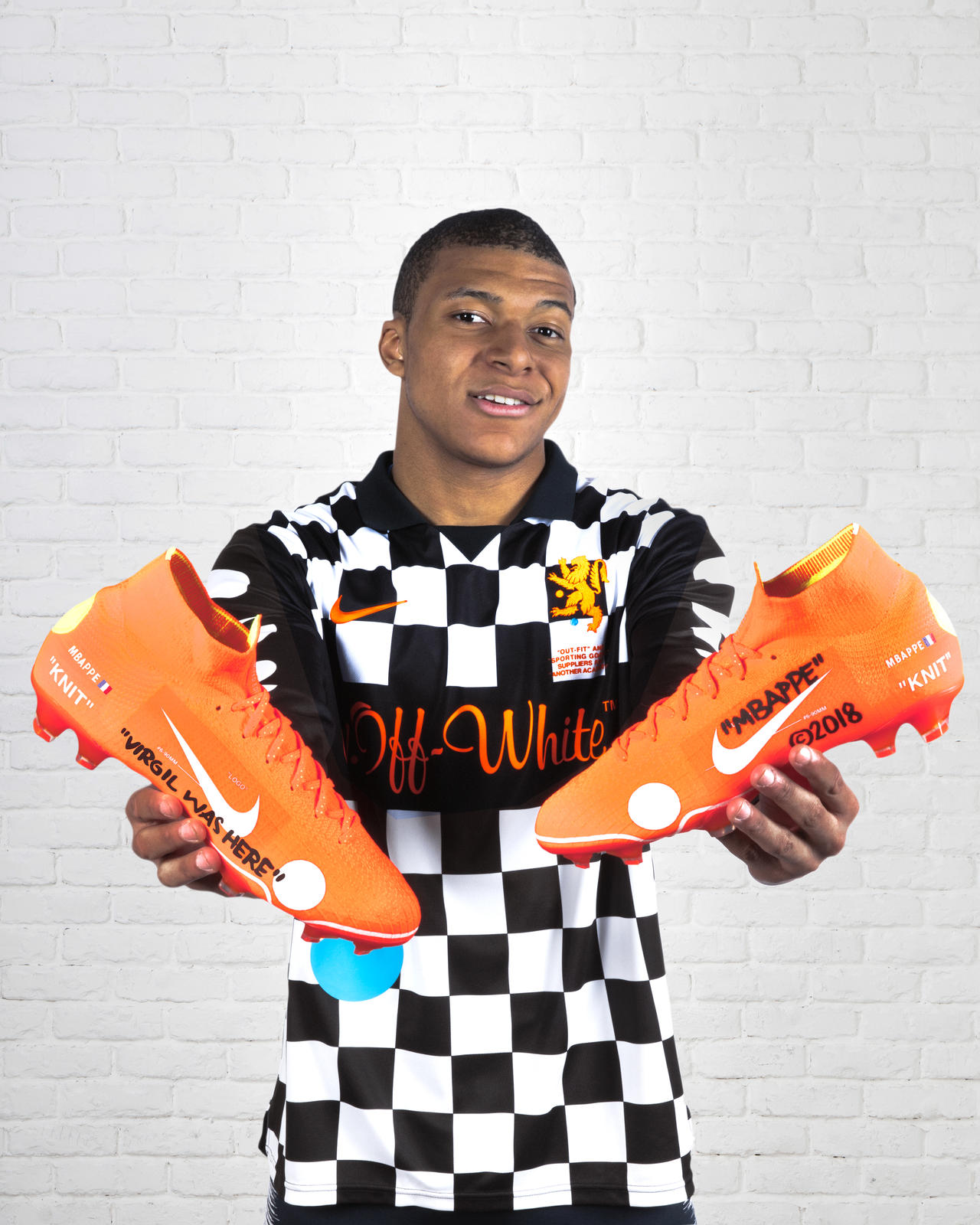 Perhaps Abloh's biggest splash in the soccer world was his series of OFF-WHITE collaborations with Nike in 2018. Fresh off the heels of his widely popular "The Ten" collection that reimagined some of The Swoosh's most iconic silhouettes, Abloh returned to his roots in soccer, creating his own version of the Mercurial 360. The boot featured Abloh's familiar labels including "LOGO" and "KNIT," in addition to dots in strategic striking locations on the upper.
Kylian Mbappé, months before his breakout performance at the 2018 World Cup, received a customized version of the boot complete with Abloh's trademark permanent marker autograph, "VIRGIL WAS HERE."
"Design is a powerful tool, as it communicates energy and a message, and it offers a unique capacity to make someone do a double take on-pitch," Abloh said in the Nike press release. "I feel like it would be intimidating to see this boot."
But a boot wasn't all. Nike tapped Abloh again, alongside Kim Jones (his predecessor at Louis Vuitton), to make a collection in honor of the upcoming Russia World Cup. Abloh named his collection "Football, Mon Amour" as his love letter to the beautiful game. The line featured kits, jackets, and accessories that drew inspiration from iconic football designs and typography. A checkerboard pattern paid tribute to Croatia's home kits while the orange and blue pops of color were an homage to the Netherlands crest. The numbers used on the pieces were numbers that Abloh wore himself as a footballer, and the "Off-White" sponsor logo recalled images of Borussia Dortmund's s.Oliver sponsor from the '90s.
While the collection was a favorite among hypebeasts, Abloh wasn't about playing the high-priced exclusivity game. He paid his success forward by outfitting the boys and girls sides of his alma mater, Boylan Central Catholic High School, with the uniforms.
In 2017, Abloh also made uniforms for Melting Passes, a French football team for immigrants who didn't have the residency status for many local teams. Abloh could relate to the players who came to the country from West Africa, oftentimes having to leave their loved ones behind. He empowered the team with his thoughtful designs that included a crest with a dove holding an olive branch, the team name in a swirled font, and a name badge with the team's initials in Abloh's signature quotation marks.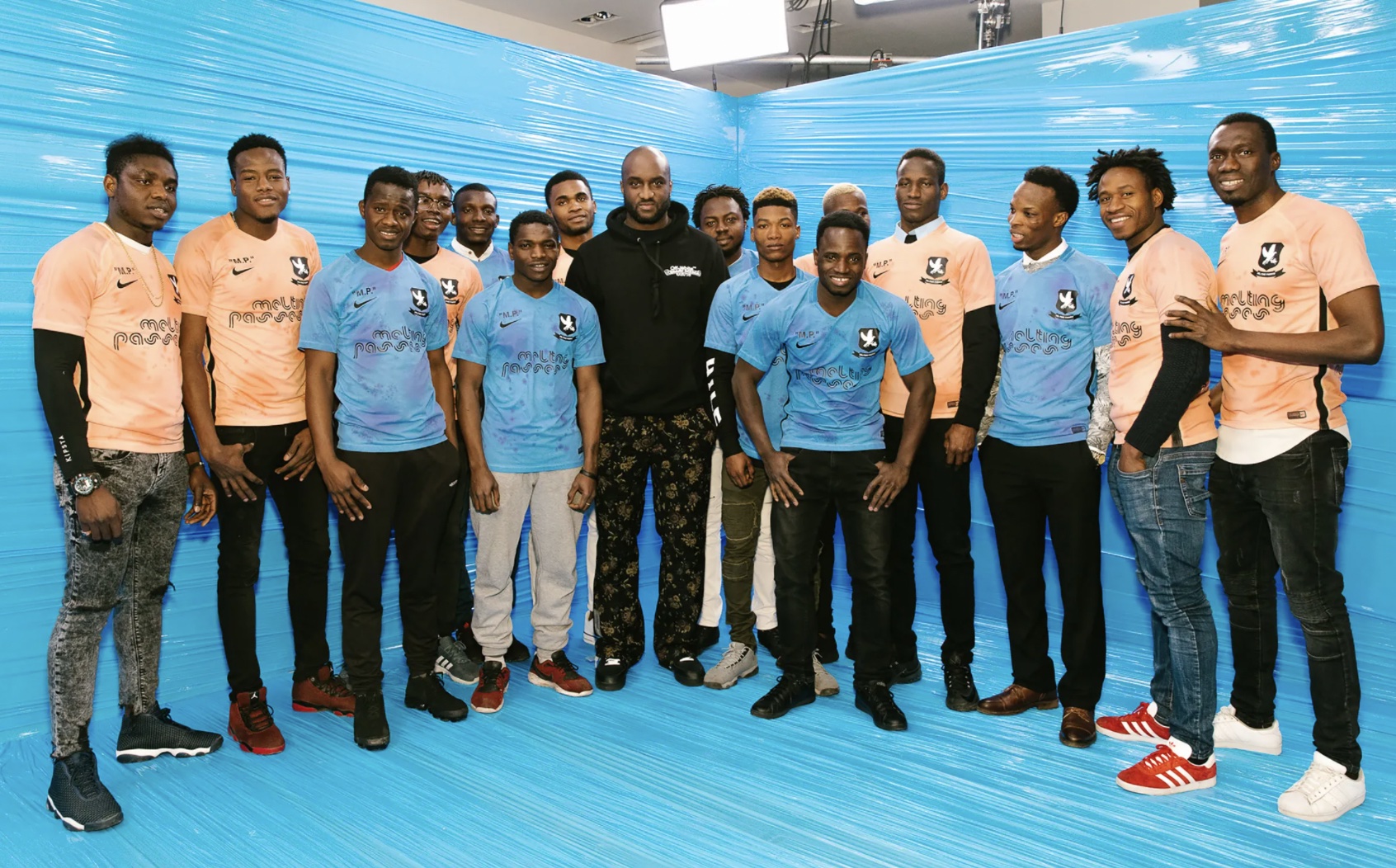 "To me, something like this is not about OFF-WHITE or what some future idea of a uniform is; it's not like I'm trying to change the genre of soccer jerseys," Abloh told Vogue about the process. "It's about fulfilling a need. And what I was doing was dialing into questions like, 'Hey, if I were a kid who felt like I didn't belong, what would I want on my jersey?'"
Melting Passes won the FSGT league championship that year and 16 players were guests of Abloh's at his 2018 OFF-WHITE fashion show where they got to meet the creator in person for the first time.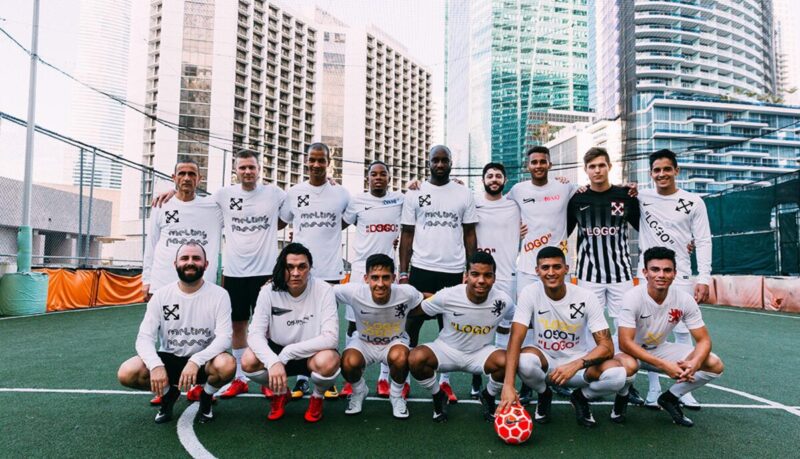 Later in 2017, Abloh hosted a "Soccer Jersey Culture" workshop with Nike at Art Basel Miami, where he discussed his love for the game, created custom jerseys (including one for Fat Joe), and even in played in a 7-a-side match.
Perhaps what people will best remember Virgil Abloh for is his authenticity. He opened many doors for so many creatives and also was a true friend to the soccer community. Romelu Lukaku recently showed off his gift of custom sneakers from Abloh with a great sense of pride. Neymar is also a friend of the designer and attended his 2018 OFF-WHITE fashion show during Paris Fashion Week. So many have worn his designs, including MLS stars Kellyn Acosta and Luca Lewis, while Megan Rapinoe and Cristiano Ronaldo have rocked some OFF-WHITE sneakers.
Abloh was recently celebrated by his dear friends in the art world at Art Basel in Miami where fellow designers and style mavens Kanye West, Don C, Jerry Lorenzo, Rihanna, Pharrell, and Aleali May watched his last Louis Vuitton fashion show. Many of his works are yet to be unveiled and the outpouring of love shown by people from every industry ensures his legacy will continue on beyond any material possession.