It might've been April Fool's Day, but it was strictly business at the Red Bull Neymar Jr.'s Five tournament this past Saturday at the Urban Soccer 5 center in Norwalk. With a trip to Miami and street pride on the line, ballers showed up focused and hoping to outplay their way to the end.
The Los Angeles qualifiers saw 52 teams from the greater L.A. area compete in an all-day 5v5 competition where, according to tournament rules, every goal scored resulted in the defending team losing a player. In such a format, every move became crucial with even one mistake quickly changing the tide of a game.
For the L.A. teams, many hopefuls looked to prove their cred on the small-sided pitch with rapid play and street-bred skill. Winners of the L.A. qualifiers would move on to the U.S. Finals in Miami, with that winner competing at the World Championship in Neymar Jr.'s hometown of Praia Grande, Brazil. World champions would get to hang with the Brazilian superstar himself and visit the famous Camp Nou, but most importantly take home the title of the best street crew in the world.
In addition to the elote corn, street tacos, hip-hop and emceeing courtesy of Power 106 FM's Mando Fresko, it was apparent that street football has become engrained in L.A. street culture.
"There has been a shift toward the 5v5 format as opposed to 11v11," event organizer Eddie Salcedo said. "People love it. There have been facilities like [US5] that have been popping up all over the place. There's been newsletters, snap groups, and it's great. It's great to see the culture becoming more in line with the rest of the world where this has been a popular format. This part of the game has significantly grown and I'm glad we could contribute to that."
The tournament kicked off in the early morning hours, and featured high-level competition, highlighted by last year's U.S. champions TC Broders (not to mention tons of free Red Bull).
Led by the Gonzalez "Broders" Charlie, Jose, Salvador, and Christian, the team was a favorite going in, and appeared focused on clinching the L.A. qualifiers to defend their national title.
Like a well-oiled machine, the Broders executed their mission with precision, finishing off teams in the early rounds in a matter of minutes. Unlike other crews, the Broders adhere to a disciplined unison both defensively and offensively, keeping their shape and closing down on their opponents like predators stalking prey. On offense, they patiently waited for gaps, never indulging in excessive dribbling, and utilizing their leading scorer, Charlie, who would finish the combo with a well-placed ball in the back of the net. The Broders' consistency and off-the-ball movement set them apart from other teams who, no matter how skilled individually, would often break down defensively or lose themselves in extraneous one-on-one challenges.
After cruising through the quarterfinals, the Broders found themselves struggling with tougher competition in the semis and finals (note: by "struggling" we mean the matches lasted longer than two minutes). The Broders took on the LA Cracks in the semifinals, a talented and experienced team who is no stranger to street football tournaments themselves.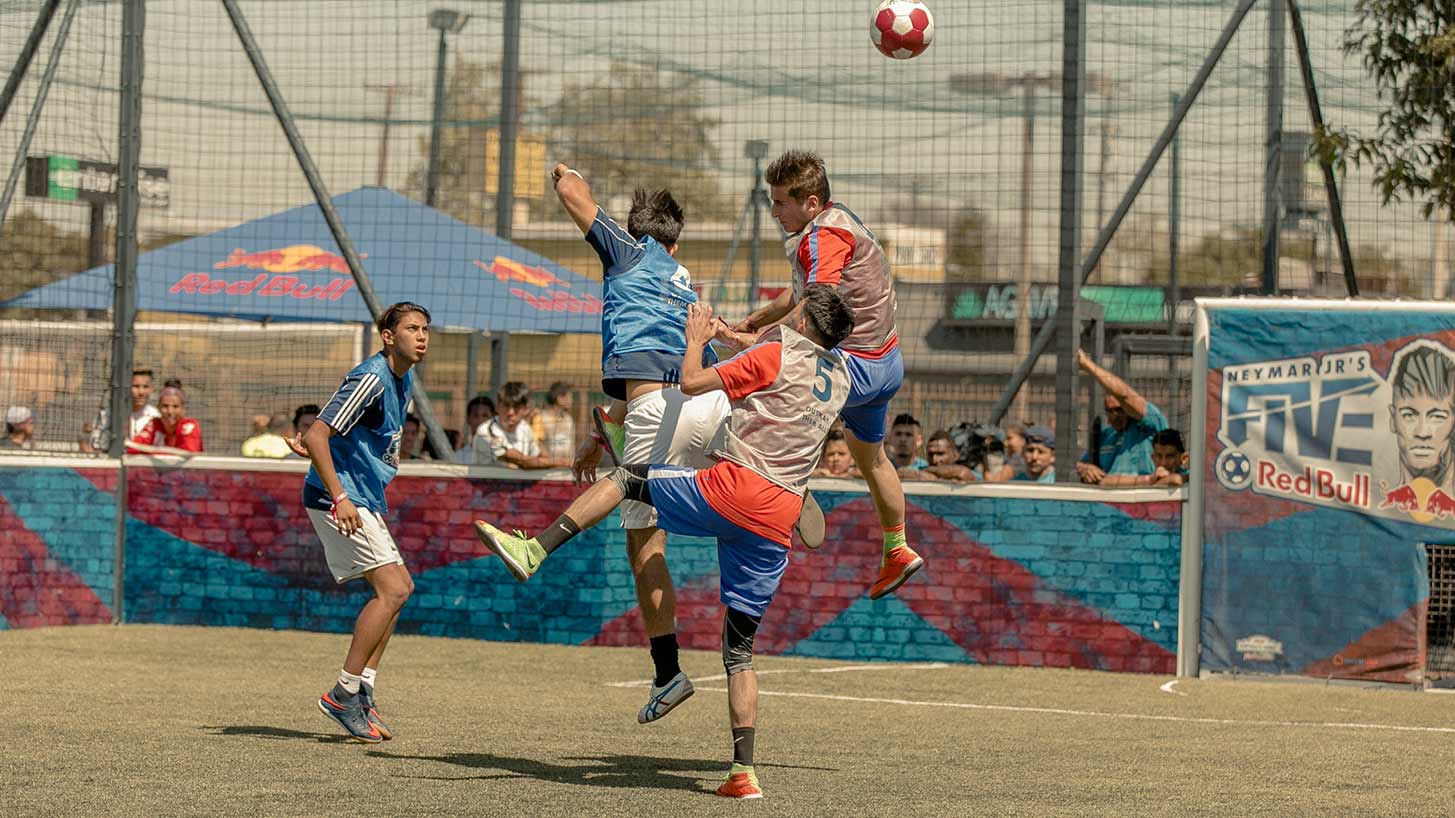 After defeating them in a closely contested match, they took on FC La Habra (FCLH), who were fresh off an upset victory over another tournament favorite, the fiery Brazuca Ballers.
For the first time in the tournament, no goals were scored by the Broders in the initial 10 minutes of play, with FCLH taking a smart tactical approach to play deep and never allow the dangerous Broders to catch them outnumbered. As time ticked down, the Broders appeared to grow visibly frustrated as they fired shot after shot at a virtual wall of FCLH players. The two squads then went into 5-minute, golden goal overtime.
TC Broders' playmaker, Christian, gave the crowd something to cheer for when he completed this slick back-heel goal to finish the game and seal the crew's trip to Miami.
"The first few games we were definitely more relaxed and we were able to score those goals quickly," Christian said. "We're used to seeing [Cracks] in the semifinals of other tournaments, so we knew they were really good. That team in the finals was really good as well. We got a little frustrated at the beginning because we couldn't score. We were able to finally figure it out, and we decided we needed to chip the ball and have the forward pass it to someone making a run. And that's exactly how I was able to score the winning goal."
Besides their obvious skill, the TC Broders have plenty of chemistry as well, with the Gonzalez brothers playing together virtually their entire lives, and other team members Julio Ayala and Andy Reyes being current or former collegiate teammates.
"We've been playing together for a long time. This is something we've been building up since our childhood. It feels great to be able to travel with your brothers. Even my teammates from college, I call them my brothers," he said.
Now in its second year, Neymar Jr.'s Five has expanded from last year's inaugural edition, with more teams, an expanded location, and a high level of competition.
"The energy and competition was great," Salcedo said. "We always want to have a great environment, from the branding, to the drinks, to the girls handing out samples. But from a competition standpoint, the level has definitely stepped up and I think the word got out."
The Red Bull Neymar Jr.'s Five qualifiers continues next in Fresno on April 8. For more information and results, you can check out the tournament's home page here.
Photography by Imad Bolotok for Urban Pitch.