Our latest installment of Urban Picks highlights Hunter Sulte, a recent Portland Timbers homegrown signing. We get a look at the young keeper's soccer journey, as well as his favorite hobbies, dream PK matchups, and music. 
Only the second player from Alaska to sign with MLS, 18-year-old Hunter Sulte is on the heels of his professional career. He made his pro debut with Portland Timbers 2 in 2020, and has since been promoted to the first team ahead of the upcoming 2021 season.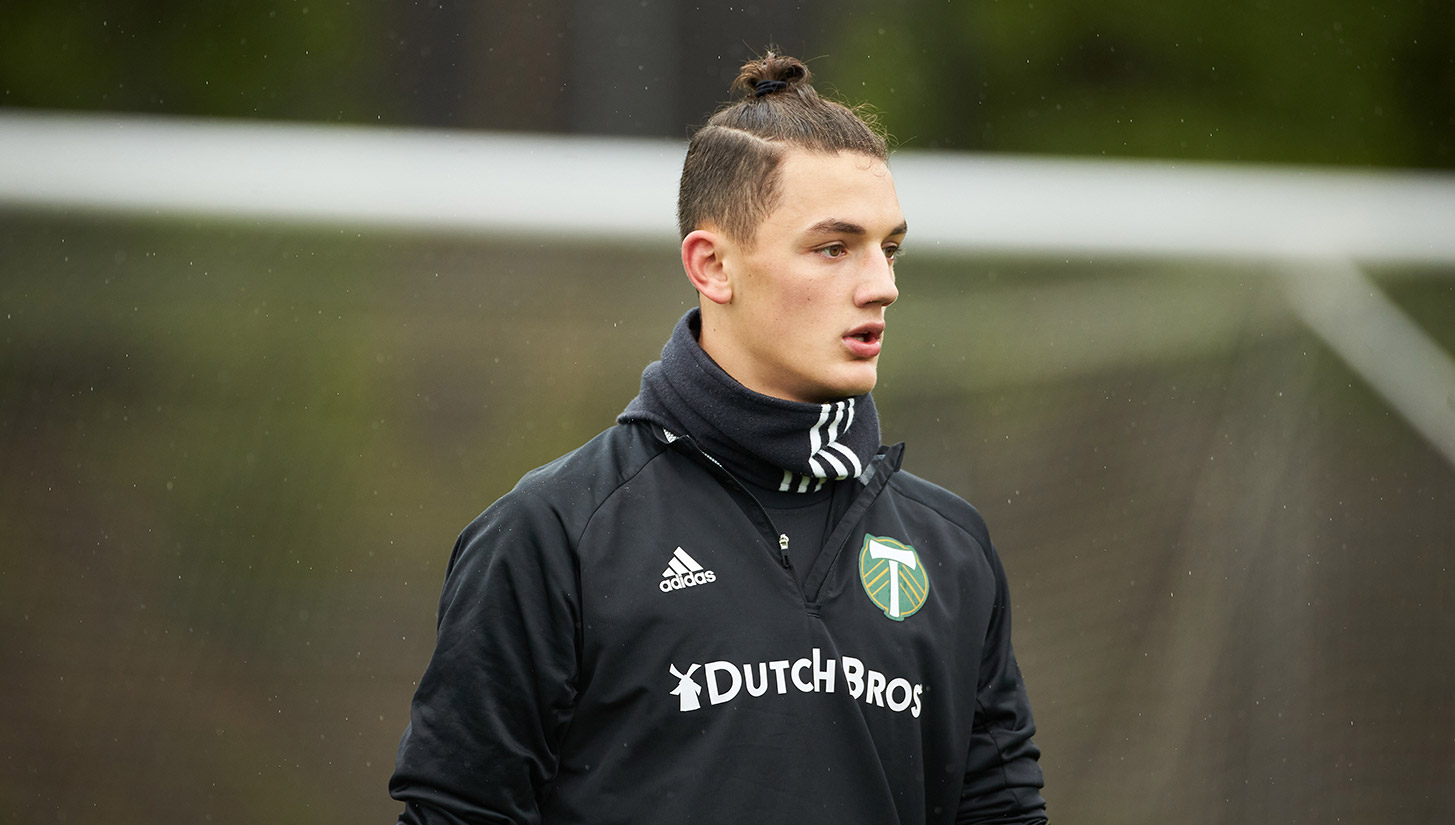 Progressing through the Timbers academy, Sulte is excited to be a homegrown player and to continue improving as he gets more exposure and playing time.
We caught up with Sulte to hear what his journey in soccer has been like, and how a young player copes with the stress of playing on a professional sports team during the COVID-19 pandemic. And of course, we have some fun rapid fire questions for Sulte at the end.
Urban Pitch: Starting off your soccer journey, I know in recent interviews you've noted that your family wasn't drawn to soccer in the beginning. What attracted you to the sport initially and how has your family warmed up to the sport over the years?
Hunter Sulte: Well, actually, I went to a German school, so at recess, we'd be playing soccer. And the other sports I was playing, football and basketball, I wasn't enjoying too much at the time. And I was telling my mom just how fun soccer was at recess. And eventually she was walking around like, "Okay, we're going to sign you up for Spyder Soccer," which in Alaska, is below recreational leagues and is hosted by one of our friends.
So I did a year of that and our team went undefeated. Then she said, "Alright, then we'll sign you up for a competitive league." In my first year playing, I didn't exactly make the A team. I started out on the B team and had to work my way through there. I was playing goalie for them and then eventually moved up to the blue team and ODP. And I think that's where I really took a big step and started developing, which helped me get noticed by the Timbers.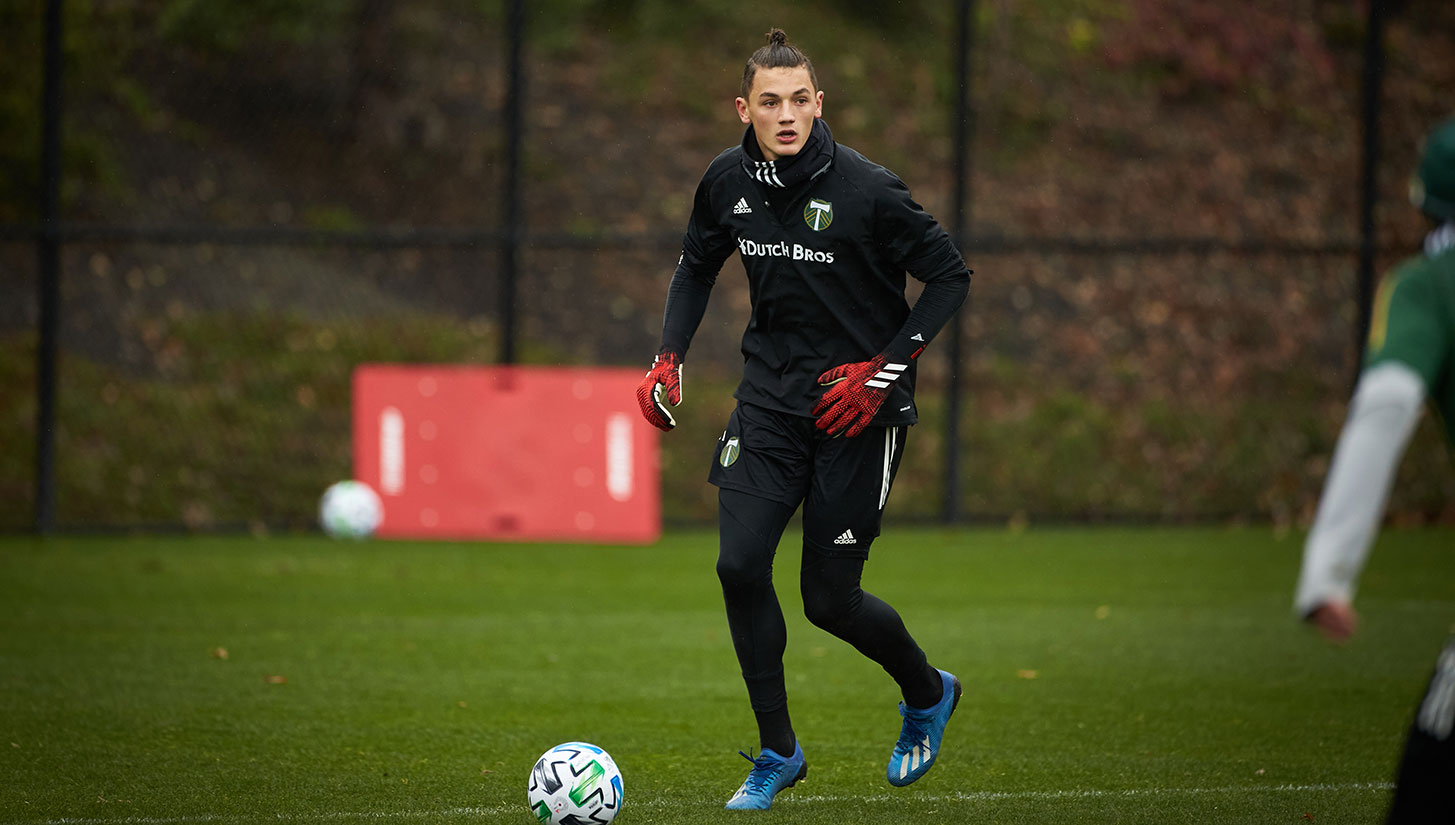 What was it like not making the A team right away?
It definitely kind of killed me a bit, but since I hadn't played soccer for a while, and all these kids, they stayed with it while I switched sports. So I understood, and I just knew I had to work harder to eventually be on the team. And I don't believe I started my first year — me and the other goalie kept switching on and off. I think I took the spot over the next year.
I'm sure that competition really helped to create more of a drive for you down the line.
Yeah, I think it's always great to have another keeper who's just as good as you to keep competing for the starting spot.
To be a homegrown player, you need to have a lot of commitment for the team in the city you're in. What was it like going down to Portland from Alaska at the age of 13 to take that next step in the journey?
I was definitely blown away at the speed of play at the academy level compared to a club team in Alaska. It's just so much higher and people are a little more consistent with their feet. And my goalie coach would even make fun of me. He was talking about it yesterday, how like four years ago, I could barely kick a soccer ball past half or kick a ball to a person exactly. But now I can do it with my left and right foot, which is kind of crazy.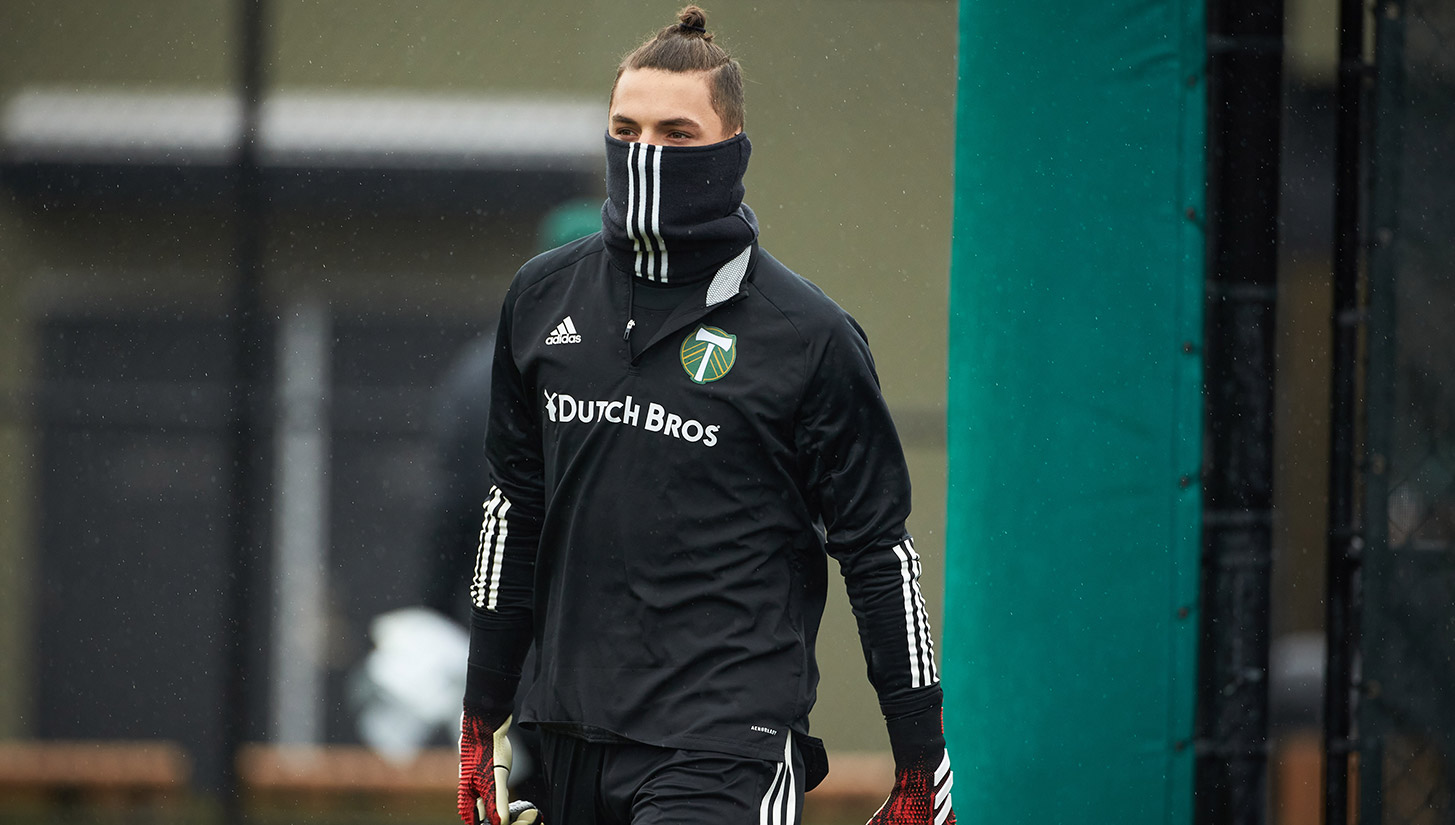 What was the most challenging part of progressing through the Timbers academy?
I'd say the hardest part was trying to do so on my own. Obviously I talked to my family on the phone, but I think I performed better when they'd come visit me and they came to watch training. I think the hardest part is just not having as much support.
Yeah, that's gotta be tough. What were some of the most rewarding parts?
Being able to get a scholarship to Georgetown. They weren't even on my radar when they sent me a camp invite, and I was like, oh, American University is going to be there. So I'll just go to the school and right when I stepped on campus, I kind of knew that this was a school I wanted to go to. A big accomplishment was making that a reality of being able to go there.
Right. And so you've got the Georgetown acceptance, but you're continuing to stay on the current path with the Timbers. What was that decision like? How did you weigh out the choices? 
Well, we knew that Georgetown was a great school and a great soccer school. So we were leaning towards Georgetown for most of the time. The whole point of Georgetown was kind of like a backup plan if a professional team didn't work out. But then we had to weigh the options and decided since college soccer seasons are only about three to four months of the year, and so with a couple of months of not playing soccer as much, I'd be missing the opportunity to develop. So we saw that this was the best time to be practicing with pros and get that confidence. And I think I'd develop a lot quicker with them.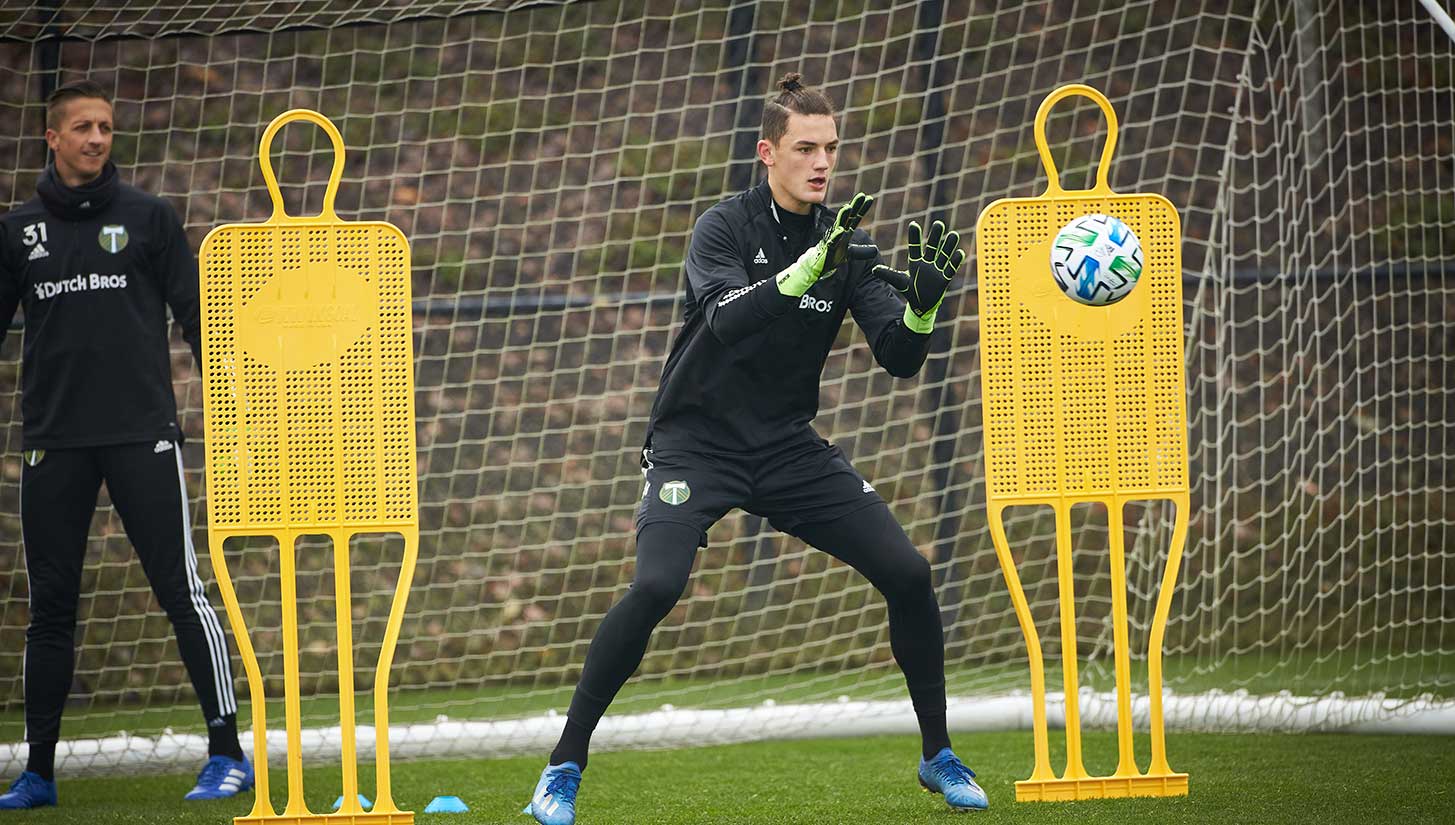 How do you feel being a part of the MLS story that's focusing more on homegrown teams and programs to invest in local players? It's been a big push for a while.
I think it's great. I think it's definitely going to help develop U.S. soccer because we're starting to see a lot more players go over to Europe and play in the Bundesliga and Premier League. And I think part of that is the academy system. Instead of going straight to college, we're signing for contracts. I think it's a better way to keep developing our players just so people don't say, "Oh, U.S. players are not that great." But I think now we're turning that around with the academy system. We're putting our names on the board.
What is it like transitioning to MLS with the Timbers during the COVID-19 pandemic? It's a curveball for everyone. How do you stay physically healthy?
It's very different because we're all being restricted to going outside. It's mostly grocery stores, practice, and then home. That's about all we did during the season, and we'd be tested every other day. And those swabs weren't very fun, but you kind of get used to them. It's just different not being able to go out and do things.
Yeah, this is supposed to be a new journey, and so many things are affected by the pandemic. It's a much different landscape. What are some of your ways that you stay focused and mentally healthy despite everything going on around?
I saw practice as a way to get out of the house and go see people, my friends who I can hang out with. I think that was one of the biggest things that drove me was that I was fortunate enough to be able to go out and see people.
Yeah, that's a great point. A lot of people aren't able to do that right now. What do you look forward to most in the upcoming season? 
I'm looking forward to developing and trying to move up in the ranks. I'll be loaned out this year, so I'm excited to go see other parts of the world to try and get a starting spot there, learn how they play and try to incorporate it into my game.
Hunter Sulte's Urban Picks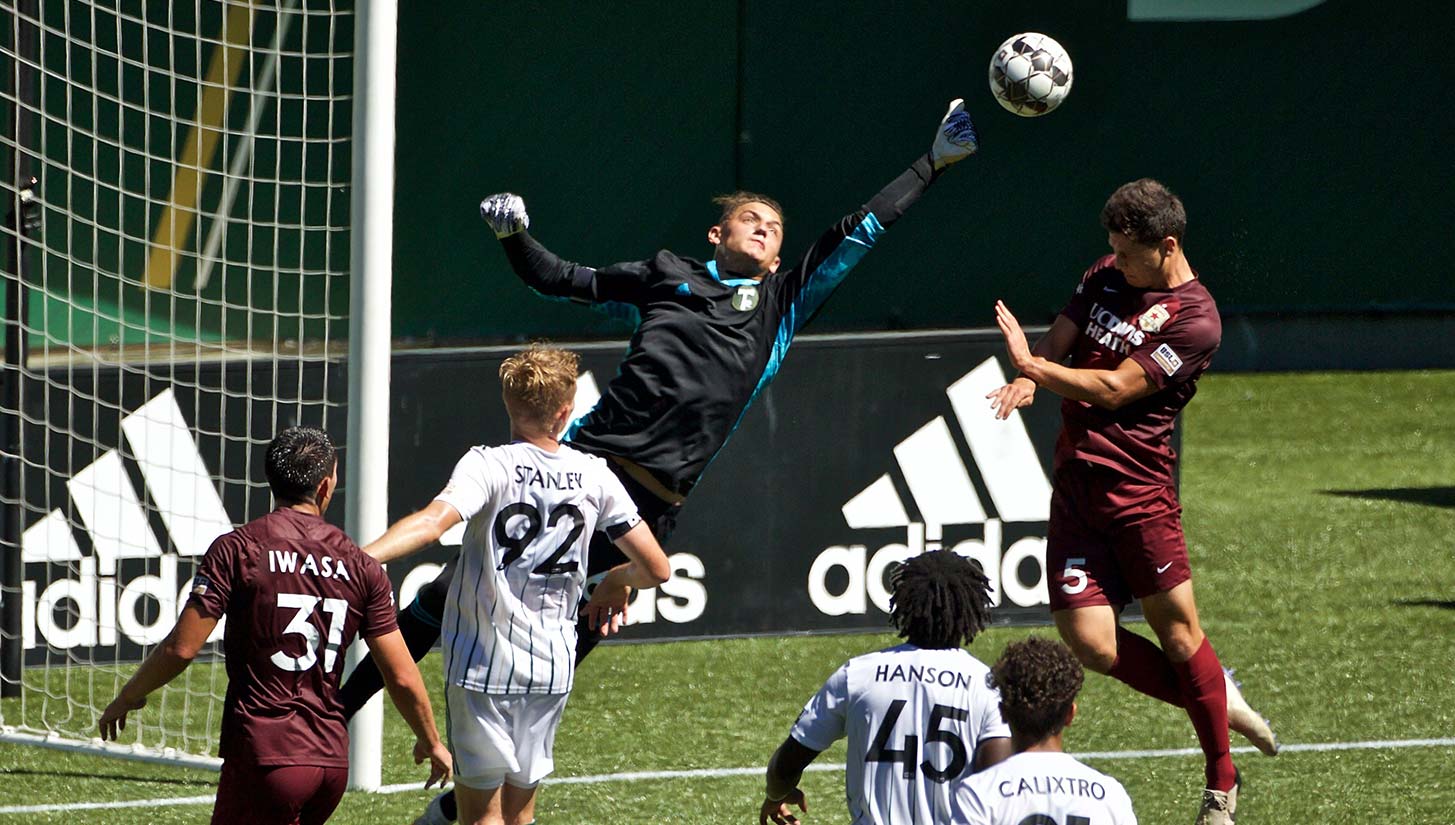 Living, dead, past or present, which pro player would you love to stop a PK from and why?
Ohhh, I would have to say Cristiano Ronaldo, just because I think he's the best. I think that would be pretty cool.
Who would you not want to step in front of a PK for? 
I would have to say Darion Asprilla, because his goal is to blast the ball as hard as he can.
What's your second-favorite position to play on the field? 
So whenever I go up to Alaska, I always try to get out of the net. I'd say, I like playing center back because I like playing long balls to the midfielders. I really enjoyed those.
What's your favorite type of music and who are your favorite musicians? 
My favorite type of music would be rap or alternative. And so for rap I'd have to say Lil Uzi, DaBaby, and A Boogie.
What's your go to pre-game song?
"Bad and Boujee." I listened to it before my Phoenix Rising game, and I've just been listening to it ever since.
What's your favorite cheat meal?
I don't know if chicken pot pie is considered a cheat meal, but it's one of my favorites.
Favorite downtime activity pre- and post-COVID?
So out of COVID, it would mostly be me and my friends getting together and playing basketball. That's our second love. But during COVID, a lot of my friends we get online and play video games together to stay in contact.
What'd your dream job be if you weren't a soccer player?
I would have to say either NBA player or a marine biologist.
Those are very different professions. Why marine biologist?
So I went scuba diving in the Great Barrier Reef two years ago. And ever since then I've loved the ocean.
Photos courtesy of Portland Timbers. Follow Hunter Sulte on Instagram to stay up to date with his journey through pro soccer.