Renowned street baller Isaiah Escobedo has created a street football movement in the U.S. Pacific Northwest with his Street Soccer Dojo programs. What started as a way to increase technicality and creativity on the pitch has gone on to establish a full-on cultural presence, complete with plenty of young ballers. 
Nowadays armchair critiques of U.S. soccer are widespread, especially with the national team's failure to qualify for the 2018 World Cup. But unlike others, Isaiah Escobedo can back his critique up with his game, and he's looking to build something positive out of it with his Street Soccer Dojo programs.
"I see a lack of technical development through our U.S. men's national team, and their failure to qualify for the 2018 World Cup in Russia says it all," Escobedo says. "Our U.S. culture does not provide a free and creative environment for our youth to develop their individual technical skills. Pay-to-play methodology eliminates an entire player pool of athletes. The Street Soccer Dojo is providing a way for our athletes to supplement the street soccer culture that is commonplace in the rest of the world."
Escobedo started the Street Soccer Dojo program in response to the need for technical development among youth players in the Pacific Northwest area. Most of the local clubs were more traditionally structured, and there was little to no street soccer culture in the community.
"There hasn't been training like this available to the kids in my region so I figured, why not be the one to bring street soccer to the community?" Escobedo said.
The 25-year-old Portland, Ore. native is the reigning American Panna Champion. He's earned the titles "Best American Street Soccer Player" and "Panna Beast". Escobedo played soccer at some of the highest levels in the country when he was younger as well, even making it as far as a youth national team tryout. Most recently, he played with Portland City Futsal in Major League Futsal. Escobedo is also a licensed youth soccer and futsal coach.
With all of those accomplishments, Escobedo approached the Washington Timbers, an elite youth academy that is a Portland Timbers Alliance club, to implement a street soccer program into their curriculum. Seeing the potential benefits from the street game, the Timbers accepted Escobedo's offer and were the first club to install a Dojo program.
The program was a huge success, which led Escobedo to pitch it as a continuous program at Rose City Futsal, where he dedicates time as a coach and trainer. Rose City Futsal now has Street Soccer Dojo programs at both of its locations across the Greater Portland area. Escobedo has since started Elite Technique as well, a separate training program in Vancouver, Wash. with its own Street Soccer Dojo program.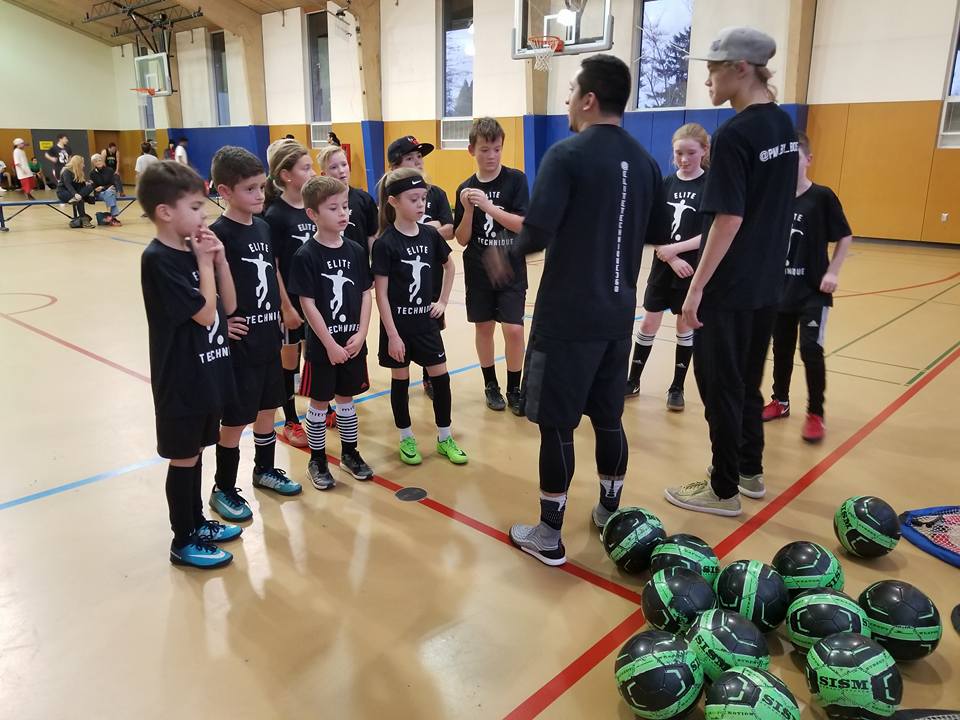 The community has fully embraced the programs, leading to not only an increased skill level among youth players, but an increased street soccer cultural presence as well.
"Launching my own business would not have been possible if it weren't for the complete support and dedication of a handful of soccer parents in my community," Escobedo said. "I am blessed with amazing people who believe in me and want to see me succeed. Originally, I planned on having one class of 12 kids, but within four days I had four classes and 48 kids, plus a wait list. I am very excited to see what street soccer will bring to my community."
According to Escobedo, Dojos range in cost from $120 to $165, however Elite Technique offers scholarships and sponsorships to those eligible.
"Elite Technique has a grassroots foundation," Escobedo said. "I too was a scholarship athlete in my youth club days, as well as in college. If it weren't for the help of others, I would've never had the opportunity to spread my footballing feathers. The Elite Technique scholarship applies to kids who are interested, driven, and have a general inability to pay for supplementary training outside of their pay-to-play club experience. Every kid deserves the opportunity to participate in the Street Soccer Dojo. Elite Technique is able to make it happen with the assistance of a few parents sponsoring additional athletes, as well as me taking a reduction in pay to ensure no child is left out. For me, it's more about the passion and love of the game more than being profitable."
Like the other Dojos, Elite Technique's Dojo is a seven-week program, with hour-and-a-half sessions once a week. With the high demand for these programs, Escobedo has some big things planned.
In addition to expanding the amount of clubs that implement a Dojo program, Elite Technique is looking to offer some free street and panna clinics within the community, as well as the PannaPalooza tournament hosted at Rose City Futsal this summer.
The tournament is set to be a 1v1 panna tournament with three age groups, each with boys' and girls' divisions, consisting of around 50 athletes in total. Escobedo is hoping his students can bring home the titles, which is a good bet even though the competition will be stiff.
Escobedo's noble investment in the future proves that there is hope for American soccer moving forward, and we can bet that the PNW will be a hot spot for ballers in coming time, both near and distant.
From more information on Elite Technique's programs, check out their website.