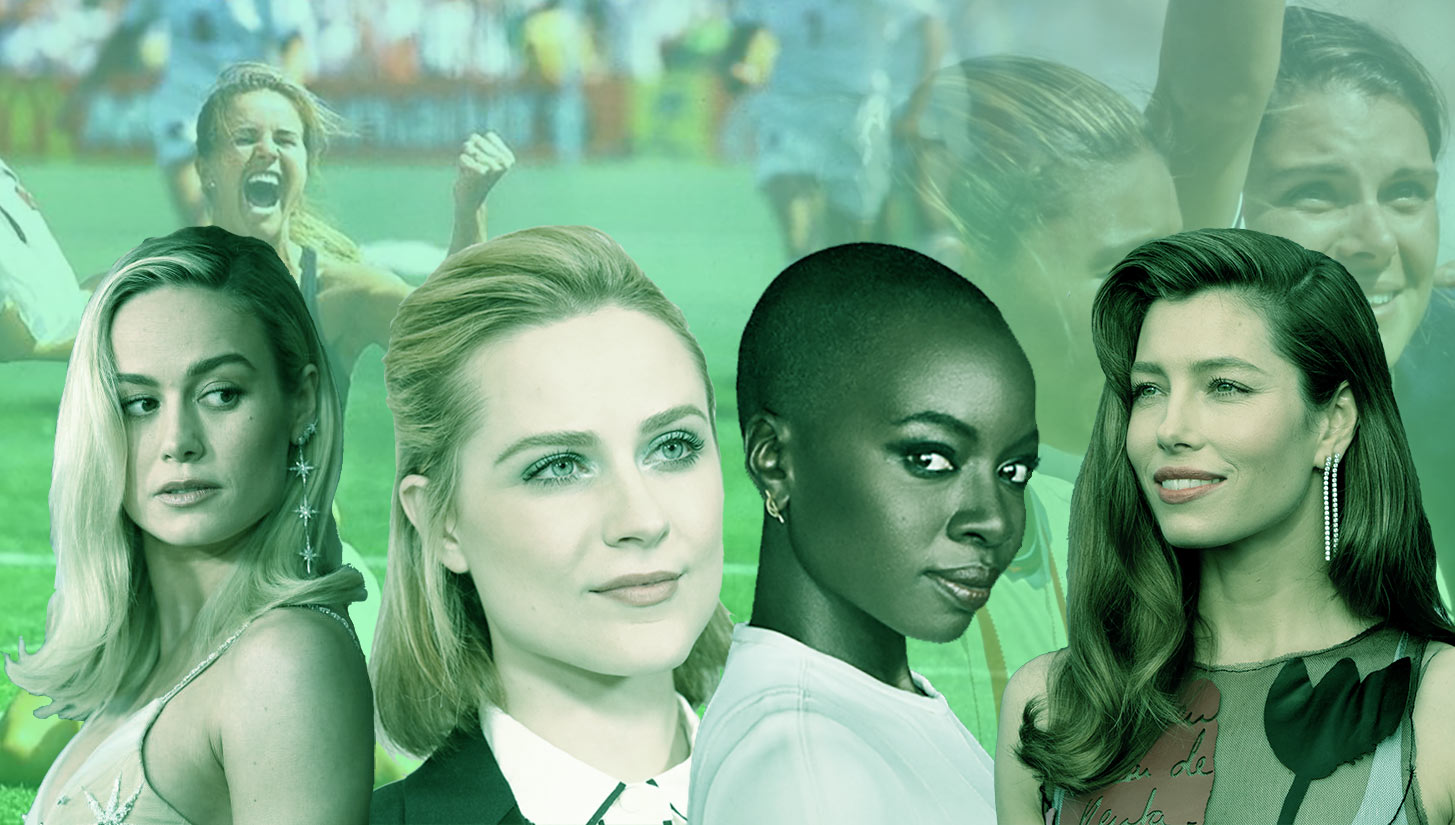 Last week, streaming giant Netflix announced their intentions to make a feature length film about the 1999 World Cup-winning U.S. Women's National Team. Inspired by the throngs of fans sharing their preferred castings online, we decided to make our own dream cast for the '99ers Netflix movie. 
It's about time the 1999 United States women's national team got the Hollywood treatment. With a star-studded roster full of generational players and a storybook ending at the iconic Rose Bowl, their story is the perfect sports movie on paper. And after Netflix purchased the rights to develop Jere Longman's book The Girls of Summer: The US Women's Soccer Team and How It Changed The World, it's officially happening.
While many of us at Urban Pitch prefer to see the '99ers' accomplishments chronicled in a documentary format using never-before-seen exclusive footage a la ESPN's The Last Dance series featuring Michael Jordan, we do relish the opportunity to swap our documentary critic hats for our casting agent coats. Check out who we think should play all eight players whose personal story rights Netflix acquired, plus their moustachioed gaffer. Keep in mind this is a dream cast, so budgetary restrictions need not apply.
What's the 1999 World Cup winning US Women's Soccer Team up to now?

We checked in with @JulieFoudy, @MiaHamm, @MichelleAkers10, @joyfawcett14, @KristineLilly, @BriScurry, Carla Overbeck, and @brandichastain to find out! pic.twitter.com/FFYPkXjHo5

— Netflix Tudum (@NetflixTudum) May 12, 2020
Brandi Chastain: Brie Larson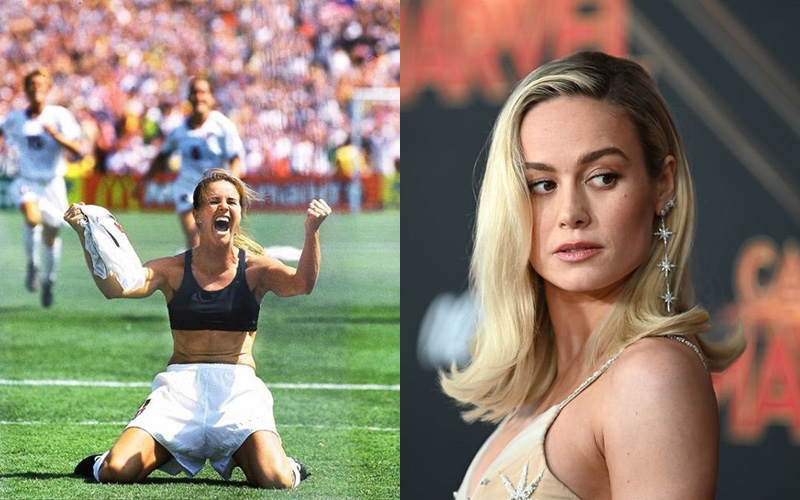 This casting is the most crucial because whoever plays the great Brandi Chastain needs to have the range to nail the climax of the film. Of course, we all know this to be one of the dramatic moments in sports history — when Chastain scores the decisive penalty kick to win the World Cup, whips off her jersey, falls to her knees, and throws both arms up in celebration. Brie Larson is born to play this role. From headlining a major MCU movie in Captain Marvel to winning best actress for Room, her range speaks for itself. This role is would be a piece of cake for her.
Mia Hamm: Daisy Ridley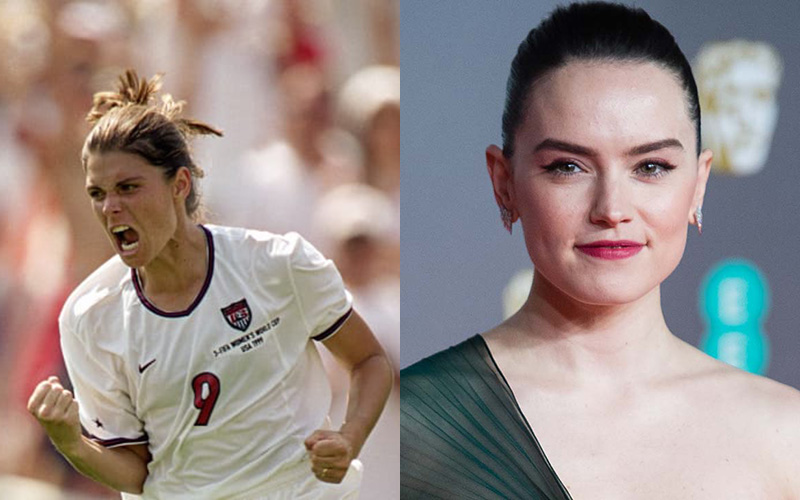 The second-most important casting is Mia Hamm, women's soccer icon and the USWNT all-time leading scorer before Abby Wambach broke her record in 2015. The '99 World Cup featured Hamm in her prime, so we figured we'd turn to another leading actress who's at the top of her game. Daisy Ridley, who became the new face of Star Wars in 2015, is our No. 1 candidate. Nobody serves looks better than Rey Palpatine Skywalker.
Julie Foudy: Cecily Strong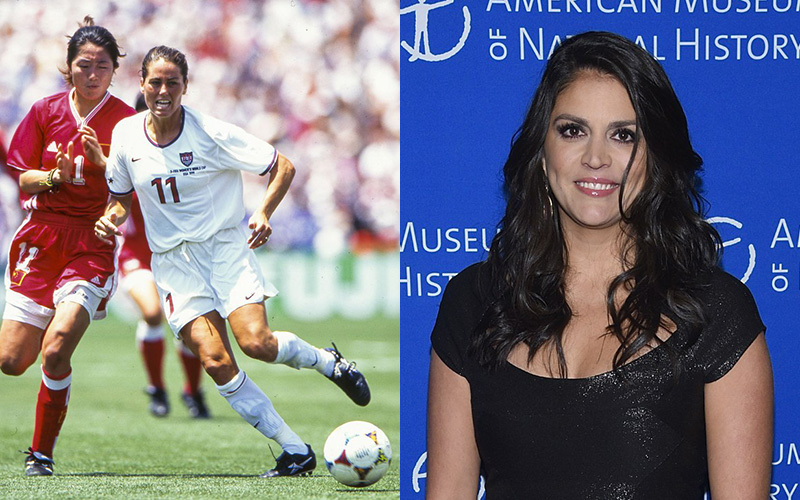 Stephanie Yang from the All For XI blog suggested Cecily Strong play Julie Foudy, and since then I can't picture anyone else in this role. It may seem a bit outside the box, but it makes sense given who Julie Foudy is as a person. A hard working, prolific midfielder on the pitch, Foudy is known to crack a joke (or 25) off of it. She even has a podcast called "Laughter Permitted." So, who better to play Foudy than Strong, a Saturday Night Live mainstay? She has some solid acting chops and she'd be able to hold her own with the rest of the A-list cast, plus she'd provide some killer comic relief.
Carla Overbeck: Julia Stiles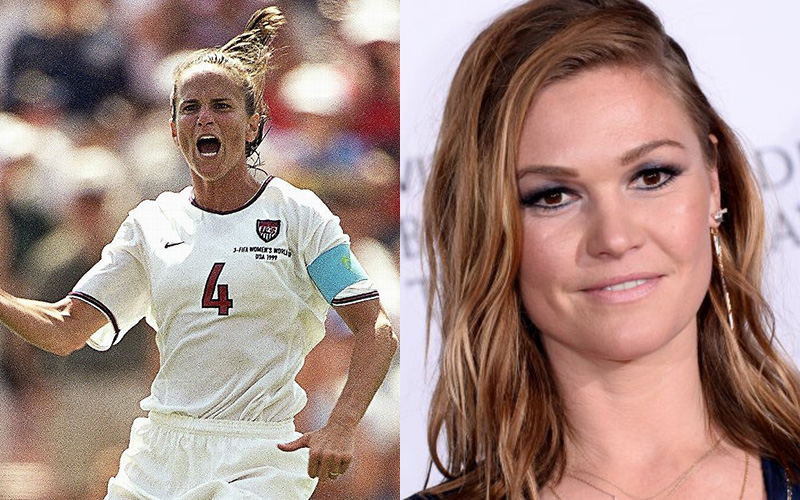 Carla Overbeck may not have the flash or pizzaz of Chastain, Hamm, or Foudy, but she was the captain and steady-beating heart of the '99ers at center back. Her unwavering demeanor and efficiency directly inspired current USWNT No. 4 Becky Sauerbrunn, who has emulated her playing style almost to a T. Overbeck deserves to be played by someone that is able to run things without necessarily having to steal the show all the time — someone like Julia Stiles.
Stiles is perhaps best known for her stellar performance as the brooding Kat Stratford in 10 Things I Hate About You, and she's also landed high profile roles in big time productions like Mona Lisa Smile, the Bourne series, and most recently alongside Jennifer Lopez and Carti B in Hustlers. 
In addition to being a big time New York Red Bulls fan, Stiles was able to show off some of her soccer skills in 10 Things, making her a perfect choice to play the USWNT captain.
Michelle Akers: Mackenzie Davis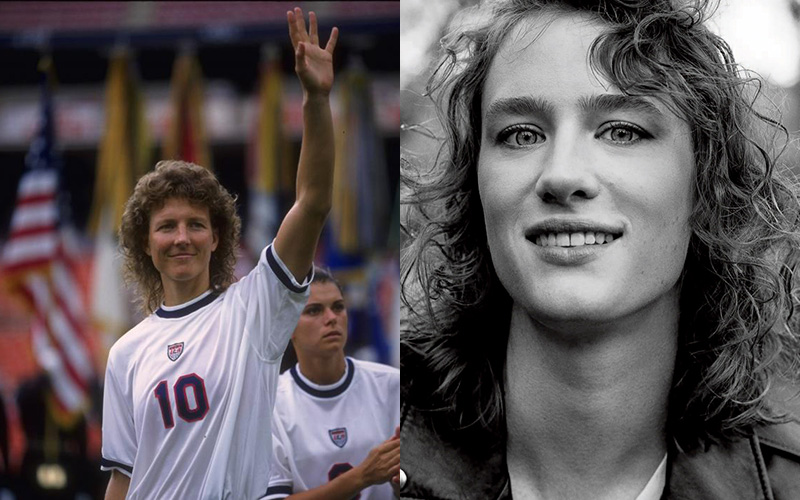 I'll admit it — a lot of this has to do with the hair. But it's not just that, whoever plays Michelle Akers needs to embody her aggressive and physical style of play. Halt and Catch Fire and Terminator: Dark Fate alum Mackenzie Davis is a great option. If Davis can play a trailblazer in the male-dominated world of tech and an augmented super-soldier, one of the greatest women's soccer players of all time should be no problem.
Briana Scurry: Danai Gurira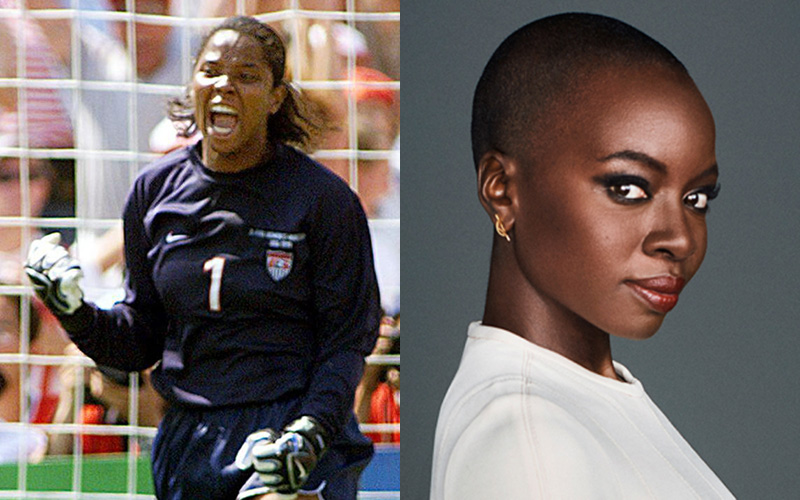 Continuing on, we have legendary goalkeeper Briana Scurry, who made several key saves during the penalty shootout in the final. Who better to play Scurry than action star Danai Gurira? A seasoned vet, she spent 10 years slaying zombies as Michonne on the hit show The Walking Dead and is a straight bad-ass as Okoye in Black Panther. There's no doubt she's able to convey the intensity and mental toughness needed to come out on top in a PK showdown.
Kristine Lilly: Evan Rachel Wood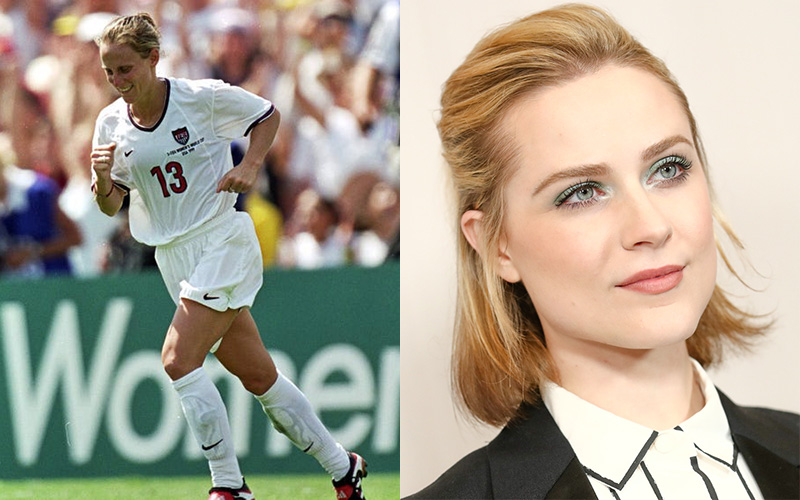 This one's tough to cast, if only because there are just so many fitting options. Lilly scored almost as many goals as her teammate Mia Hamm, although it took her a little more time. With an insane 354 caps under her belt, she truly is the bionic woman. And nobody plays a dominant, merciless robot better than Evan Rachel Wood on the hit show Westworld. Give Dolores Abernathy a pair of cleats!
Joy Fawcett: Jessica Biel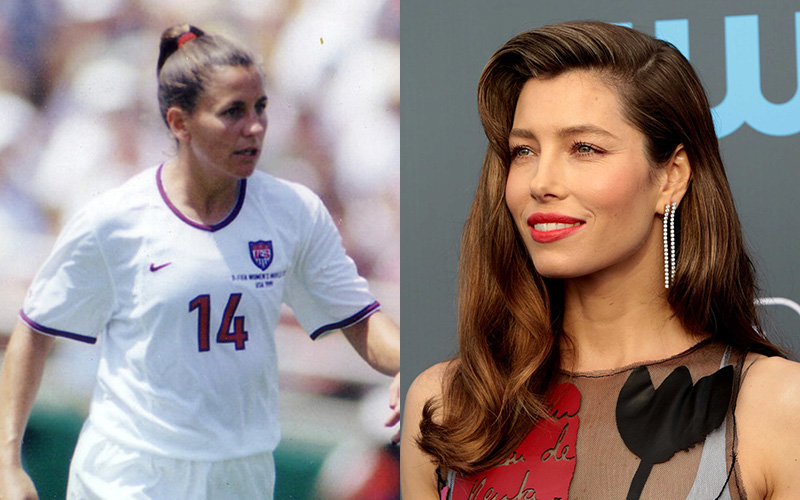 We round out the players with Joy Fawcett, who retired in 2004 as the highest scoring defender in USWNT history. Given Fawcett played every minute of the 1999 World Cup, we're going to need someone who's comfortable being in every scene involving live game action. Jessica Biel, who played club soccer until she landed her breakthrough acting role on 7th Heaven, is a fantastic option here.
Tony DiCicco: Gerard Butler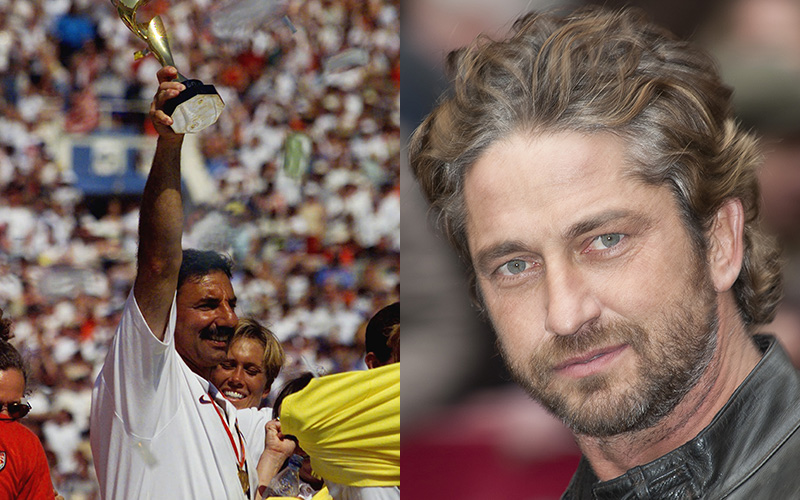 Of course, we need a manager too. While we could go the A-list route and choose a wildly famous name, we wouldn't want the head coach to take the shine from the true stars of the movie. Someone like Gerard Butler would be an ideal choice. While Butler did have quite the run as a leading man in the mid-late '00s, those days are perhaps behind him after a few, let's say questionable, decisions.
Butler does have some soccer coach experience, as he played one in Playing for Keeps (which happened to co-star Biel as well). He's more than capable of growing DiCicco's legendary mustache too, so the look should be no problem.
Another option we could go with is Will Ferrell, part-owner of LAFC and legendary head coach Phil Weston in Kicking and Screaming, but his personality might be a little too big for this role.
Who's a part of your dream cast for the '99ers Netflix movie? Drop it in the comments below and/or roast us accordingly.