Often referred to as Barcelona's "other" team, there was a time when Espanyol Femení was at the pinnacle of women's football in Spain. We take a look at the club's ascent to glory and subsequent rapid free fall.
If you've hung around this space at all in recent months, the theme of FC Barcelona Femeni's rise to dominance will not be foreign to you. Presumably also familiar will be the fact that, for as incredible as Barça Femení has been in recent years, their rise to relevance, never mind the the apex of the sport, is a fairly recent phenomenon. Stop me if you've heard this before but — as recently as a decade-and-a-half ago, Barça Femení had not yet won a domestic league title, and were playing in the second tier.
What's been less covered here (but that I delved into in Issue No. 45 of The Blizzard) are the origins of this now world-beating side. The club we know now as FC Barcelona Femení began in November 1970, thanks to the efforts of an 18-year-old player, Inmaculada Cabecerán Soler, and then-club president Agustí Montal Costa, to arrange an inaugural match at Camp Nou. Throughout the 1970s, the club was unaffiliated with Barça, although they were given support and permission to wear the colors (but not the badge). In 1980, we saw the integration of women's football into the Spanish Football Federation, and La Liga Nacional, the top tier of women's club football in Spain now known as the Primera División, was formed in 1988.
The events of the decades since have been more prominently featured: The club became a founding member of the league as Club Femení Barcelona, followed by two decades which yielded multiple relegations, a single trophy, official integration into the club in 2002 (at long last), and a brush with dissolution, before the subsequent meteoric rise (including professionalization in 2015) to their current heights.
What we — and, if we're being honest, basically everyone else too— gloss over in all of these conversations, is that another Barcelona-based women's club has been around at every turn.
Origins of an Originator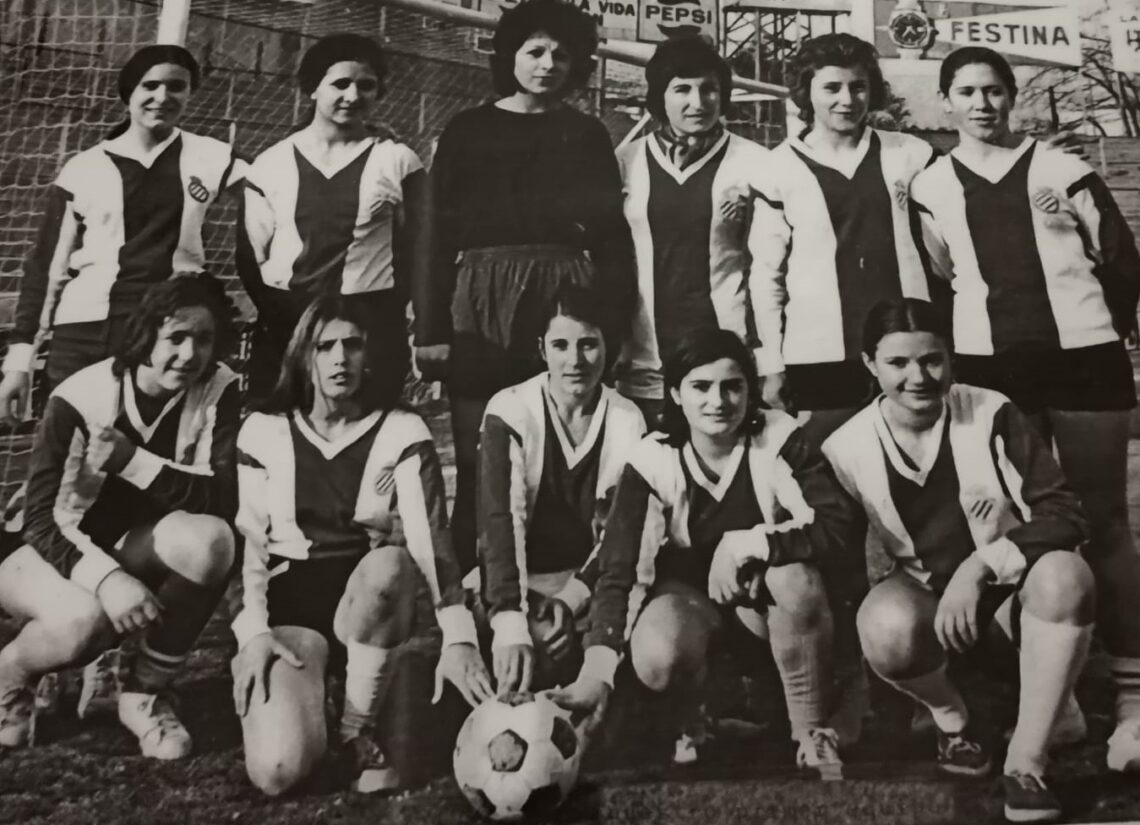 Officially founded in 1970 as the women's football section of La Liga club Real Club Deportivo Espanyol, Espanyol Femení is one of the pioneering sides in Spanish women's football, and like its more famous counterpart, is a founding member of the women's top tier in Spain. Lesser known than even that is the fact that, for much of the past half-century, Espanyol Femení was the premier women's team in Barcelona.
The start was admittedly inauspicious. After a pair of third-place finishes in La Liga Nacional's first two seasons, Espanyol Femení, on the heels of a Copa de la Reina final, were relegated following the 1989-90 season. They spent three years in the second tier, before winning the Segunda División in 1992-93 and securing a return to the top flight. When they arrived, they found themselves looking up at their crosstown rivals, who not only finished second in the league, but secured their first-ever trophy: the 1993-94 Copa de la Reina.
Based solely on the names of the clubs, that's basically what you'd expect. But, in the almost two decades that followed, not only did Espanyol close the gap, but they completely upended the city's balance of power in women's football.
Who Are You Calling the City's Second Team?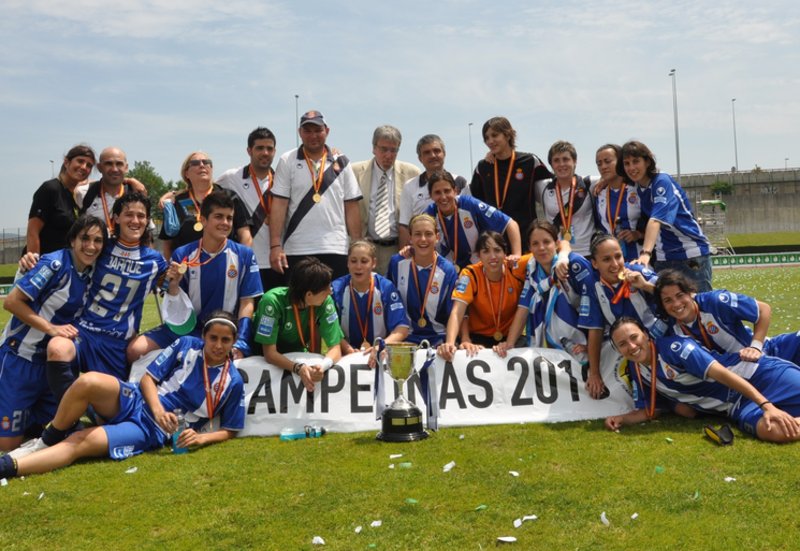 Over the next 17 seasons, Barça were relegated twice, saw their star signings largely underwhelm, and were nearly dissolved. Meanwhile, Espanyol reached the finals of the Copa de la Reina eight times, lifted the cup five times, won five Copas Catalunya, finished top-three in the league table 13 times, seven of those in the top two, and won a domestic (league/cup) double in 2005-06.
Espanyol were led during these years by a steady stream of top-tier Spanish stars, including:
Raquel Cabezón, a talisman who was with the club from 1994 until 2007 (with the exception of a one-year jump to Barça in 2005-06), and is now the head of Espanyol Femení.
Marta Cubí, who scored 87 goals for the club between 2003 and 2009.
Adriana Martín, who scored 33 goals in 37 international appearances, 10 times in 12 Champions League games with Espanyol and Rayo Vallecano, and 78 times in four years with Espanyol.
Verónica Boquete, scorer of 38 in 56 for the national team, netted 80 in 97 league appearances for Espanyol between 2008 and 2011.
Erika Vázquez, who has starred for Athletic Club de Bilbao every season except one since 2004, scoring 227 goals in 317 appearances. That one other season? She scored 22 in 27 games with Espanyol…
In addition, the club featured stars from around the world:
Nayara Correa Dos Santos, who was with the club from 1993-2006, and racked up 114 caps for Brazil.
Pamela Conti, scorer of 30 goals in 90 appearances for the Italian national team, netted 26 in 27 in her one season with Espanyol (2009-10).
Ex-Arsenal and Chelsea forward Lianne Sanderson, who scored 15 goals in 50 appearances for England.
Kenti Robles, who racked up 81 international caps at left back for Mexico.
It's a Two-Team Town
In the 2011-12 season, the pendulum swung in the direction of the Blaugrana. That season, Barça didn't just win their first-ever league title, they dominated. In now-characteristic fashion, they won 31 of 34 games, racked up a then-record 94 points (they've since broken that mark), scoring 119 goals and allowing just 19. (A quick aside: shout out to that season's Athletic Club de Bilbao Femenino side, who took the league race down to the wire, and finished with 91 points, losing just once in 34 games, scoring 118, while conceding just 25.)
In third place behind that dominant duo, on 76 points (23 wins and seven draws in 34 games) and a +79 goal difference (33 better than anyone outside the top three), was an Espanyol side that lifted the Copa de la Reina for a then-record-tying sixth time (they shared this with Levante until 2017, and Levante and Barça until 2020), led by María Paz Vilas who, in the weeks prior to that Copa triumph, set a UEFA Women's Championship record with seven goals in a 13–0 EURO qualifying win over Kazakhstan.
In that moment, the writing on the wall suggested that Barcelona would be home to two powerhouses.
HOWEVER…
Life Comes At You Fast
From that point on, despite their successes, particularly in player development (which includes now-Barça mainstays Marta Torrejón, Andrea Pereira, and Alexia Putellas), the growth of the game, and a takeover by new ownership from China that's invested in the club, Espanyol Femení's fortunes have cratered so swiftly, blindingly, and brutally as to defy explanation.
Since 2013-14, Espanyol Femení have not managed a league finish better than seventh or a goal difference better than -11. By 2020, the side was an abject disaster, finishing 16th (rock bottom at the time), with zero wins and just five points from 21 matches. Despite this, they were saved from relegation by COVID. Their 2020-21 season was far more respectable, with six wins and 25 points from 34 games. Unfortunately, this time around their showing was relegation-worthy, as four teams were dropped from the now-18-team league, and their second straight 16th place finish landed them in the Segunda, from which they've yet to return.
Yeah, AND??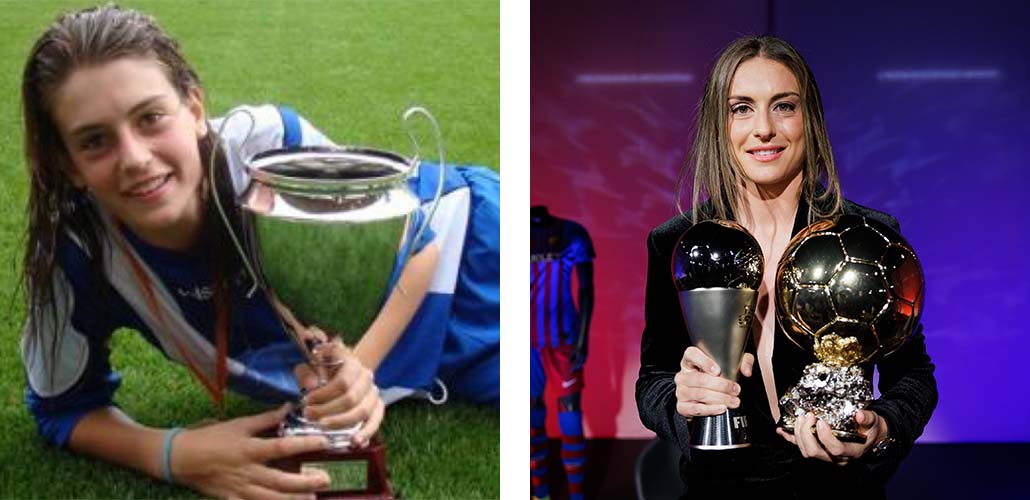 In light of their own increased emphasis on the women's game, combined with the incredible generational talent that's come out of Spain — and Catalunya, in particular — the rise of Barça as a superpower is understandable. The thing is, this hasn't been merely a shift, pendulum swing, changing of the guard, or passing of the torch. Rather, what's befallen Espanyol Femení over the past decade has been an astounding erasure from the women's football map at a time when one would expect a rapidly rising tide to raise all boats.
And yet, Espanyol Femeni celebrated its 50-year birthday not just completely adrift of the league that it helped to establish, but without a discernible path back to viability. Apologies if I'm belaboring the point but I want to be clear: What's remarkable here is not that a bigger, wealthier, more famous and historically successful club did a thing better than its smaller in-city rival. It's not that the superstars left — speak to any Espanyol fan and you'll hear some version of, "of course the superstars leave."
Neither this club nor its fans harbor delusions of grandeur. What's staggering here is the degree to which Espanyol Femení, once simultaneously a destination for established stars and a finishing school for ascendant stars, with an incredibly prolific academy, is now precisely none of those things. It's not just that those talents that did show up all left, it's that they stopped showing up altogether — or, showed up, for a bit, before bolting across town at age 15, without so much as a first team appearance.
I feel like there should be some sort of grand conclusion or inspirational takeaway here.
To their credit, the club is making the right (and quite apologetic) noises about ambition and player development. Whether any of this yields any kind of tangible result is very much an open question. I mean, 10 years ago, no one would have foreseen this team falling to the demoralizing depths that it has. In that spirit, I suppose a miraculous turnaround is possible. More than anything, though, given what Espanyol Femení has been — and not that long ago — this is a story that at least deserves to be told.