It's Officially the Kylian Mbappe Era
We've known for quite a while now that Mbappe was the heir apparent to Lionel Messi and Cristiano Ronaldo. There was a brief moment when Neymar Jr. was regarded as the undisputed frontrunner to take over from their reign. However, the Brazilian forward never quite lived up to his €222 million record transfer fee and is already on the downslope of his career at the relatively young age of 30. Mbappe at just 23, has already won more trophies than most footballers could hope for and has yet to hit his peak.
Mbappe already has a string of individual honors and over a dozen major trophies including a FIFA World Cup (2018), UEFA Nations League (2021), and five Ligue 1 titles. Individually, he has been named the Ligue 1 player of the year three times, been selected in the Champions League squad of the season three times, and was named Best Young Player at the 2018 World Cup. A sample of some of the many records he's broken so far include being the youngest player to be nominated for Ballon d'Or and being the youngest player to score for two different clubs in the Champions League. Unlike Neymar, Mbappe has lived up to his €180 million transfer to PSG in August 2017, a deal that made him the second-most expensive player of all time behind his Brazilian teammate.
His new three-year contract almost certainly makes him the highest-paid footballer in the world. While boasting a salary of €57 million net per season, various bonuses could potentially be worth €100 million over the life of the deal. Along with the sizable contract, he has been given the keys to the club. He will have, and some say already has had, impact on the choice of manager, sporting director and most likely the players selected to the team.
Mbappe had initially been somewhat disconcerted by the club's praising of Messi upon his arrival in August of 2021, but the two have grown closer since then. Even with the likes of Messi and Neymar as teammates, the France international had wanted to be the face and focal point of the club. With this move, PSG has cleared the way for Mbappe to be the club's centerpiece moving into the future.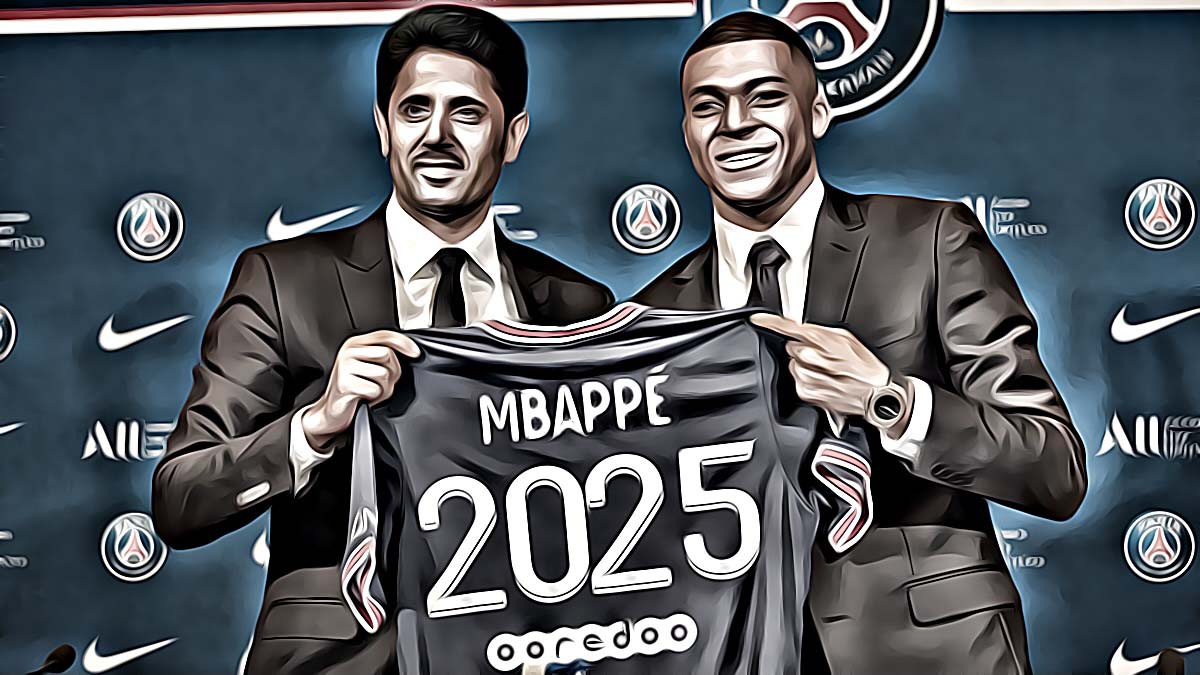 The French striker has long been regarded as one of the finest forwards in Europe. Now a few lofty career targets are firmly within his sights including surpassing Edison Cavani as PSG's all-time top scorer and to win the club's long-awaited first Champions League title. As the careers of Messi, Neymar, and Ronaldo slowly wind down to an end, Mbappe has firmly declared that his reign has now begun.
There's an Intense Ongoing Battle Between Real Madrid and PSG
Ever since the Super League was foiled in part by PSG last April, there has been an ongoing battle between Real Madrid and PSG. Although the main antagonist to Super League chief architect and Real Madrid president Florentino Perez has been UEFA president Aleksander Ceferin, UEFA vice president and PSG president Nasser Al-Khelaifi has increasingly become a thorn in Perez's side since the ill-fated launch.
It is without a doubt that PSG's refusal to join the Super League, along with German clubs Bayern Munich and Borussia Dortmund, was one of the critical reasons the Super League failed. Additionally, Ceferin and Al-Khelaifi have become strong allies since the PSG chief became president of the European Club Association (ECA), which represents the interests of over 200 teams in UEFA. This heated rivalry represents a conflict between two distinct and contrasting entities — a historical, old-monied, and traditional Spanish club versus an emerging, state-backed Qatari investment.
The strain between PSG and Real Madrid reached a boiling point in March, when the Spanish side knocked out PSG in the round of 16. Despite heading into the second leg of the match down 2-0 (courtesy of a pair of Mbappe goals), a hat trick from Real Madrid captain Karim Benzema was enough to pull out a 3-2 aggregate victory.
Upset with the outcome, Al-Khelaifi and PSG sporting director Leonardo Araújo went to the referees' room after the game to complain about the award of Madrid's first goal, which resulted in UEFA opening proceedings against the pair and PSG.
Mbappe's decision last weekend to stay with the French club was a shock to Real Madrid, who had been ardently pursuing him for many years ever since he played for Monaco. Previous disappointments in failed bids to acquire him were expected to be erased this time around, in which Perez was assuredly confident that a deal with the French forward would be completed. Beyond simply being disappointed, the quarreling between the two clubs has spilled over to include press from both countries and their respective league officials as well.
Recently, a war of words has ensued with La Liga president Javier Tebas calling Mbappe's contract renewal at Paris Saint-Germain "scandalous" and an "insult to football."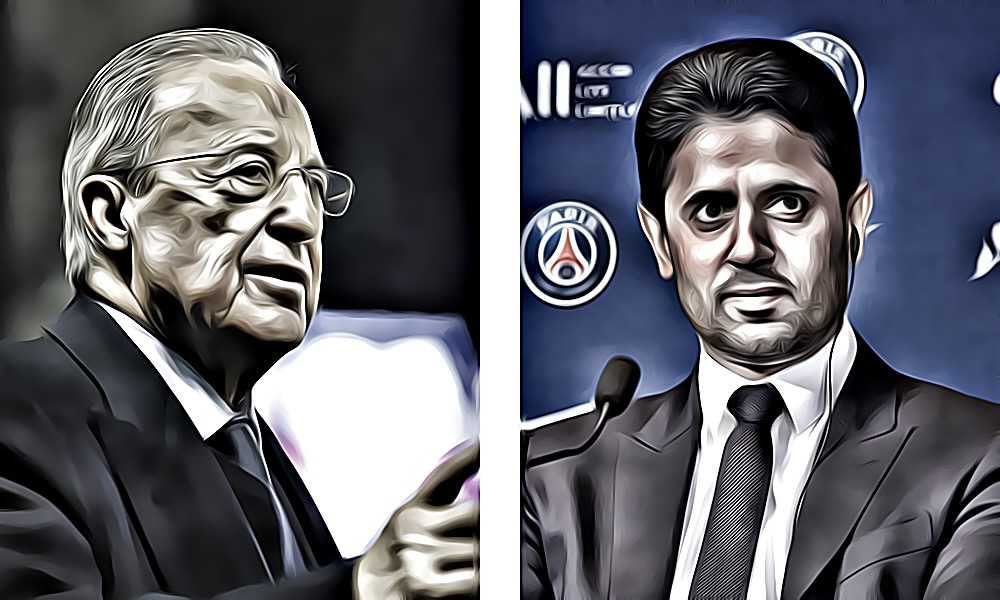 Tebas said La Liga had issued a complaint to UEFA over the deal and claimed it threatened the economic sustainability of European football, highlighting PSG's recent large financial losses while stating that Real Madrid "could accept the arrival of the player without seeing their wage bill compromised." Tebas went on to post on Twitter that PSG president Nasser Al-Khelaifi is "as dangerous as the Super League."
In his social media post, he said: "What PSG is going to do by re-signing Mbappe with large amounts of money after losing 700 million euros in recent seasons and having more than 600 million euros in salary expenses, is an INSULT to football. Al-Khelaifi is as dangeorus as the Super League."
In response, the French football league has accused La Liga of "disrespectful smears" and "manifestly false" statements. Vincent Labrune, chairman of the Ligue de Football Professionnel (LFP), wrote a scathing response to Javier Tebas.
"Your attacks on Ligue 1 and one of our clubs Paris St-Germain, and one of our players Kylian Mbappe, are based around your own interpretation of financial unsustainability and competitive imbalance, which you repeatedly attribute to Ligue 1 and one of our clubs," he wrote.
"The fact that you publicly and repeatedly take this position against Ligue 1 on this topic and denigrate our league and our clubs is both unacceptable and manifestly false. Two of your clubs, Real Madrid and Barcelona, have broken a multitude of records in the past decade. In terms of transfer fees, these two clubs have broken the world record six times. In terms of player salaries, Real Madrid currently has two of the highest-paid players in world football sat on their bench. In terms of debt, Barcelona is reported to have a debt level of €1.5 billion, and this is despite the European Court of Justice finding that Real Madrid and Barcelona benefitted from illegal state aid."
Unsurprisingly, UEFA president Aleksander Ceferin weighed in on the situation while seeming to lend support to PSG. He told BBC Sport it has "financial fair play rules which are quite strict."
"Whoever will respect our rules is welcome to play in our competitions; who will not respect the rules will not," he said. "Not Real Madrid or anyone else will tell UEFA what to do. They are outraged from one point of view and, as much as I know, their offer was similar to [PSG's] offer."
It's clear to see that this latest saga with Mbappe belies a deeper struggle for money and power that's been occurring for quite some time at the highest levels of European football. Though Mbappe's latest rejection of Real Madrid appears to be a decisive win for this tentative UEFA and Qatari alliance, one can never count out Florentino Perez, who is back in the Champions League final and still remains as powerful and untouchable as ever.