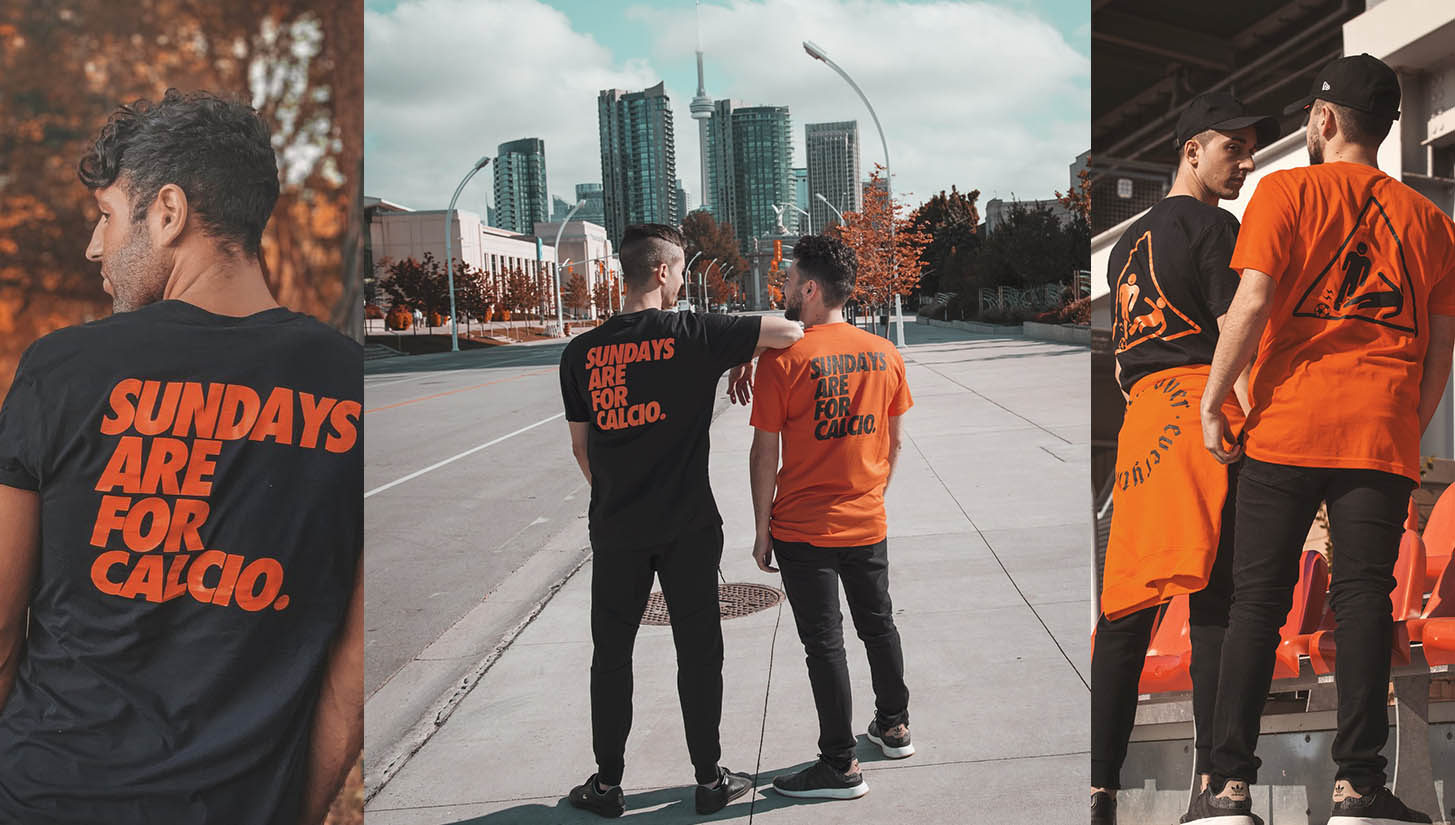 Perhaps the most prominent Serie A media outlet in the United States, Italian Football TV has made a splash with its Calcio apparel line. Worn by star footballers and club owners alike, the brand dropped its latest collection yesterday with plenty of Halloween vibes. We spoke to IFTV co-founder Marco Messina about the new line, the brand's origins, and its future. 
Down on Brooklyn's 86th Street, a young man strolls by the horn honking and clicking and clanking of the overhead subway. Grabbing a quick slice of pizza at Lenny's, he's got just a couple of minutes before it's time to head back to the studio. His leather jacket slides by his sides, just enough for the cooling October chill. But this isn't the opening scene to Saturday Night Fever, it's just a normal day for Italian Football TV's Marco Messina.
While Messina's out for lunch, his fellow IFTV co-founder Michael Kantaris is working determinedly on the latest podcast episode, reviewing the weekend's matches and breaking transfer news. It would be easy to label the IFTV duo as content creators or simply just personalities. But IFTV represents more than that — it's a movement that has united Italian football lovers. In fact, it has become the unofficial face of calcio itself.
Calcio, the Italian word for football, has since become synonymous with the movement. The simple phrase has become one of the most popular football-lifestyle designs, leading to IFTV creating a full-fledged clothing brand. We sat down with Messina to discuss Calcio's branding, their infiltration of celebrities' wardrobes, and what's next for IFTV.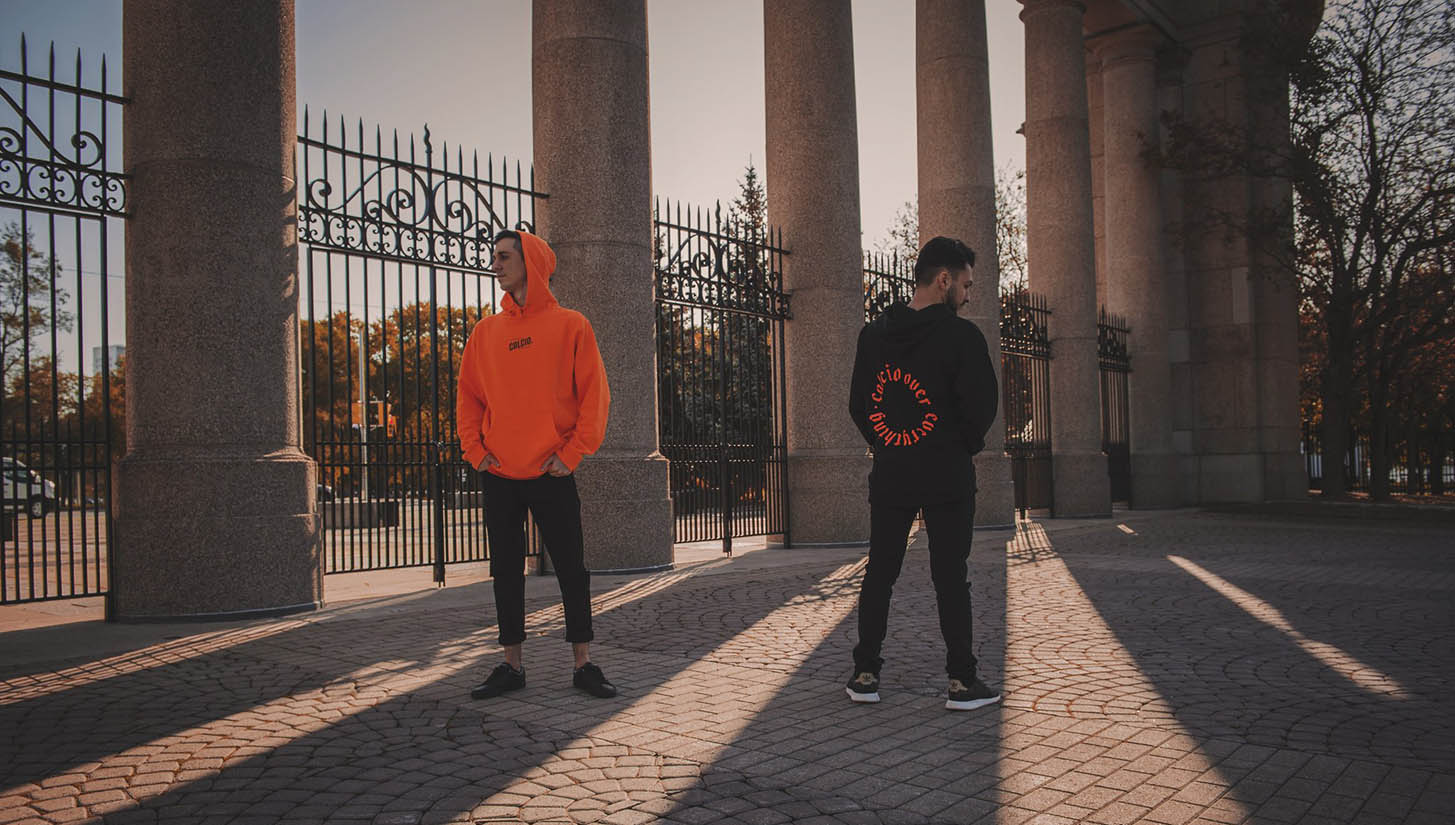 Urban Pitch: How long have you been making shirts, and what made you start up the apparel line?
Marco Messina: We've been making the shirts for I'd say one to one-and-a-half years, and it has been an incredible journey. We came up with the shirts for a few reasons, the main one being we wanted to represent the thing we loved most in life with some simplistic designs on shirts we would actually want to wear.
Secondly it's a business move because it's very hard right now to create content and monetize on it. A lot of the offers you get while you're coming up are usually from companies that want you to endorse products that you would never use or are horrible, and we can't put our name on something we don't use or believe in. It's almost to a fault where the thing we endorse has to be absolutely perfect because with IFTV, we know we have an engaged community and audience that actually listens, respects what we say, and follows similar principles. That being said the easiest thing was to make a product we loved to our perfections which we could fully embrace.
.@douglascosta reppin' calciobyiftv & posting it on his IG stories. Crazy moment for us to see how far this movement has come.

Wow. pic.twitter.com/BTMlkZ5PS2

— Italian Football TV (@IFTVofficial) August 26, 2019
Let's chat about the celebrities in the Calcio shirt, I've seen a few now!
Yeah we've had some amazing people wear our shirts, recently Douglas Costa posted wearing it. Giuseppe Rossi has a tee, Joe Tacopina (owner of Venezia), Diego Milito, and another big player is about to get our October drop but I'm not going to say who it is yet. There's a lot more I know I'm forgetting but off what I can remember those were the most iconic.
Have you seen your shirts out in public or in any surprising environments?
The funniest thing is people taking pictures of other people in our tees, I find it absolutely hilarious. But often times taking the train, walking into a bar, it's even happened just walking down the street. I can't express the emotions I feel when it happens.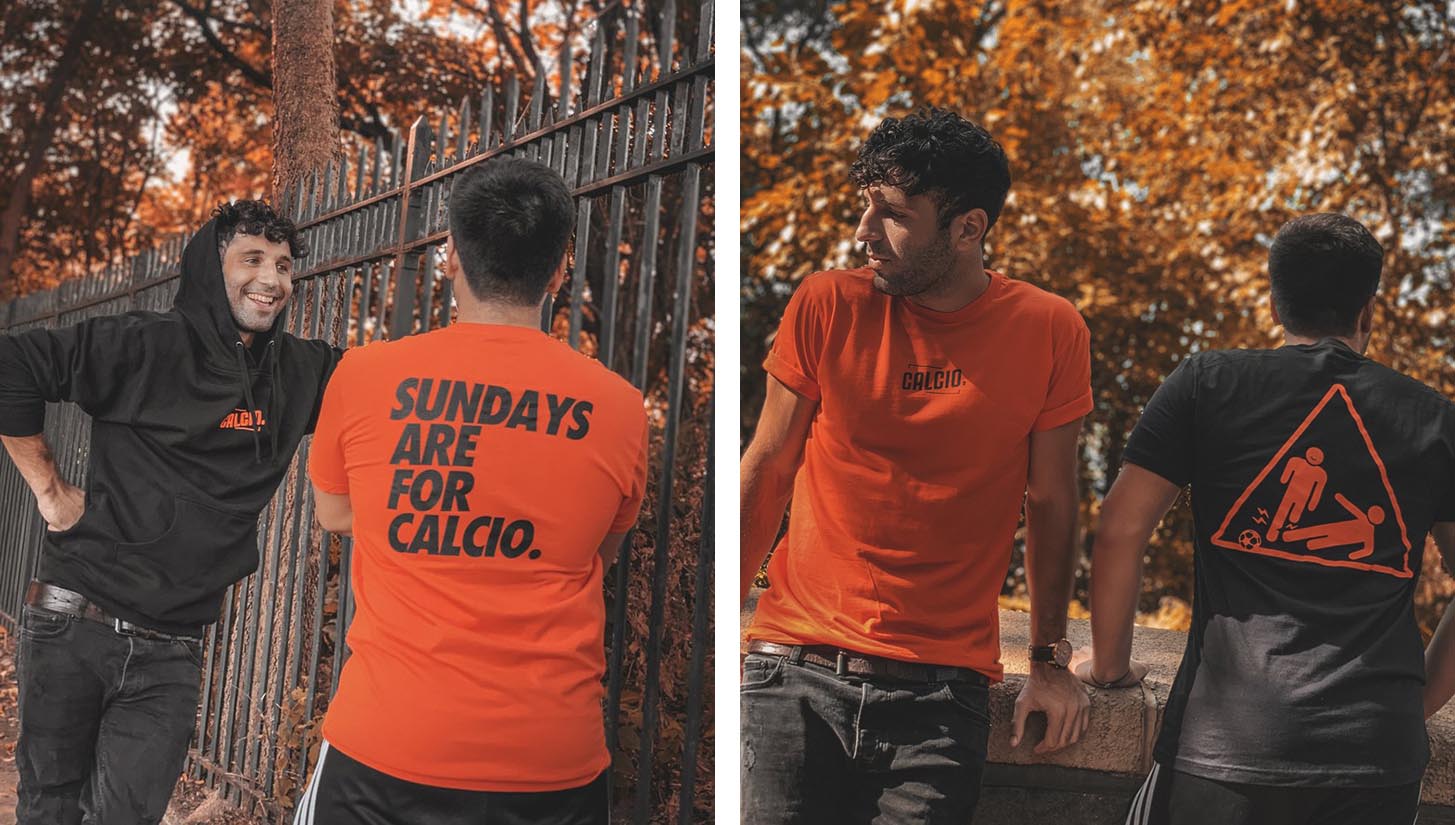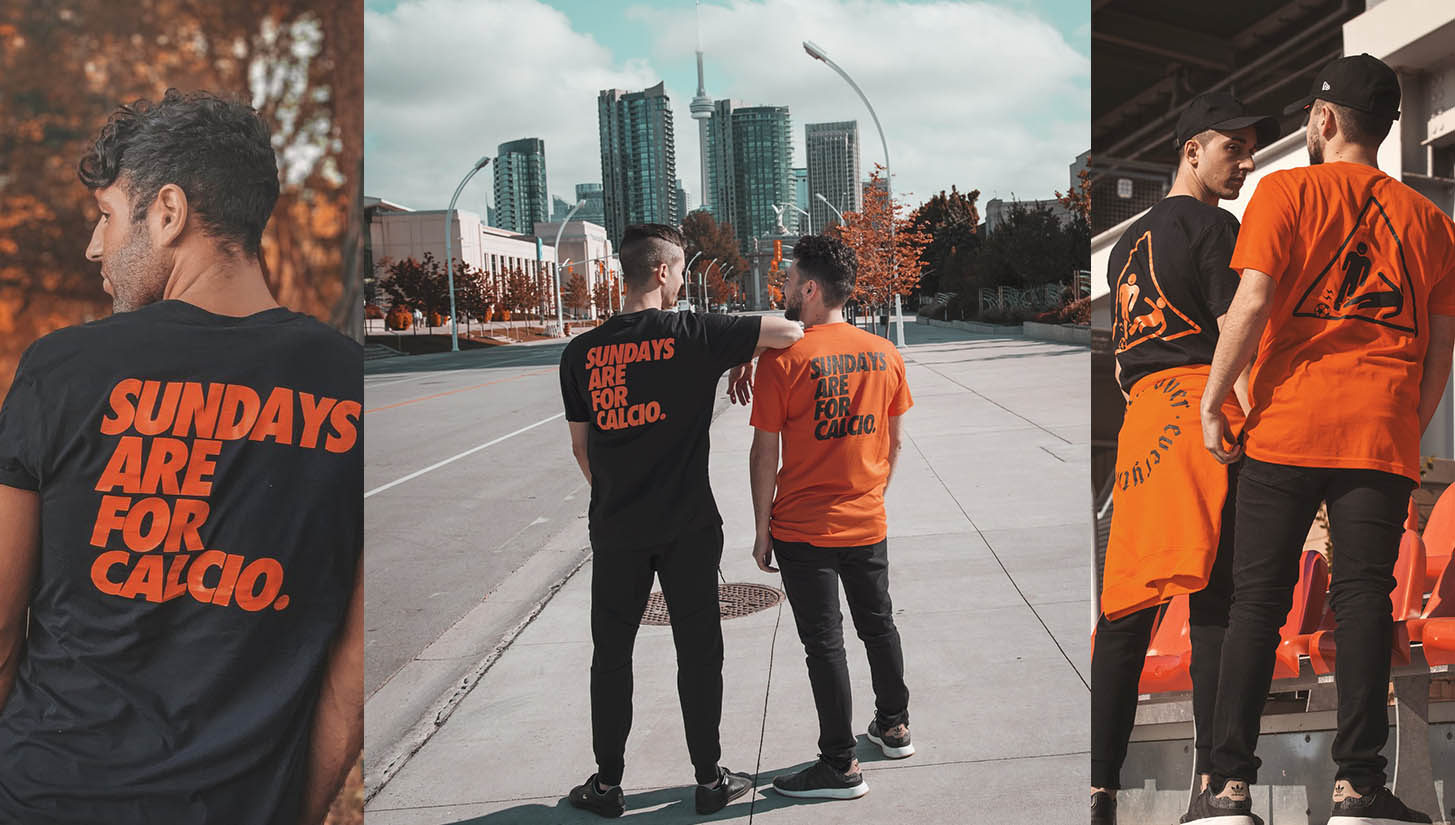 What can you tell us about your latest drop?
So the October drop has some designs we've been waiting to release for a long time. We have some phrases that we constantly write down, but they take time to do the correct way, and we didn't want to rush things. We've perfected them for October and I can't wait. The one shirt we have with De Rossi's tattoo is my favorite because it represents the type of player I've always been on the pitch.
I like to think of IFTV as a movement — would you call it that?
I think it is a movement because seeing how passionate people are when they wear (our shirts), and seeing how global they are, and just the symbols they represent for people is empowering. There's so much noise out there, but for some kids out of a basement in Brooklyn to be able to have people truly wanting to wear the stuff that we create says a lot.
The care instructions on the shirts' tags say, "To wash properly, give to nonna." What's the origin of that and what made you include it on the tag?
It's hilarious — the other day I met someone wearing our shirt and she told me that was her favorite part and I explained it to her too. So when we were submitting our designs to have them officially made, we kept saying we wanted the tag to have personality and were completely stuck, we had zero ideas which is rare.
We said it was taking too long, I was literally about to press send on my computer, and the idea of "to wash properly give to nonna" popped in my head. I had probably seen something along those lines at some point but it all came together there. My nonna used to always say she does the best job washing clothes — as other people have told me the same thing — so it has some good meaning to it.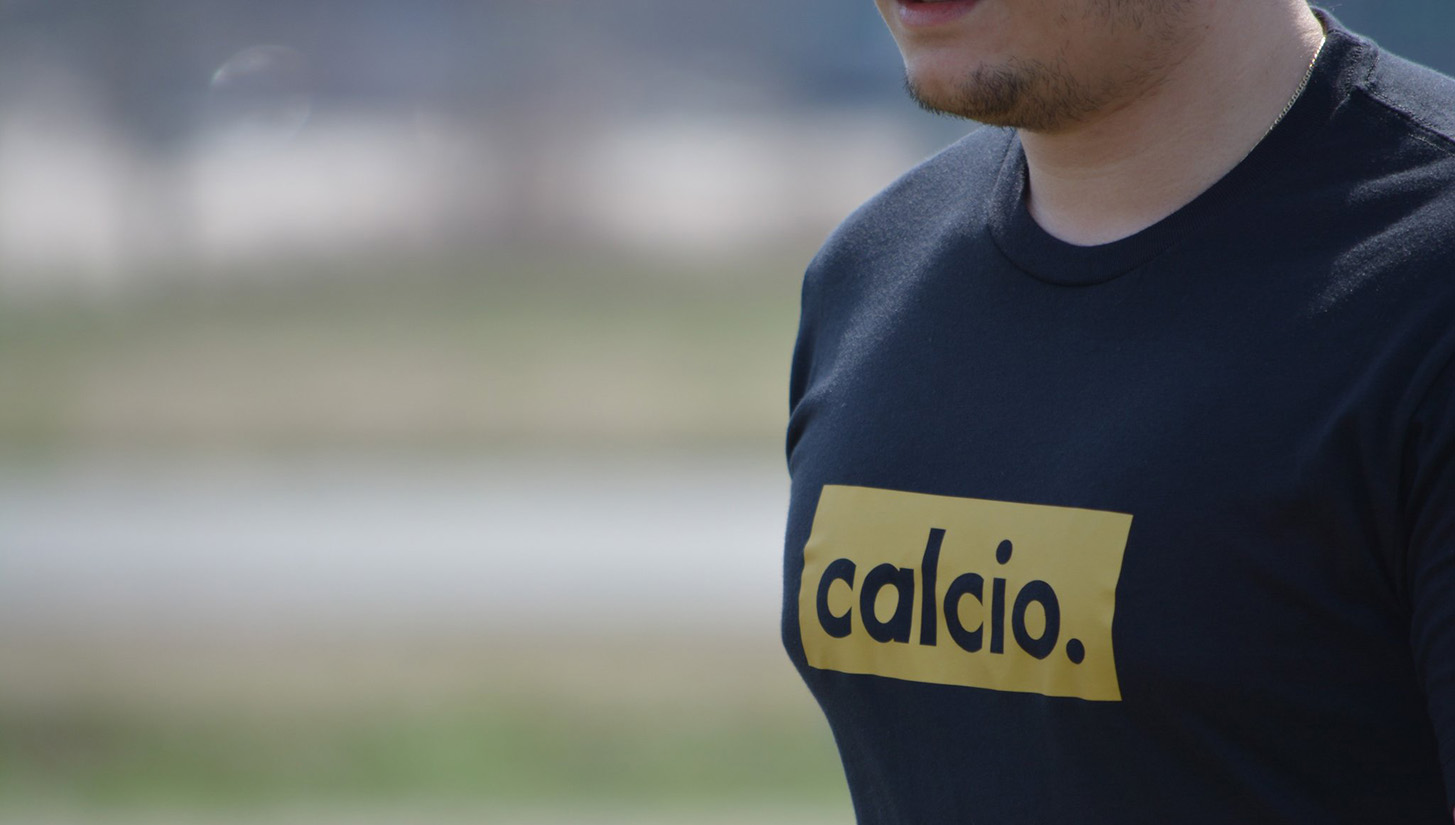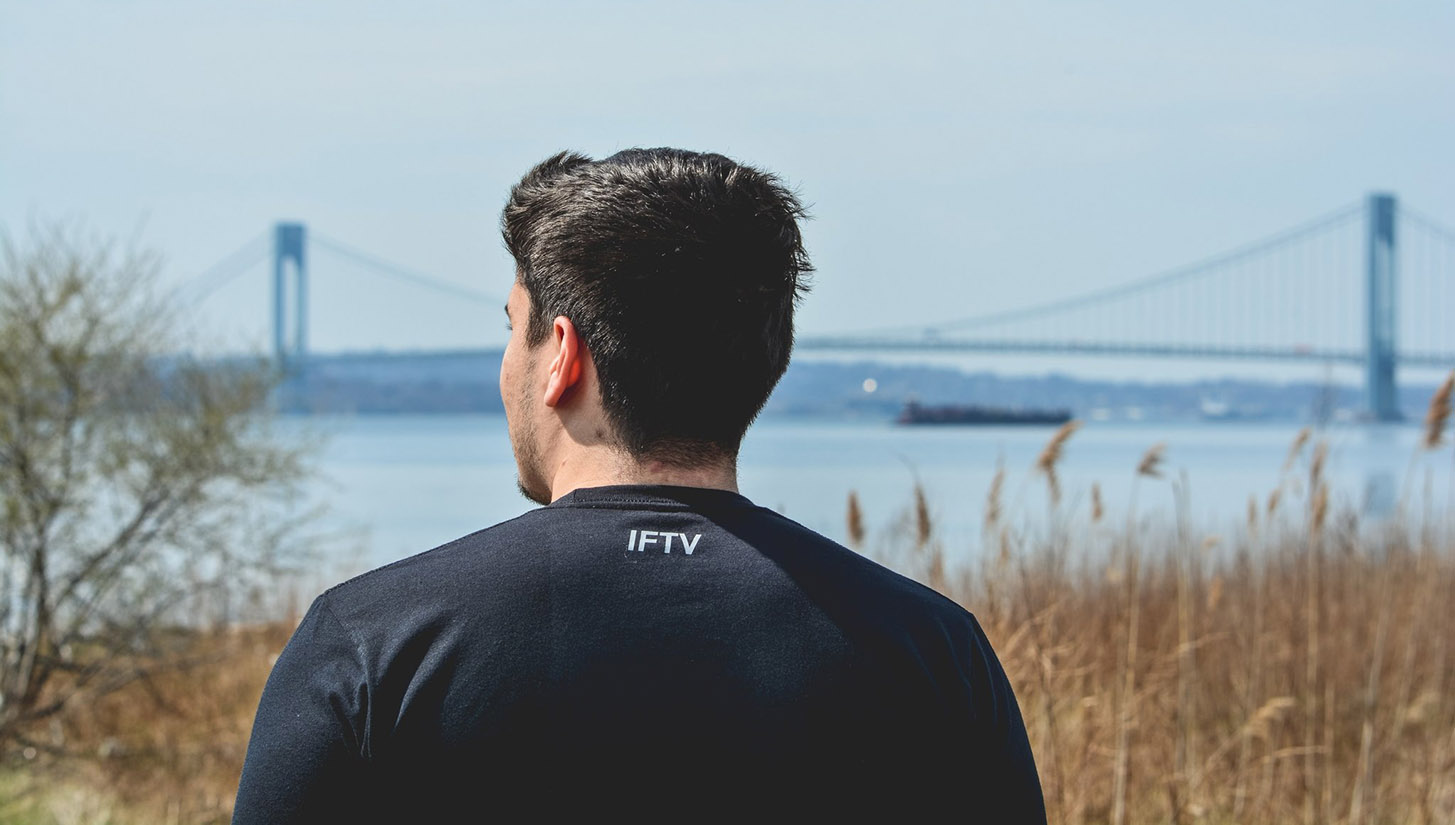 Your growth has been tremendous, truly remarkable. What's next? Where do you see yourself in five years?
It's hard to say where we'll be in five years. If you asked me five years ago IFTV wasn't anything, it probably wasn't even in my mind to do this yet. Along the way there's so many twists and turns. The one thing I can guarantee is we'll keep adopting to the times and follow our instincts which have led us to where we are today. I hope within five years we are a much bigger company, where we can hire lots of like-minded people who also have the same vision and passion to promote Serie A. That is my true dream.
A Personal Note
I've seen many people come and go in the sports industry. Some for the wrong reasons, some because they felt they couldn't make it. What makes IFTV different is they didn't have to worry about making it to the top, because they set a standard above and beyond. For men not even 25 years old, they have embarked and created something unlike anything else the football world has seen, from video presentations, to audio recordings and podcasts, to now having a full-line clothing brand, as well as being privately invited for media work by Serie A clubs and the Italian Football Federation.
I met Marco on a rainy fall day on Court Street in Brooklyn about five years ago. We were both leaving our jobs in real estate at the time. He was probably 19 years old, and as a true gentleman, offered (and probably did) pay for my coffee. He had a bright smile and cheerfulness about him. It's these little things which can often suggest one's character, and I always enjoy being around him and Michael, as they bring a really nice positivity with them wherever they go. Since then, it has been a joy to help film Roma videos with them, and most importantly, raise money for our friend Samson to see a Roma match at the Stadio Olimpico.
Images via IFTV. Check out the latest Calcio collection via the IFTV website.