With the NWSL Playoffs on the horizon, we take a look at what was a wild season which saw the closest finish in the league's history. 
Now 11 years into existence, a lot has been made about the NWSL's growth. From rising attendance numbers and minimum salaries to new expansion sides, the league has been trending upwards.
The past few years have also seen the slow removal of the systemic rot at the league's core, with the dismissal of several abusive and exploitative coaches as well as resignations from front office executives that enabled them.
But the 2023 season gave us yet another promising sign, one that might not be as important or obvious as the aforementioned ones, but still something to be excited about nonetheless — parity.
The "p" word isn't present in most of the world's top leagues, as giant teams with endlessly deep pockets tend to remain at the top, while middling teams fight for scraps, and bottom clubs desperately try to avoid the impending doom of getting relegated. In fact, to call for more parity in the likes of the English Premier League would get you laughed out of the room — it would be seen like putting an unnecessary restrictor plate on an F1 racecar.
But for relatively newer leagues like those in North America, parity is encouraged through the likes of the player draft, salary caps, and discovery rights (*gagging emoji*). For these newcomers, parity equals stability, which is paramount in the early stages of a new league.
This season ended way closer than any previous #NWSL season with only 13 points separating #VamosWave and #ChiStars and no points separating 6th and 7th pic.twitter.com/CbnRlO0l1F

— Alison Gale (@agale137) October 15, 2023
And while the NWSL has been anything but stable throughout its first 11 seasons (the league even embraced a "Cue the Chaos" tagline for its 2022 Challenge Cup), the parity seen in 2023 is a sign that the league is becoming more competitive from top to bottom, something that hasn't always been the case throughout its existence.
Just 13 points separated the first- and last-place finishers in the 2023 season. For comparison, the average point differential between the top and bottom NWSL clubs at season's end from 2013-2022 is 31.56, getting as high as 48 in 2018, a season that saw Sky Blue FC accrue a record-low nine points.
A nail-biting decision day last Sunday saw a multitude of potential outcomes, with few teams having already clinched and even fewer eliminated from playoff contention. High octane final matchdays are exactly what the league should want, and the results didn't disappoint.
After being in near dead last place well into the season, Angel City FC clinched a playoff spot with a shocking 5-1 victory over second-place Portland Thorns. Washington Spirit, who at times looked like one of the top teams in the league, missed out on the playoffs after an early red card sent off star forward Trinity Rodman.
In the first #NWSL decision day, SoCal came out big with #VamosWave winning their first shield and #AngelCityFC finally breaking into the playoffs with goal differential and goals scored both serving as tiebreakers pic.twitter.com/oI0TJOVELI

— Alison Gale (@agale137) October 15, 2023
Storylines like these increase league-wide intrigue to both existing and potential fans, and the NWSL can capitalize on a consistently exciting decision day by eventizing it.
In addition to having a more entertaining regular season, leagues with high parity suggest that there are few aimless and directionless franchises (a la Sky Blue in 2018). The Chicago Red Stars finished at the bottom of the 2023 NWSL table, and while they had some recent front office tumult of their own, they were decently competitive throughout the year despite missing Mallory Swanson, who was poised to take over the league before a knee injury while on national team duty ended her season.
Last year's bottom-of-the-table finisher Gotham FC rebounded to make the playoffs in 2023, thanks in part to a revamped roster spearheaded by Lynn Williams. Every team save for Orlando and Louisville has made the playoffs since 2021, another sign that league-wide competitiveness is quite healthy.
Two new expansion teams, Bay FC and Utah Royals FC, joining the league in 2024 could throw a wrench into the NWSL's parity, but both Angel City and San Diego Wave FC, the league's current newest clubs, have laid out a pretty effective blueprint when it comes to joining the league. Angel City created a club as a brand first, being sure to engrain itself within the Los Angeles community before it even had an official crest and colors, while San Diego has arguably been the best-run franchise since joining the league last year, evident in its NWSL Shield title in 2023.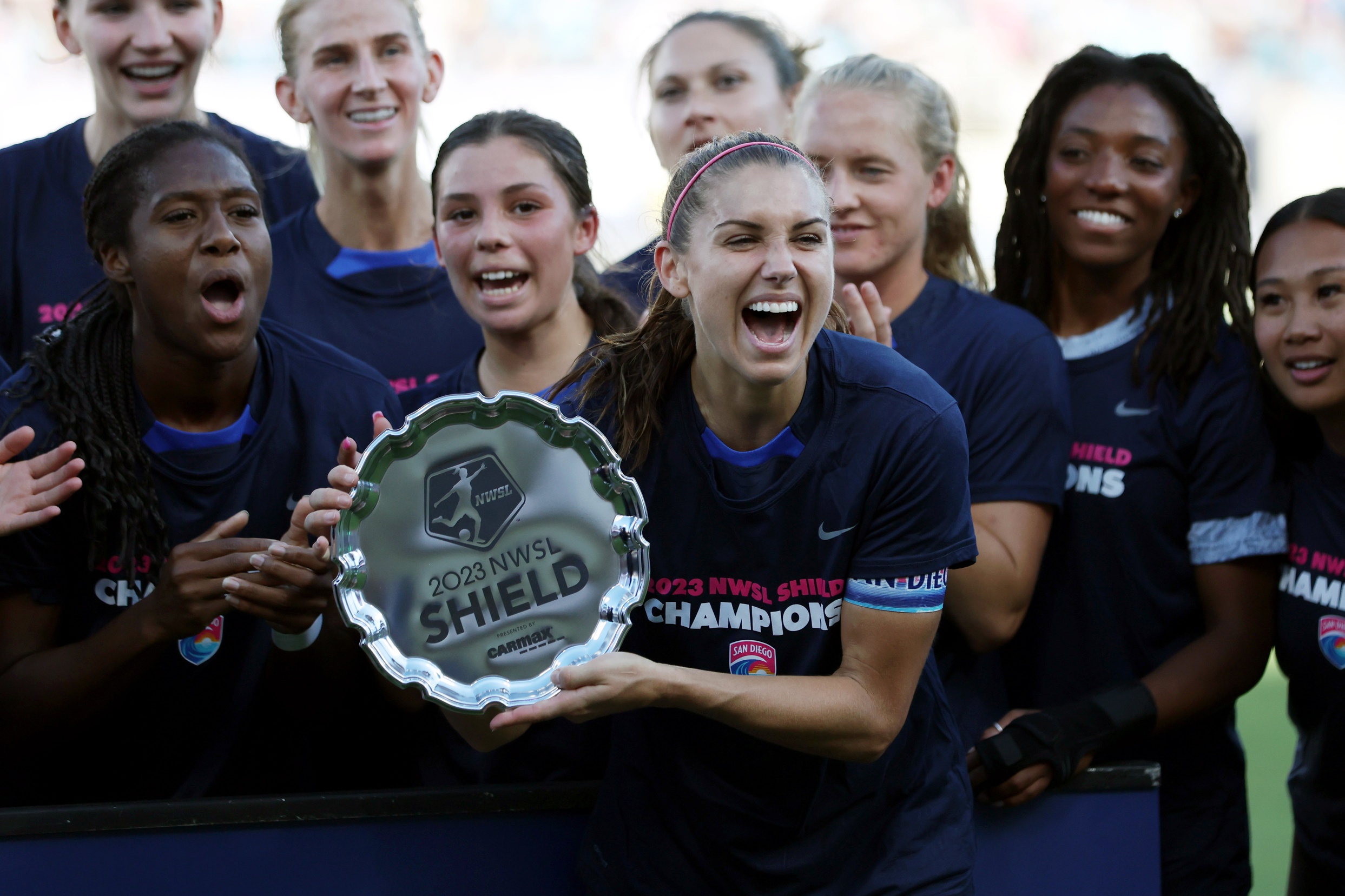 Utah already has an existing women's soccer fan base thanks to the previous history of the Royals and the United States women's national team's frequent stops in Sandy, while Bay FC has a promising investor group that has at least shown signs that it is taking this venture seriously.
If the two new expansion clubs can get off to decent starts both on and off the pitch come 2024, it will be yet another promising step forward for a league that has fought through much adversity. Now all we need is a Women's Club World Cup to see how the NWSL truly stacks up against the rest of the world.