A polarizing figure in football to say the least, Hatem Ben Arfa has equally amazed and perplexed us with his incredible talent and questionable antics. He never quite conquered the game as much as he could've, but it was never for a lack of talent…
Frenchman Hatem Ben Arfa is currently plying his trade at French club Lille, although he was recently expelled from the squad due to an altercation with manager Jocelyn Gourvennec. At 35 years old, he is well and truly in his twilight and has endured a career that is filled with question marks. He is the poster boy of the "what could have been" brand, possessing superb raw talent but never seemingly reaching his extraordinary potential.
Ben Arfa once said that he "could've been like Lionel Messi" if his career took a different direction to what it did. The mercurial talent that had what it takes to be one of the best in the world in another life, Ben Arfa failed to conquer football, but not for the lack of his ability with the ball at his feet.
A younger Ben Arfa was part of INF Clairefontaine, the most famous academy for French footballers. In the 2002 documentary A La Clairefontaine, he became a main character for his notable spat with then academy peer, Abou Diaby. But it was at this young age that he became so revered by experts in French football after winning the U17 European Championship with France alongside Samir Nasri and Karim Benzema. He then broke into the Lyon squad, who were the dominant force in France at the time, and became the first teenager to feature in Ligue 1 in the 21st century, followed shortly by Benzema.
At Lyon, he came through as a young starlet. Playing alongside Juninho and Benzema, you could see he possessed such raw talent that few players have. Despite his early breakout and his young promise, it was clear that he was never going to be the A-lister at OL. Although he put in a decent season in 2007, Ben Arfa moved onto Marseille the following year.
A recurring theme during his time in France was prevalent. Missed training sessions, training ground bust-ups, and public falling-outs marred his time in his home country despite winning Young Player of the Year and five Ligue 1 titles. The controversies at Marseille and Lyon followed him throughout his career as a massive shadow looming over him, stopping him from fulfilling his full potential.
While it didn't click at many places for Ben Arfa, Newcastle United seems to be the time of his fondest memories, especially to the Newcastle fans. A short time at the club, hindered by injuries, provided multiple outstanding moments that live on in Newcastle folklore and will continue to do so for a long time. With his goals against Bolton, Blackburn, Aston Villa, Everton, and on and on, he provided some obscenely special moments in a black and white shirt that has cemented his position as a loved name on Tyneside. His legacy, if there is one, lives on today and his name is often spoken around the streets of St. James Park, even more so now Allan Saint-Maximin is showing similar traits to him.
The context of Ben Arfa's time at Newcastle is especially crucial to his narrative as a Newcastle player. He joined the club following its successful promotion back to the Premier League under Chris Hughton and eventually Alan Pardew when he arrived midway through Ben Arfa's first season. Despite a double break in his leg, Newcastle made Ben Arfa's move permanent and rightly so. Newcastle fans had not seen a player of his caliber on their turf in a while.
Perhaps the most significant part of his Newcastle spell was not just the crucial role he played in the team qualifying for Europe, but what occurred following. With a large decline in displays from the team, Newcastle fans turned on Pardew, and due to Ben Arfa's dismal record of relationship building, so did he.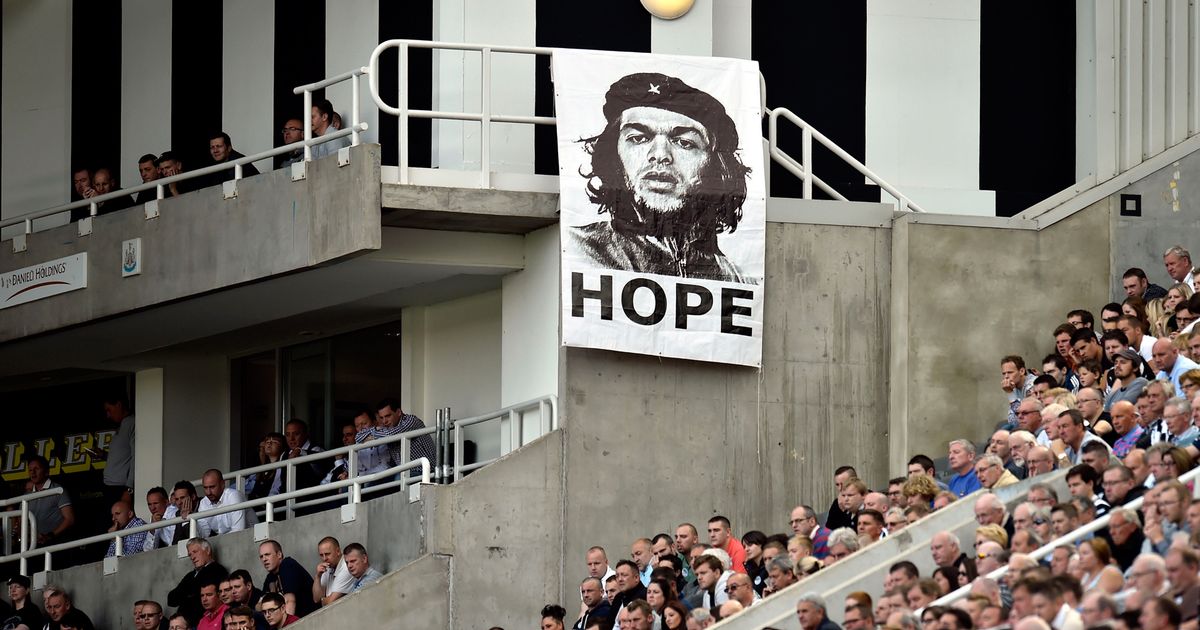 This is when the narrative switched and Ben Arfa became the face of the rise of Newcastle's regime, which had been brewing ever since Mike Ashley bought the club. His face was merged with revolutionary Che Guevara's and put onto a giant flag with the word "Hope" underneath. A very big statement from the fans, indeed, albeit a sadder end to Ben Arfa's time at the club. He was loaned out to Hull City (yes, Hull City) and then eventually fell out with their then manager, Steve Bruce, and was then released from his contract at Newcastle.
Ben Arfa is frustrating. All I can think of is, "why?" Why did he have such a problem with people? Why was his mentality wrong? But it is ignorant of me to suggest it was such a black and white problem. Football is a complex game, despite what anyone tells you. A lot of factors affect players' trajectory and it is important that they have someone who can manage this complexity.
Ben Arfa is a player who looks to take on players, thread passes through an eye of a needle, and complete a couple of nutmegs. This is a rebellion against the structure of professional football. Tactical approaches solely set out to win is what football is for, it's what everyone wants. It is this exact approach that leads to a player like Ben Arfa or Adel Taarabt or Mesut Ozil becoming misunderstood. Does the story of Ben Arfa have to be a "what could have been" story? Does it have to end in him becoming a cult hero? While a lot of questions can be raised on Ben Arfa's mentality, a lot can also be said about football's approach to these kinds of players. Misunderstood talents come and go, so why does football never learn?
What was so good about Ben Arfa was his electrifying ability with the ball and the ease he had to spark something magical from nothing in a game. The ruthlessness he possessed when running at defenders was frightening, perfectly encapsulating the "defenders' worst nightmare" cliche. But while that is a cliche, he was exactly that. A player that twisted and turned with ease and could change pace at a ferociously quick rate, he often left a path of destruction and dazzled defenders behind him. He could score goals from anywhere and he could find passes no one else saw. He possessed such talent that could have ruled European football. Could have.
Ben Arfa once said "football, it is love," but sometimes, it just is not.