Street football in many places is part of the identity of the city where it's played. From the colorful sceneries of South America to the urban landscapes of North America and Asia, you can see that geography, culture, and architecture make some pitches an art form in and of themselves. We put together a list of some of the most unique, stylish, and simply beautiful football fields in the world that prove football can truly be played anywhere.
1. The Ottmar Hitzfield Stadium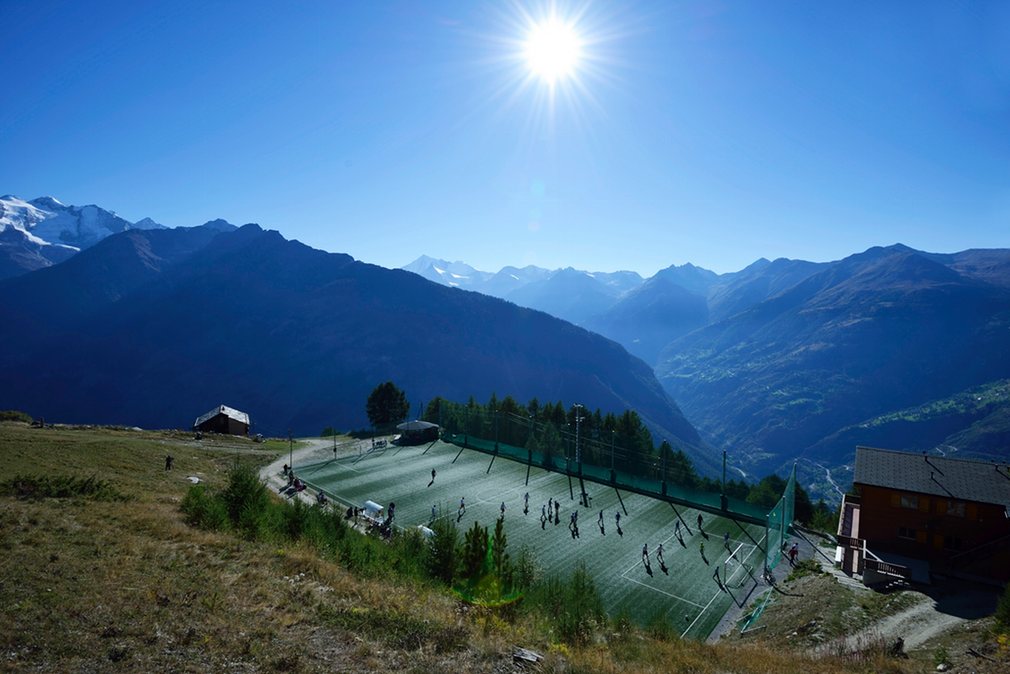 Constructed on one of the few mountainsides with a formation capable of holding a small pitch, this field is located in Gspon, Switzerland, a village that just so happens to be positioned 6,561 feet above sea level in the sweeping Swiss Alps. So, even though you might lose a ball or two, you're at least guaranteed one hell of a view.
2. Adidas Futsal Park
Japan is one of the most colorful and creative countries in the world, so it's no surprise that one of the most coveted places to play ball is on the rooftop of Tokyu Toyoko department store in the district of Shibuya in Tokyo. If you happen to be by the area with a spare ¥8,400 (roughly 80 dollars) you can have it for yourself … at least for an hour.
3. Koh Panyi Floating Pitch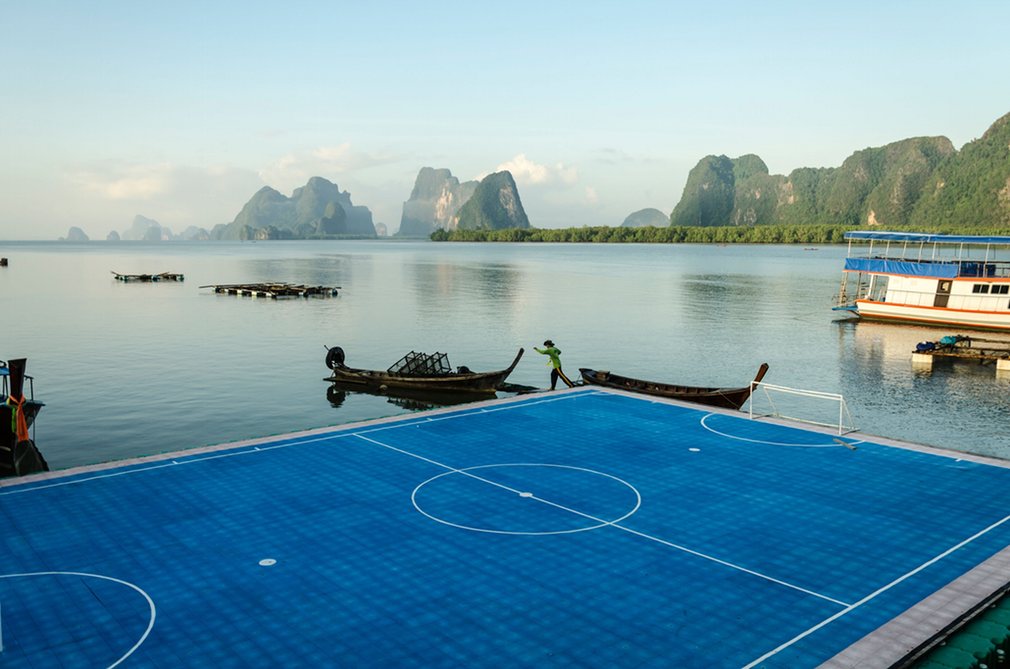 Moving from East Asia to Thailand in a small, quaint fishing village, we find the Koh Panyi floating pitch. The pitch was a product of the children's desire to play soccer, according to the site Thailand For Children. Ever since, the small youth team of Koh Panyi has become a tourist attraction in that region.
4. The Sao Carlos Favela Pitch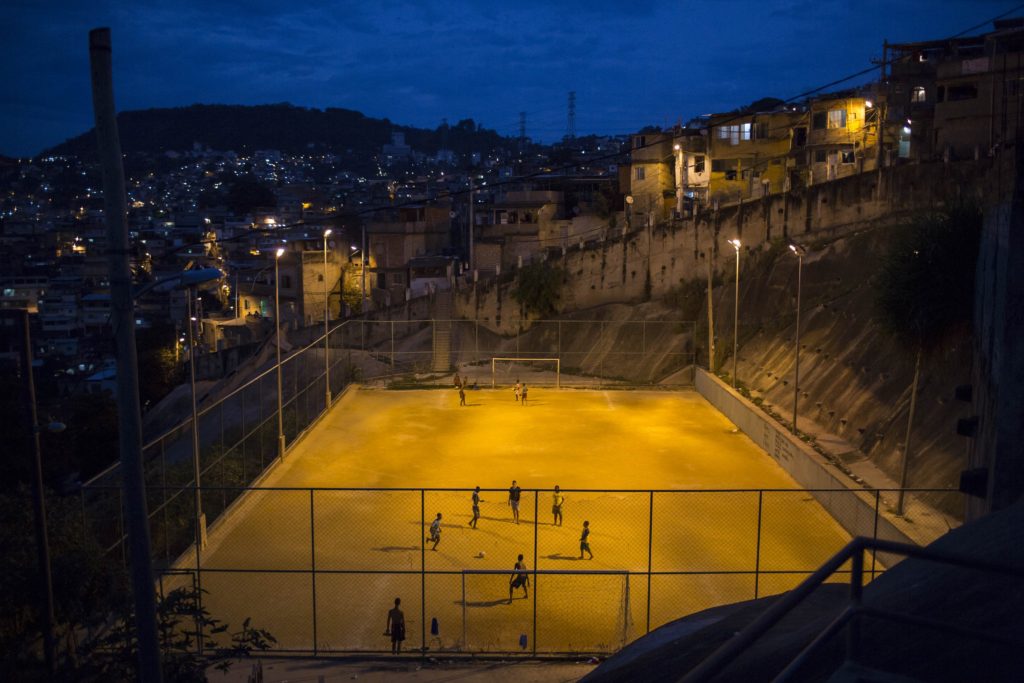 If there's any country in the world that has football coursing through its body, it's Brazil, and with such a powerful connection to the sport, it's unsurprising to see pitches like this in the favelas. These residential communities suffer from rampant poverty, but the love of the beautiful game is strong and alive.
5. The Futsal Pyramids Cup Pitch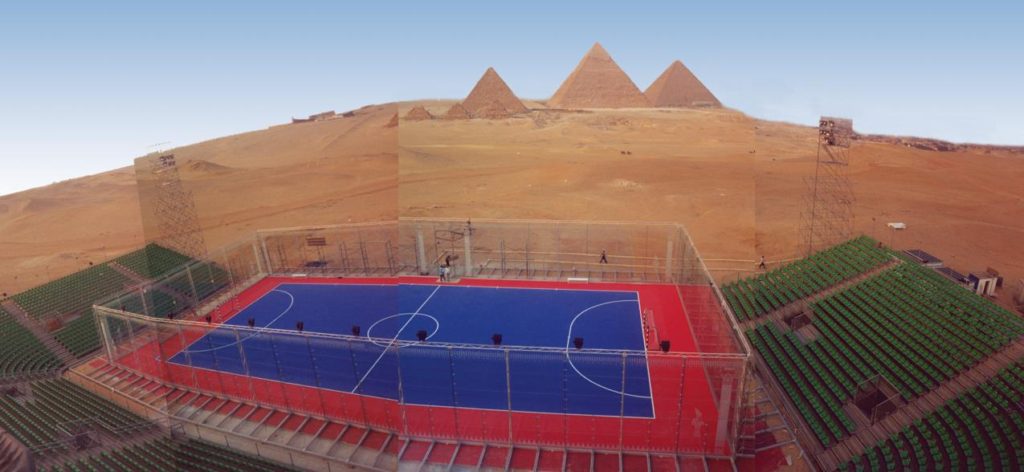 Played in 2002 and 2003, the Futsal Pyramids Cup was a tournament held in Cairo, Egypt, for which one of the most visually stunning fields was constructed. Nothing like playing in the desert amongst these ancient and mysterious structures.