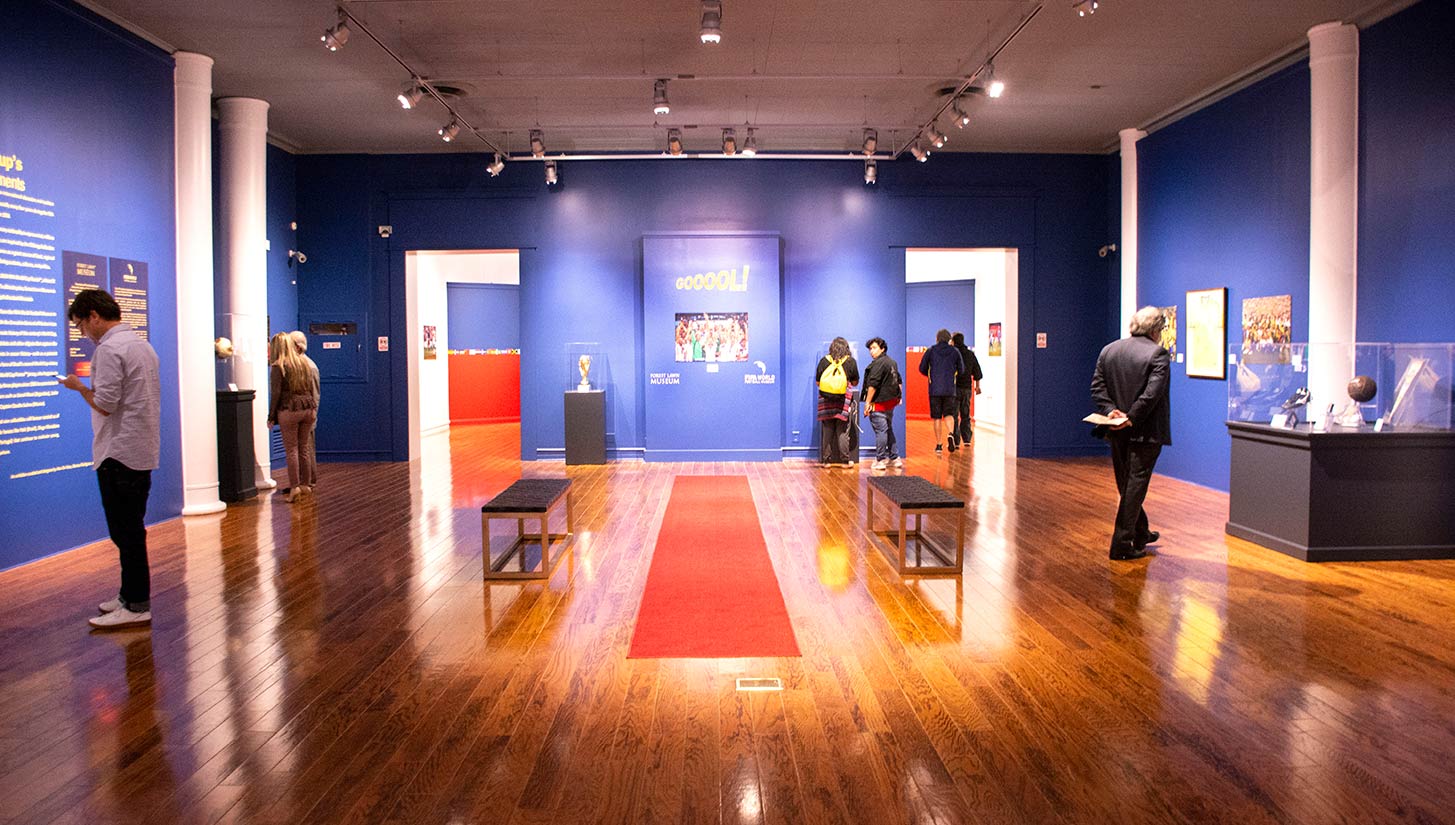 The Forest Lawn Museum's "GOOOOL! The World Cup's Greatest Moments" exhibit is a fine tribute to some of the most memorable moments in World Cup history. We were at the exhibit's unveiling party last week to get an up-close look at its features, which included game-used memorabilia, retro kits, and special guests. 
In association with the Consulate General of Mexico in Los Angeles, Glendale Forest Lawn Museum launched its "GOOOOL! The World Cup's Greatest Moments" exhibit, which will be open May 3 through Sept. 16. The exhibit features items from the FIFA World Football Museum in Zürich, Switzerland, including game-worn equipment, photos, and artifacts from World Cups of years past. The exhibit's stint at the Glendale Forest Lawn Museum marks the first time these items have left the country.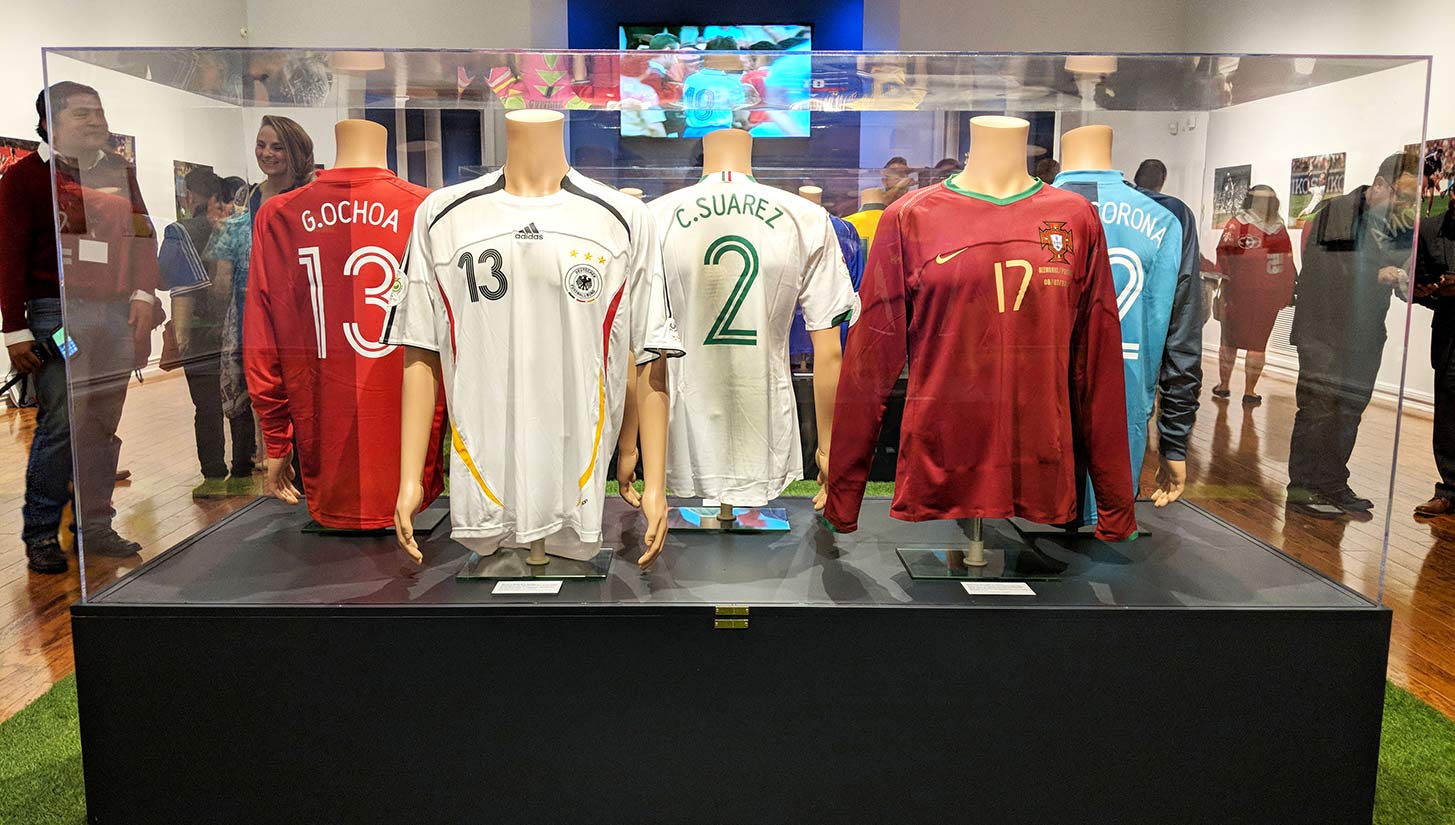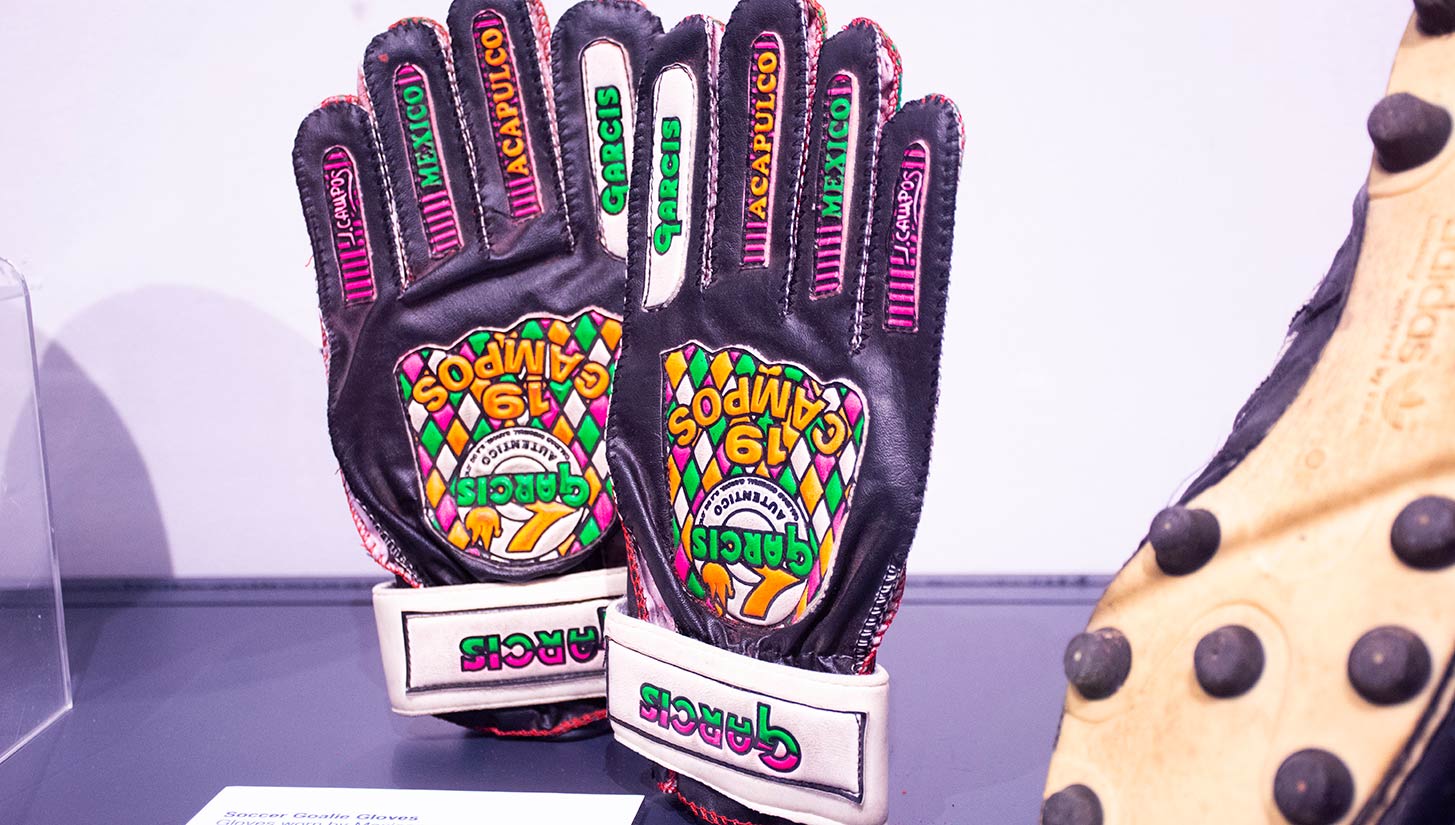 The opening reception at the museum was met by a diverse group of individuals excited to see some of the rare memorabilia and iconic photography. Attendees looked over the many featured items that include 15 jerseys from renowned FIFA players from the 1920s to 2010, and objects from four of the six regional confederations that help make up FIFA. Legends like Zinédine Zidane, Garrincha, Pelé, Diego Maradona, and Cristiano Ronaldo are just several players whose items are featured.
Forest Lawn Museum Director Ana Pescador said the diverse crowd reflects the unifying power of the sport.
"In countries like the United States, where every nationality is represented, millions of soccer fans of all ages and backgrounds are inspired by the lifelong dedication and passion of the world's players, who serve as a great source of local, regional and national pride that transcends our differing customs, cultures, and politics," Pescador said. "This exhibition demonstrates why soccer is the world's most popular sport, an international obsession and tradition that unites families, friends, and rivals, especially every four years during the FIFA World Cup."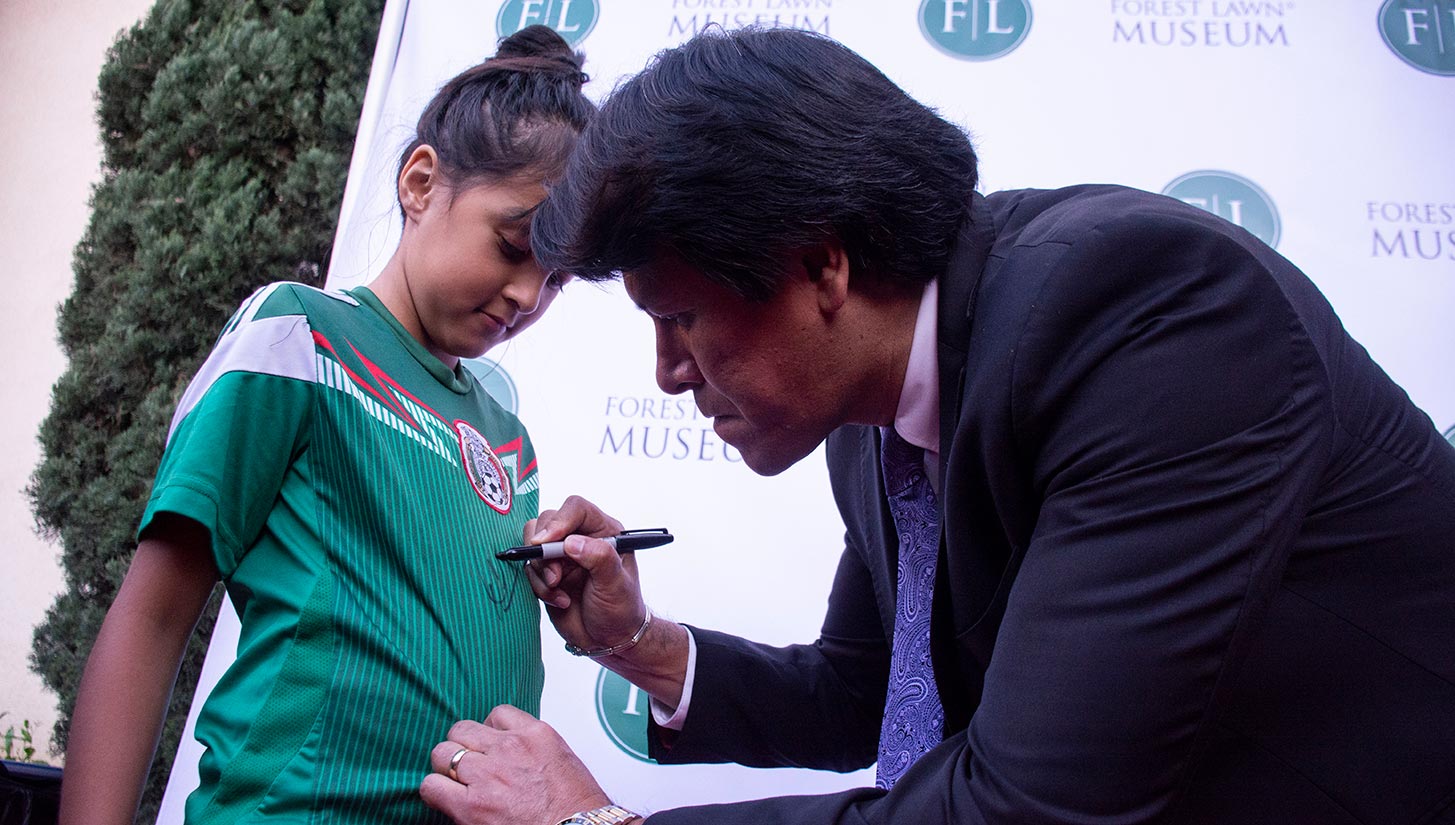 In addition to viewing the exhibit, attendees had the opportunity to meet guest of honor, former Mexican national team captain Claudio Suárez. Many brought Mexico jerseys to be signed by Suárez, who is fondly remembered by Mexican football fans as "El Emperador," or "the Emperor."
Others, such as Salvador Salvatierra, coach of FC Golden State's 2010 club team, thought the exhibit would be a good opportunity to inspire his young squad.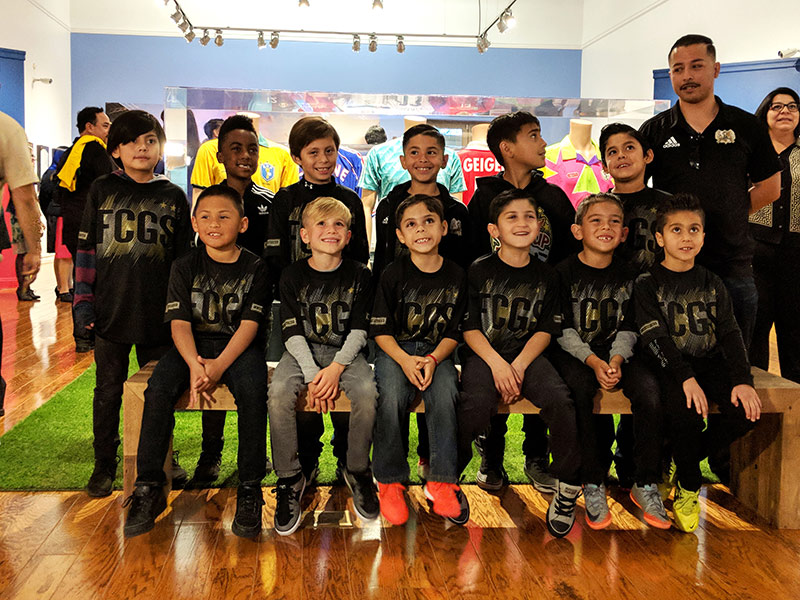 "I thought it was a good idea to bring the boys for them to see new things," Salvatierra said. "They're stoked. They take it in, and I'm sure some of them look forward to one day being one of the great [players] they see here today."
Guillermo Assaf, a football fan from Argentina, said it was wonderful to see people young and old enjoying the museum.
"This exhibit is wonderful," Assaf said. "All these wonderful images reflect one of the most important sporting events in the world, futbol. I don't call it soccer. I call it futbol. And I love that the opening night is full of young kids. [Futbol] is instilling in them important life lessons and promoting them to be healthy for the rest of their lives."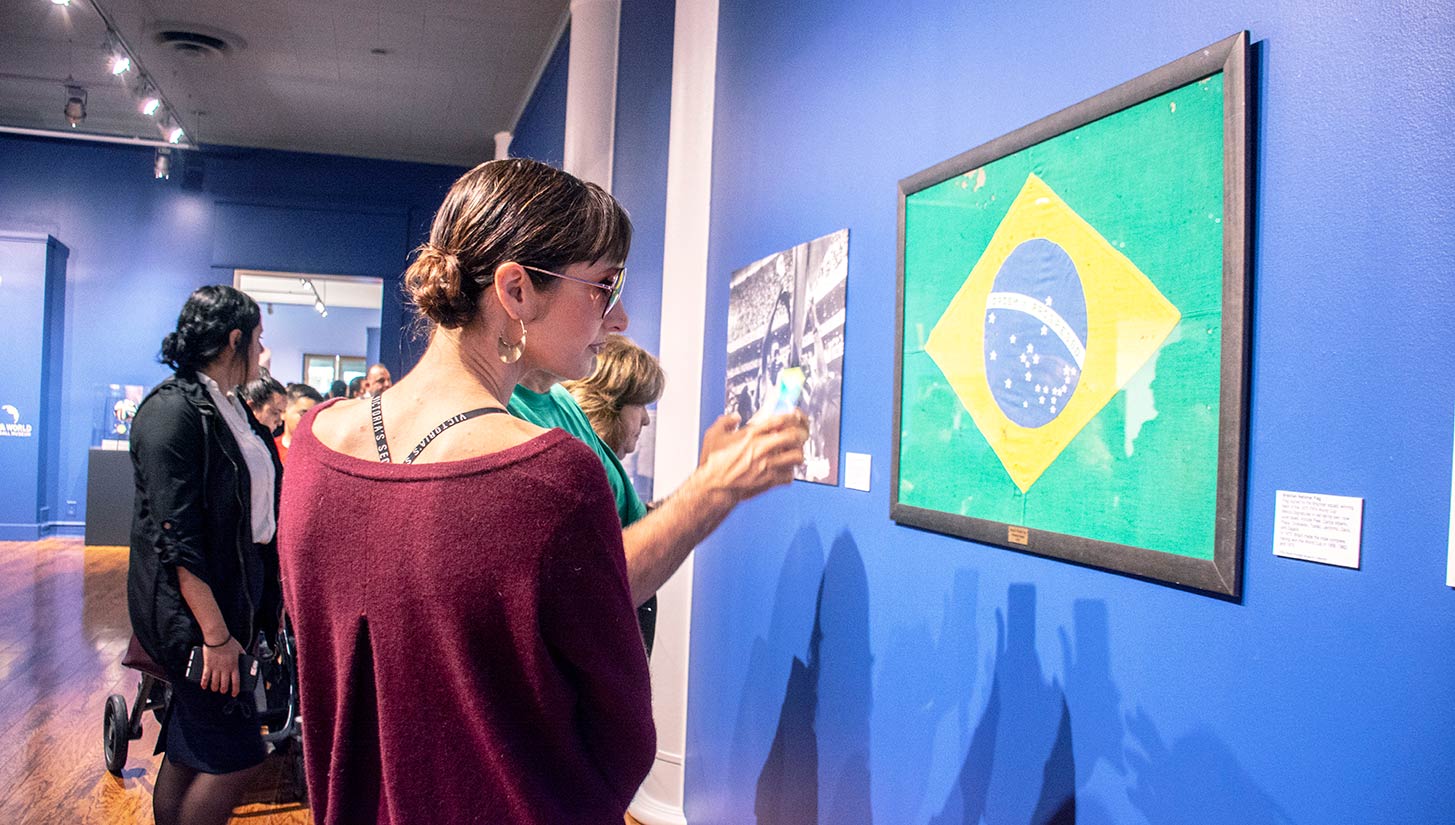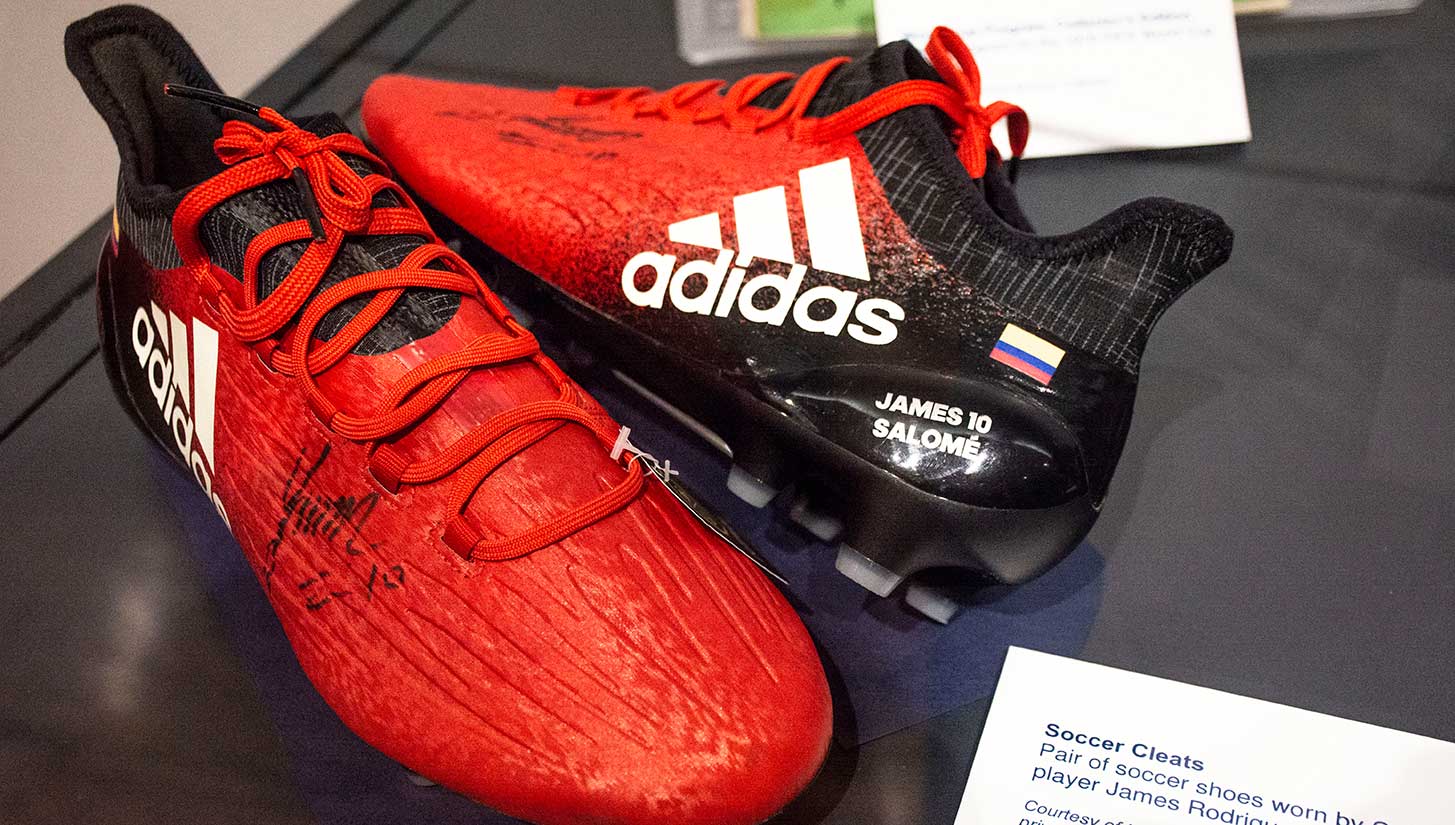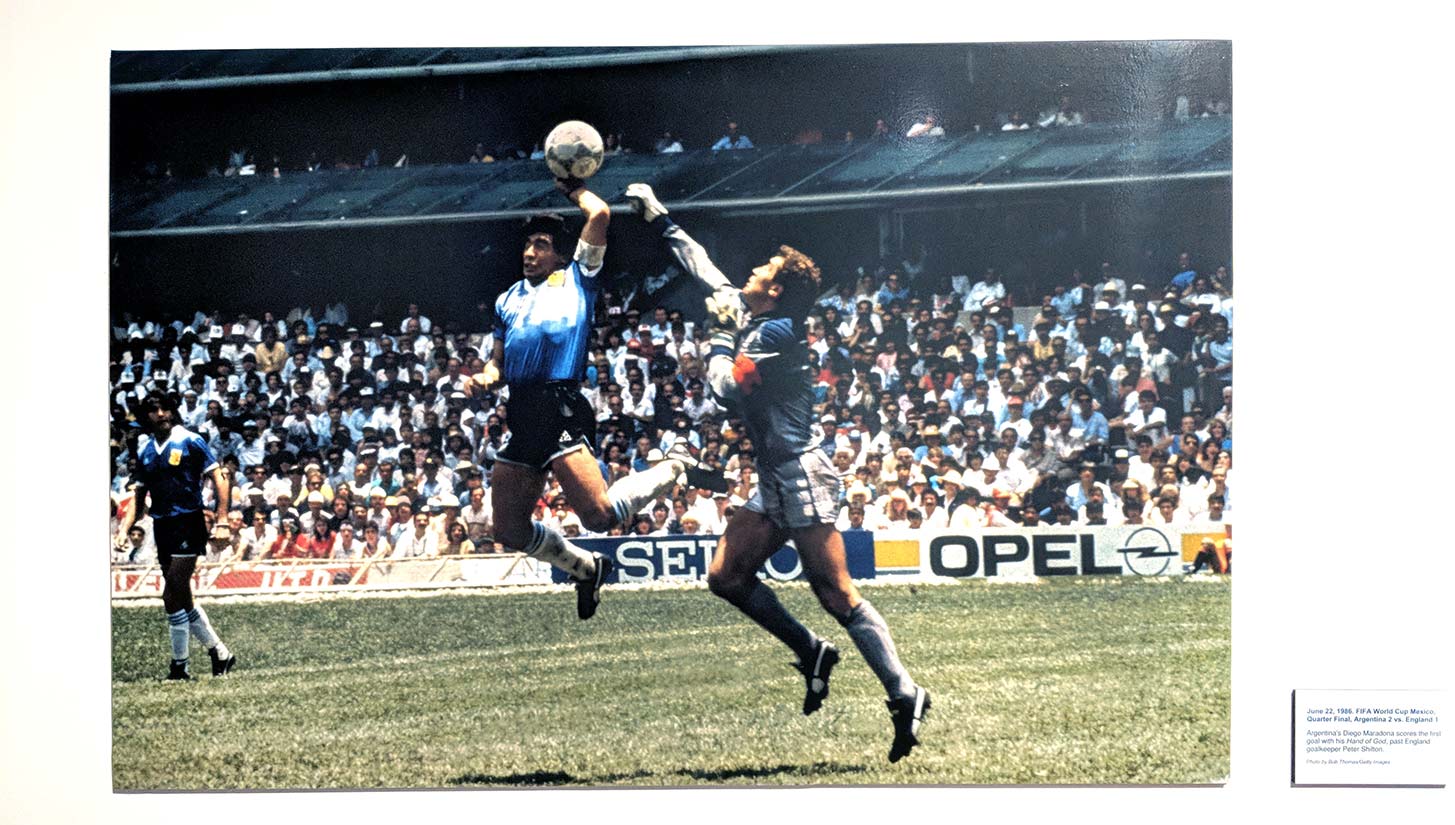 "GOOOOL! The World Cup's Greatest Moments" runs through September, and in June, the Consulate General of Mexico will display Goles y Pasiones: 11 Décadas de Futbol en México (Goals and Passions: 11 Decades of Soccer in Mexico). Pescador said she hopes to see soccer fans bring their friends and family to the exciting exhibit at Forest Lawn that celebrates soccer and the World Cup.
Forest Lawn-Glendale is located at 1712 S. Glendale Blvd., Glendale, California. The Museum is open Tuesday through Sunday from 10 a.m. to 5 p.m. Admission and parking are free. Call 323-340-4545 or visit the Forest Lawn website for more information.