Sixty-seven-year-old Marcelo Bielsa is ready for his next adventure — the Uruguay national team.
As the end of United States men's national team head coach Gregg Berhalter's contract drew nearer, the fear of many fans and pundits across the country was that the U.S. Soccer Federation would take too long to either re-sign him or hire another manager.
The reality was seemingly worse however, as the entire U.S. Soccer hierarchy fell apart along the way, and the federation only recently has just named a sporting director and vice president of sporting.
If you do the math that is five full months without a permanent coach, with interim manager Anthony Hudson in the unenviable position of bridging the gap during a tumultuous phase.
Amongst the countless candidates for the job, one name that stood out was Marcelo Bielsa. The former Leeds United manager has a wealth of experience at both the club and national team level, and many had him pegged to become the next USMNT gaffer.
But alas, the 67-year-old veteran of the game recently announced that he will be the next head coach of two-time FIFA World Cup champion Uruguay, a lost opportunity for the USMNT that we won't ever know if it was on the table in the first place.
U.S. Soccer's loss is Uruguay's gain. The small country of 3.2 million people is ecstatic at the arrival of the 67-year-old Argentine, whose history and importance in world soccer over the last 20 years needs no introduction.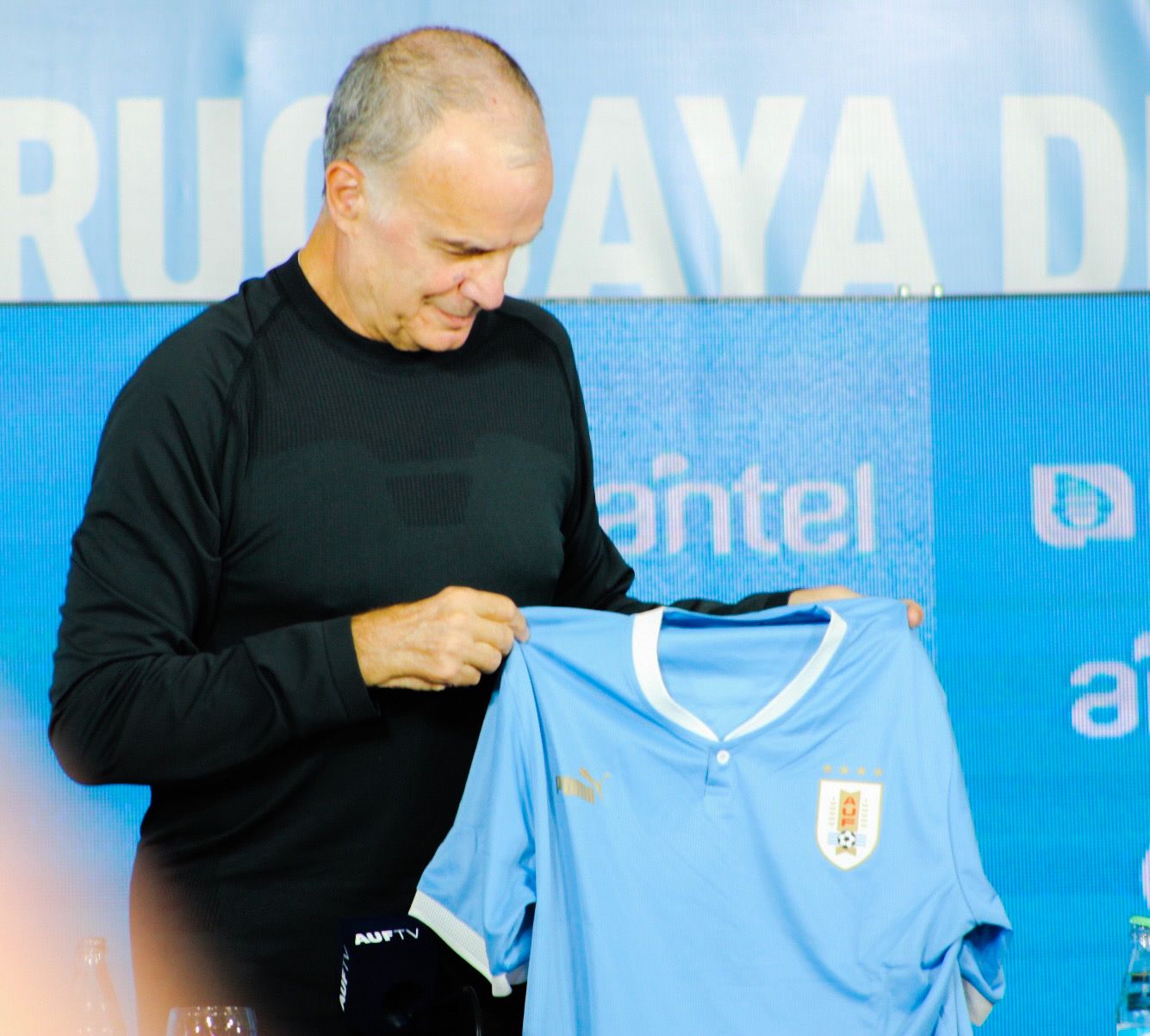 Bielsa is a unique man in the sport — an ethical, to some too ethical, man who still romanticizes about the beautiful game. Since his first coaching position in 1990 with Newell's Old Boys, Bielsa always thought about going forward and never holding back. It has been that drive that has led him to coach in six countries over 30-plus years, winning a handful of trophies with both club and national teams alike.
The results speak for themselves. Bielsa has elevated the game of various players ranging from Kalvin Phillips and Raphinha at his most recent stop at Leeds, to Claudio Bravo, Alexis Sánchez, Arturo Vidal, and an entire generation of Chilean soccer players. Even with Argentina, a country defined by talented footballers, Bielsa still managed to find and cultivate gems like Kily González and Gustavo López.
On the coaching front, many of his former players are today some of the world's top coaches. The list of Bielsa-influenced coaches is a who's who: Pep Guardiola, Marcelo Gallardo, Gerardo "Tata" Martino, Diego Simeone, Mauricio Pellegrino, Santiago Solari, Matías Almeyda, and Jorge Sampaoli all bare traits defined by Bielsa.
Why Uruguay?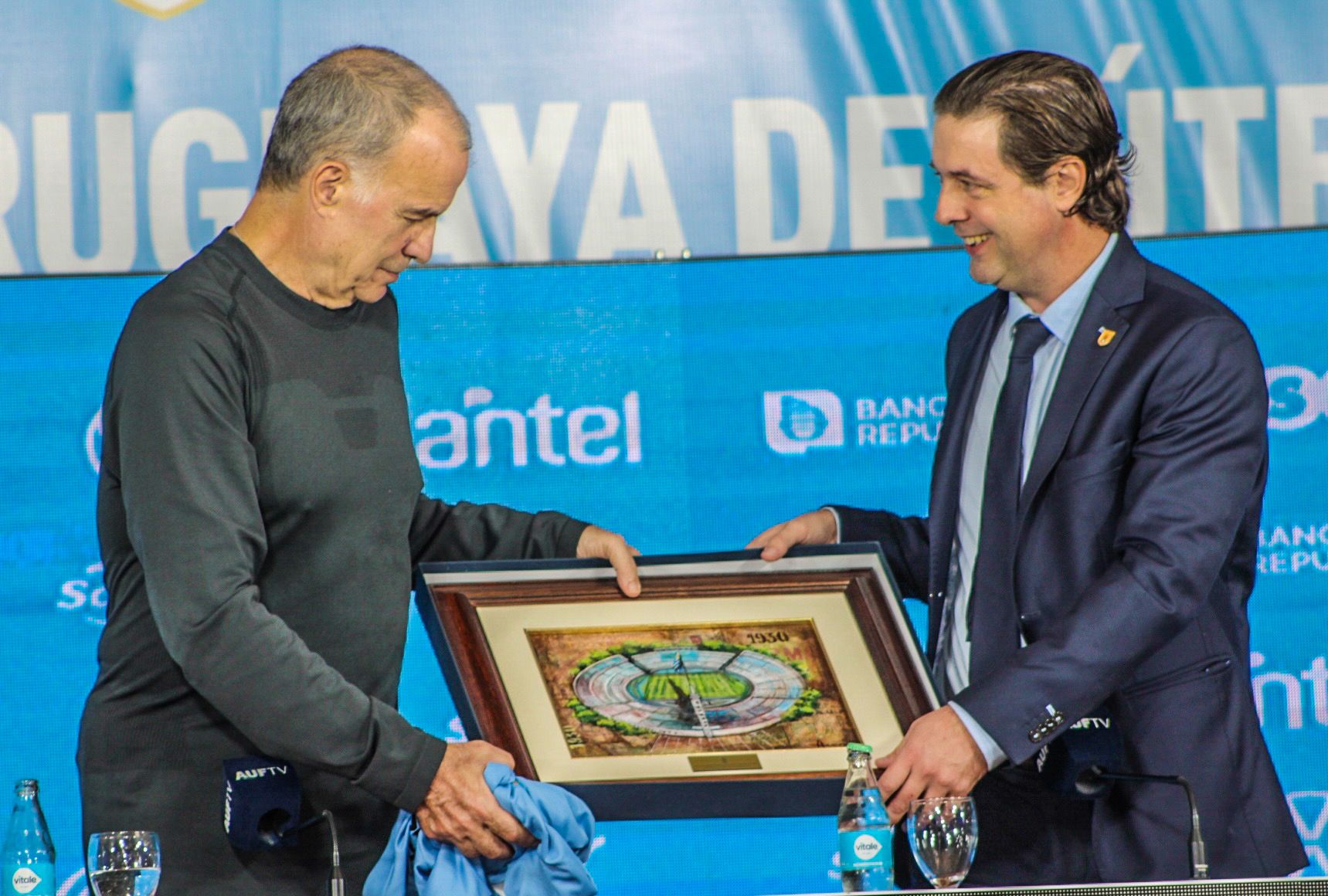 On paper, the marriage of Uruguay and Bielsa is a no brainer. Uruguay possesses world class soccer talents such as Manuel Ugarte, Federico Valverde, Darwin Núñez, Ronald Araújo, Giorgian de Arrascaeta, and Rodrigo Bentancur. The pipeline only continues to increase with the likes of Thiago Borbas, Fabricio Díaz, Facundo Pellistri, Facundo Torres, and Álvaro Rodríguez all possessing traits that could lead to bright futures.
"The arrival of Bielsa will be something very positive both for the Uruguayan team and for local football itself," said 2010 World Cup veteran and former Seattle Sounder Álvaro "Flaco" Fernández. "I think that with the arrival of Bielsa and with the group of players that Uruguay has today, it is time for Uruguay to be a much more leading team than what it was before, that is, a team of proposal and not response."
Still, Uruguay and Bielsa will not be an easy marriage so to speak. Despite the success under Óscar Washington Tabárez, many Uruguayans have wanted and dreamt of Uruguay breaking out of its shell. The Uruguayan national team has historically played conservatively, even when having talented attacking players on the pitch. The entire legacy of Uruguayan soccer is constructed on the notion of a tight defense and solid wingers for quick counter attacks.
Bielsa is anything but conservative. At Leeds, he implemented everything that has been lacking on the Uruguayan national team, including speed, pressing, man marking, and attacking soccer as part of a 3-3-1-3 tactic.
He's a fan of quick and short one-touch passes, with fast runs down the middle or wings — something that the Uruguayan national team has failed to implement with their increasing European stars. Simply put, Uruguay is more of a slow build up team, while Bielsa trains very hard to make his teams ready to run over opponents.
For Canal 10 sports journalist Martin Charquero, it's not about Bielsa molding himself to Uruguay's way of doing things, but Uruguay molding itself to the Bielsa method.
"The players called in by Bielsa will need to understand that [Bielsa's methods] is the formula that needs to be applied," Charquero said. "If Bielsa needs to adapt to us then we went after the wrong coach. When you buy a product, it's because you like the product, not that you want that product and then cut it and mold it to your liking."
The reality is that both Uruguay and Bielsa know exactly what they are getting themselves into. Bielsa is one of the most high-profile coaches in the world, and he is familiar with the ideology of Uruguay. During the start of the year, Bielsa had spent an extensive amount of time in Montevideo, even walking in the streets freely like he did in Leeds.
With the collection of young talents and Bielsa's mentality to play the game a certain way, the time is now to give Uruguay a change in attitude that is needed in today's game. It will also give Bielsa a sort of last ride with a traditional national team in need of big change.
"It's easy to change the 'historical way of playing' today," said ESPN journalist and producer Rosario Pompizzi, who followed Bielsa's run at Leeds.
"Because football evolves and so do the players. I think that the only thing that lasts over time, in the case of Uruguay, has more to do with the famous 'La Garra Charrua,' the impetus, the drive, the inner strength. This national team has a talented and young core that by nature are receptive so they will absorb the teachings of 'El Loco.' I think we will see a team with an offensive vocation and great dynamic. It's a change that for Uruguay is long overdue."
Despite Uruguay's great soccer history — winners of two FIFA World Cups, 15 Copa Americas, two Olympic Gold Medals, and one FIFA Gold Cup — keeping up with the Germanys, Frances, Argentinas, and Brazils of the world has been hard.
In the 2022 FIFA World Cup, Uruguay entered the tournament on a high, after firing Tabárez after 15 years at the helm. Former Inter Miami boss Diego Alonso managed to get to the World Cup on a hot streak of attacking but cautious soccer. When the team got to Qatar, Alonso was overwhelmed by the occasion and played much more conservatively than expected. The result was a first-round exit for Uruguay, their first since 2002. Under Tabárez, Uruguay had gotten out of their group and made deep runs in two of their last three World Cups from 2010-2018.
Treading Carefully
The last time Uruguay threw the rule book out the window it was a monumental disaster. Juan Ramón Carrasco played the exact system that Bielsa played at Leeds, but nearly 20 years earlier in 2003. The problem was that Carrasco was an egotistical coach who was able to get a 3-3 draw with Brazil and believed his team was better than they really were. Carrasco would last all of 13 games and his record was a poor 7-4-2. He was fired after Uruguay were soundly beaten at home 3-0 against Venezuela.
Bielsa is not Carrasco, however. He is all about the work — his training sessions can last up to six hours. Bielsa is a strong believer in all aspects of the game from mental, physical, and nutritional.
For Telenoche sports reporter Eduardo Rivas, the Bielsa era will take time to develop properly.
"[It is] a process that will need time," he said. "Uruguay no longer has two incredible strikers, so it will be interesting to see how the team adapts to their new coach. Bielsa is a coach of enormous pedigree."
In every team he has coached, Bielsa has changed the mentality and even style of those teams. Newell's Old Boys entire youth system eventually adapted the Bielsa method in his nearly 20 years at the club. Leeds and Chile are prime examples of the revolution Bielsa can spark when given the chance to work. Even his Argentina squad was able to truly remove the specter of the classic No. 10 and transform into a cohesive team with no true one star but a collection of great players doing their jobs.
Bielsa: A Man, His Methods, His Ideology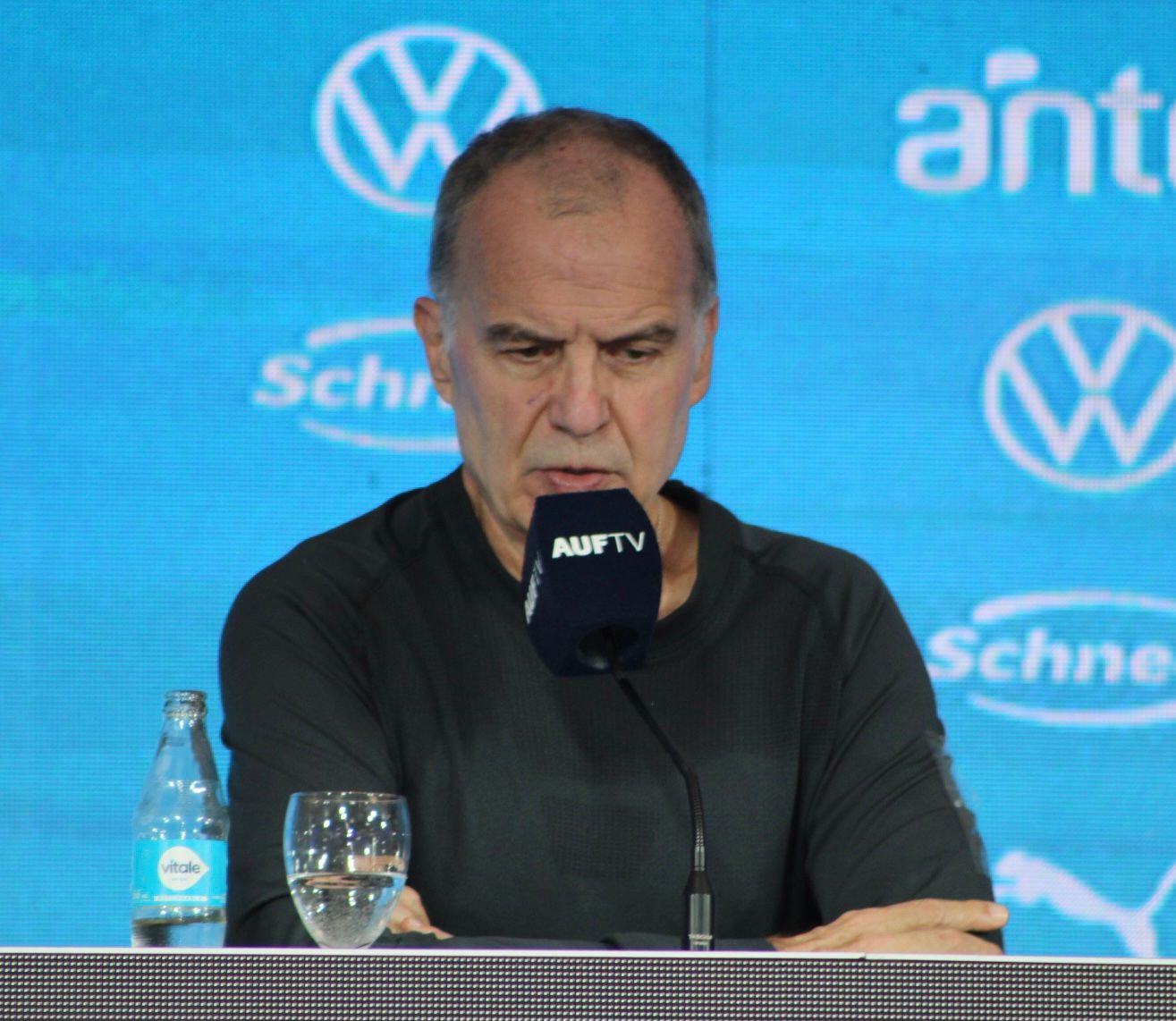 When Bielsa embarks on a challenge, he does so after rigorously reviewing the situation, not just on the sporting side, but the social side as well. Socially, Uruguay is one of the most democratic and safest countries in South America, and a notoriously expensive country as well.
In the last 10 years, Uruguay has made great strides in not being Brazil and Argentina's little brother, as the country is smack in the middle of the two big neighbors. Uruguay has also seen the arrival of various immigrants from Venezuela, India, Argentina, and the Dominican Republic, and possesses a healthy population of expats from various other countries.
Still, recently the country has had issues with growing inflation and to make matters worse, Uruguay is going through one of the worst rain droughts in the country's history, resulting in millions of dollars lost in various farming sectors and dangerously low levels of drinking water.
On the sporting side, Uruguay is a soccer-mad country, but the domestic league is heavily centralized with only three of the 15 teams in the top division playing outside of Montevideo, the country's capital. Still, that doesn't stop players from outside the capital landing in clubs. Uruguay has an intricate youth soccer system called "Baby Futbol," where boys as young as 6 begin playing organized league soccer.
Uruguay has the presence of the City Football Group with Montevideo City Torque, and historic teams like Nacional, Peñarol, Defensor Sporting, Liverpool, and Danubio continue to provide top talent to the national team.
While Uruguay may lack a lot of the infrastructure Bielsa had at Leeds, the Argentine has a canvas of top talents to work with. So much so Bielsa has already demanded to coach the youth national team that will compete for a spot in the 2024 Summer Olympics in Paris.
It would seem like once again Bielsa is not taking anything for granted or leaving anything to chance and will build his foundations on youth, implementing his methods at the earliest of ages that he can.
For Uruguayan journalist Daniel Castro, even though Bielsa is not a Uruguayan he can offer Uruguay a lot.
"He knows more about us than many Uruguayans, and he is very clear about each footballer he may want to call in," Castro said. "On this occasion (for 2026), also as it is easier to qualify to the World Cup than not, the wind will be in Bielsa's favor."
Bielsa once said, "A man with new ideas is a madman, until his ideas triumph." For more than 30 years, Bielsa's ideas have been analyzed, even criticized, but one thing is constant, Bielsa has gained the admiration of many around the world. He has made players better, he has made clubs better, towns better, and in the case of Chile, even countries better.
Bielsa revolutionizes and causes a revolution, in a conservative soccer country like Uruguay, he is what many have always dreamed about, but at the highest level. Wherever the road ends up, Bielsa will make Uruguay better, on and off the field.